From the Tip to Your Chips
Have you seen any chroicocephalus novaehollandiae lately? If you haven't, you need your eyes tested as this is the scientific name for the humble seagull.
Like the Ibis (bin chicken) they have adapted to urban environments and are mostly found on garbage tips and swooping on hot chips cast their way from waterfront picnickers and people in shopping centres.
They are natural scroungers and in the wild feed on worms, insects, hatchling turtles, dead animals and birds' eggs. They can also be found at sea following trawlers for any tasty morsels floating in the wake.
Seagulls nest on offshore islands, jetties, boats and buildings.
But, dear reader they can make you very sick. You see, they pick up bacteria from the rubbish dumps and if you come into contact with their faeces, you can be infected. Ecoli,urinary tract infections, meningitis and sepsis can result from this. What's more these conditions are resistant to antibiotics and up to 25% of seagulls carry these infections.
Seagulls are very competitive and fight for food while screeching at the top of their voices. It's very much survival of the fittest in the wild and any injured creature just doesn't survive.....well almost.
At Lemon Tree Passage waterfront there is one crippled seagull which has turned its deformed leg into an asset. Look closely at the picture. This lame bird lands on the bonnet of cars waving its useless leg. Those in the vehicle take pity on it and cast food its way. Indeed it is the best fed seagull on the foreshore.
Picture: The very smart crippled seagull.
---
Meet the New Owner
s
Tanilba Bay Tyres and Mechanicals has new owners in the form of Jo and Greg Gordon. What's more, they are keen to meet with the locals and have innovative plans for the future.
Jo explains: " We are running a gala 'Meet and Greet' day for the community at a date to be advised where there will be amusements for the kids, a sausage sizzle, other entertainment and some opening 'specials'
We decided that the business was a great opportunity and a challenge so we purchased it, she said."
"Our qualified mechanics will offer every service and we envision extending the business into car air conditioning," she added.
"To make it more user friendly, we will be giving our customer reception area a makeover with upgraded furniture and a coffee machine," she said.
"So far we have had a very positive interaction with the community and look forward to offering them the very best of services, she concluded.
Photo: Greg and Jo....new owners of Tanilba Bay Tyres and Mechanicals.
---
At Last!
It's been a long, long time since the $1.7 million upgrade of Tanilba Rd Mallabula was announced. A series of unforseen events has delayed work but just next month the long awaited roadwork will begin.
Cr Steve Tucker explains:
"All of the boxes have been ticked including the EIS, surveys and the working plans drawn up," he said. "Council was all set to go but the Covid crisis intervened and a sustained wet period saw our roadworks people repairing wash-aways and filling the plague of potholes around the Shire," he added.
"I'm told that Alan Gibson's Tanilba weather station actually recorded rainfall up to the end of April exceeding our average yearly total," he pointed out.
" We have therefore employed a contractor to do the work. It will start at the end of May this year," he stated.
"Ratepayers must realize that many of the roads out here were put in during the 1930s. They were rough gravel tracks and later on they were sealed," he explained. "There was no kerbing and guttering or underground drainage. "Most of the costs of this new rebuild will be in bringing them up to modern day standards and it doesn't come cheaply," he concluded.
The rebuild will be from the bus shelter at Caswell Reserve and extend along Tanilba Rd and around the corner and into Mallabula Rd.
Following the completion of this section, around $4 million will be spent on upgrading the Avenue of the Allies Tanilba Bay between the stone entrance pillars and the arched gates at the northern end.
Cr Tucker also answered the most common questions he received about roadworks in Tilligerry:
"Why aren't roads with many potholes resealed when other perfectly good ones get a new surface?"
Reply: "Council constantly inspects all roads." When they see one starting to break up with the 'crocodile' effect they reseal it because this will save a total rebuild in the future at great expense?"
"Why don't we get more roadwork done. We would have some of the worst roads in Port Stephens?"
Reply: "I agree. I ran for council 17 years ago on a roads, roads and more roads platform. It's a matter of fighting for a share of the roads allocation and Tilligerry is well ahead of the the other areas on a per capita basis. You can't just go to a money tree and pull $100 bills off it to fix the neglected roads. It's all about options. You borrow the money, apply for state grants, sell off assets, reallocate funding, or increase the rates."
Photos: Steve Tucker..." No 'quick fix' for road problems"......and Tanilba Rd Mallabula...... contractors to start work in May 2022.
---
Big Day for Gallery
"A great day for the community!" This is how Tilligerry Art Gallery's Sue Mc Donnell described their market day held on Sunday 1st May.
Tilligerry has been somewhat starved of community interaction during lockdown and as the sun burst through a grey sky, people flocked to the venue.
Some 34 stallholders took up station on the grassy slopes of Mc Cann Park and the local 'Lemon Eucalypts' ukulele band entertained the crowd. The Lions Club sausage sizzle worked overtime as did the local mobile coffee van. Marine Rescue was there, fundraising and answering any queries the boat owners had.
Sue said that the TAG gallery itself saw sales soar on the day.
" With Mother's Day next week, locals and tourists snapped up items of original jewellery, pottery and art as presents for the special day. We were literally run off our feet," she said.
The TAG gallery has gone from strength to strength over recent years after relocating to the old fire station on the main road into town with limitless parking and easy access. Indeed Lemon Tree Passage itself has become very popular with day trippers from the Hunter and tourists seeking to find quiet restful places away from the stress and hassles of city life.
The next big community day will be the local car club's 'Motorama' held at the RSL's grounds, Tanilba Bay on 15th May.
Photos: Jannine Deneen and Jules De Arth amongst local arts and craft works at the gallery.....and The Marine Rescue stand at the market day.
---
Terrorists Don't Choose Their Parents
'Terrorists Don't Choose Their Parents' is the last in a trilogy of novels by Lemon Tree Passage author Ken Allen.
The long time resident, businessman and film producer is currently negotiating with a US company for the rights to turn his book into a movie.
"I've written many manuals in my working life and have also been involved in script writing and in the production of films, " he said. " I've taken the plunge with creative writing by drawing on my experiences over a lifetime of travel and meeting many people of differing attitudes and experiences," he said".
'Faces in the Sun' (1965),a short film in which Ken was involved was about four Aborigines grappling with assimilation pressures and facing a challenging future. Through the experiences of a bark painter, a teaching assistant, a carpenter and tribal headman, we see the type of life each one lives and the conflict of the old and the new which sets up tensions with each one and in Aboriginal society.
The film won a top award and is safely stored in the Australian film archives.
'She said I want a Divorce' is a romance novel that shows how a woman can achieve her goals by using her feminine charms to get what she wants and be in control. Judy Baxter shows she will be not allow a good marriage to prevent her from achieving her goals in life. Judy features in all three books, the last of which has drawn interest from film makers in the USA.
The novels are published by Xlibris and are available through Amazon and most probably the library services.
Photo: Ken with his first two novels at his Lemon Tree Passage home.
---
Double Trouble
After a couple of seasons with good growing conditions, increased demand and rising prices, local oyster farmers are having problems. The sustained wet weather in the run-up to the traditional peak demand season of Easter has seen the Port closed to harvesting. This in turn, has halted their cash flow.
On top of this, an outbreak of QX (Queensland Unknown) has the Dept. Primary Industries closely monitoring the situation with oyster farmers culling suspect leases.
Outbreaks have been found in Tilligerry Creek and the Karuah River which have seen restrictions imposed on moving oysters to other low risk estuaries. The oysters have displayed signs of unexpected mortality slow growth and other clinical symptoms.
Outbreaks generally occur between late summer and early winter with colder water playing a part in an end to the problem.
Sydney rock oysters are affected but not the Pacific variety. There is no problem eating oysters with QX but it does affect the growth rate and condition of the bivalve.
Some farmers are introducing a QX resistant variety and others are going back to growing the Pacific species.
Meanwhile, growers are stockpiling the removed oyster shells behind their depots.
Photo: Culled oysters stockpiled beside Tilligerry farmers' depots.
---
Rental Problems
At tilligerry.com we are only too happy to point out local problems to political candidates in the hope that if elected, they can do something to fix them.
Recently, after reading our story 'Winners and Losers', Liberal candidate Brooke Vitnall asked us about the rental crisis and what the situation was like in terms numbers of properties available and the prices that were being charged.
We told her that our research showed that there were usually about 50 vacant properties for rent on the peninsula at any one time. Currently there are just five, with long waiting lists and soaring rents.
We also told her of how 'Mums and Dads' were helping out the next generation by investing in 'Granny Flats' which would fit on the very large blocks around the town. In some cases, the older generation were moving into the granny flats and handing over the family home to their chidren with youngsters of their own.
We also suggested that the frenzied buying and huge price rises of real estate had slowed and it appeared that in some cases asking prices were were falling. This could help ease the mounting pressure.
Ms Vitnell praised the initiative of families to ease the housing crisis and said that the government's 'first home buyer' scheme had helped around 60 000 Australians onto the property ladder.
" We have budgeted for an additional 50 000 in the scheme for each coming year. This incorporates 10 000 places for non first home buyers," she said.
Photo: Brooke inspecting a Mallabula 'Granny Flat'....."Great to see families coming together to solve their housing problems."
---
A Flaming Good Read
Karuah, like many towns bypassed by expressways, seems to be taking on something of a rebirth as a cultural stopover and writers are putting it we
ll and truly on the map.
We featured David Be
nson sometime back whose historical works are well regarded. He also won the 'Port Stephens Literature Award' years ago and his typescript 'A Year on Cooplacurripa' (now a booklet) tells of his blundering efforts as a young schoolteacher to come to grips with pupils at a one teacher school on a cattle property. David has since relocated to Lemon Tree Passage.
The latest publication from the village is 'The Story of the Karuah Fire Brigade' by Paul Mulvaney from the Karuah local History Group. The Karuah and District RSL and 'Karuah Working Together' financed the Project.
If a picture speaks a thousand words, then this book is well up there in tracing the development of a grass-roots bushfire brigade from its inception to a well oiled professional service. It is liberally illustrated with numerous colour plates and is meticulously researched.
Extracts from brigade meetings are livened up by comical comments from members at fire scenes. Its interaction with the community is highlighted and their battle with the great Lone Pine bushfire of 2016 is graphically documented.
Awards to members are given due mention as are the numerous certificates of appreciation from varied community groups.
Being situated near a major arterial highway, the brigade also responds to traffic accidents which can be very traumatic for those members who attend.
It would be hard to think of any other group of unpaid volunteers which has contributed more to the social fabric of Karuah over such a long time than the fire brigade.
Paul needs congratulating for his efforts to preserve this vital part of history for generations to come. His other book 'The Lone Pine Fire 2016',
financed by the RSL, raised some $3 600 which was split three ways amongst local brigades.
To finish on an interesting headline attributed to a local newspaper. A Karuah craft group presented a quilt to the brigade. It now takes pride of place in the village centre. The paper's headline stated in bold type:
'Karuah River Craft Group thanks RFS for Battling Lone Pine Fire with quilt"
Really? Perhaps they ran out of water.
The book costs $30 and is available from the RFS and the Karuah Centre. It is also available from the library service.
Photos: Paul's book and presenting a copy to Commissioner Rob Rogers ...... and David Benson's publications.
---
Stormy Weather
Tilligerry has already received its average annual rainfall and it's still early April. At the moment, an East Coast Low is buffeting the coast with strong winds and mountainous seas.
With this in mind, perhaps it's time to revisit the past and compare today with some major weather events of yesteryear.
Remember the Pasha Bulker storm? This major event occurred in 2007 and sent a bulk carrier aground on Nobbys Beach. Despite warnings to weigh anchor and head to sea, the vessel stayed put along with some ten other ships and was driven ashore by winds of around 130 kph . It was later refloated.
Meanwhile, ashore in Newcastle, nine people died, 10 000 homes were flooded and 5000 cars were written off. The insurance bill was around $1.4 billion.
Another storm of gigantic proportions hit the NSW coast in 1974 with winds gusting to 165 kph and swells recorded at 17 metres in height. A bulk carrier, the Sygna, failed to make headway and ended up on Stockton Beach. It broke its back,with the heavier stern section settling in the sand. The longer bow structure was refloated, towed to Salamander Bay where it rode at anchor before being towed to the breakers' yards in Kaohsiung, Taiwan.
These two events however are nothing compared to the greatest storm ever recorded and it came in 1898.
The "Maitland Gale' was named after a paddle wheeled steamer which foundered off Sydney. Its captain turned to run with the storm with the idea of seeking shelter in Broken Bay. He didn't quite make it and ran aground in a nearby rocky bay. Four ships sank and around 30 people lost their lives.
At Fingal Bay, the wooded scrubby landbridge connecting the lighthouse to the mainland was washed away along with the telegraph posts and lines. It never recovered and the tidal sand spit we have today (see photo) is all that remains.
These were the days when wild weather was just part of life. Climate change? Nobody had ever heard of it.
Photo: The dangerous spit at Fingal Bay. Access to the Island only possible in calm seas at low water.
---
Church Goes Online at Easter
Whilst most people celebrate Easter as a holiday to get away and to indulge in seaf
ood feasts and endless chocolate Easter eggs, traditional Christians see it as a series of holy days.
Good Friday commemorates The Crucifiction of Christ at Calvary and Easter Sunday His resurrection. In the Catholic faith, Easter Monday is referred to as the 'Monday of the Angel'.
One positive thing to come out of the Covid crisis has been the shift to online church services.
Rev. Anthony Gentle from Tanilba's Baptist Church explains:
" We statred our online services when public gatherings were banned after the pandemic struck. They proved to be so popular that we have incorporated them into our traditional Sunday church gatherings as a permanent feature. Details can be had on our website 'taniba bay baptist church you tube'. Parishioners can revisit previous services through the library of videos we have stored. They can view the site at a time suitable to them. The church can't stand still. We are moving with the times," he said.
Meanwhile, other local churches were well attended at this important time on the Christian calendar by regular church goers and holidaying visitors alike.
Photos: The Rev. Anthony Gentle and the congregation outside Tanilba's Christian Reformed Church on Good Friday 2022.
---
Bye Bye Bill
It is with a tinge of sadness that the Tilligerry community says farewell to long time community workers Bill and Tess Finney.
The couple moved to LemonTree Passage some 18 years ago and quickly became connected with the local bushfire brigade. Bill served in various roles which included Senior Deputy Captain and President.
Tess worked for years in the catering section of the brigade.
Bill was also a foundation member of the Tilligerry Car Club which puts on the very popular Tilligerry Motorama . It is the biggest community event on the callendar, drawing hundreds of entries. Profits from the day go to children's section of the John Hunter Hospital which ,over the years has benefited to the tune of around $150 000. After a two year recess due to covid, Motorama will once again be with us on 15th May.
Bill and Tess will be moving on to a smaller property.
"We don't know where yet," he said. "At our stage in life we need a house more manageable," he added.
" It was great becoming part of a caring community. "We have made many good friends in the time we have been here, and we certainly will be back."
Photos: Bill burning off at Mallabula....and presenting a Life Membership award to Richard Osborne OAM.
---
Recycled City workshop with Curious Legends, and Lemon Tree Passage community consultation

Thursday 21 April, 10am to 12pm Henderson Park, Lemon Tree Passage
Come join Curious Legends to design a city from recycled materials, then bring it to life through puppetry, play, and object theatre! Your buildings will form our unique cityscape at the end of the workshop, when you can take your creations home.
On the day, Council staff will be on hand to chat with you about a town square concept for Lemon Tree Passage, set to be constructed by the end of the year. View the plans, share your input and provide feedback on the draft plans.
In case of wet weather this event will be moved to the Tilligerry Habitat, 2E King Albert Avenue, Tanilba Bay.
---
Hide Those Keys!
Stolen cars and home invasions are not new to Tilligerry, indeed some years ago 'A Current Affair' twice did stories about this very issue declaring the area to be...'The Youth Crime Capital of Australia.' This followed the theft of some 200 cars over a two year time-frame and after numerous brazen home invasions. Older residents without dogs were targeted and the thieves, searching for cash, just took their time and even helped themselves to food before they left!
With the same offenders caught time and again and released, they kept reoffending as magistrates refused to lock them up. Warnings and counselling were the only measures dished out and they didn't work.
Community reaction was swift and angry. Packed meetings were the order of the day and a crime forum was held at the Lemon Tree Passage Bowling Club.
With the crime wave continuing unabated, people slept with machetes and baseball bats beside their beds. Some had guns. Deadlocks and heavy duty screens and doors were also fitted as a siege mentality gripped the town. There were whispers of a local vigelante group being formed. The crime wave only eased after the known culprits left the area or went inside at the age of 19 or 20.
Those days are well and truly gone with Tilligerry crime statistics no different to other areas in Port Stephens. There is however a new and disturbing spate of home invasions due to changing technology.
You see, new cars cannot be hotwired and thieves need the key set to activate the vehicle so they break and enter in search of them as Chloe Healey discovered.
"We were asleep and when they got in they took both my husband's wallet and keys as well as my key set. The items were not in an obvious place so they had to search for them. Strangely, they left my daughter's phone on the table." she said.
The car was later found at the end of Mallabula Rd in the gravel turning circle undamaged, just up the hill from the public wharf.
"We still feel rather traumatized by the whole episode," she said. "By going public, we hope to warn others to hide their keys and to secure their homes.
Photo: Chloe's 2020 Hyundai Cona. Thieves 'dumped and dashed' at Mallabula.
---
Winners and Losers
Leads on stories come to reporters in unusual ways and the side effect of the current real estate boom is a case in point.
Dogs are being handed in to council pounds in record numbers because owners can't afford to keep them but more particularly by prospective renters who know that in a very tight market, they will not be considered if they own a dog.
Real Estate in Tilligerry, indeed in all coastal towns and those west of the Great Divide have seen prices soar. To illustrate this, one agency took out a full page advertisement stating that a Mallabula property sold recently before auction for $862 000. The house was in an unremarkable area on a rocky hill. The sale attracted some 52 email enquiries, 3607 online views and 26 inspections. Another absolute waterfront at Tanilba Bay drew 20 000 online views.
The downside of this frenzied buying can be seen in the effect on those who rent. Investors snap up tenanted properties and some give notice to the tenants that their lease will not be renewed. They can then re-let the property at double the previous rent.
To canvas the opinions on the rental market we sought the views of both landlords and tenants on local social media.
Landlords saw their investment as their own superannuation fund and didn't believe they were a charity by keeping the rent low. Some renters did not know where they could go when their lease was up and believed that they could not afford the dramatic rise we have recently seen. Other renters said that if people thought it was expensive in Tilligerry, they would be shocked at what they would have pay in Nelson Bay or Newcastle.
But dear reader, there could be light at the end of the tunnel and all by courtesy of a bloke called Henry Halloran.
You see, he developed Tanilba Bay in the 1930s when land was dirt cheap and made the roads very wide and the blocks of land big. He also had a large number of parks, so many in fact that PSSC sold some off as they just couldn't afford to maintain them.
Not one person we interviewed for this article, some of them now 'instant millionaires', thought that their newfound wealth was a good thing. Most worried about their children whom they believed could never afford a home of their own. Indeed many of them had their adult family moving back home due to the rental crisis.
That's where the big Halloran blocks come into play. They are ideal for 'Granny Flats' whereby the owners can have their family members relocate to or they can lease them out at affordable rates.
One enterprising company has small homes on wheels that will be delivered and rented out to the owner of the land. If they don't pay the rent the company can just turn up and tow it away!
A better option was taken by Barbara and Ian Rufus who rented out their older style home in Mallabula. The Blue Mountain couple would use it for holidays between tenants.
Their property was ideally suited to a 'Granny Flat' as it had a road at either end. For around $130 000 they had a package deal small home delivered and connected to the sewer, water and electricity. What's more they did not have to subdivide the land or get involved with council. The company did all this for them!
As an investment, 'Granny Flats' can provide an extra income stream as well as greatly increasing the overall value of the property.
Photos: The $862 000 Mallabula home ….. and Barbara and Ian's new holiday house. 'Henry Halloran visionary developer.'
---
Fourth Shot Available
The fourth COVID booster shot is now available from the pharmacy in Cook Pde Lemon Tree Passage. To qualify, residents must be over the age of 65 and four months must have elapsed since their third jab. There is no need to book in. Just turn up and away you go!
Photo: At your service: Fady Fahmy....4th COVID booster now in stock.
---
Reeling Them In
Paul from Mallabula is a fishing rod tragic and scours the world for unique rods to add to his collection which numbers around 200.
" I just can't pass fishing rods put out with other junk for council collection," he said. "I get hold of them and restore them to their original condition," h
e added.
"What really gets me excited are the split cane, bamboo and solid timber rods of yesteryear," he stated.
"One English fly fishing rod and brass reel I spotted on the internet cost me more in postage than the gear itself. It was a very rare find and I was determined to claim it," he said.
And his favourite rod?
"This has to be an English poacher's rod. It is short and breaks in two so it can be concealed under the poacher's coat!" he suggested.
When it comes to fibreglass he has the lot: numerous solid and hollow glass types comprise most of his collection and they represent models made for specific purposes.
Everything from game fishing rods with roller guides to light weight single handed fly rods can be found amongst his collection. So too can double handed Scottish salmon fishing monsters and the tiny children's models they find beneath the Xmas tree.
But does he use them to fish with?
"I used to," he said. "Old age and health issues have taken their toll and I just don't get out as much as I used to," he mused. "I had a passion for flathead fishing with lures but these days I've become a hunter and restorer. I am something of a perfectionist and getting the original runners and fittings can be a 'reel' challenge' he concluded.
Photo: Paul displaying two of his favourites: the double handed three piece Scottish salmon rod and reel......and the two piece poacher set (C.1900).
---
Motorama is Back
After a two year break du
e to the covid pandemic Tilligerry Motorama is back!
It has grown over the years to be the biggest and most anticipated community event on the Tilligerry calendar.
This year it will be held on 15th May at the Tilligerry RSL and organizers expect a large number of entries from far and wide.
The event is heavily supported by local businesses and the motoring fraternity. It injects cash into the district as both entrants and enthusiasts flock to the town.
Details of the various types of sections and entry requirements can be found on Tilligerry Motorama facebook page or by contacting Ian Jones on 49823703.
Any profits from Tilligerry Motorama are forwarded to the Oncology Unit at the John Hunter Children's Hospital and, to date, the progressive total is well over the $140 000 mark.
Photos: A visitor casts his eye over an interesting entrant and President Ian Jones handing over a cheque to John Hunter's Keira Wray.
---
How a Bushfire Saved our Koalas.
The loss of food trees, predation by dogs, disease and road kill are seen as the main factors responsible for the demise of the koala.
But dear reader, if we stand back and look at the empirical evidence, a very different picture emerges and it starts with the arrival of the First Fleet.
European settlers were very keen to discover the unique creatures that inhabited the Great South Land and the aborigines were only too pleased to help.
In the case of the koala it was a full ten years before one was brought in by the natives for the white man to study and none was found by the explorers as they journeyed inland. They were a very rare marsupial.
Around the 1840s however an explosion in their population saw their numbers rise, so much so that a thriving export industry developed in their skins. At other times their numbers fell away.
The reason for this surge and decline can be put down to the changing fire regime. The constant cool burning by the aborigines created a sparsely treed landscape of eucalypts with poor nutritional value in the foliage. This meant that large tracts of land were needed to support a tiny population.
As far as Tilligerry goes, they have always been present in reasonable numbers as long term residents can attest.
Lennie Rooke, now 89 and a lifetime resident said that they have always been here but the fire regime has changed.
"We just couldn't afford to get burnt out," he said. " We'd drag burning chaff bags through the scrub in the off season and let the fire run." he added.
Bruce MacKenzie, now 84 backs him up. "The fires we lit would go all the way to Lemon Tree," he remarked . "I never saw one get into the tops of the trees."
Put simply, the lack of broad acre burning today has left massive fuel overloads and megafires. They can however help the koala to survive and multiply because of the lush green growth which follows them.
A classic case happened about three years ago when a cool winter bushfire from Salt Ash worked its way to the Lemon Tree Holiday Park and to the outskirts of Tanilba Bay. There was little canopy scorch and those koalas living in the swampy bushland skirting the peninsular now have fresh nutrient rich leaves to feed on.
Another event took place in the 1960s which gave our koalas a boost. Sworn to secrecy, a young Ian Hicks was co-opted by Bernie Henderson and Norm Brooks in the relocation of some 50 of them. He wasn't told where they had come from.
Ian took the individual cages off the back of Norm's truck and opened them as the vehicle worked its way across a fire trail. On the way back he put the now empty cages back on the truck.
Koala numbers in Port Stephens at the moment are dwindling but they are certainly a lot higher that before the white man set foot on our shores.
Photos: 'Smoky'...a Mallabula koala......Lennie Rooke "Koalas have always been plentiful." and.... The 'good' bushfire which saved the remnant population.
---
Doreen's Disappointment
Long time policing advocate Doreen Bradley is disappointed with the lack of effective policing on the Tilligerry Peninsular.
"My greatest regret is that after lobbying for 50 years, we did not get the type of station we were promised," she said.
"It was to be located on land gifted by Port Stephens Shire beside our ambulance and fire stations in RAF Park, Tanilba,"
she added.
"Without any community consultation, the police bought an old house on the main road in LTP, demolished it and dumped a prefabricated 'dog box' thing on the the site. This cost the taxpayer at least $500 000 more than than if they had used the RAF Park option," she stated.
"We expected two police officers to be permanently deployed out here but time and again they are called out of town despite there being plenty of work for them here," she remarked.
"I really can't understand how numerous police cars and paddy wagons turn up in the daytime, block off the main road and do RBTs, and other checks. We need these numbers of vehicles cruising around at night particularly of a weekend when criminals are active," she said.
"There was a time when you could ring the police and get to talk to a real police officer straight away. Now it's like any other call centre and you have to press lots of buttons and listen to endless messages. It just isn't good enough." she remarked.
"Sadly we are not getting the effective service we envisaged and I am not alone in thinking this way," she concluded.
Photos: Doreen with former Police Minister Mike Gallacher...."Promised a station in RAF Park"... and the prefabricated station in LTP...."Wasted $500 000 of taxpayers' money.
---
Panthers Pictures from the Past
'Where are they now?.'.... 'How many can you name?'.....'Remember our 'A' Grade seniors?
---
Proud Panthers Past
Not many Rugby League teams can boast a koala as a supporter but the Mallabula Panthers which recently folded after after 40 years can.
You see, one training night, the floodlights were switched on and, there in the middle of the oval was a koala.
Koalas when frightened head for the nearest perpendicular object, usually a tree, and climb it. The nearest thing in this case was the tubular steel goalpost which he shimmied up to above the crossbar. A spectator captured the moment (see photo) on his mobile phone. Some time later he climbed down and headed for the nearby scrub.
Long time president Brian Thompson said that the club had won two grand finals with its senior side and had made the semis on numerous occasions. On top of this, several players starting as juniors had gone on to higher levels.
"Mark Bryant is one who comes to mind," he said. "He went on to play for Manly Warringah in a premiership winning side, he added. "Another is Blake Layton who went to Balmain Tigers and was then spotted by Canterbury Bulldogs where he is currently playing," he stated.
"It's not all been plain sailing," he remarked. "Two deliberately lit fires gutted both our change rooms and the clubhouse," he said. "Sadly we lost all bar one of out team photos which were hung around the walls," he added.
To name some of those who contributed to the club's success over the years would exclude others but our powerhouse forward 'Herbie' Merrick needs a special mention. He played in hundreds of games and inspired the younger players. Another is Life Member Cathy Sone whose two sons played for many years. Cathy ran the canteen and contributed just so much to our financial viability and welfare. he said.
"On a brighter note, the junior panthers are still fielding teams and as the population grows, we may well regroup at some later stage.
Photos: The surviving team photo.......the koala up the goalpost....and Blake Layton in his Tiger gear.
---
Book Donations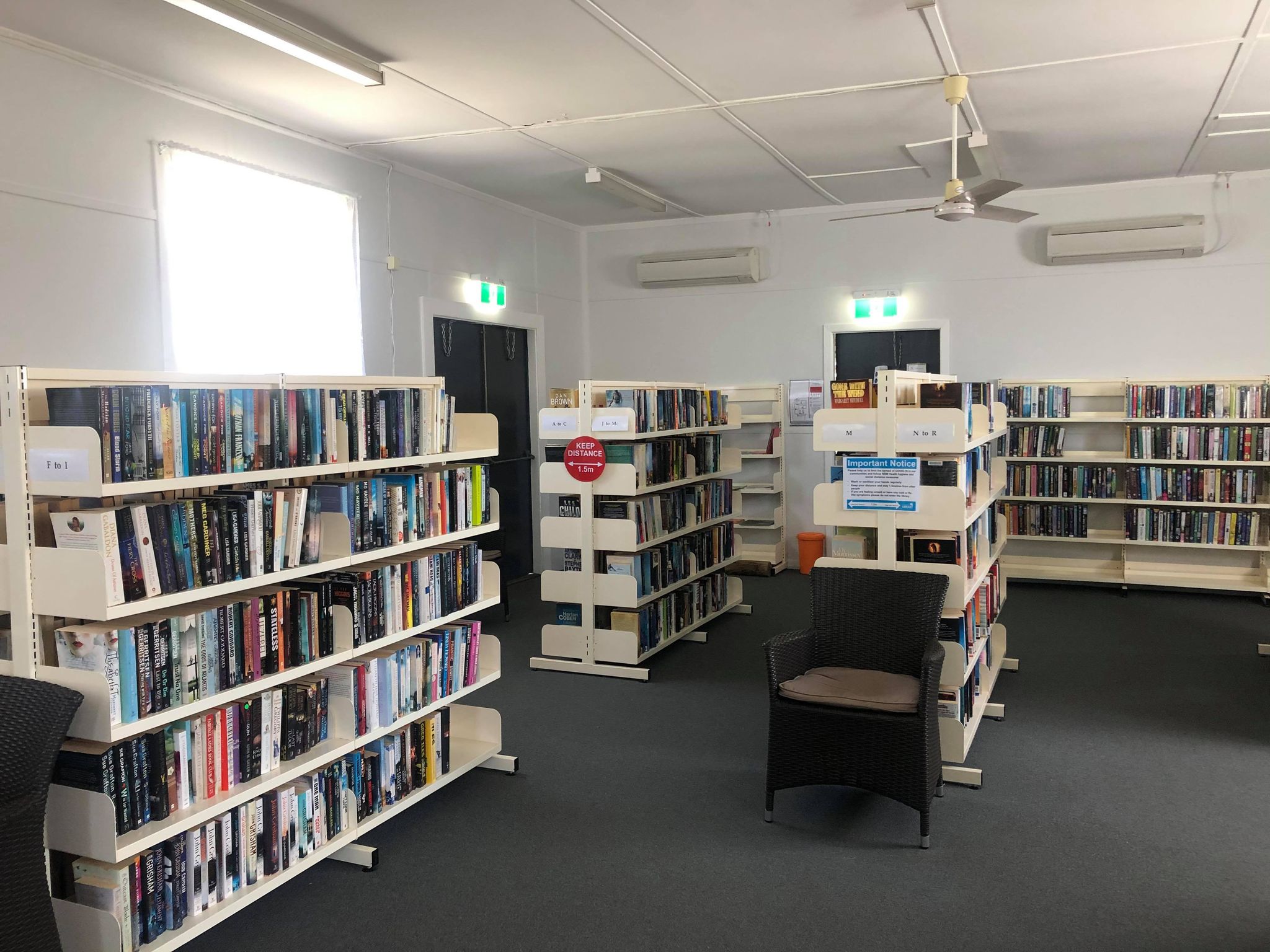 Tilligerry Community Library ha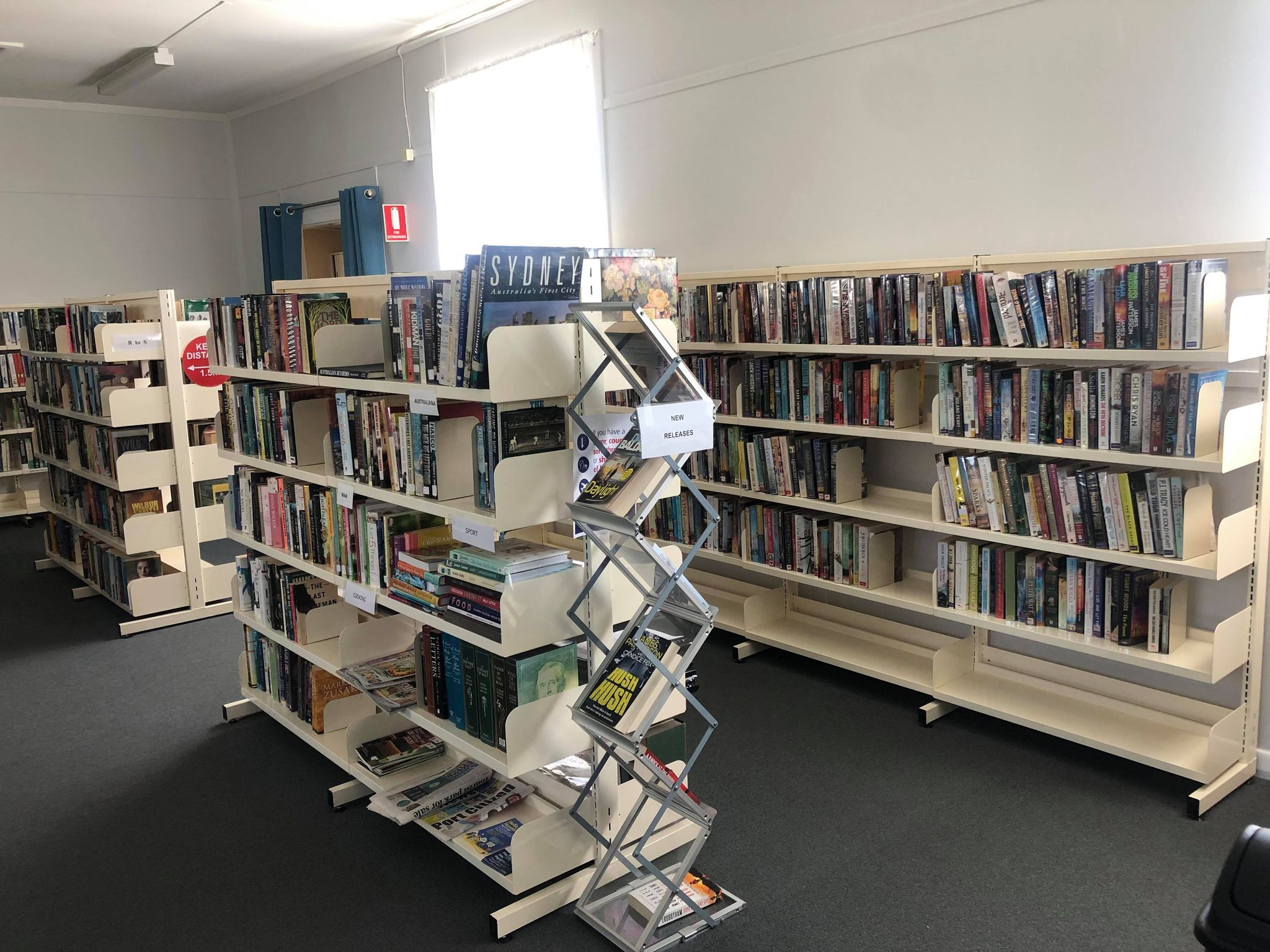 s always enjoyed the support of the community donating their books. Whilst we do appreciate them, we can only accept them with prior consultation. Our hours are 10-12 noon Monday to Saturday and our phone number is 4982 3477 if you wanted to call up or pop in and check with us before bringing them in. Please don't leave them at the door.
---
More than Just a News Service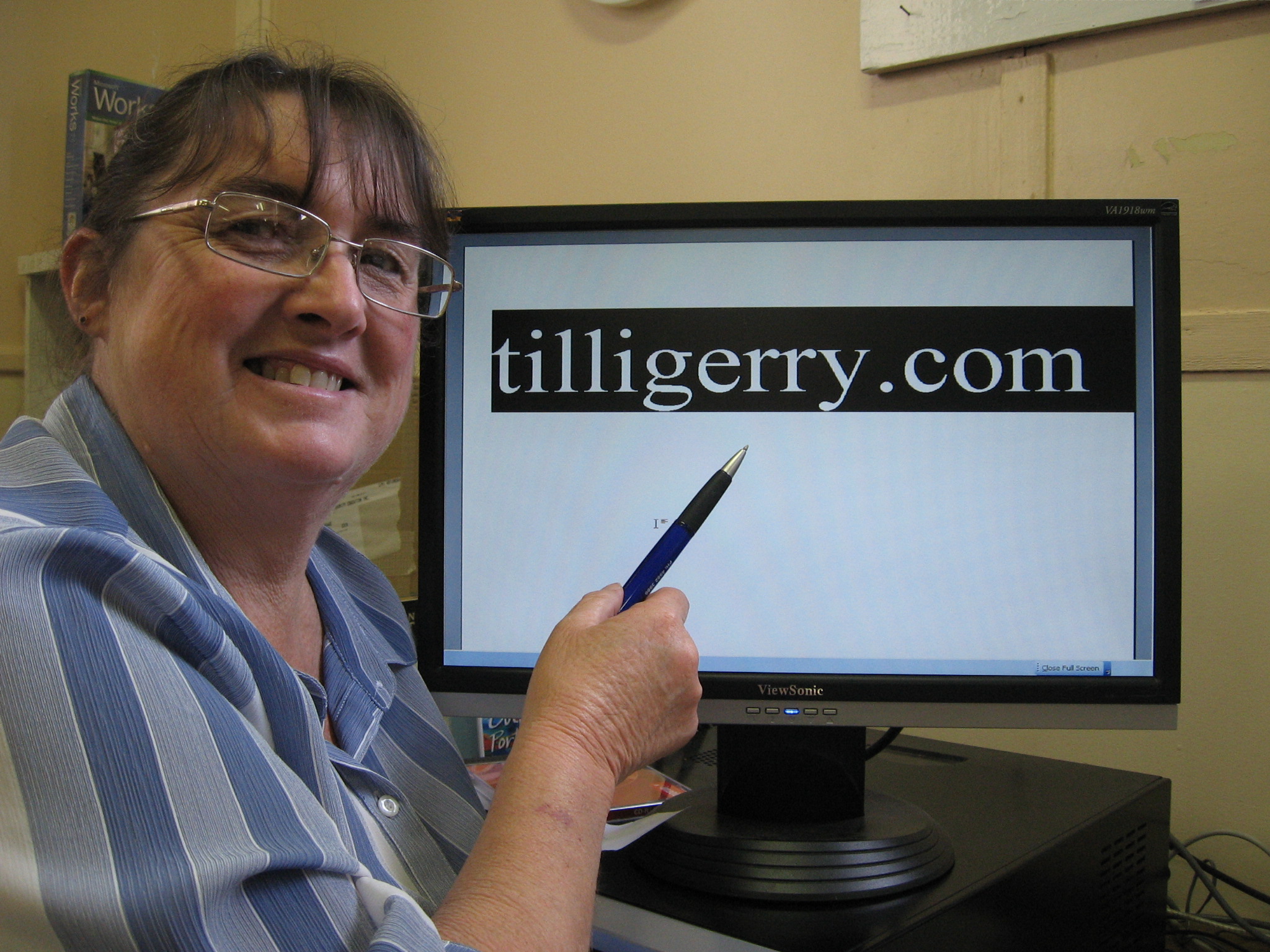 You've seen our illuminated sign 'tilligerry.com' beside the main road near the golf club as you drive into town at night.
With news services moving away from the print media, tilligerry.com for over 10 years now has moved with the times and gives local residents the news that they can't get anywhere else. Indeed, those travelling around Australia or internationally can keep up to date with a click on a mouse or a mobile phone.
Before our 'hit meter' broke down we were averaging around 2000 views each month. We have a few businesses supporting us but we really don't want advertisers as we are a not for profit community service.
That's not all! Each year we run a national Literature Award (a short story competition) with the support of PSSC, Club Lemon Tree and News Of The Area.
On top of this we offer the public internet access, assistance with the operation of electronic devices and photo copying.
It gets even better. There are constant requests, usually from residents new to the area, for general information about available services and organizations out this way.
We now have an extensive community directory listing some 80 of these which includes: churches, clubs, social groups, cultural events, schools, tourist information, community support, JPs, medical services, play groups and pre schools.
For more details scroll to the bottom of this page or click on 'Literature Award' and 'Community Directory' in the left hand green side bar.
Photo: tilligerry.com more than just news.
---
elebrating the re-opening.
New Community Directory
As the Tilligerry community expands and changes, there is the need to provide residents (particularly newcomers) and tourists with a directory of service groups, clubs and businesses. With this in mind, TACE (Tilligerry Adult and Community Education) will be compiling one in the near future.
It will be available in both an online and printed format.
TACE works under the umbrella of PSSC and coordinates community groups such as art, lead lighting, family history and mah jong. It has its home base at the LTP library. It also publishes tilligerry.com our local online news service which has grown to be the major source of local news for residents .Most months it gets over 1500 'hits'. The Port Stephens Literature Awards, a national short story competition, is another initiative of TACE and is run by volunteers.
If you would like to publicise your club, social group or business, email basic contact information to: tace@tilligerry.com and it will be considered for inclusion. There will be no charge for this service.
Photo: TACE volunteers Helen Mizrachi and Sue Hamilton at the library.