How Our Foreshore Has Changed
By the time you read this story, the great waterfront makeover of the Lemon Tree Passage foreshore will be a reality, ushering in a new future for the town.
On the other hand it will create a degree of nostalgia for those who liked it the way it was in the 'good old days'.
The following is a story of how things developed and gives us an insight into what life was like before the two-stage $4 000 000 upgrade.
Backtrack some 80years or so and life was so very different for the 30 odd souls who called the place their home. The foreshore had swampy inlets which only disappeared when the suburb was developed in the 1960s. Indeed the road opposite Henderson Park is still below the level
of king tides. Mosquitoes and sand flies were in plague proportions.
There was the corner store and a hand connected telephone exchange at a house down the end of Cook Pde . It was then called 'Kooindah'. There were clinker built boats for hire and very narrow weekender fishing shacks built out over the water.
The last fishing shack to disappear was that of Skipper Jewel. Skipper had an idyllic life. You see, his house was right in the middle of the park. He had access to the toilet block and had food and beer delivered . A pet cockatoo acted as a watchdog and he did very well out of his crabbing business. Skipper would row out into the Passage and run out a sunken, baited gill net. The blue swimmers he meshed up would be cooked in his 'backyard'. Skipper would then hang a painted 'fresh crabs' sign over the verandah rail. They went very fast.
After he died, the council was ready to bulldoze the shack but suddenly, out of nowhere his brother appeared and laid claim to the building.
Rather than upset the locals, council waited for him to pass on before getting rid of the structure and making it part of the park.
Of all the 'one off' characters who hung around the foreshore, little Willy Rooke was one of the most colourful. He would cash in soft drink bottles at the corner store. The owner put them in crates out the back. Willy would then pinch them a few days later and cash them in at Reggie Carey's fruit shop. These too were put behind the shop and our budding entrepreneur would once again recycle them at the corner store. On and on it went.
To sell the blocks of land in the big 1960s subdivision, the company flew up prospective buyers in a flying boat from Sydney. Those purchasing land got the flight for free. The agents would pick high tides for the sales day as it was hard to get ashore at other times.
People who wish to know about the early history of the town can borrow a copy of our local history book from the library.
The photos give some idea of the changes from the early days up to the present.
Photos: Local children on the foreshore in the '50s.......The old jetty and tidal pool......the last picture of the wharf demolition....and the completed piazza today.
---
Link to the Stars
After being shown mobile phone footage of some 20 bright shining objects in the night sky over Mallabula, we did some digging.
It turns out that these celestial orbiters are actually some of the 5000 'Starlink' satellites which are part of the 'SpaceX' initiative.
When at full capacity there will be around 42 000 of them and they will generate a projected $30 billion in revenue.
They can be manoeuvred and the ones seen on 11th November were arranged line abreast and more or less evenly spaced.
Keep an eye out for them and tell your friends. With Xmas coming it might be a good idea to show the kids and tell them that it's Santa and his helpers checking them out. If they've been good, he and the reindeers will drop in Xmas eve. If not....well, they might just zoom past.
Photo: A freeze frame from video of the lights.
---
Council Seeks Help
Port Stephens Council seeks the public's assistance in identifying those responsible for the deliberate removal of trees in public reserves and parks.
This was highlighted recently when many she-oaks (casuraina equisetifilia) were sawn off in a forested area beside the tidal drain near Henderson Park, Lemon Tree Passage. This drain runs from Cook Pde, under a new footbridge and then into the bay. Other newly planted trees in the car park have suffered the same fate and when replaced they too have been either uprooted or snapped off.
After inspecting the damage, council officers posted warning signs and letterbox dropped the street. The signs have since been torn down. Council will replace them.
The deliberate and long term problem of poisoning or chopping down of trees to improve water views has seen council plant new trees, festoon the larger dead branches of poisoned trees with bunting or even by placing shipping containers to block the view of the suspected culprits.
It's not a one-way street however with greenie activists planting trees in reserves to obstruct residents' views . Such was the case in Tanilba Bay where 'koala trees' (eucalyptus robusta) were planted in between existing paperbarks (maleleuca quinqinervia) and swamp mahoganies. They mysteriously 'disappeared.'
Council asks any residents who see those chopping down trees or poisoning them to record it on mobile phones or dash-cams as evidence which will secure a prosecution.
Photos: Destroyed she-oaks in Cook Pde LTP.....replanted damaged trees in Henderson Park …..and illegally planted trees in Peace Pde Tanilba Bay.
---
Men's Shed Turns Ten
The public is invited to celebrate the tenth anniversary of the Tilligerry Men's Shed on Saturday,11th November between 9.30 am and 1.00pm. Free coffee and a sausage sizzle will be provided. Visitors will be given an inspection of the shed and members will answer queries .
The Men's Shed was an initiative of the Tilligerry Lions Club when they realized that there was a need for older men to get social interaction to help with their health and wellbeing.
Years of planning and negotiation with government authorities, PSSC and grant applications saw the shed opened by Mayor Bruce MacKenzie in 2013. Local tradies and Lions members provided the labour and skills to bring it into reality. The shed is open for business Tuesday through Friday between 8 am and 12 noon. A joining fee of $30 covers insurance.
Leading light Kevin Colman OAM said that many donations of tools, machinery and materials came from widows and tradies. "We actually get many duplicate tools donated so we have days where we sell off the surplus," he said. "We also do this with produce from our greenhouse and garden," he added.
"People bring along furniture to be restored and we also make children's toys. These can be seen for sale at our monthly market stall at the Kooindah Centre car park. We even have a sharpening machine which puts an edge on knives, cutting tools and garden pruners and do small jobs for pensioners at their homes. Safety hand rails are one example. We are 'not for profit' and just need to cover costs," he stated.
The best idea for prospective members and those unsure of what services are on offer, is to just turn up and all will be explained. The shed is at the end of the Mallabula swimming pool car park.
Photos: Smiling faces ….Opening day in 2013...and members tending the garden plot.
---
Million Dollar Makeover
When Port Stephens
Shire Council found out that they were eligible for a state government grant to improve foreshore facilities, they jumped at it.
Local Councillor Steve Tucker puts it this way: "We grabbed it with both hands, submitted plans and got around $1 300 000 for improving the Lemon Tree Passage waterfront in Henderson Park. Indeed, this was the second big grant, the first being for the construction of the tidal pool, the public wharf and the boat ramp", he said.
The work is now nearing completion with all kerbing and guttering, pathways and landscaping now finished. On top of this, the concrete serpentine walkway along Rudd Reserve has crossed the new bridge over the tidal inlet and is headed towards the far end.
In the near future, the old amenities block will be given over to Marine Rescue and a new facility will be constructed.
"It's win, win , win all round," said Steve. "Businesses will prosper from the increased traffic and the pia
zza will become the focal point of the development. This section will be
completeted in the next few weeks and be open for the peak summer season," he stated.
Tilligerry has become very popular for locals and visitors alike with the upgrading of both the Tanilba foreshore and Caswell Reserve at Mallabula.
Indeed, with the new pathway, the option of circling the the peninsular is now a reality.
Steve sums it up like this: "From the end of the new walkway there are many options for trekkers. They can follow the rough bush track to Tom's Beach Mallabula or they can find their way to the Marine Base station at the top of Whitbread Drive. There are fire trails to The BoM weather dome and across the ridgeline to the main road. Alternatively, the unmade section of Tanilba Road will lead them to the boardwalks in Tanilba and up to historic Tanilba House, he said. "I can envisage a council sign being erected to show the options available," he concluded.
Footnote: Henderson Park was named after the legendary fire captain Bernie Henderson who built the old marina. Rudd Reserve keeps alive the memory of nursing sister Jenny Rudd who died tragically young and Caswell Reserve is named after Lt. William Caswell who constructed Tanilba House in the 1830s.
Photos: In the beginning: Cr. Tucker discussing plans with PSSC officers........Work in progress........The last concrete pour....and....All done and dusted.
---
Bert Back in Business
It was not so much a case of 'if' Australia got infected with the dreaded varroa mite but 'when'. Test hives were set up beside our major seaports and it was first detected in Newcastle.
Authorities established exclusion zones where bees could not be moved from and beekeepers within those zones had to have their hives destroyed.
It didn't work, mainly because there were countless thousands of beehives in the hollow trunks and branches of trees which couldn't be located and dealt with.
There is hope however as apiarists can start up again with new 'clean' hives and control infections with chemicals which only affect the mite and have no impact on the bees or honey that they produce.
Tanilba's Bert Willey was just one local apiarist caught up in the initial 'exclusion zone ' but he's now looking forward to rebuilding his business.
"I was very much traumatised by the whole thing," he said. "The exterminators turned up in the dead of night to ensure that all the bees were back in their hives. They then poured petrol in the top of each hive and made them airtight with plastic. After all the bees were dead they took my hives away and burned them," he added.
Bert was paid $500 compensation for each hive by the government but his income stream stopped.
"Beekeeping to me is more than a business. The bees are very much part of your family and become your friends." he stated. "You look after them as you would a child or a pet and to lose them all suddenly left a great hole in our lives and we were at a loss to fill in the gap it created." he concluded.
Bert has since purchased new disease free working hives from the North Coast and will increase his hive numbers by breeding and buying more.
Apart from honey production,bees provide a vital role in the pollination of fruit and nut crops. Some apiarists make a very good living travelling around and following the blossom. As a one-way export to the USA billions are sent there to pollinate the almond orchards.
Photos: Bert with his bees at Tanilba and his honey for sale at the 'Tilligerry Habitat'.
---
Ban the Bees!
With the destructive verroa mite creating havoc with our honey bees, perhaps it's time to forget about the mite and concentrate on getting rid of the bees!
The European honey bee is an invasive species just like the rabbit, the cane toad and the prickly pear.
Before the white man came, the tiny stingless native bee was prized by the aborigines as bush tucker and these bees, along with other solitary varieties and insects pollinated our native flora.
Exterminating the introduced bees along with other invasive animals, plants and insects would return Australia to its pristine state.
Of course, this proposal would be howled down by apiarists, orchardists and farmers as they rely on them for their living.
One introduced plant is very much loved by beekeepers but loathed by farmers. Indeed, they have different names for it. The honey industry calls it 'Salvation Jane' as this purple flowering plant is a prime source of pollen. On the other hand, farmers call it 'Paterson's Curse' because it chokes out grasses and lessens the value of hay.
Now for the good news: If you would like to help our native bees and other insects to proliferate, you can build them a 'bee hotel'. It's easy and a great activity to get the whole family involved with. Too lazy or you haven't got the time? For around $25 you can buy one from the major retail outlets.
We haven't got the time to drone on about the subject but you can google 'bee hotels' for all the information about the bees and their 'hotels' if this interests you.
Photos: Paterson's Curse or Salvation Jane ? You bee the judge....and this is what $25 will buy you.
---
Our Soccer Star
Local historical societies like to keep alive the memories of local people and events that add to the richness of our social fabric.
Port Stephens Family History, Society based in Lemon Tree Passage, is one such group of researchers and over the years they have documented some outstanding citizens who have lived here.
Dr A A Doyle our first doctor comes to mind as does decorated war hero Grant Lindeman. Another was Wally Clayton, a master spy for the Russians.
Recently the spotlight has been shone on Reg Date who spent his childhood here and went on to be the highest scoring soccer player Australia has ever seen.
Perhaps, dear reader we are getting ahead of ourselves and it would be wise to backtrack to the 1920s. At that time Reg's mother ran the general store in Lemon Tree Passage and his father was a professional fisherman.
Things were not very happy in the Date household. Reg's father was prone to drunken rages and at the age of eight, Reg was sent to Wallsend to Live with his grandmother to escape the violence.
It was here that he took up soccer and became something of a star at school. He went on to play for Wallsend and Canterbury Bankstown clocking up a total of 578 goals (and that's not a misprint!) He represented Australia five times, three of which as captain. Reg also turned down an offer to play in England.
In the year 2000 Reg was enshrined in 'The Team of the Century' and his record goal score will never be eclipsed.
Soccer was a relatively minor game in the early days but today, particularly after Australia's meteoric rise in the World Cup, it is attracting new players in droves. Indeed Tilligerry has around 20 competitive teams and expect more in the future.
Pictures: Reg Date in later life....Grant Lindeman war hero...and the infamous Russian spy Wally Clayton.
---
Figtree Cathedral
Despite the covid scare and wild weather, Tanilb
a House is now up and running as a wedding and function centre with solid bookings for the spring season.
The owners have advised that the restored colonial homestead is now their home and not open for public inspection. There have however been very popular 'High Teas' celebrated on the verandahs which the public have attended.
On top of this, the Family History Society launched their book on the history of the house there some time back.
Most wedding parties choose to celebrate their big day under the wisteria covered pergola but some prefer a secluded glade known as 'The Figtree
Cathedral'. It is located at the western end of the property near the vacant block of land. Brides choose to use the house, its structure and surrounds for wedding portraits.
The Tanilba House facebook page will give a greater insight into the Historic House and its functions.
Photos: A wedding under the wisteria.....A colonial 'High Tea'....'Figtree Cathedral' and the launch of 'History and Heritage of Tanilba House.'
---
It's All Happening
All of a sudden, Tilligerr
y has come alive with action and residents need to be made aware of inconveniences they may have to get used to until the major works a
re completed.
Some residents will experience moderate delays between Oyster Cove and 'Dead Man's Corner' on the outskirts of Tanilba Bay as road widening will see the closure of one lane. Those who work out of town will need to take this into consideration when timing their departure.
Ave of the Allies at Tanilba Bay will see sections of the road closed and traffic diverted as the four section makeover gains momentum. Currently, that section between the arched gates and Rigney Rd is sealed off and traffic has been diverted through side streets. Residents between the two diversion barriers can have access to their homes via the wide grassy verge between their properties and the wire fence.
The old plaza has been fenced off and is being demolished. The Jade Court Restaurant and the service station still have easy access but pedestrians can no longer walk through the property over the old car park.
'Reo' is being put in position ready for a concrete pour of the 'piazza' adjacent to 'John Dory's in Henderson Park LTP and formwork for the cycleway along Rudd Reserve has been put in place.
Photos: The closed sections of Ave of the Allies between the arched gate and Rigney Rd and the old plaza being demolished.
---
Tilligerry on the
Move
The removal of sev
eral Norfolk Island Pines and other trees from the Avenue of the Allies at Tanilba Bay and the stockpiling of drainage pipes heralds the start of a four stage reconstruction of the road. The pine trees were cut down because they were dying and other types of trees were in the way of the rebuild.
Cr Steve Tucker said that he stayed on PSSC for an extra couple of years to see this and other projects he has been involved with come to fruition.
"Ratepayers must realize that it takes a lot of behind the scenes work to get funds earmarked for our ward and I'm proud to have been able to get a very big slice of the pie allocated to Tilligerry," he said.
"Within the next year or so the peninsular will be a much improved area for residents and will be a very inviting place to settle. It will also be appealing to both day trippers and holiday makers alike," he stated. "The impact on our economy will be very positive," he added.
Cr Tucker listed as complete or well underway the following:
The $1 700 000 rebuild of Tanilba Rd Mallabula; the $4 000 000 reconstruction of Ave of the Allies Tanilba Bay; widening of the main Rd between the Oyster Cove turnoff and Tanilba; the big makeover of Henderson Park LTP which includes a piazza, a new amenities block, seating and a foreshore pathway; 'The Caswells' 54 unit over '55s gated village which will replace the derelict shopping plaza. Also the upgrade of the children's water feature and splash wet area at our heated pool has finished. He also said that the conversion and extension of the former professional centre at Tanilba into a child care facility would be a great community asset.
Some proposed forward works include:
A new playground at Tanilba Bay near the amenities block; and the removal of the locked gate to the Mallabula Jetty and the sealing of the access track.
Photos: Two diseased pines and other trees were removed from Ave Allies Tanilba Bay in preparation for the rebuild........Tanilba Rd. Mallabula now sealed,kerbed and guttered......and work on the LTP waterfront progressing at a rapid rate
---
Changing of the Guard
A celebration of some forty years of community service on Thursday, 1st June marked not so much the end of TACE (Tilligerry Adult and Community Education) but a chance to take on new directions for community needs in these fast changing times.
But, dear reader, we are getting ahead of ourselves and to understand things in perspective we must backtrack to 1983 when the Lemon Tree Passage School closed and moved to the brand new Tanilba Bay site
The old LTP buildings were then used for computer lessons, as a baby health centre, a library and by various arts and crafts groups. 2001 saw a chance to relocate when a vacated doctors' surgery/bank became available in the Tilligerry Plaza. At this time the use of personal computers was starting to take off, so much so that an internet cafe had been established in the Kooindah centre. Mobile phones were very expensive and were the size of a brick. TACE catered for this growing need.
Another move, forced on TACE came when the Plaza closed and they then shared the library in Lemon Tree Passage. Our local Lions Club which had already fitted out the Plaza Office came to the rescue by building computer desks in the library. Volunteer workers doubled up as librarians and harmony was the name of the game. The rest of the groups still operated out of the Old School Centre.
The whole set-up came under the umbrella of Port Stephens Council but administrative problems were increasing. Something had to be done so it was decided to disband TACE and make each individual group responsible for its own operation and answerable to Council.
This change saw PSSC provide computers for the library and operate a free wi-fi service and provide computer access. Sue Hamilton will still be giving free assistance of a Thursday for those residents who find their electronic devices challenging and the Tilligerry Lions have taken over the 'Port Stephens Literature Awards'.
Reflecting, Sue said that TACE over the years not only assisted the locals but also saw holiday makers and visitors copying documents and catching up on their email.
"It wasn't unusual for sailors in yachts to wander in from the marina to sort out their affairs," she said. " We had some $250 left in our kitty and decided to pass this on to the Tilligerry Lions Club which has supported us for so many years," she added.
Photos: Matthew Elvins and Dorothy Putica at the old Plaza site.......Helen Mizrachi and Sue Hamilton being recognized for their efforts.....and Lions Kevin and Jan Colman receiving their cheque.
---
Lift for Library
But where is it? This is most asked question by those wanting to borrow books in Tilligerry.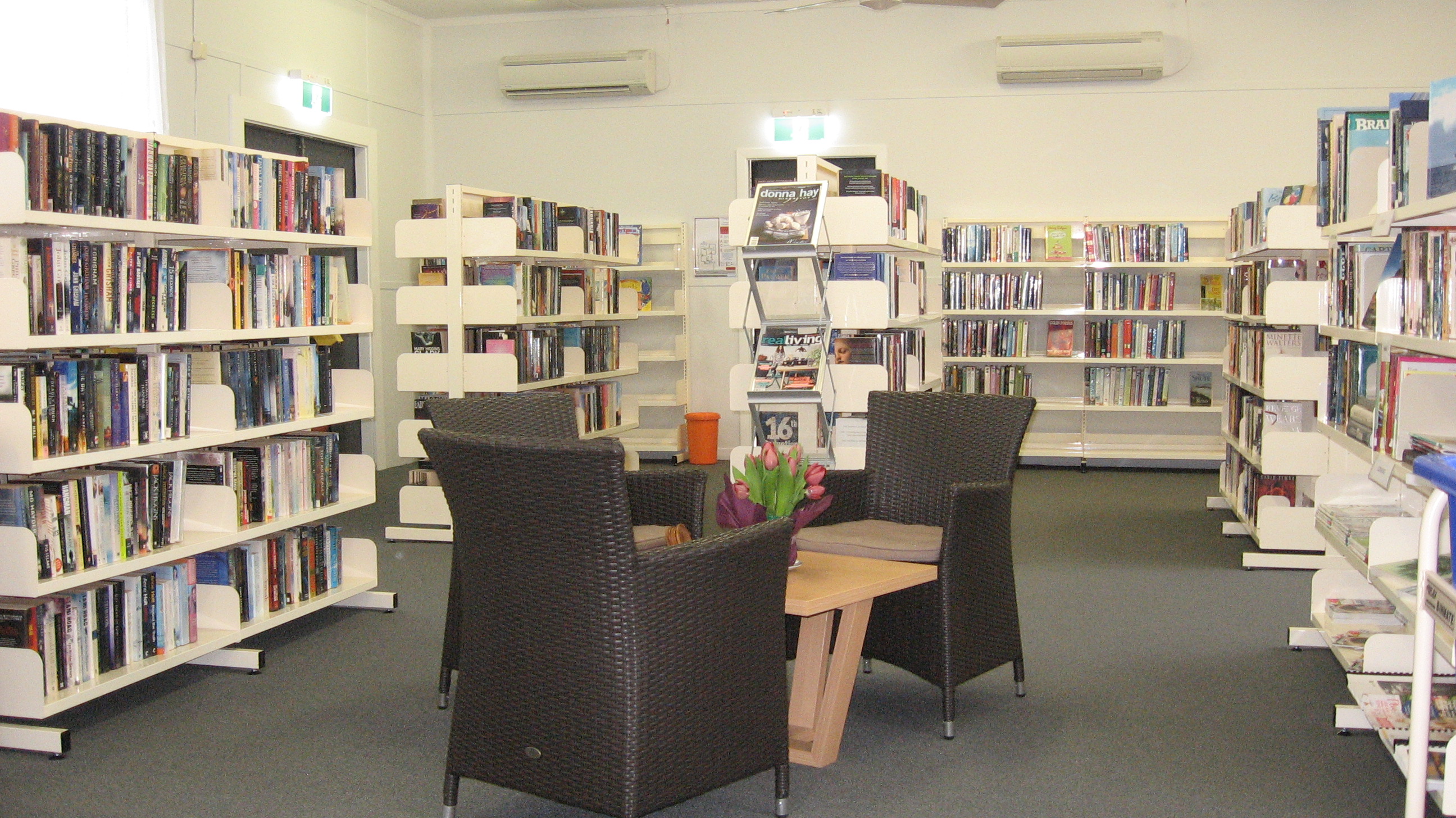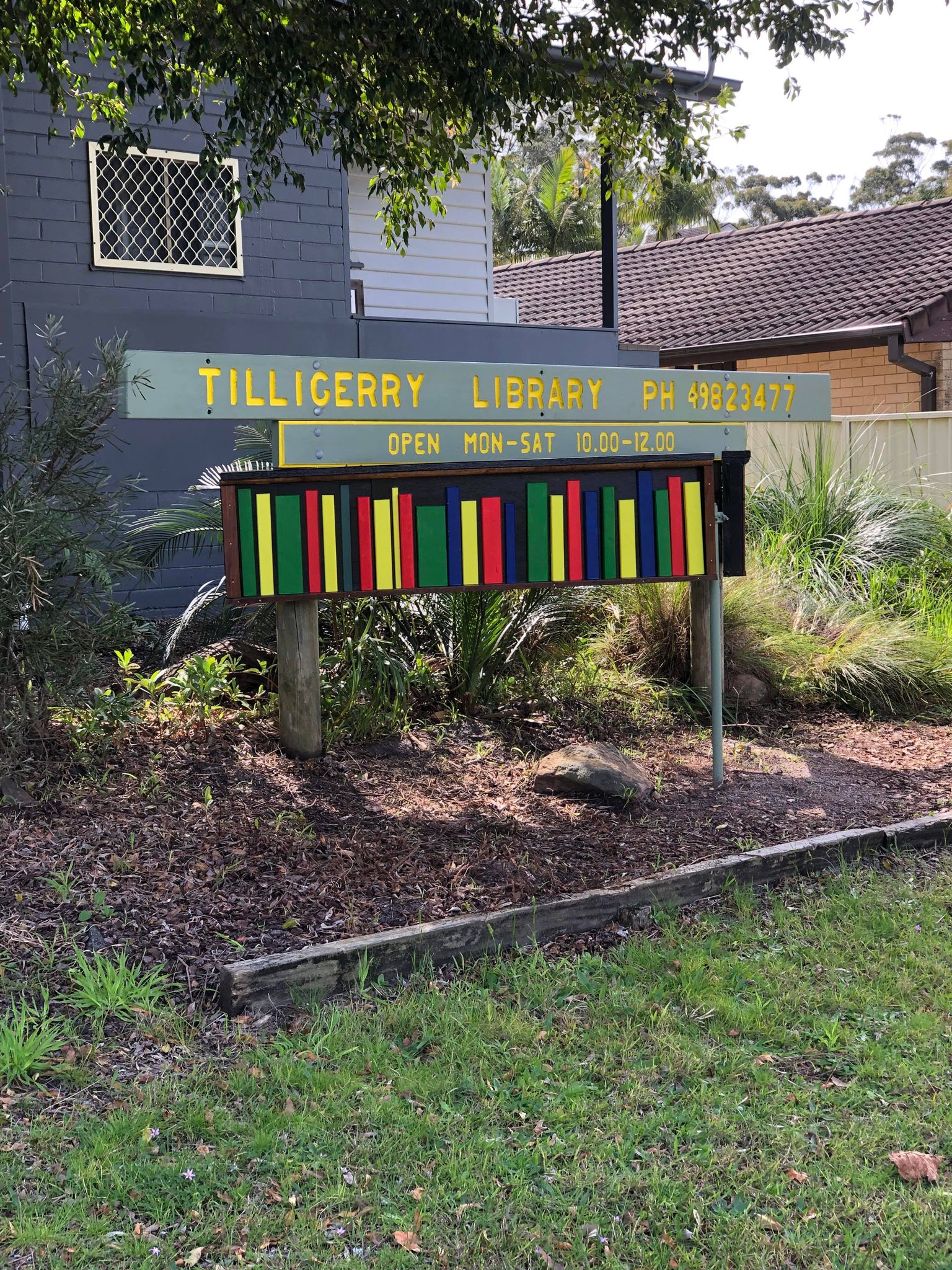 The town public library is situated on the main road opposite the Lemon Tree Passage Motel and when open, has a 'library' flag fluttering from a pole in front of it.
It's been there for decades and is staffed by volunteers and operates from 10am until noon six days per week. (Monday to Saturday).
A big makeover a couple of years back saw new carpet, reader friendly furniture and a slick paint job spruce it up.
What's more, a heavy cull of the least read books and an injection of new stock has something for everyone, including children.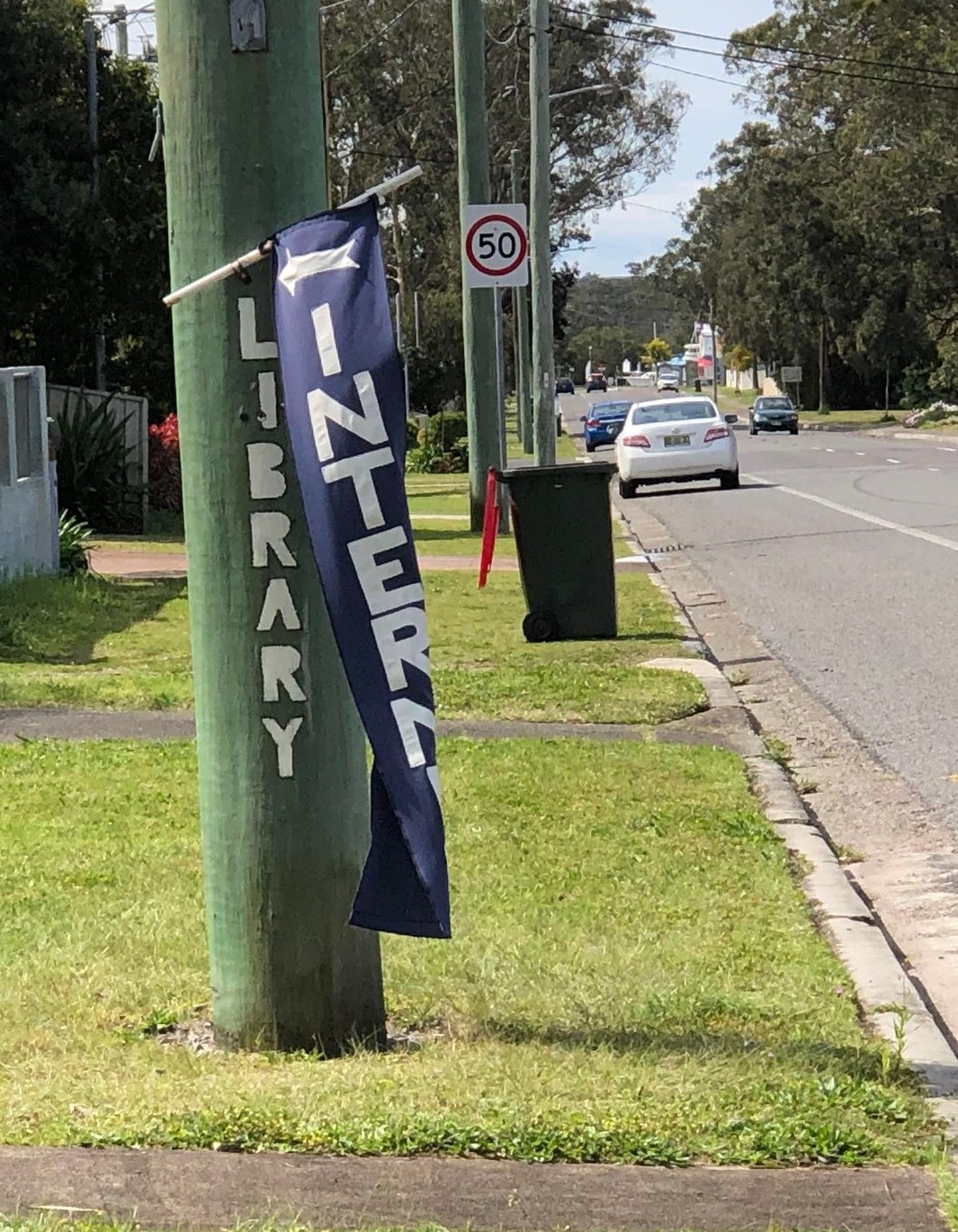 Tilligerry Men's Shed workers have just removed the old overgrown sign and have carved a new one which is much more visible.
Business is more or less back to normal after a year or so of roadwork disruptions and the construction of a new police station two doors away. Council have taken over the computer access and has 2 brand new computers. A new scanner is on order and you will now be able to print A4 colour pages.
The library augments the mobile service which visits the villages of Tanilba Bay, Mallabula and Lemon Tree Passage on a rotational basis.
Both services have now recovered from the Covid lockdown restrictions and are back up to pace.
Photos: The LTP Library after the makeover......and the new sign giving it better visibility.
---
Book Donations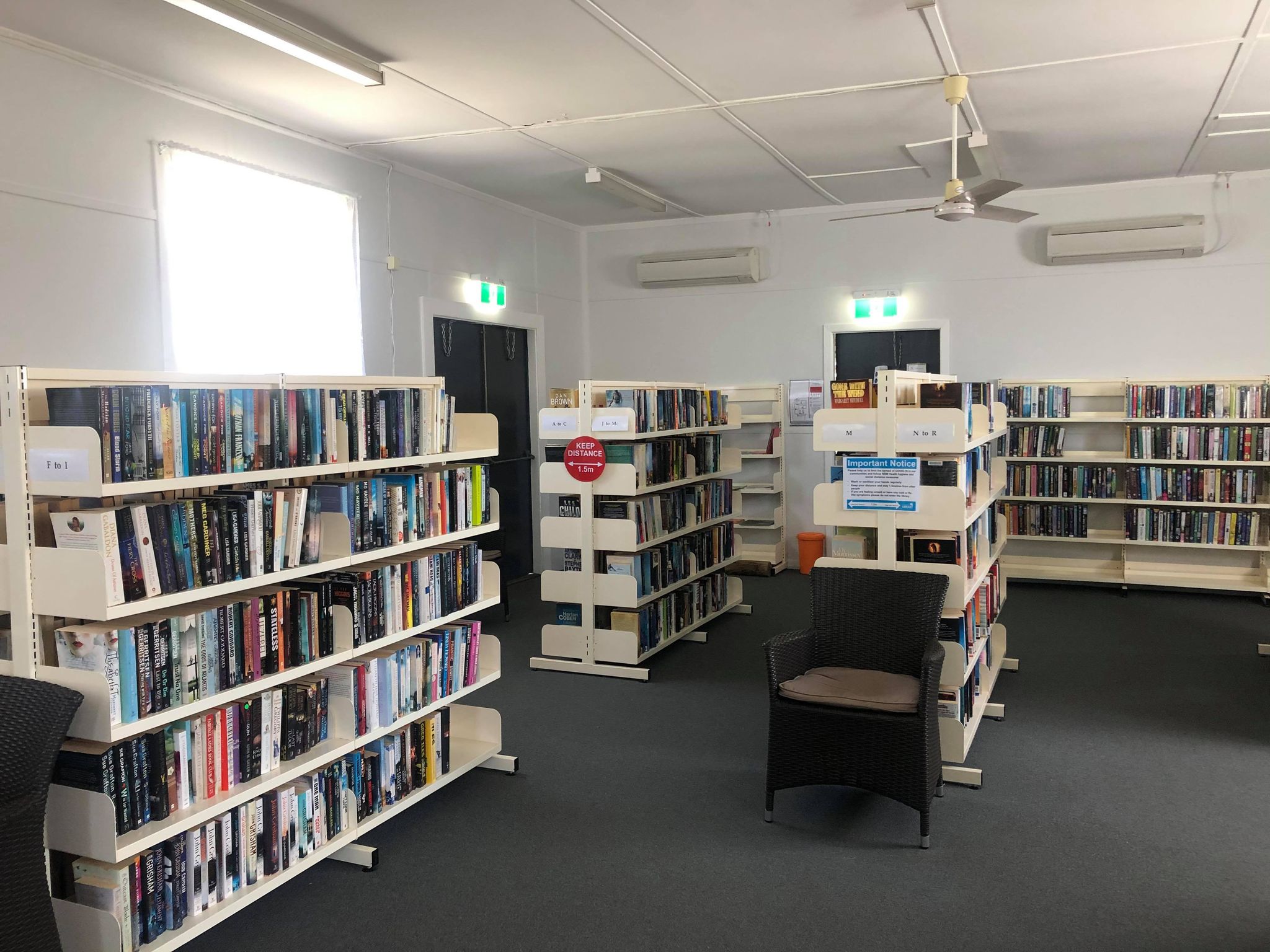 Tilligerry Community Library ha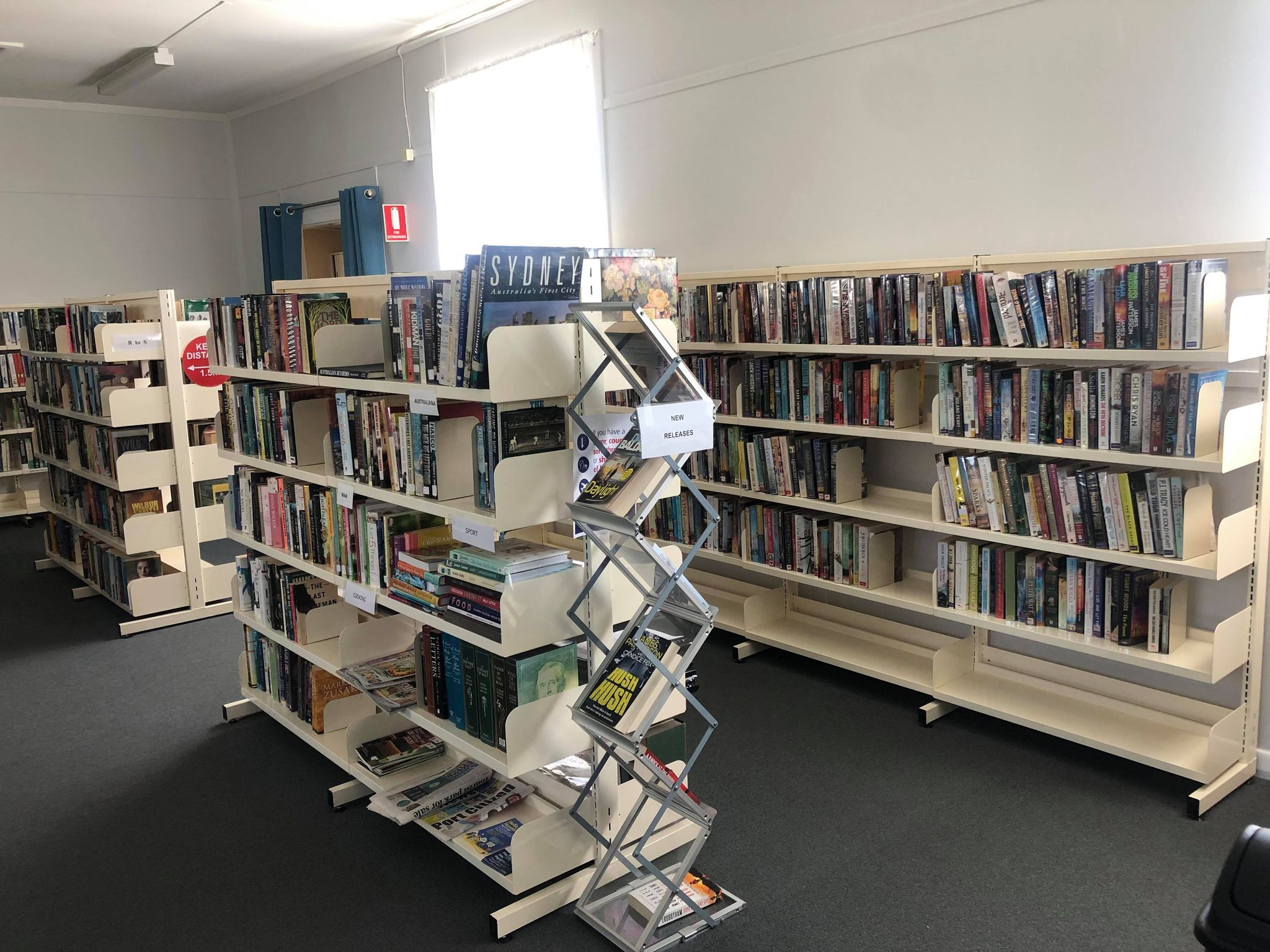 s always enjoyed the support of the community donating their books. Whilst we do appreciate them, we can only accept them with prior consultation. Our hours are 10-12 noon Monday to Saturday and our phone number is 4982 3477 if you wanted to call up or pop in and check with us before bringing them in. Please don't leave them at the door.
---
More than Just a News Service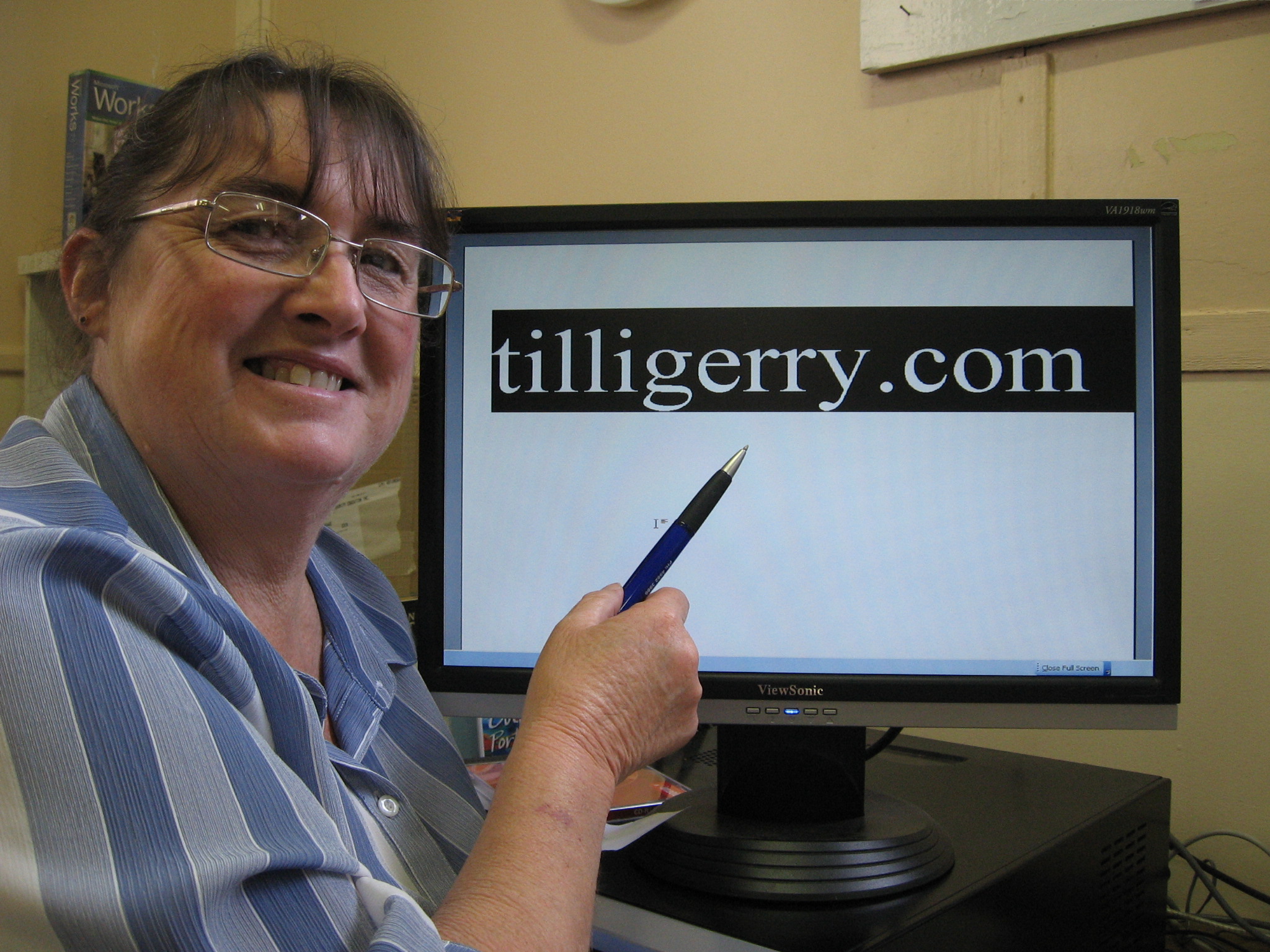 You've seen our illuminated sign 'tilligerry.com' beside the main road near the golf club as you drive into town at night.
With news services moving away from the print media, tilligerry.com for over 10 years now has moved with the times and gives local residents the news that they can't get anywhere else. Indeed, those travelling around Australia or internationally can keep up to date with a click on a mouse or a mobile phone.
Before our 'hit meter' broke down we were averaging around 2000 views each month. We have a few businesses supporting us but we really don't want advertisers as we are a not for profit community service.
That's not all! Each year we run a national Literature Award (a short story competition) with the support of PSSC, Club Lemon Tree and News Of The Area.
On top of this we offer the public internet access, assistance with the operation of electronic devices and photo copying.
It gets even better. There are constant requests, usually from residents new to the area, for general information about available services and organizations out this way.
We now have an extensive community directory listing some 80 of these which includes: churches, clubs, social groups, cultural events, schools, tourist information, community support, JPs, medical services, play groups and pre schools.
For more details scroll to the bottom of this page or click on 'Literature Award' and 'Community Directory' in the left hand green side bar.
Photo: tilligerry.com more than just news.
---
elebrating the re-opening.
New Community Directory
As the Tilligerry community expands and changes, there is the need to provide residents (particularly newcomers) and tourists with a directory of service groups, clubs and businesses. With this in mind, TACE (Tilligerry Adult and Community Education) will be compiling one in the near future.
It will be available in both an online and printed format.
TACE works under the umbrella of PSSC and coordinates community groups such as art, lead lighting, family history and mah jong. It has its home base at the LTP library. It also publishes tilligerry.com our local online news service which has grown to be the major source of local news for residents .Most months it gets over 1500 'hits'. The Port Stephens Literature Awards, a national short story competition, is another initiative of TACE and is run by volunteers.
If you would like to publicise your club, social group or business, email basic contact information to: tace@tilligerry.com and it will be considered for inclusion. There will be no charge for this service.
Photo: TACE volunteers Helen Mizrachi and Sue Hamilton at the library.