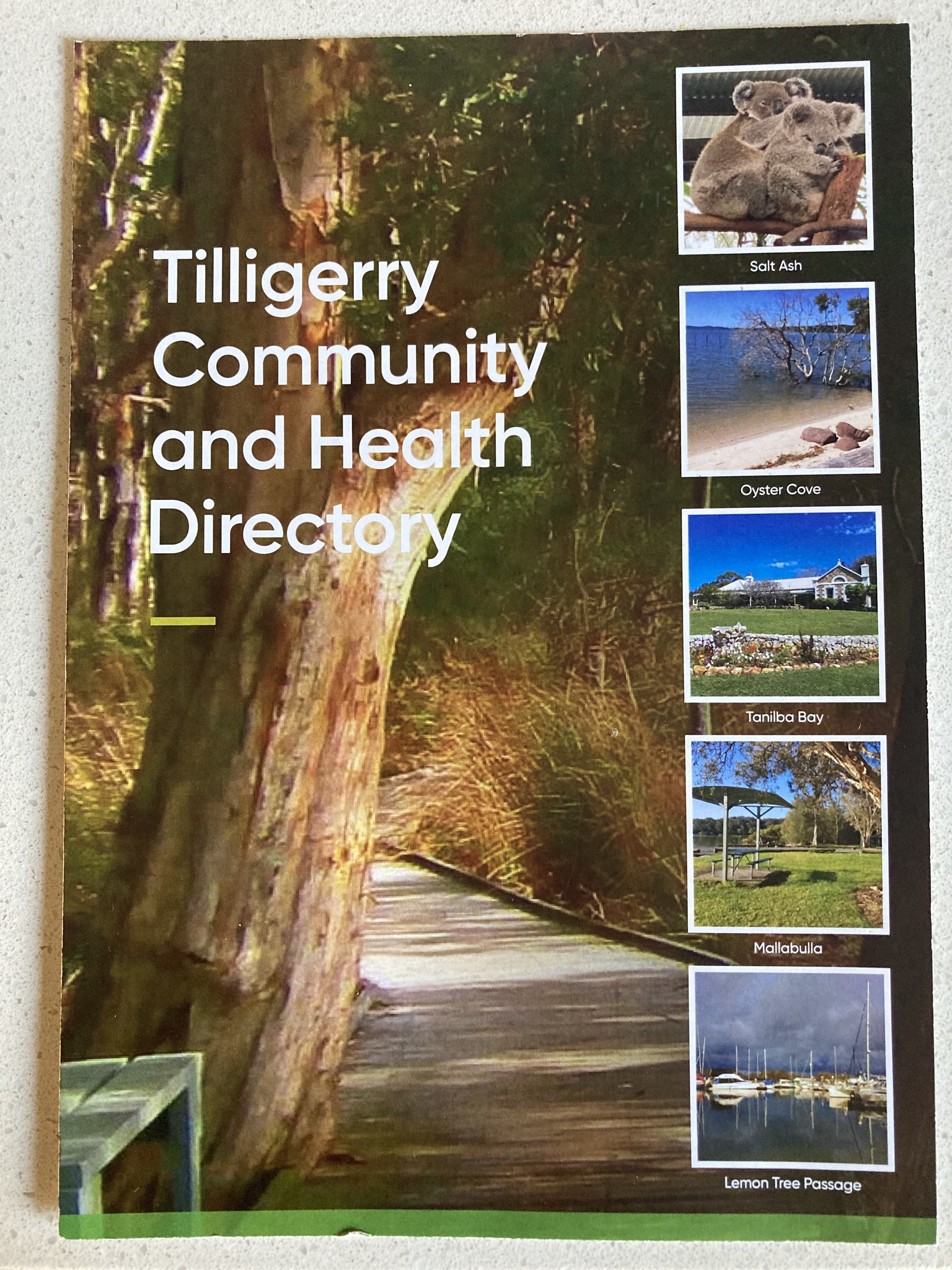 New Community Directory
Come along and find out more about Tilligerry Connect and our new Tilligerry Community and Health Directory!!
Make connections to people, services, groups and fun activities and events in the Tilligerry area.

And we will be hosting a fun, educational activity to help our fellow Tilligerians get connected and find out all the wonderful resources available on our peninsula and beyond. We are limiting our event to 10 participants and they will each get our new directory as well.

Saturday 17 September 12-3 PM
Bookings essential.

Contact tilliconnect@gmail.com or phone us at 0408 686 846 if interested.
---
Sharing the Telco Towers
Governments insist that Telco companies share transmition towers as too many of them make an unsightly blot on the landscape.
That's why Tilligerry has just three big ones to give maxium coverage for mobile phones with as few 'black spots' as possible.
They are located at Tanilba Golf Club, the Lemon Tree Passage Industrial Estate and beside Marine
Rescue at the top of Whitbread Dve. They pay rent to those who own the land on which they are constructed.
Marine Rescue some years back had trouble collecting rent for the land they leased beside their base station so they turned to Federal Member Bob Baldwin for assistance. After threatening to name the company in parliament, back rent and rent in advance to the tune of some $25 000 was deposited in their account within a week.
Another type of tower sharing happens at the tall telco tower in the Industrial estate in Lemon Tree.
A pair of ospreys built a large nest out of branches amid the cluster of electronic gear. Technicians pulled it down but then realized that it was illegal to interfere with the nesting sites of these protected raptors.
To rectify the situation, when modifications to the tower were made they constructed a metal 'basket' on top to lure the birds back. It worked and the sea hawks have now rebuilt their nest.
Ospreys feed almost exclusively on fish and are adapted to snatch them from the water with their talons.
They usually breed from July through to September and lay two to three eggs which incubate for around 40 days. The chicks are fully fledged in nine weeks.
Photos: An osprey returns to its nest carrying a branch to build with......The new cup shaped nest site on top of the tower......Bob Baldwin and friends....plus the Marine Rescue tower overlooking the bay.
---
Dying To Kno
w Day
Learn how to start the conversation around this topic with your loved ones at this free, enjoyable event in Tanilba Bay surrounded by flowers, community, light refreshments and drinks and experienced local speakers.
Tanilba Bay Foreshore Hall Sunday 25 Sept 10 AM to 2 PM
https://www.dyingtoknowday.com
---
Lift for Library
But where is it? This is most asked question by those wanting to borrow books in Tilligerry.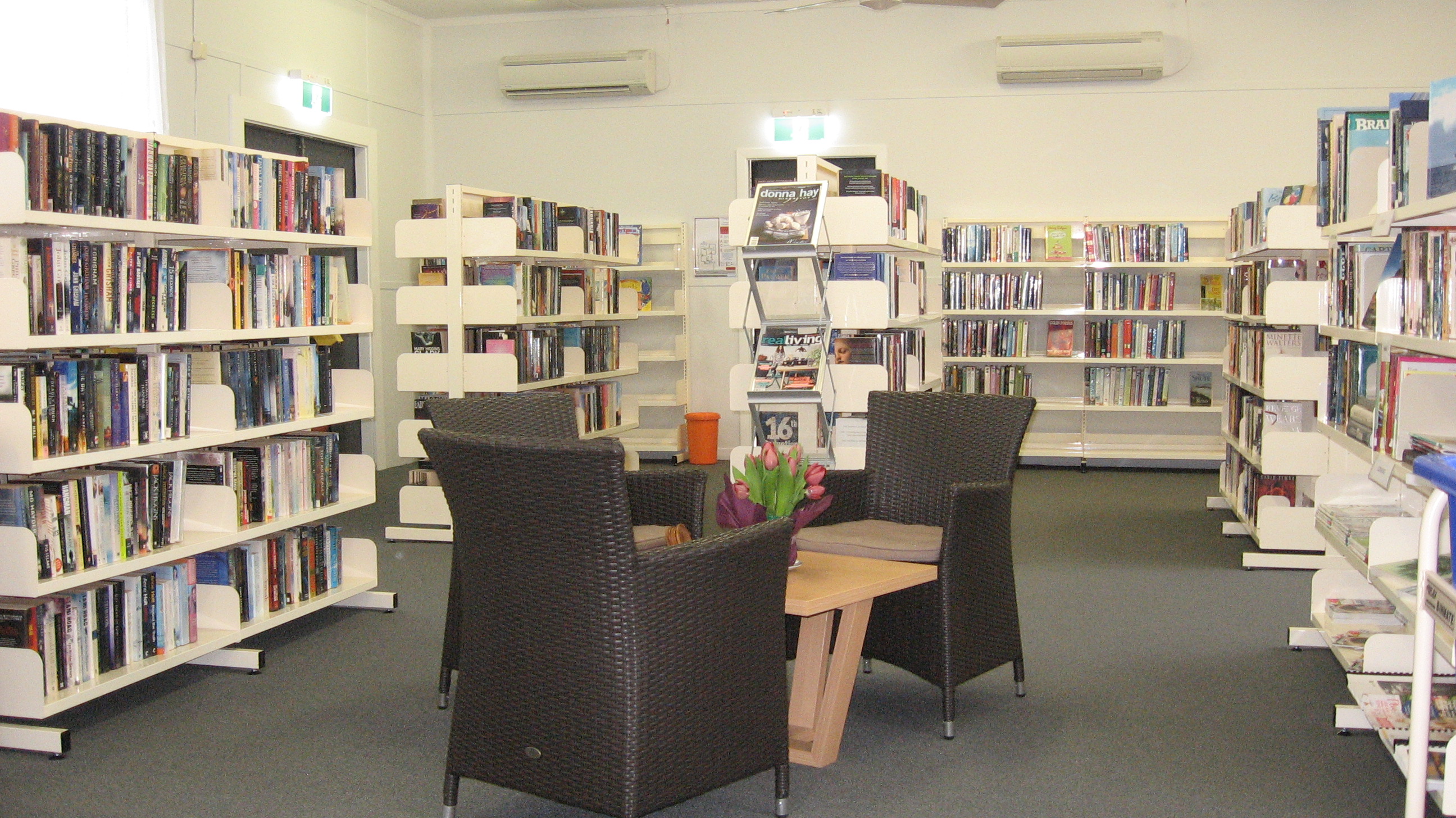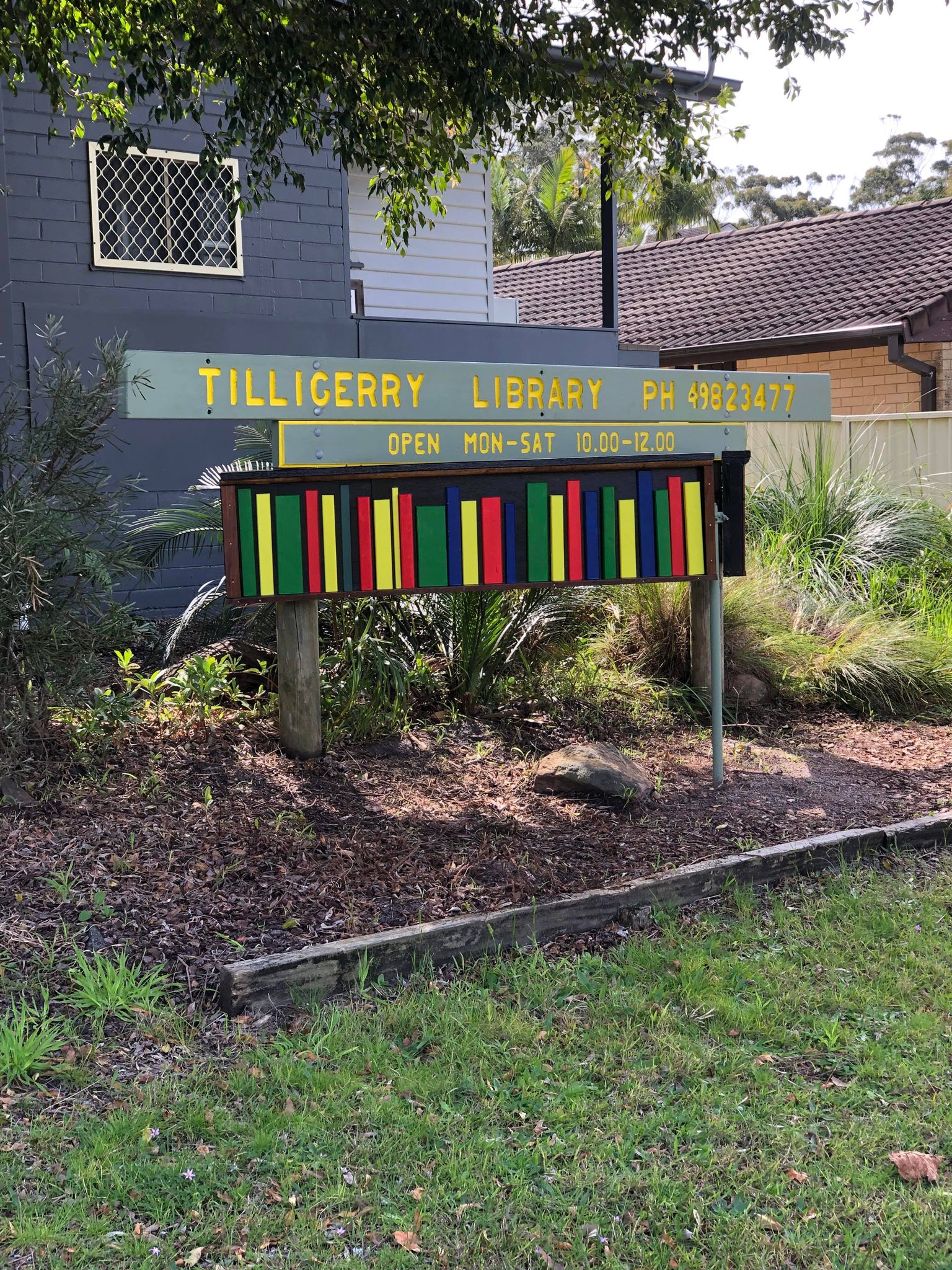 The town public library is situated on the main road opposite the Lemon Tree Passage Motel and when open, has a 'library' flag fluttering from a pole in front of it.
It's been there for decades and is staffed by volunteers and operates from 10am until noon six days per week. (Monday to Saturday).
A big makeover a couple of years back saw new carpet, reader friendly furniture and a slick paint job spruce it up.
What's more, a heavy cull of the least read books and an injection of new stock has something for everyone, including children.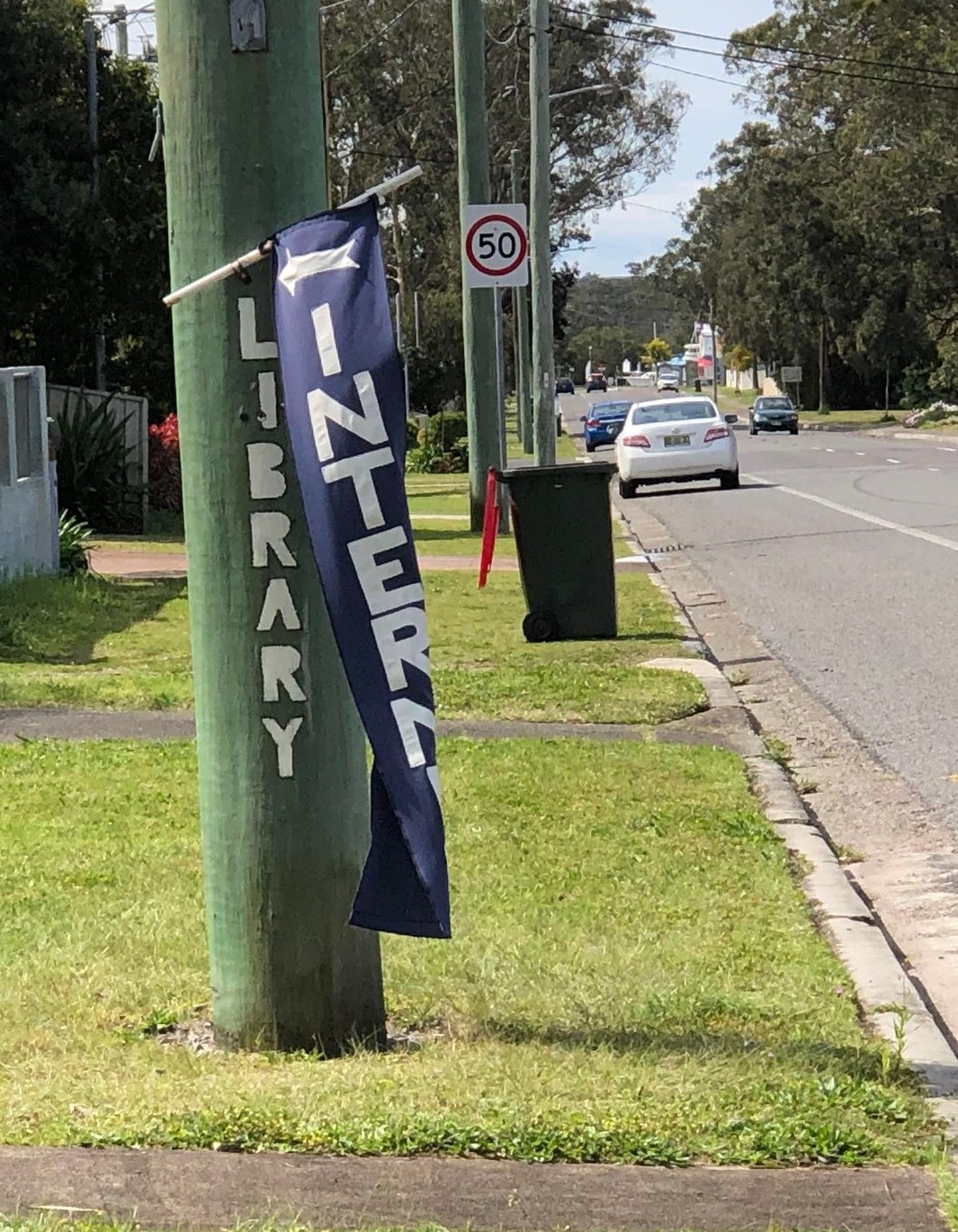 Tilligerry Men's Shed workers have just removed the old overgrown sign and have carved a new one which is much more visible.
Business is more or less back to normal after a year or so of roadwork disruptions and the construction of a new police station two doors away. Council have taken over the computer access and has 2 brand new computers. A new scanner is on order and you will now be able to print A4 colour pages.
The library augments the mobile service which visits the villages of Tanilba Bay, Mallabula and Lemon Tree Passage on a rotational basis.
Both services have now recovered from the Covid lockdown restrictions and are back up to pace.
Photos: The LTP Library after the makeover......and the new sign giving it better visibility.
---
Lions Club of Tilligerry Peninsula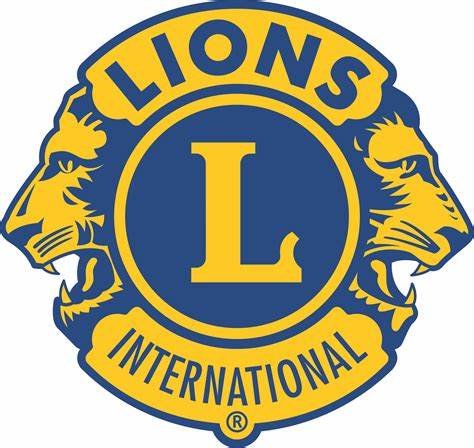 Welcome to the Peninsula. A day to find out what you can do in our local area. While having some fun.
10/09/22 - 10 am to 2 pm
Henderson Park, Lemon Tree Passage
· Lions BBQ, Marine Rescue
· Performance from Locals
· Business card's for local tradies
· Information on sports, social and craft clubs
Contact Jan 0418715037 for more information.
---
Overwhelmed by Support
Mike Colecliffe has been overwhelmed by support from friends and emergency services after his recent accident at Lemon Tree Passage.
He had been working on the engine of a 65 foot (19 metre) motor cruiser berthed at Albatross Marina when the battery exploded.
"This is an extremely rare thing to happen," he said. "The noise of the explosion in the confined space perforated my ear drums and I was peppered with shrapnel from the battery casing," he added.
"I doused myself with water to dilute the acid spray and the emergency services responded very quickly and choppered me to the Royal North Shore Burns unit." he stated.
" I was worried about my eyes but the doctors said that the damage was minor and within a few months I should make a 100% recovery," he said.
"I was released the next day and I'm back at work," he added. " I'd like to thank all those friends who sent me emails and text messages of support. We do live in a very caring community," he concluded.
Safety authorities ask all boat owners to be very wary of fumes and gas which accumulate inside unventilated craft. They urge people to make sure that the hull is well aired before starting the engine as sparks from the starter motor are the cause of many on board explosions and fires.
Photo: Mike Colecliffe.....Overwhelmed by support after explosion .....and the Albatross Marina Lemon Tree Passage, scene of the accident.
---
Feteful Change
The annual fete held in the grounds of Tanilba's Baptist Church is to change its format this year as Rev. Anthony Gentle expla
ins:
"We've found over the years that setting up our fete was very time consuming and labour intensive so this year it will be one big car boot sale," he said.
"The church itself will only run a sausage sizzle, a cake stall and provide drinks," he added.
For some 20 years, proceeds from the fete have been forwarded to India where they benefit the slum dwellers in New Delhi.
Apart from the upcoming car boot sale, the church is back on track with its Thursday lunches at 12.30 pm for anybody who would like fresh home cooked meals. Online Sunday services are still provided but most parishioners have returned to the church itself as social distancing rules have lapsed.
The sit- down meals were altered to a drive-in service during the Covid lockdown. Those without transport could have a two course meal home delivered. The church's own 'Garden of Eden' provides fresh vegetables picked on the day to enhance the flavour and nutrition of the meals. A $2 donation will defray the costs but is not mandatory. Nobody will be turned away.
Those wishing to book a $10 spot for the car boot sale can get information on: 0422 026 556 . The fete is set down for Saturday 17th September between the hours of 8.30 am and 1.30 pm.
Tanilba Baptist Church is in Beatty Bvd and the access track is prominently signposted. See you there.
Photos: The 'Garden of Eden' which provides fresh in season vegetables for the church kitchen......Local residents at their Thursday sit-down dnner ….and Anthony Gentle "Proceeds of the Fete help the poor in India".
---
How a Bushfire Helped Heat our Pool
In 2011 a bushfire, fanned by a stiff sou' wester, came our way and jumped the main road near the Aquatic Centre at Mallabula. It then got away in the narrow strip of scrub beside the car park.
On top of this, it spot-fired into the solar heating grid on the roof of the Community Centre. This was a plastic open finned type of grid which heated the pool.
Although not severely damaged, Council's insurers paid out some $30 000 and the system was replaced by a huge blue, solar blanket heating system. This improved the water temperature and still works effectively more than a decade later. The system pumps cold water up via a PVC pipe, it circulates and then returns t
o heat our pool.
At the time, PSSC saved $8 000 per year in heating costs but as power prices soar, today it could be twice or even three times that.
During the height of summer, the water temperature can be as high as 34C as the the thermostat cuts out at 26 degrees and the rising temperature cannot be lowered.
On cold, sunless days, the heat pumps kick in and it is rare to see the water below 23 degrees. Heat blankets on the water surface are in place during the cooler months when the pool is closed.
Glass solar panels on the main building pre-heat the water for the shower block's standard hot water systems but these occasionally run cold.
The good news is that Council has augmented this system with extra solar panels during the winter shutdown. The three pools have been upgraded and reopening times can be found on council's web page.
Want to see vision of the bushfire that threatened the pool? Just google 'great aussie bushfire tanilba bay youtube' and away you go.
Pictures: The bushfire in 2011 which damaged the solar heating..... and local children playing at the pool. Note the pre heating solar panels on the roof of the amenities block.
---
The Koala Bay Story
Lancom's Koala Bay estate wasn't an easy one to develop. The site itself was part of a swamp so the whole site had to be filled.
This involved countless hundreds of trucks dumping thousands of tonnes of sand onto the site. To stop the sand blowing it away , they planted millet, the seed of which was very popular with birds. Indeed bird fanciers would take bunches of the stuff home for their pet parrots.
By releasing about 20 blocks at a time, they di
dn't flood the market and each sale financed the next bit of the development.
A list of blocks for sale was pinned to the office door at the site and people would queue for weeks to reserve one of their choice and had to be present until the sale day. Some had caravans to stay in and others slept in tents and replaced those 'minding' their spot with a relay of family members. Landcom provided toilet facilities.
The first sale of allotments backed onto the existing Fairlands Rd properties at Mallabula and went for around $90 000. They peaked at about $225 000 for rather ordinary sites in the middle of the estate.
Prices then fell, with the last group bordering the school and parkland realizing some $125 000 each.
It was (and is) a quality development with Lancom eager to sell a lifestye rather than just small, uninteresting flat allotments. This they did by linking it to the waterfront and by constructing a viewing platform and foreshore boardwalk. Their glossy brochures featured pelicans, golden sunsets and families having fun on the white sandy beaches.
Developers must pay a 'section 94' levy to PSSC and in Lancom's case it was close to $1 000 000. This is for publc infrastructure. Rather than stump up the cash, they put in parks, playgrounds, two lakes, cycleways and commissioned aboriginal carvings. They also wanted to bulldoze the scouts and guides hall and replace them with a community centre but this didn't happen.
One interesting feature was the creation of an island and lake beside the RSL oval. They spared no expense, even using a huge crane to place a $30 000 native fig tree on the top of the island. They also transplanted grass trees to the school grounds, around the lake and to an embankment with a decorative stone entrance to showcase the RSL. Their botanist used native shrubs and trees to screen the blocks along the main road from the sight and sound of traffic. A liaison committee of locals was established to advise them. All in all the 276 home sites greatly boosted the prosperity of the town.
Photos: The lake and viewing platform....Replacing the foreshore boardwalk.....and the $30 000 tree being put on the island.
---
It's on Again!!!!
This years awards will be hosted by Tilligerry Lions Club. Please contact the phone number in the add.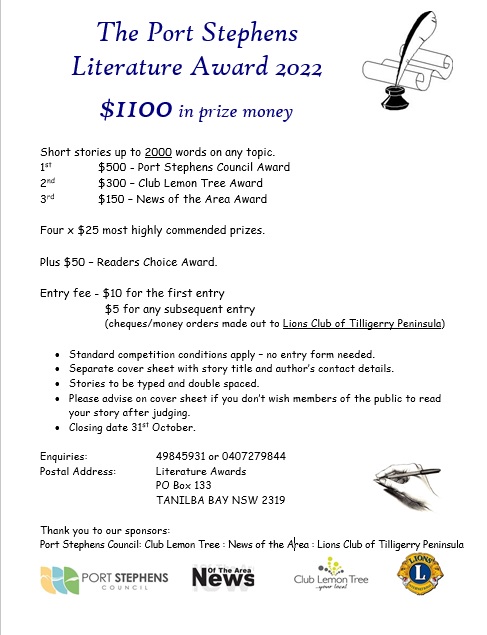 ---
Firing up the Grass Trees
Blackboys, grass trees, xanthorrea: call them what you like but whatever the name they are a native plant worth preserving.
The ACI sand miners were very keen to keep them and apart from direct seeding and growing seedlings in the company nursery at Tanilba, the also used a front-end loader to transplant the mature trees.
As well as this they retrieved many from the golf course before the bulldozer cleared the fairways. Indeed this ancient plant became the golf club logo.
The secret of successful transplanting was fire. You see, if the trees were burnt off after being relocated, there was no transpiration from the fronds and a fire induced regenerative cycle came into play. What's more the seed spikes soared skywards. These formed triangular seed pods and the black seed was scattered by the wind.
There are at least four varieties of xanthorrea in Tilligerry but the 'australis' is the only one which has a trunk. Look at the photo. The one the boy is leaning on is well over 60 year of age as the trunk grows at the rate of about one metre every 30 years.
Landcom, in developing the Koala Bay Estate, involved Tanilba School in transplanting many grass trees into the school grounds. It also asked the school to name some parks in the estate. They presented the school with computers as a way of saying 'thank you ' to the children for their help.On top of this, they transplanted many more to the RSL entrance and surrounded the lake with them as well.
Sadly. many have died due to heat stress and from Landcom's failure to burn them off after transplantation.
The picture shows pupils supervising the placement of the trees.
This is an old photo and these children are well and truly grown up and could even have children of their own by now. Do you recognize any of them?
Photo: Pupils with an area of relocated grass trees.
---
Internet at the LTP Community Library
We are in the middle of changing over the internet/phone system at the library and as such we have no internet available at this stage. We will endeavour to have it up and running as soon as possible.
In the meantime there is internet access at the mobile library.
+
We apologise for any inconvenience and we will let you know when we are back up and running. We do still have photocopying facilities available. Black and white printing 25c per sheet.
---
Foreshore Future Plans
"Why don't the
y just fix the roads?" This is the standard response of ratepayers when council pours hundreds of thousands
of dollars into parks, boat ramps and amenities.
Councillor Steve Tucker explains:
" We must understand that the State Government gives us grants for specific purposes," he stated. "The $1 500 000 roundabout at Tanilba is one such case. The money was given to us as part of the 'Black Spot' initiative. It simply can't be spent for any other purpose," he added.
Much of the foreshore makeover is funded by another grant with council contributing as well," he said.
"The sail over the decking has taken a while because the original design of the pillars did not suit the swampy sub-soil so it had to be re-engineered," he pointed out.
"By making Henderson Park a showpiece, the word gets around and we attract visitors, day trippers the boating fraternity and holiday makers. They spend money and our business people prosper," he added.
Future plans for the area include a 'Town Square' piazza designed in the shape of an oyster with seating, trees and shades with an extension of the pedestrian pathway to the end of Rudd Reserve. The removal of boats from the sand into racks has given the public more space to move and the 'dump point,' attracts travelling caravaners and those with mobile homes.
"We are also looking to construct a new Marine Rescue base station on the waterfront above the existing amenities block," he concluded.
Photos: Workers preparing the deck foundations....and …. The finished product.
---
Food for Thought
Which ever way you look at it, there are those out there in the community doing it tough at the moment. With job losses, soaring rents, petrol price rises and living costs going through the roof, it will be even harder for the
m as we enter winter.
That's the bad news but Tilligerry has always been a place where civic minded souls reach out to those in need.
For many years our two charity stores, staffed by volunteers, have sold clothing and food very cheaply to people who simply cannot afford top of the range goods.
Coles has played its part too with its 'second bite' initiative providing excess food to the needy. Lyn Martin and her group of young mothers at the Mallabula halll were eager consumers of this generous offer.
Our churches too offered assistance with the regular free dine in lunch for the elderly of a Thursday. It changed when covid restricted public gatherings and became a drive in service with fresh vegetables from their own 'Garden of
Eden' featuring on the menu.
As well as this, the Uniting Church has always run a free Xmas dinner for those left alone on the day.
But, dear reader, another initiative has recently come to the fore in the form of a free kerbside larder as its instigator Bree explains.
" I noticed the stress people were under when covid forced lockdowns and they were put out of work with rent or mortgages to pay and bills mounting up," she said. "I had already put a community library structure on my front boundary and the idea of a larder or pantry came to mind" she stated.
"Residents wanting to donate, just have to put in-date non perishable food in the pantry and those in need just take what they fancy," she said.
"It's worked very well apart from some minor vandalism. We roll the pantry into the garage at night and during wet weather," she added.
Want to take part in this wonderful initiative? The library and larder are in Pershing Place Tanilba Bay opposite the old fire station and next door to the Uniting Church.
Photos: The Baptist Church's 'Garden of Eden'.....Lyn Martin distributing the 'second bite' goodies from Coles.....and the kerbside library and larder.
---
Making Your Own Fun
With the Covid lockdown, people once again resorted to making their own fun. This is what previous gen
erations had done to keep their minds active and to generate that all important social interaction.
Before the use of radio and TV, community dances , card nights and housie (now bingo) were all the go but with the arrival of the electronic age these etertainments have all but disappeared.
Tilligerry, being an isolated peninsula, has always entertained itself but, some ten years ago the last of the live theatrical shows came to an end.
The Tilligerry RSL Amateur Theatrical Group had a cast drawn mainly from its staff and patrons. It ran to packed houses and the shows were written and directed by local people.What's more, profits from them were donated to worthy causes and charities.
Long time cast member Margaret Curry reflects on those years:
"It was all about having fun," she said. "We were all rank amateurs and made
our own costumes and scenery. There was something for everybody who was interested to do. The sense of belonging and community spirit was overwhelming. We sometimes forgot our lines which brought roars of laughter from the audience and a few of the shows were a bit risque but they kept coming back for more," she added.

Another 'hands on' crowd which trod the boards were the 'Tilligerry Boot Scooters'. This was comprised of senior citizens who wanted to keep their minds and bodies active. They travelled far and wide
inspiring others and entertaining those less active. They were always a big hit with their annual performance at the Fire Brigade's long weekend market day and fireworks spectacular. Most of them have now departed and in the the way they wanted to go - feet first and with their boots on!
A rather secretive lot of like minded ladies decided to get gentle exercise and have fun by forming their own belly dancing group.
They practised behind closed doors at the Guides Hall at Tanilba. Some of these ladies were of middle age and their partners objected to them flaunting themselves in public but to no avail.
A call went out to support the MS Society so the complete harem along with a few dubious male ring-ins took over the golf club to a sell out crowd. This raised many thousands of dollars for a worthy cause. A video disc of the performance is still to be found around the town.
But why have these live shows faded away?
Margaret Curry explains:
" The next generation was simply not interested" she stated. "They were time poor and both partners worked long hours and communicated with high tech electronic devices," she said. "That face- to- face interaction is gone to be replaced by a computer screen. It's sad, but that's the way it is these days ," she mused.
Photos: Margaret as the wicked witch with Dave Garnham, Jim Morrison And Roby Miles from one of the shows…..Mel Howell, Jim and Robin from another...... and The Tilligerry Boot Scooters....plus Suzie Offner and her belly dancers on Australia Day in Henderson Park
---
Check Out the Bee Hotels
The first mud house in Mallabula was built some 30 years ago. Its owner used clay dug up from his own backyard mixed with straw to mould the large mud blocks. These he rendered with a sand / cement mix.
His exterior walls were then attacked by bees. They weren't the European honey bees but a type of solitary native bee which bored holes in them to nest. They only went away after he sealed the surface.
With the honey industry now in crisis, attention is being focused on the propagation of native bees and their role in pollination. We can all play a part in this and here's how.
For years now, forward thinking conservationists knew that it was only a matter of time before the destructive verroa mite invaded Australia so they started to promote the breeding of native bees.
Native bee populations had declined as clear felling of their habitat had made an impact and the grassing and sealing of urban areas had covered the homes of those which bred in the ground.
Hundreds of beekeepers nationwide now propagate the native bees which have community hives in tree hollows and produce honey. They are stingless. There is also a simple way of ensuring the survival of the numerous solitary bees. In nature they seek out the holes left by borers in tree trunks to nest. You can replicate these holes by the construction of the 'bee hotel'. They can be bought for around $30 from hardware chain stores or you can make them yourself.
Just get a big block of timber and bore a series of holes in the end between three and 13mm in diameter and up to 15 cm deep. Nail a 'roof on top to keep the rain off and you're done and dusted.
Alternatively you can stack PVC pipes, cans or containers with hollow bamboo canes and get the same result.
Position your 'hotel' between one and two metres above the ground facing the morning sun and you're in business.
A shaded spot is best as direct noon day summer sun will 'cook' the brood.
By packing short terra cotta or PVC pipe lengths with wet clay and poking holes in them you can also create a different version.
These solitary bees just lay their eggs, seal the end and leave. They pollinate native plants as well as backyard vegetable patches.
Interested? Just google 'bee hotels' to view the numerous video clips for the finer details and information to get you started.
The structures are cheap, easy to construct and you will be helping our flora survive these troubling times.
Photo: The purple coral pea (hardenbergia violacea) a favourite browsing vine frequented by native bees.
---
Lost Port Stephens Found
Facebook groups are a way of reconnecting with friends from the past or with those of like minded interests.
Denise Gaudion from the Port Stephens Family History Society discovered this and is gathering rich historical data and rare photos from one such local site. " After we published 'A History of the Tilligerry Peninsula' people kept
coming to us asking why we did not ask them about the book as they had lots of information and photos." she said. "They had slipped through the net."
"These days facebook has come to the rescue in the form of an online group called 'Lost Por
t Stephens'. Through this we have been able to add much new information to our archives and fill in many gaps. On top of this, priceless old photos have emerged from people who are happy to share their family stories with the wider community," she remarked.
If you would like to view the site just key in the name and away you go. A click on the mouse will join you up and you can then ask questions or contribute family stories and pictures. You can even track down long lost relatives and friends from your childhood. All submissions are vetted and standard conditions apply to postings.
After a successful launch of 'History and Heritage of Tanilba House' the publication is now into its second edition and research into an expanded version of Tilligerry's history is well underway. Requests for missing details will be posted on 'Lost Port Stephens' as the need arises.
The PSFH research centre is located at the Old Lemon Tree Passage School Site on top of the hill behind Club Lemon Tree and will assist residents to trace their family roots. It operates each Thursday and Denise will assist with enquiries on 49 823587 or you can visit their facebook page or website.
Photos: The sign on the main road indicating the site of the research centre.....and Denise flanked by Tanilba House owners Glenn Short and Deirdre Hall at the book launch.
---
Turning the First Sod
Mallabula residents were thoroughly fed up with the proposed $1 700 000 makeover of Tanilba Rd being deferred. So was Port Stephens Council. They were just about to start when the 'big wet' hit. Alan Gibson's Tanilba weather station actually recorded the
annual average rainfall by the end of April.
This meant that Council's roadwork gangs were diverted to filling potholes and washed out culverts and repairing landslips.
It was therefore decided that they would employ a contractor and the work has begun in earnest.
The greatest challenge is to get the sub - strata drainage pipes in place which need to be connected to the watercourses which flow into the bay. This is why there is such a huge pile of pipes stacked in Caswell Reserve and in the park opposite the end of Wychewood Ave.
The work is expected to be completed by November 2022 and diversions of traffic will
be needed during the months ahead.
Commenting on the project, Cr Steve Tucker said that he planned to retire at the last council election but ran again because he wanted to see the two big roadwork projects he fought for come to fruition.
"Residents are entitled to complain about the roads but they must realize the enormous cost of a complete rebuild," he stated. " Tilligerry gets more road funding per ratepayer than other areas of the shire," he added.
Those residents whose properties front on to the newly rebuilt roadworks will be expected to partly pay for the kerbing and guttering.
"It's a small price to pay," remarked Cr Tucker. "The increased value of their homes will more than compensate for the contributions they make."
Photos: Workers turning the first sod.......The stockpiled pipes in Caswell Reserve.....and Steve Tucker.... " Completion date expected to be November 2022."
---
Apiarists' Alert
The one word that strikes fear into every apiarist is 'verroa.' You see this destructive mite is present in most every country of the world but so far Australia has not been overwhelmed by it.
Two cases were detected in Townsville but swift action by the authorities eradicated it. The government praised the efforts of those involved which saved the state an estimated $2.4 billion . Indeed, nationally the bee keeping industry is worth some $14 billion per year mainly from the pollination of vast almond orchards in the Riverena.
On top of this the export of billions of disease free bees to California keep their almond and citrus industry thriving.
Newcastle is a very busy port and is constantly monitored for the verroa mite in sentinal hives around the area. They have been discovered in these and other hives so mandatory destruction will take place of all hives within a radial distance of 10 km.
There is a state wide ban on the movement of bees and hives moved recently from the Newcastle area to a western town have been tracked down and destroyed.
The big fear is that if the mite infestations get into wild bee colonies in hollow trees it will be very hard to detect and destroy them.
Tilligerry is the home of several apiarists and Campvale is the base of an extensive bee keeping business. Our Tilligerry Men's shed actually assembles wooden bee boxes for them as they just can't attract the labor to do it the job themselves.
Photos: Tanilba's Bert Willey attending his hives ...and his local honey on sale at the Tilligerry 'Habitat'.
---
Tribute to Mike
It was as a 30 year old, fresh faced, enthusiastic Mike Stanwell who took up the role of principal of St Joseph's Catholic Primary School in Merriwa in the 1990s. Here he witnessed the parish priest abusing a young girl.
He warned the pupils not to approach the priest and duly reported it to the Bishop of Maitland. Nothing happened and a certain f
ather Philip Wilson visited him reassuring him that the church would 'take care' of the matter.
It didn't and there began a long crusade by Mike to seek justice for the abused children and to expose those who actively covered it up.
At every turn in the road he was stonewalled by the Church. He lost his job and his health failed.
Undaunted, he pressed on to the extent that he petitioned the Vatican but to no avail. Others joined in the call for justice and they included Walkley award winning Herald journalist Joanne Mc Carthy and Detective Chief Inspector Peter Fox.
This resulted in a commission of inquiry which exposed other paedophile priests in the Maitland / Newcastle area as well as senior figures within the Church who covered up their crimes. The now Archbishop Philip Wilson was convicted and sentenced to home detention. He has since died.
Mike never wavered in his faith and was a regular worshiper at Mallabula's Catholic Church. He was also an occasional bridge player and trivia contestant at Club Lemon Tree when his health permitted.
He told his story without pulling any punches and at our last interview with him he made the chilling statement: "They are still out there. We didn't get them all!"
Those of you who have an interest in Mike's saga can view the celebration of his life by Googling: 'Mike Stanwell Fry Bros.' Peter Fox's book 'Walking Towards Thunder' can be ordered online or from the Library Service.
Photo: Mike at his Lemon Tree Passage home.....exposed child abuse and cover-ups within the Catholic Church.
---
End of an Era
From the 1920s onwards, you would see them in increasing numbers. These were the tailor fishermen sometimes standing almost shoulder to shoulder along the Queensland beaches.
The standard rig was a long rangoon cane rod and a wooden Alvey sidecast reel. They'd flick a gang-hooked bait out into the foaming surf and wait. The tailor would strike and soon be flapping on the sand. Some anglers used slabs of fish as bait with a hook connected to a wire trace as tailor had a nasty habit of chopping through the line
.
Charles Alvey invented the legendary reel and after many models and modifications over some 100 years, the company is closing.
This will be sad news for Lemon Tree's Anglerz Corner, the local Alvey agent.
The great advantage of the Alvey was that if it fell into the sand, a quick rinse in the surf would have it as good as new. It was virtually maintenance free.
Most prized amongst collectors are the early model silky oak and red cedar models. Later designs were moulded plastic. The company also made rods and their nipper pump was a best seller.
In 2016 the company, in a nostalgic throwback, recreated their early silky oak model in a limited edition.
The Port Stephens beach fishers still use the Alvey reel for any type of angling. From the humble whiting to the giant mulloway, the reel is one of the most preferred and effective.
The photo shows a range of Alvey reels which are now collectors' items. You can sill pick them up from deceased estates and garage sales. Ebay and Gumtree are also worth a try. They work just as well as the day they were made.
Photos: Some of the Alvey models which include a child's bakelite version, red cedar, silky oak and a blackfish reel.......Plus 'Anglerz Corner,' the local distributor.
---
Winter Shutdown
The annual maintenance closure of the Tilligerry Aquatic Centre will be from 4th July 2022 to 28th August.
The previous shutdown dovetailed well with the outbreak of the Covid pandemic where the three shire swim centres were closed.
During this shutdown, a major makeover saw the pool drained and the old liner and tiles removed . A troublesome leak was fixed and the pool relined. It now retains the heat better.
With soaring electricity prices Tilligerry will not be impacted as much as other swim centres. Energy efficient solar blankets covering the council recreational hall next door provide much of the heat required.
One recent year Tilligerry did not close at all. Technical issues at both the Tomaree and Lakeside centres saw Tilligerry as the only operational option for the squad swimmers and dedicated swimming tragics.
Council and 'Belgravia' management have a policy by which when a 'home' pool is closed, patrons have the option of extending their season tickets for the time of the shutdown or by opting to use one of the other swim centres that remain open.
All three pools have learn to swim classes, aqua exercise groups , lanes reserved for lap swimmers and free swimming areas. The Tilligerry contact number is 49824720.
Photos: Tilligerry's major makeover in progress.
---
Book Donations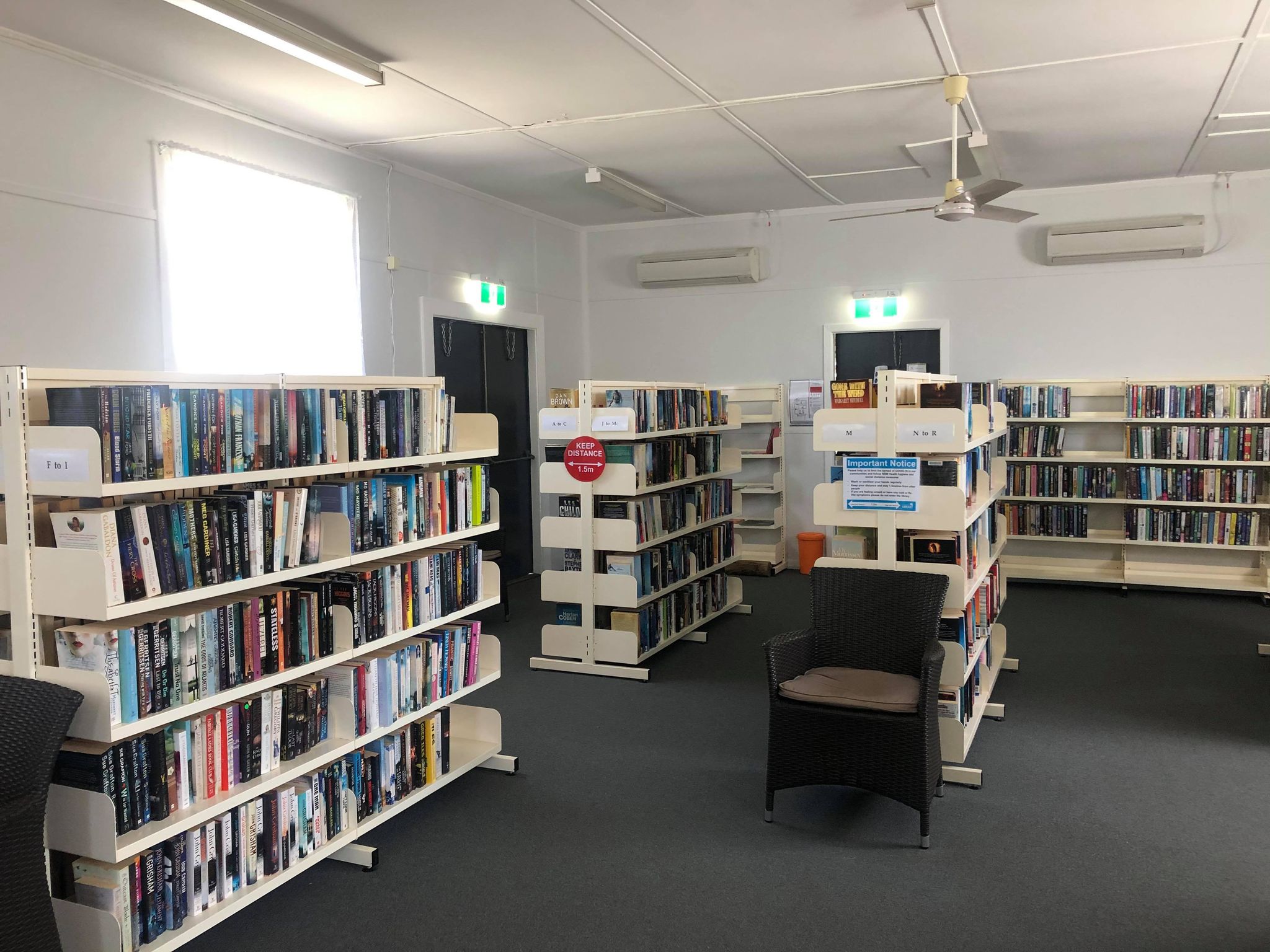 Tilligerry Community Library ha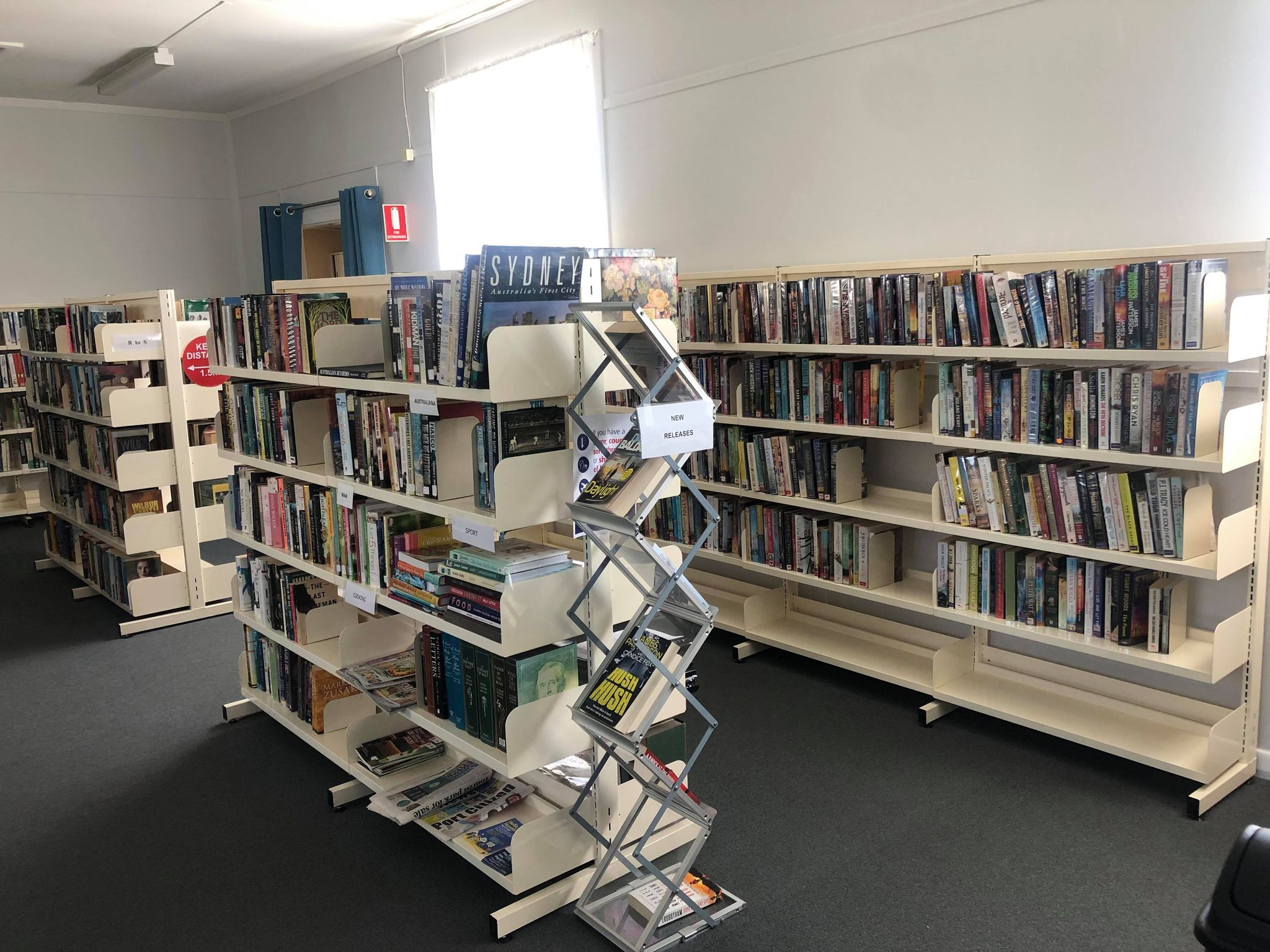 s always enjoyed the support of the community donating their books. Whilst we do appreciate them, we can only accept them with prior consultation. Our hours are 10-12 noon Monday to Saturday and our phone number is 4982 3477 if you wanted to call up or pop in and check with us before bringing them in. Please don't leave them at the door.
---
More than Just a News Service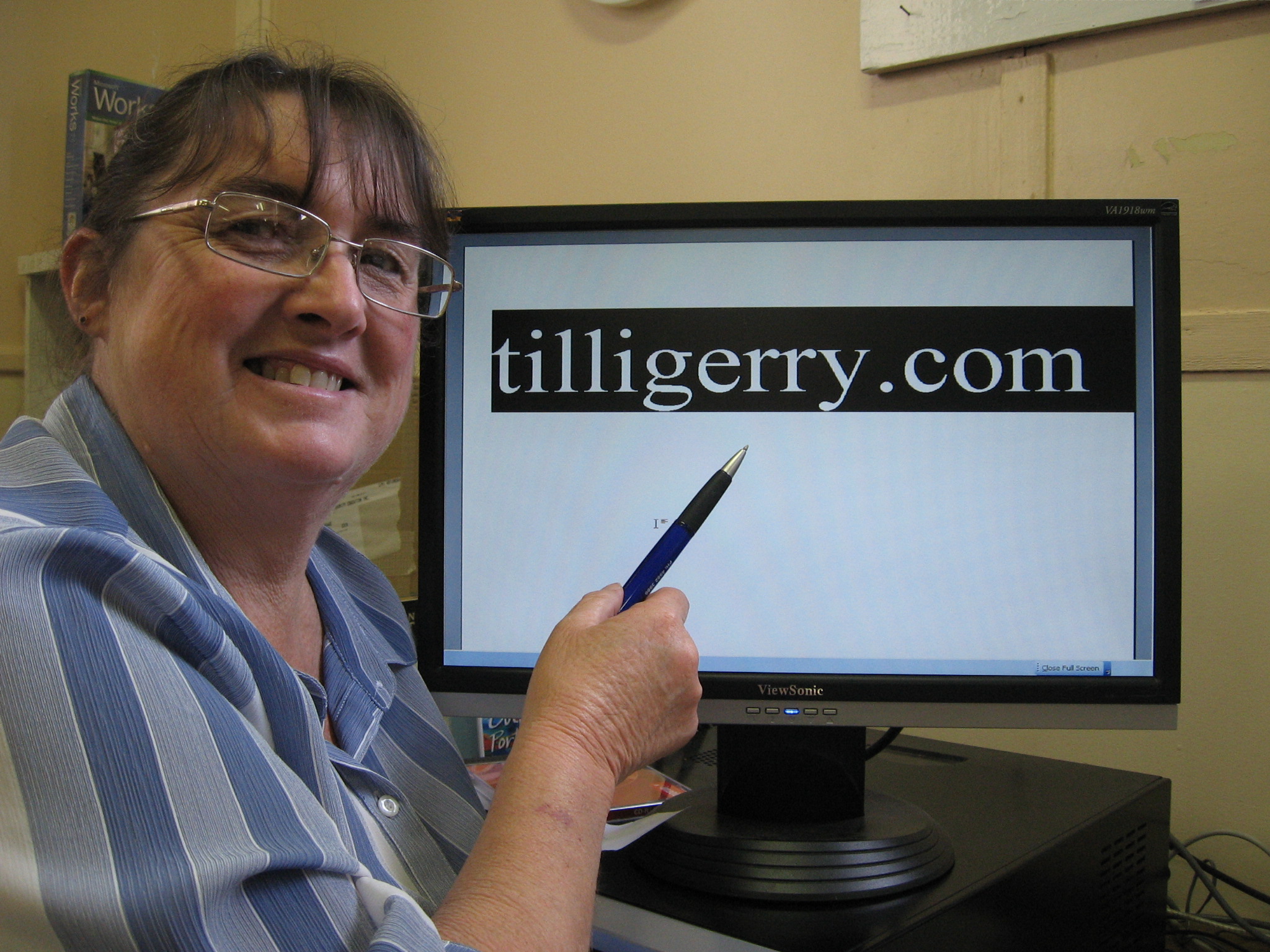 You've seen our illuminated sign 'tilligerry.com' beside the main road near the golf club as you drive into town at night.
With news services moving away from the print media, tilligerry.com for over 10 years now has moved with the times and gives local residents the news that they can't get anywhere else. Indeed, those travelling around Australia or internationally can keep up to date with a click on a mouse or a mobile phone.
Before our 'hit meter' broke down we were averaging around 2000 views each month. We have a few businesses supporting us but we really don't want advertisers as we are a not for profit community service.
That's not all! Each year we run a national Literature Award (a short story competition) with the support of PSSC, Club Lemon Tree and News Of The Area.
On top of this we offer the public internet access, assistance with the operation of electronic devices and photo copying.
It gets even better. There are constant requests, usually from residents new to the area, for general information about available services and organizations out this way.
We now have an extensive community directory listing some 80 of these which includes: churches, clubs, social groups, cultural events, schools, tourist information, community support, JPs, medical services, play groups and pre schools.
For more details scroll to the bottom of this page or click on 'Literature Award' and 'Community Directory' in the left hand green side bar.
Photo: tilligerry.com more than just news.
---
elebrating the re-opening.
New Community Directory
As the Tilligerry community expands and changes, there is the need to provide residents (particularly newcomers) and tourists with a directory of service groups, clubs and businesses. With this in mind, TACE (Tilligerry Adult and Community Education) will be compiling one in the near future.
It will be available in both an online and printed format.
TACE works under the umbrella of PSSC and coordinates community groups such as art, lead lighting, family history and mah jong. It has its home base at the LTP library. It also publishes tilligerry.com our local online news service which has grown to be the major source of local news for residents .Most months it gets over 1500 'hits'. The Port Stephens Literature Awards, a national short story competition, is another initiative of TACE and is run by volunteers.
If you would like to publicise your club, social group or business, email basic contact information to: tace@tilligerry.com and it will be considered for inclusion. There will be no charge for this service.
Photo: TACE volunteers Helen Mizrachi and Sue Hamilton at the library.