Quick Response
Tilligerry RFS was first on the scene in response to a fire in Essendene Gardens Mallabula when a blaze engulfed the front section of the old Squash Court complex.
The two storeyed rear structure incurred smoke damage and the fire was prevented from spreading to adjoining properties.
Back-up units from Raymond Terrace Fire and Rescue; Raymond Terrace RFS; Salt Ash RFS and Medowie RFS; were also on hand to rotate with those at the fire face. About 30 minutes in such a situation is the limit of what is recommended as an OH&S measure.
Fire and Rescue is currently investigating the probable cause of the fire and will be issuing a report of their findings.
Pictures: The fire scene at Essendene Gardens.....and the property the next day. Photos courtesy of Glenys Key.
---
Saying Farewell
When it comes to the end of the day, some families are confused and uncertain about how to organize a funeral, or life's celebration as it is commonly referred to these days.
Retired funeral director Bede Long has resided in Lemon Tree Passage for the last six years and has decided to return to the profession.
"Residents approached me for advice," he said. "I was only too happy to help as there are pitfalls for the unwary," he added. "It's important to get a reputanble firm and to get quotes," he suggested. "In Australia, we still have ethical family run businesses which have been operating for generations. On the other hand, overseas corporations have bought out many of the smaller businesses and are now profit driven. "They can catch families at their most vulenerable and overcharge," he stated.
"I just don't have the overheads that the big firms do and offer a caring and dignified service," he said.
Google; 'Lemon Tree Passage and District Funerals for more details.
Photo: Bede Long.....local funeral director.
---
Every Cent Counts
Rising rents and mortgage payments; power bills going through the roof and food prices up. These are some of the big factors squeezing household budgets these days and residents are looking for any way to cut down on expenses.
Tanilba Bay has a charity shop which is sure to help you. How does a loaf of bread for 50c sound? Perhaps canned food from 75c to $2.80 or boxes of cereal from $1.50 to $4.50? How about a can of coke for $1? Vegies can be had for a mere $1 per bag and potatoes for just $2 per kg.
That's not all: There is a wide range of clothing available. Children's gear ranges from $2 to $4 and quality designer wear can be had from between $2 and $12. There is also a broad range of crockery items and bric-a-brack.
Donations are most welcome and queries can be answered by dropping in or ringing 'Church 4 Life' on 49845008 . Their store is located in the arcade just a few doors up from Tanilba Post Office in the Kooindah Centre Tanilba Bay.
One more thing: Volunteers are needed so if you are at a loose end, want to put something back into the community or would like to interact with others, drop in or give them a buzz.
Photo: Retail Manager Zeljka Woods.. " Drop in and Check us out!'
---
Having a Ball
If you think that Balls are very old fashioned and a thing of the past, think again. You see, Tilligerry Lions Club is running one (with a difference) on 27th May and is completely booked out!
Proceeds will go to our local Jupiter Youth Council Mental Health Program which has its base office in the Kooindah shopping complex next to the Post Office.
The
dress code is simple. Those attending must be dressed in apparel purchased in our Op Shops. The items will be donated back to the charity stores after the Ball is over.
Both Vinnies and the Church for Life stores carry an amazing range of designer clothing and after-five wear as Linley Keers explains:
"We are told that older people go through their wardrobes and clean out anything they will never wear again or clothing they have 'outgrown'. Also, those downsizing just haven't the room for the mountains of items that have built up over the years. This results in a broad range of quality clothing available,"she said. Prizes for 'Fashions on the Floor' will be a highlight of the night.
"Some of the young people in particular want to have fun and are dressing up in outrageous outfits, It's a great night to let it all hang out and beat the winter blues," she added. The venue will be the Auditorium at Club Lemon Tree.
Our Lions Club is going to be extra busy soon doing catering for the 2023 Tilligerry Motorama at the RSL on Sunday 21st May.
Photos: Vinnies volunteers with some of their quality clothing......and Lynley Keers... "Ball booked out."
---
Stinker Joins NOTA
A perfect storm hit the print media world when Covid came to town. This meant that advertising, the life blood of papers, dried up.To make matters worse, the price of newsprint rose by 80%.
This was the final nail in the coffin for many regional papers and the Port Stephens Examiner escaped by the skin of its teeth.
On the other hand, our other local paper, 'News Of The Area' (NOTA), saw it as an opportunity to expand and started up two more papers in the Northern Rivers area of Nambucca Heads and Coffs Harbour. This means they now have a stable of four local papers.
The 'Examiner' is still not out of the woods and as a cost cutting measure they let fishing writer John Clarke go.
The good news is that he now works for NOTA and will continue to produce a weekly column on fishing and the local history of anything related to it.
Tilligerry.com has supported NOTA for many years in offerering them first preference for news stories we will be running. In return, NOTA gives us free advertising for our annual Port Stephens Literature Awards which are a national short story competition. You can see what they are all about by clicking on 'LiteratureAwards' in the left hand green sidebar of this page.
News Of The Area is available to be picked up at local shopping centres and strategic outlets throughout the shire. Another attractive option is to read it online and without a pay wall. This means that anybody in Australia, indeed the world can read it, the same way tilligerry.com is accessed by its loyal readers.
Photos: The type of pictures 'Stinker' is looking for. Email them to him with a story and you just might get your five minutes of fame. His address is at the bottom of his column in NOTA.
---
Motorama 2023
Motorama 2023 is back with a veng
eance and Sunday, May 21st is the day when all roads will be lea
ding to the Tilligerry RSL.
Without doubt, this is the biggest day on the Tilligerry social calendar which raises countless thousands of dollars for the John Hunter children's hospital.
Progressively, the total is well over $150 000 and organizers expect a big turnout from individual car owners and regional clubs. A monster raffle will distribute $2 500 in petrol vouchers.
Tilligerry Car Club oversee the event every year.
Tilligerry is also a rallying point for day tripping car clubs and quite frequently they turn up in numbers at Henderson Park. This offers
tranquility and has public facilities and a choice of cafes where a variety of foods and refreshments are available.
More details can be found on: 'tilligerry car club' or 'tilligerry motorama'
Photos: Entries from previous Motoramas and Ian Jones presenting Keira Wray with a cheque for the the children's hospital.
---
Forgotten Fleet
Anzac Day remembers previous generations of Australians who sacrificed so much to keep us free as a nation but there were others, now passed on,
who were largely forgotten.
One such group was the the 'Forgotten Fleet' and had it not been for Medowie couple Bill and Ruth Lunney, this story could very well have vanished into the mists of time. Their book tells the tale.
It started out in 1942 when the Australians and American forces repelled a determined thrust by the Japanese to secure the airstrips and garrison at Milne Bay, New Guinea.It was then developed into a major hub from which the allies could mount operations to push back the Japanese. But there was a problem. They needed a fleet of small ships to ferry supplies to forward bases. The American army turned to Australia for help.
They went up and down the coast requisitioning shallow draught, seaworthy craft such as tugs, trawlers, ferries, barges and other small ships. The oyster boat 'Stella Maris' from Port Stephens was one of them.
As for crew, they took on board adventurers, those too young for military service or those too old to be recruited. They also included the disabled. One eye, one leg or one arm made no difference. Bill Lunney was one of them as was the late Frede Oulund who at the time was a Danish merchant seaman stranded in Sydney by the war. He was wounded at Milne Bay but recovered and went on to captain his own little ship. His wife Margaret, lived independently to the age of 100 in her two storey home by the water in Lemon Tree Passage. Bill has passed on and his wife Ruth, a former Raymond Terrace High School teacher, has reprinted the book as 'Forgotten Fleet 2.'
As many as 1100 of the little ships each armed with a single machine gun, transported everything from tents to tanks, bully beef to bulldozers to the frontline troops. They returned with mail and the sick and wounded.
The 'Stella Maris' continued its work as an oyster boat for many years after the war and came to a sad ending when it sank at its moorings in Tanilba Bay about ten years ago.
Lemon Tree Passage also has links with another lesser known vessel which operated not as a little ship, but as part of 'Z' force.
Built in Brisbane in 1942, it was a replica of a Macassan Prau which could blend in with the Indonesian fishing vessels as it landed coast watchers and spied on Japanese naval movements.
After leaving The LTP marina, the 'Bintang Siang' foundered and ended its days on the beach at South West Rocks.
Pictures: Ruth Lunney at her Medowie home.....Sixteen year old Bill ready to sail......and.... Margaret Oulund with Frede's medals and his picture in the book.
Footnote: 'Little Ships 2' is available from our library services.
---
The Mighty MLAK
Lemon Tree Passage is rapidly becomin
g the preferred destination for disabled people and their carers. There is a reason for this and it can all be put down to a key which is available from Council.
You see, disabled toilets and change facilities are essential for those with a disability and Henderson Park boasts one such section in the main amenities block. It is within a short distance of a picnic shelter with a free electric BBQ, a pool and a picturesque waterfront park. There is also disability parking.
Access to the facility is via the MLAK (Master Locksmith Access Key) and it is available from council. There are two types. The second version gives access to gated parks and reserves. They are also available from locksmiths and can't be copied.
What's more they are standard for facilities nation wide.
Councillor Steve Tucker said that the makeover of waterfront parks and reserves had attracted huge numbers of tourists and day trippers.
" T
he upgraded amenities and play equipment in Tanilba, Mallabula and LTP have been a great draw-card and we (the council) will be continuing to expand facilities on offer to the public," he said.
"As funds become available we will be looking at replacing boat ramps at Tanilba, Mallabula and Beach Rd LTP. Also, we need to get rid of the gate blocking access to the wharf at the end of Mallabula Rd. The gravel road needs to be sealed and more user friendly parking installed at the bottom of the hill," he added.
"Council is very keen to seal all of the little 'dead ends' as it costs a lot of money to transport graders and rollers for such small jobs," he stated. "We have already sealed the turn-arounds at Beach Rd and Caswell Crescent. This leaves just a few more and the job will be complete," he said.
"When school resumes, a wide walkway will be constructed along the entire length of the Lemon Tree waterfront from the big car park to Rudd Reserve. It will have shaded seats beside it and probably some static exercise equipment installed as well.
"Most of this work will dovetail in well with council's participation in the NSW State Coastal Management Plan." he added.
"I have just inspected the final stages of the Tanilba Road rebuild with project supervisor Chris Awilla. His main problem was to de-water sections for drainage as the water table was very high . This as well as the rotten weather were the main reasons for the delay," he suggested.
Photos: Gate to go.....access to Mallabula wharf to be improved.......LTP disability amenities via MLAK key.....Steve Tucker inspects the water table problem...and Chris Awilla and Steve discuss the $1 700 000 road project.
---
Mozzies Pose Threat
The recent 'Big Wet' has seen vast areas of Australia's river systems and wetlands come to life as bird and aquatic populations explode.
Along with this comes mosquito borne diseases and Port Stephens is not immune.
Some twenty years ago the Ross River virus took hold with around 130 Port residents coming down with it. Teachers at Tanilba school were infected and a local GP saw 14 cases.
John Clayton became a victim as he explains:
"We lived in Sydney but spent a lot of time at the family weekender at Mallabula. We have since moved here on a permanent basis."
"After suffering extreme joint pain and debilitating fatigue, my wife accompanied me to the doctor in North Sydney. He was somewhat baffled but Tina suggested that it might be the Ross River virus as she had read about it in a local paper. A blood test revealed that it was. Luckily it went away over time," he said.
Apart from the Ross River virus which has crept south from Queensland, Murray Valley encephalytis is also on the move as is a new kid on the block in the form of Japanese encephalitis.
The incubators for Ross River fever are animals which are in close proximity to mosquitoes and in our area, horses, wallabies and particularly possums seem to be the culprits.
To lessen the odds of infection, it is wise to avoid the prime feeding times of mosquitoes which are dawn and dusk. Use a repellant and cover up bare skin whilst bushwalking and gardening.
But there's more! Around seven fresh water fish species feed on wrigglers including the tiny guppy which alone can gobble up around some 160 per hour. More importantly they don't go after tadpoles which is a big plus for the survival of rare frogs, particularly the wallum froglet which has been found here. On top of this, a species of frog – the 'Mahoney's toadlet' – was previously unknown until discovered by researchers in 2016 in an Oyster Cove sand swamp.
You can buy 'mosquito fish' which are available from commercial suppliers. A splash of kerosene or vegetable oil in stagnant pools and old tyres will get rid of any wrigglers present.
Photo: Tina and John Clayton at their Mallabula home.
---
Switched On
Club Lemon Tree is very much switched on at the moment becoming the only available electric vehicle charging station on the Tilligerry Peninsular.
Club President Kevin Colman OAM said that club
s must move with the times to become competitive and offer services to their local areas and 'put back' into the communities which support them.
"Currently, we assist around forty sporting and community groups," he said. "Even during the Covid lockdown we were able to keep this going although the amount was a bit less," he added.
To move with the times, Club Lemon Tree has been well aware of changing attitudes to power use and the need to move away from fossil fuels. Some 400 solar panels on the club's roof have saved them a fortune in power bills and lessened the need to rely on coal generated power.
"Rather than dig deep and completely replace our ageing air conditioning system, we will be installing smaller localised units which are more efficient until we decide on futuure plans for the club," he said.
"A government grant helped us to install the electric vehicle charging bays. There is not a lot of demand at the moment but we must plan for the future in this rapidly changing world," he stated.
Photos: The new EV charging station..... and Kevin Colman ….." Club moving with the times.
---
Ready to Roll
By the time you read this, the new $1 700 000 upgrade of Tanilba Rd Mallabula could very well be all done and dusted and the thoroughfare ba
ck in use.
Originally scheduled for completion in November 2022, bad weather and supply issues have seen the project extended to April 2023.
With 'the big wet' occupying council's road gangs in repairing pot-holes and wash-outs, the job was put out to tender. It is now more or less complete despite road base gravel being in short supply. The job is now back on track after the long awaited gravel arrived, was put in place and compacted. All that is left now is for the hot mix bitumen crews to turn up and seal the surface.
Modern standards insist on extensive surveys before any digging can take place, indeed a comprehensive EIS was completed at Mallabula where a section of the road skirted native bushland.
Preliminary work has already ensured that the big $3 000 000 rebuild of Avenue of the Allies Tanilba Bay will be 'shovel ready' before June this year. In anticipation of the upgrade Council now has the foreshore linked to the CBD with a wide concrete pathway along the eastern side of the road.
The residents of the Avenue of the Allies have always had as much as 15 metres of 'free' land as this is the width of a grassed strip between their front boundaries and the road. Land was so cheap in the 1930s that the deveoper left a very wide easement..
On top of this, the sandy base at Tanilba Bay, means very easy digging for the extensive drainage work required for the makeover.
Cr Steve Tucker said that affected residents had been notified by letterbox drop of all aspects of the road construction and were free to contact PSSC with any queries they may have.
Photos: Council's EIS team surveying natural bushland beside the Mallabula roadwork.......Ready to Roll...Tanilba Rd ready to be sealed.....Ave of the Allies....'Shovel ready' by June.....and the same road in the 1950s.
---
New Life for Centre
The old Professional
Centre behind the former plaza at Tanilba Bay is getting a makeover. It will be reborn as an early childhood facility and work i
s well and truly underway.
Long time residents will remember when it housed a medical practice, a dentist, a solicitor and an optometrist. At other stages it was used as a gym, a physio, a tax agency and a barber. The 'Hens' Teeth' next door was our first tyre service and behind it was a two storey red cedar house painted purple.
Currently they are becoming the victim of sledge hammers as demolishers have moved in.
All internal walls of the centre have been talken out but the external ones and the roof are intact.
There were plans afoot to redevelop the plaza itself as a seniors village but this has apparently fallen through.
Residents have held public meetings over the years calling for the demolition of the building as its dilapidated condition has attracted vermin and vandals. The RFS has been called out numerous times to fires inside the building.
We will give you updates of the development progress as details come to hand.
Photos: Work on the centre demolition, the now derelict plaza and the shelved plans for its proposed redevelopment.
---
Plumbing Problems
Plumbing has presented more than its fair share of challenges over the years but the failure of flexible connectors recently has seen huge insurance claims and endless stress to local homeowners.
But dear reader,we are a little ahead of ourselves so we need to backtrack to see how things have evolved.
The old galvanized steel water pipes had plumbers cutting threads on pipes and screwing them together. This was very time consuming and labor intensive.
The next development had copper pipes replacing the steel ones. These were joined with numerous 'Yorkshire' fittings and were put together just like Lego pieces and a blowtorch applied. When a tiny rim of solder emerged, the heat was taken away. It was a very quick and efficient process.
A problem emerged with the lead from the solder entering the drinking water. This saw the fittings banned and the 'Yorkway' replaced them. These were brazed to the pipes.
Next came 'plastic' pipes and fittings which simply clipped together.
Joining copper pipes to tap fittings used to be difficult as it required bending springs and annealed copper pipes. To streamline this the invention of the flexible basket weave connector was the answer.
With these, if the stainless exterior mat fails, the inner flexible delivery tube can burst through and flood the house. This failure has seen at least two houses in Lemon Tree Passage inundated while the owners were on holidays.
Tanilba hardware store manager Mark Smith said that homeowners should check the joiners for any sign of rust and replace them if need be.
"We sell quite a few of them," he said. 'They are becoming an increasing problem with home owners."
Note: Those who still have lead soldered pipes should flush drinking water taps after extended periods of non-use such as after long holidays.Our local library rarely uses drinking water except for making the odd cup of tea. A sign above the sink advisers users to run the cold tap for a while to eliminate and lead residue in the pipes.
Photos: Local plumber 'Geoff'' showing lead soldered pipes behind the LTP library......and Mark Smith...."Carefully check your flexible joiners."
---
Plaques Found
To the great delight of the Tilligerry community, two plaques thought to be lost forever have suddenly been found.
Owners of historic Tanilba House, Glenn Short and Deirdre Hall were shocked to find that on their open flower garden day that a direction finder plaque was missing from its setting near the front of the circular driveway. Despite offering a reward and 'no questions asked' it failed to be returned.
Local Tanilba resident Margaret Brewer and two friends were on their regular walk when they happened upon the plaque propped up against the corner of the local hall.
"It was obviously put there to be 'found'," she said. "It certainly wasn't there the last time we passed by," she added.
"We took it back to Tanilba House and the owner, Glenn Short was very excited to get the treasured relic returned," she said.
It is quite common to have juveniles steal things 'just fot the fun of it.' Indeed, letterboxes, garden gnomes and even pot plants have fallen victim in the past.
A gang of ju
veniles was believed to be responsible for the theft of dozens of hub caps recently. They were neatly displayed in a rough circle near the football field carpark.
The other good news is that the stainless steel plaque naming our pool after the late great Doreen Bradley has been found. Despite the current staff searching the store rooms and office the plaque (which had become loose and removed) could not be found.
It was quite by chance that a former lifeguard when visiting was asked if he knew where it was. He did and it is now being restored ready to be set back in the concrete surround of the pool deck.
Photos: Deirdre Hall (centre) at the the moment she discovered that the plaque was missing......The plaque before it was stolen.....Happy campers,Glenn and Deirdre in colonial attire at an open day and the stolen hub caps beside the sports fields.
---
Wonder Drug
The cost of new medications can be astronomical because of the exhaustive trials that the pharmaceutical companies must carry out before they are released. The side effects can quite often outweigh the benefits so authorities are very wary of approving new drugs.
Remember thalidomide? This was a medi
cation used by pregnant women to treat morning sickness but an Australian doctor, William Mc Bride, found that it resulted in deformities in children.
On the other hand, positive side effects can also result. Viagra was a drug discovered while looking for a treatment for cardiac conditions but these days, as a little blue pill, it is used more widely for other problems found commonly in ageing men.
Diabetes is one of the greatest curses of the developed world and is triggered by a diet which is high in sugar and by the lack of exercise.It is commonly found in people who are overweight. The standard treatment is medication and the injection of insulin.
A recent breakthrough has come in the form of a product which reduces both blood sugar and weight. The magic ingredient is 'semaglutide.'
One person we interviewed had this to say about 'Ozempic' which his doctor prescribed last year:
" It's a 'once a week' injection which supplements my existing medications. It must be introduced gradually and my blood sugar monitored to ensure that the levels don't fall too low. I have since reduced my regular insulin injections to get the sugar levels within the range recommended by my doctor," he stated.
"What amazed me was that my weight fell away. I did not crave food and lost some 10kg over a few months," he added.
Such was the demand world wide for this new product that supplies ran out and its manufacturers have been trying to catch up with the backlog of orders.
Lemon Tree Passage Pharmacist Fardi Fahmi said that 'Ozempic' was still in short supply with intermittent deliveries during February and March.
"We hope that the supply chain improves and that by April we will have enough to meet demand," he said.
Photos: Local pharmacist Fardi Fahami (centre) and 'Ozempic' which is becoming available on prescription.
---
Lift for Library
But where is it? This is most asked question by those wanting to borrow books in Tilligerry.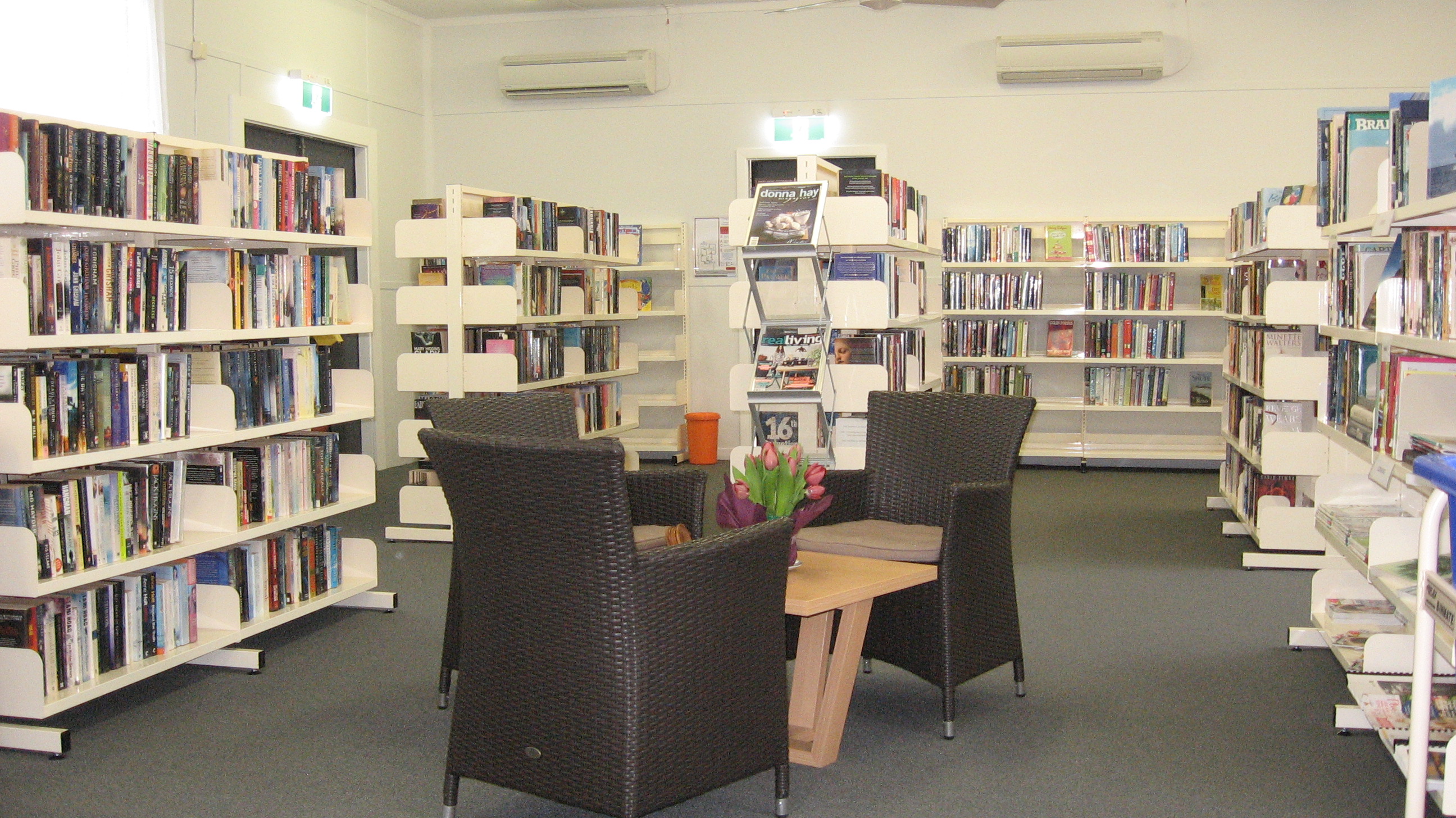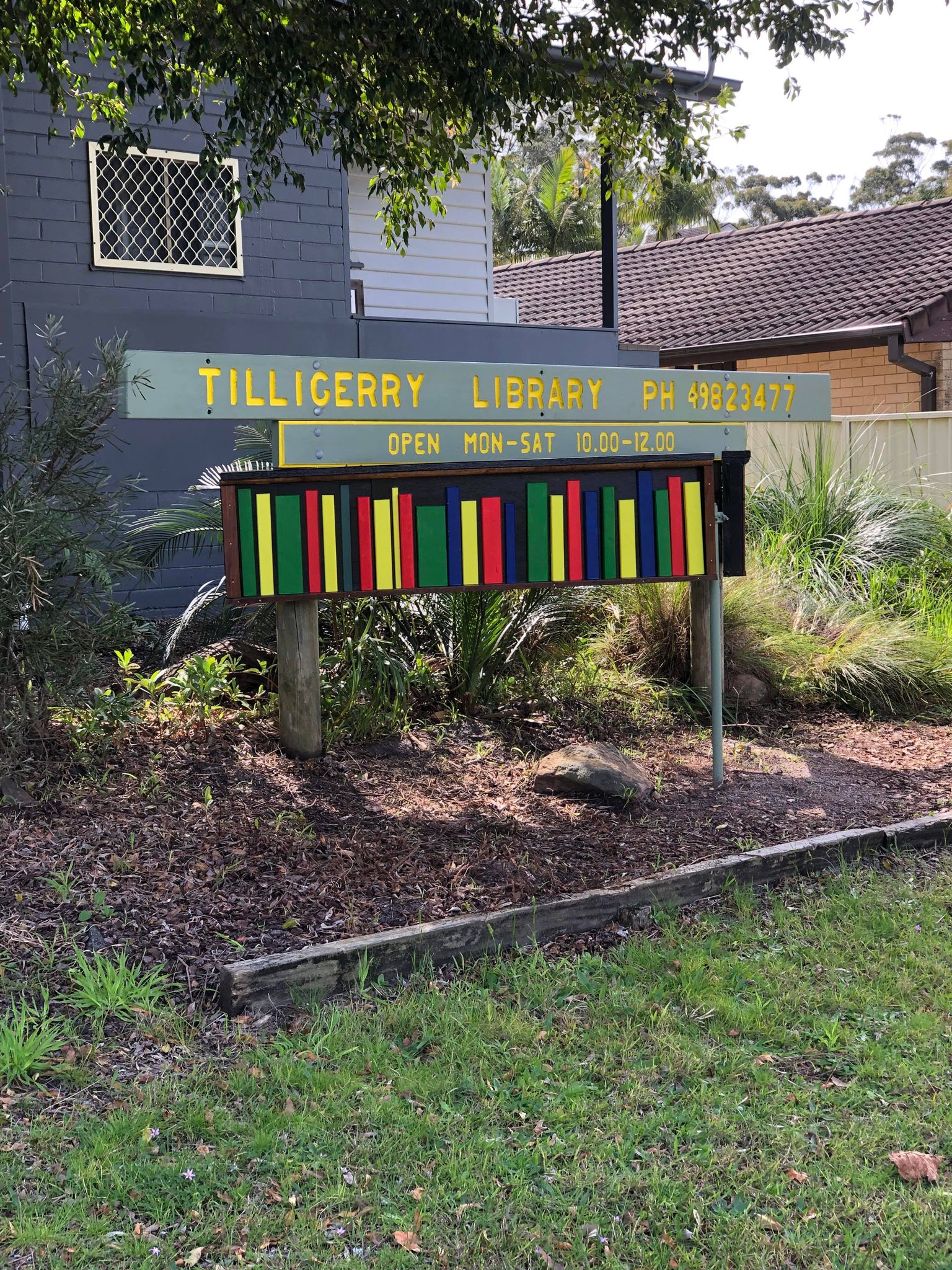 The town public library is situated on the main road opposite the Lemon Tree Passage Motel and when open, has a 'library' flag fluttering from a pole in front of it.
It's been there for decades and is staffed by volunteers and operates from 10am until noon six days per week. (Monday to Saturday).
A big makeover a couple of years back saw new carpet, reader friendly furniture and a slick paint job spruce it up.
What's more, a heavy cull of the least read books and an injection of new stock has something for everyone, including children.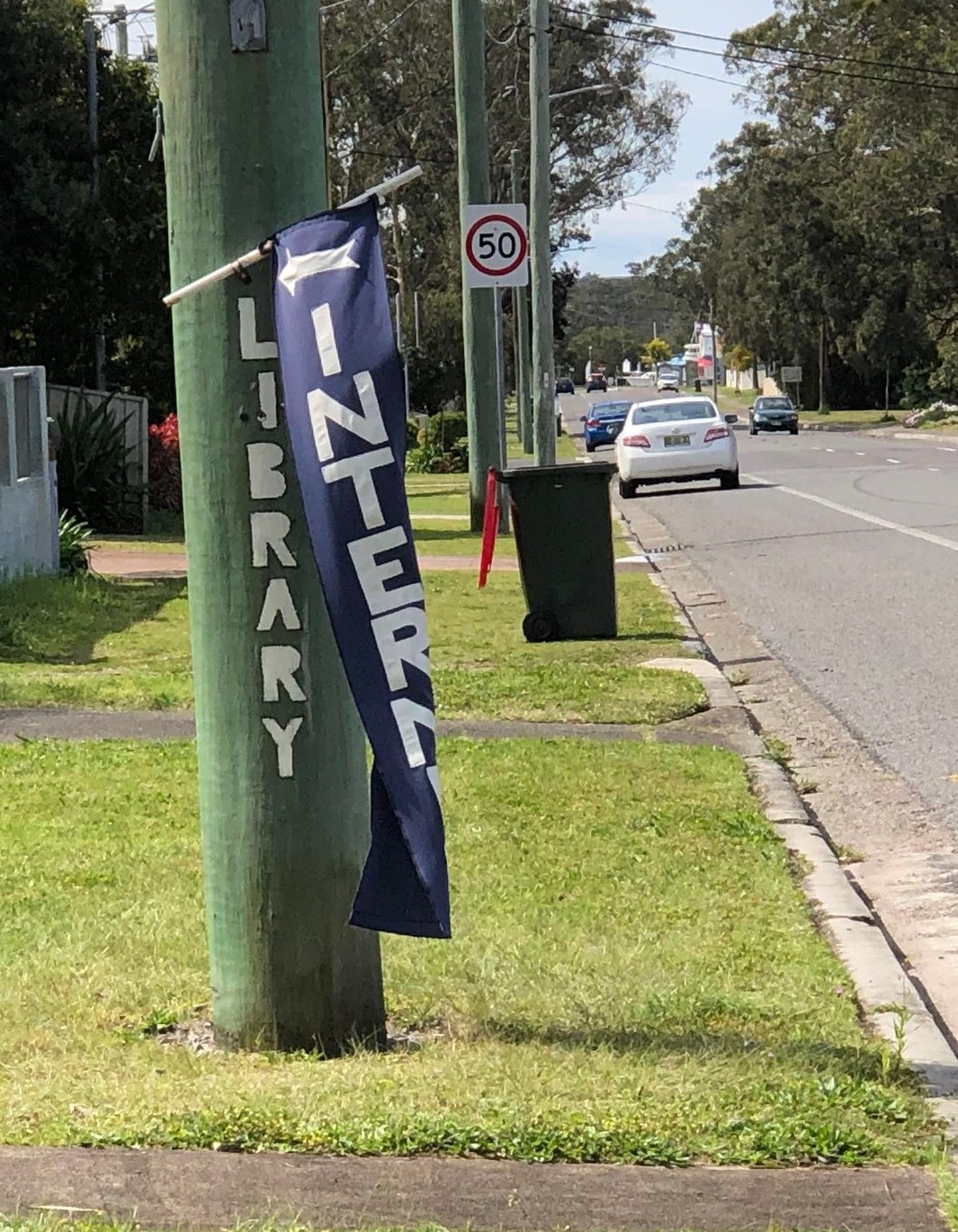 Tilligerry Men's Shed workers have just removed the old overgrown sign and have carved a new one which is much more visible.
Business is more or less back to normal after a year or so of roadwork disruptions and the construction of a new police station two doors away. Council have taken over the computer access and has 2 brand new computers. A new scanner is on order and you will now be able to print A4 colour pages.
The library augments the mobile service which visits the villages of Tanilba Bay, Mallabula and Lemon Tree Passage on a rotational basis.
Both services have now recovered from the Covid lockdown restrictions and are back up to pace.
Photos: The LTP Library after the makeover......and the new sign giving it better visibility.
---
Book Donations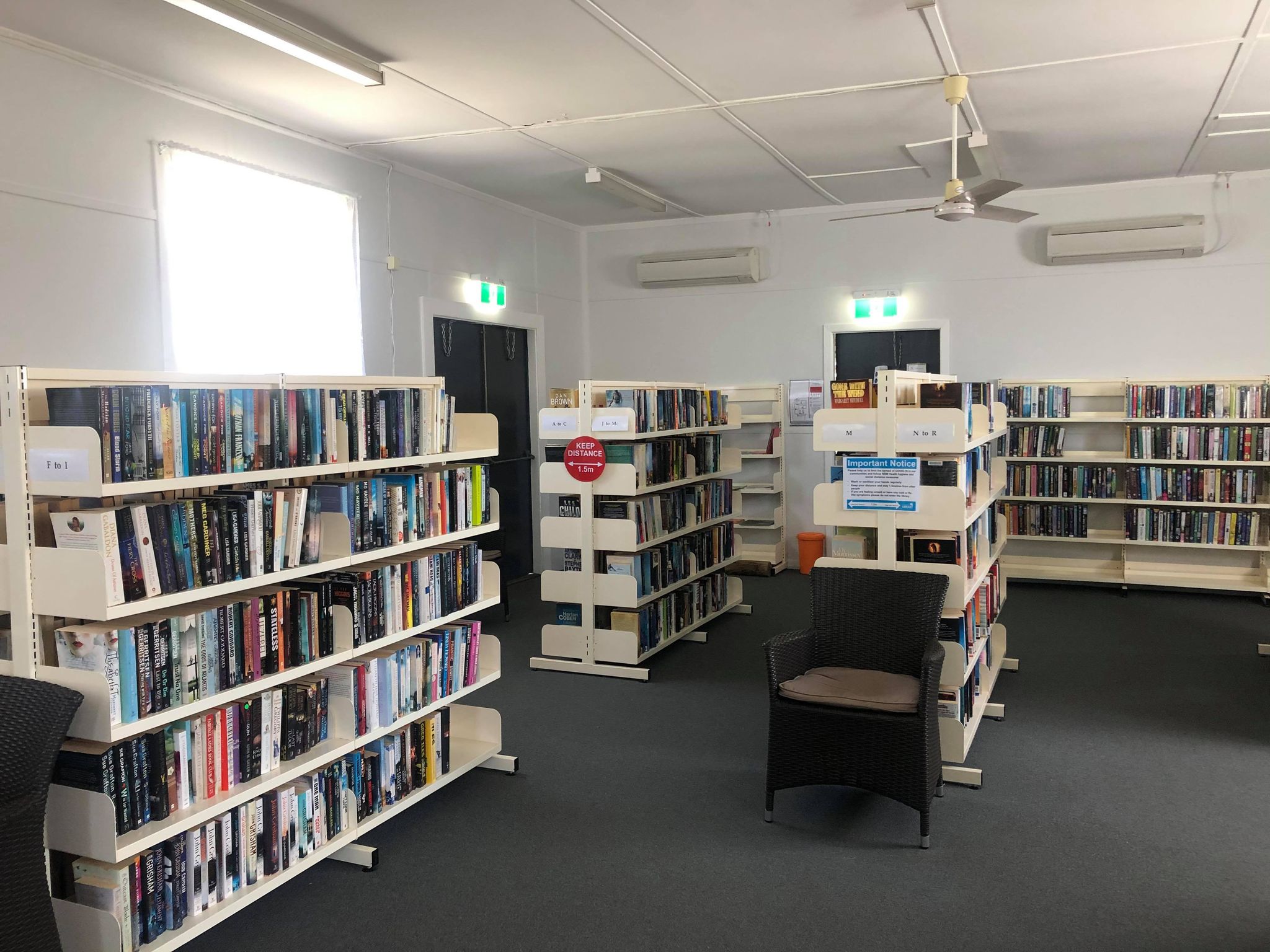 Tilligerry Community Library ha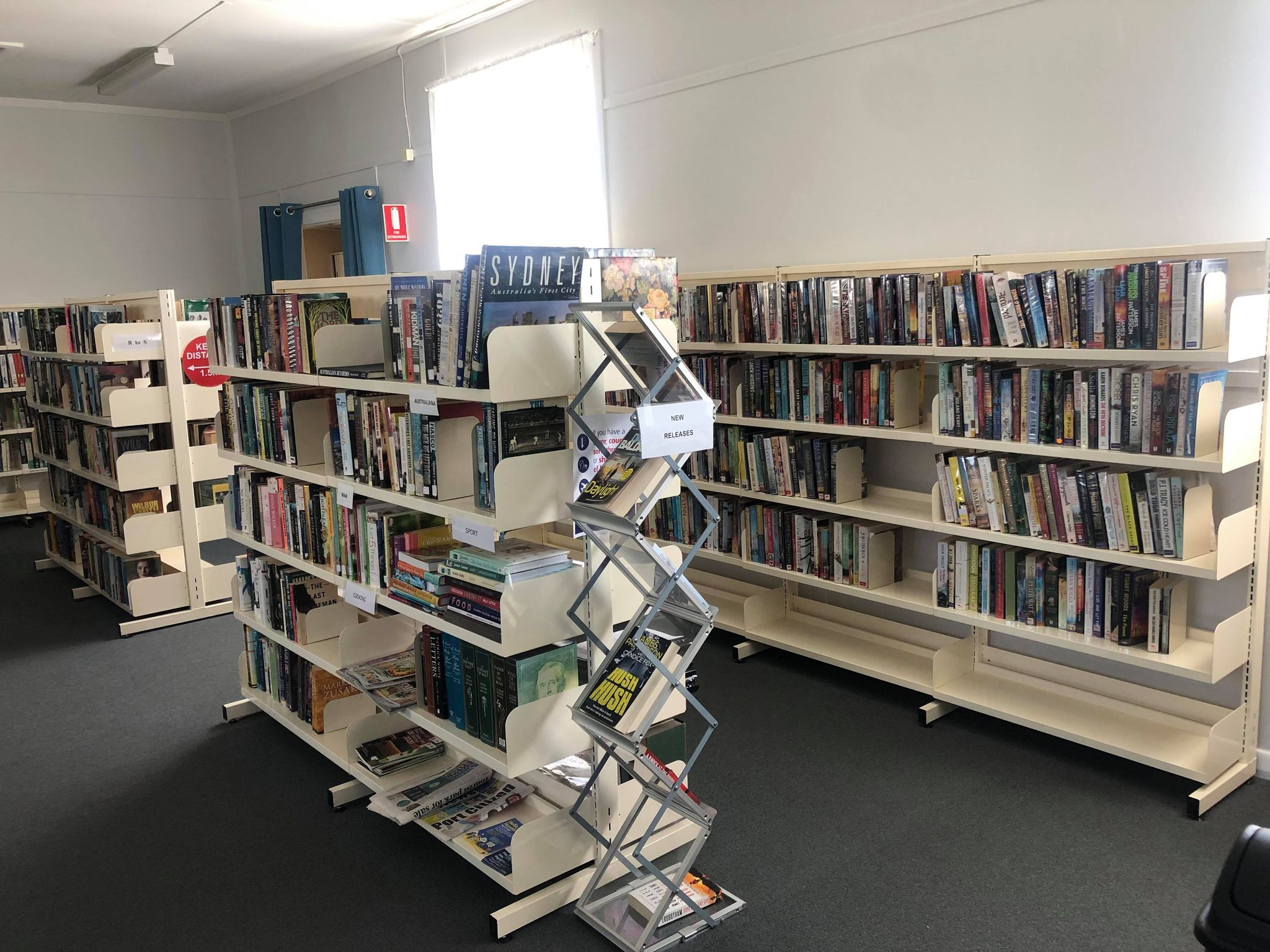 s always enjoyed the support of the community donating their books. Whilst we do appreciate them, we can only accept them with prior consultation. Our hours are 10-12 noon Monday to Saturday and our phone number is 4982 3477 if you wanted to call up or pop in and check with us before bringing them in. Please don't leave them at the door.
---
More than Just a News Service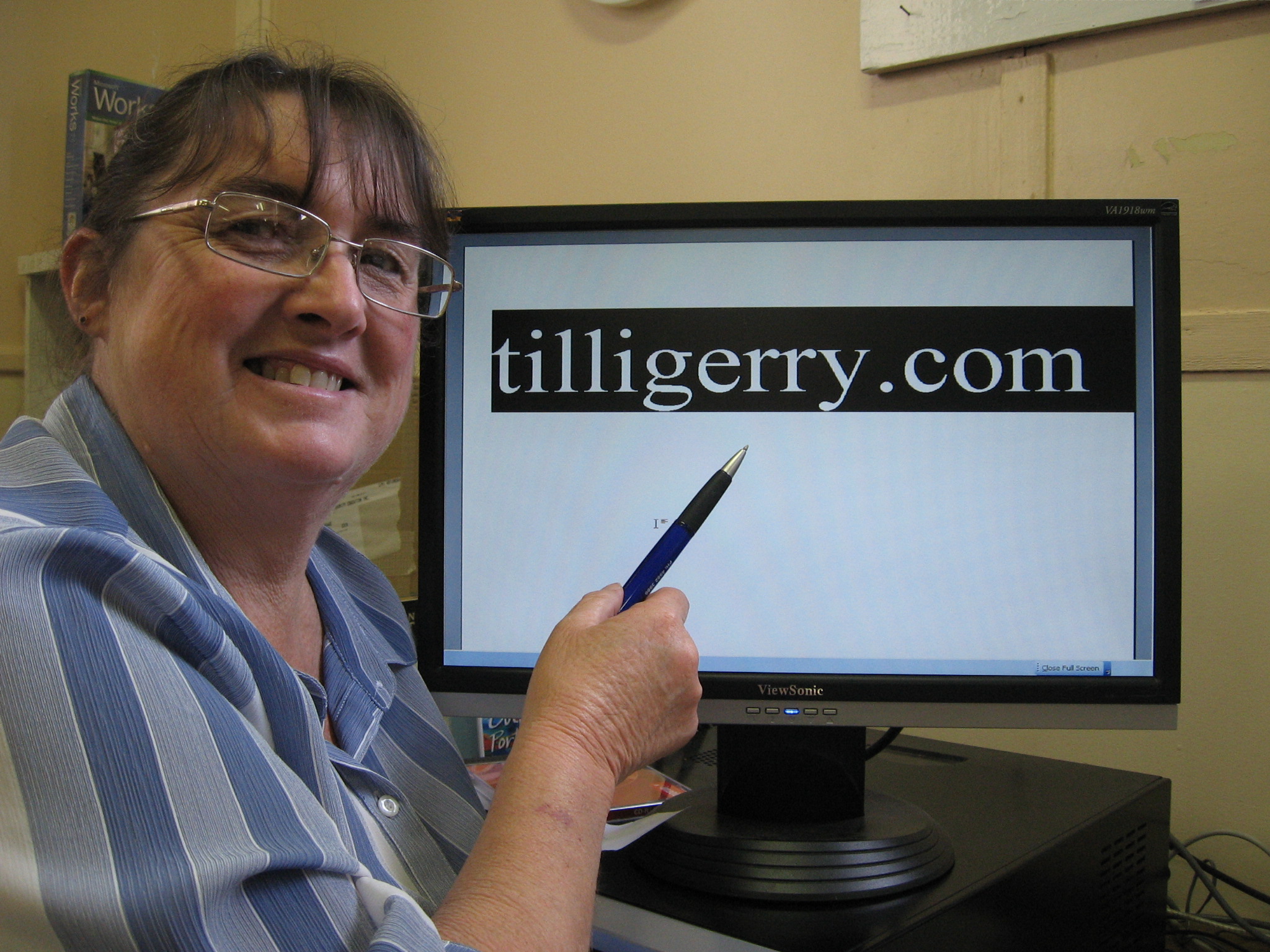 You've seen our illuminated sign 'tilligerry.com' beside the main road near the golf club as you drive into town at night.
With news services moving away from the print media, tilligerry.com for over 10 years now has moved with the times and gives local residents the news that they can't get anywhere else. Indeed, those travelling around Australia or internationally can keep up to date with a click on a mouse or a mobile phone.
Before our 'hit meter' broke down we were averaging around 2000 views each month. We have a few businesses supporting us but we really don't want advertisers as we are a not for profit community service.
That's not all! Each year we run a national Literature Award (a short story competition) with the support of PSSC, Club Lemon Tree and News Of The Area.
On top of this we offer the public internet access, assistance with the operation of electronic devices and photo copying.
It gets even better. There are constant requests, usually from residents new to the area, for general information about available services and organizations out this way.
We now have an extensive community directory listing some 80 of these which includes: churches, clubs, social groups, cultural events, schools, tourist information, community support, JPs, medical services, play groups and pre schools.
For more details scroll to the bottom of this page or click on 'Literature Award' and 'Community Directory' in the left hand green side bar.
Photo: tilligerry.com more than just news.
---
elebrating the re-opening.
New Community Directory
As the Tilligerry community expands and changes, there is the need to provide residents (particularly newcomers) and tourists with a directory of service groups, clubs and businesses. With this in mind, TACE (Tilligerry Adult and Community Education) will be compiling one in the near future.
It will be available in both an online and printed format.
TACE works under the umbrella of PSSC and coordinates community groups such as art, lead lighting, family history and mah jong. It has its home base at the LTP library. It also publishes tilligerry.com our local online news service which has grown to be the major source of local news for residents .Most months it gets over 1500 'hits'. The Port Stephens Literature Awards, a national short story competition, is another initiative of TACE and is run by volunteers.
If you would like to publicise your club, social group or business, email basic contact information to: tace@tilligerry.com and it will be considered for inclusion. There will be no charge for this service.
Photo: TACE volunteers Helen Mizrachi and Sue Hamilton at the library.