Big Day for Tilligerry
Australia Day 2023 will be celebrated at two venues on the Tilligerry Peninsular this year after three years of Covid res
trictions.
Tilligerry Lions Club will be running the waterfront festivities starting at 8.00 am and continuing until noon. Three district car clubs will have restored vehicles on show and the Australian Army Band will give a cameo performance at 10am. Live music will be playing for the rest of the morning. The Lions Club will run their traditional sausage sizzle and ecourage residents to get with the spirit of things and dress up with the National flag prominently displayed. In previous years, children have had Aussie flag tattoos on their cheeks and even dog owners decked out their pets in national costumes.
Meanwhile, at Tilligerry Aquatic Centre between 10am and 4pm there will be free entry and a $2 sausage sizzle. An 'inflatable'
, moored in the pool will be popular with the children and for adults there will be a free Aqua class and both yoga and meditation demonstrations will be given beside the pool by qualified instructors.
The centre is very much environmentally friendly with solar blankets covering the Community Hall next door. This funnels heated water into the pool. More standard solar panels on the main building heat the showers and add more warmth to the pool as well. The savings on electricity are around $12 000 per annum.
Recently, the National Flag at ths centre flew at half mast for several days to honour the memory of Doreen Bradley who had passed away. Doreen played a prominent role in having the pool built. It was named after her.
File photos: Lions' Kevin Colman..." Back after a three year break."......Cheryl and Frank Lupton 'true blue Aussie spirit'....and the 'inflatable' at the pool...fun for everybody on 26th January.
---
Family Homage
Tanilba's Pat Caddy was somewhat overwhelmed when her wider family turned up in early January to celebrate her 90th birthday.
Around thirty of her children, grandchildren, great grandchildren, her sister, niece and friends made the occasion truly memorable for the long time resident and community worker. It also brought the family together to interact and relive happy memories of the past.
The family album says it all: a newspaper clipping where she seeks more parents to help her run the youth club; a photo of her resplendent in her gown as Matron of Honour at a 1990 debutante ball along with a list of the 34 debs and their partners. There is also a card thanking her for her efforts.
She was also very active with the nine hole infant golf club. Money was a big problem so Pat and other members did bar duty
until they could afford to pay staff. As a lady golfer, she represented Tanilba Bay at district level winning several trophies. Her name made the honour board when she scored a hole in one.
The Jade Court Restaurant found it challenging to cater for such a large group at her testimonial dinner.
There was more to come: the family booked the 'Wangi Queen' for a cruise around the port. This 100 year old vessel has recently been refurbished and now has Lemon Tree Passage as its home base. Pat also left some rubber on the road as a bikie and his Harley Davidson took her for a spin.
All in all, a fitting tribute to a worthy woman who has put her family and the community well ahead of her own needs for such a long time.
Photos: Pat as a young woman......As Matron of Honour....and ready to hit the road on a Harley.
---
She Never Gave In
One Saturday evening many years ago, Eric Clarke pulled up in his restored vintage car outside Doreen Bradley's home in Strathmore Ave, Mallabula. She had been told that her friends were shouting her a meal at the RSL club to celebrate her recent OAM award. It was a lie.
The car passed the RSL entrance and turned down Avenue of the Allies at Tanilba Bay. It then swept under the arched gates and up to Tanilba House and into the circular driveway.
Her chauffeur opend the door and Doreen was greeted by a crowd of friends and dignitaries. For the first time in her life, she was lost for words as they clapped her inside and seated her at the head of the oversized dining table.
After a couple of drinks, the Master of Ceremonies rose from his seat and tapped his wineglass with a knife.
"Ladies and gentlemen, I ask you to be upstanding and offer a toast to our Queen." Those present obeyed and faced the framed picture of Queen Elizabeth on the wall.
The MC went on: "No, not that Queen, I'm referring to the Queen of Tilligerry – Doreen Bradley!"
At that exact moment one of the staff entered the room bearing a velvet cushion with a crown seated on top. This was duly placed on the guest's head to the applause of all those present.
It is hard to estimate the impact and achievements of Doreen on the Tilligerry community over the past 40 years. Once she identified a need she would hang on like a bulldog and never let go until she got her way. Many a politician or bureaucrat was totally worn down by the little old lady and her relentless campaigns for the betterment of the town. On top of this she led many fundraising drives for Legacy and for children needing specialist medical attention.
Her greatest and longest crusade was for the establishment of a permanent police station with resident officers in control of local policing.
Over 30 years ago she spearheaded a push for a heated pool. Council said that if the community raised some $100 000 (an enormous sum for those times) then they would make up the rest of the projected $1 000 000 cost. They achieved their goal and the result is the Tilligerry Aquatic Centre we have today.
Our Ambulance Station took over a decade to become a reality but thanks to Doreen and her crew we now have a state of the art facility.
Sadly, her dream of the new police station eluded her after a 40 year battle. Policing had moved on from the times of the local resident police calling the shots. Policing is now very much a mobile operation with resources deployed on an 'as needed' basis. No town 'owns' the police and they respond to out of town incidents as dictated by a central command centre.
Doreen was critical of the treatment of juvenile offenders who were let go after committing serious crimes. Indeed, not long before she passed on her own home was targeted by what she believed to be juveniles.
Doreen had the philosophy of 'never give in' and our community is so much better for her persistence over such a long time.
Photos: Doreen Bradley OAM and 'A Current Affair' crew filming after a total breakdown of law and order saw some 200 cars stolen in two years.
---
Holiday Parks Targeted
Once again, the Christmas Holiday break has seen Koala Shores holiday park targeted by thieves.
This is not an isolated case as shire wide and in recreational parks up and down the coast all suffer from the same problem. Expensive bikes and anything not secured by unsuspecting campers are easy prey for the thieves.
Local police described the recent incidents as a 'big hit' on the popular waterfront site.
Koala shores is particularly vulnerable because boardwalks, bush tracks and the foreshore at low
tide provide perfect covered access for would be thieves.
Police ask residents to report any juveniles who suddenly ride around on new bikes or if they find bikes or camping gear hidden in nearby bushland.
Photos: Koala Shores...targeted by thieves......A foreshore track used for access to the park......and LTP police.....Report all suspicious behaviour. .
---
Another Victim
Over Christmas, Marine Rescue were summoned to the bott
om of Tilligerry Creek where the waters divide at the end of Beach Rd. Some of the tid
e here flows along the Passage between Bull Island and the town whilst the bulk of the waters flow in and out of the estuary around the back of the Island.
It was here that they found a navigational hazard in the form of a dead sea turtle which had drowned in a crab trap. This was the second such incident involving a 'drum' type trap in the same vicinity over the past year. Decomposition sees the release of gases which bring both the trap and its victim to the surface.
In real terms there are fewer turtle deaths from fishing than there used to be. This is because gill netting has been banned by professionals and the amateur 'witches hat' trap has been made illegal.
The only increase in turtle deaths has been from propeller strike as the waterways see many more recreational craft moving at high speed throughout the estuarine system.
Fisheries keep a close eye on the turtle population with tracking devices fitted to the three types of species which are found in Port Stephens. Indeed, some of the turtles are given individual names.
File photo: A young Mike Colecliffe with a sea turtle found on Bull Island....and the late Neil Wattus with 'drum' type crab traps which still snare sea turtles.
---
The Spirit of Giving
While most Christmases are happy times when families get together, some people are left alone on the day.
Single young people far from home, those without partners and elderly couples whose children have left the nest are some of those who would like to celebrate the day with others in a similar situation.
Knowing this, Tanilba's Uniting Church, in the true Christian spirit of giving, puts on a free Christmas dinner each year. It starts at 12 noon at their church in President Wilson Walk. By contacting the organizers on 499 828 044 you can book in. Alternatively you can visit their website for details. This helps in setting up tables, seating and catering. You can also just turn up. Nobody will be turned away.
This year is the first one back after Covid restrictions put the annual event on hold.
File photo: Local volunteers setting up for the free Christmas dinner.
---
Cleaning up the Port
Port Stephens, along with other coastal estuaries is undergoing a cleanup following the sever flooding of recent times.
This has been initiated under the umbrella of the EPA which has contracted out the work.
For several weeks now, a base station has been established by 'Avcon' at the end of Henderson Park Lemon Tree Passage. It consists of a fenced compound, a mobile crane and a large flat bottomed boat. This is manned by a crew of three workers who have been following the shoreline to clean up the debris left high and dry by the floodwaters.
They also check the bay for semi submerged navigational hazards.
Taniba Sailing Club had actually postponed its season start this year due to this problem.
The workers have also retrieved two boats whose owners they can't trace and a lot of oyster faming equipment which will be given back to those interested. The unwanted residue goes to the tip.
When their task has been completed, the crew will move north to other estuarine systems as far up as Pt Macquarie.
Sydney Harbour used to be a very polluted place. Oil slicks washed the shoreline and residents were warned not to eat oysters or mussels found in the tidal zone.
On top of this, open drains discharged unfiltered rubbish into the waterways and industries fed their toxic waste into the harbour. The flat bottomed barges which scooped up the flotsam and jetsam were known as 'dog boats' because dead dogs and cats were drowned by their owners during the Depression because they couldn't afford to feed them.
That's all changed now with the establishment of artificial reefs and replanting of both mangrove and weed beds. The food chain is now so extensive that top line marine predators such as seals have now taken up permanent residence.
Discarded Port Stephens oyster shell has been used to fill some of the baskets which form the reefs.
Photos: The LTP compound.....the unwanted boats beside the work barge ….and local oyster shell ready for recycling.
---
Santa Tracker
Santa has already appeared out Tilligerry way when he turned up on the back of the fire truck at our recent Kooindah markets, waving to all the good boys and girls and tossing out lollies.
The good news is that he will be back on Saturday morning of 17th when he does his his annual run.
Club Lemon Tree has donated lollies and he will be driving around Tanilba Bay, Mallabula, Lemon Tree Passage and Oyster Cove, giving them out to all the children.
He asks you not to run on the road or behind the truck and to gather on the kerbside. Some of you might have to go up to the corner of your street as he just hasn't the time to drive down every one.
You will know when he's close by when you hear the truck's siren or Christmas music being played.
What's more, Santa has gone high-tech. You see, he has a satellite tracker and if you google 'Tilligerry RFS Home Page', you can see the the streets he will be driving along and exactly where he is at any time.
The brigade also funds the 'Brooks Award', a scholarship named after Norm Brooks whose framed photo takes pride of place at Tanilba Bay School. Recipients' names are on an honour board in the school hall and the winners are announced on the prize giving day.
Photo: Ho! Ho! Ho! Santa Claus coming to your street soon!
---
The Keeper of the Christmas Trees
Lemon Tree Passage is renowned for its Christmas Bushes. This native tree (Ceratopetalum gummiferum) blossoms in late November and the flowers then turn bright red around Christmas. This year, due to weather conditions it looks like being a very big year for them.
Roadside flower sellers often knock on
doors offering the owners of the trees money for bunches as it is traditional to use them as a decoration during the festive season. On the other hand, the beautiful Christmas Bells (Blandfordia grandiflora) which also grow locally are strictly off li
mits. The only ones able to be sold must be commercially grown and come with a certification tag.
Crawley Ave Lemon Tree Passage is something of an epicentre for the trees and there is a reason for this.
A certain Lewis Crawley was, for 33 years, the caretaker of Tanilba House and assisted in carting stone for the construction of 'The Temple' and other decorative features around the historic homestead. He moved to the area and took up some 40 acres behind 'The Gibbers' on Tilligerry Creek.
He was determined to preserve the bushes. Bushfires were a menace and , believe it or not, he solved the problem with pigs. After fencing the property he bought some and they fed on the bracken ferns thus keeping fires to a low intensity.
He, and later his son, became rangers and for 25 years protected the trees.
He was known locally as 'The Keeper of the Christmas Trees.' and the street where he lived was named to honour his memory.
More details of Lewis Crawley and his his life and times, can be found in the recently published 'History of Tanilba House'(2019).
Photos: A Crawley Ave Christmas Bush and a Christmas Bell in flower at Tanilba Bay.
---
---
Shelling Out for Oysters
Fancy a meal out with a friend at a swanky seafood restaurant and like oysters? If you answer "Yes!" you are in for a surprise.
You see, after the QX infestations wiped out vast numbers of local leases and flood damage hit many estuarine systems, they are in short supply. In fact, you may very well be shelling out between $40 and $60 for a dozen!
It's the age-old story of supply and demand and with the festive season upon us, prices will not be dropping.
Those farmers who still have stocks of Sydney rock oysters and those with the unaffected Pacific variety are receiving the best prices ever for their product. This has been passed on to the consumer.
So bad has been the devastation of the industry, some growers with hefty debts will be finding it hard to continue. On the other hand, generous Government grants have given hope of survival and a better future for most.
Great piles of oyster shells have built up in and around the Tilligerry Creek depots. Indeed, the mound of oysters in the photo, at current prices, would be worth millions of dollars had they survived.
Oyster shell has been used to make driveways. It has been crushed to provide shell-grit for poultry and in recent times there has been demand for it to establish artificial reefs.
After paying the farmers a modest fee, recyclers are carting away the mounds of unwanted shells to give them a new life.
The degraded marine environment of Sydney Harbour is one example where a huge effort to restore it to its once pristine condition has been made and it's working! With pollution problems now in hand and missing links in the food chain restored, fish are returning and even seals are taking up permanent residence.
Photos: A mound of culled QX affected oysters......and industrial sized bags of shells destined for recycling.
---
Centenary for the Queen
One hundred years ago at Empire Bay on the Central Coast, the 'Ettalong' was launched and then began the service of a vessel which has plied the waters of Sydney and Lake Macquarie over all those years. She is now using Port Stephens as a home
base.
The craft was based in Sydney from the 1940s through to the 1970s and recently was popular for its 'Convict, Castles and Champagne' outings to Goat Island.
For some 40 years she functioned as a party boat on Lake Macquarie after being renamed the 'Wangi Queen'. Her owner at the time said she had hosted over 900 weddings and around one million tourists had boarded her.
To stay 'in survey', commercial vessels must undergo an annual inspection and the 'Wangi Queen' is to be slipped at Albatross Marina Lemon Tree Passage as part of this requirement.
Marina Manager Mike Colecliffe said that their slipway was the largest between Sydney and Pt Macquarie.
" We also pride ourselves in being the most competitive slipway in Port Stephens offering a wide range of services to mariners," he stated.
Over the years, the marina has hosted some famous sailors and their boats. These included the 'Winston Churchill' which foundered in the 1998 Hobart yacht race with the loss of three lives. David Lewis also sought refuge at the marina after a southerly gale blew him off course. His legendary solo voyage to Antarctica in his 'Ice Bird' remains as one of the greatest navigational feats of all time.
Photo: The 'Wangi Queen' hove to at the Lemon Tree Passage public wharf waiting to be slipped for inspection.
---
National Titles for Tanilba
Tanilba Sailing Club is to host the National Maricat Championships this coming February. They will also run their Big Boat Regatta in the same month.
Fathers Day is usually the opening of the sailing season at Tanilba but the club cancelled the early races due to the floods. Flotsam and jetsam washed down from the Karuah River posed a navigational hazard so to be on the safe side, races were deferred.
The club sails each Sunday from their picturesqe waterfront club at Tanilba Bay. New members are most welcome and Sam Breaden runs 'learn to sail' sessions with the club's 'Bic' trainers. These were purchased with a State Government Sports and Recreation grant. Tanilba is a family oriented club with parents actively encouraged to bond with their children during these sessions.
Last weekend Tanilba sailors travelled to Carcoar near Blaney for their annual Maricat regatta.
Seasoned veterans Mark and Mike Colecliffe filled the top two placings with Scott Spencer and his son Kobi performing well.
The club boasts several State and National champions who cut their teeth sailing on the broad expanse of water between Tanilba, Soldiers Point and Tahlee.
Their facebook page gives full details of their operation.
Photo: Brothers Mike and Mark Colecliffe and crew going head to head at Tanilba Bay recently.
---
Reward for Stolen Plaque
The current owners of Historic Tanilba House (c 1827) were shocked to discover that a 1932 plaque, put in place by Henry Halloran had been stolen recently.
The radial brass plaque oriented visitors to the towns and cities around Port Stephens. One ray pointed across the water to 'Pindimar City', a major proposed development that didn't go ahead. It was also inscribed with the latitude and longitude plus the tidal variations.
Deirdre Hall discovered it missing when she posed for a photo with visitors for the recent flower show.
"I saw it there just a few days earlier and was shocked at its disappearance," she said.
"We just want it back and are offering a $100 reward. No questions will be asked." she added.
The destruction of heritage listed sites or the removal of historical artefacts incurs very hefty fines. Deirdre and her partner Glenn in renovating the convict built homestead had to get all work approved by the Heritage Council, even to the extent of the paint used.
"In tidying up the three acres, all trees had to be inspected and the work carried out by a professional arborist and his team. Our olive tree is the second oldest in Australia so we left it alone. Even the dead limbs were left untouched," she stated.
The rebirth of Tanilba House as a wedding and corporate venue has seen bookings soar. It is no longer open to the public but an anniversary gala day proved popular as did the colonial 'High Teas'.
Covid restrictions and 'The Big Wet' forced rescheduling of functions but the restored property is going from strength to strength.
"We do let the bridal couple inside to pose for photos but the place is now our home and we wish to protect our privacy," she added.
Photos: Historic Tanilba House. The missing plaque was set into the 'cup' behind the flower garden.....and a close up of the stolen item.
---
Koala Population Exploding
The koala population in the eastern states is set to explode accor
ding to researcher, lifetime forester, and author Viv Jurskis. To understand why, we must backtrack to colonial times.
Not a single sighting was made of this very rare marsupial for some fifteen years after the white man set foot in Sydney Cove. The Aborigines, by mosaic cool burning had created open woodlands with no understorey. Colonial artists depicted this in their paintings. It was therefore very easy for the explorers to travel through the hinterland in search of new farmland, rivers and unknown animals.
The dramatic decrease in the Aboriginal population mainly due to European diseases saw the traditional
burnings fade away. This in turn led to a massive increase in fuel buildup and mega fires.
For the koala, it created the perfect environment with many more food trees with soft young shoots to browse. In short, their population exploded.
Koalas bec
ame so numerous that they outstripped resources, suffering overcrowding, malnutrition and disease. A robust skin export industry flourished. Even today, on Kangaroo Island, the koala population rose to 48 000 after they were introduced in the 1920s. This was only possible because the plantation blue gums provided enough food for them. The bushfires incinerated about 40 000.
It is rare these days to find a koala in Tilligerry but a cool winter bushfire a few years back did not crown in some of the best koala habitat between Tanilba Bay and Oyster Cove. It was the same on the southern side of main road towards Tilligerry Creek. Any koalas in these swamp mahogany forests have now got the perfect breeding areas with lots of food to support a healthy colony.
Meanwhile, The great bushfires which swept the Eastern Seaboard followed by flooding rains have seen vast eucalypt forests come alive with new regrowth. Koalas are returning to these forests and breeding faster than ever. An explosion in their numbers is on the cards.
Vic wrote a book: 'The Great Koala Scam' and uses empirical evidence to support his claims. It is well worth a read.
Photos: 'Smoky' a Mallabula koala..... and the cool bushfire which was koala friendly.....plus 'Heather' before she died, one of the last koalas in the Tilligerry Habitat.
---
Troubling Trees
Port Stephens Council is currently investigating the felling of a stand of casuarinas in Rudd Reserve Lemon Tree Passage.
A council officer found 'dozens' of them sawn off on the southern side of the bridged creek close to Cook Pde. Those on the northern side were untouched and formed a dense thicket. After checking their files, council could find no record of them being cut down.
Indeed, this is not a new problem. Koala trees were planted around the nearby carpark and amenities block in Henderson Park but were vandalized.
In Nelson Bay some years back, A towering blackbutt mysteriously died opening up million dollar water views for those across the road
To dissuade this, PSSC festooned the dead tree with flags and dumped shipping containers in front of it.
Residents are requested to report any tree removals in public reserves and if possible, keep photographic evidence or CCTV footage and alert the authorities.
Photos: The forest of trees on one side of the creek and the cut down casuarinas on the other.
---
Volunteers in the
Spotlight
The fifth birthday celebrations of the Lemon Tree Passage Pharmacy proved to be a bonus for both our local firies and Marine Rescue.
Owner, Fardi Fahmy presented each volunteer service with a cheque for $1 000. This came from the proceeds of a fundraising raffle.
Fardi said that coming from the city, he was overwhelmed by the community spirit in Tilligerry.
" Both of these organizations are run by unpaid volunteers and we are honoured to support them," he said.
Both the local RFS and Marine Rescue have another benefactor which donates $1000 to each service every year.
Lemon Tree Passage lady bowlers run a gala bowls day once a year and proceeds of entry fees, raffles and sausage sizzles go towards their donation. If there is a shortfall, they make it up from their own funds.
Photos: Marine Rescue and volunteer firies at the celebrations.
---
Tourists Target Tilligerry
Dee Why on Sydney's northern beaches is nothing like the
quiet holiday destination of yesteryear with a sea of fibro shacks nestled between the main surf beach and the arterial road linking Manly to Palm Beach. It is now a sea of cranes as highrise unit blocks soar skywards. Many residents yearn for the simplicity and tranquillity of days gone by.
With this in mind, 'On Course Tours' from Terrey Hills makes regular stopovers at Lemon Tree Passag
e.
John Donne, tour guide explains:
"We do regular two day excursions with our home base being Nelson Bay," he said. "From there we head out to quiet backwaters which you just don't get in Sydney," he added. " Henderson Park in Lemon Tree Passage is a great place for lunch with a picnic shelter, the amenities block beside the foreshore and the sea birds everywhere," he remarked.
"Today, the bus is full of seniors from the Dee Why RSL sub-branch . We always buy fresh seafood here which assists the local economy. Tell you what! These old people don't eat very much. There's a stack of king prawns smoked salmon and oysters left over. Would you like some? We're off to the macadamia farm at Medowie but will return with more tourists in the future.
Being a reporter can be stressful at times, but someone has to do it.
Photos : John Donne with the tourists and the view from their shelter shed.
---
A Soft Spot for Seniors
Look at the picture. That's a very much younger Bruce MacKenzie with one of the committee members involved in constructing the senior citizens centre and pensioner units at Tanilba.
As a councillor he fought for their construction and even paid for the fitting out of rooms in the main building out of his own pocket.
His interest in older folk has never waned and it probably prompted his family company to develop the old RSL oval into a pensioner village.
The plans have now been approved by PSSC and comprise 38 single storey units plus common facilities such as a pool, BBQ areas and a bowling green. Access will be from the rear area of the Koala Bay estate.
A fence will screen the village from the existing RSL & Sporting Club.
Photo: Bruce on the job at what is now Tanilba Shores opposite the waterfront at Tanilba Bay.
---
Mountain Men
Tilligerry has more than its fair share of mountain men who make the annual trek to Mt Panorama to watch the Bathurst 1000.
This year tested their resolve with the rivers west of the Great Divide awash with floodwaters but these hardy souls braved the elements and will be back next year.
Retired master mechanic and local car club registrar Geoff Camm gives us an insight into why he has returned for well over 40 years: "Atmosphere is what its all about," he said. "You just can't absorb the excitement of the real thing watching it on TV, he stated."
"The sound
s, smells and rivalry create a scene no different to a grand final football match. I wouldn't miss it for the world," he remarked.
"The other thing about the the races is that you get to know other like minded enthusiasts over the years. We camp out and visit one another, have a few drinks and thoroughly enjoy ourselves," he said.
The other Tilligerry resident with strong links to Mt Panorama was the late John Snow who both raced there and was pivotal in developing the circuit both before and after WW2.
Little would be remembered of him had his life and times had not been recorded in an excellent motor racing book by John Medley.
'John Snow Classic Motor Racer' (2010) took some ten years to cobble together. It charts the life of a rich playboy
who is set abroad on buying trips by his father who owned 'Snows', a huge emporium in Sydney.
It was on the European circuit that the young John cut his teeth motor racing and had him importing cars to Australia.
He was heaviy involved in developing the Mt Panorama race track and also extended his business interests to the district.
After retiring from motor sports he and his wife Judy opened real estate offices in Lemon Tree Passage and Tanilba Bay. Their waterfront home at Tanilba had its lower storey built taller than most to accommdate a grandfather clock which was a family heirloom.
Their final move was to Fullerton Cove where Judy indulged herself with horses.
Photos: Mountain man Geoff Camm with his treasured 1955 Chev.....Racing legend John Snow......and the Snow home at Tanilba. Note how high the downstairs storey is.
---
Literature Awards Now Open
The Port Stephens Literature Awards are now open for entry with the closing date being 31st October 2022.
This year the Tilligery Lions Club will be running the competition with prizes totalling $1100.
The awards are for short stories of up to 2000 words on any topic and must be original works, typed and double spaced. A separate cover sh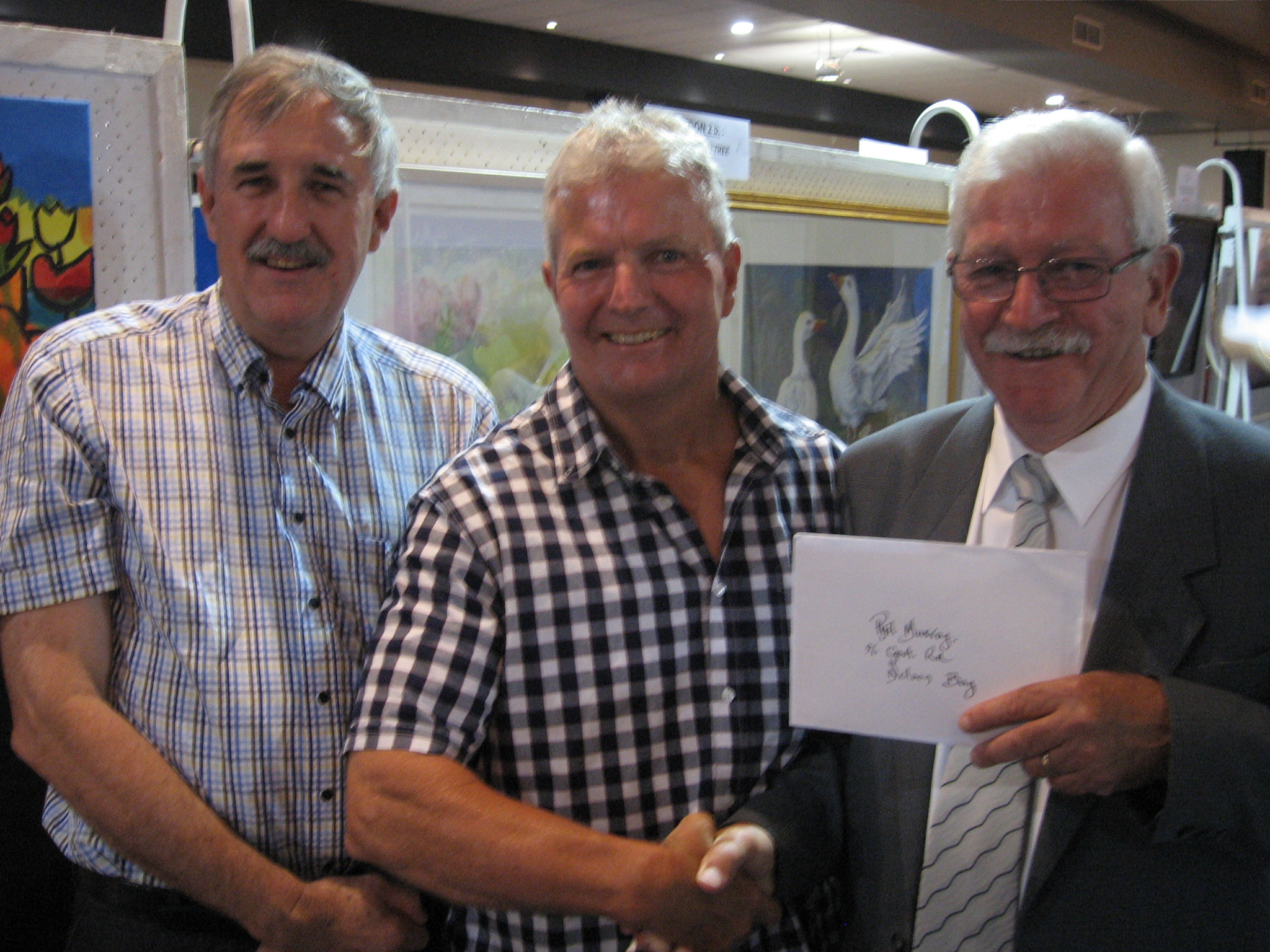 eet with the author's contact details must accompany each entry. An entry fee of $10 is required plus $5 for each additional submission.
Full details can be found on tilligerry.com in the green left sidebar by clicking on 'Literature Award'. More details of entry conditions can be found by scrolling down the news page. Phone inquiries: 49845931 or 0407279844
All entries are to be sent to: Literature Award PO Box 133 Tanilba Bay 2319.
Co-ordinator Kevin Colman said that the Lions Club was proud to continue with the Awards which date back some 20+ years.
"They have encouraged creative writing, with some of those entering going on to write books of their own and winning prizes in the literary field," he said.
The awards are sponsored by Club Lemon Tree, Port Stephens Council and News Of The Area.
Photo: Phill Murray, local author, receiving his award from Cr Steve Tucker and judge Lloyd Hogg.
---
TACE Calls it a Day
After serving the citizens of Tilligerry in one form or another for around forty years, Tilligerry Adult and Community Education (TACE) has called it a day.
It all began in 1983 when the Lemon Tree Passage School moved to its current site at Tanilba Bay. This left the main administrative block, three classrooms and a shelter shed unoccupied.
Various groups took up residence in the old wooden buildings and these included a library, baby health centre and seniors' workshop.
The ownership was transferred from the Education Department to Port Stephens Council with strict conditions regarding the land use.
An expanded function of the now officially named TACE came when they set up an office in the old Plaza at Tanilba Bay. This provided an ideal place to offer computer access and lessons in their use for the general public as this new technology started to take over our everyday lives.
Financial support for TACE came from the NSW State Government, PSSC, Club Lemon Tree, Tilligerry RSL, Tomago Aluminium, Tilligerry Lions and others.
The closure of Tilligerry Plaza saw a final move to the Lemon Tree Passage Library which itself had relocated to the old RSL hall on the main road.
Co-ordinators of TACE over the years included Robyn Jeffery, Leanne Sullivan, Angela Follett, Mary Kay and Sue Hamilton. They were backed up by other community volunteers.
Administrative issues, funding and a lesser need for people to become computer literate saw the decision made to cease operation in its present form.
In future, the individual groups which formerly operated under the umbrella of TACE will now be responsible for their own operation and accountable to Port Stephens Shire Council.
TACE is currently writing up a detailed history of its community function over such a long time and will lodge the document with the Port Stephens Family History Society. This will be freely available to members of the general public who seek a greater insight.
Photo: Lions Club representatives Lynley Keers and Heather Hargreaves handing over a donation to co-ordinators Mary Kay and Sue Hamilton outside the Plaza office. Volunteer Carole Walker looks on.
---
Lift for Library
But where is it? This is most asked question by those wanting to borrow books in Tilligerry.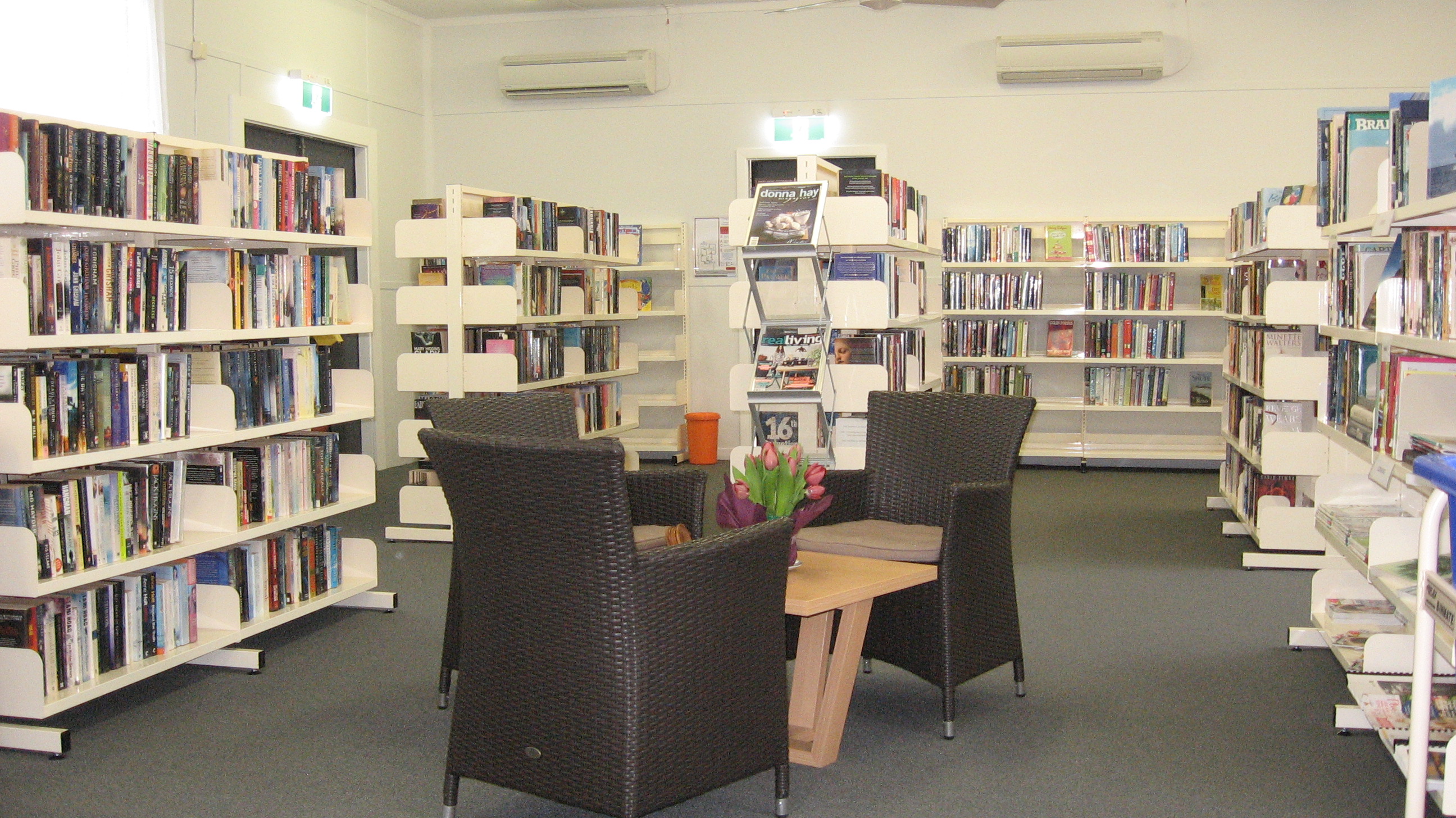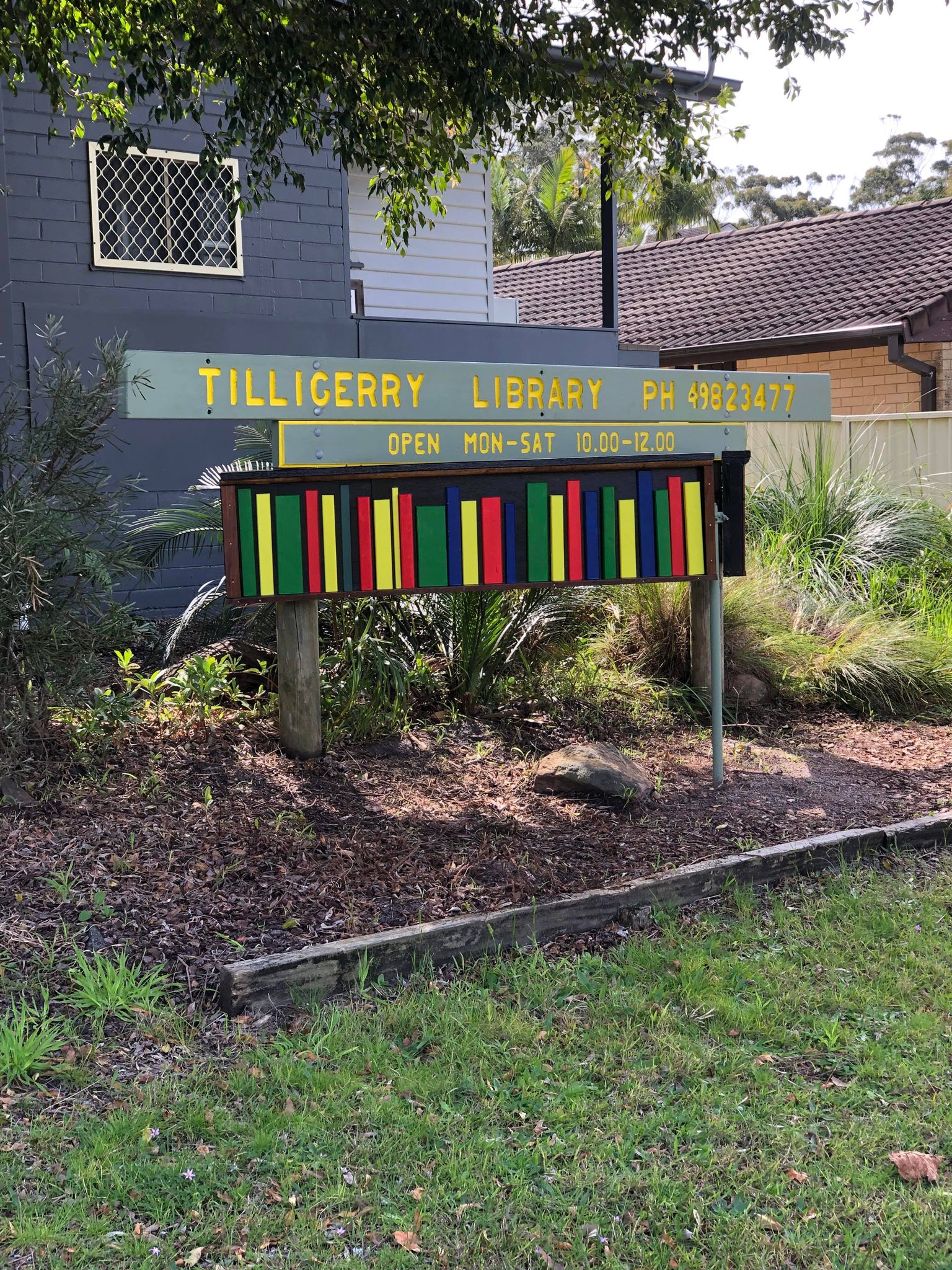 The town public library is situated on the main road opposite the Lemon Tree Passage Motel and when open, has a 'library' flag fluttering from a pole in front of it.
It's been there for decades and is staffed by volunteers and operates from 10am until noon six days per week. (Monday to Saturday).
A big makeover a couple of years back saw new carpet, reader friendly furniture and a slick paint job spruce it up.
What's more, a heavy cull of the least read books and an injection of new stock has something for everyone, including children.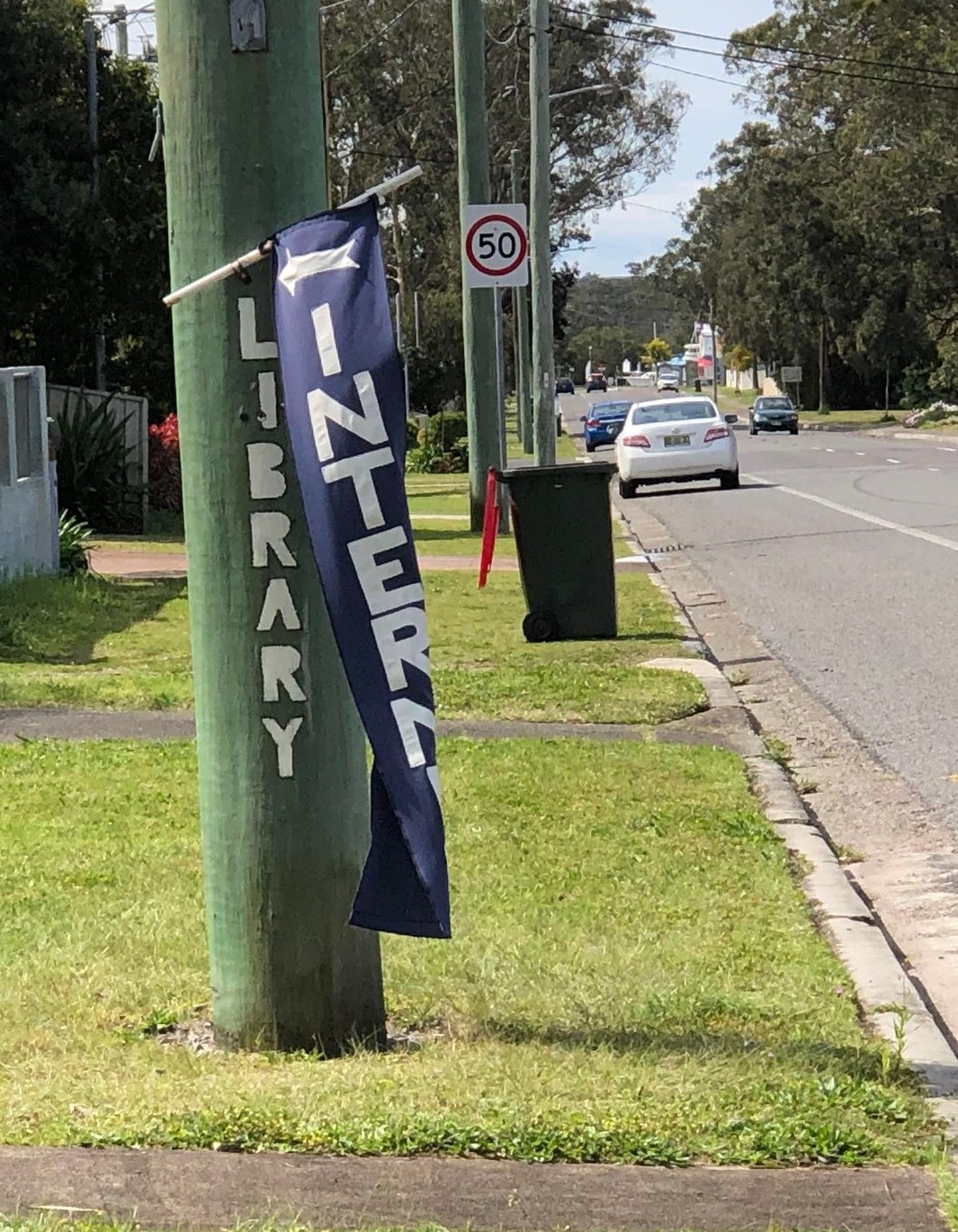 Tilligerry Men's Shed workers have just removed the old overgrown sign and have carved a new one which is much more visible.
Business is more or less back to normal after a year or so of roadwork disruptions and the construction of a new police station two doors away. Council have taken over the computer access and has 2 brand new computers. A new scanner is on order and you will now be able to print A4 colour pages.
The library augments the mobile service which visits the villages of Tanilba Bay, Mallabula and Lemon Tree Passage on a rotational basis.
Both services have now recovered from the Covid lockdown restrictions and are back up to pace.
Photos: The LTP Library after the makeover......and the new sign giving it better visibility.
---
The Koala Bay Story
Lancom's Koala Bay estate wasn't an easy one to develop. The site itself was part of a swamp so the whole site had to be filled.
This involved countless hundreds of trucks dumping thousands of tonnes of sand onto the site. To stop the sand blowing it away , they planted millet, the seed of which was very popular with birds. Indeed bird fanciers would take bunches of the stuff home for their pet parrots.
By releasing about 20 blocks at a time, they di
dn't flood the market and each sale financed the next bit of the development.
A list of blocks for sale was pinned to the office door at the site and people would queue for weeks to reserve one of their choice and had to be present until the sale day. Some had caravans to stay in and others slept in tents and replaced those 'minding' their spot with a relay of family members. Landcom provided toilet facilities.
The first sale of allotments backed onto the existing Fairlands Rd properties at Mallabula and went for around $90 000. They peaked at about $225 000 for rather ordinary sites in the middle of the estate.
Prices then fell, with the last group bordering the school and parkland realizing some $125 000 each.
It was (and is) a quality development with Lancom eager to sell a lifestye rather than just small, uninteresting flat allotments. This they did by linking it to the waterfront and by constructing a viewing platform and foreshore boardwalk. Their glossy brochures featured pelicans, golden sunsets and families having fun on the white sandy beaches.
Developers must pay a 'section 94' levy to PSSC and in Lancom's case it was close to $1 000 000. This is for publc infrastructure. Rather than stump up the cash, they put in parks, playgrounds, two lakes, cycleways and commissioned aboriginal carvings. They also wanted to bulldoze the scouts and guides hall and replace them with a community centre but this didn't happen.
One interesting feature was the creation of an island and lake beside the RSL oval. They spared no expense, even using a huge crane to place a $30 000 native fig tree on the top of the island. They also transplanted grass trees to the school grounds, around the lake and to an embankment with a decorative stone entrance to showcase the RSL. Their botanist used native shrubs and trees to screen the blocks along the main road from the sight and sound of traffic. A liaison committee of locals was established to advise them. All in all the 276 home sites greatly boosted the prosperity of the town.
Photos: The lake and viewing platform....Replacing the foreshore boardwalk.....and the $30 000 tree being put on the island.
---
It's on Again!!!!
This years awards will be hosted by Tilligerry Lions Club. Please contact the phone number in the add.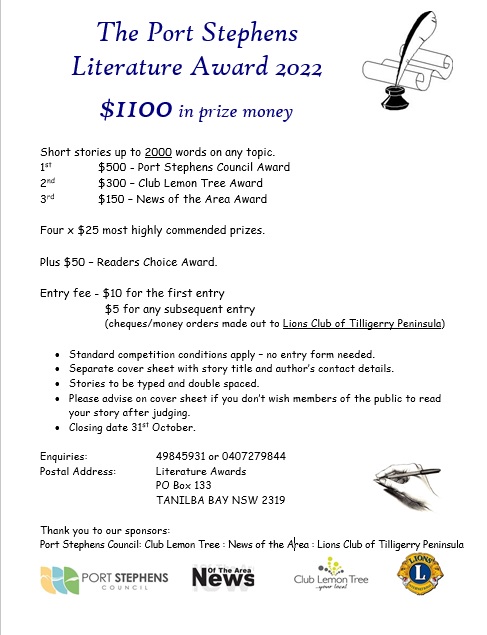 ---
Book Donations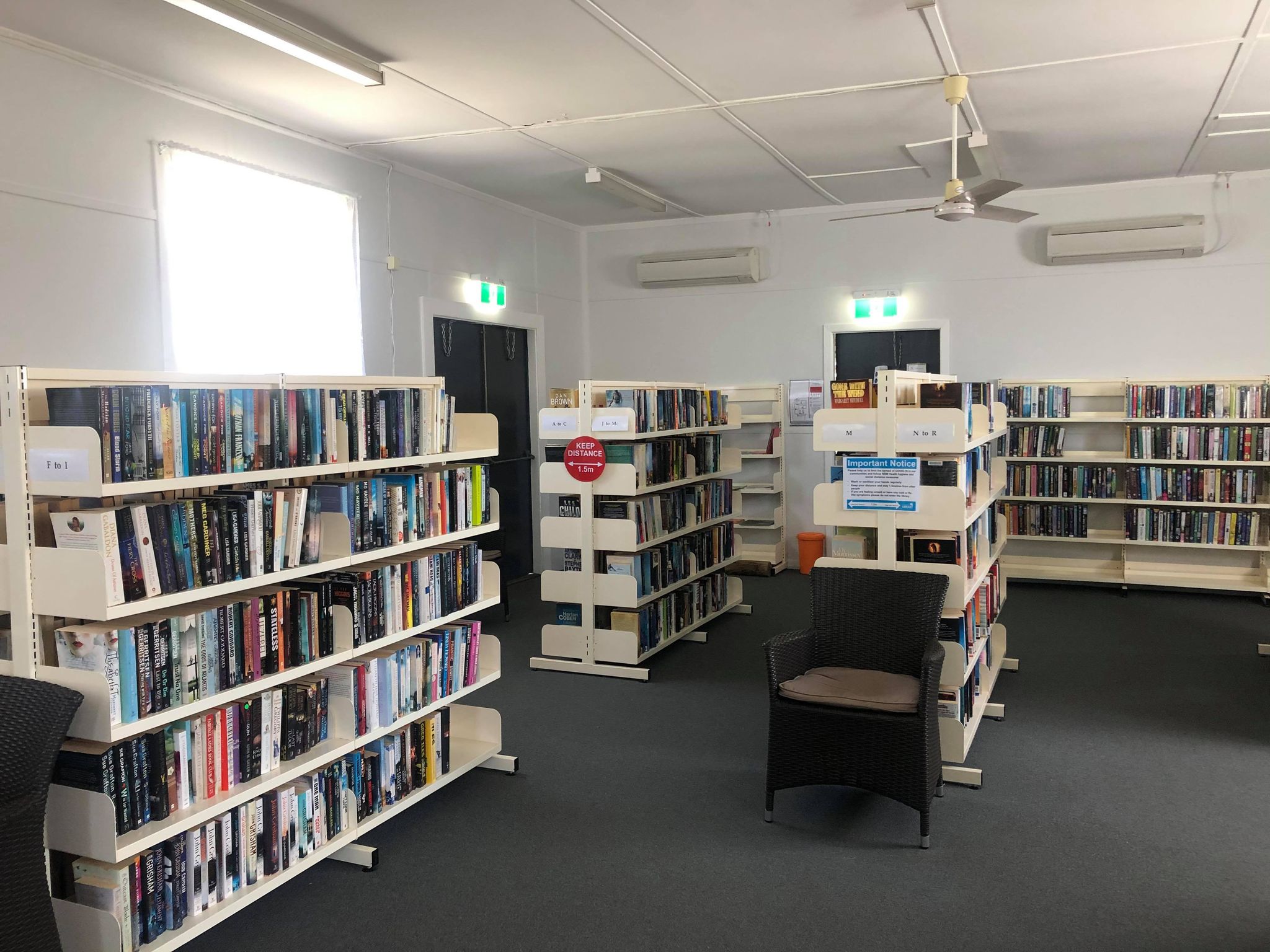 Tilligerry Community Library ha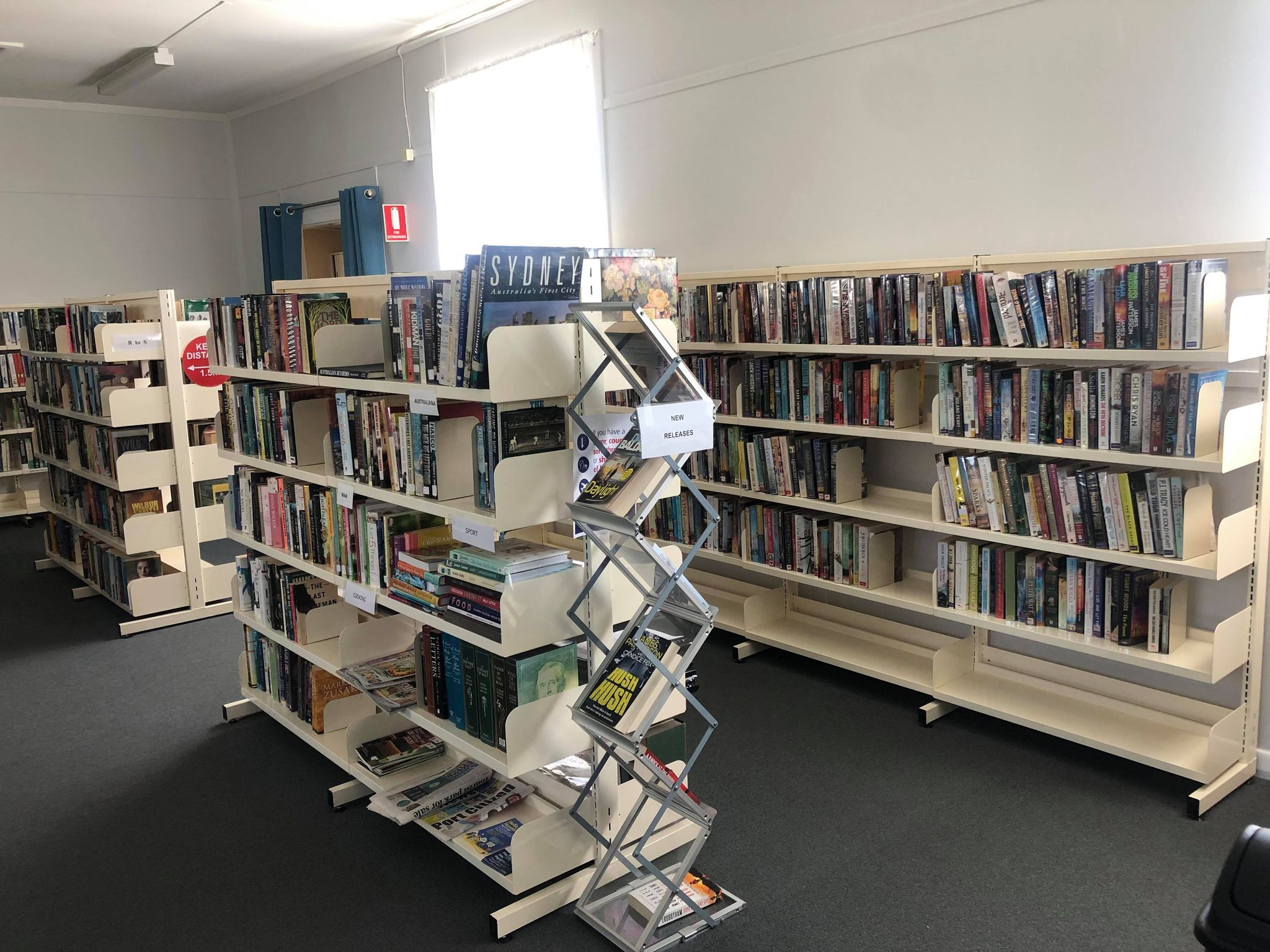 s always enjoyed the support of the community donating their books. Whilst we do appreciate them, we can only accept them with prior consultation. Our hours are 10-12 noon Monday to Saturday and our phone number is 4982 3477 if you wanted to call up or pop in and check with us before bringing them in. Please don't leave them at the door.
---
More than Just a News Service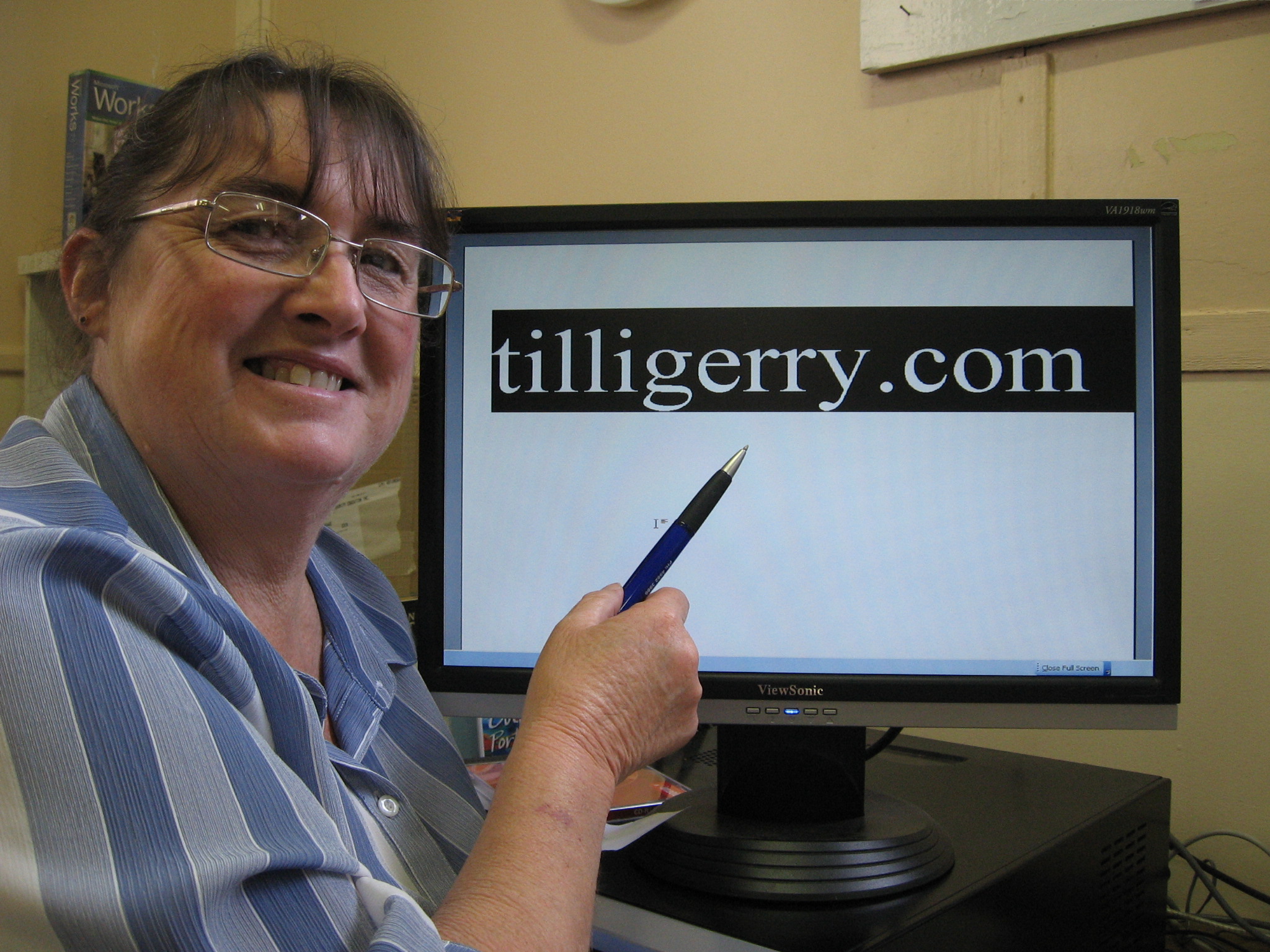 You've seen our illuminated sign 'tilligerry.com' beside the main road near the golf club as you drive into town at night.
With news services moving away from the print media, tilligerry.com for over 10 years now has moved with the times and gives local residents the news that they can't get anywhere else. Indeed, those travelling around Australia or internationally can keep up to date with a click on a mouse or a mobile phone.
Before our 'hit meter' broke down we were averaging around 2000 views each month. We have a few businesses supporting us but we really don't want advertisers as we are a not for profit community service.
That's not all! Each year we run a national Literature Award (a short story competition) with the support of PSSC, Club Lemon Tree and News Of The Area.
On top of this we offer the public internet access, assistance with the operation of electronic devices and photo copying.
It gets even better. There are constant requests, usually from residents new to the area, for general information about available services and organizations out this way.
We now have an extensive community directory listing some 80 of these which includes: churches, clubs, social groups, cultural events, schools, tourist information, community support, JPs, medical services, play groups and pre schools.
For more details scroll to the bottom of this page or click on 'Literature Award' and 'Community Directory' in the left hand green side bar.
Photo: tilligerry.com more than just news.
---
elebrating the re-opening.
New Community Directory
As the Tilligerry community expands and changes, there is the need to provide residents (particularly newcomers) and tourists with a directory of service groups, clubs and businesses. With this in mind, TACE (Tilligerry Adult and Community Education) will be compiling one in the near future.
It will be available in both an online and printed format.
TACE works under the umbrella of PSSC and coordinates community groups such as art, lead lighting, family history and mah jong. It has its home base at the LTP library. It also publishes tilligerry.com our local online news service which has grown to be the major source of local news for residents .Most months it gets over 1500 'hits'. The Port Stephens Literature Awards, a national short story competition, is another initiative of TACE and is run by volunteers.
If you would like to publicise your club, social group or business, email basic contact information to: tace@tilligerry.com and it will be considered for inclusion. There will be no charge for this service.
Photo: TACE volunteers Helen Mizrachi and Sue Hamilton at the library.