Apiarists' Alert
The one word that strikes fear into every apiarist is 'verroa.' You see this destructive mite is present in most every country of the world but so far Australia has not been overwhelmed by it.
Two cases were detected in Townsville but swift action by the authorities eradicated it. The government praised the efforts of those involved which saved the state an estimated $2.4 billion . Indeed, nationally the bee keeping industry is worth some $14 billion per year mainly from the pollination of vast almond orchards in the Riverena.
On top of this the export of billions of disease free bees to California keep their almond and citrus industry thriving.
Newcastle is a very busy port and is constantly monitored for the verroa mite in sentinal hives around the area. They have been discovered in these and other hives so mandatory destruction will take place of all hives within a radial distance of 10 km.
There is a state wide ban on the movement of bees and hives moved recently from the Newcastle area to a western town have been tracked down and destroyed.
The big fear is that if the mite infestations get into wild bee colonies in hollow trees it will be very hard to detect and destroy them.
Tilligerry is the home of several apiarists and Campvale is the base of an extensive bee keeping business. Our Tilligerry Men's shed actually assembles wooden bee boxes for them as they just can't attract the labor to do it the job themselves.
Photos: Tanilba's Bert Willey attending his hives ...and his local honey on sale at the Tilligerry 'Habitat'.
---
Tribute to Mike
It was as a 30 year old, fresh faced, enthusiastic Mike Stanwell who took up the role of principal of St Joseph's Catholic Primary School in Merriwa in the 1990s. Here he witnessed the parish priest abusing a young girl.
He warned the pupils not to approach the priest and duly reported it to the Bishop of Maitland. Nothing happened and a certain f
ather Philip Wilson visited him reassuring him that the church would 'take care' of the matter.
It didn't and there began a long crusade by Mike to seek justice for the abused children and to expose those who actively covered it up.
At every turn in the road he was stonewalled by the Church. He lost his job and his health failed.
Undaunted, he pressed on to the extent that he petitioned the Vatican but to no avail. Others joined in the call for justice and they included Walkley award winning Herald journalist Joanne Mc Carthy and Detective Chief Inspector Peter Fox.
This resulted in a commission of inquiry which exposed other paedophile priests in the Maitland / Newcastle area as well as senior figures within the Church who covered up their crimes. The now Archbishop Philip Wilson was convicted and sentenced to home detention. He has since died.
Mike never wavered in his faith and was a regular worshiper at Mallabula's Catholic Church. He was also an occasional bridge player and trivia contestant at Club Lemon Tree when his health permitted.
He told his story without pulling any punches and at our last interview with him he made the chilling statement: "They are still out there. We didn't get them all!"
Those of you who have an interest in Mike's saga can view the celebration of his life by Googling: 'Mike Stanwell Fry Bros.' Peter Fox's book 'Walking Towards Thunder' can be ordered online or from the Library Service.
Photo: Mike at his Lemon Tree Passage home.....exposed child abuse and cover-ups within the Catholic Church.
---
Good and Getting Better
The big makeover of Henderson Park at Lemon Tree Passage has greatly increased day trippers and tourists to the area.
A state government grant of some $1.3 million replaced the old swimming pool, the boat ramps and public wharf.
Council also came to the party by upgrading the play equipment, seating and amenities block. They also constructed a two tiered platform behind the pool but there was a problem. A large sail was to be erected over it but the ground was too soft and unstable.
Council went back to the drawing boards and have re-engineered the design and work is now underway.
That's not all. An oyster shaped piazza is to be built at the southern end and a pathway along Rudd Reserve will link the waterfront park to the western rocky foreshore.
Local councillor Steve Tucker sees passive recreation as playing a major role in the economy of the peninsula.
"The Covid crisis has seen huge interest in quiet seaside retreats such as Tilligerry," he said. "City people holiday here and many sell up and relocate," he added.
"On top of this, day trippers love to walk in the bush and along the foreshore," he added. "As things stand, you can more or less circle all the way from the Lemon Tree Holiday Park around the foreshore to Tanilba House. The new Caswell Reserve makeover at Mallabula is also a great drawcard as are the upgraded foreshore parks at Tanilba Bay, he stated.
Photos: The deck platform behind the pool.......and workers installing the support piers for the sail.
---
End of an Era
From the 1920s onwards, you would see them in increasing numbers. These were the tailor fishermen sometimes standing almost shoulder to shoulder along the Queensland beaches.
The standard rig was a long rangoon cane rod and a wooden Alvey sidecast reel. They'd flick a gang-hooked bait out into the foaming surf and wait. The tailor would strike and soon be flapping on the sand. Some anglers used slabs of fish as bait with a hook connected to a wire trace as tailor had a nasty habit of chopping through the line
.
Charles Alvey invented the legendary reel and after many models and modifications over some 100 years, the company is closing.
This will be sad news for Lemon Tree's Anglerz Corner, the local Alvey agent.
The great advantage of the Alvey was that if it fell into the sand, a quick rinse in the surf would have it as good as new. It was virtually maintenance free.
Most prized amongst collectors are the early model silky oak and red cedar models. Later designs were moulded plastic. The company also made rods and their nipper pump was a best seller.
In 2016 the company, in a nostalgic throwback, recreated their early silky oak model in a limited edition.
The Port Stephens beach fishers still use the Alvey reel for any type of angling. From the humble whiting to the giant mulloway, the reel is one of the most preferred and effective.
The photo shows a range of Alvey reels which are now collectors' items. You can sill pick them up from deceased estates and garage sales. Ebay and Gumtree are also worth a try. They work just as well as the day they were made.
Photos: Some of the Alvey models which include a child's bakelite version, red cedar, silky oak and a blackfish reel.......Plus 'Anglerz Corner,' the local distributor.
---
Firies go High Tech
It wasn't long ago that the local firies would drag a sheet of blackboard out of their station in summer with a 'TOTAL FIRE BAN' warning hand written in chalk on it. This they would prop up against a post on the main road as a warning to locals. Not anymore!
Tilligerry RFS has just switched on an impressive interactive sign which can be activated from a computer from their station or by mobile phone. In standard operational mode it has coloured rolling frames giving details of the brigade and its logo as well as the date and weather details.
More importantly, when the fire conditions change, warning texts can be keyed in immediately from the station computer o
r from the mobile phones of senior personnel. This could extend to sudden unexpected events such as fires closing roads and major traffic accidents.
It could also save lives as communications from the fire - front could be instantly displayed to those travelling both in and out of town. In turn it could augment the RFS 'Fires Near Me' site.
Early warnings have always been vital to residents of both the Tomaree and Tilligerry peninsulas. There is only one road out of each and an approaching fire from the west can isolate the residents.
This was only too evident several years ago when a bushfire cut the road at Oyster Cove and worked its way towards the Lemon Tree Passage Holiday Park. Occupants were evacuated to Club Lemon Tree.
In retrospect, the fire was a blessing in disguise as it was a cool winter bushfire. No lives or property were lost.
The following summer a firestorm from Salt Ash, fanned by 90kph winds came our way. When it hit the burnt out scrub it went out. No fuel meant no fire.
The overwhelming recommendations of the recent bushfire inquiry were to decrease fuel loadings by controlled burning. The government has now allocated some $600 000 000 to both the RFS and the NP&WS to upgrade equipment and to target fuel loadings in high risk areas.
Photos: The new sign in operational mode and the 'friendly' fire that saved Tilligerry.
---
QX Now Widespread
It was thought some months back that an outbreak of the dreaded QX (Queensland Unknown) disease in Sydney rock oysters would be comfined to the upper reaches of Tilligerry Creek and the Karuah River.
Normally, outbreaks of QX subside during late summer and early winter and with the arrival of colder water but not this time. It has almost totally devastated the industry in Port Stephens.
Our farmers were experiencing high prices for their product before the wild weather prevented them harvesting but QX has stopped them dead in their tracks. Also, the Department of Primary Industries is currently monitoring the situation and has put a ban on the transfer of Port Stephens Oysters to other growing areas.
Looking forward, growers have few options other than to lay off staff and to seek employment elsewhere. Their leases will not generate any cash flow for at least three years. They are hoping that government assistance will help them through these trying times.
Some are turning to Pacific Oysters as these are not affected by QX and a disease resistant strain of the Sydney Rock has already been developed.
Photos: This mound of oysters would sell in upmarket restaurants for $2 000 000. Today they are worthless......and racks of QX affected oysters sit high and dry in Lemon Tree Passage.
---
Winter Shutdown
The annual maintenance closure of the Tilligerry Aquatic Centre will be from 4th July 2022 to 28th August.
The previous shutdown dovetailed well with the outbreak of the Covid pandemic where the three shire swim centres were closed.
During this shutdown, a major makeover saw the pool drained and the old liner and tiles removed . A troublesome leak was fixed and the pool relined. It now retains the heat better.
With soaring electricity prices Tilligerry will not be impacted as much as other swim centres. Energy efficient solar blankets covering the council recreational hall next door provide much of the heat required.
One recent year Tilligerry did not close at all. Technical issues at both the Tomaree and Lakeside centres saw Tilligerry as the only operational option for the squad swimmers and dedicated swimming tragics.
Council and 'Belgravia' management have a policy by which when a 'home' pool is closed, patrons have the option of extending their season tickets for the time of the shutdown or by opting to use one of the other swim centres that remain open.
All three pools have learn to swim classes, aqua exercise groups , lanes reserved for lap swimmers and free swimming areas. The Tilligerry contact number is 49824720.
Photos: Tilligerry's major makeover in progress.
---
Pipe Dream
Mallabula residents' pipe dream of their new $1 700 000 rebuild of Tanilba Road is now one step closer to reality.
The contractor has stockpiled the concrete drainage pipes and gutter fittings behind the carpark in Caswell Reserve.
It has taken a long time to see some action on the project after the council road building teams were diverted to repairing pot holes and wash-aways. These appeared after the record breaking rains of recent months. Indeed, by the end of April
Tilligerry had received its annual average rainfall!
Council therefore employed a contractor to do the job after months of surveys, environmental impact studies and the drafting of working plans.
The fact that most of Mallabula's roads were put in during the 1930s meant that no drainage, kerbing and guttering or solid road base were use in their construction.
The expensive rebuild will bring the road up to modern day standards.
A total reconstruction of Avenue of the Allies at Tanilba Bay will be next on the list.
Traffic from Mallabula Point, Watersleigh Ave and The Parkway Nth areas will be diverted down Wychewood Ave during the makeover which will take several months.
Photos: A PSSC team carrying out an Environmental Impact Assessment prior to the work starting....and the pipework stockpile in Caswell Reserve.
---
We Crunch the Numbers
The federal election in Paterson was certainly not Meryl's Swansong as she had a comfortable win but some of the two party preferred numbers show that her popularity was not universal.
In Tilligerry, she polled 147 votes ahead of Brooke Vitnell at the Club Lemon Tree and Tanilba Bay school voting venues on a two party preferred basis. It was, however the total vote at the three Tomaree sites and factoring in both Tilligerr
y and Medowie where she fell some 1666 votes short of the Liberal candidate's total.
The boundary redistribution of Paterson into Labor's traditional heartland some time back was where The ALP had a field day. It also benefited from the poor showing of One Nation.
But back to Tilligerry: The two party preference totals were more or less the same compared to the 2919 result but the most remarkable shift came from the abandonment of Pauline Hanson's One Nation. The two booths in 2019 counted some 487 primary votes for the party which almost halved this time around to 264. This trend was apparent as well at other booths in Paterson in 2022.
Finally, some electoral information for those interested in our democratic process. This is something of a luxury in a world of dictators, despots and military strong men. Many of our forebears gave their lives in wars defending these rights and freedoms we enjoy today and take for granted.
Optional preferential voting means that the lowest scoring candidate is eliminated. His /her second preferences are then added to the other candidates. On it goes until there are just two left in the game. Once one of them achieves more than half of the votes, counting stops as there is no way that they can be beaten.
Why not first past the post? It sounds simple but this encourages a huge field of candidates and someone with as little as 5% of the vote can win.
How do I nominate? You need a $2000 deposit and 100 nominees as well as fulfilling other requirements. If elected you get your money back or in the case of the Senate, you get refunded if you gain 4% of the vote.
It all makes sense otherwise thousands would throw their hats in the ring and the size of the ballot papers would be truly enormous.
Photos: Meryl Swanson and Brooke Vitnell.
---
Wood Worries
All is not well in the building industry with the supply of timber holding back house builds by nine months or longer. On top of this, costs are rising and tradies are hard to come by.
This perfect storm has many contributing factors and the consequences can be dire as one local builder explains.
"The Covid crisis greatly affected the supply chain," he said. "Soaring fuel prices also fed into the industry as well as the availability of local and imported timber," he stated.
"It's a sad thing to see building firms go under as they often go broke owing tradies and suppliers a fortune. They also leave the home buyers in the lurch with partially built houses ," he said.
On closer examination, the local timber industry is still recovering from the massive firestorms which devastated pine and native hardwood plantations.
Green politics also come into it with Victoria introducing a complete ban on native forest logging by 2030 and Western Australia by 2024.
The federal government is taking steps to ramp up the supply of plantation pines by introducing a five year initiative whereby an $86 million grant will see some 150 000 000 trees planted.
This however cuts no ice with prospective home owners at the Koala Bay Estate Tanilba Bay. A building firm has apparently gone belly up leaving their owners with no idea what will happen to their 'Dream Homes'.
Neighbouring residents have seen no activity on several sites for almost a year with the surrounding grass unmown and reports of rats nesting in the partially built houses.
"It's not a good time to be a builder," said one long time building company director.
" It's impossible to enter into a contract with a time limit on completion and you just can't give a fixed figure for the build as prices of materials are rising all the time," he suggested.
Photos: Abandoned building sites at Koala Bay.
---
Bridging the Gap
'Use it or lose it'.....This is the problem senior citizens face in their twilight years.
That's why you see older people at gym classes, at yoga or doing aqua fitness sessions in our heated pool.
As far as the brain goes, research shows that mental gymnastics can ward off the dreaded Alzheimers . Interaction with other people, developing new skills and keeping the brain's pathways open are great ways to re-energise your mental acumen.
Local groups such as the trivia crew, mah jong, euchre and our ukulele band all help to keep our seniors active, alert and socially connected.
Another activity which will get those synapses really sparkling is the card game of bridge. Our local group meets twice weekly at Club Lemon Tree and they are offering beginners' lessons starting Tuesday 1st March at 1.30 pm. No previous experience is necessary. Evon Williams 0457183157 or Pat Healy 0429824109 will fill you in on the details.
So dear reader there you have it! Those new to the area or others housebound or bored can give themselves a boost by getting their minds and bodies into overdrive. It's all up to you!
Photos: Active minds and bodies....bridge players Sally Robinson, Grant Wick, Pat Healey and Trish Gatwick at Club Lemon Tree.... plus the late Bryan England and Merle Brennan getting aqua fit at the Tilligerry Aquatic Centre.
---
Pot of Gold or Angry Serpent?
The appearance of a rainbow over Bull Island, Lemon Tree Passage could mean different things depending on your beliefs.
An Irish legend has it that when the Vikings invaded their country in 795 AD, the leprechauns buried their gold at the end of the rainbow to stop it being looted.
On the other hand, to the aboriginal people, the rainbow serpent was a deity. It was a great and powerful force of nature which was both a creator of life when happy and a destroyer of nature when angered. It travelled between waterholes and was a giver of fertility for women who waded in the waters where it had been.
What do you think? The picture shows a rainbow touching the island across from the boat ramp on a stormy day. Is there gold buried somewhere amid the swampy marshland? Should women who want to conceive wade in amongst the mosquito ridden reed beds?
Perhaps the serpent is happy and is taking the rain away from our sodden peninsular. If he's angry we might be in for another big downpour.
Photo: Pot of gold or the rainbow serpent....You be the judge.
---
From the Tip to Your Chips
Have you seen any chroicocephalus novaehollandiae lately? If you haven't, you need your eyes tested as this is the scientific name for the humble seagull.
Like the Ibis (bin chicken) they have adapted to urban environments and are mostly found on garbage tips and swooping on hot chips cast their way from waterfront picnickers and people in shopping centres.
They are natural scroungers and in the wild feed on worms, insects, hatchling turtles, dead animals and birds' eggs. They can also be found at sea following trawlers for any tasty morsels floating in the wake.
Seagulls nest on offshore islands, jetties, boats and buildings.
But, dear reader they can make you very sick. You see, they pick up bacteria from the rubbish dumps and if you come into contact with their faeces, you can be infected. Ecoli,urinary tract infections, meningitis and sepsis can result from this. What's more these conditions are resistant to antibiotics and up to 25% of seagulls carry these infections.
Seagulls are very competitive and fight for food while screeching at the top of their voices. It's very much survival of the fittest in the wild and any injured creature just doesn't survive.....well almost.
At Lemon Tree Passage waterfront there is one crippled seagull which has turned its deformed leg into an asset. Look closely at the picture. This lame bird lands on the bonnet of cars waving its useless leg. Those in the vehicle take pity on it and cast food its way. Indeed it is the best fed seagull on the foreshore.
Picture: The very smart crippled seagull.
---
Meet the New Owner
s
Tanilba Bay Tyres and Mechanicals has new owners in the form of Jo and Greg Gordon. What's more, they are keen to meet with the locals and have innovative plans for the future.
Jo explains: " We are running a gala 'Meet and Greet' day for the community at a date to be advised where there will be amusements for the kids, a sausage sizzle, other entertainment and some opening 'specials'
We decided that the business was a great opportunity and a challenge so we purchased it, she said."
"Our qualified mechanics will offer every service and we envision extending the business into car air conditioning," she added.
"To make it more user friendly, we will be giving our customer reception area a makeover with upgraded furniture and a coffee machine," she said.
"So far we have had a very positive interaction with the community and look forward to offering them the very best of services, she concluded.
Photo: Greg and Jo....new owners of Tanilba Bay Tyres and Mechanicals.
---
At Last!
It's been a long, long time since the $1.7 million upgrade of Tanilba Rd Mallabula was announced. A series of unforseen events has delayed work but just next month the long awaited roadwork will begin.
Cr Steve Tucker explains:
"All of the boxes have been ticked including the EIS, surveys and the working plans drawn up," he said. "Council was all set to go but the Covid crisis intervened and a sustained wet period saw our roadworks people repairing wash-aways and filling the plague of potholes around the Shire," he added.
"I'm told that Alan Gibson's Tanilba weather station actually recorded rainfall up to the end of April exceeding our average yearly total," he pointed out.
" We have therefore employed a contractor to do the work. It will start at the end of May this year," he stated.
"Ratepayers must realize that many of the roads out here were put in during the 1930s. They were rough gravel tracks and later on they were sealed," he explained. "There was no kerbing and guttering or underground drainage. "Most of the costs of this new rebuild will be in bringing them up to modern day standards and it doesn't come cheaply," he concluded.
The rebuild will be from the bus shelter at Caswell Reserve and extend along Tanilba Rd and around the corner and into Mallabula Rd.
Following the completion of this section, around $4 million will be spent on upgrading the Avenue of the Allies Tanilba Bay between the stone entrance pillars and the arched gates at the northern end.
Cr Tucker also answered the most common questions he received about roadworks in Tilligerry:
"Why aren't roads with many potholes resealed when other perfectly good ones get a new surface?"
Reply: "Council constantly inspects all roads." When they see one starting to break up with the 'crocodile' effect they reseal it because this will save a total rebuild in the future at great expense?"
"Why don't we get more roadwork done. We would have some of the worst roads in Port Stephens?"
Reply: "I agree. I ran for council 17 years ago on a roads, roads and more roads platform. It's a matter of fighting for a share of the roads allocation and Tilligerry is well ahead of the the other areas on a per capita basis. You can't just go to a money tree and pull $100 bills off it to fix the neglected roads. It's all about options. You borrow the money, apply for state grants, sell off assets, reallocate funding, or increase the rates."
Photos: Steve Tucker..." No 'quick fix' for road problems"......and Tanilba Rd Mallabula...... contractors to start work in May 2022.
---
Terrorists Don't Choose Their Parents
'Terrorists Don't Choose Their Parents' is the last in a trilogy of novels by Lemon Tree Passage author Ken Allen.
The long time resident, businessman and film producer is currently negotiating with a US company for the rights to turn his book into a movie.
"I've written many manuals in my working life and have also been involved in script writing and in the production of films, " he said. " I've taken the plunge with creative writing by drawing on my experiences over a lifetime of travel and meeting many people of differing attitudes and experiences," he said".
'Faces in the Sun' (1965),a short film in which Ken was involved was about four Aborigines grappling with assimilation pressures and facing a challenging future. Through the experiences of a bark painter, a teaching assistant, a carpenter and tribal headman, we see the type of life each one lives and the conflict of the old and the new which sets up tensions with each one and in Aboriginal society.
The film won a top award and is safely stored in the Australian film archives.
'She said I want a Divorce' is a romance novel that shows how a woman can achieve her goals by using her feminine charms to get what she wants and be in control. Judy Baxter shows she will be not allow a good marriage to prevent her from achieving her goals in life. Judy features in all three books, the last of which has drawn interest from film makers in the USA.
The novels are published by Xlibris and are available through Amazon and most probably the library services.
Photo: Ken with his first two novels at his Lemon Tree Passage home.
---
Book Donations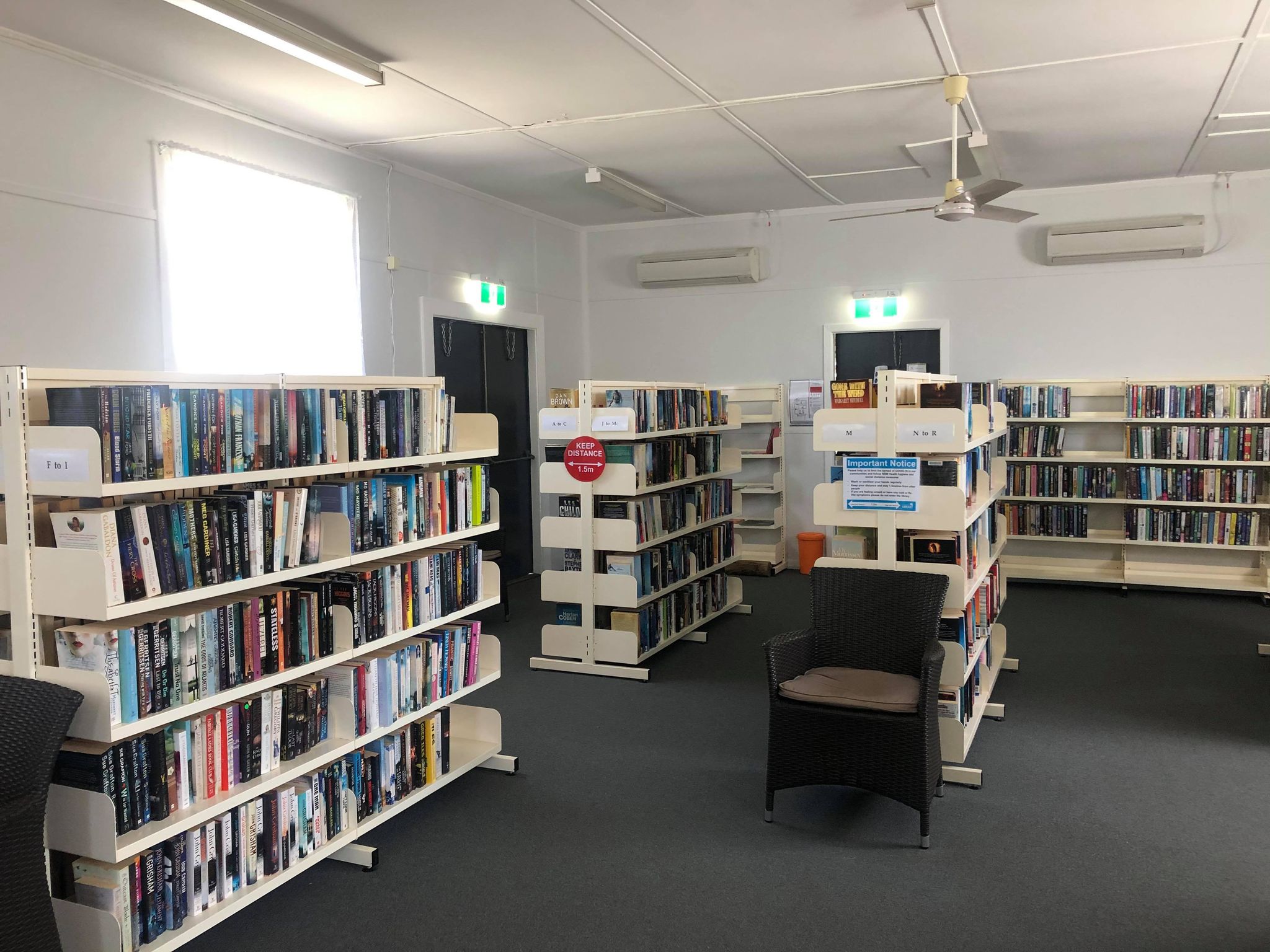 Tilligerry Community Library ha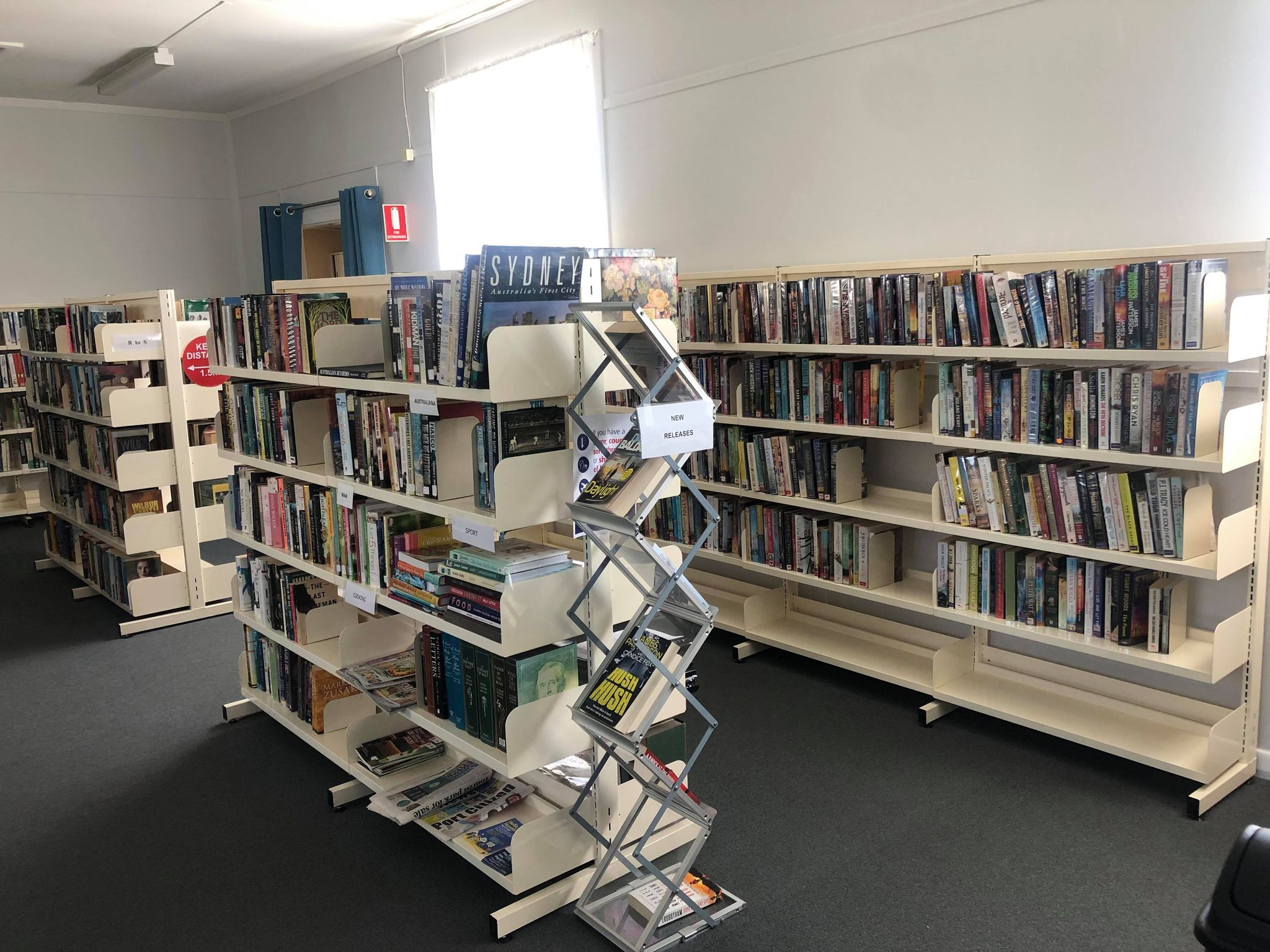 s always enjoyed the support of the community donating their books. Whilst we do appreciate them, we can only accept them with prior consultation. Our hours are 10-12 noon Monday to Saturday and our phone number is 4982 3477 if you wanted to call up or pop in and check with us before bringing them in. Please don't leave them at the door.
---
More than Just a News Service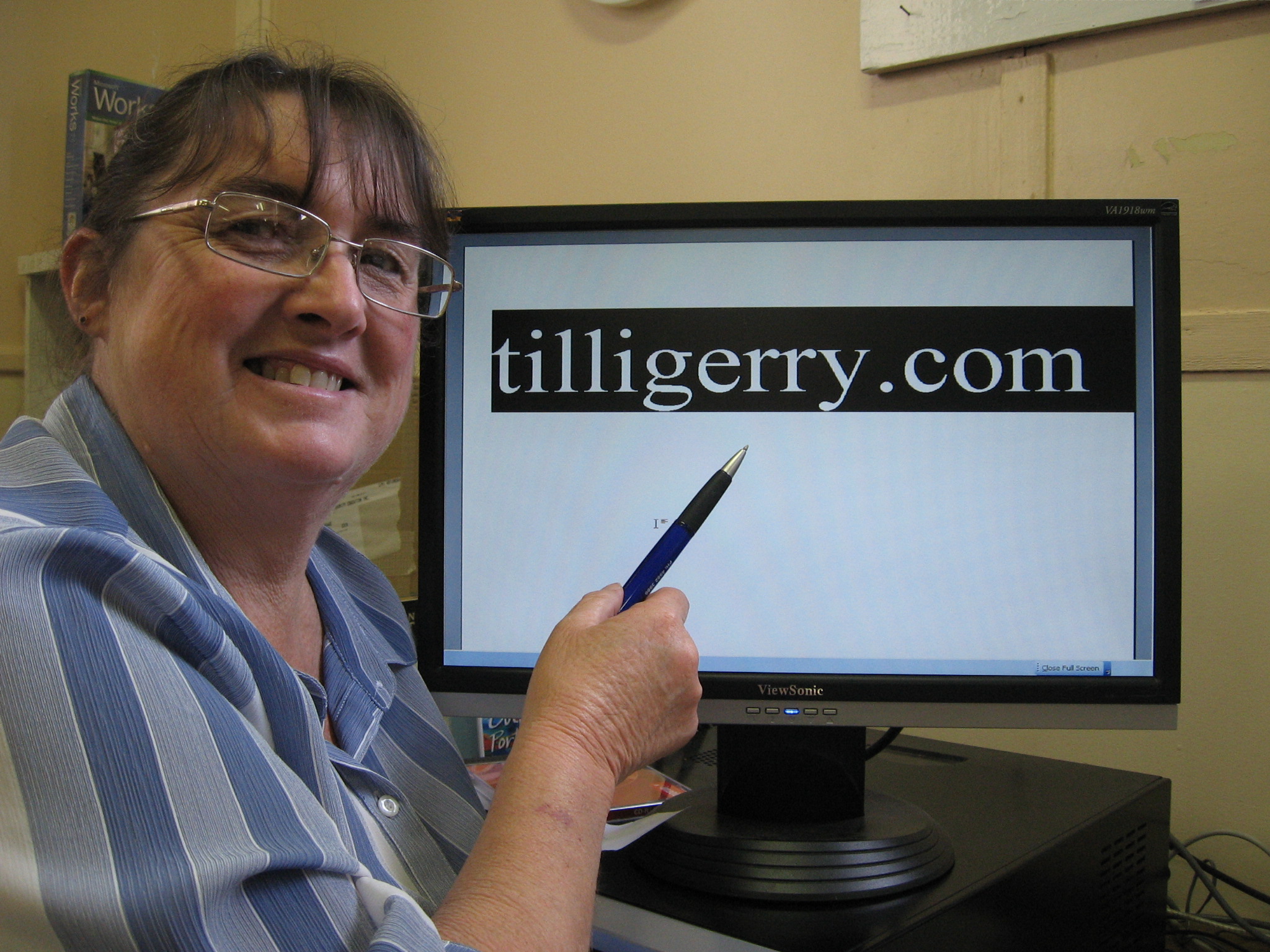 You've seen our illuminated sign 'tilligerry.com' beside the main road near the golf club as you drive into town at night.
With news services moving away from the print media, tilligerry.com for over 10 years now has moved with the times and gives local residents the news that they can't get anywhere else. Indeed, those travelling around Australia or internationally can keep up to date with a click on a mouse or a mobile phone.
Before our 'hit meter' broke down we were averaging around 2000 views each month. We have a few businesses supporting us but we really don't want advertisers as we are a not for profit community service.
That's not all! Each year we run a national Literature Award (a short story competition) with the support of PSSC, Club Lemon Tree and News Of The Area.
On top of this we offer the public internet access, assistance with the operation of electronic devices and photo copying.
It gets even better. There are constant requests, usually from residents new to the area, for general information about available services and organizations out this way.
We now have an extensive community directory listing some 80 of these which includes: churches, clubs, social groups, cultural events, schools, tourist information, community support, JPs, medical services, play groups and pre schools.
For more details scroll to the bottom of this page or click on 'Literature Award' and 'Community Directory' in the left hand green side bar.
Photo: tilligerry.com more than just news.
---
elebrating the re-opening.
New Community Directory
As the Tilligerry community expands and changes, there is the need to provide residents (particularly newcomers) and tourists with a directory of service groups, clubs and businesses. With this in mind, TACE (Tilligerry Adult and Community Education) will be compiling one in the near future.
It will be available in both an online and printed format.
TACE works under the umbrella of PSSC and coordinates community groups such as art, lead lighting, family history and mah jong. It has its home base at the LTP library. It also publishes tilligerry.com our local online news service which has grown to be the major source of local news for residents .Most months it gets over 1500 'hits'. The Port Stephens Literature Awards, a national short story competition, is another initiative of TACE and is run by volunteers.
If you would like to publicise your club, social group or business, email basic contact information to: tace@tilligerry.com and it will be considered for inclusion. There will be no charge for this service.
Photo: TACE volunteers Helen Mizrachi and Sue Hamilton at the library.