Plaques Found
To the great delight of the Tilligerry community, two plaques thought to be lost forever have suddenly been found.
Owners of historic Tanilba House, Glenn Short and Deirdre Hall were shocked to find that on their open flower garden day that a direction finder plaque was missing from its setting near the front of the circular driveway. Despite offering a reward and 'no questions asked' it failed to be returned.
Local Tanilba resident Margaret Brewer and two friends were on their regular walk when they happened upon the plaque propped up against the corner of the local hall.
"It was obviously put there to be 'found'," she said. "It certainly wasn't there the last time we passed by," she added.
"We took it back to Tanilba House and the owner, Glenn Short was very excited to get the treasured relic returned," she said.
It is quite common to have juveniles steal things 'just for the fun of it.' Indeed, letterboxes, garden gnomes and even pot plants have fallen victim in the past.
A gang of juveniles was believed to be responsible for the theft of dozens of hub caps recently. They were neatly displayed in a rough circle near
the football field carpark.
The other good news is that the stainless steel plaque naming our pool after the late great Doreen Bradley has been found. Despite the current staff searching the store rooms and office the plaque (which had become loose and removed) could not be found.
It was quite by chance that a former lifeguard when visiting was asked if he knew where it was. He did and it is now being restored ready to be set back in the concrete surround of the pool deck.
Photos: Deirdre Hall (centre) at the the moment she discovered that the plaque was missing......The plaque before it was stolen.....Happy campers, Glenn and Deirdre in colonial attire at an open day and the stolen hub caps beside the sports fields.
---
Wonder Drug
The cost of new medications can be astronomical because of the exhaustive trials that the pharmaceutical companies must carry out before they are released. The side effects can quite often outweigh the benefits so authorities are very wary of approving new drugs.
Remember thalidomide? This was a medication used by pregnant women to treat morning sickness but an Australian doctor, William Mc Bride, found that it resulted in deformities in children.
On the other hand, positive side effects can also result. Viagra was a drug discovered while looking for a treatment for cardiac conditions but these days, as a little blue pill, it is used more widely for other problems found commonly in ageing men.
Diabetes is one of the greatest curses of the developed world and is triggered by a diet which is high in sugar and by the lack of exercise. It is commonly found in people who are overweight. The standard treatment is medication and the injection of insulin. A recent breakthrough has come in the form of a product which reduces both blood sugar and weight. The magic ingredient is 'semaglutide.'
One person we interviewed had this to say about 'Ozempic' which his doctor prescribed last year:
" It's a 'once a week' injection which supplements my existing medications. It must be introduced gradually and my blood sugar monitored to ensure that the levels don't fall too low. I have since reduced my regular insulin injections to get the sugar levels within the range recommended by my doctor," he stated.
"What amazed me was that my weight fell away. I did not crave food and lost some 10kg over a few months," he added.
Such was the demand world wide for this new product that supplies ran out and its manufacturers have been trying to catch up with the backlog of orders.
Lemon Tree Passage Pharmacist Fardi Fahmi said that 'Ozempic' was still in short supply with intermittent deliveries during February and March.
"We hope that the supply chain improves and that by April we will have enough to meet demand," he said.
Photos: Local pharmacist Fardi Fahami (centre) and 'Ozempic' which is becoming available on prescription.
---
Scooping The
m Up
Look at the picture! These budding Soccero
os have been scooped up to play in one of the twenty, that's right, twenty soccer teams fielded this year by the local Soccer Club.
Actually, Soccer is something of a dirty word down around the Mallabula Sporting Complex as they prefer to be known as 'Tilligerry United Football Club.'
Over the years, they have gone from strength to strength compared to their neighbours, the Mallabula Panthers which now field some five or six junior teams for their upcoming season.
Parents see soccer as a game of less physical conta
ct with fewer injuries and encourage their kids, both girls and boys to get involved. Add to this Australia's rise by11 placings in the FIFA rankings after the last World Cup and it can be seen just how much interest has been shown in the sport. Tilligerry United Football Club currently boasts fourteen junior sides, two of which are girls and the seniors field six teams which include three girls' teams. Some of the teams are mixed.
Want to get those kids of yours off the couch and away from mobile devices? Answer "Yes," and Rugby League or Soccer might just be the thing for you. At the time of writing, there were vacancies in teams of both codes. Punch in: 'Mallabula Panthers Junior Rugby League' or 'Tilligerry United Football Club' and all will be revealed.
Photos: Main photo ….Junior footy players scooped up for the season.
File Photos: A local all girls' soccer side.....and promising Panthers "Where are they now?
---
Tip of the Iceberg
Club Lemon Tree has just linked hands with Port Stephens Shire Council in sponsoring university scholarships for two promising young students.
This adds to the twenty that PSSC has created this year.
They will support the girls to the tune of $2000 which helps cover costs of their studies during the first year at university.
Allana Horne is embarking on a Bachelor of Medical Science and Doctor of Medicine course and Tonaya Hyland will be working towards a Bachelor of Science/ vision Science degree.
Club President Kevin Colman said that this initiative was part of Mayoral Academic Scholarship Program.
"It was created to give a 'leg up' to our best and brightest," he said. Our involvement is part of the Club's ethos of 'looking after locals', he said.
"We have also injected some $40 000 into dozens of worthy community groups this year," he stated. "Even during the difficult trading days of the Covid epidemic, we were still able to help most of them," he added.
"While keeping our financial support to our town, sometimes we step outside the square and help those in greater need. The drought and the floods were too such cases. We even became an evacuation centre when a bushfire threatened the town. On top of this we assist the community 'in kind'. Our doors are always open to donating rooms, facilities, bus hire, printing and making our greens available for charity bowls days," he remarked.
Photos: Allana and Tonaya flanked by Mayor Ryan Palmer and Kevin Colman OAM plus Club Lemon Tree.... "Putting a lot back into the community."
---
Flotsam and Jetsam
Flotsam and jetsam usually refers to the cargo and wreckage of a ship which has been cast ashore by storms.
Port Stephens' shoreline looked very much like this after the 'big wet' left debris littering the mangrove swamps, the beaches and mudflats. It also left floating navigational hazards such a submerged logs, drums and oyster poles in the wider expanses of the waterway.
Marine Rescue also keeps a
weather eye out for floating objects. You see, years ago, the then Coast Guard vessel 'Hornet' was holed by a submerged object and had to
be beached before it sank.
So much of this material was found that the 'Avcon' team has returned for a second time. They had left their Lemon Tree Passage base to sweep the waters of other estuaries farther up the coast. They are back to complete the job and to return our waters to the pristine condition they were in before the floods.
'Avcon' is a private company employed by the state government to improve the water quality of the estuarine systems along the eastern seaboard.
The greatest concern is the removal of drums and containers of toxic chemicals. With Port Stephens being a major supplier of oysters, any threat to water quality is treated very seriously.
No dead sea turtles were found during the clean-up but the workers were surprised to find many healthy ones surfacing for air as they went about their work.
Once again, much oyster farming gear was returned to their compound in Henderson Park and local growers have been invited to collect it before it is taken to the tip.
Photos: The 'Avcon' team unloading material from their collection barge in Lemon Tree Passage....and their storage compound in the park.
---
More Than Hot Water
Pacific oysters are fast growing and give the farmers a shorter turnover time. What's more they largely escaped the recent QX disease which wiped out vast numbers of the Sydney Rock variety.
Those farmers who had both types were assured of income from their Pacifics – until recently. These oysters do not like hot water and thrive in New Zealand, Tasmania and the southern states of the mainland.
The recent death of up to 75% of
the Pacifics was a shock to growers and the cause is still not known. That's why a team of researchers from the University of Technology in Sydney (UTS) is hot on the trail. The Pacifics (Magellana gigas) previously suffered from the Pacific Oyster Mortality Syndrome (POMS) in 2010 and 2011 but have recovered since then. Their rapid spread means that the traditional farmers need to hand cull them from their other oysters which involves many hours of intense labour. Pacifics comprise around 20% of oysters sold, they can live for about eight years and are worth $1.5 million to the ec
onomy. One farmer who has grown them for over 20 years believes that the cause is 'more than hot water.' "I believe that something else is killing them," he said.
There were no Pacific Oysters in Port Stephens until they suddenly exploded some 20 to 30 years ago. Growers had to take all of their stock off their leases and keep them high and dry until they died. Since then, they have been able to be farmed alongside the Sydney Rocks.
Quality assurance is paramount in the oyster industry with growers paying for water quality, purification and other testing. Some complain that they are not the ones creating pollution but have to pay for problems caused by others.
For years now, local farmers have had a big clean-up 'Tide To Tip' day conducted under the umbrella of 'Oceanwatch' which assists in this very important environmental initiative.
This year some 37 farmers made Henderson Park the focal point of the clean -up.
After the bay was scoured for rubbish, a BBQ lunch had the growers interacting and exchanging information of mutual interest. A great day was had by all and we, the public are all the better for it.
Photos: Emma Wilkie and Laura Stoltenerg from 'Oceanwatch' chipping in at the cleanup........Local farmers with rubbish retrieved from the bay.....and Brian Hughes, Mark Salm , Simon Turner and Paul North firing up the BBQ.
---
Roadworks on Track
Scheduled to be finished by November 2022, the total rebuild of Tanilba Road Mallabula is now back on track.
The $1 700 000 project was delayed by rain and is now nearing completion. Much of the underground drainage has been installed along with kerbing and guttering. This means that once the new road base has been put in place and compacted, the surface can be sealed. A new bus stop and shelter is also under construction at the bottom of Wychewood Ave.
The really big news is that preliminary surveys of Avenue of the Allies Tanilba Bay have been done with work due to start in April. Over $3 000 000 is earmarked for this project.
Councillor Steve Tucker puts us in the picture:
"Roads are the focal point of all ratepayers these days and it is important that they understand how they are funded.," he said.
"State grants are a major contributor to our roads program and are for targeted works. They just can't be transferred to other areas," he added.
'The $1 500 000 Tanilba roundabout is a prime example. It was obtained under the 'Black Spot' initiative. The main road to Salt Ash was a specific government grant of many millions of dollars which released ratepayers' dollars for other roadworks," he stated.
"Tilligerry receives more road money than most other wards in the shire per head of population and there is no easy fix for road funding," he declared. " We can raise the rates, apply for more grants, defer other works or just wait our turn. There is no such thing as a money tree," he concluded.
Photos: Tanilba road Mallabula nearing completion......Sign designating state funding......and Steve Tucker "Roadworks back on track."
---
Tanilba Hosts National Titles
If you want to get into the sailing game, you really need to learn another language. For example: a parrot's beak has nothing to do with birds. Sheets and braces are ropes and a bowline on the bight is an essential knot for all sailors. Boom vangs, outhauls, topping lifts, coffee grinders, cleats and cunningham's eyes are just a few of the other gadgets that are essential for a boat's performance. So is a trapeze which has nothing to do with the circus. Before you set sail you would be wise to become familiar with these pieces of equipment.
Learning how to reef, harden up, set a kite, luff up a
nd reach will also be vital skills if you want to become proficient. You will also be surprised to know that sailcraft don't go their fastest with the wind behind them and a spinnaker up. Record speeds are only achievable with the wind on the beam.
Distances and speed are other things that are different. They are measured in nautical miles and knots. A knot is one nautical mile per hour which equates to 1.15 mph or 1.8 kph. That's why a 20 knot wind speed is equivalent to one of 37kph. As for fathoms and leagues, you'd best look them up for yourself.
Once again, Tanilba Sailing Club was chosen to host the National Catamaran Titles. It is a very popular venue for all classes of sail craft because of its central location, its shaded waterfront setting, the nearby clubhouse and the wide expanse of water for the races.
Over two days some 20 Maricats vied for the titles. They came from as far afield as The Great Lakes, Swan Lake, The South Coast, The Central Coast, Sydney, Griffith, Orange, The Blue Mountains and Canberra. The cats raced in both single and double handed classes. Four races were held on Saturday and three on Sunday.
The first day saw very little wind for a while as the expected Nor'Easter failed to arrive but conditions improved with a Southerly pattern developing and making for more competitive sailing. Indeed by late afternoon the local weather station registered gusts of around 20 kts or 37kph.
Sunday was more or less the same and the Southerly if anything blew with more strength. The flukey winds however, shifting between South and East added an extra challenge to the day's racing.
Winners were: 1st : Daniel Johnstone in 'Still Knot.'
2nd : Stephen Backhouse in 'Prima Face'
3rd : Jeff Reid in 'Havoc'
4th : Rodney Anderson in 'Pointed Reply'
5th : Michael Backhouse in ''She'll Be Right'.
Got you interested? Visit Tanilba Bay Sailing Club's facebook page or their website for more details of the regatta results and the club's operation.
Photos: Action on Tanilba Bay. Pictures courtesy of John and Tina Clayton.
---
Inspired
Inspired! This is how a group of seniors reacted to a free art workshop on the Lemon Tree Passage foreshore on Friday 3rd Fe
bruary.
It was just one of many
such activities for seniors run under the umbrella of Port Stephens Shire Council.
Similar workshops have been run in other areas of the shire and a free luncheon and concert is planned for the Nelson Bay Bowling Club.
For retired residents, these workshops are a great way to gain social interaction which is important for health and wellbeing.
Self help art groups have been very active on the Tilligerry Peninsular for many years and currently one operates out of the Old School Site in Lemon Tree Passage.
A great boost for local creative artists came when the old fire station became vacant after the RFS moved to Tanilba.
The site is now an art gallery featuring creative paintings, sculptures, ceramics, woodwork and jewellery. It is run by the artists themselves.
Both groups have regular workshops with invited artists demonstrating their different styles and techniques.
One renowned resident artist, Jenny Crozier, has been very generous with her time in giving the aspirational artists some lessons in the finer points of painting over such a long time.
Jenny herself has won prizes for her art, has entered the Archibal Prize and has been invited to judge regional competitions.
The waterfront workshop was organized by Chantelle, a council project officer with well known Medowie artist Kelly Pegg offering advice to those who attended.
Photos: Chantelle and Kelly with local residents at the workshop.......Jenny Crozier with one of her paintings.....and the 'TAG' gallery on the main road in Lemon Tree Passage.
---
Man on a Mission
It's 1942 and the Japanese Imperial Forces have swept all before them in the South Pacific. They seemed unstoppable. Darwin has had more bombs dropped on it than Pearl Harbour; Townsville was under attack and Broome fell victim as well. Submarines were in Sydney Harbour and Newcastle with fired on. Coastal shipping also fell victim to Japanese torpedoes. Singapore had fallen and some 15 000 Australian sodiers were prisoners of war.
In New Guinea, Aussie diggers were the first to turn the tide along the Kokoda Track after an overland invasion force came within eyesight of Port Moresby.
General Douglas Mac Arthur, the vain US commander, failed to give credit to our troops, refering to the victory as an 'allied operation'.
Ben Wertz was a young American GI at the time and saw much action during the New Guinea campaign and in the Phillipines. Indeed, he was the sole survivior of his platoon.
Returning to the
US, Ben, a devout Christian, married and in a vision, God asked him to return to New Guinea and open a mission. This he did at Gono, a remote Highland tribal area many miles distant from the regional town of Goroka.
This was in 1953 and ever since then a flourishing Christian community has taken root. Indeed the Tanilba Baptist Church has supported it along with Mallabula's Jacqui Wood who was 'adopted ' by Ben Wertz and his wife Tilila.
Jacqui has assisted the community in many ways. Initially she imported containers of coffee beans, roasted and ground them in her Lemon Tree Passage base and marketed them under the 'Ethica' lable. She returned the empty containers packed with donated school furniture to fit out a school. She also played a major role in helping to educate the young, particularly girls and also assists the poor and disadvantaged. As a former buisineswoman she now feels she has found her niche in life, is at peace with herself and perfectly content in her newfound role.
To mark the 70th anniversary of the Mission, Tanilba's Pastor Anthony Gentle has just spent two weeks in Gono.
He said that the Christian influence has brought together the once warring tribes into a more harmonious relationship with one another.
"I preached, through an interpreter, at a 'Youth Awake' rally attended by some 300 young people from around the district," he said. "The Mission is really going well with its educational programs and in the training of Christian leaders to spread the teachings of the bible," he added.
Photos: Man on a mission: Ben Wertz and friends in Gono c.1950s......Anthony Gentle addressing the 'Youth Awake' rally recently.....Jacqui Wood serving 'Ethica' coffee.......and Highland residents with bags of their coffee beans.
---
Santa Claus Comes Late
For local seniors, Santa is about to give you a belated Xmas present. Indeed, if you are a married couple you get $500 worth of petrol, courtesy of the State Government.
They try to make you apply online. In other words, you do their job for them. The smart way is to ring 13 77 88 and follow the prompts.
Have your pension or seniors card at hand as they are needed for an ID check. If you have early onset Alzheimers or get confused, have one of your grandchildren beside you to navigate the options.
Remember, the new card cancels the old one, so make sure you've used the previous one up. Credits from the 2022 card do not carry forward.
Once your card arrives in the mail, it needs to be activated by following the instructions. You can check the balance by following the prompts.
Don't have a car? Not a problem. Other travel options are available.
Hit on the website 'seniors travel card 2023' and all of the details will be revealed. If you get confused, 13 77 88 will get you a REAL PERSON who will explain it all.
Photo: The 2023 seniors travel card is now up for grabs. Go for it!
---
Literature Award Results 2022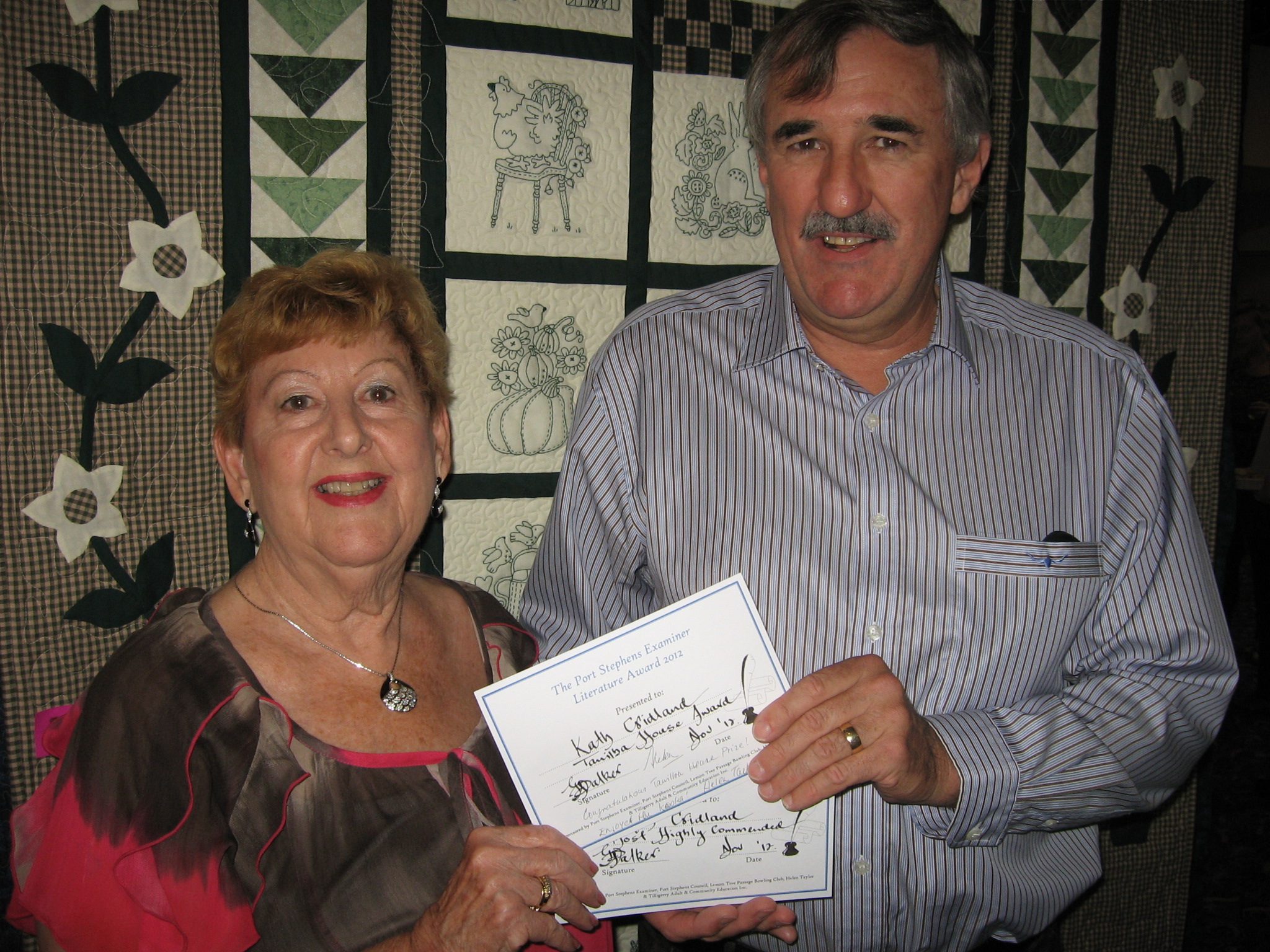 Tilligerry Lions Club has taken over the Literature Awards this year.
148 entries were received from five Australian states and the standard was much improved according to the judges. The results are as follows:
1st prize $500 PSSC Award; Janice Williams Stawell Vic.
2nd prize $300 Club Lemon Tree Award: Ray Keipert Tea Gardens NSW.
3rd prize $150 News Of The Area Award: Neville Crawford Fremantle WA.
Readers' Choice: Tilligerry Lions Club Award ($50)
Tracey Leggert Shoal Bay NSW.
Most Highly Commended ($25)
Gary Mc Farland Orange NSW; Janet Williams Stawell Vic.
Gary Hurle Calulu Qld. Phil Murray Nelson Bay NSW.
Photo: Former winner Kath Cridland receiving her awards from Cr Steve Tucker.
---
Pressing Ahead
Port Stephens Council is pressing ahead with more public
facilties on the Lemon Tree Passage waterfront.
Cr Steve Tucker has met on site with Phil Miles, capital works manager and John Maretich, asset manager to discuss the fine details of the expansion.
Steve said that a piazza would be built beside the takeaway food shop.
"This would give the locals and visitors a more pleasant area to eat in and to interact," he said. "We will also be constructing a pathway between Henderson Park and the end of Rudd Reserve," he added. "There will be seating and possibly some exercise equipment along the way," he stated.
"Once completed, people will be able to virtually circle the, Peninsular from Koala Shores holiday park to Tanilba Bay via Mallabula," he said.
Since the Covid pandemic, quiet places up and down the coast have become very popular with day trippers from the cities. Passive recreational areas are also sought out by holiday makers.
Phil Miles said that the works will begin after Easter when the crowds taper off.
Photos: Phil, John and Steve discussing the expansion plans....and a Port Stephens walking group ready for a waterfront trek.
---
Koala in Kitchen
Dee Vangement and her family were woken by their dog barking in the early hours of the morning recently. They suspecte
d home invaders but when they turned the lights on, in their kitchen was a koala!
Koalas are becoming rare on the Tilligerry Peninsular with two of the most visible dying over the last year or so. 'Heather' an old koala could be seen in the lower branches of trees in the 'Habitat' and another one favoured the gum trees in Henderson Park LTP.
Years ago, one waddled into the newsagency in Lemon Tree. It took up station on a corner greeting card stand. The stand had two large mirrors behind it and the koala became confused when it saw two reflections of itself. The owner ushered the furry little fella out with a broom.
There were other reports of koalas being marooned on channel markers when the tide came in. One even climbed the steel goal posts at Mallabula's Vince Woodman Oval during a training season.
A blessing in disguise for the remnant population came when a 'cool' winter bushfire worked it's way into town a few years back. With little canopy scorch, the two best natural koala areas were saved. They are now sprouting fresh green leaves that koalas love. These forests are located between the golf club and the Oyster Cove turnoff and in the foreshore strip between Tanilba Bay and Oyster Cove.
Koala expert and lifetime forester Vic Jerskis believes that the koala population is about to explode. He states that the grea
t bushfires of recent times have seen eucalypts sprout with vast quantities of fresh foliage and koalas are moving into them to browse and breed.
So how did Dee cope with the uninvited intruder?
"We rang the koala rescue people and they were there within 15 minutes. The koala (which we named 'Jason') was relocated to a nearby tree," she said.
"I've seen as many as ten koalas in the Admiralty Ave – Caswell Crescent circuit on my way home. I really don't know if it's ten different animals, or'Jason' on ten different occasions." she added.
But why would a koala seek out a house to enter? This was the question that baffled Dee, her family and locals. A day or so later the penny dropped. You see, Dee had spilt a bottle of eucalyptus disinfectant in her kitchen that very afternoon. This is why the koala, smelling the liquid, pushed his way through the fly strips at the back door looking for some tasty leaves.
Photos: Tourists indicate a koala in Henderson Park LTP......a close up of the same koala......and former Fire Captain Johnny Williams (far left) explaining why the approaching 'cool' bushfire was a good thing.
---
Tucker Supports NOTA
Port Stephens Shire Council's decision to try to help salvage 'The Examiner' by increasing advertising has brought into focus the question of whether ratepayers' money should be used for this purpose.
Cr Steve Tucker believes that if this is to happen then it should be even handed and News Of The Area (
NOTA), our other local paper, must receive an equal amount of funding from advertising.
"The media business is changing rapidly," he said. "Yes, it would be a shame if the paper shut but fewer people read local home delivered papers these days. Just up the road from me there are dozens of 'Examiners' strewn over nature strips and many residents put them straight into their wheelie bins unread," he added.
"On top of this, young people go online and turn to social media for their news. They refuse to pay for the online news delivery that some newspapers create in the form of a pay wall," he said.
"Ratepayers expect PSSC to be thrifty with their money. Roads and drainage are top priority these days. Going to the rescue of a private company is not a function of local government. In the digital age, newspapers which adapt have a greater chance of survival," he stated.
Photos: Steve Tucker... "Subsidising business not a core role of council" …..and... One of eleven unread local papers in front of just three homes at Tanilba Bay..
---
Family Homage
Tanilba's Pat Caddy was somewhat overwhelmed when her wider family turned up in early January to celebrate her 90th birthday.
Around thirty of her children, grandchildren, great grandchildren, her sister, niece and friends made the occasion truly memorable for the long time resident and community worker. It also brought the family together to interact and relive happy memories of the past.
The family album says it all: a newspaper clipping where she seeks more parents to help her run the youth club; a photo of her resplendent in her gown as Matron of Honour at a 1990 debutante ball along with a list of the 34 debs and their partners. There is also a card thanking her for her efforts.
She was also very active with the nine hole infant golf club. Money was a big problem so Pat and other members did bar duty
until they could afford to pay staff. As a lady golfer, she represented Tanilba Bay at district level winning several trophies. Her name made the honour board when she scored a hole in one.
The Jade Court Restaurant found it challenging to cater for such a large group at her testimonial dinner.
There was more to come: the family booked the 'Wangi Queen' for a cruise around the port. This 100 year old vessel has recently been refurbished and now has Lemon Tree Passage as its home base. Pat also left some rubber on the road as a bikie and his Harley Davidson took her for a spin.
All in all, a fitting tribute to a worthy woman who has put her family and the community well ahead of her own needs for such a long time.
Photos: Pat as a young woman......As Matron of Honour....and ready to hit the road on a Harley.
---
She Never Gave In
One Saturday evening many years ago, Eric Clarke pulled up in his restored vintage car outside Doreen Bradley's home in Strathmore Ave, Mallabula. She had been told that her friends were shouting her a meal at the RSL club to celebrate her recent OAM award. It was a lie.
The car passed the RSL entrance and turned down Avenue of the Allies at Tanilba Bay. It then swept under the arched gates and up to Tanilba House and into the circular driveway.
Her chauffeur opend the door and Doreen was greeted by a crowd of friends and dignitaries. For the first time in her life, she was lost for words as they clapped her inside and seated her at the head of the oversized dining table.
After a couple of drinks, the Master of Ceremonies rose from his seat and tapped his wineglass with a knife.
"Ladies and gentlemen, I ask you to be upstanding and offer a toast to our Queen." Those present obeyed and faced the framed picture of Queen Elizabeth on the wall.
The MC went on: "No, not that Queen, I'm referring to the Queen of Tilligerry – Doreen Bradley!"
At that exact moment one of the staff entered the room bearing a velvet cushion with a crown seated on top. This was duly placed on the guest's head to the applause of all those present.
It is hard to estimate the impact and achievements of Doreen on the Tilligerry community over the past 40 years. Once she identified a need she would hang on like a bulldog and never let go until she got her way. Many a politician or bureaucrat was totally worn down by the little old lady and her relentless campaigns for the betterment of the town. On top of this she led many fundraising drives for Legacy and for children needing specialist medical attention.
Her greatest and longest crusade was for the establishment of a permanent police station with resident officers in control of local policing.
Over 30 years ago she spearheaded a push for a heated pool. Council said that if the community raised some $100 000 (an enormous sum for those times) then they would make up the rest of the projected $1 000 000 cost. They achieved their goal and the result is the Tilligerry Aquatic Centre we have today.
Our Ambulance Station took over a decade to become a reality but thanks to Doreen and her crew we now have a state of the art facility.
Sadly, her dream of the new police station eluded her after a 40 year battle. Policing had moved on from the times of the local resident police calling the shots. Policing is now very much a mobile operation with resources deployed on an 'as needed' basis. No town 'owns' the police and they respond to out of town incidents as dictated by a central command centre.
Doreen was critical of the treatment of juvenile offenders who were let go after committing serious crimes. Indeed, not long before she passed on her own home was targeted by what she believed to be juveniles.
Doreen had the philosophy of 'never give in' and our community is so much better for her persistence over such a long time.
Photos: Doreen Bradley OAM and 'A Current Affair' crew filming after a total breakdown of law and order saw some 200 cars stolen in two years.
---
Lift for Library
But where is it? This is most asked question by those wanting to borrow books in Tilligerry.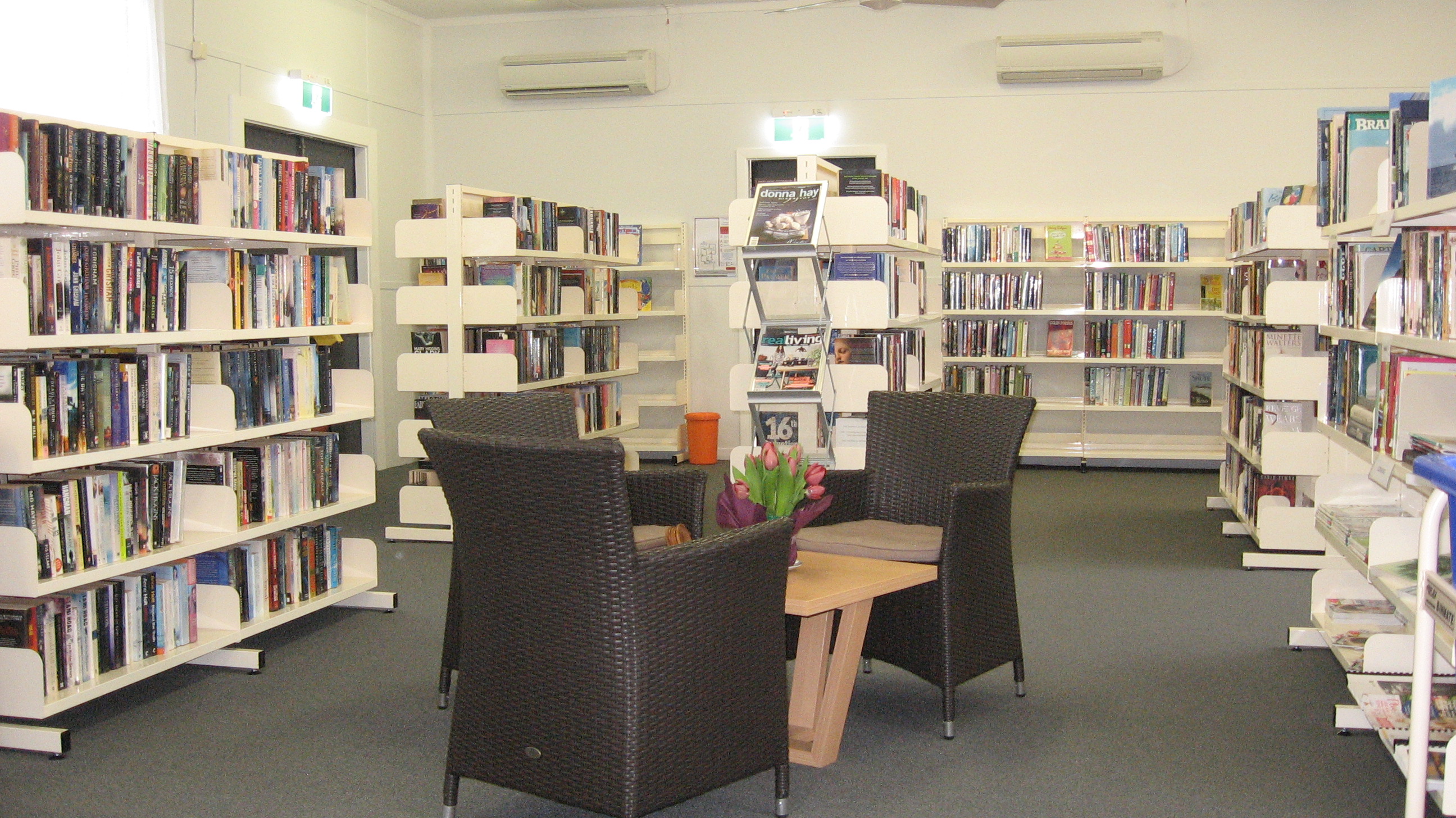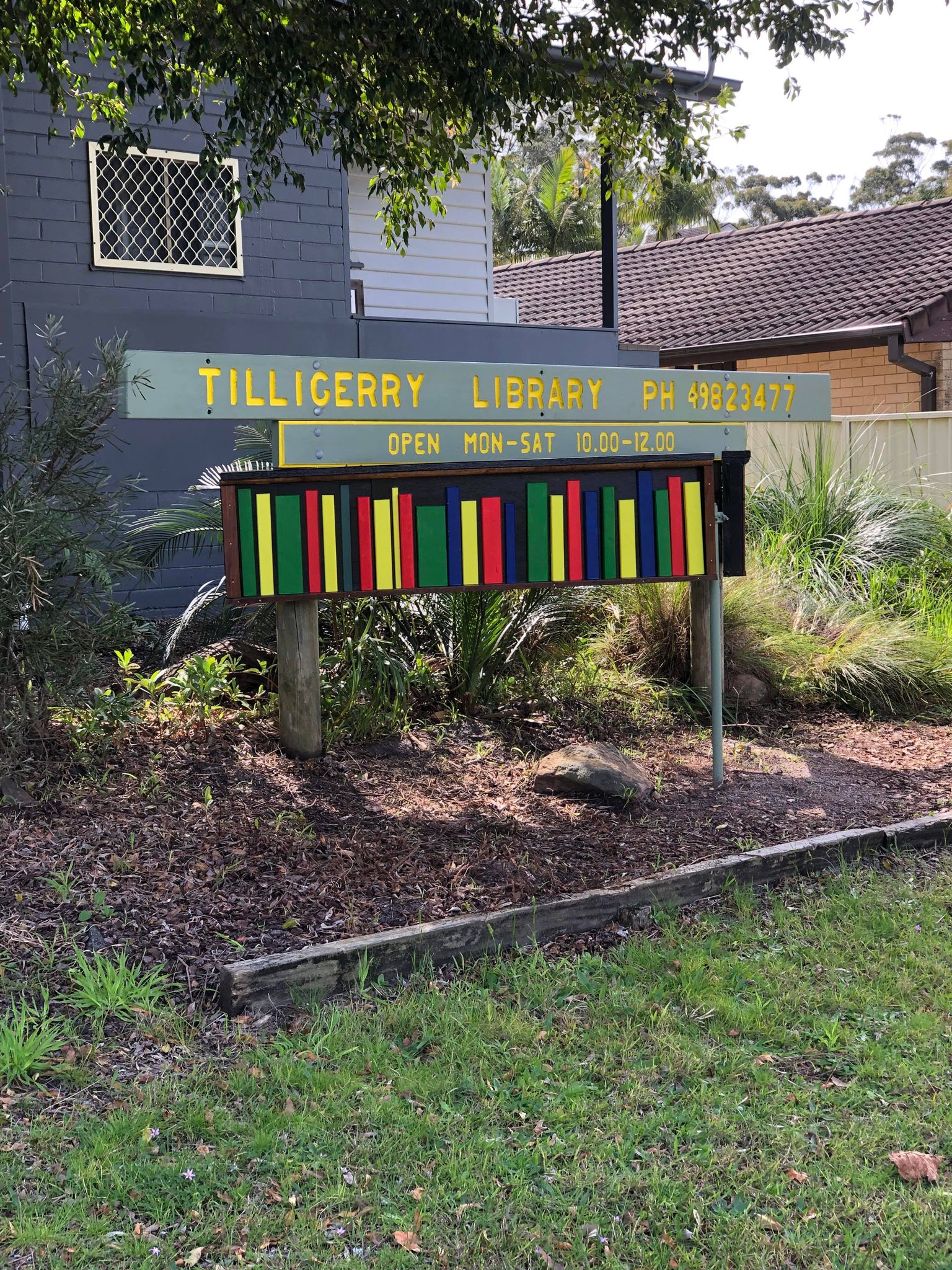 The town public library is situated on the main road opposite the Lemon Tree Passage Motel and when open, has a 'library' flag fluttering from a pole in front of it.
It's been there for decades and is staffed by volunteers and operates from 10am until noon six days per week. (Monday to Saturday).
A big makeover a couple of years back saw new carpet, reader friendly furniture and a slick paint job spruce it up.
What's more, a heavy cull of the least read books and an injection of new stock has something for everyone, including children.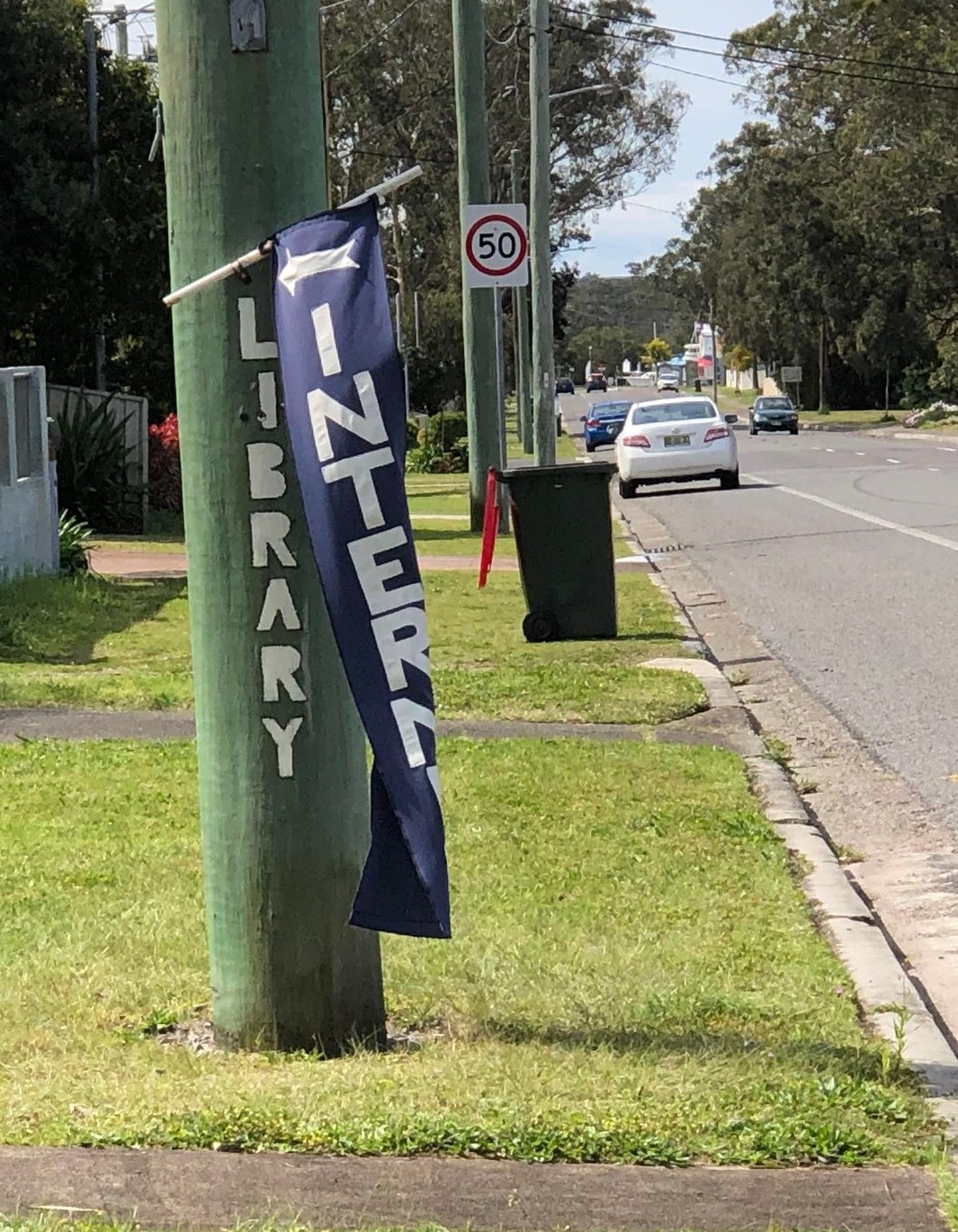 Tilligerry Men's Shed workers have just removed the old overgrown sign and have carved a new one which is much more visible.
Business is more or less back to normal after a year or so of roadwork disruptions and the construction of a new police station two doors away. Council have taken over the computer access and has 2 brand new computers. A new scanner is on order and you will now be able to print A4 colour pages.
The library augments the mobile service which visits the villages of Tanilba Bay, Mallabula and Lemon Tree Passage on a rotational basis.
Both services have now recovered from the Covid lockdown restrictions and are back up to pace.
Photos: The LTP Library after the makeover......and the new sign giving it better visibility.
---
Book Donations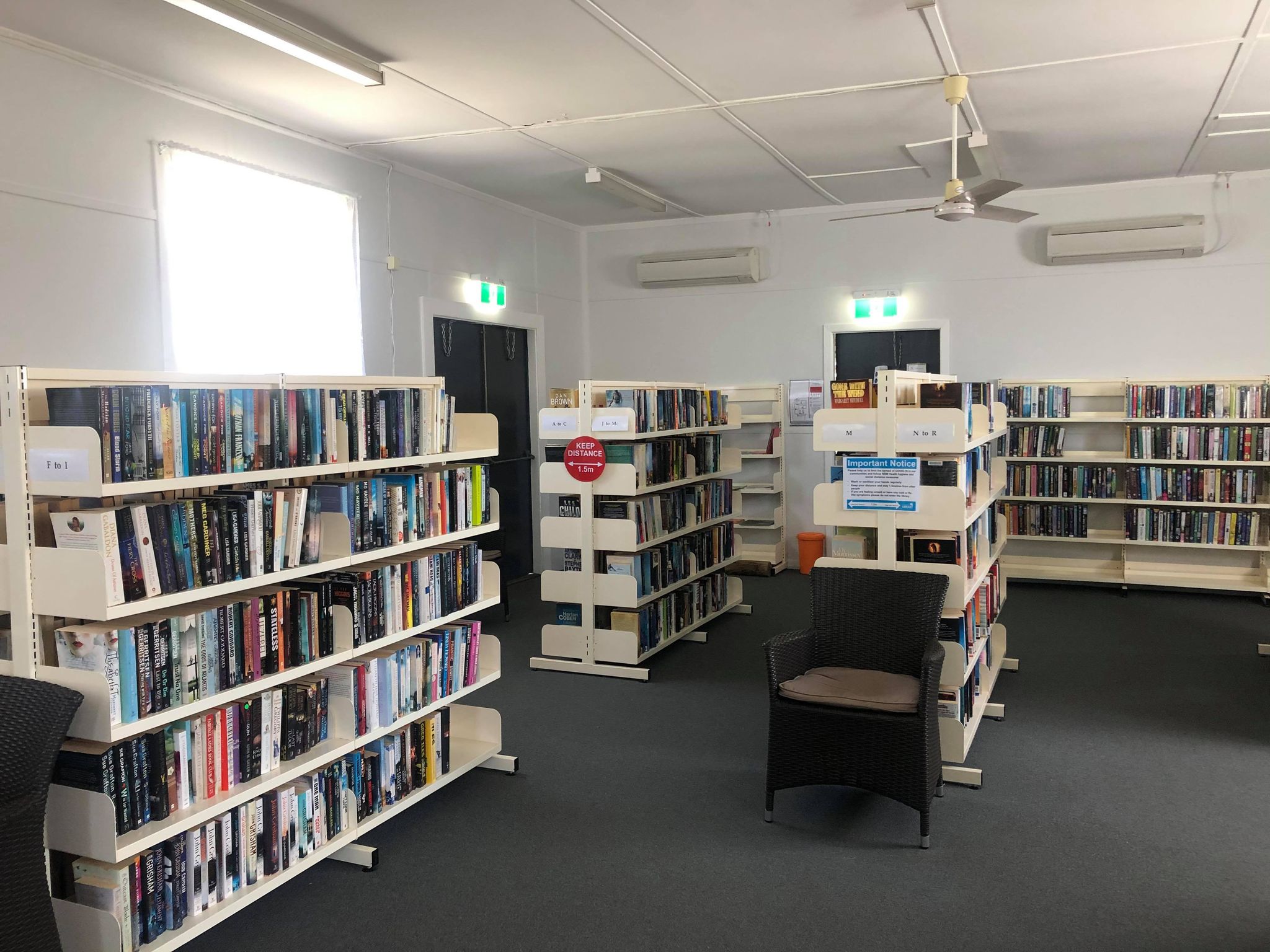 Tilligerry Community Library ha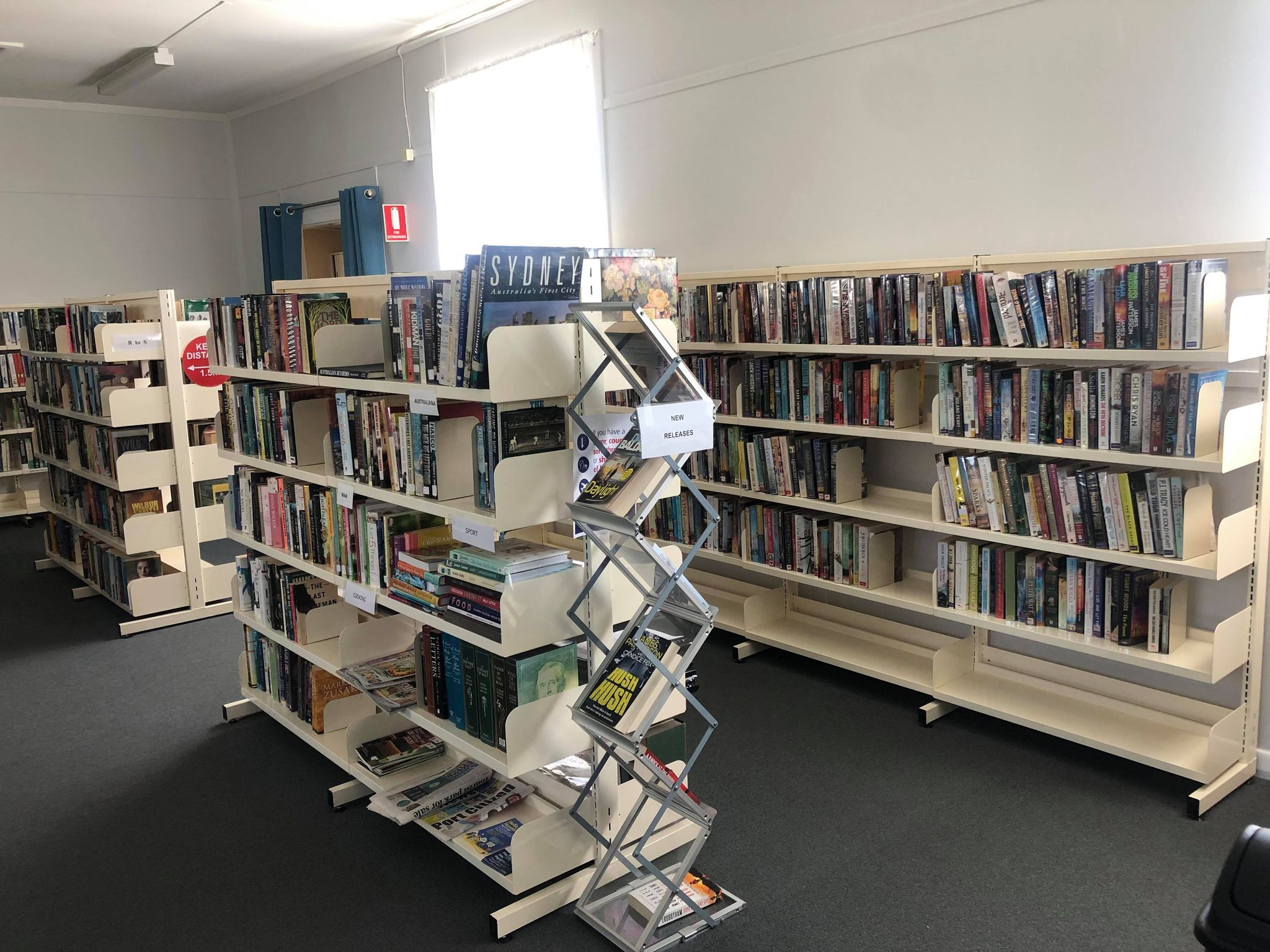 s always enjoyed the support of the community donating their books. Whilst we do appreciate them, we can only accept them with prior consultation. Our hours are 10-12 noon Monday to Saturday and our phone number is 4982 3477 if you wanted to call up or pop in and check with us before bringing them in. Please don't leave them at the door.
---
More than Just a News Service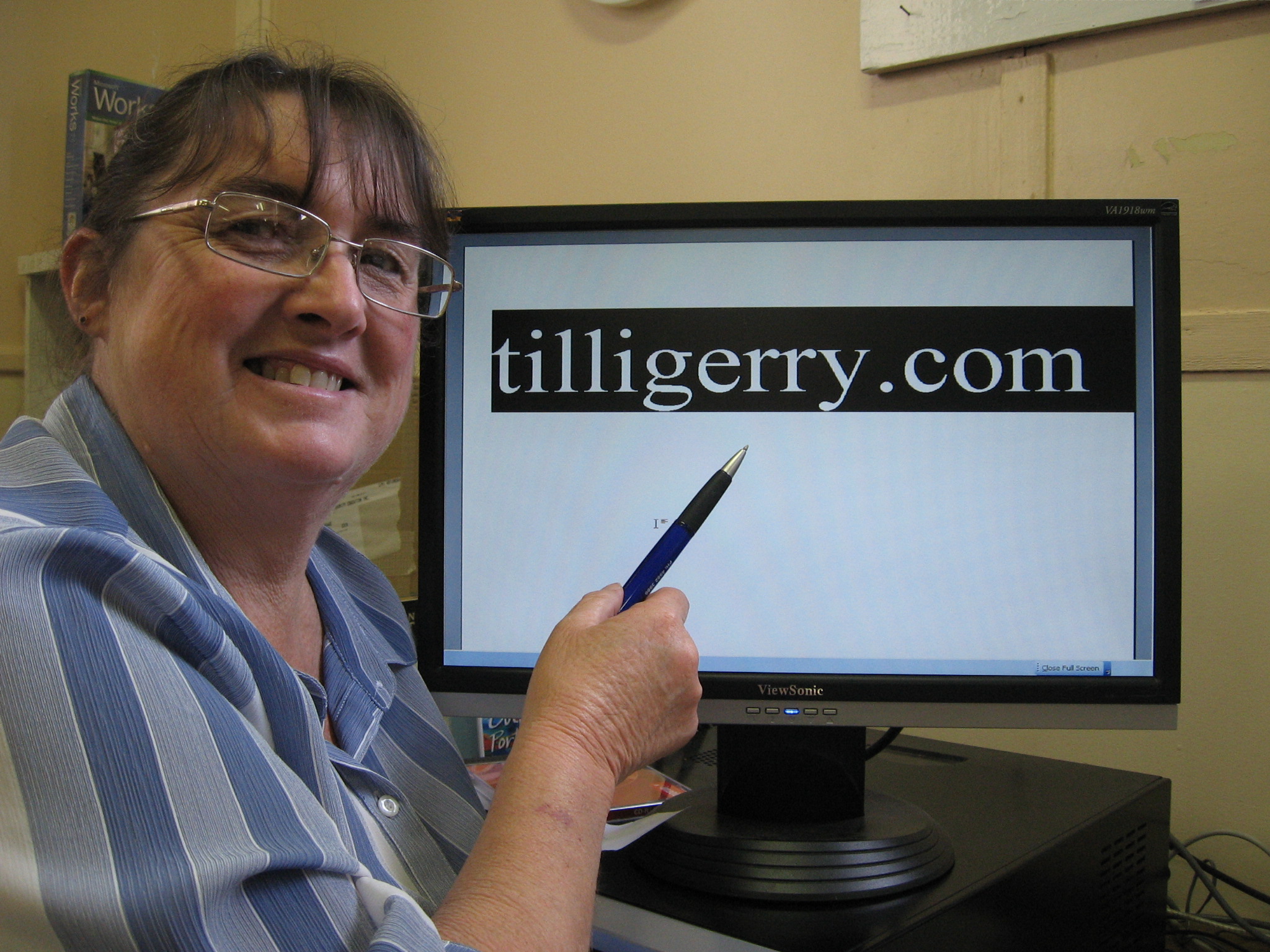 You've seen our illuminated sign 'tilligerry.com' beside the main road near the golf club as you drive into town at night.
With news services moving away from the print media, tilligerry.com for over 10 years now has moved with the times and gives local residents the news that they can't get anywhere else. Indeed, those travelling around Australia or internationally can keep up to date with a click on a mouse or a mobile phone.
Before our 'hit meter' broke down we were averaging around 2000 views each month. We have a few businesses supporting us but we really don't want advertisers as we are a not for profit community service.
That's not all! Each year we run a national Literature Award (a short story competition) with the support of PSSC, Club Lemon Tree and News Of The Area.
On top of this we offer the public internet access, assistance with the operation of electronic devices and photo copying.
It gets even better. There are constant requests, usually from residents new to the area, for general information about available services and organizations out this way.
We now have an extensive community directory listing some 80 of these which includes: churches, clubs, social groups, cultural events, schools, tourist information, community support, JPs, medical services, play groups and pre schools.
For more details scroll to the bottom of this page or click on 'Literature Award' and 'Community Directory' in the left hand green side bar.
Photo: tilligerry.com more than just news.
---
elebrating the re-opening.
New Community Directory
As the Tilligerry community expands and changes, there is the need to provide residents (particularly newcomers) and tourists with a directory of service groups, clubs and businesses. With this in mind, TACE (Tilligerry Adult and Community Education) will be compiling one in the near future.
It will be available in both an online and printed format.
TACE works under the umbrella of PSSC and coordinates community groups such as art, lead lighting, family history and mah jong. It has its home base at the LTP library. It also publishes tilligerry.com our local online news service which has grown to be the major source of local news for residents .Most months it gets over 1500 'hits'. The Port Stephens Literature Awards, a national short story competition, is another initiative of TACE and is run by volunteers.
If you would like to publicise your club, social group or business, email basic contact information to: tace@tilligerry.com and it will be considered for inclusion. There will be no charge for this service.
Photo: TACE volunteers Helen Mizrachi and Sue Hamilton at the library.