Stop Press!!!
Port Stephens Literature Award submission date extended!!! Please ensure all your entries are postmarked by the end of October to be accepted in the 2021 competition. Good Luck
---
LTP Community Library Reopening
The library will reopen from Monday 25 October with suitable restrictions in place. TACE computer/phone assistance will start up again from Thursday 28 October. You will need to book in for this and if you need assistance to get Medicare/vaccination status on your phone please make sure you bring any passwords that you will need to access your email system or you MyGov account. Sue will be available from 10 am to 12 noon and will take 1/2 hour bookings only. Ring us on 4982 3986 and leave a message or email us on tace@tilligerry.com.
---
Tucker to Run Again
After 17 years of community service on PSSC, Steve Tucker was looking forward to a break but has changed his mind.
"Helen and I were contemplating some overseas travel," he said, "but with COVID putting our plans on hold for the foreseeable future, I decided to recontest Central Ward to follow through the major projects which I 've worked for over so many years," he stated.
"All those years ago I threw my hat in the ring as there was a hard core lefty/greenie mob on council wasting ratepayers' money. I ran on a roads, roads, roads platform and won easily," he remarked.
"It's not easy securing roads funding as the other councillors fight tooth and nail to get as much money spent in their wards," he said.
"With the next Council term being short due to the COVID deferral, I will be able to oversee the big ticket roads and infrastructure spends that are now set in concrete for our forward works funding allocations," he added.
"Ratepayers don't want 'Pie in the Sky' projects. It's roads, roads, roads drainage and more roads. These are council's traditional prime concerns and have been mine as well. I look forward to following through on these projects after the December election," he concluded.
Photo: 'Vulture for culture:' Steve with Dee Taylor and Lloyd Hogg at the annual Literature Awards presentation which Steve has supported over such a long time.
Note: The entry date for these awards has been extended until 30th October 2021.
---
Into the Record Books
Lindsay Warner, the 63 year old jet ski adventurer has completed his circumnavigation of Australia.
He will now be entered into the Guinness Book of Records once his amazing feat is verified by observers and satellite tracking data.
You will remember we featured him in an earlier story when he dropped into Lemon Tree Passage to link up with Dorothea Willey, a friend he met on one of his outback adventures in Western Australia.
"We were confident that he would make it," remarked Dorothea. "He took every precaution and his exact location was always known via satellite tracking," she added.
"He had back-up at various points along the way and had two forced quarantine stopovers due to the covid border restrictions. There were no major issues with weather or mechanical problems,", she said.
Lindsay's 15 000 km odyssey is even more remarkable when you consider that it was self funded and his Kawasaki jet ski was second hand. The fuel bill alone was well over $30 000. Lindsay's 2019 'warm up' for the adventure saw him circle Tasmania.
He was keen to promote men's mental health issues along the way.
Photo: Lindsay at his Lemon Tree Passage stopover.
---
Feeding the Five Thousand
The biblical texts have it that Jesus once performed two miracles when he turned water into wine and fed five thousand followers with just five loaves of bread and two fish.
A simple google will give you the full story.
Tanilba's Baptist Church is doing something along the same lines but on a much smaller scale. You see, the covid scourge has changed the way they feed the locals at their Thursday weekly lunch and it works like this.
With social distancing and contact restrictions in place, they have changed their sit-down lunch at their Beatty Bvd church hall into a contact free drive by pick-up service. This is available between 12 Noon and 12.30 pm. Their circular driveway is ideally suited to this.
Availability of this generous welfare initiative is for Tilligerry residents only and full details are to be found on tanilbabaptistchurch.com
The food is home cooked with fresh vegetables picked the same day from their own garden in the church grounds.
Photos: A pre-covid sit down lunch at the church hall.....and their 'Garden of Eden' where they source fresh produce for the pick-up service.
---
Pool Upgrade
The current Corona lockdown has dovetailed well for the makeover of the Tilligerry Aquatic Centre.
This means that the down-time for the pool relining will not encroach on the summer swimming season.
Now over 20 years old, the pool was beginning to show its age with bubbles forming between the original tiles and the overlaying vinyl liner.
It was therefore decided to strip both old surfaces and fibreglass the pool to ensure its integrity for years to come.
We are indeed lucky to have the facility as demographers all those years ago stated that some 12 000 residents were needed to make the facility financially viable. There were fewer than 6000 people here at the time. Indeed Port Stephens Council set a target of $100 000 for the community to raise before they would proceed with the complex.
This was achieved and the council chipped in the rest of the $1 000 000 needed for construction.
Currently 'Belgravia' has the contract for the three council pools and they are closed in rotation for maintenance.
Last year, Tilligerry did not shut for winter maintenance as both Tomaree and Lakeside swim centres were out of service for prolonged periods due to technical issues.
This gave dedicated fitness fanatics and squad swimmers an option with their season tickets valid for Tilligerry.
Photo: Workers preparing the pool for its new fibreglass 'skin'.
---
Sail Ho!
"Sail Ho!" This was the traditional cry of sailors from the crow's nest as a sailing ship hove into view. The sail was the first part of a ship to be seen on the horizon.
Indeed, sailors were sometimes rewarded by being the first to sight other vessels – particularly in times of war.
Others had places named after them. Such was the case of Lieutenant Zachary Hicks who was first to see Australia during Captain Cook's epic voyage of discovery. A plaque was erected in his honour in Victoria at the spot he sighted from the 'Endeavour' in 1770 which now bears his name.
So much for the history lesson!
Sails are all the go out Tilligerry way with new covered-in areas going up at our major shopping centre just off the main road at Tanilba Bay. These will be set over galvanised arched frames. They will shade the car park and give protection from the rain as well. It will also make the centre more attractive to shoppers and in line with the undercover facilities offered by other shopping malls.
That's not all! Port Stephens Council is also in on the act at Henderson Park Lemon Tree Passage. They have already erected a sail over the play equipment and funds have been set aside for another shade sail over the waterside platform behind the pool.
This sail was supposed to go in some time back but engineering problems have sent it back to the drawing board.
Photos: Construction begins on the new covered area at the shopping mall........The LTP waterfront platform, soon to be covered in …..and the shade sail over the playground area.
---
No Excuses
With the Tilligerry Medical Centre, Lemon Tree Medical Practice and the Lemon Tree Passage Pharmacy now on stream for covid vaccinations, there are no excuses for people backing away from getting their jabs.
Earlier media scare mongering and anti vaxxer proaganda created fear and hesitation in the community. Not anymore. The linking of vaccination rates to the lifting of lockdowns has seen a surge in those rolling up their sleeves.
Governments and health officials are continuing to stress the fact that it was never the aim of lockdowns and restrictions to eliminate Covid 19. The name of the game was to slow its progress until widespread vaccination rates rose.
Without this, the medical system would be overwhelmed as it has been in many other countries.
Photo: Local resident Elizabeth Pont receiving her jab from pharmacist Fady Fahmy.
---
Gone to the Dogs
The covid lockdowns have seen an explosion in the number of people owning dogs as isolated residents seek companionship and Tilligerry is an ideal place for responsible dog owners to live.
You see, we have both on-lead and off-lead waterfront exercise areas as well as an active dog obedience group.
Long time group member Fay Boyd says that getting out and about with a furry friend is a great way to get social interaction.
"Whereas passers-by just say "hello," other dog owners always stop for a chat and to compare notes," she said.
"It's the same at MACDOG." (Mallabula Anglican Church Dog Obedience Group), she remarked.
"Great friendships are formed between both pets and people when we get together at our church grounds," she added.
"Currently, with the covid lockdown, we are in recess but usually meet every Saturday morning before 8am with a beginners' group welcome on the first Saturday of the month," she pointed out.
All details of the group's activities can be had from Fay on: 0401496225.
By googling: 'Dog Exercise Areas Near Me,' residents can get an instant map of the designated on and off lead areas in Port Stephens. These are signposted and 'doggie-do' bins are strategically placed at the ends of them. Rangers patrol them on an 'as needs' basis.
Cr Steve Tucker, himself a dog owner, said that he had always supported the dog walkers by guaranteeing there were ample areas set aside for them to exercise their pets.
"When I was first elected to council some 17 years ago, I got great support from the 'Companion Animal' group," he said.
"At the time there was a concerted effort by some activists to get dogs away from the waterfront areas and confined to a caged-in compound up at the back of the oval," he stated.
"I was against this so they campaigned for me. They even put my flyers in the doggie-do black bags inside the dispensers in the parks. These bore the catchphrase: 'Number One in the Tucker Box' printed on them and it worked like a charm!" he added.
Photos: MACDOG members at their Saturday get-together..........Steve Tucker in the 'Off-Lead 'exercise area at Tanilba Bay …....and Allison Coassin with 'Minnie' going for a stroll in the on-lead area.
---
New Face at Post Of
fice
Lemon Tree Passage Post Office has a new hand at the helm in the form of Kerry Kilpatrick.
Kerry has had some 16 years experience with Australia Post having worked in the Horsley Park district of Western Sydney.
She has resided in Port Stephens for around five years and will be assisted in her new venture by her mother.
"It was all about a lifestyle change," she said. "In Sydney stress is the name of the game. Here in Lemon Tree Passage life is slower and people matter more to one another." she commented.
"Where else could you look out of your window and see feeding pelicans, a yacht gliding by and fisherfolk cleaning their catch, and all just 50 metres away?"
"The people here are friendly and introduce themselves and I'm looking forward to meeting with more of them," she said.
"We will have Lotto on stream around September which will make it more convenient for the locals" she added.
Photos: Kerry at work in the Post Office and the waterfront panorama just 50 metres away.
---
It's on Again!!!!!
Port Stephens Literature Award 2021
We are having issues with the link in the sidebar, if you have any questions please email us on tace@tilligerry.com and we will get back to you asap.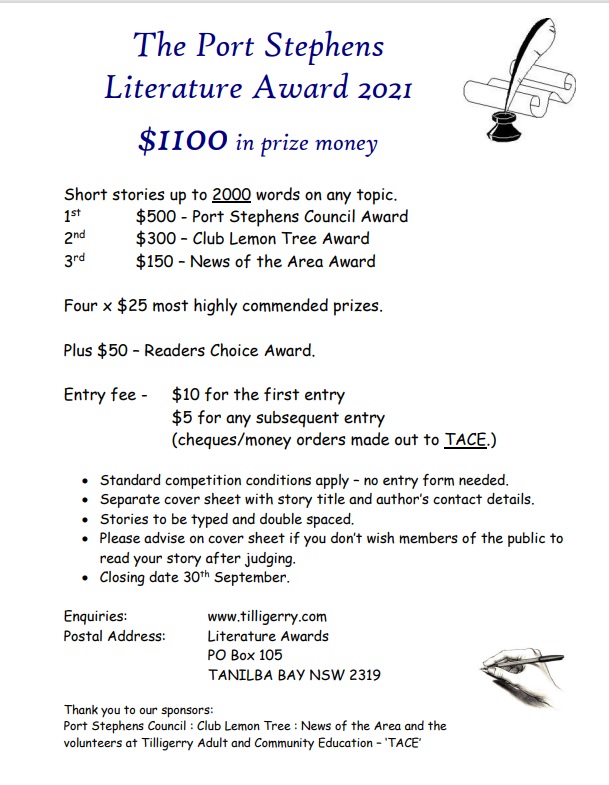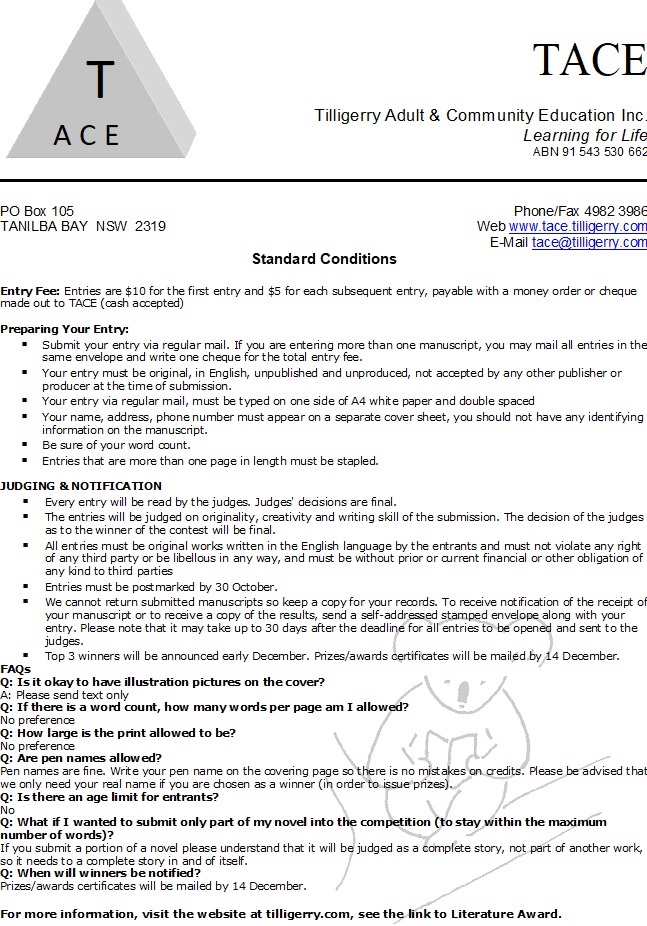 Good Luck!!!
---
STOP PRESS!!!
It has just been announced that our area, along with most of the Hunter are in a 7 day lockdown from 5pm 5/8/21.
This will mean that LTP Community Library will be closed. We will endeavour to reopen as soon as public health orders allow.
Please stay safe!
---
Senio
rs' Card Extended
The NSW Berejiklian Government has extended the Seniors' Regional Travel Card for another two years.
Most recipients currently use the card to buy petrol although other travel agencies also accept it.
A new card is needed for each $250 allocation and the third card can be applied for in January 2022.
An online or phone check of your current balance can be made but any credit left at the expiry date will be kept by the government. It is not transferable.
The eligibility has been extended to those on the disability or carers pensions.
13 77 88 will give you details or you can access more information online by punching in 'seniors travel card NSW.'
Photo: Travel card extended for two more years.
---
Pathways and Pipes
A concrete pathway linkage b
etween Lemon Tree Passage and Mallabula is now listed in the forward works program for Port Stephens Shire Council.
This will entail some excavation work around the main bend in the approach to
LTP and it will link up with Kawarren St.
On top of this, work is currently underway on pipework to drain Tanilba Bay's main thoroughfare, Avenue of the Allies.
Cr Steve Tucker puts us in the picture:
"We need to drain this road before the major makeover begins," he said. "Over three million dollars is ear-marked for the project and along with the drainage, a pedestrian pathway will be put in place at the same time," he added.
"The roadwork and kerbing and guttering will commence after the completion of a major $1.3 million upgrade of Tanilba Road Mallabula is finished," he stated.
With many millions of dollars of damage to roads in the shire, maintenance gangs have been flat out repairing them. Sub-soil moisture and unremitting rain have made the task of keeping on top of this problem very difficult.
Photos: Drainage work starts at Tanilba Bay.....and Cr Steve Tucker " Avenue of the Allies makeover to cost over $3 million."
---
Pie in the Sky
'Pie in the sky' is a catchphrase which refers to dreams people have that don't become a reality but in the case of 'Watson the Menu' at Tanilba Golf Club that dream has actually come true.
Sarina Watson explains:
"In the catering game you have to be innovative and we have found that our home-made pies are a big hit with the golfers and the public alike. We bake daily and never re-heat them. After the pies are all gone, that's it for the day. They generally go early so you need to order ahead to avoid disappointment," she said.
"We bake different varieties so the public can be surprised by what's on offer. Beef stroganoff; duck and mushroom; spaghetti bolognese and beef and vegies are just a few which are on the menu." she added.
The restaurant is open seven days a week for breakfast and lunch and of a Friday night for dinner with a different menu each week.
Bookings, enquiries and orders can be be taken on 0401 087 001.
Picture: Serina Watson displays her gourmet pies.
---
Get That Jab
Both major medical centres on the Tilligerry peninsula now have plenty of AstraZenica stock and many residents are now booking in for their second jab.
A spokesperson said that in just one of the centres, 1700 doses have been administered with people over the age of 18 now eligible.
"Pfizer vaccine will shortly be available but more restricted to an older age group, " she said. "Just ring up and we will put you in the picture," she added.
Meanwhile, a local GP who wished to be unnamed, said that to stop the spread of COVID, it was imperative that as many citizens as possible should get their jabs.
"The aim is not to eliminate the thing, it is to slow its spread to a manageable level. We do not want it to overwhelm our health services as it has in other countries," he added.
"We must also understand that those who have been inoculated, are still able to transfer the disease even though they are unlikely to contract it themselves, " he remarked.
Photo: An elderly resident rolls up his sleeve for his second jab.
---
Tom Priestley, Last of the Shark Men
From the Coffs Coast, down through Port Macquarie and Crescent Head to Port Stephens, shark attacks are increasing.
Today, the control of these apex predators by netting is frowned upon but last century it was very much in favour, indeed an industry was established in Port Stephens which had a dramatic impact on their numbers.
The late Tom Priestley from Tanilba Bay worked at the shark processing plant at Pindimar in the 1930s and the story of this venture is told in a now rare book 'Fangs of the Sea' (1939 Norman Caldwell).
Caldwell describes Tommy Priestly as: "... a splendid type of Australian boy and a great worker ..."
Interviewed before he died, Tom related the story:
"We meshed for sharks in the port itself and up and down the coast," he said. "The sharks were hunted mainly for their skins but the fins were sold to Asia to make soup and the livers rendered down for their oil," he added.
"Our first shot was in Salamander Bay and we hauled in 30 sharks but our record was off Morna Point where we caught 229 in just one week," he stated.
Sydney was plagued by shark attacks and when Coogee Beach had a shark proof net installed, some 800 000 bathers visited it in the first four months.
To illustrate the danger, the company despatched one of their boats to Bondi Beach where two sunken nets were left in place overnight. 29 sharks which included a 16 foot (4.8 metre) tiger were hauled on board the next morning.
After one successful trip to Seal Rocks the company's 30 foot (9 metre) boat ran into heavy weather and had to dump its catch and run for shelter.
Tom explained the reason for the enterprise shutting down:
"We just ran out of sharks!" he said. Each season we had to travel farther up and down the coast and the hauls were getting smaller each time," he remarked.
The Pindimar works reopened as a fish and oyster cannery but it was burnt down in 1938. Remnants of the wharf lasted until the 1970s.
Picture: Tom, later in life, photographed at his Tanilba Bay home.
---
The Sights They See
Oystering is one of those jobs you can hate at times but on the other hand, when conditions are perfect, there is simply nothing better.
With orders to fill, going out in the frigid wintry weather is not much fun but a warm clear autumnal day brings with it a tranquil sense of joy as the flat bottomed barges skim the surface.
Local farmer Paul North puts it like this:
"Quite often we are escorte
d by a pod of dolphins. They frolic in our wake and entertain us. At other times we see sights which can be distressing," he said.
"Such was the case when we came upon a dead sea turtle snared in a crab trap", he added. "It wasn't in one of the now banned witches hats. It had apparently tried to get the bait out of a double hooped trap, becoming stuck and died. As it bloated it floated to the surface," he stated.
"We really have to keep our eyes wide open as some amateur crabbers have clear plastic bottles as floats. They are hard to see and can become entangled in propellers and if the rope is cut, the trap can catch many fish which in turn die and become bait for others. It just goes on and on." he suggested.
"Currently the oyster industry is going very well with supply problems caused by the floods forcing prices up. Prime Port Stephens oysters are plentiful and are in high demand." he remarked.
"Barnacle overgrowth is a bit of a problem at the moment as conditions favour them, but overall we are quite optimistic for the industry," he concluded.
Photos courtesy of Paul North: A playful dolphin follows the boat ...and a turtle caught in a crab trap.
---
Under the Magnifying Glass
Tilligerry.com goes to great lengths to get things right. Each story is edited three times for grammar, punctuation and syntax. On top of this we never take things at face value and check our facts before publication. Near enough isn't good enough.
Occasionally, rarely in fact something slips through the net and our recent Sherlock Homes saga was one such case.
You see, our super sleuth is alive and well in the form of the Sherlock Holmes Society and they pounced on the story as it revealed new information they knew nothing of. They also (literally) got out the magnifying glass and exposed a glaring mistake.
On closer examination, they found that the picture we posted was probably not that of Conan Doyle. The signature indicates that it was indeed that of Dr A A Doyle of Lemon Tree Passage.
Of Doyle's 60 Sherlock Holmes stories fourteen got a terrific boost in the 1930s when they were turned into black and white films with Basil Rathbone and Nigel Bruce claiming the lead roles. They have been remade for TV as people just can't get enough of them.
We apologise for our mistake.
Photo: Basil Rathbone and Nigel Bruce (Holmes and Watson) from one of their early movies.
---
Memories of the Mujahideen
The
withdrawal of military coalition forces from Afghanistan has the world wondering what lies ahead. A peaceful transition to a democratic government? Perha
ps factional power plays will see the country plunged into internal conflict. Only time will tell.
For former Major Jim Horton OAM his time spent there was rewarding as part of a United Nations mine clearance operation.
"When the Russians departed after 16 years occupying the country, they left as many as ten million anti personnel and anti tank mines which had to be cleared," he said. "Our job was to train the Afghanis to do this dangerous work. Ten of them died and around 70 were maimed by mines, some of which were booby trapped," he remarked.
"There were just nine of us and we were able put together some 30 local clearance teams. Each consisted of around 100 individuals and we travelled all over the various provinces. In the more remote districts, we discarded our uniforms and dressed as tribesmen, complete with long beards as some of the Mujahideen were very suspicious and a bit trigger happy," he stated.
After 35 years in the army Jim has devoted over 20 years of his time as an advocate for veterans' pensions and Legacy. He was also President of the Lemon Tree Passage RSL sub branch. He, and his dedicated team still work out of their office in Tanilba Bay caring for veterans, exservice mermbers and their families.
Enquiries can be made on 0408 863 546 or E: psvnadvocate@hotail.com
Details of the Port Stephens Veterans Network can be found on www.psvn.com.au
Photos: The then Captain Horton with an abandoned Russian tank....Jim wih a mine clearance team......Blending in with the locals and with his wife Helen at their Tanilba Bay home.
---
Oyster Inspired
Port Stephens Shire Council has just got its hands on a $3 000 000 State Government 'Public Space Legacy' grant and
$1 200 000 of it is earmarked for a makeover of the Lemon Tree Passage waterfront.
Retiring Councillor Steve Tucker said that the concept plans have already been drawn up.
"Designers have used the 'oyster motif' in their concept of a civic square with radiating pathways, exercise equipment, shaded and spaced seating to lift the profile of the waterfront," he said.
"A 2.5 metre pathway along the rim of the bay linking Rudd Reserve to Henderson Park will be a standout feature of the development," he stated.
"The long awaited 'sail' shading of the tiered pool platform is not part of this project but is separately funded and work will commence shortly," he remarked.
The working plans are on display at the council chambers for residents to peruse.
Photos: The 'oyster' inspired paved area......and a bird's-eye view of the proposed waterfront development in Lemon Tree Passage.
---
Literature Awards 2021
The annual Port Stephens Literature Awards are now open for entry.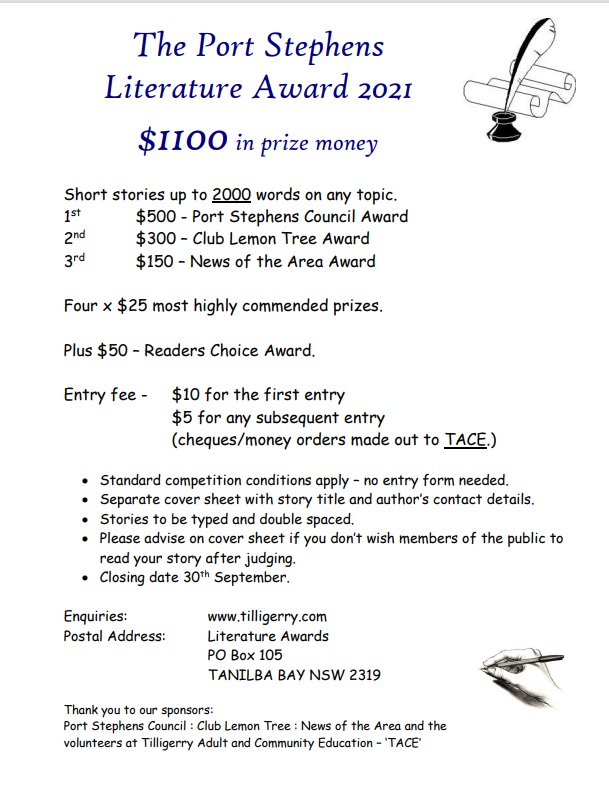 They have been running for over 15 years and are for short stories of up to 2000 words on any topic. Prize money this year totals $1100.
They are sponsored by News Of The Area, Club Lemon Tree and Port Stephens Shire Council.
Long time judge and president Kevin Colman said that Club Lemon Tree was proud to be part of the awards for such a long time.
"Our club believes in putting as much back into our community as possible and Tilligerry Adult and Community Education (TACE) who run the awards, is one local group to benefit," he said.
"Even with our cash flow reduced by the Covid lockdown last year we were still able to support most of our sports teams and a diverse range of community groups," he added.
Entries are accepted until 30th September and full details can be found on tilligerry.com
Photo: Kevin Colman: 'Awards now open for entry.'
---
Elementary Dear Watson
Long time residents of Lemon Tree Passage will well remember the old family home of the Doyles. It was situated at the end of Cook Pde and sat up on wooden piers.
Some thirty years ago a humble home handyma
n was cross bracing the piers as the derelict house was getting a distinct lean to it and was threatened with collapse.
It was here that he discovered an open tin chest with documents and photos littering the ground. These found their way to local historian Jean Truebridge who put them all together and a fascinating paper trail involving a distinguished doctor, the Governor of Queensland and the author of 'Sherlock Holmes' began to emerge.
Our story begins with the Boer War where two cousins, Drs A A and AC Doyle see service as medical officers in South Africa.
After the conflict they go their separate ways, one becoming a famous author. He is best remembered for his series of 'Sherlock Holmes' books where a super sleuth and his bumbling assistant solve many crimes which baffle the hapless police. Holmes explains his brilliant deductions to his helper with the catchphrase: 'Elementary dear Watson'.
The other doctor, A A Doyle FRCS, distinguished himself Roma, Queensland and later in Brisbane as a specialist.
Another doctor enters the paper trail in form of Sir William Mc Gregor GCMC, CB, AM, FRSGC, the Governor of Queensland who became firm friends with Dr A A Doyle.
The now Sir Arthur Conan Doyle met up with Dr Doyle on his Australian tour in 1920.
Dr Doyle spent his twilight years with his son Ellis (Barney) in Lemon Tree Passage and cared for the handful of residents who occupied the tiny fishing village at that time.
Signed pictures of both Conan Doyle and William Mc Gregor were found amongst the contents of the derelict house.
The late Jimmy Rooke told the story of how his mother took her sickly baby to see Dr Doyle. He advised her to get a cow and nourish Jimmy with the fresh milk. This she did. Jimmy survived, but the cow died.
Photos: Signed pictures found in the old home: Arthur Conan Doyle as a young man and Sir William and Lady Mc Gregor.
---
Fired Up
Apart from rare documents and photographs, Port Stephens Family History Society has a very interesting reli
c which takes pride of place in its own, custom built, velvet lined box.
This 'jewel in the crown' is a fire brick stamped with the letters PSFB and the story of its manufacture dates back to the early days of last century.
Brick making from clay deposits at Pipeclay Creek near Swan Bay began in the 1880s. They were shipped to Newcastle.
It was however found that clay deposits there made excellent fire bricks so the Port Stephens Fire Brick Company was formed and officially opened in 1915.
Fire bricks can tolerate extreme temperatures and are used to line furnaces.
The brickworks could produce some 30 000 bricks per week and it had its own rail track to a wharf where the bricks were loaded onto the company steamer. This could carry 40 000 bricks. As many as 20 men were employed. A 20 metre ventilation chimney dispersed fumes from site.
Brick making ceased in the 1920s as new clay deposits were found closer to industrial centres and production methods improved making the Pipeclay operation unviable.
Recently, documents have surfaced indicating that the local Indigenous peoples used to gather at the site for special ceremonies and it is possible that the area may be listed as culturally significant.
Photo: 'Crown Jewels'....Society President Denise Gaudion displays an original fire brick made at Pipeclay Creek.
---
Please Explain
The vast majority of Tilligerry residents can't fathom how our new police station came to be sited on the side of a hill in Lemon Tree Passage.
To understand the frustration and an
ger, we turn to Doreen Bradley OAM, a 50 year campaigner to explain how she and other locals have seen all their hard work come to nothing.
"Over the years we have had numerous community meetings with senior police and government representatives," she said.
"It was our understanding that a new station would be built on site beside our ambulance and fire stations at Tanilba Bay," she stated.
"If anybody suggested that the government would buy an old house in Lemon Tree Passage, demolish it and dump a prefabricated 'dog box' off the back of a truck on the site, they would have been run out of town!" she added.
"The police service owes us just so much for making their system work. You see, a small group of locals campaigned to have the Port Stephens Command hived off the centralized command based in Maitland," she said.
"This old structure had locals ringing police for emergencies and being 'prioritized'. Sometimes they would wait a day or so for a car to come from Maitland. Crime exploded out here and 'A Current Affair' was in town twice covering the story," she remarked.
Councillor Steve Tucker, a member of the Crime Forum, is also bewildered by the siting of the new station and the apparent waste of money.
This whole mess was created by a lack of consultation with both the community and Port Stephens Shire Council, he said.
"Had the Police Property Section sat down with us we would have explained to them how the transfer of land in RAF Park could have been 'fast tracked' or leased to the them until all the necessary procedures had been followed. This didn't happen and they have only themselves to blame for getting the residents off side," he stated.
"At least now we have a better working environment for our officers but it falls far short of our expectations," he concluded.
Photo: The existing rented site in LTP and the new police station ready to open.
---
New Book About Tilligerry
If you look at the two photos you will notice that a lot has changed in the 100 years since the 1894 photo was taken of the Salt Ash pupils and their
teachers.
These pictures and hundreds of others are kept in the archives of the Port Stephens Family History Society based at the old Lemon Tree Passage School site on the top of the hill beside Club Lemon Tree.
The society boasts numerous publications and they are well on the way in cobbling together their next book; 'Up the Tilligerry Creek and its Tracks.'
This follows the very successful 'History and Heritage of Tanilba House' (2019) which has recently been reprinted
They also need your help to fill in the gaps, particularly early photos and land title documents dating back to the 1830s.
Society president Denise Gaudion explains:
"Such was the demand for our initial publication, 'A History of the Tilligerry Peninsula' (1996) that it went to a second imprint and rather than go to a third edition, we decided to expand on it. Our new book will include more pictures and references to land title holders," she said.
"If any residents of the peninsula have old photos or mouldering title documents, we would be most grateful if you could share them with us. They would fill in the gaps and be preserved for future generations," she added.
A simple search of 'Port Stephens Family History Society' will explain the activities of the society and Denise can be contacted on 0422 303 171.
Photos: Salt Ash School 1894 and at its peak enrolment around a century later.
---
The Eagles Have Landed
Some 50 happy campers in their caravans and mobile homes have 'landed' on the oval next to the Tilligerry RSL.
Known as 'The Eagles' they are part of a sub chapter of the Campervan and Motor Home Club of Australia (CMCA) as club Vice President Peter Johnson explains:
"We are solo campers consisting of about 60% women and 40% men," he said. "We are Hunter based but members from outside the area are most welcome," he added.
"Our club generally goes away for about four days at a time and our female members feel a greater sense of security being in a group," he remarked. "We have games, play cards and have a happy hour each day so there is great social interaction," he stated.
"The owner of the old oval gave us permission to locate on the grassed area and the RSL was happy to for us to use their amenities. We will be dining out there as well as and having a few drinks no doubt," he said.
Single people with the wanderlust who would like to join this happy band of travellers can get more information from 'The Eagles' President Lorraine Ellis on 0429 458 409.
Photo: Flying High!....Some of 'The Eagles' setting up camp beside the Tilligerry RSL and Sports Club.
---
The Way We Were
With the recent announcement of a $1 200 000 makeover of the Lemon Tree Passage waterfront, few people will be able to recognize anything left from the early days once this has been added to the previous redevelopment of Henderson Park.
The old photo is from around the 1950s and features the Doyle children and friends on the beach where the tidal pool now stands.
The only old structure left standing today is the takeaway food shop where Margaret Henderson and local ladies did a roaring trade selling locally caught fish and home made hamburgers. The Henderson family lived above the shop.
Between the shop and Koala Reserve was a boat hire business which had clinker built fishing boats with inboard motors for hire for three pounds ($6) per day.
There were also narrow fishing shacks built hard against one another and out over the water where the police station now stands.
Bernie Henderson built the first single finger marina walkway and over the years some very interesting boats and sailors came to visit.
'Winston Churchil' was one such craft which came to a tragic end being lost in the 1998 Hobart yacht race. The 'Bintang Siang' was another which foundered off Trial Bay. It achieved fame as a replica Macassan Prau during WW2, infiltrating Japanese waters as part of the legendary 'Z' force.
Caught out in rough seas, David Lewis, the solo Antarctic yachtsman and renowned navigator, sought shelter at the marina until the seas abated.
Across The Passage itself is Bull Island which is now a National Park but years ago cattle were swum over to graze there. It even had a windmill installed to draw up fresh water.
Photos: Then and now: Local kids on the beach in the 1950s and the same place today ready for yet another upgrade.
---
tilligerry.com will be taking a couple of weeks break, we look forward to bringing you more local news on Thursday 15 July!!
---
---
Blowing up the School
"Nothing!" This is the standard answer to enquiring parents when they ask their kids what they did at school each day. There was however a very different answer to the same question in the early 1980s from kids coming home from the old Lemon Tree Passage school.
"We blew it up!" was the response from pupils and in part they were right.
But, dear reader we are getting ahead of ourselves so it may be wise to set the scene which led up to this exciting event people still talk about today.
In these times there was a very close working relationship between the Lemon Tree Bushfire brigade and the RAAF. Several brigade members were active or former members of the air force and civilian firies were made members of the sergeants' mess.
It probably all started when the brigade was out at the old Oyster Cove parachute drop zone. RAAF personnel were running out two parallel lines of half 44 gallon drums and pouring kerosine into them. They were to be involved in war games when fighter aircraft were to 'attack' the base from an aircraft carrier off the coast in a ni
ght-time 'raid' The RAAF personnel were constructing a fake runway to decoy the US planes. Try as they might the keroseine just wouldn't ignite .
The firies explained that they mixed petrol with kerosene for their drip torches to make them more effective and drove back to the station to get some. It worked and the RAAF contingent invited the brigade to watch the action. RAAF Williamtown was blacked out and the fighters swooped down out of the night sky to 'attack' the artificial runway. The RAAF won the war game.
To get some decorative stone for the gardens outside the fire station the RAAF demolition officer came out and blasted the old quarry at Mallabula. He did the same with a rotted out channel marker in the bay.
The school principal was worried about the huge gum trees overhanging the lower playground and their threat to the pupils. A phone call to the base had the demolition guy out with a bus full of work experience kids and explosives.
One by one the towering gums crashed to the ground with the schoolchildren watching on from a safe distance. A senior pupil was even allowed to press the plunger for the last tree.
But there's more! The debris was bulldozed into a huge pile which became a bonfire for cracker night.
Another exciting day was when a ''Mirage' fighter crashed into the foreshore of Tanilba almost demolishing a row of houses after the pilot had ejected. The grainy picture shows a wing of the aircraft up against a waterfront property fence. The fire brigade was on the scene quickly to cordon off the area.
Today of course none of this type of thing could happen. You see, strict protocol and OH&S issues have put an end to it....and stopped people having fun as well.
Photos: A flight of RAAF Mirages … and the old photo of a wing from the crashed aircraft at Tanilba Bay.
---
In the Groove
Tilligerry.com is always happy to promote start-up businesses which operate from commercial centres and our latest addition looks like a winner.
In its first two weeks of operation, a slot car racing centre in the LTP industrial estate has hooked both young and old enthusiasts alike.
Mike Dixon, a long time recreational racer, has extended his hobby into a business which encompasses two fixed 40 metre racing circuits and a drag racing strip.
On top of this he sells slot cars, accessories and offers refreshments for enthusiasts and has expanded to online sales.
"I was so overwhelmed by the response, that phone bookings are needed to ensure a half hour session," he said. "In fact, I'll be extending the opening hours to evening sessions so that the 'big boys' can get a chance to have a go after work," he added.
It costs a mere $5 for 30 minutes which includes a selection of one of 25 racers and a hand control, he explained. "Some of the children even complain that their parents and grandparents hog the controls and won't give them a go!" he said.
"It's very much a family oriented recreation and a bonding experience," he remarked.
Madeline and Layla Ducket just can't get enough time at the centre and have bought their own cars. They were there on the first day with grandfather Steve and have been back most days since.
"Great! Amazing! "Fun!" is how they described their newfound passion.
Want to know more? You can visit the centre at No. 12 Industrial Drive or visit the website: showusyaslotz.com.au
Pictures: Grandfather Steve Salvadori flanked by Madeline and Layla and the sign on the gate.
---
Major Makeover for Mallabula
Tilligerry's existing sporting complex at Mallabula is to be given a major makeover to improve the existing facilities and to make it much more user friendly. This will include access pathways, car parking and the construction of new and updated r
ecreational and sporting venues.
That's not all. According to Councillor Steve Tucker, Henderson Park at Lemon Tree Passage is to get a 'sail' over the platform behind the pool ($90 000) and the waterfront recreational area at Tanilba Bay beside the amenities block is to be upgraded ($40 000) .
"The big ticket spending will be at Mallabula," he said. "This will transform the area into a sporting and recreational hub with much improved facilities," he added.
The planned expenditure is as follows:
Skate park: $230 000; New tennis court: $200 000; Soccer and Little As amenity block: $200 000; Multipurpose court, playground and pathways $260 000.
Two much needed pathways will also be constructed. Avenue of the Allies will get a $600 000 footpath and 'the missing link' connecting Mallabula to Lemon Tree Passage is costed at $800 000.
"All of these proposals have been budgeted for and have been set in train already. We will be consulting with our young people in reference to the skate park design and as the Lions Club will have major input into the Tanilba foreshore project, it would only be fitting to name this new picnic area in their honour," he suggested.
Photos: The planned improvements to the Mallabula Sporting Complex....and Cr Steve Tucker.... "Projects budgeted for and the wheels are already in motion."
---
Local Vaccine Rolls Out
The recent floods delayed the roll-out of the much anticipated Covid 19 vaccine but the nationwide distribution is now back on track.
After an initial shipment of 80 doses of imported vaccine, two Tilligerry medical centres are now getting as many as 100 shots of the Australian made 'Astrazenica' product each week.
The linked practices of the Tilligerry Medical Centre on the main road at Tanilba and the Lemon Tree Medical Practice are currently taking bookings.
Spokesperson Heidi Lee said that priority is being given to indigenous people over the age of 50 and to others over 70 and particularly seniors with diabetes, respiratory, cardiac or life threatening conditions.
"The inoculation process has been orderly. It's a simple matter of booking in," she said. "A second shot some 12 weeks later is needed and this appointment can be made at the time of the initial visit, " she added.
The pandemic saw just one case reported in Tilligerry in the early stages. It was isolated quickly and the closure of clubs, community gatherings, visitor accommodation, play areas and boat ramps resulted in no new outbreaks.
Local councillor Steve Tucker said that that by coming in hard early, a perfect result was achieved.
" We (Port Stephens Council) were criticised for our actions at the time but the end justified the means," he stated.
Photos: Shot in the arm......Local resident Carole Walker receiving her vaccination jab from resident nurse Tracey Wilson …..and Councillor Steve Tucker at the closed boat ramp site.
---
Book Donations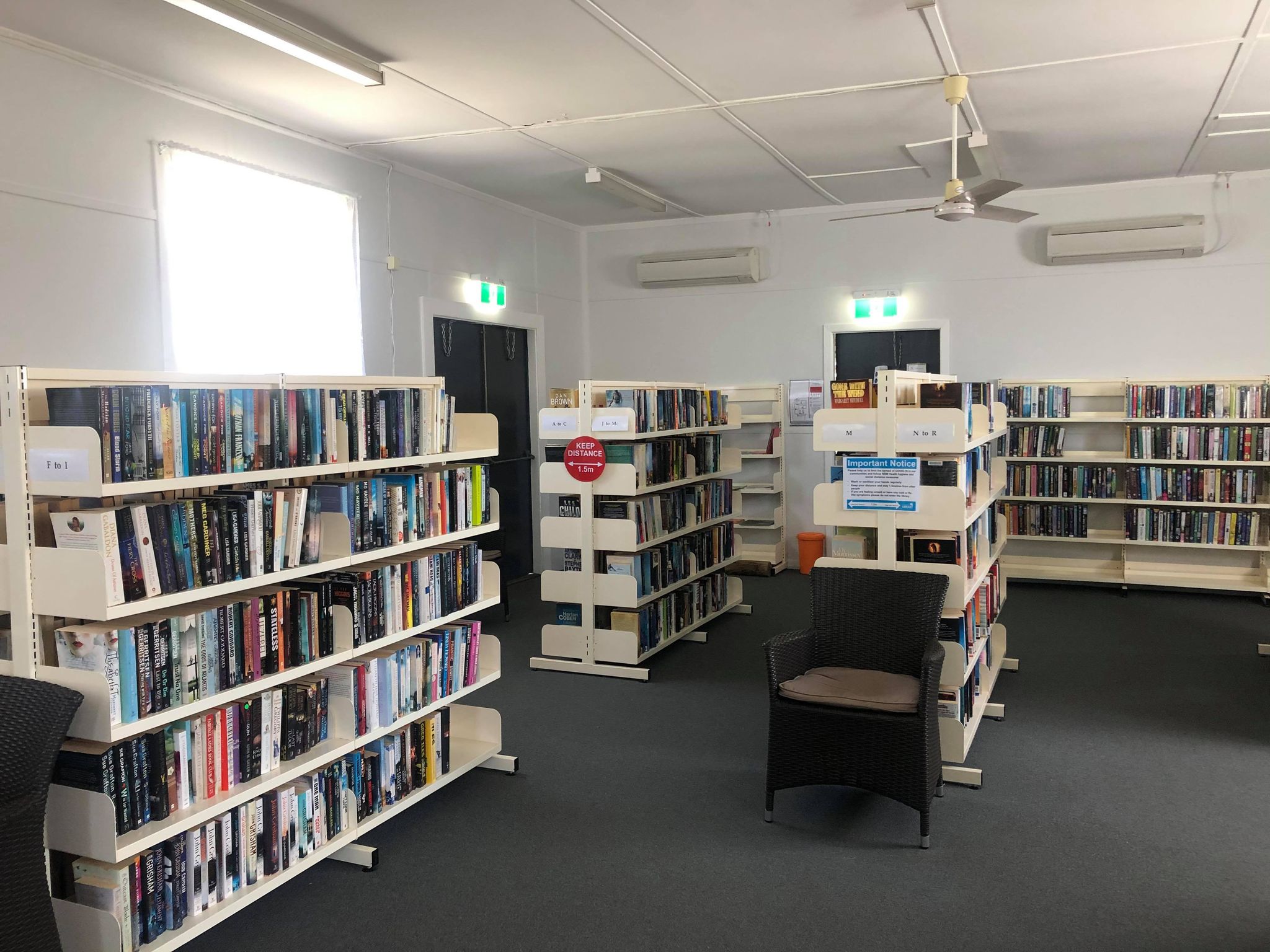 Tilligerry Community Library ha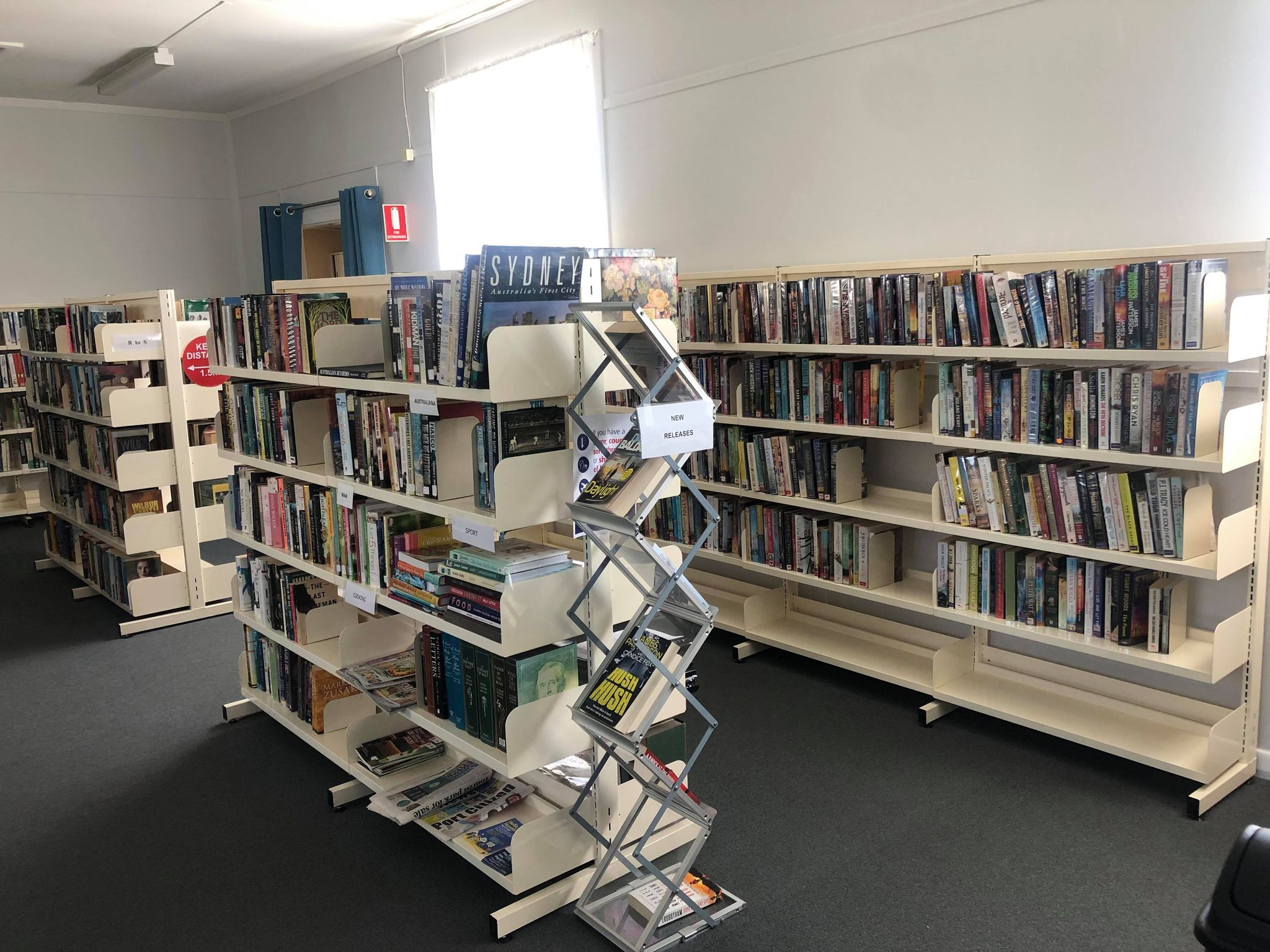 s always enjoyed the support of the community donating their books. Whilst we do appreciate them, we can only accept them with prior consultation. Our hours are 10-12 noon Monday to Saturday and our phone number is 4982 3477 if you wanted to call up or pop in and check with us before bringing them in. Please don't leave them at the door.
---
More than Just a News Service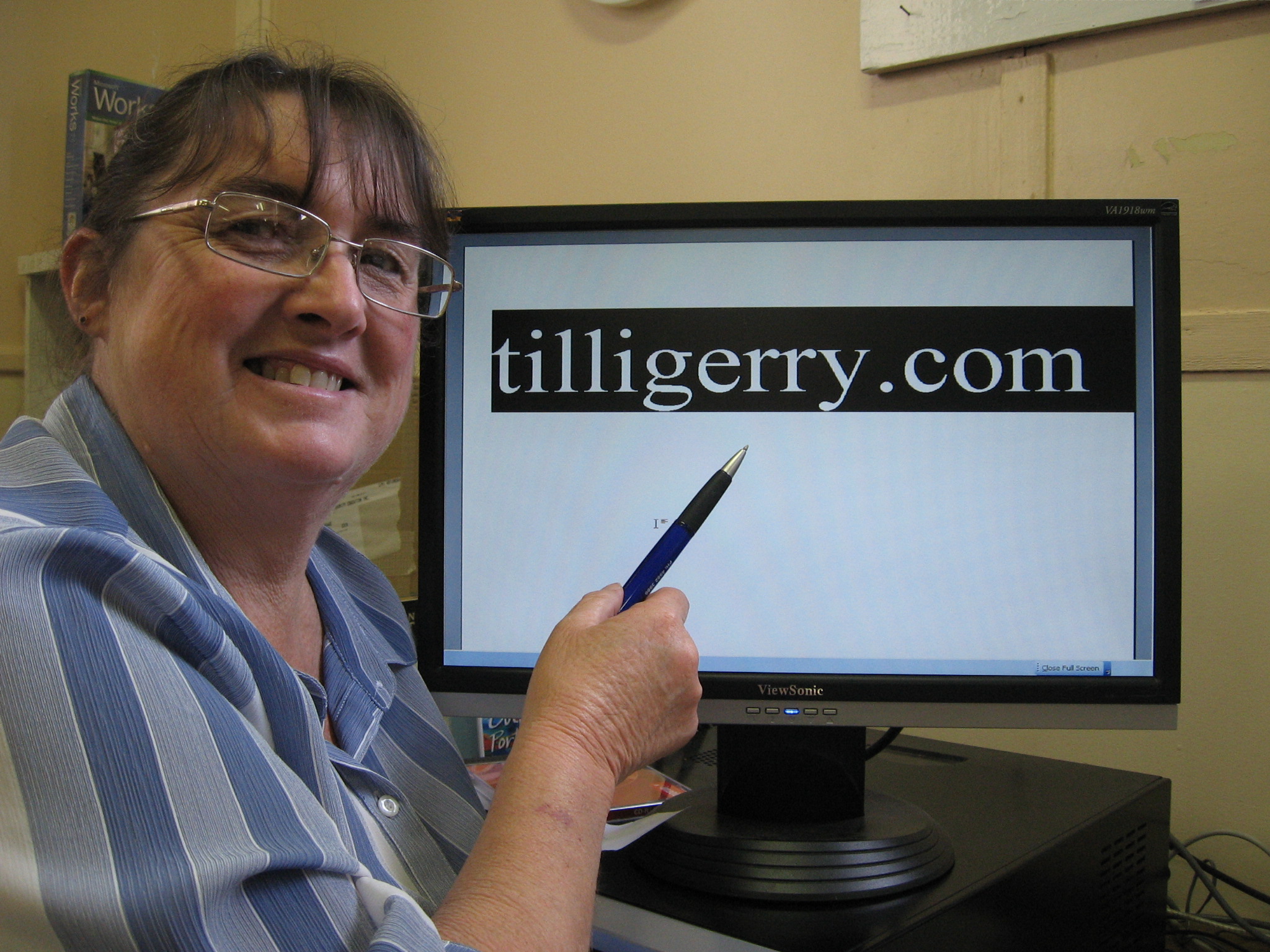 You've seen our illuminated sign 'tilligerry.com' beside the main road near the golf club as you drive into town at night.
With news services moving away from the print media, tilligerry.com for over 10 years now has moved with the times and gives local residents the news that they can't get anywhere else. Indeed, those travelling around Australia or internationally can keep up to date with a click on a mouse or a mobile phone.
Before our 'hit meter' broke down we were averaging around 2000 views each month. We have a few businesses supporting us but we really don't want advertisers as we are a not for profit community service.
That's not all! Each year we run a national Literature Award (a short story competition) with the support of PSSC, Club Lemon Tree and News Of The Area.
On top of this we offer the public internet access, assistance with the operation of electronic devices and photo copying.
It gets even better. There are constant requests, usually from residents new to the area, for general information about available services and organizations out this way.
We now have an extensive community directory listing some 80 of these which includes: churches, clubs, social groups, cultural events, schools, tourist information, community support, JPs, medical services, play groups and pre schools.
For more details scroll to the bottom of this page or click on 'Literature Award' and 'Community Directory' in the left hand green side bar.
Photo: tilligerry.com more than just news.
---
elebrating the re-opening.
New Community Directory
As the Tilligerry community expands and changes, there is the need to provide residents (particularly newcomers) and tourists with a directory of service groups, clubs and businesses. With this in mind, TACE (Tilligerry Adult and Community Education) will be compiling one in the near future.
It will be available in both an online and printed format.
TACE works under the umbrella of PSSC and coordinates community groups such as art, lead lighting, family history and mah jong. It has its home base at the LTP library. It also publishes tilligerry.com our local online news service which has grown to be the major source of local news for residents .Most months it gets over 1500 'hits'. The Port Stephens Literature Awards, a national short story competition, is another initiative of TACE and is run by volunteers.
If you would like to publicise your club, social group or business, email basic contact information to: tace@tilligerry.com and it will be considered for inclusion. There will be no charge for this service.
Photo: TACE volunteers Helen Mizrachi and Sue Hamilton at the library.