Figtree Cathedral
Despite the covid scare and wild weather, Tanilb
a House is now up and running as a wedding and function centre with solid bookings for the spring season.
The owners have advised that the restored colonial homestead is now their home and not open for public inspection. There have however been very popular 'High Teas' celebrated on the verandahs which the public have attended.
On top of this, the Family History Society launched their book on the history of the house there some time back.
Most wedding parties choose to celebrate their big day under the wisteria covered pergola but some prefer a secluded glade known as 'The Figtree
Cathedral'. It is located at the western end of the property near the vacant block of land. Brides choose to use the house, its structure and surrounds for wedding portraits.
The Tanilba House facebook page will give a greater insight into the Historic House and its functions.
Photos: A wedding under the wisteria.....A colonial 'High Tea'....'Figtree Cathedral' and the launch of 'History and Heritage of Tanilba House.'
---
It's All Happening
All of a sudden, Tilligerr
y has come alive with action and residents need to be made aware of inconveniences they may have to get used to until the major works a
re completed.
Some residents will experience moderate delays between Oyster Cove and 'Dead Man's Corner' on the outskirts of Tanilba Bay as road widening will see the closure of one lane. Those who work out of town will need to take this into consideration when timing their departure.
Ave of the Allies at Tanilba Bay will see sections of the road closed and traffic diverted as the four section makeover gains momentum. Currently, that section between the arched gates and Rigney Rd is sealed off and traffic has been diverted through side streets. Residents between the two diversion barriers can have access to their homes via the wide grassy verge between their properties and the wire fence.
The old plaza has been fenced off and is being demolished. The Jade Court Restaurant and the service station still have easy access but pedestrians can no longer walk through the property over the old car park.
'Reo' is being put in position ready for a concrete pour of the 'piazza' adjacent to 'John Dory's in Henderson Park LTP and formwork for the cycleway along Rudd Reserve has been put in place.
Photos: The closed sections of Ave of the Allies between the arched gate and Rigney Rd and the old plaza being demolished.
---
Tilligerry on the
Move
The removal of sev
eral Norfolk Island Pines and other trees from the Avenue of the Allies at Tanilba Bay and the stockpiling of drainage pipes heralds the start of a four stage reconstruction of the road. The pine trees were cut down because they were dying and other types of trees were in the way of the rebuild.
Cr Steve Tucker said that he stayed on PSSC for an extra couple of years to see this and other projects he has been involved with come to fruition.
"Ratepayers must realize that it takes a lot of behind the scenes work to get funds earmarked for our ward and I'm proud to have been able to get a very big slice of the pie allocated to Tilligerry," he said.
"Within the next year or so the peninsular will be a much improved area for residents and will be a very inviting place to settle. It will also be appealing to both day trippers and holiday makers alike," he stated. "The impact on our economy will be very positive," he added.
Cr Tucker listed as complete or well underway the following:
The $1 700 000 rebuild of Tanilba Rd Mallabula; the $4 000 000 reconstruction of Ave of the Allies Tanilba Bay; widening of the main Rd between the Oyster Cove turnoff and Tanilba; the big makeover of Henderson Park LTP which includes a piazza, a new amenities block, seating and a foreshore pathway; 'The Caswells' 54 unit over '55s gated village which will replace the derelict shopping plaza. Also the upgrade of the children's water feature and splash wet area at our heated pool has finished. He also said that the conversion and extension of the former professional centre at Tanilba into a child care facility would be a great community asset.
Some proposed forward works include:
A new playground at Tanilba Bay near the amenities block; and the removal of the locked gate to the Mallabula Jetty and the sealing of the access track.
Photos: Two diseased pines and other trees were removed from Ave Allies Tanilba Bay in preparation for the rebuild........Tanilba Rd. Mallabula now sealed,kerbed and guttered......and work on the LTP waterfront progressing at a rapid rate
---
Tick Troubles
Three very wet winters in a row have seen an explosion in tick numbers which have provided problems for both humans and pets alike.
In animals, ticks can be lethal and in humans they can infect their hosts with diseases referred to the Department of Health under the acronym of 'DESCATT'- Debilitating Symptom Complexes Attributed To Ticks. These include fatigue, headache, disordered thinking, sensory disturbances and joint pain. Mammalian Meat Allergy is also put down to infection by ticks.
Medicos say that it is important to kill the
tick in situ and not try to scratch it off with your fingernails or blunt tweezers. This can result in the tick injecting venom into the system. Some doctors freeze the tick and others kill it with a spray or immobilize it with alcohol before extracting it with fine tipped tweezers.
As far as pets go, there are numerous you tube videos posted by vets to show you how to deal with ticks on your furry friends.
As part of the service to the community and its loyal patrons Lemon Tree Passage Pharmacy will remove ticks for free. No appointment is necessary, just turn up during business hours.
Another insect borne disease which is common in Port Stephens is the Ross River Virus which is spread by mosquitoes
Mallabula's John Clayton was one such victim. His GP was baffled by his symptoms of fatigue and joint and muscle pain. John suggested he be tested for the Ross River Virus after reading about it in a local paper. The results came back positive. Luckily the symptoms went away after a while.
To avoid ticks it is wise not to come in contact with foliage both in your backyard and in the bush. Regular cool burning of council reserves and urban interface also helps to destroy ticks but our firies find it hard to do this with the numerous rules and regulations.
With mosquitoes it is wise to avoid their most active times of dawn and dusk and to use a repellent when bushwalking and gardening.
Photos: LTP pharmacy will remove ticks for free.....Tina and John Clayton. John recovered from Ross River Virus...and local firies cool burning a public reserve at Mallabula.
---
Piazza Progress
If you drive to the end of The Lemon Tree Passage Road you would think that a bomb had destroyed Henderson Park.
Well, in many
ways it has in as much as an army of contractors has turned the grassed area into something resembling the trenches of The Somme from World War One.
Diggers and backhoes have peeled back the grass and are preparing the drainage and electrical trenching before the paved piazza, seating and trees go in.
On top of this, pegged plastic skirting has been run out along the rim of the foreshore to protect the mangroves and mudflats from runoff during the construction of the cyclewa
y to the end of Rudd Reserve.
This wide concrete path will have shaded seating along its length and a static exercise station similar to the one at Tanilba Bay.
At the end of the path, residents will have several options: The keener bushwalkers can go dead ahead through the council owned waterfront reserve and follow a rough bush track to Tom's beach and Jim's Jetty at Mallabula. They can then find their way to Caswell Reserve which has toilet facilities and town water.It's then a matter of proceeding along the boardwalk and up to Tanilba House or backtracking via a number of bush trails to Lemon Tree.
Other options are to turn left at Rudd Reserve and follow the town roads to the Marine Rescue Station at the top of Whitbread Dve. Alternatively, several tracks lead to the BoM 'golf ball' on water tower hill.
Cr Tucker said that the big waterfront makeover was set down for winter so that it made minimal disruption to the town and businesses.
"The traders can see that this summer, the completed project will be a great drawcard for locals and tourists alike creating jobs and adding to the prosperity of the Peninsula," he said.
Photos: Cr Tucker with Council planners discussing the finer points of the makeover.......Henderson Park being converted into a piazza......and the pegged skirting along the proposed pathway.
---
---
Opening Soon
Within two weeks of reading this item the renovated waterfront cafe / restaurant in LTP should be open. You'll have to keep an eye out for the name as we forgot to ask the owner.
Jason Low, the owner of our motel on the main road is diversifying his interests and has purchased the business.
"We will be serving crepes, bacon and eggs rolls, gourmet pies, sandwiches, gluten free meals and any other food that the public shows an interest in," he said.
"A new speed oven will ensure there is little waiting time for those who want take away service and we welcome feedback," he added.
With the new piazza under construction in Henderson Park, the waterfront area will be more attractive to day trippers and foodies once all is ready for this summer. Jason's outlet will add to the options the public will now have.
For those with queries, Jason can be contacted on 0414417418.
---
Changing of the Guard
A celebration of some forty years of community service on Thursday, 1st June marked not so much the end of TACE (Tilligerry Adult and Community Education) but a chance to take on new directions for community needs in these fast changing times.
But, dear reader, we are getting ahead of ourselves and to understand things in perspective we must backtrack to 1983 when the Lemon Tree Passage School closed and moved to the brand new Tanilba Bay site
The old LTP buildings were then used for computer lessons, as a baby health centre, a library and by various arts and crafts groups. 2001 saw a chance to relocate when a vacated doctors' surgery/bank became available in the Tilligerry Plaza. At this time the use of personal computers was starting to take off, so much so that an internet cafe had been established in the Kooindah centre. Mobile phones were very expensive and were the size of a brick. TACE catered for this growing need.
Another move, forced on TACE came when the Plaza closed and they then shared the library in Lemon Tree Passage. Our local Lions Club which had already fitted out the Plaza Office came to the rescue by building computer desks in the library. Volunteer workers doubled up as librarians and harmony was the name of the game. The rest of the groups still operated out of the Old School Centre.
The whole set-up came under the umbrella of Port Stephens Council but administrative problems were increasing. Something had to be done so it was decided to disband TACE and make each individual group responsible for its own operation and answerable to Council.
This change saw PSSC provide computers for the library and operate a free wi-fi service and provide computer access. Sue Hamilton will still be giving free assistance of a Thursday for those residents who find their electronic devices challenging and the Tilligerry Lions have taken over the 'Port Stephens Literature Awards'.
Reflecting, Sue said that TACE over the years not only assisted the locals but also saw holiday makers and visitors copying documents and catching up on their email.
"It wasn't unusual for sailors in yachts to wander in from the marina to sort out their affairs," she said. " We had some $250 left in our kitty and decided to pass this on to the Tilligerry Lions Club which has supported us for so many years," she added.
Photos: Matthew Elvins and Dorothy Putica at the old Plaza site.......Helen Mizrachi and Sue Hamilton being recognized for their efforts.....and Lions Kevin and Jan Colman receiving their cheque.
---
Lift for Library
But where is it? This is most asked question by those wanting to borrow books in Tilligerry.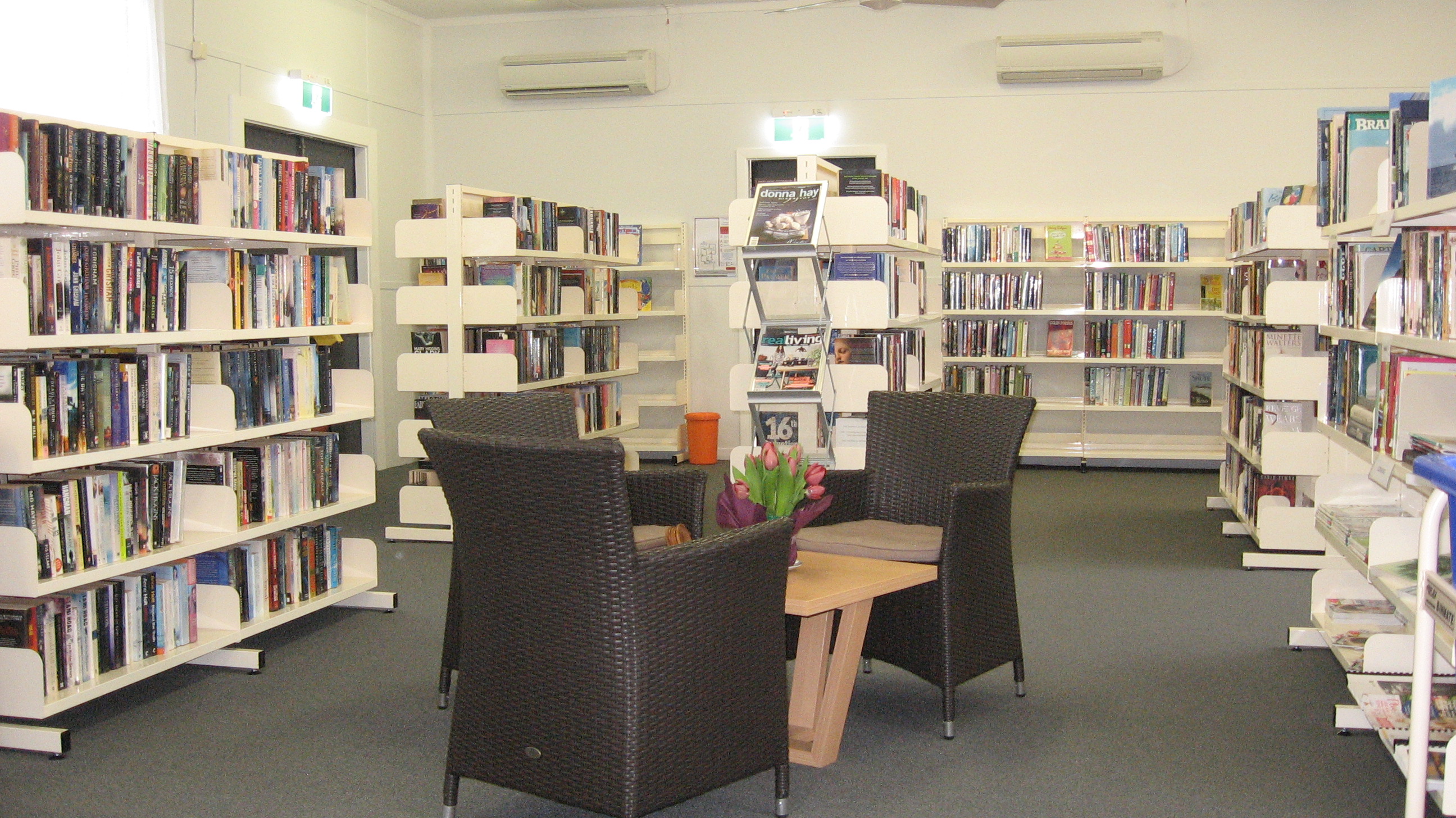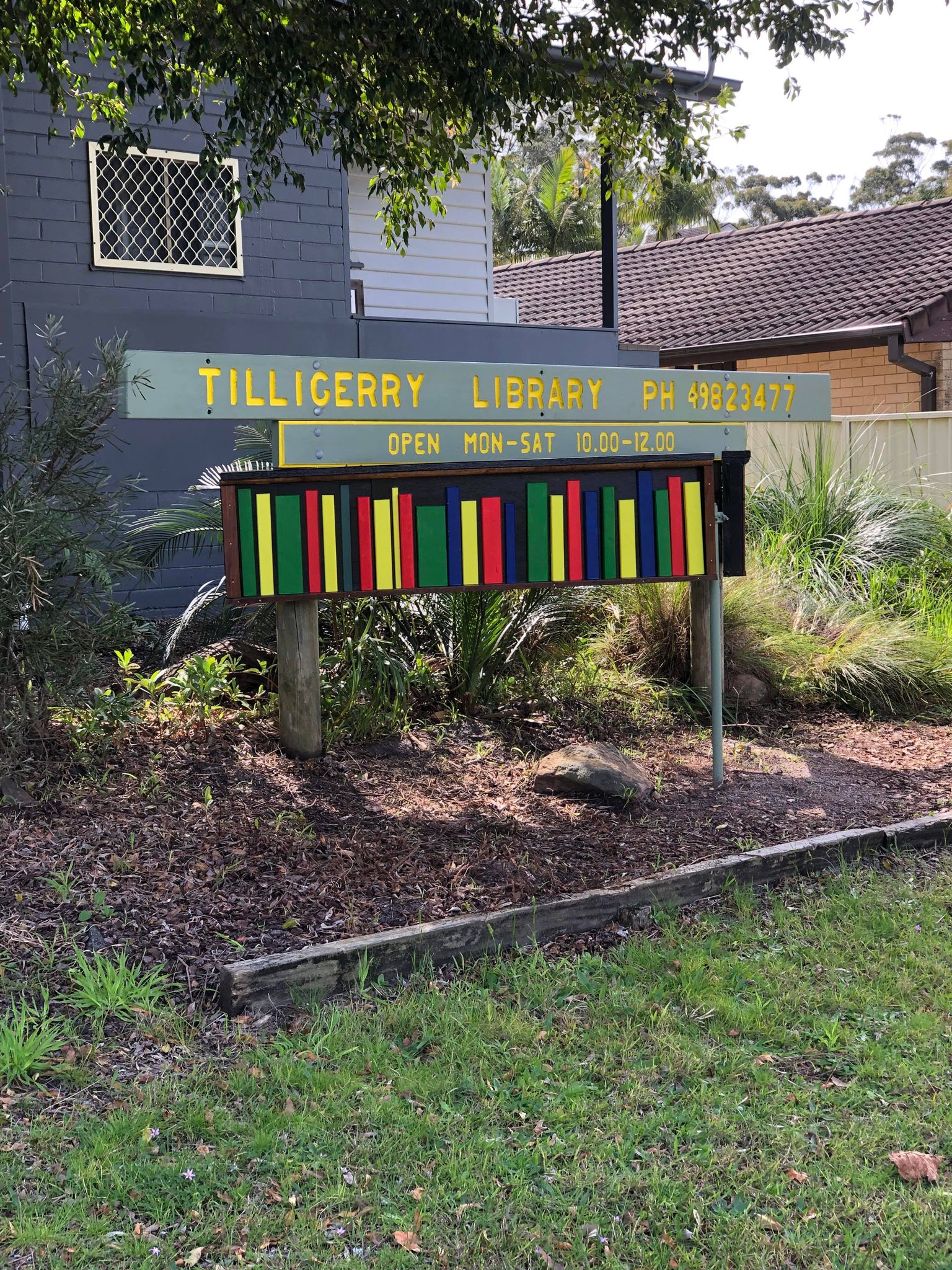 The town public library is situated on the main road opposite the Lemon Tree Passage Motel and when open, has a 'library' flag fluttering from a pole in front of it.
It's been there for decades and is staffed by volunteers and operates from 10am until noon six days per week. (Monday to Saturday).
A big makeover a couple of years back saw new carpet, reader friendly furniture and a slick paint job spruce it up.
What's more, a heavy cull of the least read books and an injection of new stock has something for everyone, including children.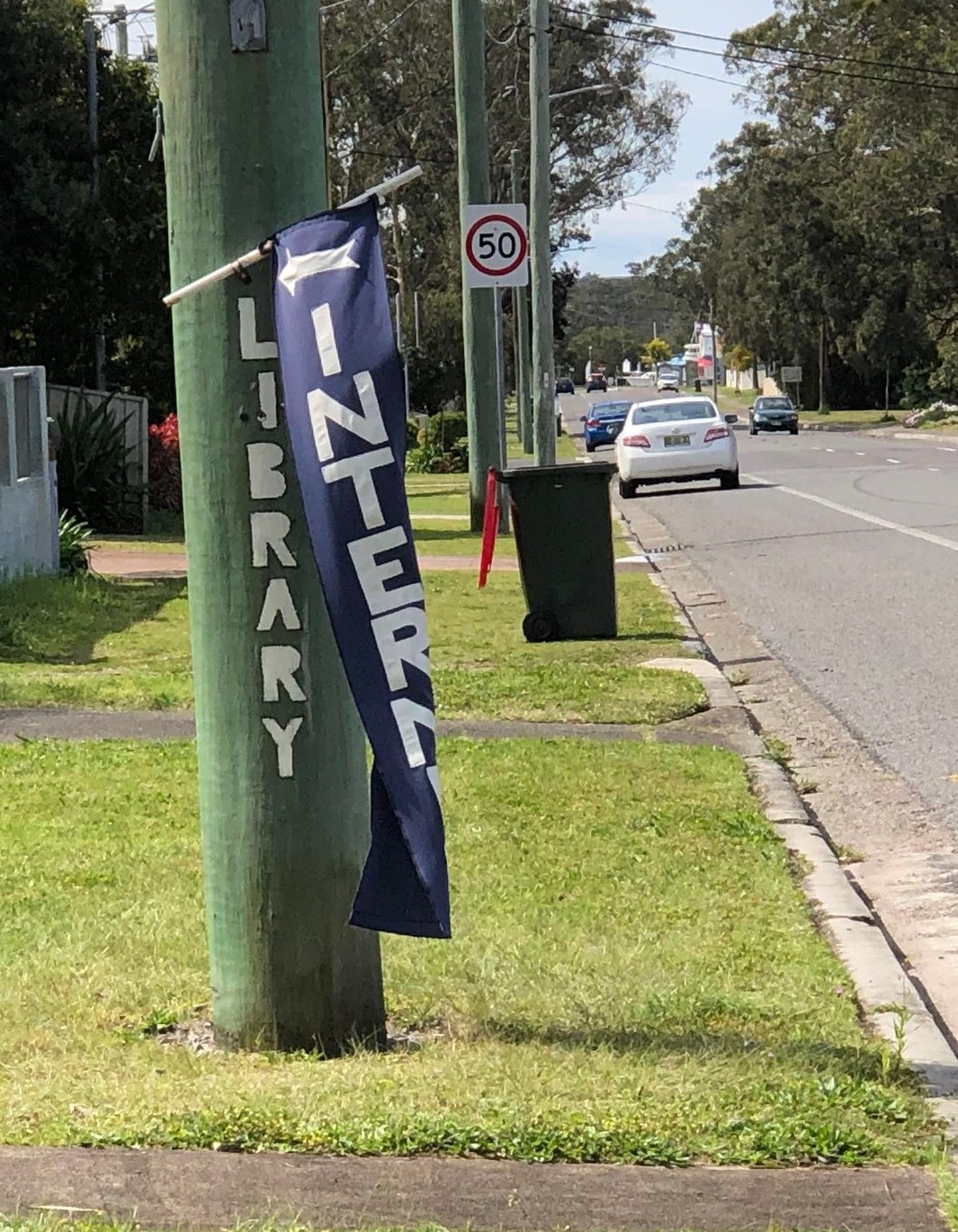 Tilligerry Men's Shed workers have just removed the old overgrown sign and have carved a new one which is much more visible.
Business is more or less back to normal after a year or so of roadwork disruptions and the construction of a new police station two doors away. Council have taken over the computer access and has 2 brand new computers. A new scanner is on order and you will now be able to print A4 colour pages.
The library augments the mobile service which visits the villages of Tanilba Bay, Mallabula and Lemon Tree Passage on a rotational basis.
Both services have now recovered from the Covid lockdown restrictions and are back up to pace.
Photos: The LTP Library after the makeover......and the new sign giving it better visibility.
---
Book Donations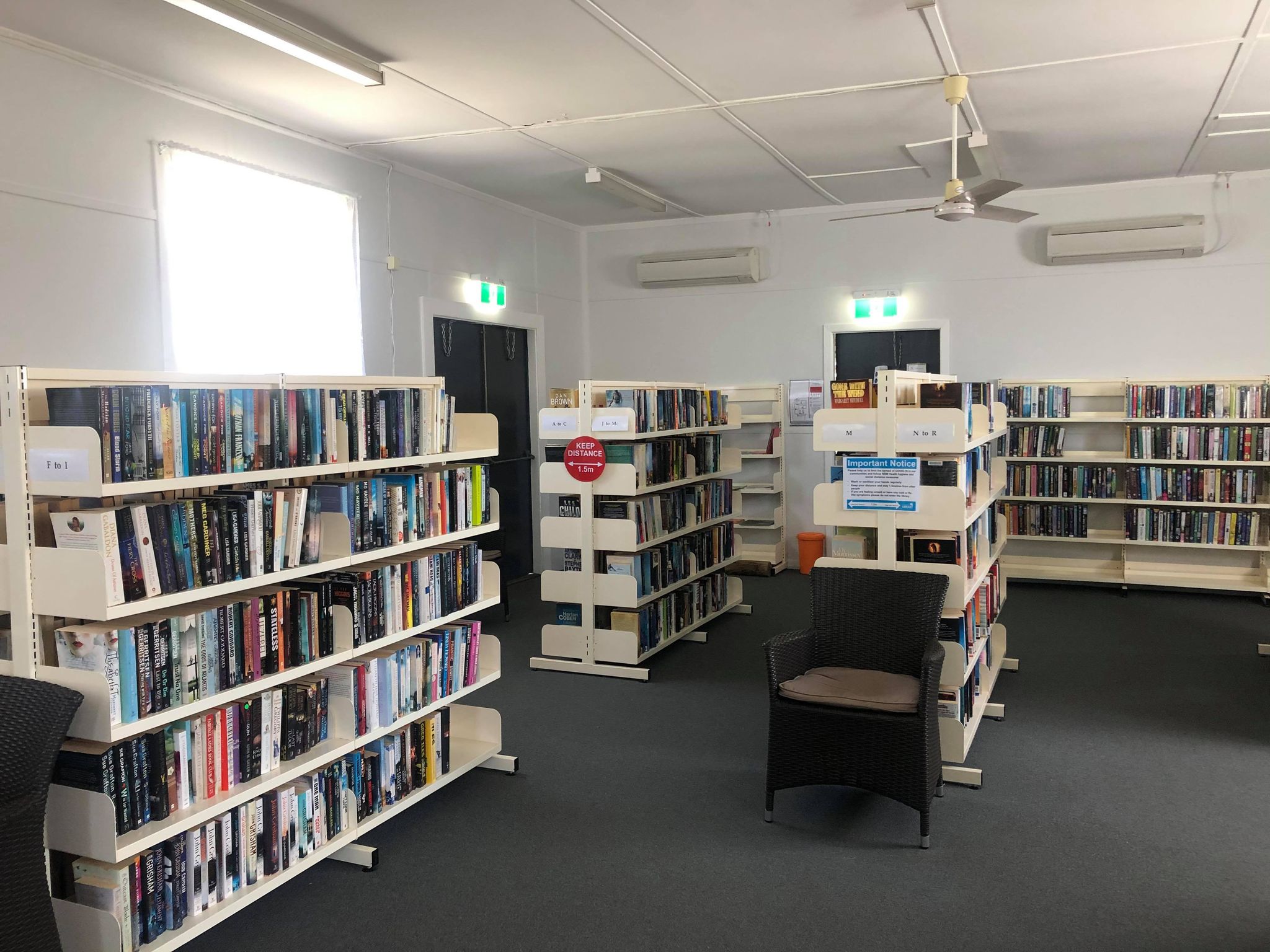 Tilligerry Community Library ha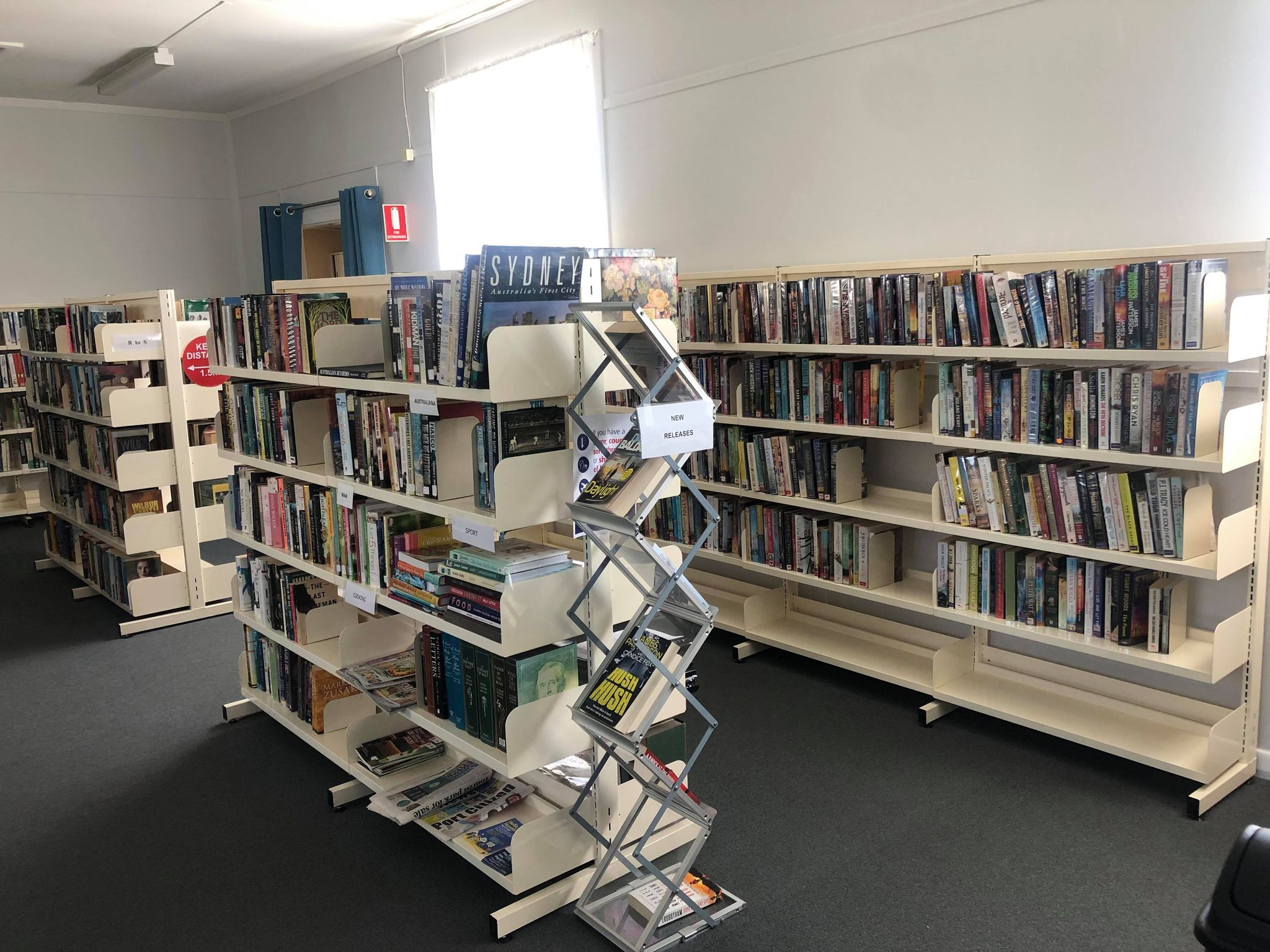 s always enjoyed the support of the community donating their books. Whilst we do appreciate them, we can only accept them with prior consultation. Our hours are 10-12 noon Monday to Saturday and our phone number is 4982 3477 if you wanted to call up or pop in and check with us before bringing them in. Please don't leave them at the door.
---
More than Just a News Service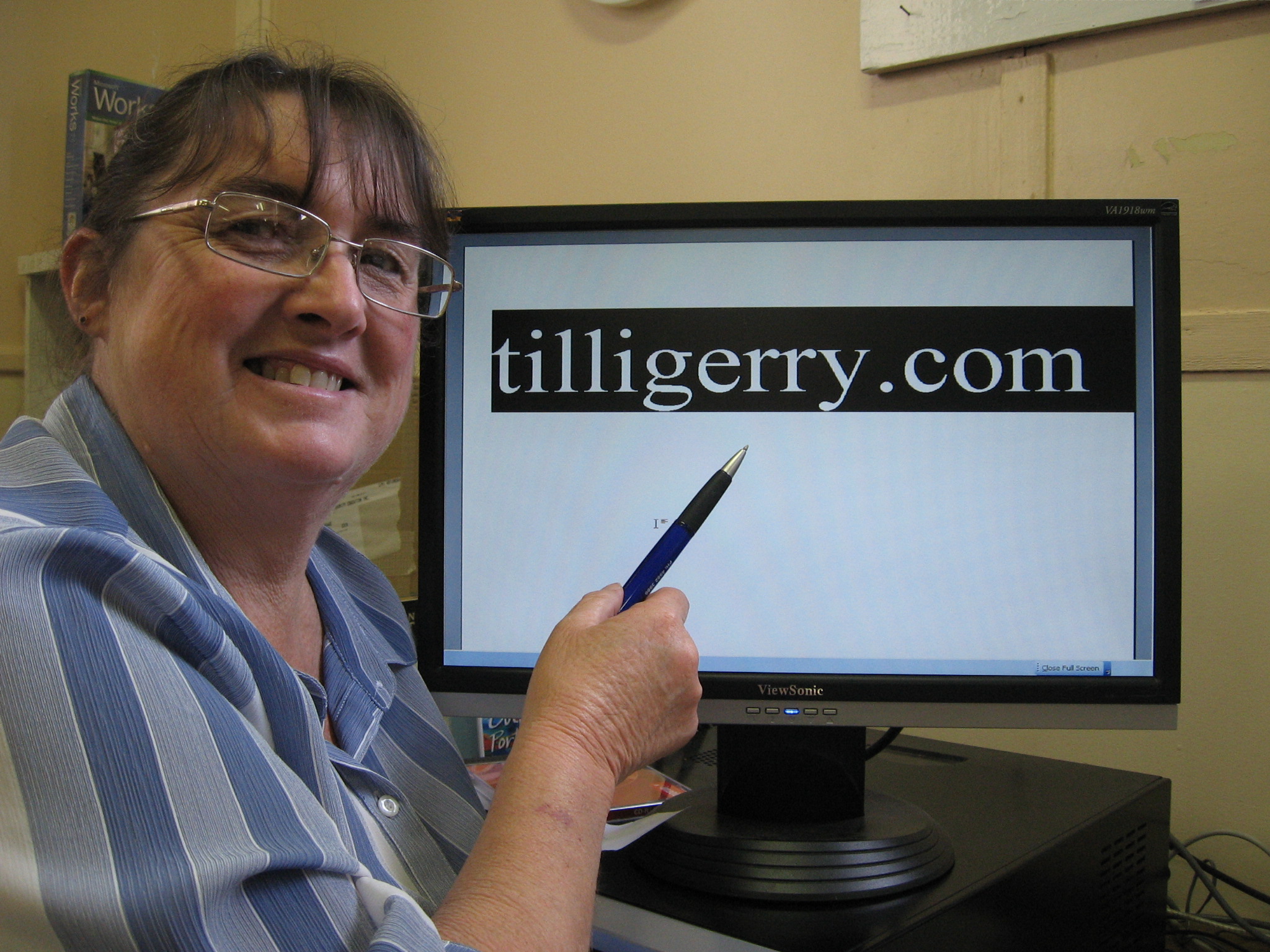 You've seen our illuminated sign 'tilligerry.com' beside the main road near the golf club as you drive into town at night.
With news services moving away from the print media, tilligerry.com for over 10 years now has moved with the times and gives local residents the news that they can't get anywhere else. Indeed, those travelling around Australia or internationally can keep up to date with a click on a mouse or a mobile phone.
Before our 'hit meter' broke down we were averaging around 2000 views each month. We have a few businesses supporting us but we really don't want advertisers as we are a not for profit community service.
That's not all! Each year we run a national Literature Award (a short story competition) with the support of PSSC, Club Lemon Tree and News Of The Area.
On top of this we offer the public internet access, assistance with the operation of electronic devices and photo copying.
It gets even better. There are constant requests, usually from residents new to the area, for general information about available services and organizations out this way.
We now have an extensive community directory listing some 80 of these which includes: churches, clubs, social groups, cultural events, schools, tourist information, community support, JPs, medical services, play groups and pre schools.
For more details scroll to the bottom of this page or click on 'Literature Award' and 'Community Directory' in the left hand green side bar.
Photo: tilligerry.com more than just news.
---
elebrating the re-opening.
New Community Directory
As the Tilligerry community expands and changes, there is the need to provide residents (particularly newcomers) and tourists with a directory of service groups, clubs and businesses. With this in mind, TACE (Tilligerry Adult and Community Education) will be compiling one in the near future.
It will be available in both an online and printed format.
TACE works under the umbrella of PSSC and coordinates community groups such as art, lead lighting, family history and mah jong. It has its home base at the LTP library. It also publishes tilligerry.com our local online news service which has grown to be the major source of local news for residents .Most months it gets over 1500 'hits'. The Port Stephens Literature Awards, a national short story competition, is another initiative of TACE and is run by volunteers.
If you would like to publicise your club, social group or business, email basic contact information to: tace@tilligerry.com and it will be considered for inclusion. There will be no charge for this service.
Photo: TACE volunteers Helen Mizrachi and Sue Hamilton at the library.