Literature Award 2020
We have finally been able to get the awards up and running!!!!! Total Prize Money will be $600.
Because of very limited sponsorship this year we have had to decrease our prize money, but we have also decreased our entry fee.
1st Prize $ 300
2nd Prize $150
3rd Prize $ 50
$50 Readers' choice award
2x $25 Most Highly Commended awards
Certificates will be awarded for Top 20 in Most Highly Commended; Highly Commended and Commended categories.
Entries are $5 per story, all entries must be mailed to PO Box 105, Tanilba Bay NSW 2319.
For more information click on Literature Award on tilligerry.com or email us on tace@tilligerry.com.
Sponsored by News Of The Area and Tilligerry Adult & Community Education Inc (TACE)
Closing date 30 October 2020. Results notified on this site by 1st December 2020.
---
Memories of Neil
A celebration of the life of Neil Watters, late of Tanilba Bay saw a large gathering of family and friends assemble on the grassy waterfront in front of his home recently. Social distancing was observed in accordance with the lockdown laws as those present paid tribute the much loved local.
The Watters family bought a waterfront block in the 1940s and the family used it a a weekender and holiday spot. It was here that Neil as a young child, developed his lifetime passion for fishing and crabbing. When he retired as a motor mechanic Neil and his wife Carole moved to the area permanently. The block was subdivided and both he and his brother built modern homes.
Apart from being a renowned fisherman, Neil was something of a windsurfer as well. He was very generous in giving away crabs to friends and neighbours and his grandchildren eagerly looked forward to holidays at Tanilba.
With mobility issues later in life he could be seen sitting in his garage sunning himself and was always available for a chat with passers by. Neil will be sorely missed by all whose lives he touched. He passed away peacefully in his sleep aged 77.
Photo: Neil preparing for a day's crabbing.
---
Out of Lockdown
Historic Tanilba House is getting back to its core business with the first of many planned weddings having recently been celebrated in its picturesque colonial setting.
A clear crisp sunny Saturday saw Lemon Tree's Lizzie Speer and David Fenning taking their vows in the chandelier lit conservatory. The convict built homestead also provided the perfect backdrop for some memorable photos.
Another delightful touch came as the happy couple were driven away in a Valiant blue charger which had been painstakingly restored by local car club enthusiast Don Barrett many years ago.
Tanilba House is currently taking bookings for their very popular colonial 'high teas' for the months of July and August. All details of these and events bookings can be found on their website.
Photos: A touching moment under the wisteria...and being driven away in the blue charger.
---
Responsible Riding
Illegal trail bike riding still remains a problem according to Senior Constable Peter Boys from Lemon Tree Passage police.
"We get constant reports of unlicensed bike riders in and around the town," he said. "There are also trail bike riders out in the water board land and on the RAAF weapons training range," he added. "There have also been some incidents of 'hoons' in cars doing wheelies and skids in the suburban areas. The public can assist us by noting the type of vehicle, taking down number plates and reporting them," he advised.
Fines for unregistered bikes; riding without a helmet; riding without a licence and being caught out on public land can attract fines totalling thousands of dollars.
Tilligerry is lucky to have a former Moto X champion who acts as a role model and teaches the finer skills of dirt bike riding to the younger generation of aspiring riders.
Luke George runs a 'boot camp' at the family property at Salt Ash. It's very much a full-on experience for his pupils and he even incorporates an early morning swim at the local pool as part of his fitness regime.
Photo: Responsible rider.....Luke and wannabe champions at his private off -road training track.
---
STOP PRESS! STOP PRESS! STOP PRESS!!
Tilligerry Aquatic Centre is coming out of lockdown. No need to book in, showers now available, temperature 25c+ and of course social distancing rules apply. Hours 6am – 12 noon weekdays and 9am – 12 noon weekends.
See you down the deep end!!!
---
Lest We Forget
Have you ever wondered why a war memorial features a cenotaph which has a column cut at an angle or appears to be broken? Such structures are purposel
y designed this way to symbolise lives cut short.
At the moment, Tilligerry RSL and Sports Club is in the middle of a major internal makeover. Meanwhile, on the outside, the RSL sub-branch has been enhancing its cenotaph and erecting a special wall of remembrance of those who fought for and served our country in the armed forces.
A crushed gravel surround and garden have been added to the cenotaph and in an alcove at the club's entrance a new memorial wall features the names of over one hundred local men and women whose memories have been preserved on individual plaques.
These have been mounted under the particular branch in which members served with women's names occupying an adjacent wing.
Spent cartridge cases have been fixed to the walls so that flowers can be placed in them by visiting family and friends.
All of the club's amenities (including dining facilities) have been transferred to Tanilba Golf Club until the internal renovations are complete. Details can be found on the club's website.
Photos: 1. Gary Davis, Ray Harvey and John Olive at work on the cenotaph...and 2......the memorial wall.
---
The Tower Comes Down
According to PSSC, the giant crane seen at Woodman Oval Mallabula recently was removing one of the light towers which are switched on for night training sessons.
It is part of their 'Asset Protection' program and both the tower and concrete base are to be replaced mid June this year.
Woodman Oval was named after Vince Woodman, an elderly gentleman from another era whose passion for cricket saw him establish a cricket oval here which included a turf wicket.
Photo: Workers taking down the tower.
---
A
Hive of Activity
Australia is one of the few countries in the world which doesn't harbour the varroa mite which destroys bee colonies. That's why countless millions of our healthy bees are exported to North America each year to assist in crop pollination.
Tilligerry is an ideal foraging area for bees with a wide variety of flora from which they collect nectar.
Our golf club clover gives us a clear honey whilst the paperbarks' nectar produces a deep, dark, full flavoured variety.
Local apiarists are looking forward to a promising season after a bushfire took out so much of the flora a year or so ago. This spring the bush will once again bloom and the bees will have something of a well earned smorgasboard to browse on.
For some five years now Bert and Dorathea Willey have been producing honey at Tanilba Bay. They moved from acreage in the Riverina and brought their bees with them. Their fresh local honey is sold at the Tilligerry Habitat where Dorathea is a volunteer worker.
Photos: Bert attending his hives and their local honey for sale at the Tilligerry Habitat.
---
What About the Hill?
In the winter of 2018, a bushfire trickled down the Tilligerry Peninsula. It looked quite dramatic at the time but no lives or homes were lost and the koalas were safe in the treetops. According to Life Member of Tilligerry RFS Richard Osborne OAM it was a blessing in disguise.
"Just a few months later in summer, another fire started up at Salt Ash and came our way pushed along by winds gusting to 90 kph. When it reached the burnt out scrub it went out. No fuel meant no bushfire. It was as simple as that. Without the earlier cool bushfire, it would have been unfightable," he said. "During the last horrific bushfire season of 2019 - 2020, we were in a far better position than most of NSW as there was just one year's fuel build-up on the peninsular whereas those huge national parks bushfires had decades of unburnt ground fuel to feed on," he added.
"But what about The Hill?" This is the question many Lemon Tree Passage residents ask as the the scrub between Mallabula and LTP escaped the earlier bushfire and is overladen with fire fuel. The good news is that Tilligerry RFS has targeted this hazard; the paper work has been done and they are ready to burn it off as Captain George Brandendurg explains:
"The only problem we have at this time is that it is too moist to burn effectively," he said. "Once it dries out, it's our number one priority," he remarked.
"The area targeted is roughly between the water tower, along the ridgeline fire trail and down to the the industrial estate," he explained.
Cr Steve Tucker, a long time burnoff advocate, praised the local brigade's strategic burnoff plans. "No other volunteer community group has higher status than our unpaid firies," he said. "I'll assist them in any way possible in keeping our community safe." he added.
Photos: George Brandenburg with Steve Tucker and firie friends.....and the 'friendly' 2018 bushfire which removed huge amounts of fire fuel.
---
Home and Hosed
What was planned as an outback adventure of a lifetime turned out very differently for Lemon Tree's Judy and Geoff Camm.
The couple intended to weave their way down through Victoria then across the Nullarbor and then up to Broome and back home across the top.
It didn't work out that way as Geoff explained:
"The pandemic crisis hit while we were visiting my mother in Victoria," he said, "but troubles began when we drove to the Western Australian border," he added. "It was here that we were issued with a two and a half day permit to cross the Nullarbor," he noted.
"We planned to stay with my son for two weeks on his farm but this turned out to be a five week stint because of the internal lockdown requirements. We were able to put this time to good use repairing his machinery and laying down a year or two's supply of firewood," he remarked.
" We gave away the idea of going north and headed back across the Nullarbor. So strict were the travel restrictions, we saw just three cars during the 1300 km trip. We camped out as the caravan parks were closed," he said.
"It wasn't the way we planned things but it turned out to be something of an adventure for us," he concluded.
Photo: Judy and Geoff....a 'different ' outback experience.
---
Quality Kids C
lothing
Want something special for your children? Want some apparel that is unique and of high quality? If you answer "Yes!" to these questions, the new children's clothing store in Tanilba's Kooindah Centre is just the place for you.
Milena Balcarcel is the proprieter and she stocks clothes, shoes and toys for children in the age range from newborns to that of 14 years.
She is the sole Australian importer of a distinctive line of Spanish clothing for the younger generation.
Interested? Drop in to the shop or Google: MilenaBalcarcel.com.au and see what she has to offer. Online sales are very much part of her enterprise.
Photo: Milena in her new shopfront at Tanilba Bay.
---
P
olice Station Problems
The wider Tilligerry community is puzzled and angered by the decision of NSW Police to site a new $1 500 000 station on a block of land on the main road near the Lemon Tree Passage Library.
Doreen Bradley OAM, a 50 year campaigner for a station puts it this way: "We have had politicians, the police minister and numerous meetings about this and RAF Park at Tanilba Bay is where it was agreed it was to be built," she stated. "Obviously there has been no community consultation and a total breakdown of process somewhere within the system," she added.
Ward Councillor Steve Tucker agrees:
"Council gifted the land in RAF Park for both the Fire Station and the Ambulance Station and we assumed that the police would want their station next to the other two emergency services," he said. "It's a waste of around $500 000 of taxpayers' money buying an old house, knocking it down and preparing a site on the side of a hill," he remarked. " The RAF Park land is free , flat and a 'walk-up start' as far as construction goes. It's just sitting there and all they have to do is ask for it," he added.
We emailed the NSW Police and the appropriate minister but no response was forthcoming as we went to press.
Photos: The chosen site in LTP....... The preferred site in RAF Park and …. Former Police Minister Mike Gallacher with Doreen Bradley.
---
It Pays to go Wide
Fishing some 50k from shore and into the deep waters off the Continental Shelf, the local Radford and Chick families cleaned up bigtime.
Their haul included huge 20kg barred cod, kingies to one metre in length, school shark, leatherjacket and a swag of nannygai. For bait they used live yakkas and slimies. They had to go to a depth of 200 m to nail them.
The wisdom of closing the Tilligerry Peninsula to outsiders (which included the very popular boat ramp and cleaning tables) saw just one case of COVID 19 found in the area.
Since the easing of restrictions there has been a flood of anglers using the ramp facility and cleaning tables. Picnickers have flocked to the parks, take-away food outlets and parks as well.
Photo: An esky full of nannygai with local children (and friend).
---
Game, Set and Match
The progressive Tilligerry Tennis Club is powering along and now has some 65 active members.
This is due in part to a $200 000 makeover which saw a co
mplete rebuild of the clubhouse and other facilities updated.
On top of this, local businesses have sponsored the club to the tune of some $1800 per year as committee member Helen Tucker explains:
"We approached the business community and for a mere $100 p.a. they could each have a standard advertising sign fixed to our wire fence. The reaction was great," she said. "We are also seeking a community partnership grant between the State Government and PSSC to construct a new half practice court," she added.
The club is very keen to foster interest with the younger generation and Saturday mornings are given over to coaching for children from the age of five through to 18. Enquiries about hiring the courts and can be made through Tanilba Liquor Store where keys can be picked up.All details can be found by punching 'Tilligerry Tennis Club' into your search engine.
Local sponsors include:
Port Hunter Sheds and Garages; Tilligerry Real Estate; Tanilba Automotive;The Oyster Shack; Steak'n' Chops; TilligerryEmporium; Tanilba Tyre and Mechanical; Coastal Real Estate; Lemon Tree Cafe; Heathers Place; Complete Pest Services; Raine & Horne; Port Stephens Building and Property Maintenance and Koolart.
Photos: 1. Community backing....Sponsors' signs along the tennis club fence and 2. Members ready for a mid-week game.
---
NBN is Here!!!!!
Finally after so many years of promising better quality internet, we have most of our area able to be hooked up.
What do you do now? Contact your internet provider to find out if they have a plan that is suitable for you. Now might be the time to investigate other providers to see if they have a plan that suits you better.
Things to think about:
* What speed do you need? There are different speeds available so make your choice based on how you use the internet – do you stream movies? Do you play online games? These will help you make your decision.
* Do you still want a landline? You may be able to "bundle" your landline cost with your internet – ask your provider if your current handset will suit the NBN.
* How long a contract do you want to take out? Most providers will not charge for a new modem if you agree to a contract period. This may save you approximately $100.
* Do you have to swap over? Eventually the current network will be turned off but you will have plenty of time to continue with your current plan before you do need to change. Be aware that there will be very minimal maintenance
If you have any questions, please contact your current provider or go to www.nbnco.com.au. With our local library re-opening on Tuesday 9 June, Sue will be on board on Thursdays from 10-12 if you want some more information.
---
RSL Tank Traps
The current East Coast Low weather pattern has caused severe erosion along beaches up and down the state and exposed a relic of WWII along Stockton Beach. This was a defensive barrier put there to impede an expected invasion by Japan. Fears were heightened when in 1942 submarines entered Sydney Harbour and ships were torpedoed along the NSW and Qld coasts. Newcastle and Sydney were shelled from a passing submarine.
Thousands of these concrete structures were placed along beaches deemed to be possible invasion points and Port Stephens itself was protected by large naval guns, machine gun pill-boxes and torpedo tubes.
Rather than trek over the sand dunes to see the tank traps, all you have to do is to pull up on the main road at the RSL Club and have a look for yourself. They are tucked in behind the knoll where another relic of the war is on display. This is a Bofors Gun, arguably the most effective anti-aircraft defensive weapon of its time. Kids quite often play on it.
These reminders of a time long gone were salvaged by members of the RSL sub Branch and put on display for all to see. Other personal mementos are kept in glass cases inside the clubhouse itself.
Lest We Forget.
Photo: Numbered and dated tank traps at the Tilligerry RSL.
---
The Life of Bryan
News has just come to hand of the passing of much loved local and legendary swimmer Bryan English. He slipped peacefully away in Sydney with family members by his bedside. He was in his late 90s.
Bryan, for close on 20 years swam daily at the Tilligerry Aquatic Centre, completing 30 laps each visit although later in life he reduced his attendance to a couple of times per week. Staff and friends organized a 90th birthday party in his honour.
He often captivated friends with stories from his past: the poor boy from Wales who was bombed out (twice ) during the blitz; his service in The Home Guard and the RAF; working as a printer for the media moguls; his migration to Australia; his awards for rifle shooting; the gold prospecting and roughing it in the outback.....and lots more.
Later in life, Bryan suffered from failing health, moving to Sydney to be cared for by his daughters. He did however return several times but sensing that the end was near said on his last visit: "This will be my last time." He was right.
Photo: Bryan with fellow swimmer Merle Brennan at the local pool.
---
Tough Times
For 90 year old Vic Madden from Tanilba Bay, the tough times we are currently having are nothing compared to those he has gone through during a long and fruitful life. His childhood in England saw his family surviving the Great Depression and WW II. Over to Vic for his story:
"Ours was a family of six," he said." My father worked in a dairy but it was very hard to make ends meet," he added. "Dad trapped rabbits and hares to put meat on the table and grew vegetables in the back yard as well," he stated. "Clothing was never discarded and hand-me-downs were the order of the day. Holes in socks were darned. We did not have a car and bicycles were our only form of transport," he recalled.
"With the coming of the war, everything was rationed. You couldn't hoard food as they are doing at the moment and we all knitted socks for the soldiers," he said. "We kept rabbits in the backyard and my father had an allotment in a community garden where he grew vegetables. If meat became scarce due to the sinking of the supply ships by German submarines, we could sometimes get tinned Australian corned beef," he said.
"My mother was always a pillar of strength. She would go without herself to ensure that we children had enough to eat," he concluded.
Photo: Vic at his Tanilba Bay home.
---
Going Green
The regular 'once a month' opening of the Lemon Tree Passage Transfer Station h
as been modified due to the lockdown. It is, however very much operating as a green waste collection centre albeit on a modified timetable.
Social distancing is part of the protocol and only four vehicles and trailers are allowed at the tip-face at any one time. On top of this, drivers must keep their vehicles at least six metres apart.
There was a time when green waste was mulched on-site by a wood chipper and ratepayers could take trailer loads home to spread on their gardens. Not anymore. It is now transported to a central location for recycling.
Those with garden clippings, prunings and other appropriate material should ring Port Stephens Council for details of the new, temporary
arrangements.
Photo: Local resident Craig Austin delivering his green waste to the LTP transfer station.
---
Bibliophiles
Darryl and Helen West are bibliophiles but for different reasons. Darryl reads around a dozen books a week and Helen , writing as Lena West, has authored ten novels.
The Tanilba couple spent many years touring the parched outback which provided a rich source of material for Helen's rural romance series. The novels are centred around the fictional town of 'Oxley Crossing'. If this sort of book has interest for you just google 'Lena West Author' and away you go.
On the other hand, Darryl is a prolific reader and with the closure of our council libraries and the bookmobile he was facing severe withdrawal symptoms. Luckily, the library service came to his rescue. They now home deliver and pick up books. It's a simple matter of ordering online or by phone and a council van with a smiling driver will turn up once every week or so at a designated time.
"It's a great idea ," he said. "Our street has a few avid readers and we all gather together in the one spot at the same time to make it easier for the librarian in the van, he added.
Photo: Darryl and his wife, aspiring writer Helen (Lena) West, at their Tanilba Bay home.
---
Her Royal Highness
Some years ago, Eric Clarke in his vintage car turned up outside the Mallabula home of Doreen Bradley. She had just been awarded the Order of Australia Medal and was told that the RSL was putting on a special function in her honour.
She became somewhat confused when Eric drove her past the club and headed for historic Tanilba House. Here she was greeted by local community leaders and friends who ushered her inside for a formal dinner.
Before the meal was served, somebody tapped a glass and called for silence. Those gathered were then asked to charge their glasses, be upstanding and toast The Queen. All rose and faced a portrait of Her Majesty Elizabeth II which was on the wall. "The Queen," they chanted as they lifted their glasses...... but they were facing the wrong way!
In came a friend bearing a red cushion on which sat a crown. This was ceremoniously placed on Doreen's head. For the first time in her life she was lost for words.
The announcement of the construction of a new $1.5 million police station in Lemon Tree Passage brought a satisfied smile to the now 87 year old community worker. It was the last of the three main projects for which she had tirelessly campaigned. The others were the swimming pool and the ambulance station.
Apart from these, her community work over 50 years has included service on the Mallabula Hall Committee; the Parks and Reserves Committees; 25 years with Legacy; the Chamber of Commerce; Neighbourhood Watch (11years) as well as raising funds for local children suffering from life threatening medical conditions.
Doreen has been showered with numerous awards for the selfless voluntary work she has done over such a long time.
Photo: Doreen Bradley OAM ....outstanding community worker.
---
A Driving Force
"You will never enjoy your club better than right now!" These words perplexed those gathered at a special 'thank you' get-together organized by Bruce Mac Kenzie in the 1980s. You see, Tanilba Golf Club had just opened up as a nine hole course with tiny
greens. Golfers used coloured balls as white ones couldn't be found on the sandy fairways. The clubhouse itself was an old RAAF radio shack.
His words of wisdom proved to be spot on as the sense of community and involvement was very high at the time. Later, it faded as the feeling of common purpose dwindled and infighting raised its ugly head.
As Shire President he winkled $100 000 out of PSC and told the club to spend it as quickly as possible so they couldn't ask for it back. Another time a bulldozer mysteriously turned up and was used more or less 24 /7 to clear fairways. Nobody asked questions about where it came from. Bruce worked tirelessly on the course and behind the makeshift bar and served as Club President. His Herculean efforts earned him life membership and badge No.1.
Of course, many others made huge contributions. To name some would be to excluded others but the total dedication of Ken Doolan our first greenkeeper, needs special mention. He oversaw the construction of the second nine holes while still maintaining the first nine. Break-and-enters were a big problem until he took up residence in his on-site caravan with his guard dog and gun. There were no more robberies.
Club directors did not strut around in white shoes, cravats and double breasted reefer jackets. They were to be found slashing scrub, grubbing roots and doing endless hours behind the bar.
A big boost for the infant club came when the RSL went broke. Former patrons flocked to the golf club and on Friday nights it was standing room only amid the rattle of poker machines and a haze of cigarette smoke. Cash flow was everything and even dirty, tar clad oyster farmers were greeted with open arms. Dress rules didn't exist.
In 1987, Taniba resident Margaret Owler interviewed Bruce for a Newcastle University project recording oral histories. If you google 'Margaret Henry Oral History' and follow the prompts you can listen in on a 20minute recording of a rags to riches story of a lifetime resident who has made such a dramatic impact on the development of the Tilligerry peninsula.
Photos: 1. Bruce Mac Kenzie.....Life Member of Tanilba Golf Club.
2. The club as it is today.
---
Gallery Opens
After a six week lockdown, Tilligerry Art Gallery (TAG) is once again open for business.
The converted fire station on the main road in Lemon Tree Passage now operates between 10 am and 2pm Tuesday through to Friday for sales only.
Volunteer Jannine Deneen said that the gallery welcomed people to wander through and inspect the many and varied arts and crafts on display created by local painters and artisans.
"We really do miss the get- togethers and creative workshops which we ran before the lockdown," she said. "At the moment social distancing rules prevent that." she added.
Those interested in joining TAG or needing more information about its many and varied activities can access their facebook page:
'tilligerry arts group inc'
Photo: Members Jannine Deneen and Juls De Ath at the gallery
---
Big Spend for Hunter Water
Hunter Water is currently spending $24 million on upgrading the Tilligerry waste water treatment plant at Mallabula. It is located down an access track opposite the Aquatic Centre on the main road.
The upgrade will be complete by 2021 and cater for the projected needs of the community until the year 2040.
Works will include an amenities block, an improved treatment process and internal road works. The makeover will comply with Hunter Water's Environment Licence.
All treated water returns to groundwater via a sand filtration process and water quality is strictly monitored.
Photo: courtesy of Hunter Water......The treatment plant in action.
---
Providing for Pensioners (and other Health Care Card holders)
One of the best things we can do for our community during these troubled times is to support local businesses. These outlets are the lifeblood of Tilligerry. They sponsor our sporting teams and other worthy causes as well as providing employment and assisting those less well off.
One such business venture is the 'Church 4 Life' shopfront in the Kooindah Centre.
Day manager Debbie Marshall explains:
"We sell a wide range of clothing, food , furniture and other items at very low prices. Clothing is by far our most popular line but food is coming into its own with the current rush on supermarkets," she said. " 'Food Bank' supplies us with a wide range of grocery items, frozen foods, toiletries, fresh vegetables...and much more." she added.
"We cater for pensioners of any age and status as well as Senior Health Card holders," she added.
The store is located at the end of the mall past the Tanilba Post Office.
Photo: Debbie Marshall: "Come in and have a look around."
---
More than Just a News Service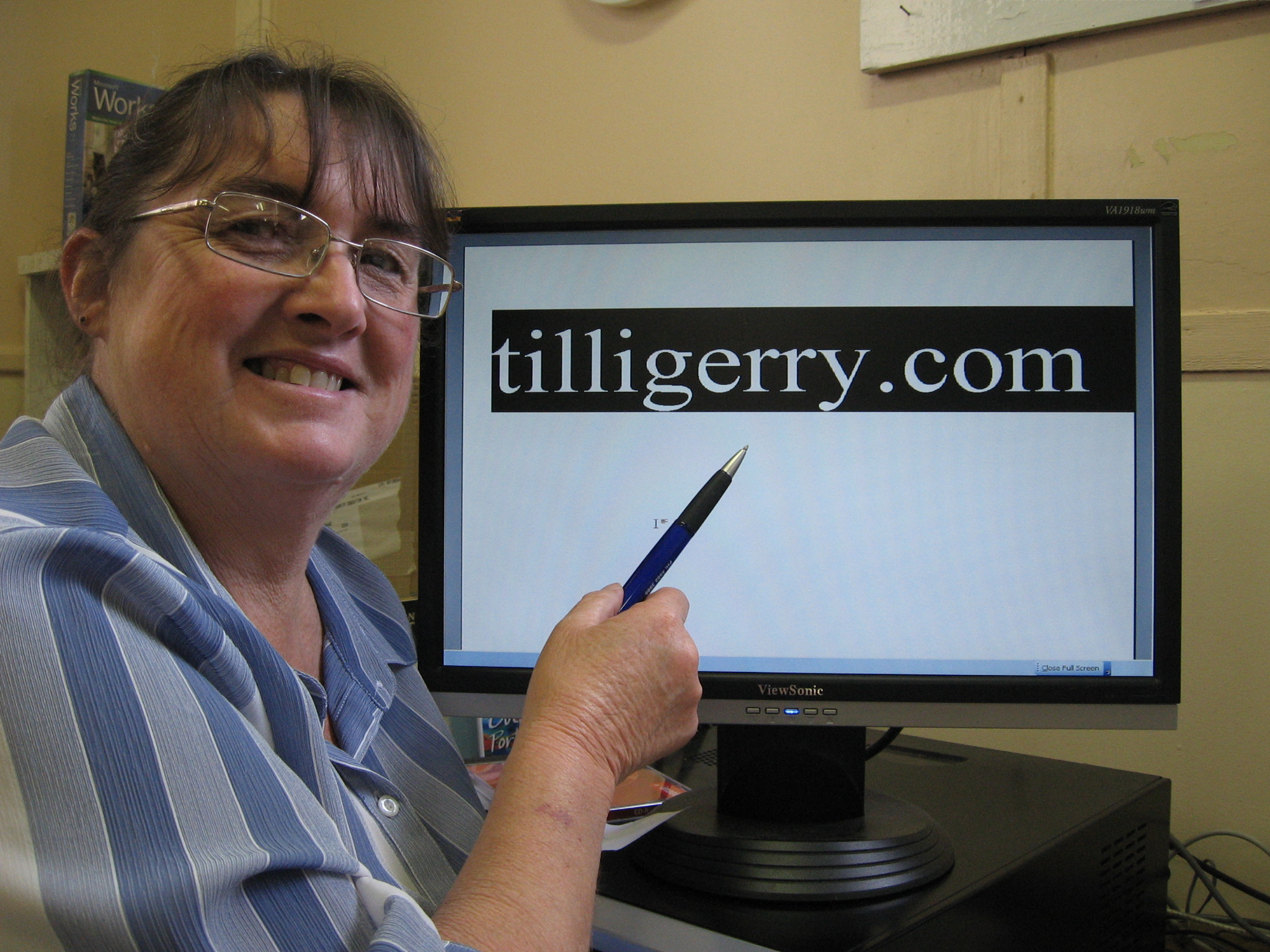 You've seen our illuminated sign 'tilligerry.com' beside the main road near the golf club as you drive into town at night.
With news services moving away from the print media, tilligerry.com for over 10 years now has moved with the times and gives local residents the news that they can't get anywhere else. Indeed, those travelling around Australia or internationally can keep up to date with a click on a mouse or a mobile phone.
Before our 'hit meter' broke down we were averaging around 2000 views each month. We have a few businesses supporting us but we really don't want advertisers as we are a not for profit community service.
That's not all! Each year we run a national Literature Award (a short story competition) with the support of PSSC, Club Lemon Tree and News Of The Area.
On top of this we offer the public internet access, assistance with the operation of electronic devices and photo copying.
It gets even better. There are constant requests, usually from residents new to the area, for general information about available services and organizations out this way.
We now have an extensive community directory listing some 80 of these which includes: churches, clubs, social groups, cultural events, schools, tourist information, community support, JPs, medical services, play groups and pre schools.
For more details scroll to the bottom of this page or click on 'Literature Award' and 'Community Directory' in the left hand green side bar.
Photo: tilligerry.com more than just news.
---
elebrating the re-opening.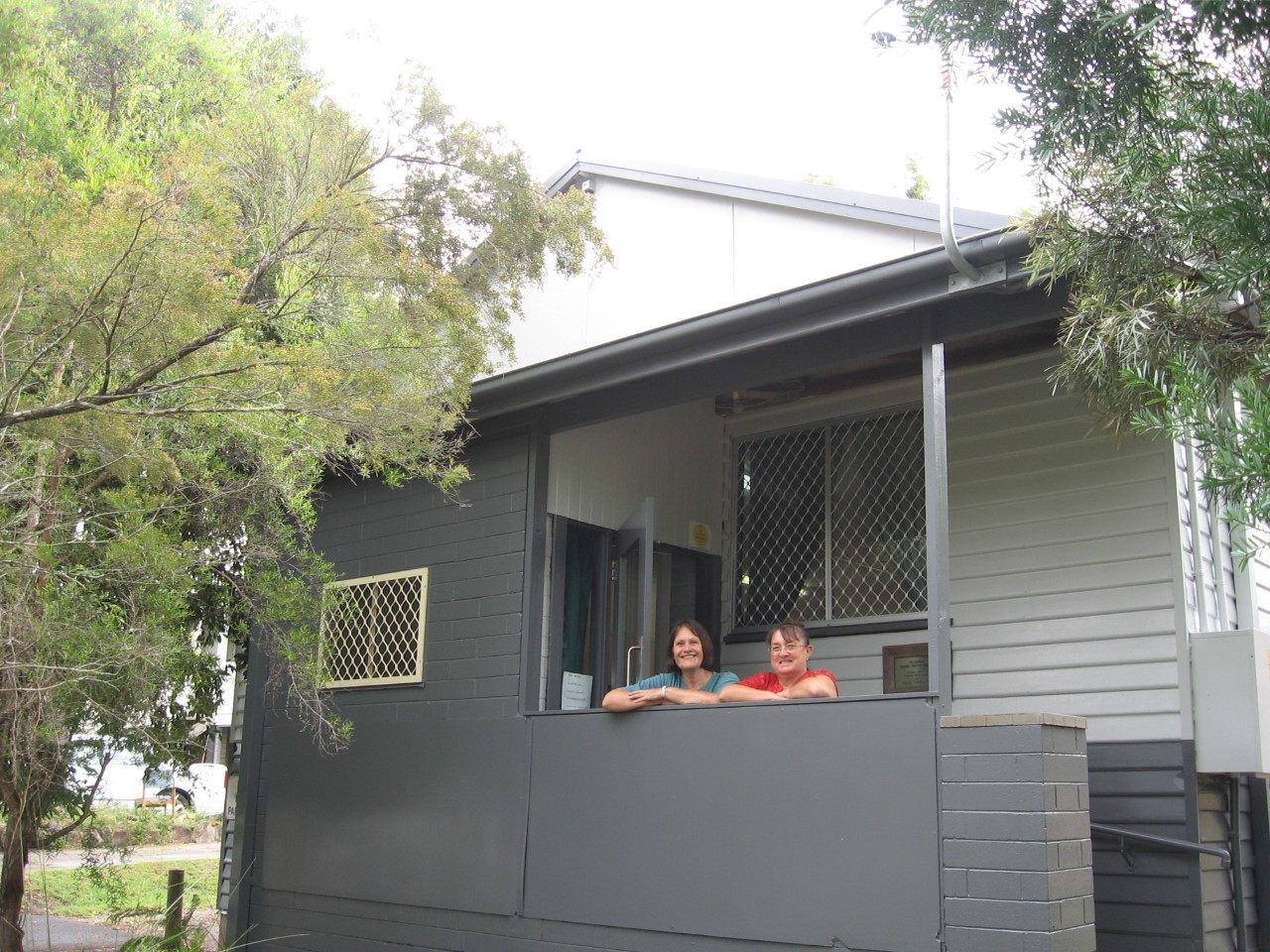 New Community Directory
As the Tilligerry community expands and changes, there is the need to provide residents (particularly newcomers) and tourists with a directory of service groups, clubs and businesses. With this in mind, TACE (Tilligerry Adult and Community Education) will be compiling one in the near future.
It will be available in both an online and printed format.
TACE works under the umbrella of PSSC and coordinates community groups such as art, lead lighting, family history and mah jong. It has its home base at the LTP library. It also publishes tilligerry.com our local online news service which has grown to be the major source of local news for residents .Most months it gets over 1500 'hits'. The Port Stephens Literature Awards, a national short story competition, is another initiative of TACE and is run by volunteers.
If you would like to publicise your club, social group or business, email basic contact information to: tace@tilligerry.com and it will be considered for inclusion. There will be no charge for this service.
Photo: TACE volunteers Helen Mizrachi and Sue Hamilton at the library.
---
Wanted!
Have you seen the ads on TV where school kids are showing off their new garden built from logs made out of recycled printer cartridges?
Well, if you would like to help with this initiative you can drop off your used cartridges to the Lemon Tree Passage Library (opposite the motel).
The Library is open six days a week between 10 am and noon. Out of hours you can leave them in a bag or box in the alcove at the front door.
Oh! this recycling facility also accepts spent batteries which can be dropped of at the same time.
Our library always has new stocks of books and FREE magazines donated by readers. They are stacked on a table just inside the door.
We look forward to you helping make our planet just that little bit greener and cleaner.
Photo: TACE volunteer Helen Mizrachi: "We need your old cartridges and batteries!"