In the Groove
Tilligerry.com is always happy to promote start-up businesses which operate from commercial centres and our latest addition looks like a winner.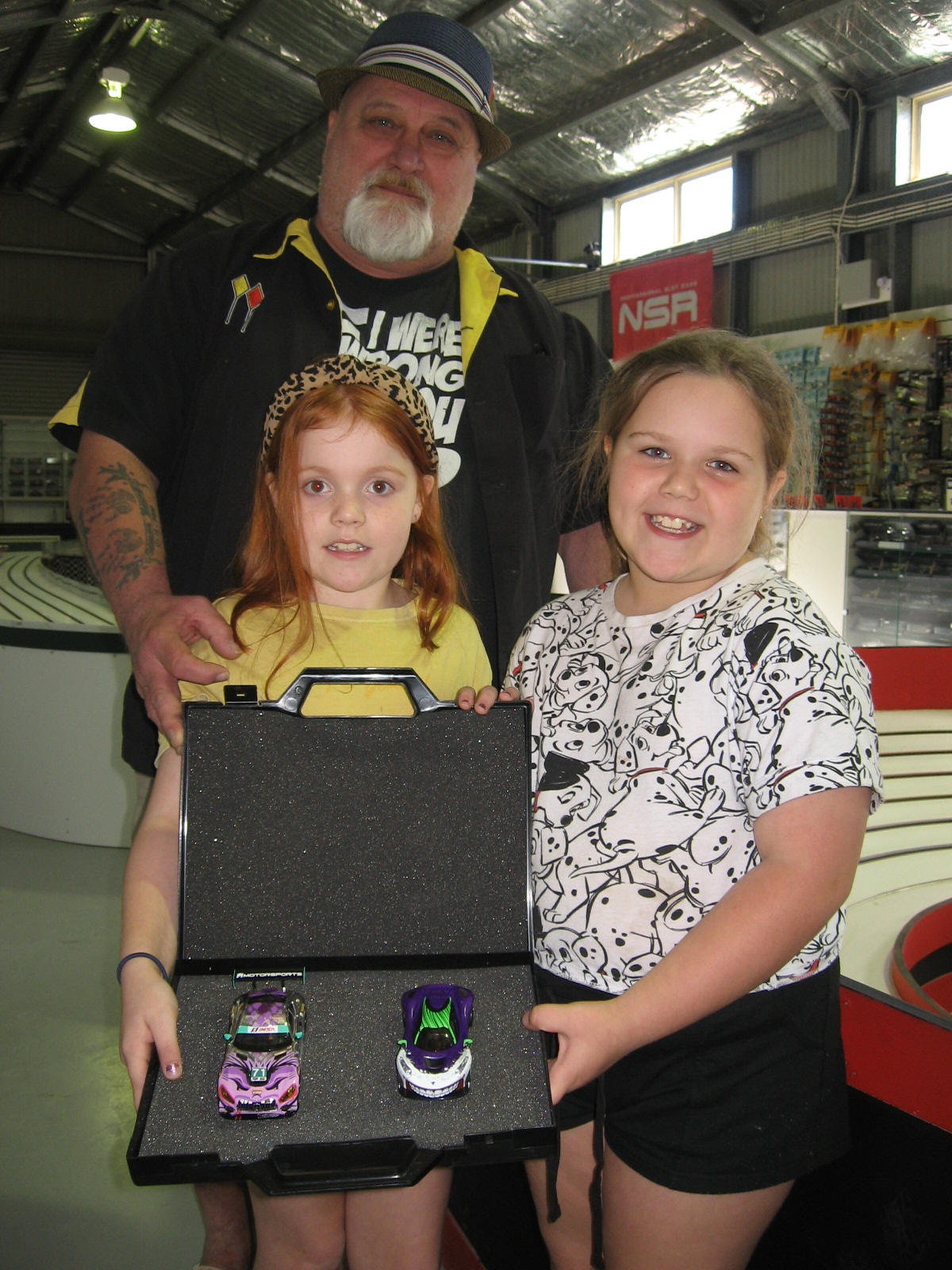 In its first two weeks of operation, a slot car racing centre in the LTP industrial estate has hooked both young and old enthusiasts alike.
Mike Dixon, a long time recreational racer, has extended his hobby into a business which encompasses two fixed 40 metre racing circuits and a drag racing strip.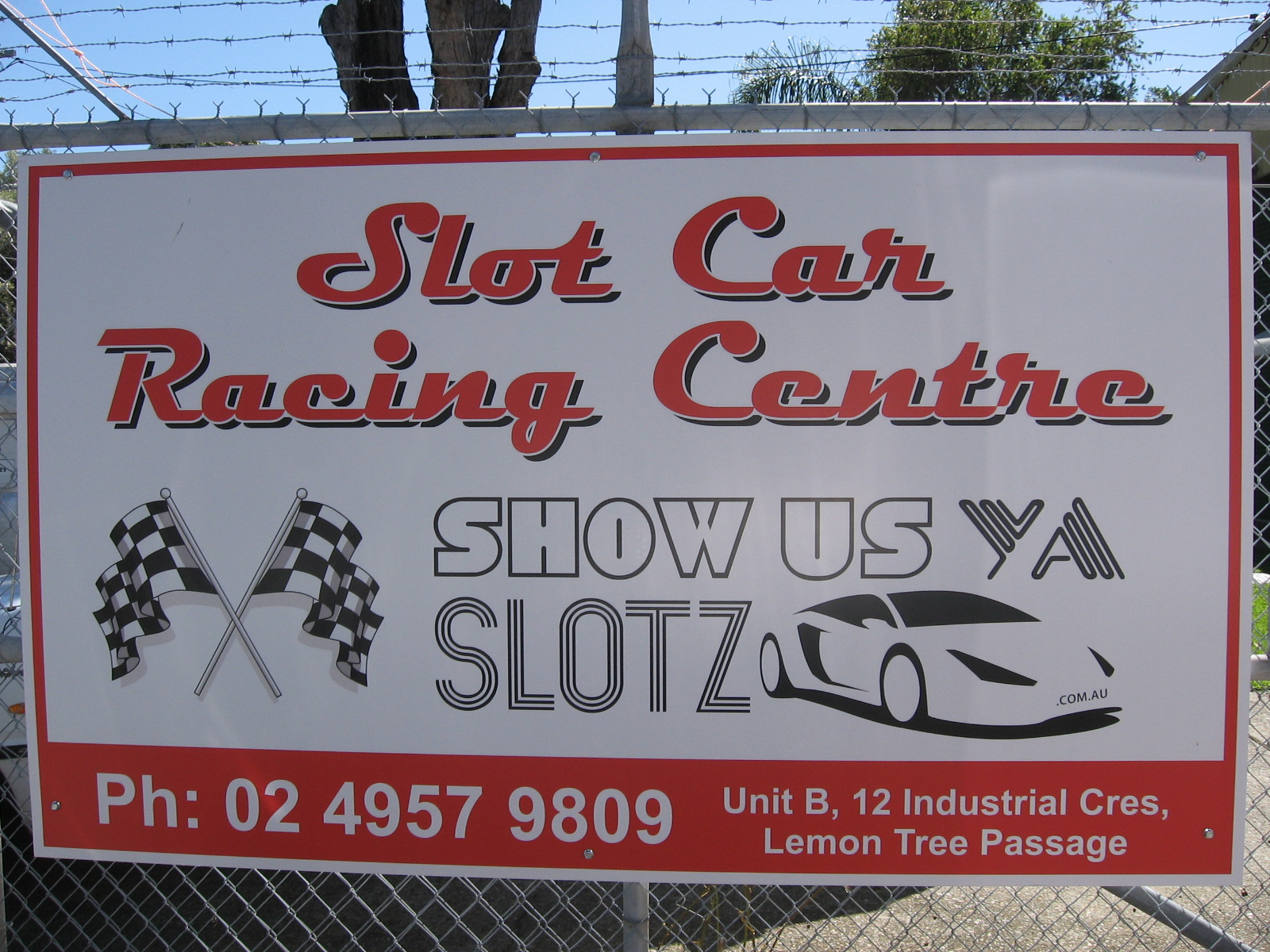 On top of this he sells slot cars, accessories and offers refreshments for enthusiasts and has expanded to online sales.
"I was so overwhelmed by the response, that phone bookings are needed to ensure a half hour session," he said. "In fact, I'll be extending the opening hours to evening sessions so that the 'big boys' can get a chance to have a go after work," he added.
It costs a mere $5 for 30 minutes which includes a selection of one of 25 racers and a hand control, he explained. "Some of the children even complain that their parents and grandparents hog the controls and won't give them a go!" he said.
"It's very much a family oriented recreation and a bonding experience," he remarked.
Madeline and Layla Ducket just can't get enough time at the centre and have bought their own cars. They were there on the first day with grandfather Steve and have been back most days since.
"Great! Amazing! "Fun!" is how they described their newfound passion.
Want to know more? You can visit the centre at No. 12 Industrial Drive or visit the website: showusyaslotz.com.au
Pictures: Grandfather Steve Salvadori flanked by Madeline and Layla and the sign on the gate.
---
---
Anzac Day
Plans are underway for our Anzac Day services. The traditional Dawn Service (5.45 am) will be followed by a Gunfire Breakfast (gold coin donation per person at 6.30 am).
The march will leave the top gates at 9.40am followed by the Service at 10am at the RSL.
Keep an out for more details soon!!
---
Tim's Triumph
Tim Hamilton was presented with his Queen's Scout Award at the Tilligerry Scout Hall on Wednesday 31st March.
He was the first scout to achieve the prestigious award in the 34 year history of the group.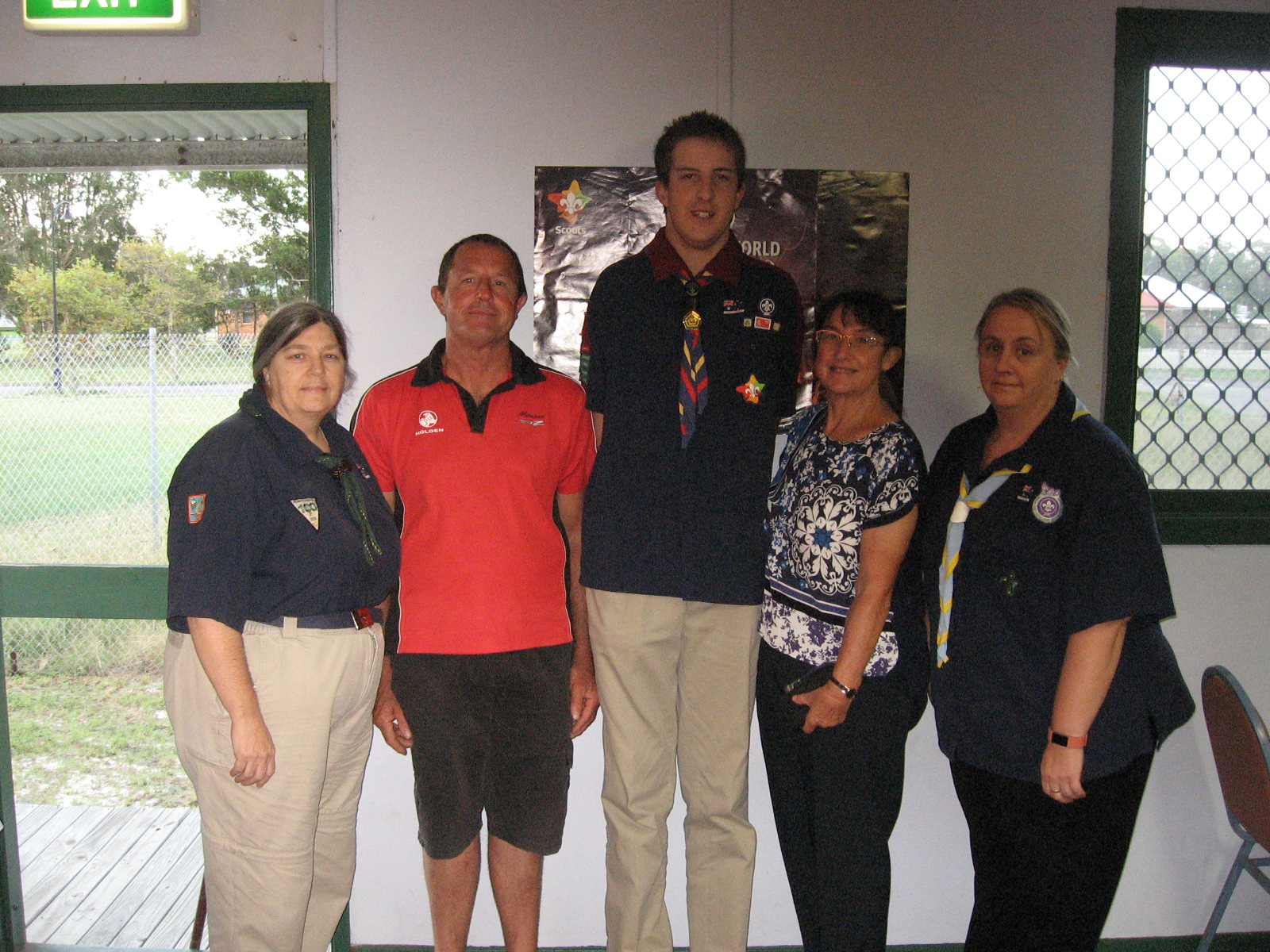 Mayor Ryan Palmer and local MP Kate Washington spoke of Tim's dedication to the scouting movement and of his high standards of community service. He was praised as a role model for the upcoming generation of scouts and young people in general.
Senior scouting representatives explained the long and involved process of becoming a Queen's Scout which included some 300 hours of work covering 17 separate fields.
It was pointed out that it was particularly difficult to attain the standards required during the recent COVID lockdown.
Some of the fields of endeavour leading to Tim's award included: Initiative; The outdoors; The Environment; First Aid; Citizenship; Unit Management; Community Service and Leadership Courses. He also qualified as a soccer referee reaching level four of proficiency.
Photo: Head and shoulders above the rest.....Tim flanked by proud parents Robert and Sue with Kylie Wilson, 1st Nelson Bay Sea Scout, Venturer Leader and Port Stephens District Commissioner, Jane Hogno.
---
Thieves Target Expensive Bikes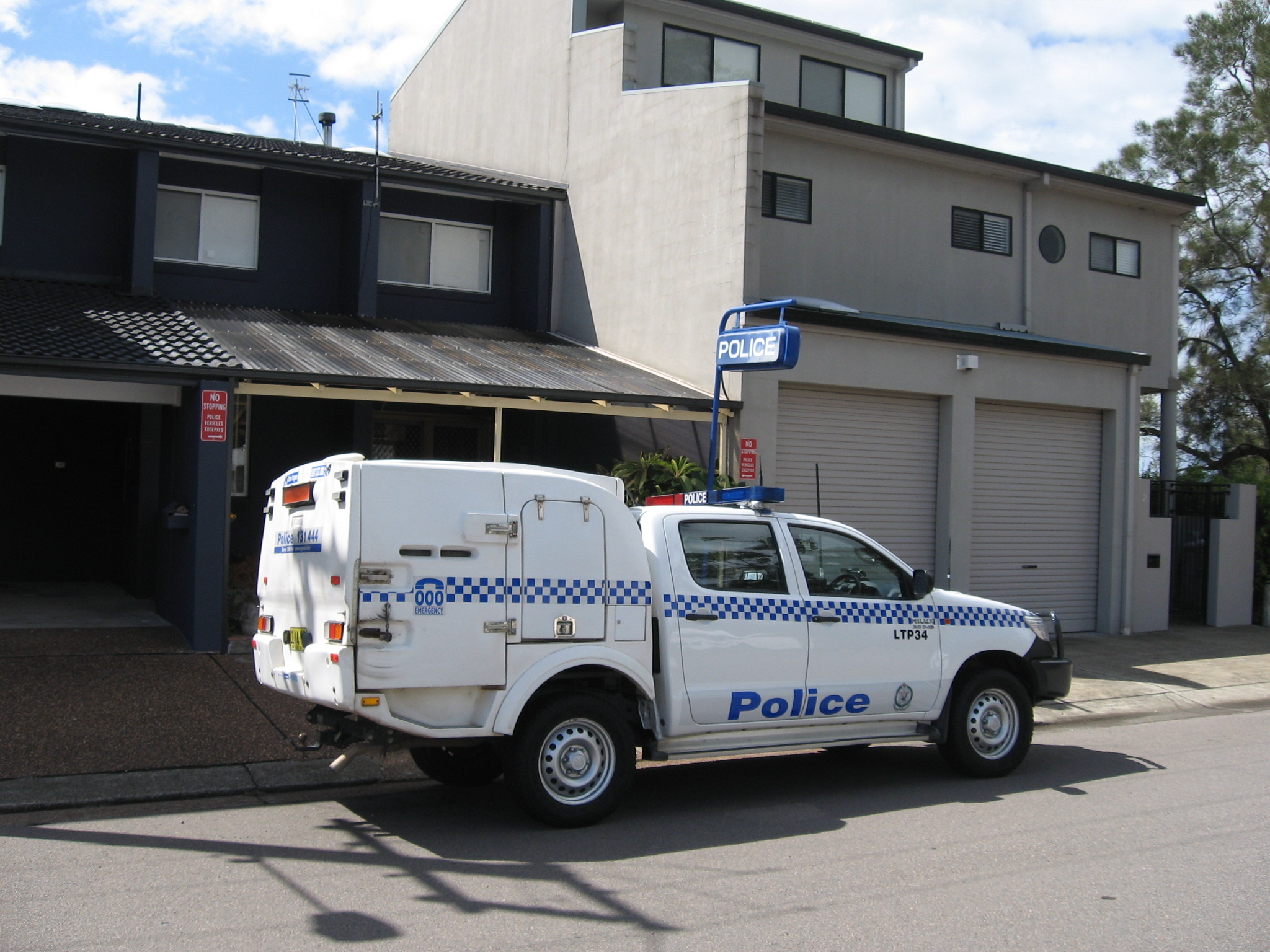 In what is becoming a regular pattern, thieves are targeting bicycles in the various camping grounds and caravan parks in Port Stephens during busy holiday times.
Senior Constable Luke Withers from Lemon Tree Passage police said that holiday makers should secure all expensive equipment they bring with them.
"Some of these bikes are worth many thousands of dollars," he said. "They are a lucrative target so it is wise not to leave them propped up against your van or camping gear. Chain them up," he added.
"If we look at the bigger picture, safety on the roads is paramount," he remarked. "Always obey the road rules and take regular breaks on your journey." he said. "Our Highway Patrol is very active at this time of year and have been following up reports of 'hoons' doing burnout in and around the town. We have been greatly assisted in this by the reporting of number plates and descriptions of vehicles involved," he remarked.
"Water safety is also another issue we are concerned about as there is a spike in drownings at Easter and in the school holidays. Note weather reports and check with Marine Rescue before taking to the water in boats and only swim at patrolled beaches in the designated areas," he concluded.
Photo: Police advice - Secure all valued equipment in holiday parks and camping areas.
---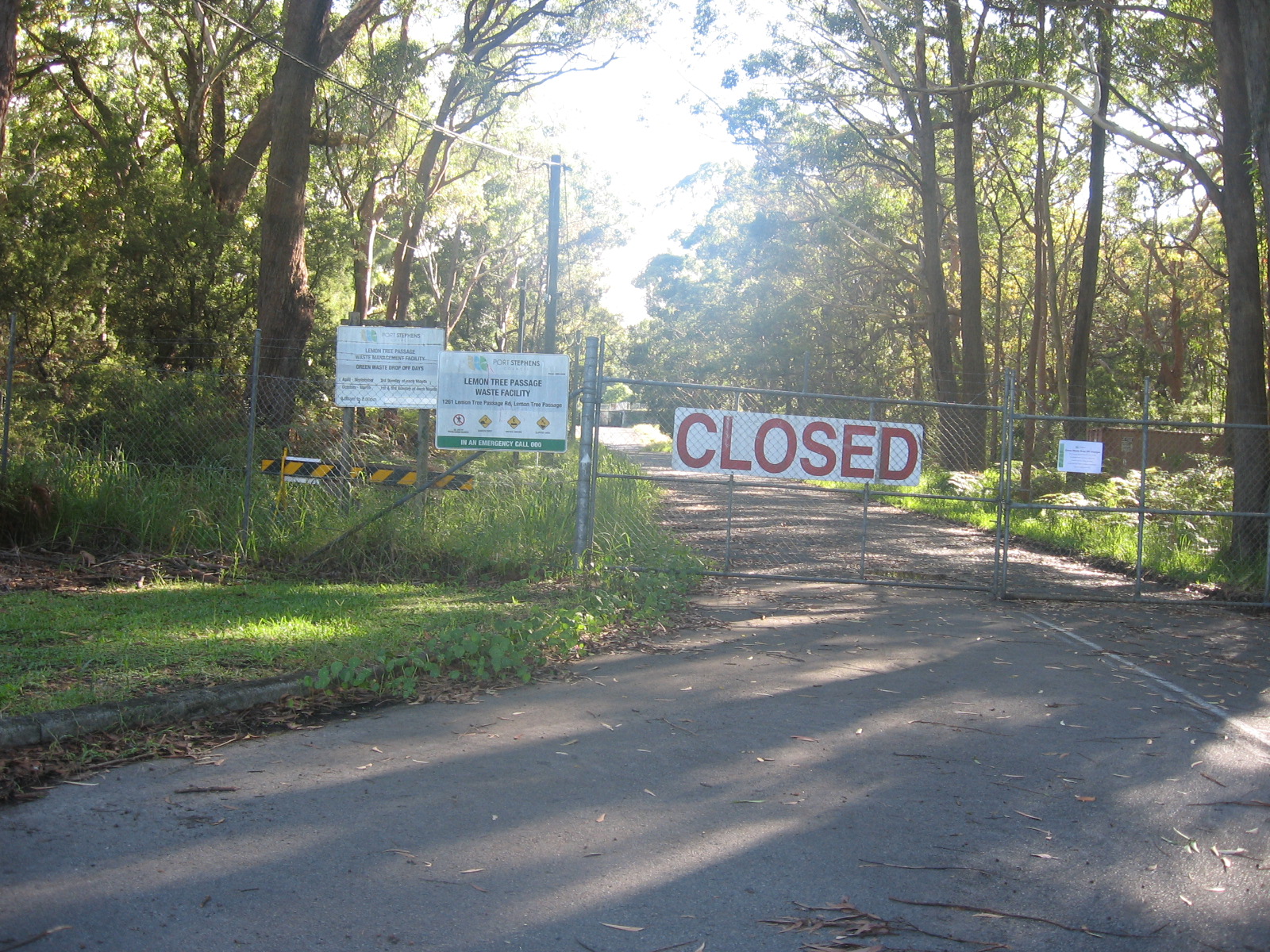 Tip Times
Local residents who have green waste to dispose of will be able to do so on Sunday 11th April 2021.
It has been a long time between drinks for those with tree loppings and other domestic vegetation to dispose of as the March open day was cancelled due to the flooding and the first Sunday in April fell during Easter.
Council has therefore penciled in the next open day at the Lemon Tree Passage transfer station as the second Sunday in April this year.
More details of council's waste disposal arrangements can be found by Googling: 'Port Stephens Council Waste Disposal.'
Photo: The LTP tip.....next green waste disposal day to be Sunday 11th April 2021.
---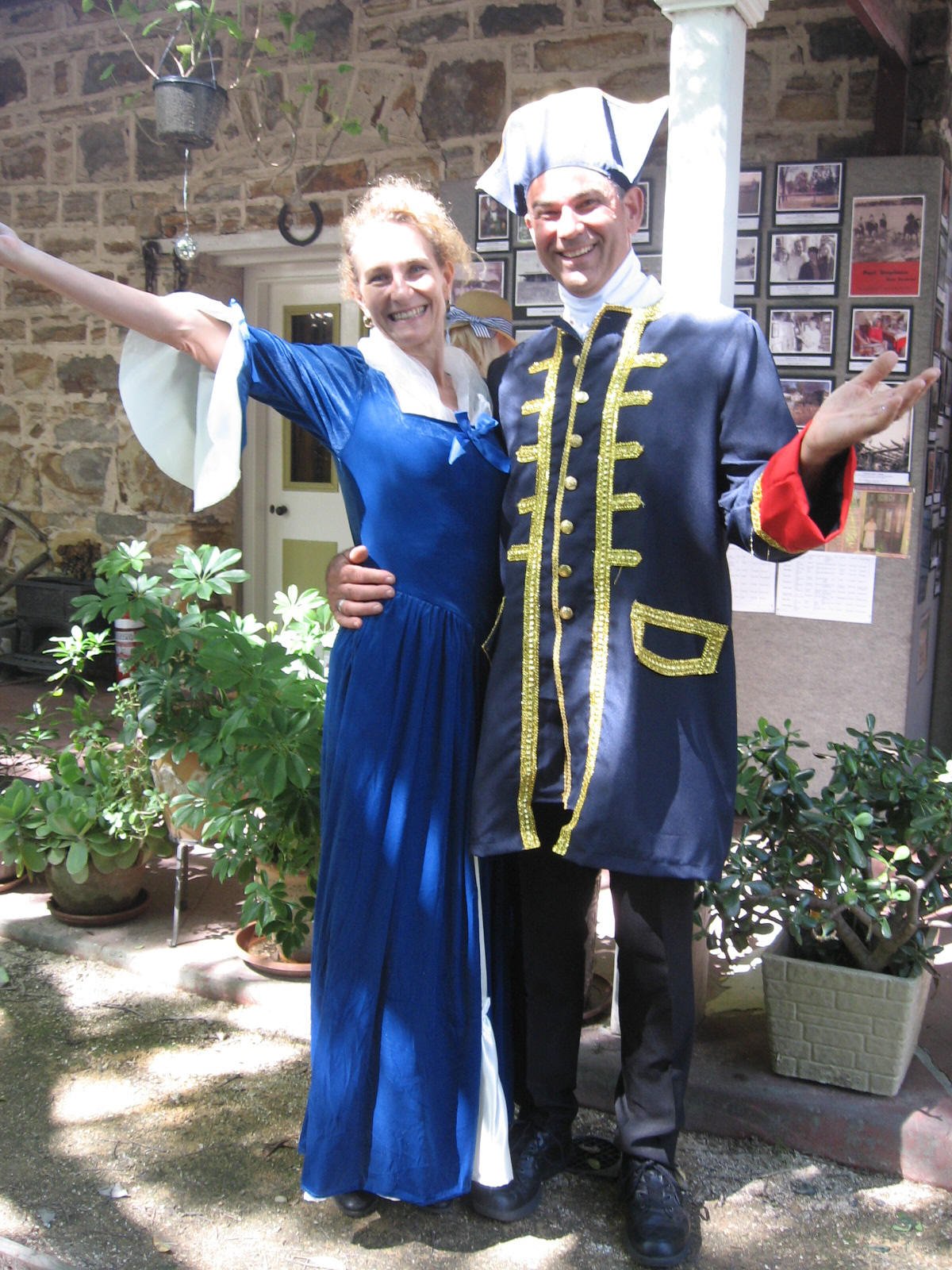 Resplendent Restoration
The 500 visitors who attended the 190th birthday celebrations of Historic Tanilba House were astounded by the restoration of the old convict built mansion.
Working in tandem with the heritage authorities and at great expense, Deirdre Hall and Glen Short now have the property in showcase condition and are taking bookings for weddings and corporate events.
The COVID scare saw the numerous planned functions set aside but things are now back on track for the enterprising couple.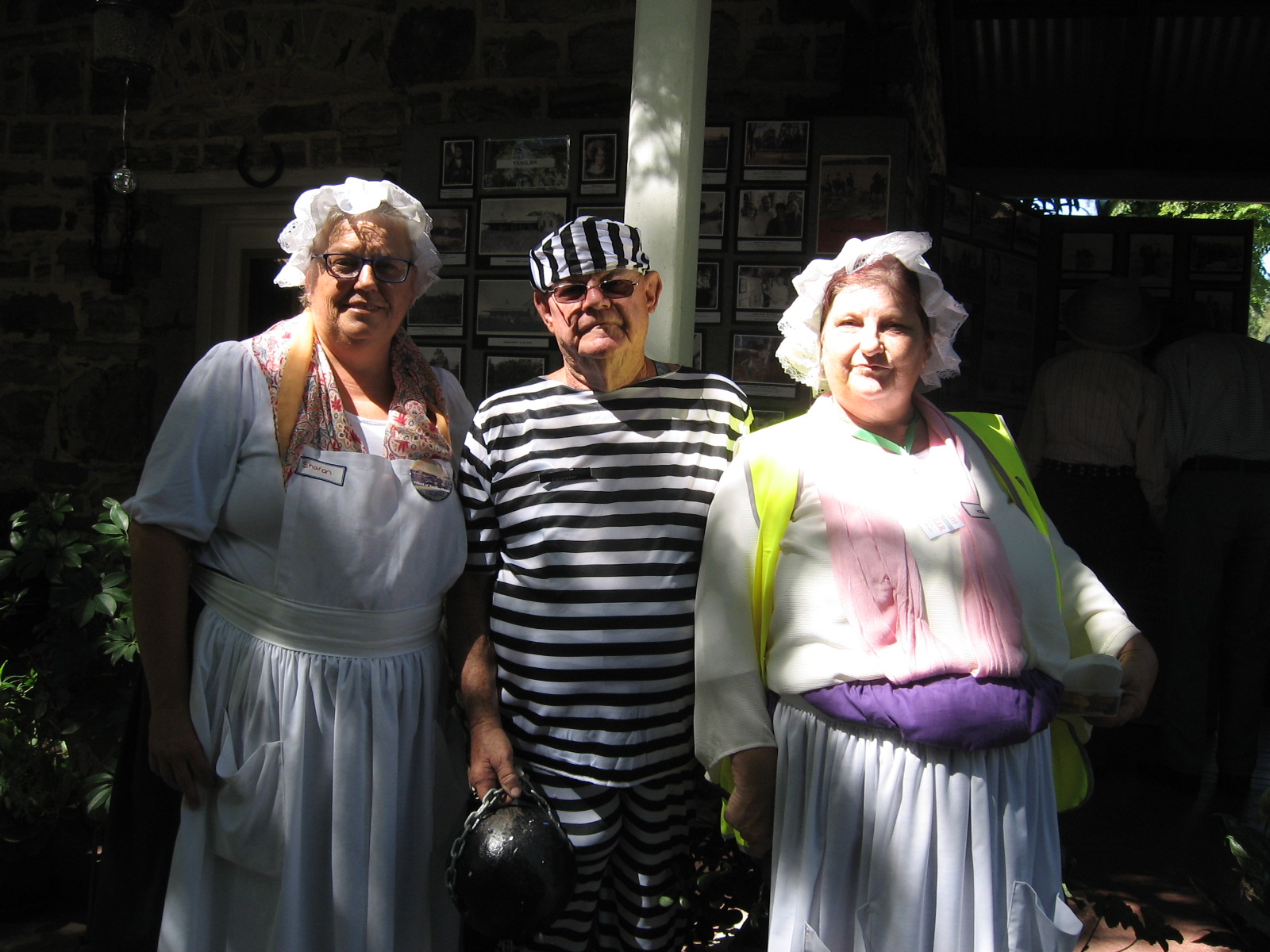 A great worry was that the 500mm (20 inches) of rain which fell before the big open day would spoil the event.
This didn't happen and three days of sunshine saw the lawns dry out and manicured. The position of the historic homestead on top of the hill greatly assisted in the shedding of the torrential rain.
Whereas some visitors chose to dress up in colonial outfits to add colour to the day, none looked more resplendent that the owners who very much resembled a colonial governor and his lady. Indeed, they stole the show.
Deirdre said that she was overwhelmed by the response.
"It was great to see the community coming together and interacting after such a long time with no social activity on the peninsula," she said.
Photos: Lady Deirdre and Lord Glen of Tanilba House ….... and convict caretaker Graham Delaney flanked by serving wenches Sharon Boots and Andrea Delaney.
---
Oyster Washout
With a record 600mm (24inches) of rain falling on Tilligerry in March 2021, the harvesting of local oysters has stopped at one of the peak demand times of the year.
Two sewerage spills have seen an automatic three week suspension of the sale of oysters but unlike other growers in the fast flowing river systems, there has been little or no damage to the leases themselves.
One grower was rather philosophical about the current situation:
"If the sewerage spill hadn't happened, we would have been shut down for two weeks anyway due to the rain," he said. "It's just a shame that it came at Easter which creates high demand and good returns for us," he added.
"I feel sorry for other growers who were less fortunate. The Nambucca River for example saw record flooding and some farmers lost entire leases after over 900mm (37inches) of rain" he said. "The leases fell victim to the fast flowing river and the debris washed down." he stated.
Photo: Prime Port Stephens oysters.......harvesting suspended
---
Sold by the Drone
Let's face it, Tilligerry looks very uninspiring driving in to the area. Low scrubby heath land, poor quality roads and a der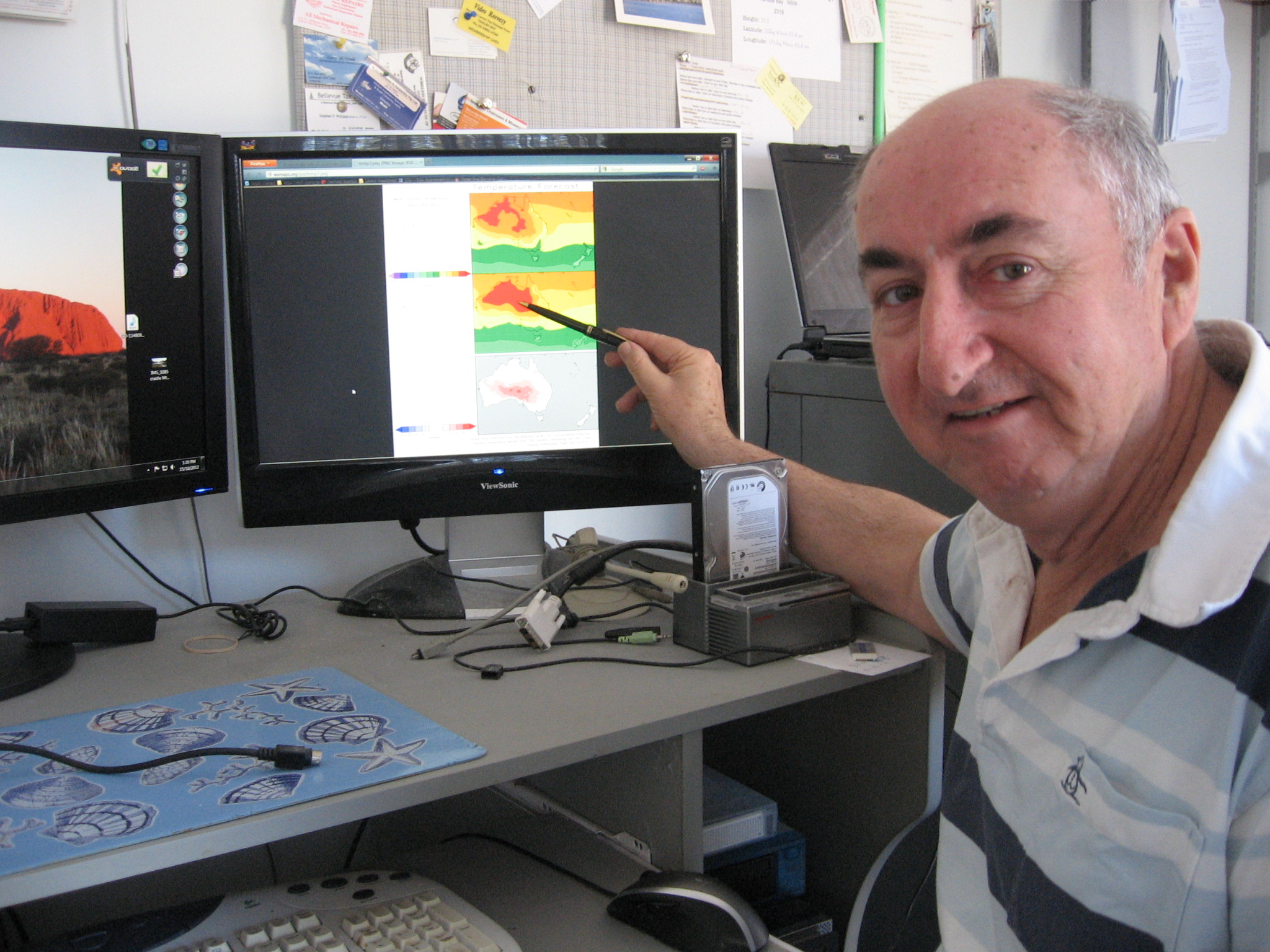 elict former shopping centre are not the type of things to excite prospective home buyers.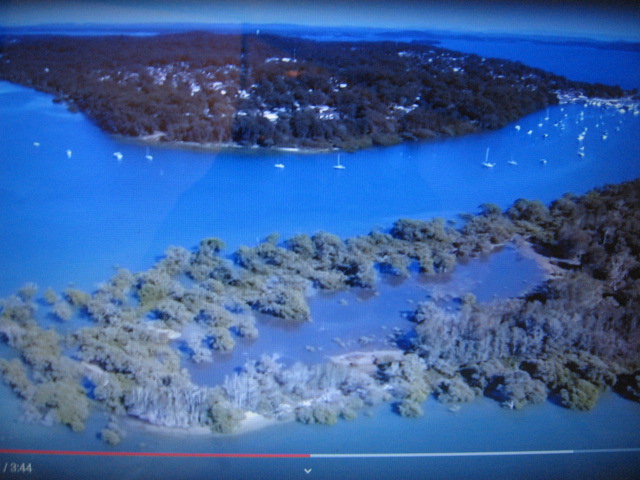 It's therefore rather amazing that real estate is undergoing a boom with houses selling the same day they are listed and even over the phone sight unseen.
One of the reasons that the area is so desirable is the waterfront setting and more particularly the drone footage and walk through vision of houses for sale. Indeed one waterfront home sold recently had 20 000 'hits' on the internet. (and that figure is NOT a misprint)!
Such is the current boom that three new real estate agents are active in the town.
Retired meteorologist Alan Gibson is the one locals turn to for all their weather information. He has freely available records dating back years and current updated readings of rainfall, humidity, wind speed and other information on his 'Tanilba Bay Weather' site.
Even more cativating are his drone videos which are freely available for all to view.
Look at the picture. It's a freeze frame from one of his series. Just punch in 'Alan Gibson drone Lemon Tree Passage' on a search engine and you can explore the area from the air.
One local agent puts it this way: " All you have to do is ask potential buyers to view some of Alan's footage and they will beat a pathway to your door."
Photos: Drone vision of Lemon Tree Passage ...and Alan at his Tanilba Bay weather station.
---
The Sandbaggers
Tilligerry Rural Fire Service station at Tanilba Bay has become a sandbag centre with the wild weather causing flooding of homes and businesses.
Long serving Captain George Brandenburg puts it this way:
"Council dumped a great pile of sand and bags beside the station and we have been flat out filling them, We went through about 200 of them," he said. "We also invited residents with water problems to 'fill their own' as we had many other jobs to do," he added.
Whereas the brigade was called away to previous floods, there was enough local work to keep them within the local district during the current crisis.
"We also have trained SWR (Safe Working on Roofs) members who went to Salamander Bay to tarp up homes," he stated.
The unpaid volunteers have enormous status in Tilligerry but the work load can be very demanding. That's why they are always looking for fresh faces to spread the workload in a variety of roles.
Want to put something back into the community? Just turn up at the fire station of a Wednesday night or on a Saturday morning and they will explain it all to you,
Photos: George receiving an award from the then Deputy Fire Commissioner Rob Rogers. and fire tankers ready to answer the call
---
Birthday Bash is
On
The skies have cleared, the rain has stopped and all looks set for a fine and sunny day at Tanilba House for their 190th birthday celebrations on Sunday 28th March.
It's dress-up and prizes for the best colonial outfits plus Devonshire teas, BBQs, displays and performances by local children and bands.
Entry is by gold coin donation and the hours set aside for the celebrations are between 10am and 2pm. See you there!
Picture: Ladies decked out in colonial attire
---
Turning Turtle
It is not uncommon in Port Stephens to find dead or injured turtles wallowing in the shallows or dead on the sands.
Indeed, with increasing use of the waterways by recreational fisherfolk and boaties, between five and ten of these creatures fall victim to propeller strike each year.
They have also drowned by becoming enmeshed in 'witches' hats' crab traps before they were banned.
There are three distinct types of turtles which frequent the waters of the Port Stephens and Greater Lakes Marine Park . These are the green turtle, the hawksbill and the loggerhead. What's more they are tagged and radio tracked. They even have names, such as 'Crabby,' 'Jodie,' 'Lucy,' and 'Max'.
Long time local Mike Colecliffe, a sailor and marina manager sees quite a few.
"Years ago I found a dead one on Bull Island but I think it died of natural causes as there were no marks on the shell," he said. "I also recall our Coast Guard vessel rescuing one in distress," he added.
"There are still a lot of them around and we have to keep a weather eye out for them during our Sunday races off Tanilba Sailing Club," he concluded.
Photo: A much younger Mike Colecliffe with the giant turtle he found years ago on Bull Island Lemon Tree Passage.
---
Bin Chicken Bonus
Once considered a sacred bird by the ancient Egyptians the ibis is now something of a pest. You see, it was drought that sent them from their natural habitat of the inland marshes to take up residence in coastal areas and it looks like they are here to stay. Sydney alone boasts some 10 000 of these avian vagrants.
They have even been given unflattering name such as 'bin chicken', "tip turkeys' and 'picnic pirates.' This is because they are bold birds which pester picnickers for food and rummage through garbage bins.
They have, however gained something of a cult following amongst the young with it becoming fashionable to have images of the bird tattooed on wrists and ibis graffiti gets sprayed on city walls near the garbage bins behind restaurants.
But, dear reader our local white ibis are currently on something of a health kick and there is a reason for this.
The wet summer has produced a phenomenal growth in grass. Indeed our council mowing teams just can't keep up with their rotational maintenance program of parks and reserves. Apart from phone calls about potholes created by the incessant rain, PSSC has been inundated with complaints about the long grass.
You just won't find the white ibis (Investikiorinis molucca) annoying people in Henderson Park Lemon Tree Passage these days. They aren't even fighting the pelicans and seagulls for scraps of food and discarded chips.
You see, they have taken up station in the large grassy park near the sewerage pump house and are snaffling the grubs and worms which have been forced to the surface by the rains.
If nothing else, this change back to their natural diet can only but help their health. We'll just have to see what happens when the dry weather returns.
Meanwhile enjoy your ibis free picnics while you can.
Pictures: A 'bin chicken' eating garbage in the city and ibis 'back to basics' in Lemon tree Passage.
---
History Repeats Itself
To commemorate the sesquicentenary of the landing of Lt. Caswell, a re-enactment and gala day was held on the foreshore at Tanilba Bay in 1981.
A large sailing boat hove to and a landing party was rowed ashore to be greeted by local natives. The Union Jack was raised, a cake cut and a commemorative stone unveiled. It was later set in the central gateway column at the main road intersection.
Those present were then taken on a walk around the perimeter of the historic homestead but were not permitted inside the grounds as it was privately leased at the time. A great day was had by all.
Relations with the indigenous people were very good in the colonial times. Indeed the recently published 'History and Heritage of Tanilba House' (2019) states that: 'The Worimi and Lt. Caswell's family certainly had res
pect for one another and a peaceful co-existence and inter-cultural exchange developed between them which saw the Aboriginal people undertaking seasonal work for rations and tobacco alongside convicts, and, also sharing knowledge.'
History is about to repeat itself with the new owners of Tanilba House celebrating the 190th anniversary of the colonial mansion on 28th March.
There will be an 'Open House' and activities including Devonshire teas with local schools performing along with brass and ukulele bands, dance groups, cultural displays and a Lions Club BBQ.
Dress-up is the name of the game so why not get an outfit ready for the day? Serving wenches, convicts, parsons, military men and sophisticated colonial ladies would add great atmosphere to the day. What's more there are prizes for the most impressive outfits! Entry is $2 and the celebrations will be between 10.30 am and 2.30 pm.
Pictures: The landing party arrives......Being greeted by the local indigenous people.......and....A 'colonial' couple.
---
When Waterfronts Were Free
Just recently a waterfront property at Tanilba Bay sold for over $1.5 million. This price was achieved just two weeks after being listed and buyers are still swamping agents with enquiries about similar properties.
There was however, a time when you could 'own' your own private waterfront and even build your own 'private' boatshed and jetty without paying anything.
Mallabula Point used to have several boatsheds erected on its rocky foreshore with rails leading into the water. One even had a motorized winch for hauling in a boat. It's owner, George Harper, could launch his boat, run his gill net and be back home in a bit over 20 minutes! There was also a 'private' jetty nearby which anybody could use.
That changed when council notified the owners to demolish the illegal structures or they would do it and bill them. Suddenly nobody claimed ownership and council tore them down.
They did however leave the jetty which, over the years was maintained by locals until a $100 000 Federal Government grant saw a new one built.
Other waterfront structures came under the umbrella of 'permissive occupancy' and without doubt the one owned by 'Skipper' was the most interesting. It sat in the middle of Henderson Park where the play equipment now stands.
Old Skipper had no water or sewerage connected and used the public amenities block. He had a pet white cockatoo to ward of intruders and sold fresh crabs which he would net in front of his house.
The council tried to get rid of him but he refused to go. Indeed, his brother moved in when Skipper died and dug in as well. Finally when he too passed on, the bulldozers flattened it.
The last of the boatsheds was at 'The Gibbers'. Our then Coast Guard tried to get possession but failed, bringing to an end a time when waterfronts were 'owned' by simple fisherfolk and holiday makers at little or no cost.
Sad, isn't it?
Photo: The Davis family and others at the old Gibbers boat shed
---
Archover
The visionary developer Henry Halloran marked the centenary of the settlement of Tanilba by constructing an arched gateway
at the bottom of Avenue of the Allies.
Two types of stone were used which came from the Mallabula quarry and from the conglomerate rock found along the foreshore. Bollards from the original HMAS Sydney were placed on top of the structure. This light cruiser found fame during in WW1 by sinking the German raider 'Emden'. Using superior firepower, it drove the stricken 'Emden' ashore on the Cocos Islands in the Indian Ocean. The second HMAS Sydney was not so lucky. It got too close to a disguised German raider in the same ocean during WW11 and was sunk with the loss of all hands. This was the greatest tragedy in the history of the RAN.
The original arch proved to be too low and flat for school buses and trucks to pass under so it was cut off, restructured with a higher arch and welded back on top or the older brackets.
The Avenue of the Allies is soon to be given a major makeover with over $3 000 000 being earmarked for a total rebuild which includes drainage, widening and kerbing and guttering. This will happen once the $1 300 000 rebuild of Tanilba Rd Mallabula is finished.
Photos: An early photo of the arched gates....and workers rebuilding the higher arched gateway.
---
Police 'Stupidity'
"If the police property section knew the background to the proposed new station in Tilligerry, they would think twice about their decision to site one in Lemon Tree Passage."
These are the words of long time campaigner Doreen Bradley and reflect the sentiments of the vast majority of residents.
Over to Doreen for the story;
"The best policing we ever had was when we had a resident officer who was left alone to do his job, "she mused. "You could ring him at any hour of the day or night and he'd be on the spot immediately for serious offences," she said. "One officer was even known to turn up to a crime scene in his pyjamas with his gun!" she added.
"This changed when a new commissioner centralized control in Maitland. If our local officer received an emergency call at night, he would phone Maitland to 'clock on' and was told not to respond as the incident would be 'prioritised.' This meant that a couple of officers would arrive a day or so later. The system just collapsed with crime running rampant," she stated.
"This community ran a relentless campaign to get policing back on track and it worked," she said." We started our own 'buy a cop' initiative which went viral nationwide in the media and 'A Current Affair' was in town twice. We also conducted a very effective Crime Forum." she added.
"These actions put pressure on the Minister and the Commissioner to the extent that the new Port Stephens Co
mmand was established and things improved," she asserted.
"The overwhelming push out this way was to see a new station built in RAF Park Tanilba Bay and two permanent officers appointed," she said.
"We now find that the police have wasted $500 000 buying an old house in LTP. It is riddled with asbestos. They plan to demolish it and dump a prefabricated 'dog box' station on the site. It just won't work," she said.
"Considering what we've done over the years to improve policing it is insulting to us to be treated with utter contempt. Policing is about working with communities, not against them. They haven't heard the last from us, not by a long chalk," she concluded.
Crime forum member Cr Steve Tucker echoes Doreen's concerns:
"They know of Council's offer to gift them the RAF Park site but have refused to engage with the community on the issue," he said.
"All the community got was a staged media release outside the current rented premises in Lemon Tree Passage and they then disappeared," he stated.
"The police property section and the minister have made themselves items of ridicule by the general public. Crime is no longer the problem at the moment. A huge problem has been created by those responsible for the logistics and administration," he added.
Photo: Doreen Bradley OAM....."Residents treated with contempt by police property section".......Steve Tucker "Logistic mistake with station site.".....and the current rented station in LTP.
---
Jewellery Found
We have found a piece of jewellery outside the LTP Community Library. If you have lost something in the past week or so, please call in and give a description so we can return it to you. We are open from 10-12 noon Monday to Saturday.
---
Fisheries Need Feedback
With the retail price of mud crabs hovering around $60 per kg they were a
much sought after crustacean by both professional and recreational fisherfolk ali
ke. They still are, although the price has crashed to around the $20 mark. This was the result of the collapse of the export market to China.
It is believed that recreational fishers catch more mud crabs than the professionals and that is why researchers need our help.
The mud crab's life cycle is fascinating with the females spawning at sea. Each carries some two million to five million eggs under the flap beneath their shell and the hatchlings drift into bays and inlets to complete their life cycles. They live for about four years and NSW is one state where you can keep female crabs as long as they are not carrying eggs. Females are easily identified as they have smaller nippers and a larger flap than the males.
Mud crabs feed at night, spending their days in burrows around the foreshore and in the mangroves.
Fisheries researchers want to know more and here is where you can help. If you catch any mud crabs, look for a 'T bar' tag which is attached where the swimmer fin joins the main body of the crab. Note the details of the tag number, the location of the catch, the date caught and the shell length.
Ring fisheries on : 49 82 1232 and they will use the feedback to expand their knowledge and ensure a sustainable future for the mud crab in Port Stephens.
Photos: Local crabber 'claws' with a prime mud crab.......and a boat ramp sign requesting details for research.
---
A Fairytale Ending
In these uncertain times it's enlightening to hear an inspiring story that lifts us out of the gloom and leaves us with a warm fuzzy feeling and in some cases a tear in our eye.
To set the scene for our tale we have to backtrack to 1962. These times were very different to the open permissive social ones of today. Children were raised in a strict way where obedience was the iron rule and the word of adults was law.
It was in such an environment that a then 16 year old girl (now Judy Camm) found herself in a catholic home for unmarried mothers and her infant daughter taken from her arms. Nothing more was said about the matter and she was sent home to get on with her life.
Fast forward some 25 years and a certain Louise Wilkins hears family rumours which suggest she is an adopted child. When questioned, her adoptive parents tell her the truth and Louise is given the documentation.
Then begins her tentative correspondence with her birth mother Judy, which leads to an emotional reunion. There are a lot of tears as the pain of the past melts away and the two become friends.
Louise puts it this way: "I was welcomed with open arms into a whole new family." she said. "There was no shame felt on either side and Judy's husband Geoff and I get on well. We both refer to one another a 'Number One", she added.
Judy's greatest worry was that her daughter had been cared for.
"I was greatly relieved that Louise had been taken in by a caring, loving family and had a happy life," she said.
Meanwhile, Geoff sees the same mannerisms in both women as they go about their daily lives.
"They are just like two peas in a pod," he remarked.
Louise lives in New Zealand but has just recently come to Australia to tour the coast and inland with her partner. Her home base is Lemon Tree Passage.
Judy reflects on her experience of all those years ago: " They were very different times which reflected the attitudes of the day. We are all prisoners of our upbringing and my experience was not unusual.
In fact, my aunt (mum's sister) had a daughter who was in the same predicament as me. Neither of them knew about the other until the truth was revealed many years later," she remarked.
Photo: All's well that ends well.......Judy, Geoff and Louise in Lemon Tree Passage,
---
Tanilba Shores
Our Tilligerry Peninsula has often been referred to as 'Gods Waiting Room' because of the large numbers of retirees residing here. That's changing with many younger families now moving to the area.
Some 40 odd years back those residing here saw the need for a Seniors Citizens Centre and some holiday units. Gordon and Mary Wymer were the driving force behind the project which later grew to become the complete care centre and residential units we have today known as Tanilba Shores Retirement Living.
The large hall was built first which incorporated a shop, a kitchen a library, a games room and a spacious open area for the older residents to gather for social interaction and entertainment. It bears the name of Jim Brown who was the first president of the Senior Citizens Association.
Further state and council funding saw the village grow into a first class aged care facility we have today.
Bruce Mac Kenzie played a pivotal role in expanding the development into a forty bed facility, laying the foundation stone in 1993. He also chaired the management committee. The hall is still very much in use and all activities are advertised on a sign out the front.Their annual fete is a much looked forward to event on our social calendar.
Photos: Gordon Wymer and Bruce Mac Kenzie on site in the early days...and the annual fete which draws strong patronage.
---
---
Book Donations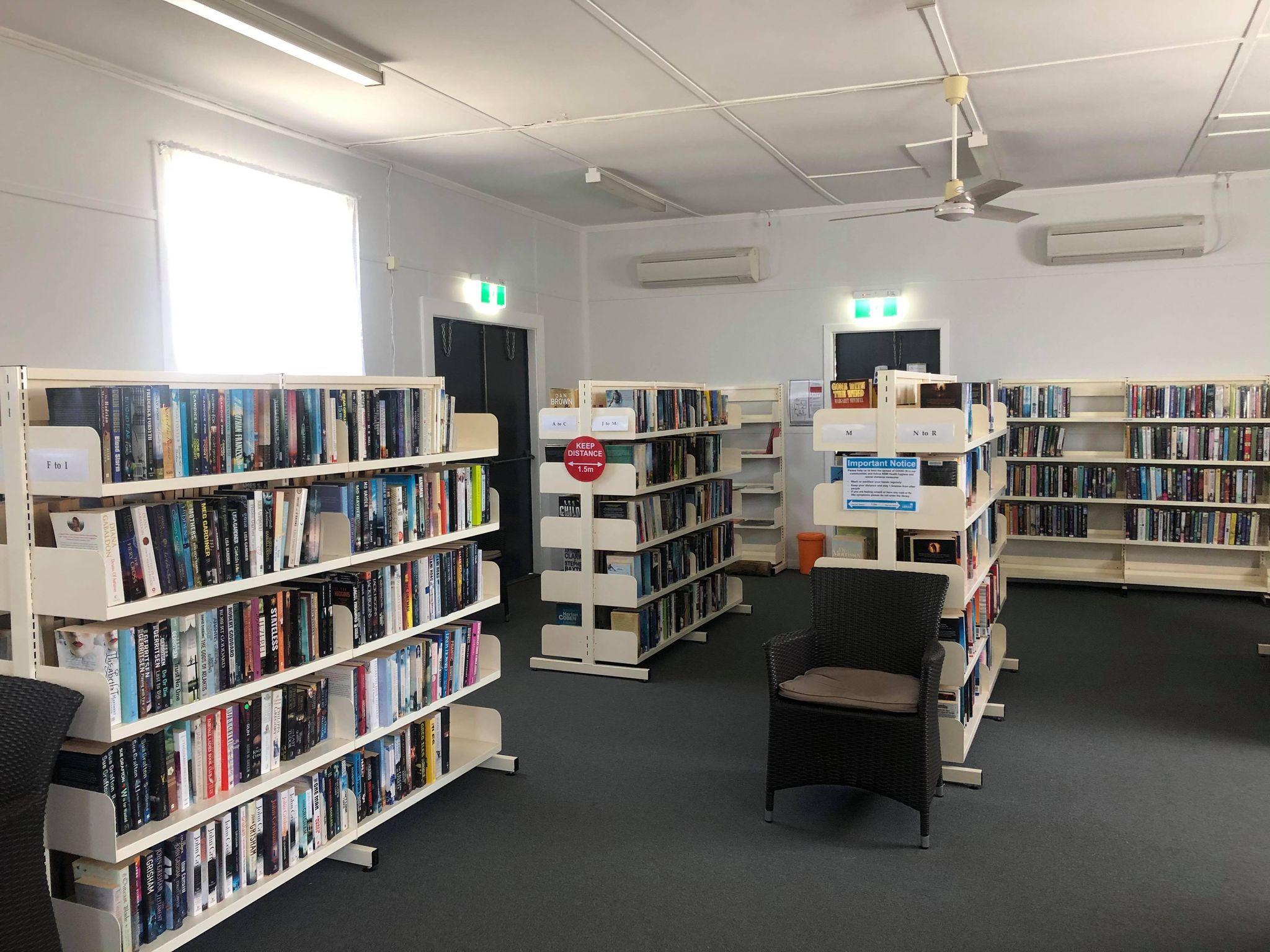 Tilligerry Community Library ha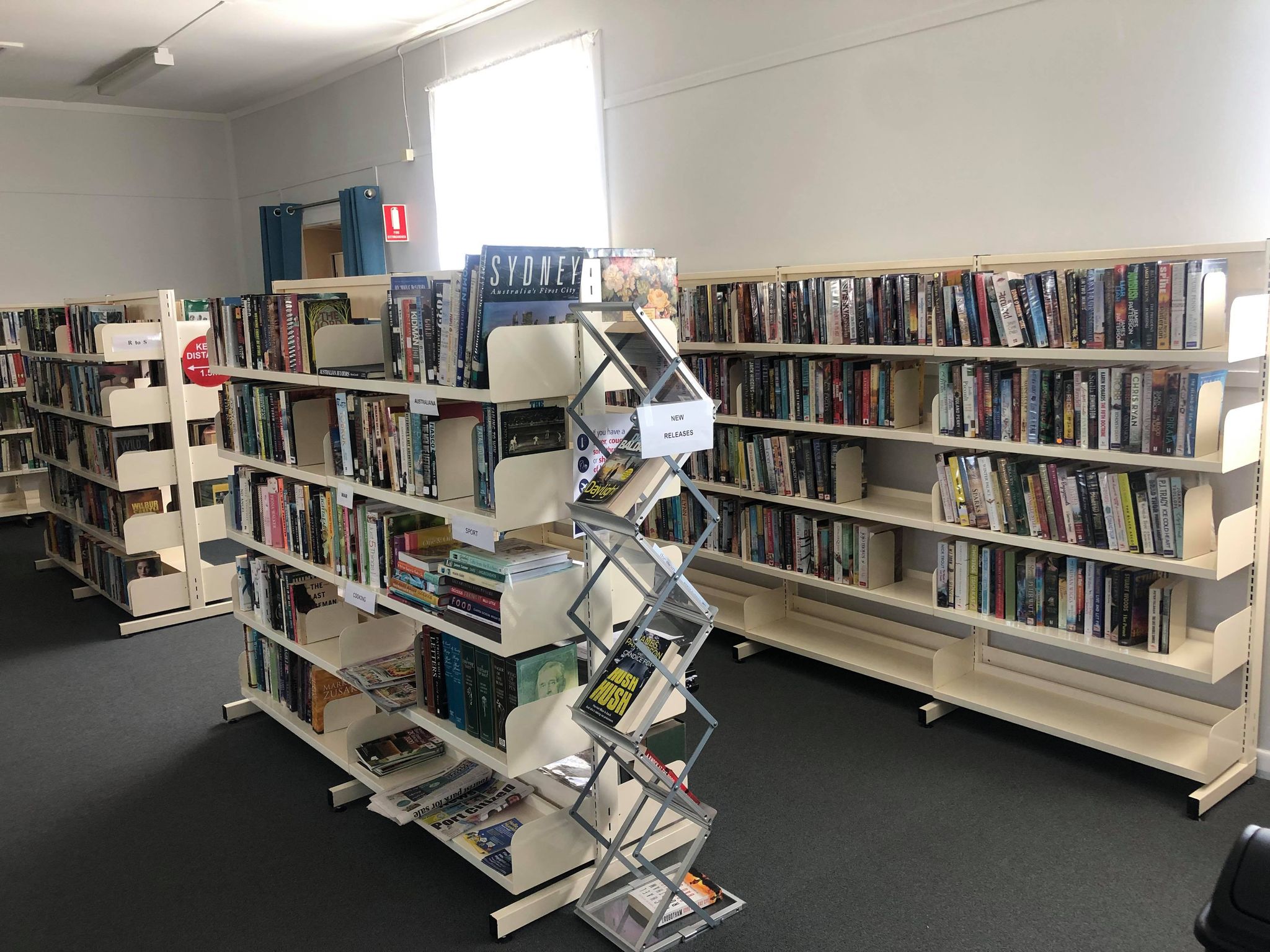 s always enjoyed the support of the community donating their books. Whilst we do appreciate them, we can only accept them with prior consultation. Our hours are 10-12 noon Monday to Saturday and our phone number is 4982 3477 if you wanted to call up or pop in and check with us before bringing them in. Please don't leave them at the door.
---
Pensioners Free Petrol
Remember the free travel card seniors were given last year? Well dear reader, you can get another one for 2021.
Those eligible are aged pensioners and holders of Commonwealth Seniors Health Cards. It also applies to some categories of veterans.
Most recipients choose to use them to buy petrol and Jaz our local service station owner is happy to accept them.
Individuals get a debit card for $250. That means $500 courtesy of our Premier for a married couple. You can check your balance over the phone.
Just ring 13 77 88 and all will be revealed. A new card will arrive in the mail a couple of weeks later.
Oh! Have your old card and pensioner or seniors card on hand to apply.
Photos: New $250 card issued for 2021...and Jaz our friendly local servo owner.
---
Butchers Steak Their Claim
Lemon Tree Passage has a new butchers' shop and convenience store run by long
time experienced professionals Peter Neely and Robert Owen. The dynamic duo just wanted to 'give it a go' after many years in the retail game working for bosses.
Peter puts it this way: "We feel that there is a niche market that the big supermarkets just don't cater for and we believe that we can fill that gap," he said. "All of our meat and eggs are grower sourced and quality is the name of the game," he added. "We will also be moving with the times and catering for the increasing demand of online ordering," he remarked. "It is very much the way of the future."
The shop also stocks fresh fruit and vegetables and a wide variety of convenience items.
Just google; 'the butchery at lemon tree' which will give you full contact details and information.
Photo: Robert and Peter ready to serve you in their LTP corner store butcher's shop.
---
High Tech Tennis
Tilligerry Tennis Club is moving ahead in leaps and bounds after a joint State Government / Shire Council $200 000 ca
sh injection. This has seen a major makeover of the clubhouse, its surrounds and the facilities available to members and the public.
But there's more!
An extra $16 000 State Government grant has converted the club's booking, access and payments system to a fully automated one whereby an online function on a mobile phone handles it all.
This, in turn, does away with the need to pick up keys, pay for court hire or to have members of the committee open up the gates.
The club looks forward to yet another year of growth with plans for a practice wall and continuing involvement with Tanilba Bay School's sporting initiative.
Its home page gives full details of the club and the upgraded system.
Tilligerry Tennis Club is part of the Mallabula sports' complex and is located directly behind the Aquatic Centre at the end of Strathmore Rd.
Photo: Online tennis tragics Suzanne Costa, Helen Tucker, Sue Dorey, Ruth Hack and Margaret Diment on the net at the Mallabula courts.
---
Rocky Road
The various stone structures around Tilligerry have an interesting history and Tanilba House has more than its fair share of them.
The original homestead was built from stone retrieved from the site itself or close by around the foreshore. Burnt oyster shell was used as mortar to point it up.
The arched gates, those at the main road, 'The Temple' and other features were added in the 1930s by legendary developer Henry Halloran with a certain Mr Crawley, a local, carting rock to the construction sites.
If you look closely, there are two types of stone used. The rounded rocks are part of the family of 'conglomerates' which are cemented into a sandstone-like material which can be easily broken up. Along Tanilba's foreshore you can still see large conglomerate boulders put there in earlier efforts to control foreshore erosion.
The other type is an igneous rock and this was blasted from a quarry behind the Vince Woodman oval at Mallabula. This type of rock is hard and brittle. When struck with a sledge hammer it actually sends sparks flying.
The last time stone was extracted from this site was in the 1980s when the local fire brigade needed some decorative rock to build a garden in front of the fire station in Lemon Tree Passage. A friendly RAAF demolition officer agreed to blow it up for them but he needed an excuse to do the job.
Bernie Henderson, the fire captain, rang the base reporting a suspicious object in the old quarry which looked like an unexploded bomb. Out came the experts and a huge explosion rocked the town.
So much stone was blasted that the firies had enough not only for their station but plenty left over for paving and edging at their own homes. The edging still surrounds a little garden outside the old station which is now an arts and crafts centre.
Another quarry operated in Lemon Tree Passage for many years. We might tell its story some time down the track.
Photo: 'The Temple of the Story' below Tanilba house...built in the 1930s.
---
More than Just a News Service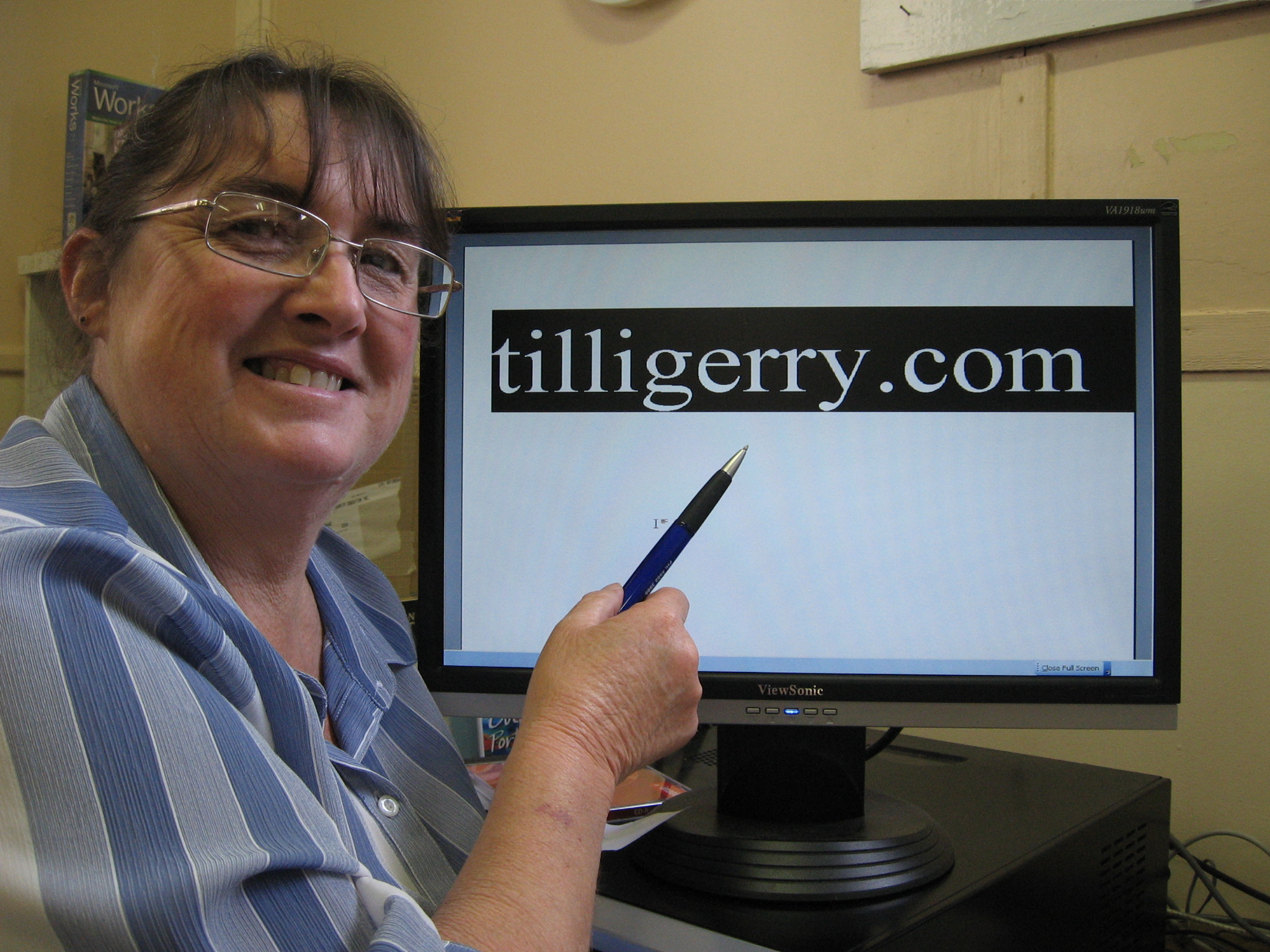 You've seen our illuminated sign 'tilligerry.com' beside the main road near the golf club as you drive into town at night.
With news services moving away from the print media, tilligerry.com for over 10 years now has moved with the times and gives local residents the news that they can't get anywhere else. Indeed, those travelling around Australia or internationally can keep up to date with a click on a mouse or a mobile phone.
Before our 'hit meter' broke down we were averaging around 2000 views each month. We have a few businesses supporting us but we really don't want advertisers as we are a not for profit community service.
That's not all! Each year we run a national Literature Award (a short story competition) with the support of PSSC, Club Lemon Tree and News Of The Area.
On top of this we offer the public internet access, assistance with the operation of electronic devices and photo copying.
It gets even better. There are constant requests, usually from residents new to the area, for general information about available services and organizations out this way.
We now have an extensive community directory listing some 80 of these which includes: churches, clubs, social groups, cultural events, schools, tourist information, community support, JPs, medical services, play groups and pre schools.
For more details scroll to the bottom of this page or click on 'Literature Award' and 'Community Directory' in the left hand green side bar.
Photo: tilligerry.com more than just news.
---
elebrating the re-opening.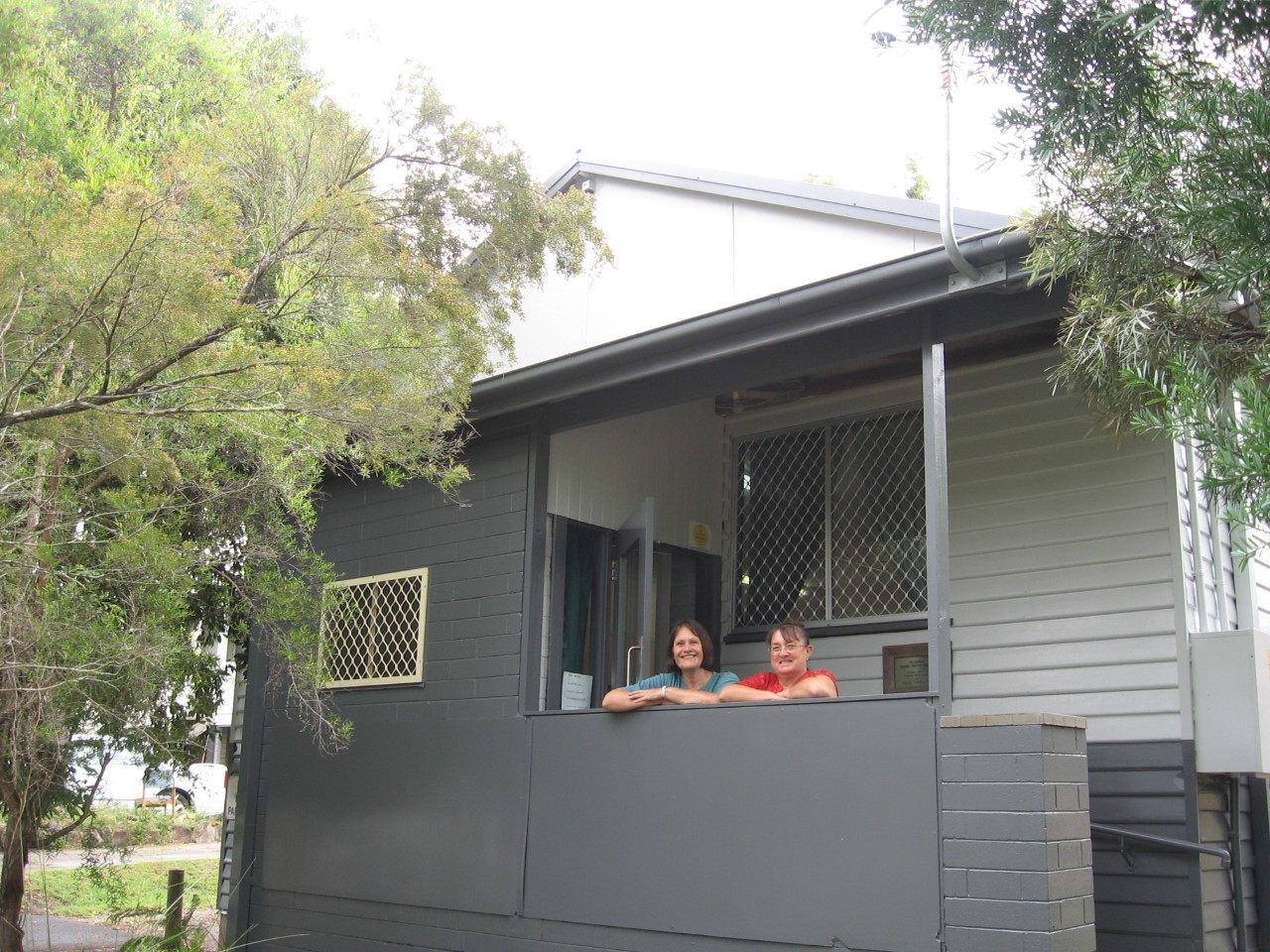 New Community Directory
As the Tilligerry community expands and changes, there is the need to provide residents (particularly newcomers) and tourists with a directory of service groups, clubs and businesses. With this in mind, TACE (Tilligerry Adult and Community Education) will be compiling one in the near future.
It will be available in both an online and printed format.
TACE works under the umbrella of PSSC and coordinates community groups such as art, lead lighting, family history and mah jong. It has its home base at the LTP library. It also publishes tilligerry.com our local online news service which has grown to be the major source of local news for residents .Most months it gets over 1500 'hits'. The Port Stephens Literature Awards, a national short story competition, is another initiative of TACE and is run by volunteers.
If you would like to publicise your club, social group or business, email basic contact information to: tace@tilligerry.com and it will be considered for inclusion. There will be no charge for this service.
Photo: TACE volunteers Helen Mizrachi and Sue Hamilton at the library.