It's on Again!!!!!
Port Stephens Literature Award 2021
We are having issues with the link in the sidebar, if you have any questions please email us on tace@tilligerry.com and we will get back to you asap.
There is information further down our website (news story). Good Luck!!!
---
Literature Awards 2021
The annual Port Stephens Literature Awards are now open for entry.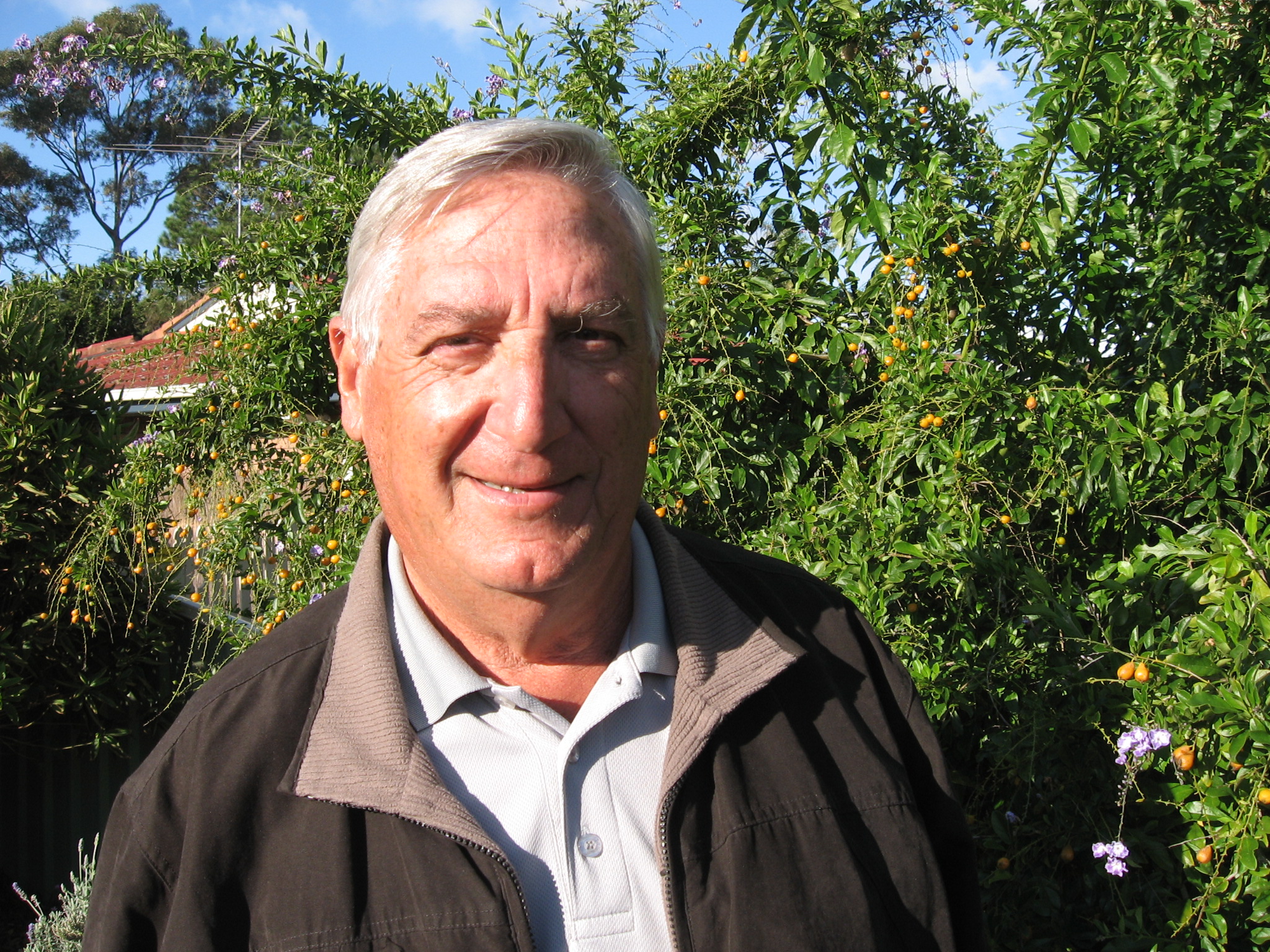 They have been running for over 15 years and are for short stories of up to 2000 words on any topic. Prize money this year totals $1100.
They are sponsored by News Of The Area, Club Lemon Tree and Port Stephens Shire Council.
Long time judge and president Kevin Colman said that Club Lemon Tree was proud to be part of the awards for such a long time.
"Our club believes in putting as much back into our community as possible and Tilligerry Adult and Community Education (TACE) who run the awards, is one local group to benefit," he said.
"Even with our cash flow reduced by the Covid lockdown last year we were still able to support most of our sports teams and a diverse range of community groups," he added.
Entries are accepted until 30th September and full details can be found on tilligerry.com
Photo: Kevin Colman: 'Awards now open for entry.'
---
Circumnavigator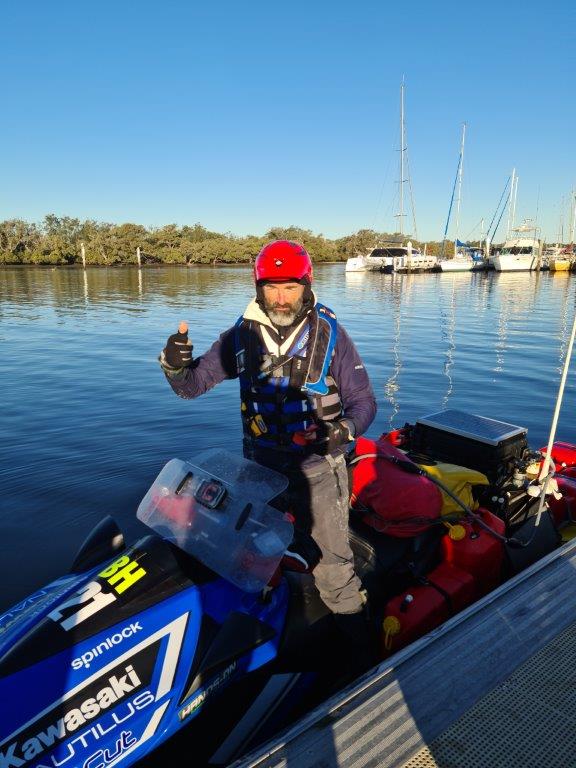 Lemon Tree Passage was a stop-off point for solo circumnavigator Lindsay Warner on Sunday 27th June.
The South Australian resident started his epic jet ski journey on Apri 1st this year from Albany WA and after crossing the Great Australian Bight he worked his way up the coast of Victoria and NSW. He covers around 400k per day, weather permitting.
High seas and the Covid lockdown in Victoria slowed his progress somewhat but he has had no mechanical problems at sea and tows a pontoon behind his craft carrying fuel tanks.
Dorothea Willey from Tanilba Bay who greeted her friend at the foreshore said that Lindsay took all safety precautions which included a satellite phone and a beacon.
"We watch his progress via a satellite tracker," she said. "We met him in outback WA when he was on a solo motorbike trek," she added.
"Lindsay spent the night ashore in Lemon Tree Passage before continuing on his epic Australian circumnavigation," she remarked. "We wish him well," she said.
Photo: Lindsay pauses for a break at the Lemon Tree Passage public wharf.
---
Elementary Dear Watson
Long time residents of Lemon Tree Passage will well remember the old family home of the Doyles. It was situated at the end of Cook Pde and sat up on wooden piers.
Some thirty years ago a humble home handyma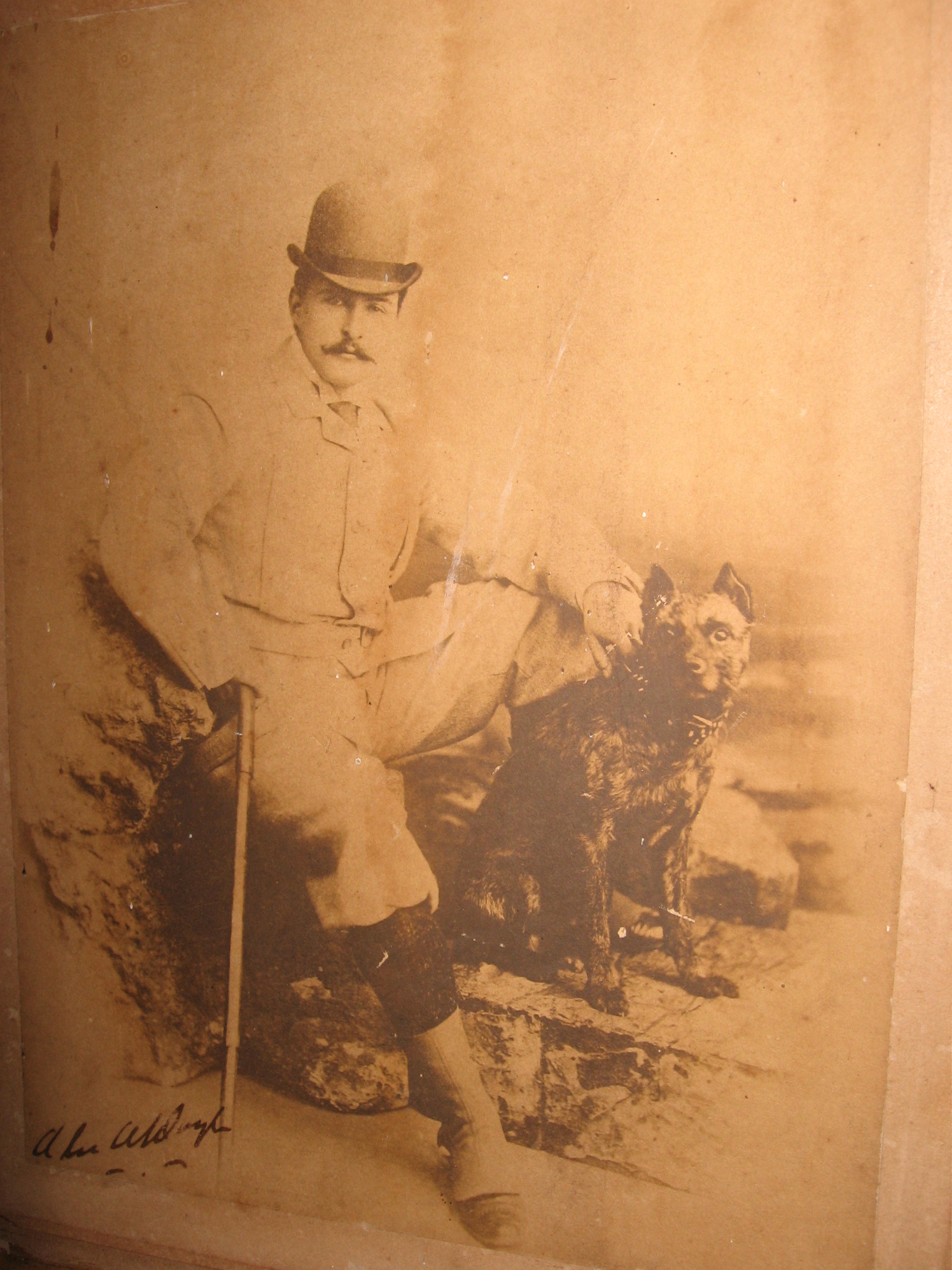 n was cross bracing the piers as the derelict house was getting a distinct lean to it and was threatened with collapse.
It was here that he discovered an open tin chest with documents and photos littering the ground. These found their way to local historian Jean Truebridge who put them all together and a fascinating paper trail involving a distinguished doctor, the Governor of Queensland and the author of 'Sherlock Holmes' began to emerge.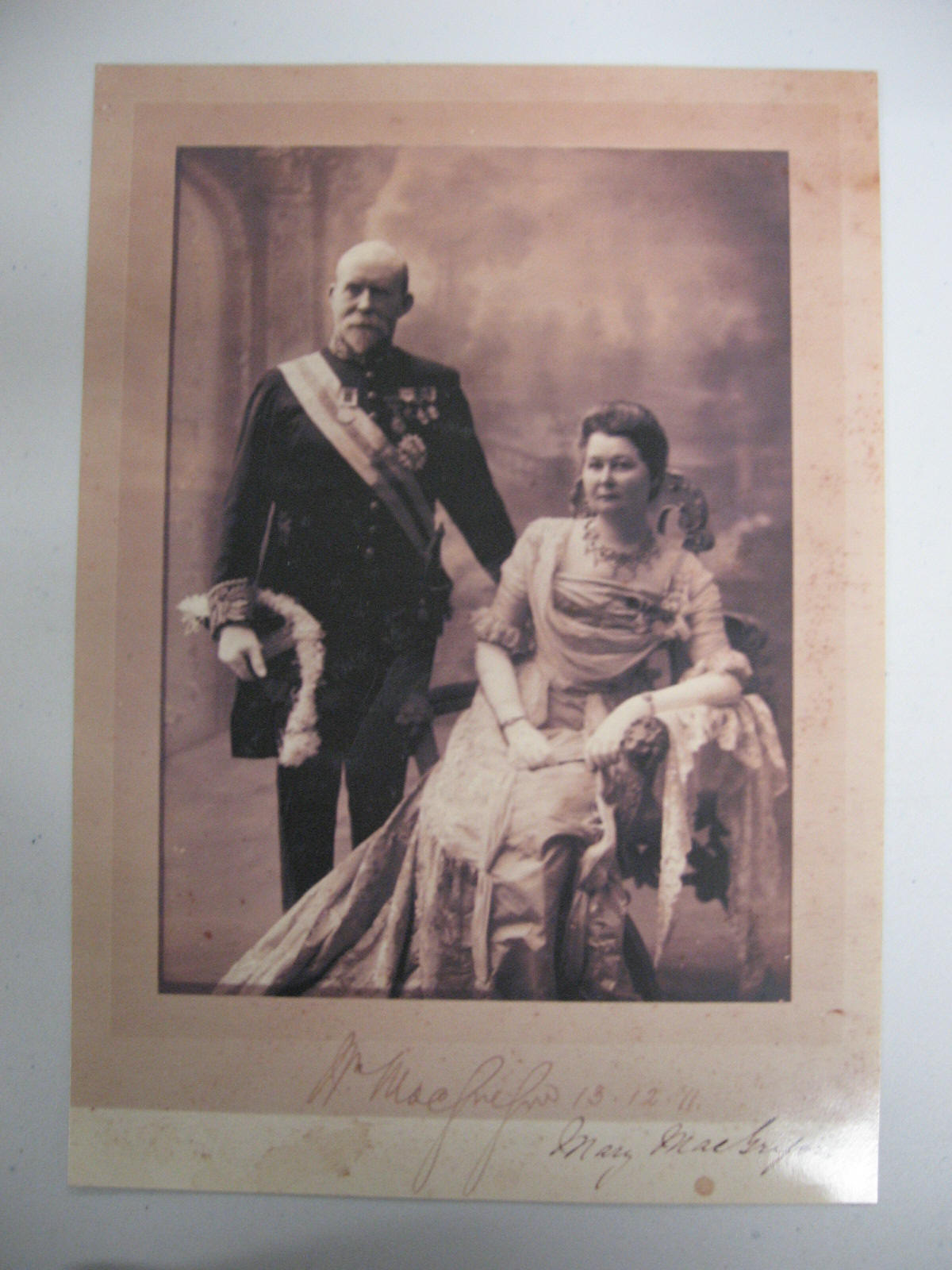 Our story begins with the Boer War where two cousins, Drs A A and AC Doyle see service as medical officers in South Africa.
After the conflict they go their separate ways, one becoming a famous author. He is best remembered for his series of 'Sherlock Holmes' books where a super sleuth and his bumbling assistant solve many crimes which baffle the hapless police. Holmes explains his brilliant deductions to his helper with the catchphrase: 'Elementary dear Watson'.
The other doctor, A A Doyle FRCS, distinguished himself Roma, Queensland and later in Brisbane as a specialist.
Another doctor enters the paper trail in form of Sir William Mc Gregor GCMC, CB, AM, FRSGC, the Governor of Queensland who became firm friends with Dr A A Doyle.
The now Sir Arthur Conan Doyle met up with Dr Doyle on his Australian tour in 1920.
Dr Doyle spent his twilight years with his son Ellis (Barney) in Lemon Tree Passage and cared for the handful of residents who occupied the tiny fishing village at that time.
Signed pictures of both Conan Doyle and William Mc Gregor were found amongst the contents of the derelict house.
The late Jimmy Rooke told the story of how his mother took her sickly baby to see Dr Doyle. He advised her to get a cow and nourish Jimmy with the fresh milk. This she did. Jimmy survived, but the cow died.
Photos: Signed pictures found in the old home: Arthur Conan Doyle as a young man and Sir William and Lady Mc Gregor.
---
Fired Up
Apart from rare documents and photographs, Port Stephens Family History Society has a very interesting reli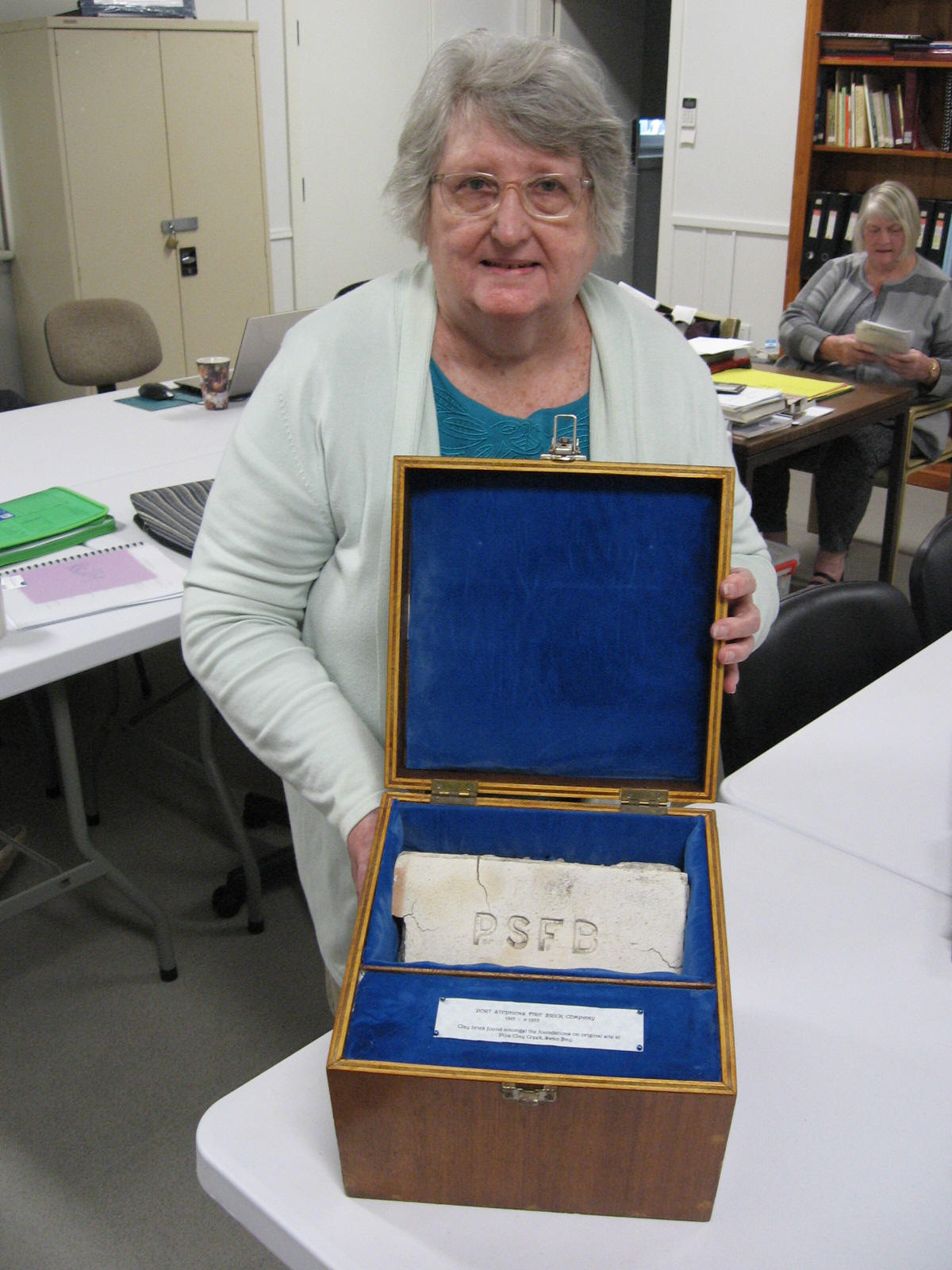 c which takes pride of place in its own, custom built, velvet lined box.
This 'jewel in the crown' is a fire brick stamped with the letters PSFB and the story of its manufacture dates back to the early days of last century.
Brick making from clay deposits at Pipeclay Creek near Swan Bay began in the 1880s. They were shipped to Newcastle.
It was however found that clay deposits there made excellent fire bricks so the Port Stephens Fire Brick Company was formed and officially opened in 1915.
Fire bricks can tolerate extreme temperatures and are used to line furnaces.
The brickworks could produce some 30 000 bricks per week and it had its own rail track to a wharf where the bricks were loaded onto the company steamer. This could carry 40 000 bricks. As many as 20 men were employed. A 20 metre ventilation chimney dispersed fumes from site.
Brick making ceased in the 1920s as new clay deposits were found closer to industrial centres and production methods improved making the Pipeclay operation unviable.
Recently, documents have surfaced indicating that the local Indigenous peoples used to gather at the site for special ceremonies and it is possible that the area may be listed as culturally significant.
Photo: 'Crown Jewels'....Society President Denise Gaudion displays an original fire brick made at Pipeclay Creek.
---
Please Explain
The vast majority of Tilligerry residents can't fathom how our new police station came to be sited on the side of a hill in Lemon Tree Passage.
To understand the frustration and an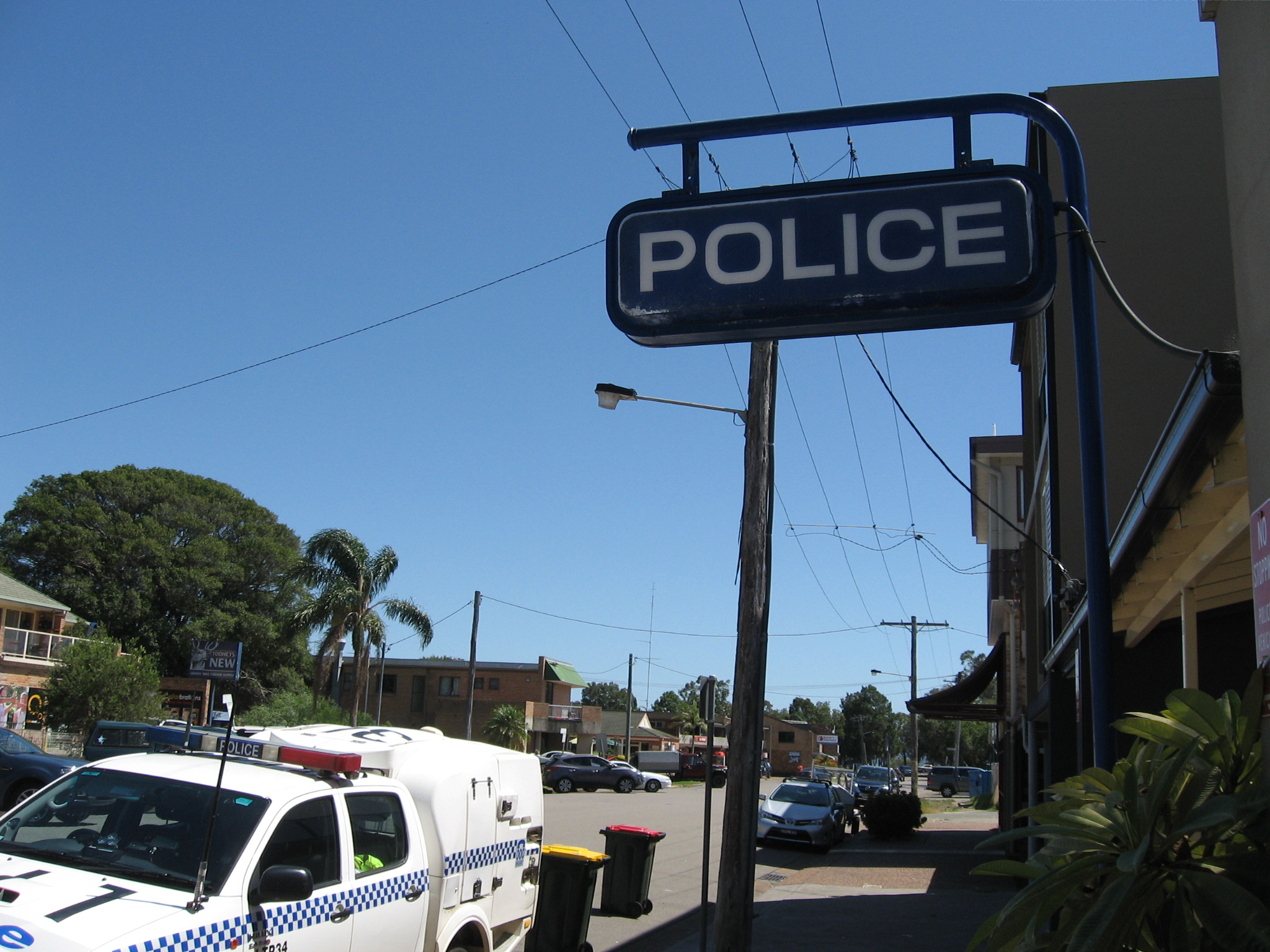 ger, we turn to Doreen Bradley OAM, a 50 year campaigner to explain how she and other locals have seen all their hard work come to nothing.
"Over the years we have had numerous community meetings with senior police and government representatives," she said.
"It was our understanding that a new station would be built on site beside our ambulance and fire stations at Tanilba Bay," she stated.
"If anybody suggested that the government would buy an old house in Lemon Tree Passage, demolish it and dump a prefabricated 'dog box' off the back of a truck on the site, they would have been run out of town!" she added.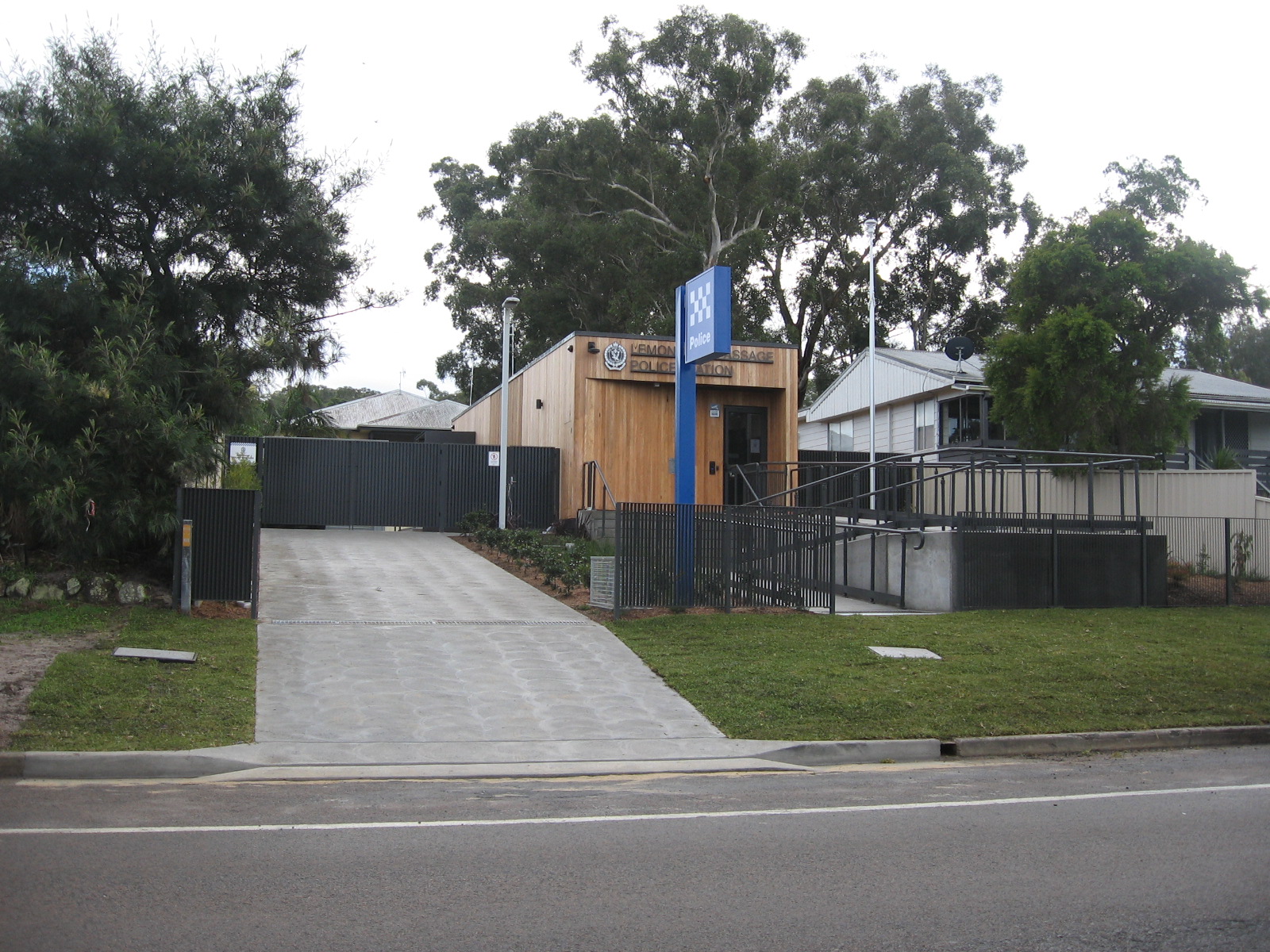 "The police service owes us just so much for making their system work. You see, a small group of locals campaigned to have the Port Stephens Command hived off the centralized command based in Maitland," she said.
"This old structure had locals ringing police for emergencies and being 'prioritized'. Sometimes they would wait a day or so for a car to come from Maitland. Crime exploded out here and 'A Current Affair' was in town twice covering the story," she remarked.
Councillor Steve Tucker, a member of the Crime Forum, is also bewildered by the siting of the new station and the apparent waste of money.
This whole mess was created by a lack of consultation with both the community and Port Stephens Shire Council, he said.
"Had the Police Property Section sat down with us we would have explained to them how the transfer of land in RAF Park could have been 'fast tracked' or leased to the them until all the necessary procedures had been followed. This didn't happen and they have only themselves to blame for getting the residents off side," he stated.
"At least now we have a better working environment for our officers but it falls far short of our expectations," he concluded.
Photo: The existing rented site in LTP and the new police station ready to open.
---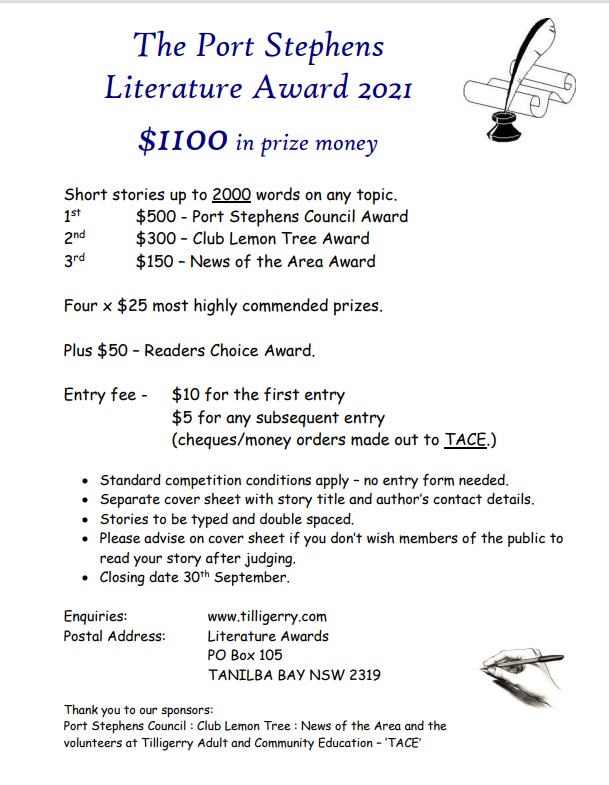 ---
New Book About Tilligerry
If you look at the two photos you will notice that a lot has changed in the 100 years since the 1894 photo was taken of the Salt Ash pupils and their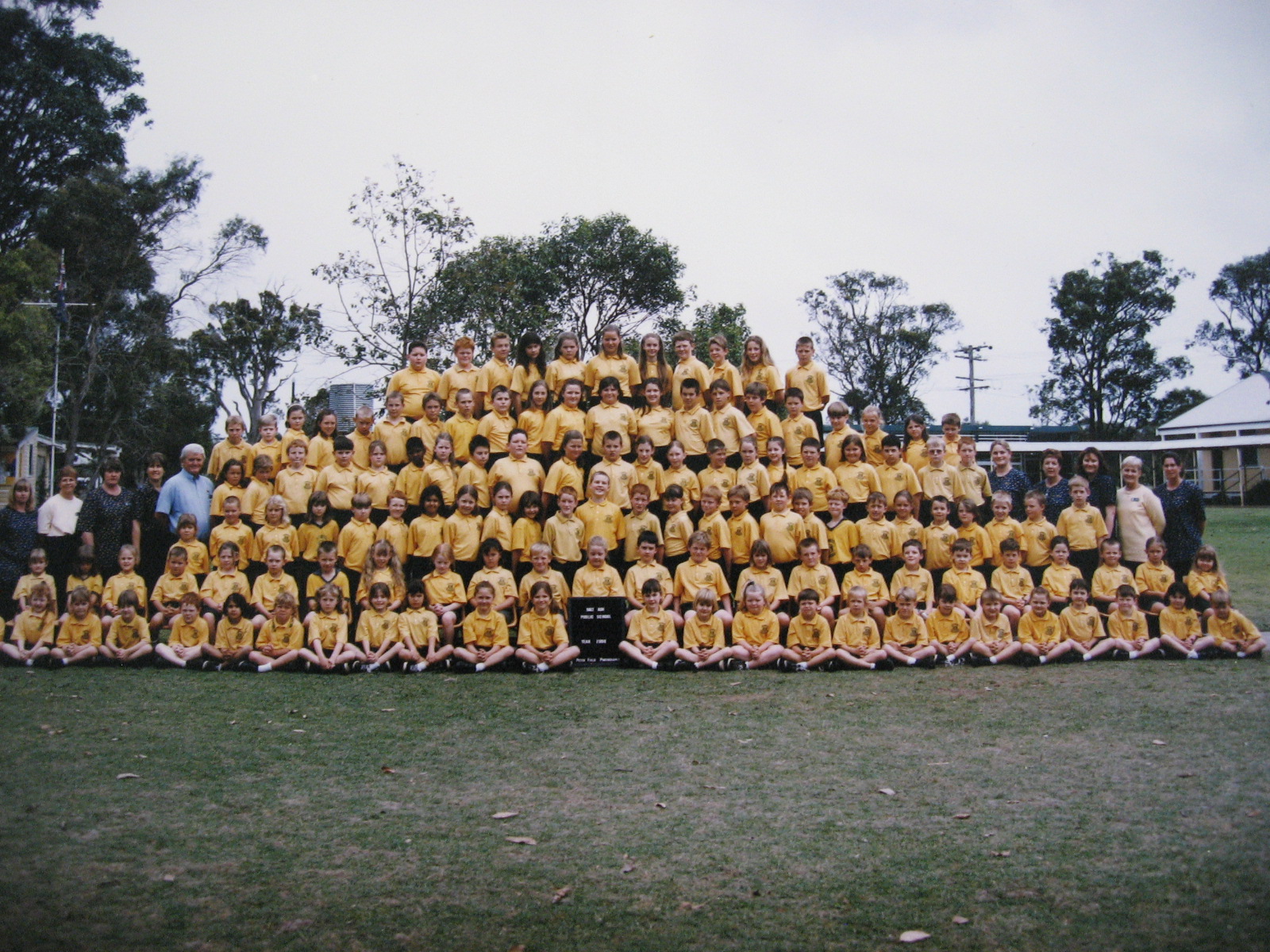 teachers.
These pictures and hundreds of others are kept in the archives of the Port Stephens Family History Society based at the old Lemon Tree Passage School site on the top of the hill beside Club Lemon Tree.
The society boasts numerous publications and they are well on the way in cobbling together their next book; 'Up the Tilligerry Creek and its Tracks.'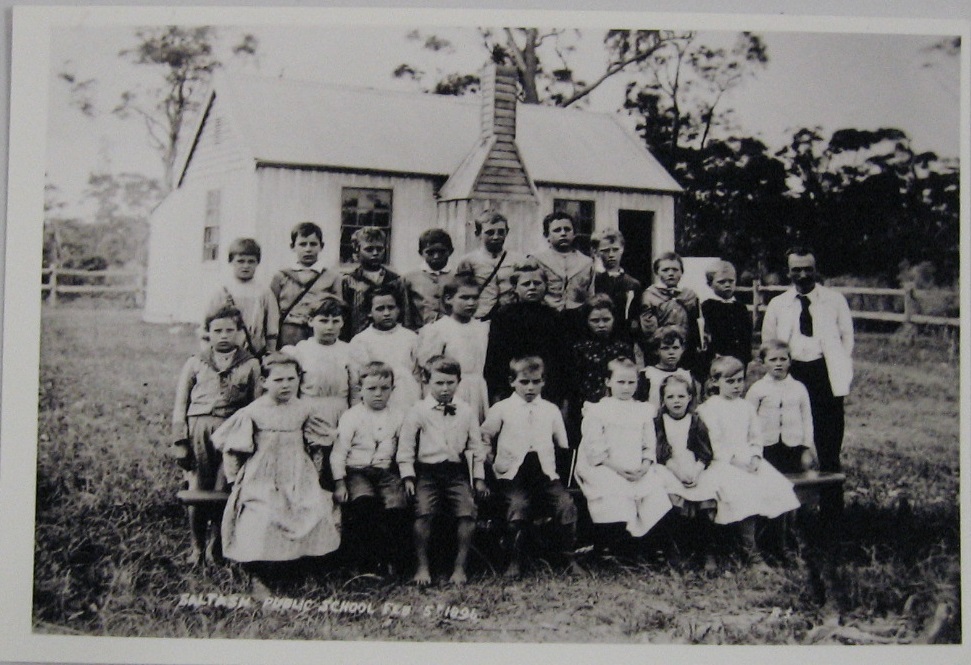 This follows the very successful 'History and Heritage of Tanilba House' (2019) which has recently been reprinted
They also need your help to fill in the gaps, particularly early photos and land title documents dating back to the 1830s.
Society president Denise Gaudion explains:
"Such was the demand for our initial publication, 'A History of the Tilligerry Peninsula' (1996) that it went to a second imprint and rather than go to a third edition, we decided to expand on it. Our new book will include more pictures and references to land title holders," she said.
"If any residents of the peninsula have old photos or mouldering title documents, we would be most grateful if you could share them with us. They would fill in the gaps and be preserved for future generations," she added.
A simple search of 'Port Stephens Family History Society' will explain the activities of the society and Denise can be contacted on 0422 303 171.
Photos: Salt Ash School 1894 and at its peak enrolment around a century later.
---
The Eagles Have Landed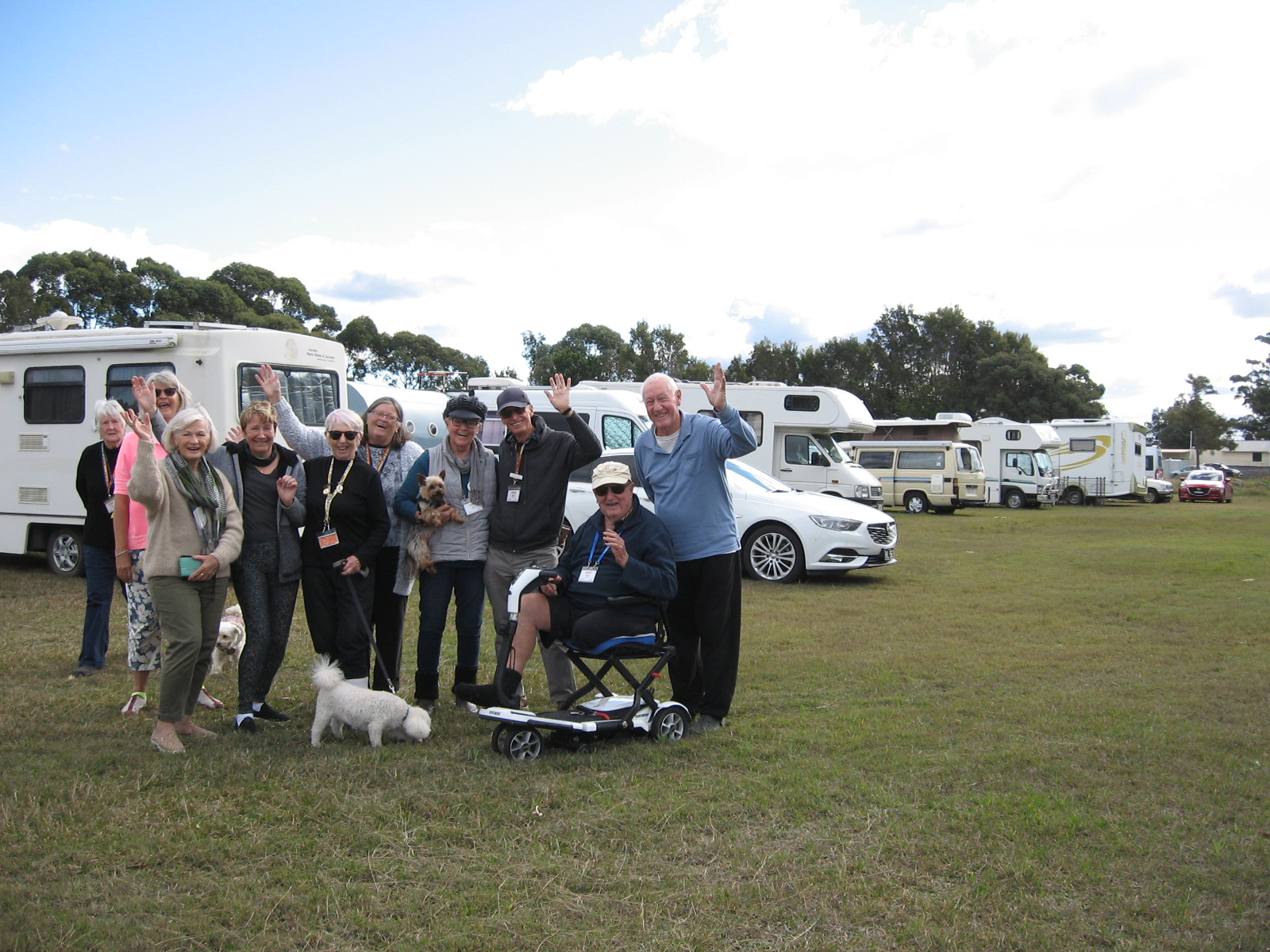 Some 50 happy campers in their caravans and mobile homes have 'landed' on the oval next to the Tilligerry RSL.
Known as 'The Eagles' they are part of a sub chapter of the Campervan and Motor Home Club of Australia (CMCA) as club Vice President Peter Johnson explains:
"We are solo campers consisting of about 60% women and 40% men," he said. "We are Hunter based but members from outside the area are most welcome," he added.
"Our club generally goes away for about four days at a time and our female members feel a greater sense of security being in a group," he remarked. "We have games, play cards and have a happy hour each day so there is great social interaction," he stated.
"The owner of the old oval gave us permission to locate on the grassed area and the RSL was happy to for us to use their amenities. We will be dining out there as well as and having a few drinks no doubt," he said.
Single people with the wanderlust who would like to join this happy band of travellers can get more information from 'The Eagles' President Lorraine Ellis on 0429 458 409.
Photo: Flying High!....Some of 'The Eagles' setting up camp beside the Tilligerry RSL and Sports Club.
---
The Way We Were
With the recent announcement of a $1 200 000 makeover of the Lemon Tree Passage waterfront, few people will be able to recognize anything left from the early days once this has been added to the previous redevelopment of Henderson Park.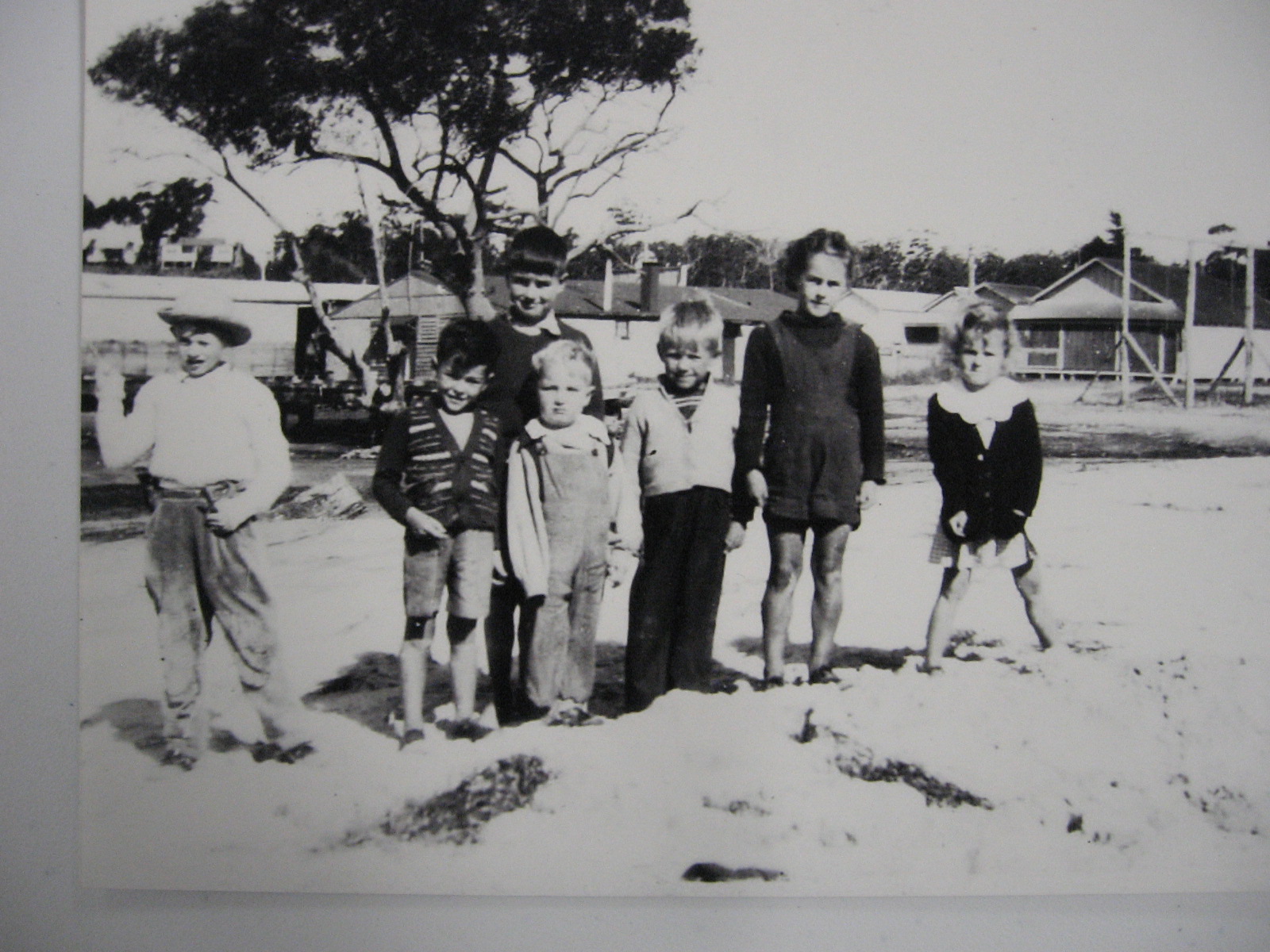 The old photo is from around the 1950s and features the Doyle children and friends on the beach where the tidal pool now stands.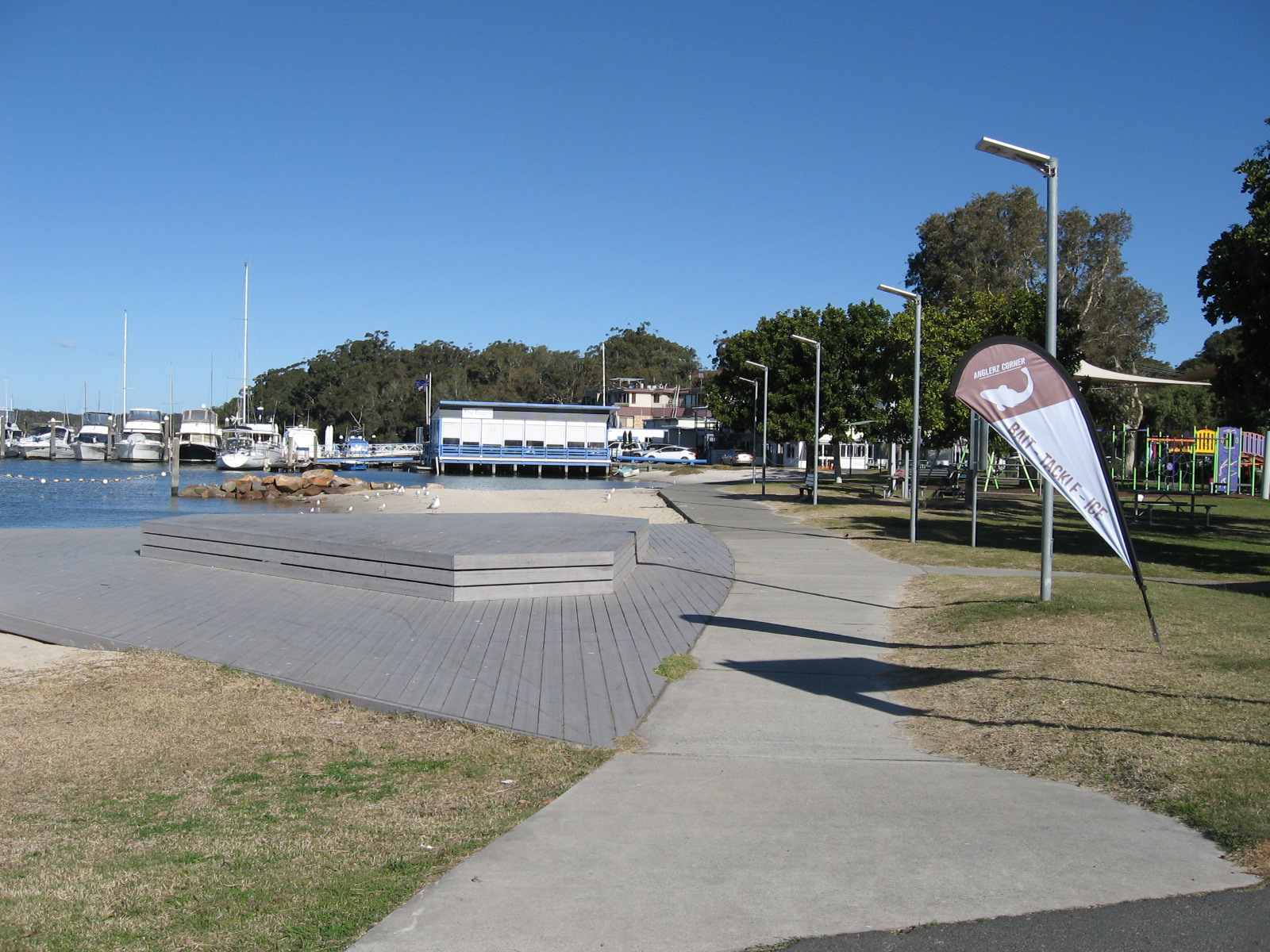 The only old structure left standing today is the takeaway food shop where Margaret Henderson and local ladies did a roaring trade selling locally caught fish and home made hamburgers. The Henderson family lived above the shop.
Between the shop and Koala Reserve was a boat hire business which had clinker built fishing boats with inboard motors for hire for three pounds ($6) per day.
There were also narrow fishing shacks built hard against one another and out over the water where the police station now stands.
Bernie Henderson built the first single finger marina walkway and over the years some very interesting boats and sailors came to visit.
'Winston Churchil' was one such craft which came to a tragic end being lost in the 1998 Hobart yacht race. The 'Bintang Siang' was another which foundered off Trial Bay. It achieved fame as a replica Macassan Prau during WW2, infiltrating Japanese waters as part of the legendary 'Z' force.
Caught out in rough seas, David Lewis, the solo Antarctic yachtsman and renowned navigator, sought shelter at the marina until the seas abated.
Across The Passage itself is Bull Island which is now a National Park but years ago cattle were swum over to graze there. It even had a windmill installed to draw up fresh water.
Photos: Then and now: Local kids on the beach in the 1950s and the same place today ready for yet another upgrade.
---
tilligerry.com will be taking a couple of weeks break, we look forward to bringing you more local news on Thursday 15 July!!
---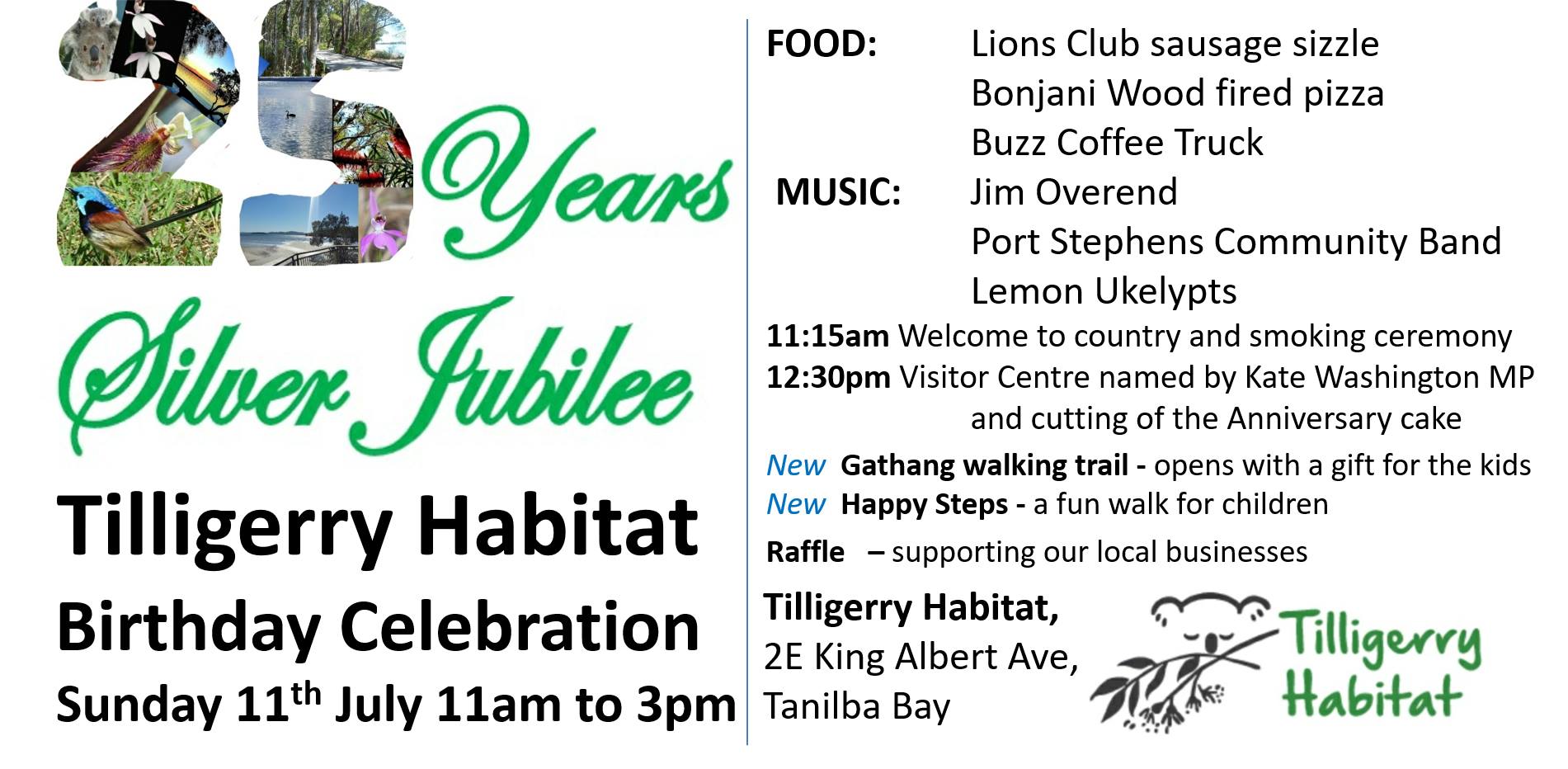 ---
Blowing up the School
"Nothing!" This is the standard answer to enquiring parents when they ask their kids what they did at school each day. There was however a very different answer to the same question in the early 1980s from kids coming home from the old Lemon Tree Passage school.
"We blew it up!" was the response from pupils and in part they were right.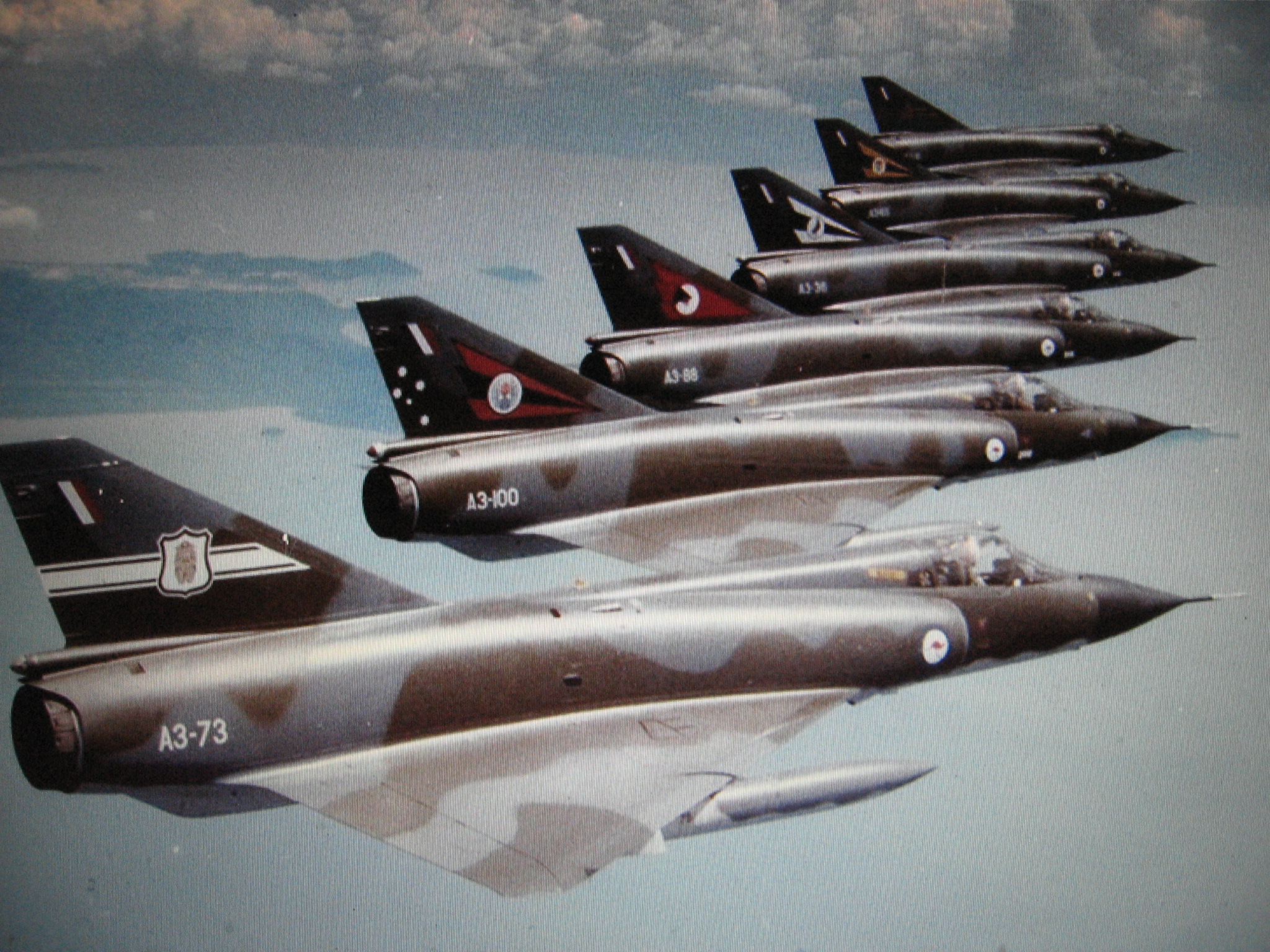 But, dear reader we are getting ahead of ourselves so it may be wise to set the scene which led up to this exciting event people still talk about today.
In these times there was a very close working relationship between the Lemon Tree Bushfire brigade and the RAAF. Several brigade members were active or former members of the air force and civilian firies were made members of the sergeants' mess.
It probably all started when the brigade was out at the old Oyster Cove parachute drop zone. RAAF personnel were running out two parallel lines of half 44 gallon drums and pouring kerosine into them. They were to be involved in war games when fighter aircraft were to 'attack' the base from an aircraft carrier off the coast in a ni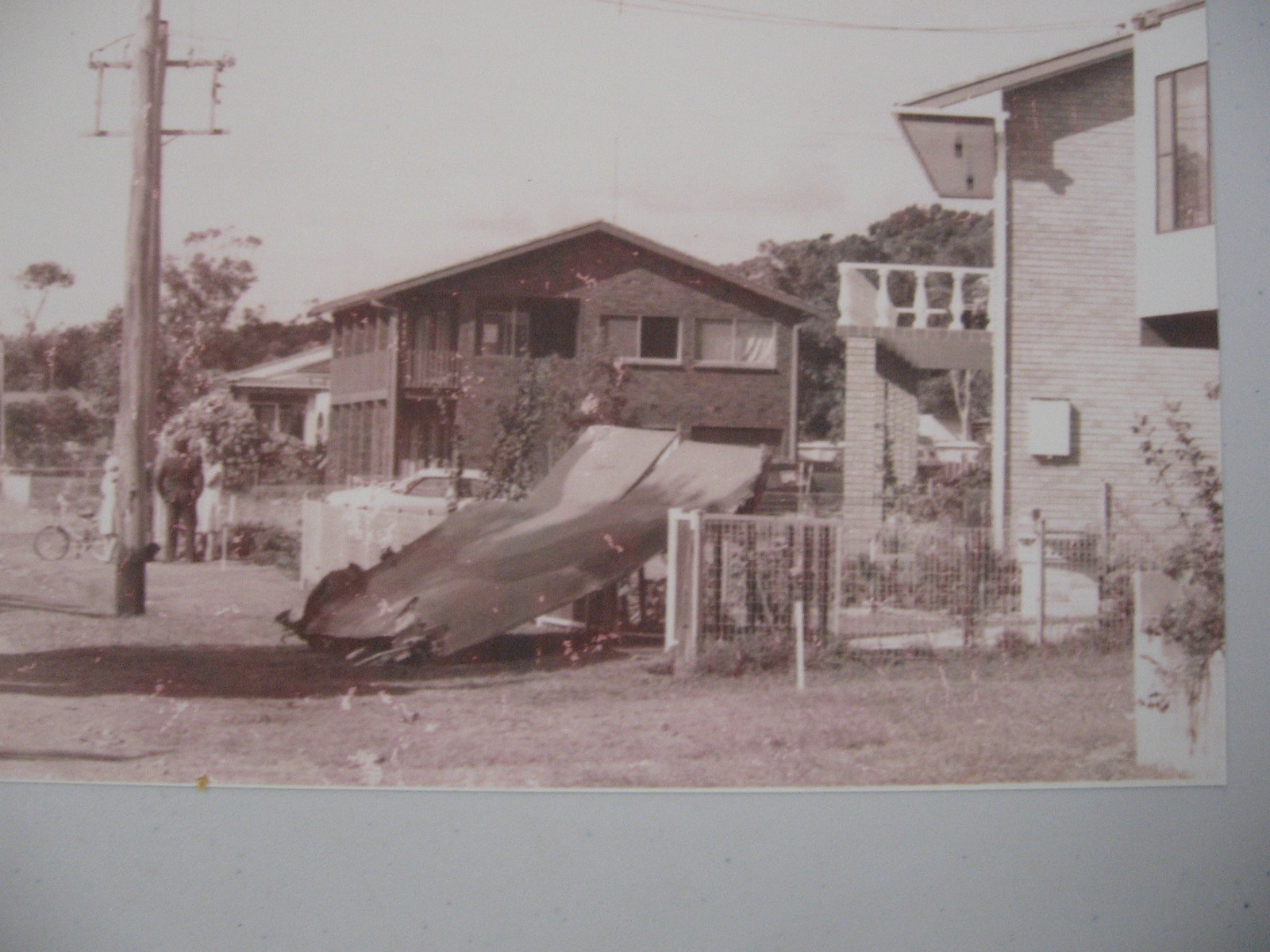 ght-time 'raid' The RAAF personnel were constructing a fake runway to decoy the US planes. Try as they might the keroseine just wouldn't ignite .
The firies explained that they mixed petrol with kerosene for their drip torches to make them more effective and drove back to the station to get some. It worked and the RAAF contingent invited the brigade to watch the action. RAAF Williamtown was blacked out and the fighters swooped down out of the night sky to 'attack' the artificial runway. The RAAF won the war game.
To get some decorative stone for the gardens outside the fire station the RAAF demolition officer came out and blasted the old quarry at Mallabula. He did the same with a rotted out channel marker in the bay.
The school principal was worried about the huge gum trees overhanging the lower playground and their threat to the pupils. A phone call to the base had the demolition guy out with a bus full of work experience kids and explosives.
One by one the towering gums crashed to the ground with the schoolchildren watching on from a safe distance. A senior pupil was even allowed to press the plunger for the last tree.
But there's more! The debris was bulldozed into a huge pile which became a bonfire for cracker night.
Another exciting day was when a ''Mirage' fighter crashed into the foreshore of Tanilba almost demolishing a row of houses after the pilot had ejected. The grainy picture shows a wing of the aircraft up against a waterfront property fence. The fire brigade was on the scene quickly to cordon off the area.
Today of course none of this type of thing could happen. You see, strict protocol and OH&S issues have put an end to it....and stopped people having fun as well.
Photos: A flight of RAAF Mirages … and the old photo of a wing from the crashed aircraft at Tanilba Bay.
---
In the Groove
Tilligerry.com is always happy to promote start-up businesses which operate from commercial centres and our latest addition looks like a winner.
In its first two weeks of operation, a slot car racing centre in the LTP industrial estate has hooked both young and old enthusiasts alike.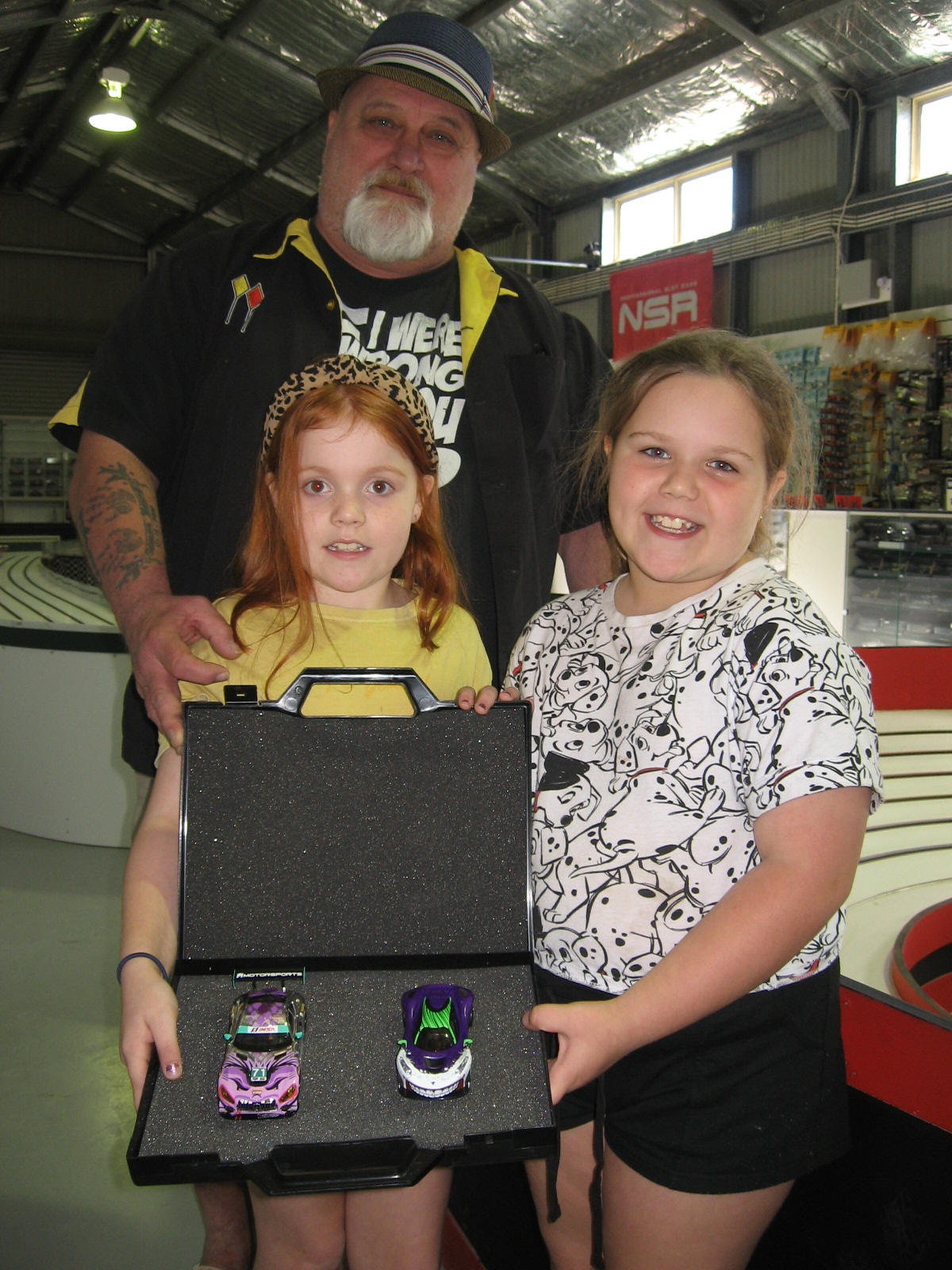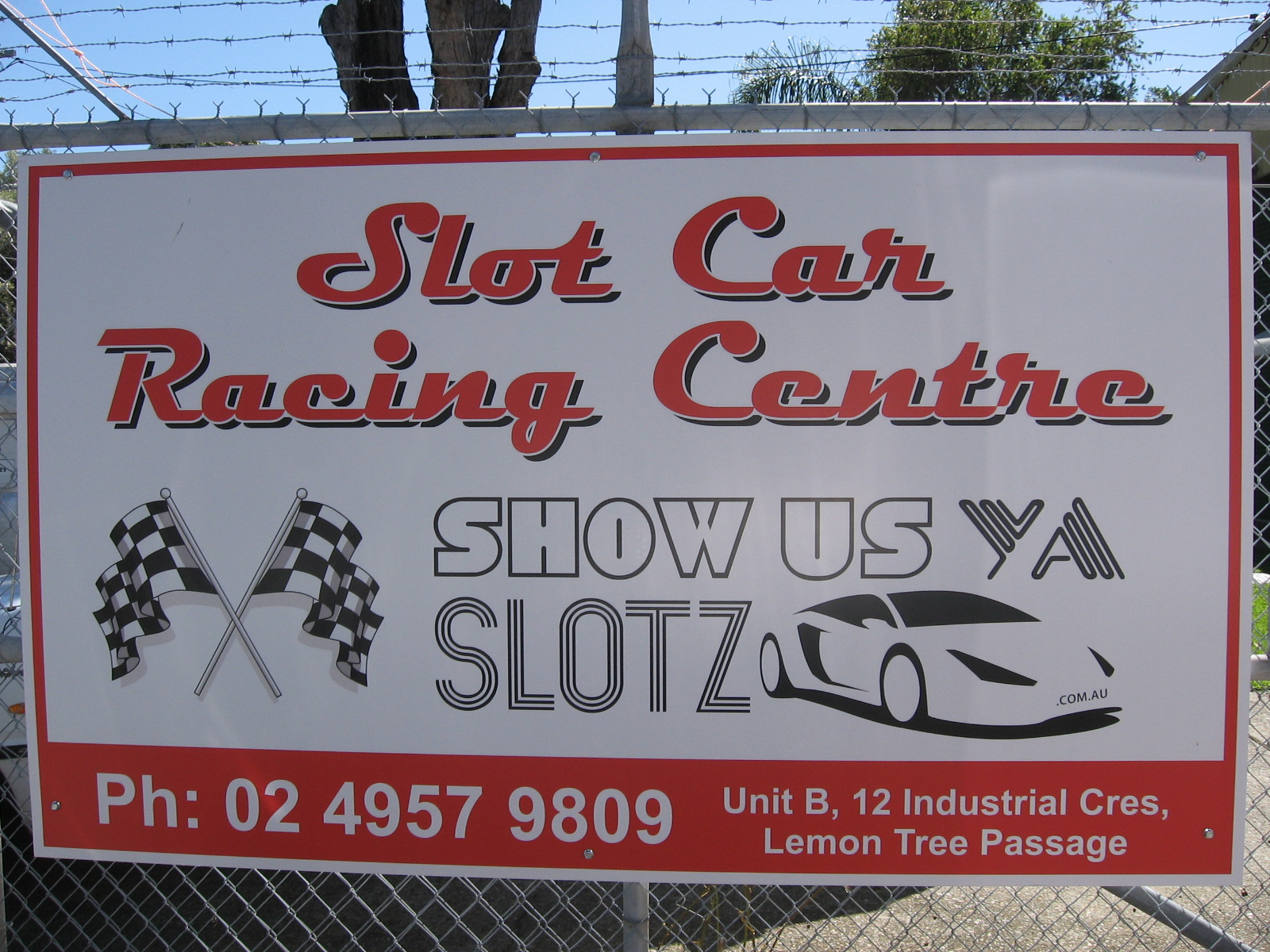 Mike Dixon, a long time recreational racer, has extended his hobby into a business which encompasses two fixed 40 metre racing circuits and a drag racing strip.
On top of this he sells slot cars, accessories and offers refreshments for enthusiasts and has expanded to online sales.
"I was so overwhelmed by the response, that phone bookings are needed to ensure a half hour session," he said. "In fact, I'll be extending the opening hours to evening sessions so that the 'big boys' can get a chance to have a go after work," he added.
It costs a mere $5 for 30 minutes which includes a selection of one of 25 racers and a hand control, he explained. "Some of the children even complain that their parents and grandparents hog the controls and won't give them a go!" he said.
"It's very much a family oriented recreation and a bonding experience," he remarked.
Madeline and Layla Ducket just can't get enough time at the centre and have bought their own cars. They were there on the first day with grandfather Steve and have been back most days since.
"Great! Amazing! "Fun!" is how they described their newfound passion.
Want to know more? You can visit the centre at No. 12 Industrial Drive or visit the website: showusyaslotz.com.au
Pictures: Grandfather Steve Salvadori flanked by Madeline and Layla and the sign on the gate.
---
Major Makeover for Mallabula
Tilligerry's existing sporting complex at Mallabula is to be given a major makeover to improve the existing facilities and to make it much more user friendly. This will include access pathways, car parking and the construction of new and updated r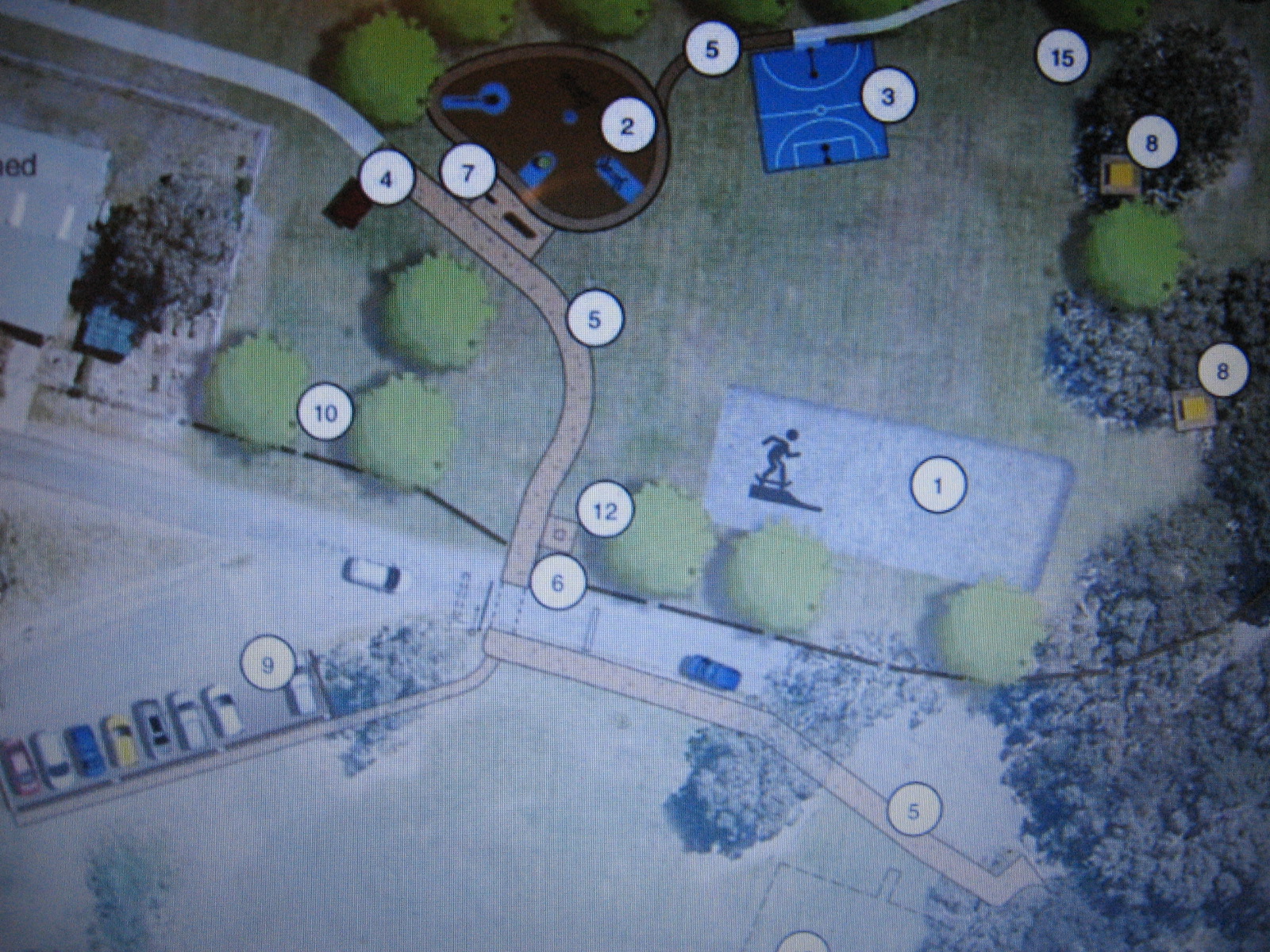 ecreational and sporting venues.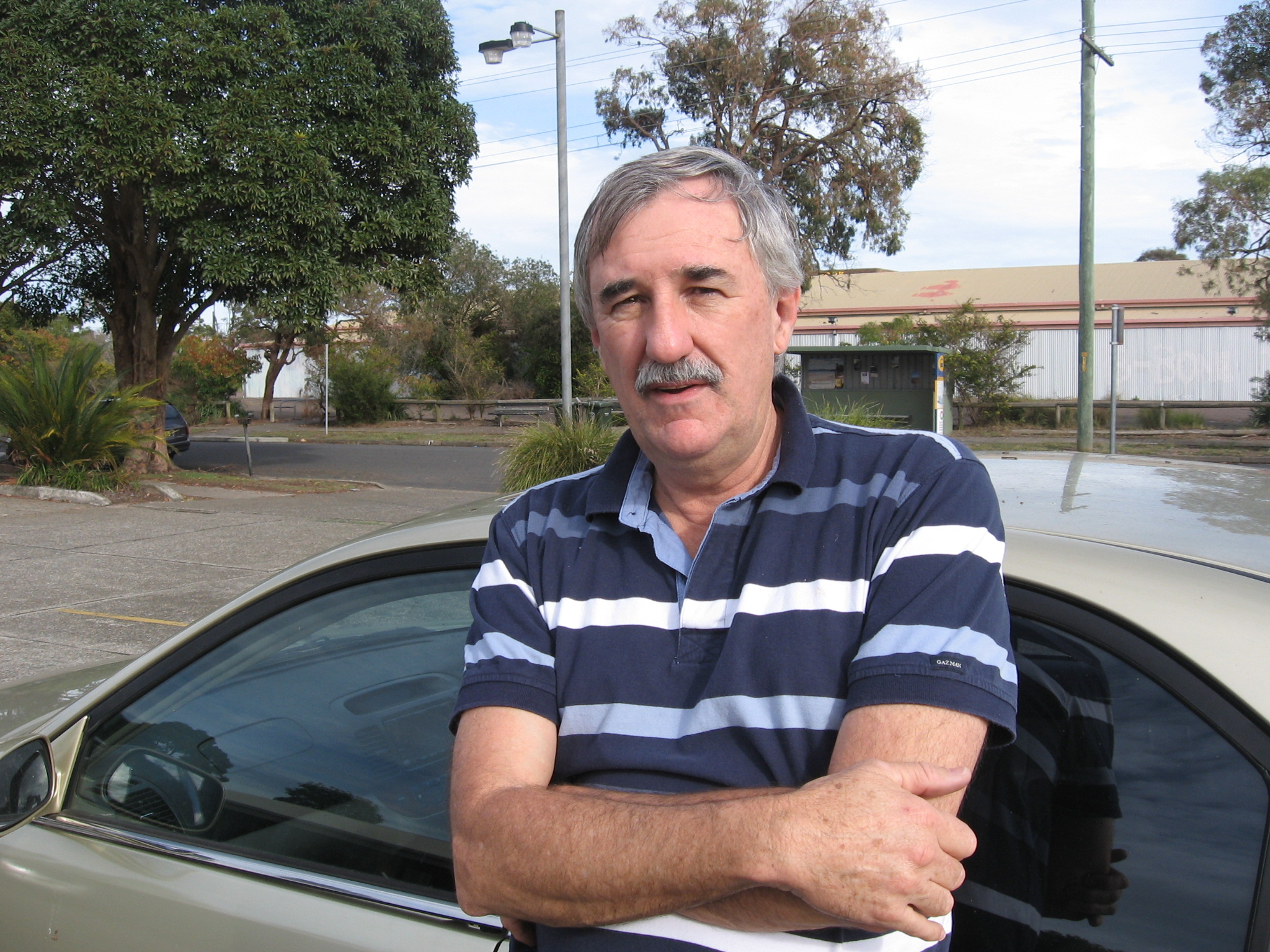 That's not all. According to Councillor Steve Tucker, Henderson Park at Lemon Tree Passage is to get a 'sail' over the platform behind the pool ($90 000) and the waterfront recreational area at Tanilba Bay beside the amenities block is to be upgraded ($40 000) .
"The big ticket spending will be at Mallabula," he said. "This will transform the area into a sporting and recreational hub with much improved facilities," he added.
The planned expenditure is as follows:
Skate park: $230 000; New tennis court: $200 000; Soccer and Little As amenity block: $200 000; Multipurpose court, playground and pathways $260 000.
Two much needed pathways will also be constructed. Avenue of the Allies will get a $600 000 footpath and 'the missing link' connecting Mallabula to Lemon Tree Passage is costed at $800 000.
"All of these proposals have been budgeted for and have been set in train already. We will be consulting with our young people in reference to the skate park design and as the Lions Club will have major input into the Tanilba foreshore project, it would only be fitting to name this new picnic area in their honour," he suggested.
Photos: The planned improvements to the Mallabula Sporting Complex....and Cr Steve Tucker.... "Projects budgeted for and the wheels are already in motion."
---
Local Vaccine Rolls Out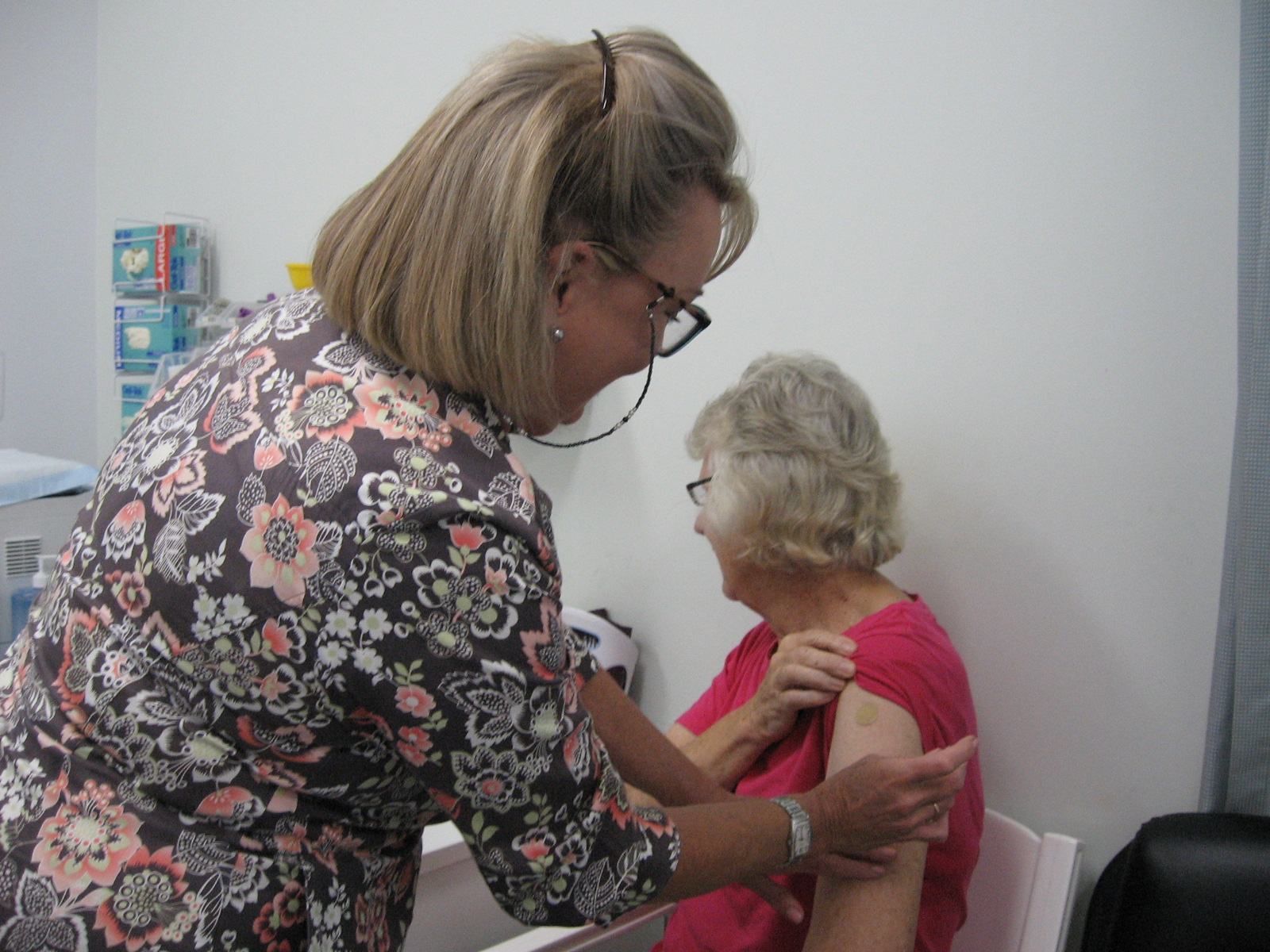 The recent floods delayed the roll-out of the much anticipated Covid 19 vaccine but the nationwide distribution is now back on track.
After an initial shipment of 80 doses of imported vaccine, two Tilligerry medical centres are now getting as many as 100 shots of the Australian made 'Astrazenica' product each week.
The linked practices of the Tilligerry Medical Centre on the main road at Tanilba and the Lemon Tree Medical Practice are currently taking bookings.
Spokesperson Heidi Lee said that priority is being given to indigenous people over the age of 50 and to others over 70 and particularly seniors with diabetes, respiratory, cardiac or life threatening conditions.
"The inoculation process has been orderly. It's a simple matter of booking in," she said. "A second shot some 12 weeks later is needed and this appointment can be made at the time of the initial visit, " she added.
The pandemic saw just one case reported in Tilligerry in the early stages. It was isolated quickly and the closure of clubs, community gatherings, visitor accommodation, play areas and boat ramps resulted in no new outbreaks.
Local councillor Steve Tucker said that that by coming in hard early, a perfect result was achieved.
" We (Port Stephens Council) were criticised for our actions at the time but the end justified the means," he stated.
Photos: Shot in the arm......Local resident Carole Walker receiving her vaccination jab from resident nurse Tracey Wilson …..and Councillor Steve Tucker at the closed boat ramp site.
---
Book Donations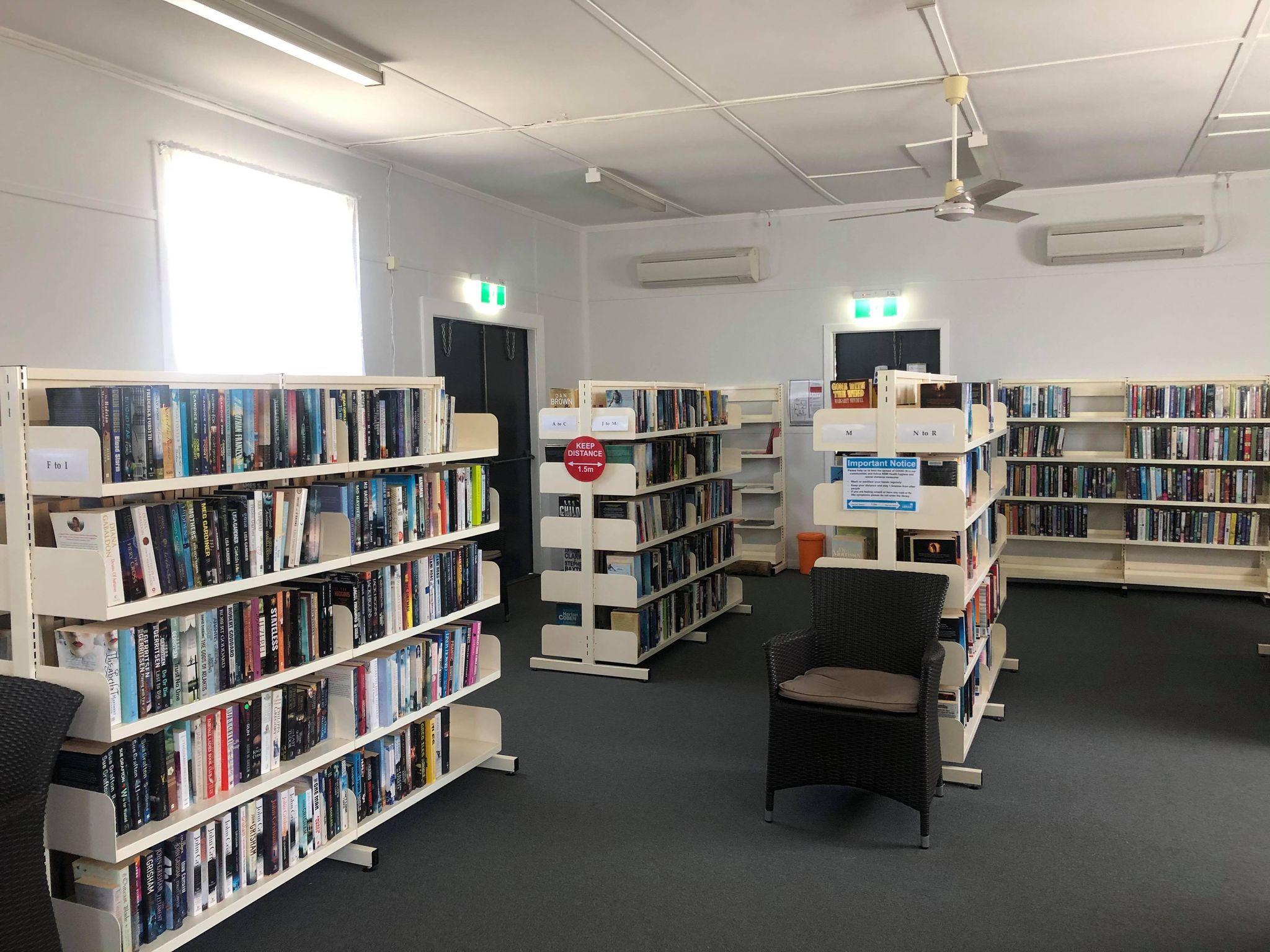 Tilligerry Community Library ha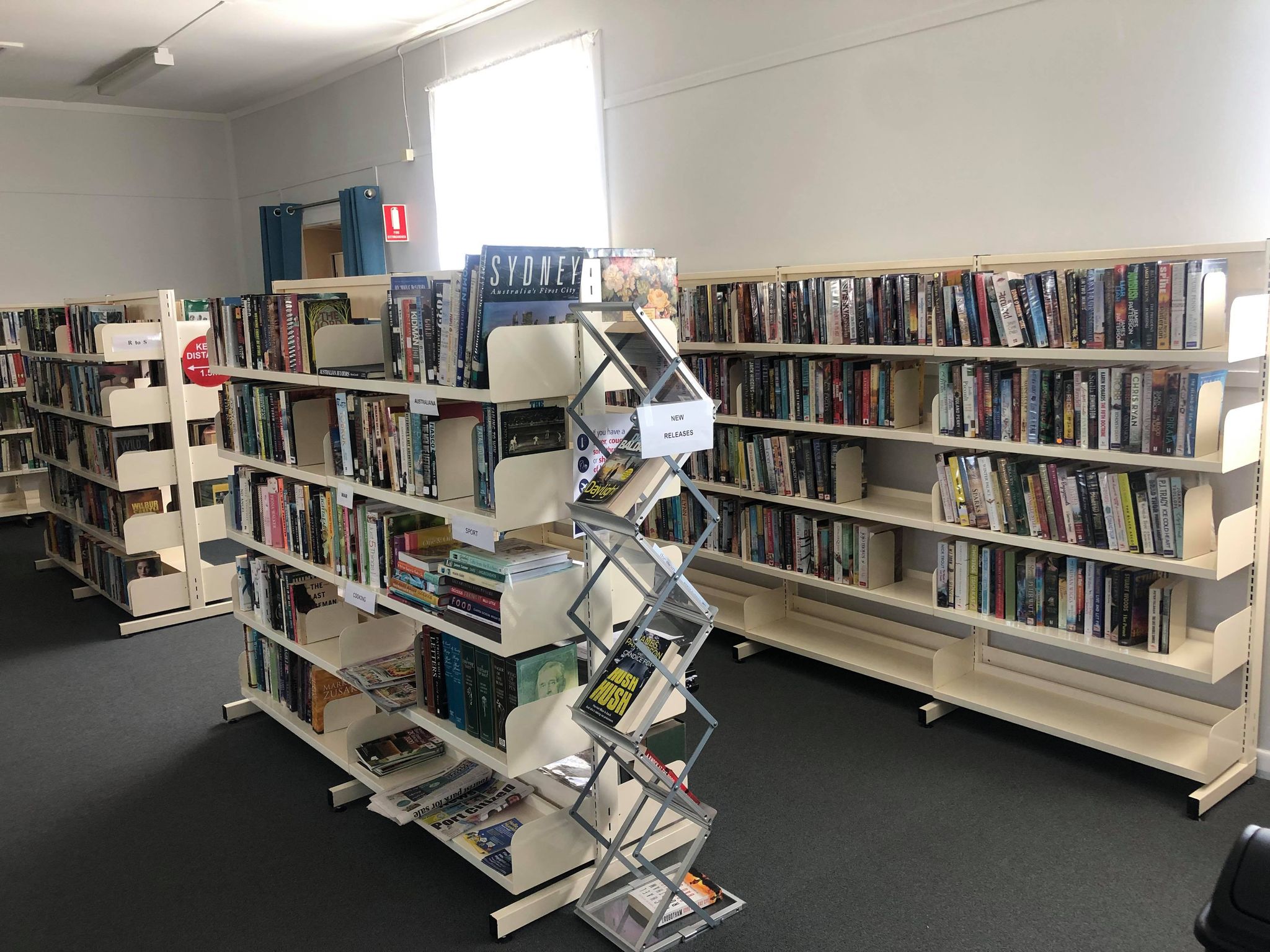 s always enjoyed the support of the community donating their books. Whilst we do appreciate them, we can only accept them with prior consultation. Our hours are 10-12 noon Monday to Saturday and our phone number is 4982 3477 if you wanted to call up or pop in and check with us before bringing them in. Please don't leave them at the door.
---
More than Just a News Service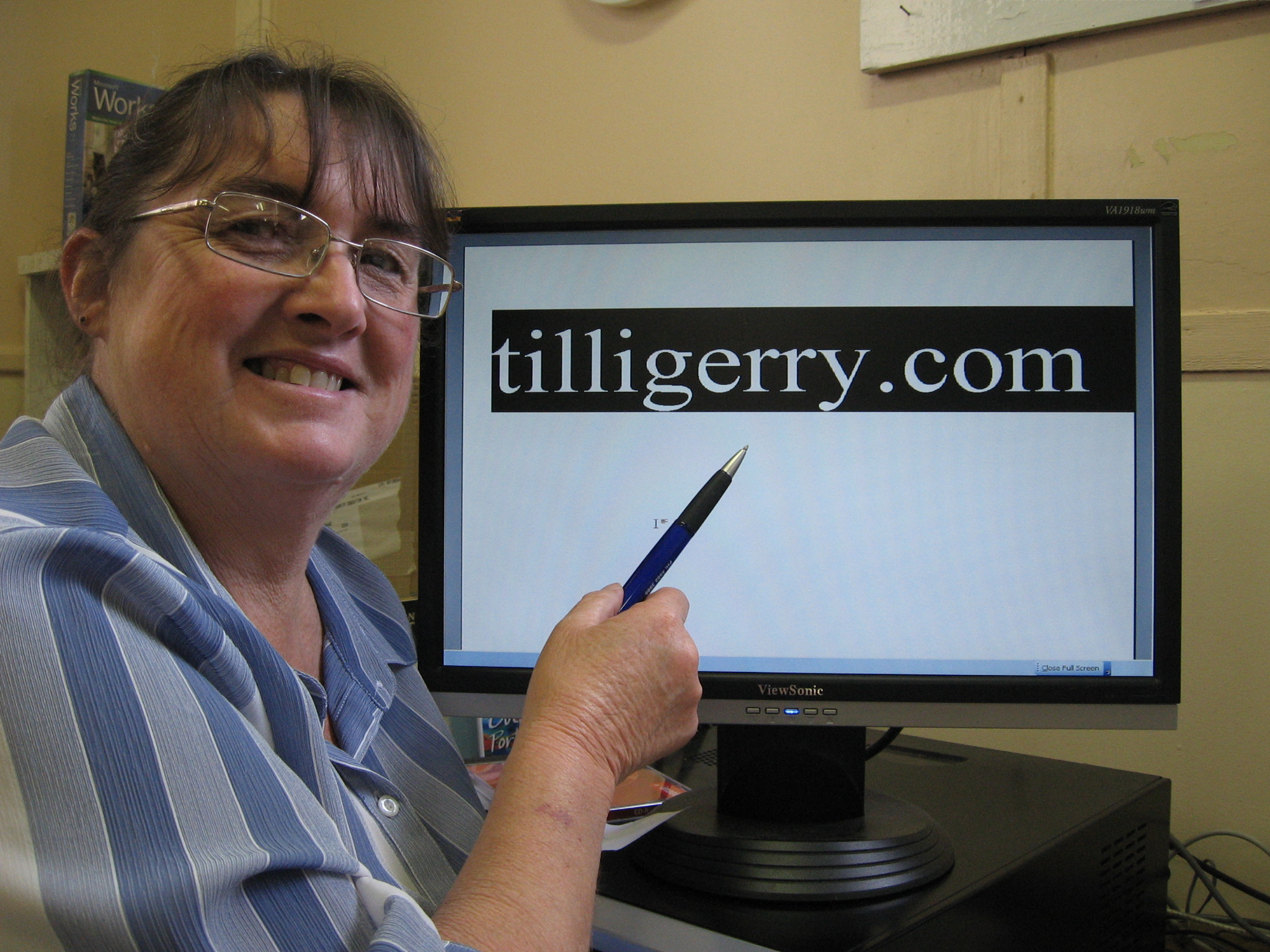 You've seen our illuminated sign 'tilligerry.com' beside the main road near the golf club as you drive into town at night.
With news services moving away from the print media, tilligerry.com for over 10 years now has moved with the times and gives local residents the news that they can't get anywhere else. Indeed, those travelling around Australia or internationally can keep up to date with a click on a mouse or a mobile phone.
Before our 'hit meter' broke down we were averaging around 2000 views each month. We have a few businesses supporting us but we really don't want advertisers as we are a not for profit community service.
That's not all! Each year we run a national Literature Award (a short story competition) with the support of PSSC, Club Lemon Tree and News Of The Area.
On top of this we offer the public internet access, assistance with the operation of electronic devices and photo copying.
It gets even better. There are constant requests, usually from residents new to the area, for general information about available services and organizations out this way.
We now have an extensive community directory listing some 80 of these which includes: churches, clubs, social groups, cultural events, schools, tourist information, community support, JPs, medical services, play groups and pre schools.
For more details scroll to the bottom of this page or click on 'Literature Award' and 'Community Directory' in the left hand green side bar.
Photo: tilligerry.com more than just news.
---
elebrating the re-opening.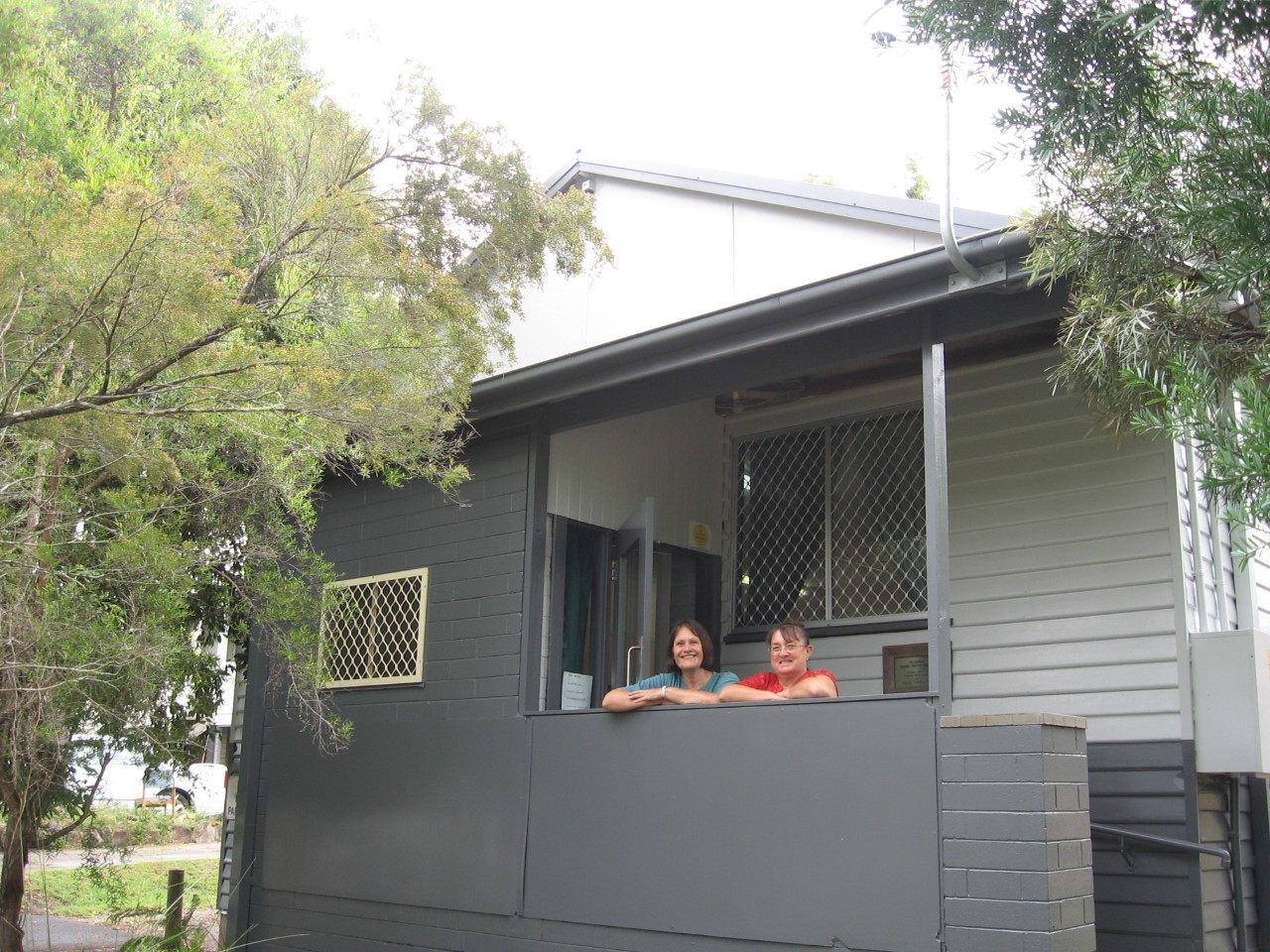 New Community Directory
As the Tilligerry community expands and changes, there is the need to provide residents (particularly newcomers) and tourists with a directory of service groups, clubs and businesses. With this in mind, TACE (Tilligerry Adult and Community Education) will be compiling one in the near future.
It will be available in both an online and printed format.
TACE works under the umbrella of PSSC and coordinates community groups such as art, lead lighting, family history and mah jong. It has its home base at the LTP library. It also publishes tilligerry.com our local online news service which has grown to be the major source of local news for residents .Most months it gets over 1500 'hits'. The Port Stephens Literature Awards, a national short story competition, is another initiative of TACE and is run by volunteers.
If you would like to publicise your club, social group or business, email basic contact information to: tace@tilligerry.com and it will be considered for inclusion. There will be no charge for this service.
Photo: TACE volunteers Helen Mizrachi and Sue Hamilton at the library.