Council Committed
The reality of a new Marine Rescue base station on the waterfront at Lemon Tree Passage became one step closer recently with PSSC's listing of the project in its forward works program.
According to Cr Steve Tucker, $100 000 has already been ear- marked for the initial design process. Th
is will involve a think tank involving PSSC, the local flotilla executive and Marine Rescue personnel.
"It's early days at the moment and we will have to decide whether to place the new structure aove the existing amenities block in Henderson Park LTP or to demolish the building and start from scratch," he said.
"Structural engineers will be given the task of delivering us costings on the design options," he added.
"The other major decision will be to decide the fate of the current home base perched on top of Whitbread Drive. It could very well be retained as a training centre or sold to offset the cost of the new waterfront complex," he stated.
Cr Tucker also said that he was pushing for the injection of more funds to make both the LTP business district and parklands more visitor friendly.
"Tourists always drive to the end of the road and their initial impression of the area is dictated by what they see. We've made a lot of positive improvements and we want to keep the momentum going," he said.
Photo: Marine Rescue members – looking forward to their relocation.
---
Closing The Pool
Tilligerry Aquatic Centre is now closed until 5th August. But why? The two month shutdown is longer than at Tomaree (less than three weeks) and Lakeside (a mere two weeks.)
No major maintenance is required at Tilligerry but it is cheaper to close the facility than to keep it open with the low off-season patronage and the high running costs (wages and electricity).
Dedicated swimmers are not disadvantaged however as they can extend their seas
on pass for the length of the down time.
Tilligerry is lucky to have a heated pool at all as it has always run at a loss.
To understand why we have such a great asset, we need to backtrack well over 25 years.
A pool committee was formed and it put the concept before PSSC.
Council costed the project at $1 000 000 and told the committee that if they raised $100 000, then it would be built. It was not expected to make money or even break even as demographers estimated that a population of some 12 000 was needed to make it viable. Tilligerry at the time had less than half this number of residents. The isolated location of Tilligerry was also considered as a factor in swaying the decision makers.

Nobody thought that the committee could raise such a large sum. In today's money it would be the equivalent of around $500 000 but Doreen Bradley and her dedicated team got there. The rest is history.
On most days at the heated pool, lap swimmers can have a lane to themselves. True! Solar blankets on top of the community hall save a fortune in power bills.
One of the most prominent lap swimmers in the early days was the late local MP and former mayor John Bartlett. He led a group of local schoolchildren on an exchange visit to one of our sister cities in Japan.
His counterpart asked through an interpreter what he liked doing. When he said that he was a swimmer, the Japanese mayor's eyes lit up. He was whisked away to their pool.
What he saw astounded him. Nobody swam in the pool. They were packed in shoulder to shoulder and merely bobbed up and down, like tea-bags! That's not all! Every now and then the pool superintendent got everybody out of the water as the staff searched for bodies on the bottom.
Look at the two pictures. I know where I'd rather swim. What about you?
Winter closure times: Tilligerry: 4th June until 5th August.
Lakeside: 9th July until 22nd July. Tomaree: 23rd July until 19th August
---
On the Bite
Fisherfolk have had a bumper season this su
mmer, the highlight of which being the run of 20 000 kingfish which escaped from the fish farms off Port Stephens. They were biting at anything (including bare hooks). The same thing happened in Tasmania where 250 000 farmed salmon escaped.
Winter is now upon us and local blackfish anglers are dusting off their rods, oiling their reels and looking for green weed bait.
Local luderick fishing in winter has the advantage of being able to access both the green weed bait and the fish in the passage at Lemon Tree itself. You can fish from the public wharf or both inside and outside
of the tidal pool. There is also the option of mooring your tinnie across the tidal flow and drifting your float beside the mooring piles and craft at the marina. Blackfish rest in the eddies behind these structures and snap up weed as it washes by.
The gear: Oldtime blackfishers used split cane rods and bakelite centrepin reels. They made their own floats which were painted black. Long, thin strip lead became the sinker with a small eyeless hook on the end. Some put vasel
ine on their six pound lines to keep it on the surface for long drifts. The float was free running with an adjustable matchstick 'stopper'.
These days it's fibreglass rods, eggbeater reels and coloured varnished floats.
The bait: green weed can be found on the foreshore rocks in LTP or near the Mallabula jetty. Rock pools around the sea shore at The Bay are also a good source. Use beach sand mixed wit some finely chopped weed for burley.
The technique: Set the depth of the hook at about two metres. Bait the hook with a long thin strip of weed by winding it up the hook shaft to above the top. Keep winding back down in the same direction and nip off the weed about 1cm below the hook. Adjust the height to find the level of the feeding fish. Drift the bait about a metre out from the structures with the rod tip low and with little slack line. Don't strike too quickly! Wait for the float to submerge and strike sideways. Do not wind in but keep a firm pressure on the fish. If it pulls too hard, control it by lowering and raising the rod tip.
As the fish tires, lift it to the surface, wind in slack line and slowly bring it towards your net. Put the live fish in a keeper net.
At the end of the day, bleed the luderick, fillet them and get the skin off the fillets. Nip out the red lateral line and it's home for a very fine seafood meal.
The luderick season starts now (June) and runs until about August.
Photos: Craig Brown and Max Harrison with a good haul from the Nelson bay breakwall, Ron Gunness fishing inside the old LTP pool and Adam Parbera with kingfish.
---
Scareware
We have warned our readers over the years about the various scams that plague us. Usually they come in the form of phone calls. There's the long pause and then the foreign voice saying that the tax department owes us money and they need our bank account number to pay it in. Or there's the fake Telstra call saying that you have been double billed and yes they need your bank details for the refund.
The 'Do Not Call' register can get rid of a lot of this but a new and somewhat frightening scam has reared its ugly head and it works like this.
Suddenly and without warning siren sounds erupt while you're browsing the internet with a repetative: 'SECURITY BREACH DETECTED' voice overlaying the noise.
Frightened browsers usually turn their computers off as the red corner cancel button won't work. Switching the computer back on finds you in the same place you were before!
Those who follow the prompts find themselves being asked to pay for security protection. This costs hundreds of dollars for a service that can be had for free and yes they want your credit card number so that you can pay in American dollars.
We checked out 'Advanced Security Protector' which one rating agency described as..'a fake tool designed to mislead the victim and swindle their money.'
If, dear reader you have been infected by this 'scareware' you can punch in their name followed by 'removal' and follow the prompts. Too hard for you? If this is the case you will need to see a computer guru.
Want to know more? Google: 'scareware examples' to see the type of thing we are up against.
Photo: The online removal form to get rid of the 'scareware.'
---
Bowling Them Over
Four local lady bowlers have come into the spotlight recently.
Vicky Parkinson has just returned from WA whe
re she represented NSW and Sharon Williams, Pam Mc Intosh and Delma Price came up trumps in taking out the Newcastle triples championship.
Vicki represesented the state in the Multi Bowls (disability) titles and reached the semi finals, an outstanding achievement considering she had been playing for only 18 months.
"This would not have been possible had it not been for the support of Club Lemon Tree, the lady bowlers' club and others," she said.
Meanwhile, our triples team, playing as a trio for the first time in the Newcastle District Championships beat off entrants from as far afield as Alder Park, Tea Gardens, Raymond Terrace, Wallsend and Heaton over five matches to take out the title.
With fewer senior lady bowlers taking up the sport, bowling authorities are taking an innovative approach in actively encouraging young school age children to become involved. They are offering coaching lessons and making their facilities available to schools. The results have been encouraging and have helped lawn bowls to shed the 'old people' image it is sometimes seen as.
Photo: Winners are grinners! Vicki, Sharon, Pam and Delma at Club Lemon Tree.
---
Turning Backyards into Big Bucks
With the cost of new free standing houses on small portions of land beyond the reach of many, there is another way to capitalise on older homes which were built on the standard quarter acre blocks.
It's all about putting a 'granny flat' in the backyard and renting it out or living in it and leasing out the old house. Alternatively you could use the rental return from of the new dwelling to finance a makeover of the old one or indeed to pay it off.
Ian and Barbara Rufus are currently value adding to their Mallabula property by having a new ready built house put in the backyard.
The retirees from the lower Blue Mountains have leased out the old Mallabula house since they bought it in 2004. They also use it for holidays in between tenants. Their new 'granny flat' will become their permanent weekender. They also now have the option of retiring to Mallabula at some point down the track whilst the other two houses generate income.
Here are some details to consider if this type of investment appeals to you.
The all-up cost of the two bedroom dwelling is around $130 000.
This includes Council application fees and service connections. It also includes delivery and siting of the house on its foundations. You do not have to subdivide nor are there additional council rates to pay. You do need however to fork out for extra garbage bins as well as the standard council garbage collection fees.
Look at the numbers. Initial all-up cost: $130 000. Weekly rental income: $250.This equates to $13 000 pa. Investment return: 10%.
Of course, dear reader there is more to it than that. You will have to consider vacancies, repairs, insurance premiums, taxes and real estate management fees. On the plus side, there could be long time profits from capital gain. Think about it.

Photo: Happy – Barbara and Ian with their new property addition.
---
Best Show Ever
The clear, fine Autumnal weather no doubt helped to achieve record entries and visitors to this year's Motorama held at the Tilligerry RSL & Sports Club. There were roughly 400 vehicles vying for trophies in some 20 sections. A crowd estimated to be around 6000 was in attendance.
Food stalls did a roaring trade with our local Lions Club selling out at its sausage sizzle. Stallholders also did very well as did the RSL Club.
Some of the standout winners were:
Best in Show: Lancia Fulvia Jim White.
People's Choice: Iron Head Harley Greg Hodson.
Best Vintage: 1929 Oakland Mal Smith.
Best Holden: 1996 HR Tony Rowe.
Best Motorcycle 2015 Harley Breakout Shane Evans.
More details and photos can be found by visiting the Tilligerry Auto Club Inc. website.
Apart from a large cash donation to the John Hunter Paediatric Oncology unit, this year five local sporting clubs will also benefit from generous equipment donations.
It takes several weeks to finalise the net proceeds of the day. At a date to be advised, a presentation night at the RSL Club will see a sizable cheque handed over to representatives from the hospital. We will cover the event and keep you informed. Watch this space.
Photos: Two of the superbly restored vehicles from Motorama 2018.
---
Gypsy City
Sisters Linda and Karen Grundy have opened a new business: 'Gypsy City' in the Kooindah centre next to Tanilba's Post Office.
Why? The duo has been on something of a healing journey since leaving the corporate culture rat race and seeking more tranquility in their lives.
The name of their business was drawn from their Romany Gypsy Welsh heritage.
In the shopfront they offer up a range of giftware such as crystals, pendants, jewellery, aromatic oils, balms, bags, ear-rings and shawls.
The main focus however is on healing and relaxation of the mind, body and soul.
Services available include: aromatherapy, reflexology, crystal Reiki, Tarot reading, foot spa massage and hot stones. Pensioner discounts are available and full details can be had on their website: gypsycity.com.au
Bookings and enquiries ph: 0412515635 or 49824144.
Photo: Check us out! Linda and Karen at 'Gypsy City.'
---
Zoe - then …..and now
Getting a job as a schoolteacher these days can be very difficult with few full time vacancies and long waiting lists for those fresh out of university.
There are however ways to jump the queue and former Dux of Tanilba Bay Public School Zoe Mizrachi struck gold.
Training in subject areas with chronic shortages of qualified teachers will vastly improve your chances as will a willingness to go anywhere in the state.
With a Bachelor of Teaching (Mathematics) (Honours) degree, Zoe was offered an appointment in a country town on the western slopes of the Great Divide. After accepting it, she now teaches maths from year seven through to year twelve.
She recently returned to Newcastle University for her graduation ceremony.
Photo: Zoe, then …. and now!
---
Why RAF Park?
With RAAF Williamtown close by, residents could be forgiven for believing that the 'RAF PARK' sign on the small triangular piece of land beside the RFS and ambulance stations is a misnomer. It's not and to find out why, we need to revisit the history books and the legendary Henry Halloran who developed Tanilba's township in the 1920s.
Halloran was a true son of the British Empire and named the streets after prominent WW1 allied figures. He also named 'Army Ave,' 'Navy Nook' and RAF Park after the three armed services. Monash Close was the only one not to use alliteration in the names as it was subdivided well after Halloran's death.
The RAAF did not exist until after WW1 and the infant Australian Flying Corps served under the umbrella of the Royal Flying Corps which was truly huge. In 1918 it was reborn as the RAF with some 20 000 aircraft! (and that's not a misprint). The RAAF was formed in 1921.
Believe it or not, Australia had the fourth largest air force in the world during WW2 with some 6000 aircraft. RAAF aircrews suffered the highest casualty rates of any of our armed forces; 9780 in total which included 3486 in bomber command alone.
RAAF Williamtown was established in 1941 with four separate 1100 metre runways. It acted as both a training base and as well as giving protection for the industrial hub of Newcastle.
The most famous local officer was Grant Lindeman DFC, OBE who took a torpedo squadron to Russia during the war and later returned as as a senior officer at the base. He turned his hand to oyster farming in Lemon Tree Passage upon retirement.
Photos: RAF Park and Wing Commander Grant Lindeman with fellow officers (and torpedo) during WW2.
---
Foreshore Fiasco
For quite some time now we have been trying to get some sense out of both Port Stephens Council and RFS in relation to fire management of the foreshore reserve between Tanilba Sailing Club a
nd Billy's Beach Mallabula.
This scrub regularly goes up in smoke destroying sections of the pine boardwalk. Without fire management of the overgrown scrub it will continue. On top of this the fire reliant flora, particularly the koala food trees cannot seed and regenerate.
We asked PSSC and the RFS to examine the history of wildfire
in this scrub but they point blank refused to address the problem. PSSC stated that it was...'low risk', and the RFS suggested that a community awareness initiative was the answer. Had they consulted the local firies and residents, the answer would have been entirely different.
There is however a plan to overcome the problems related to the toxic smoke and ash generated by the burning arsenic impregnated pine.
Council will remove the ash residue from the previous fire when they rebuild the boardwalk and the new decking will not contain arsenic compounds. Indeed PSSC has plans to remove all structures containing arsenic and will replace them with a more benign treated timber.
So, dear reader, who will carry the can next time it all goes up in flames?The answer of course is nobody. It's yet again another case of 'Catch 22'.
Photos: A burnt out section of the boardwalk and Bob Hunt, one of the 'bucket brigade' who saved parts of the structure.
---
Makeover for Pharmacy
The Lemon Tree Passage Pharmacy is about to get a makeover with a wider range of products and services in the pipeline.
New owner Fady Fahny will be creating a new look within the premises itself while expanding the services on offer. His wife Basma, an accredited HMP pharmacist will also be out in the community checking that residents understand their prescribed medications, their dosage and application.
There was a time when local chemists made their own pills and potions in house. Their preparation rooms resembled a science laboratory. That changed with the mass production of medications. It did, however create a problem in as much as the 'one size fits all' dosages didn't always work. Sometimes individuals returned to their doctors many times before the ideal calibration and mix could be arrived at.
Fady puts it this way:
"We now provide a 'Compounding Service' whereby we check the strength of medications, their interaction with other prescriptions, the dosage and the timing of ingestion." he said. "Close monitoring can deliver the best outcome for the individual," he added.
"We also offer flu shots, free home delivery, a range of mobility aids, a Diabetes Australia access point and both blood glucose and blood pressure monitoring," he said.
Opening hours are from 8.30am until 6.00pm weekdays and from 9.00 am to 12 noon of a Saturday.
Photo: Fady with his sign displaying what his pharmacy has to offer the community.
---
Cashing In
With our 'Return & Earn' facility up and running, we thought that you would like to know the finer details – and what's going on behind the scenes.
For starters, it is NOT a recycling project. It is an initiative of the government to clean up the the state of NSW.
For those items you pay a surcharge on, you can get your deposit back (or some of it).
Put simply, you get a 10 cent return on each can or bottle accepted by the mach
ne in the 'Coles' carpark at Tanilba Bay. These containers must be undamaged and have the original label intact.
You can opt for a credit to your 'Pay Pal' account which involves scanning of your mobile phone. Alternatively you can get a docket redeemable from Coles or you can decide to donate your refund to one of four listed charities which are:
The Cancer Council; Clean up Australia; 'Ostomy NSW' (which supplies colostomy bags) or the Tathra Bushfire Appeal.
Servicing of the deposit centre is thoroughly professional with the containers being collected on a daily basis and cleaning is done twice each day.
So keen are some locals to cash in, they actually drive around the streets on garbage night and retrieve containers from the kerbside yellow bins.
The scheme however has its downside. A few residents rock up to the machine with piles of bottles and cans that are rejected and just dump them there. Others have to clean up the unsightly mess.
The big winners in all of this are huge beverage companies which slap on as much as $4 to the retail price of a carton of drinks. With only 13% of bottles and cans returning they don't have to fork out the 10 cents refund on the 87% that don't come back.
This equates to some $400 000 000 in a year!
As far as recycling goes, it is cheaper to crush the glass bottles and use it for landfill than to find a buyer for the stuff. Aluminium cans have value and some types of plastic bottles can be recycled.
Photo: This dynamic duo got a $9.80 Coles voucher for two bags of cans.
---
Boomerang Bottles
The 'feel good' bottle and can recycling depot in place at 'Coles' carpark Tanilba Bay may not have the result it was intended to.
Nobody wants the glass and warehouses in Sydney are bulging with the stuff. It is even being trucked to Queensland for use as landfill.
The interesting thing about the bottles that local people cash in is that they could very well have come from this area in the first place.
White silica sand is a rare and valuable commodity. Indeed the NSW white glass industry depends on the sand extracted from the Tilligerry Peninsula.
It all began in 1980 when ACI built their processing plant at Tanilba Bay and mined the dunes behind Tanilba Golf Club. P B White was another company extracting sand as well. ACI moved its plant to Salt Ash in 1995 where they also mined beach (amber) sand. This is used to make brown glass bottles.
The northern dune running between Oyster Cove and Tanilba Bay is currently the source of the white sand.
Whereas the earlier rutile miners wanted the valuable minerals in the sands, the silica miners wanted to get rid of them. This was done by pumping a sand / water slurry over spirals and using centrifugal force to cut the heavy minerals out. Iron in particular was the enemy as it turned the glass green. This 'reject' sand was much sought after by bricklayers.
The 'Return and Earn' system is, in reality, something of a misnomer. You have already paid for the cost of the service and are simply getting your money (or some of it) back.
Photos: The new 'Return and Earn' facility and the silica sand mine in Tanilba Bay.
---
Can They Survive?
The State Premier Gladys Berejiklian's announcement of a multi milllion dollar initiative to arrest the decline in NSW koala population has been warmly welcomed.
In Port Stephens, the construction of a koala hospital will, if nothing else be a bonanza for the tourist industry.
At the grass roots level however there is a degree of scepticism and misgiving amongst long term carers and rescuers. This revolves around the current policy of releasing the koalas into the bush where they were found.
In most cases this has meant a very small survival rate as they fall victim to traffic, dogs and bushfires, their three greatest threats.
Apparently there is no grand plan to establish a 'safe haven' for them which is fenced, control burned and cleared of predators.
We caught up with one of the last surviving koalas in Lemon Tree Passage recently. Some locals had spotted him in a tree in front of Henderson Park's bandstand. He has been lucky, unlike two others which were ripped to pieces by dogs recently within the same month at Mallabula.
More people coming here means more homes, more backyard dogs and more traffic. Winter burnoffs really don't happen much anymore and the summer firestorms are unfightable.
If, dear reader, you have a solution, let us know and we'll pass it on to those with the power to change things.
Photos: Locals pointing to a koala in Henderson Park LTP and an Oyster Cove firestorm in prime koala habitat.
---
Survivor
"I'm not feeling very well." These were the last words Barry Gale remembers saying before he collapsed on the first fairway at Tanilba Golf Club recently. He was later to discover that he had suffered a cardiac arrest, a medical event that has a huge fatality r
ate unless instant care is given.
Barry was in luck. His golfing partner Kevin Lancaster administered CPR but more help was on the way. Max Harrison who was waiting on the tee saw the unfolding drama and was on the scene within moments. He took over the CPR and an emergency call had an ambulance on the course a short time later. Quite by chance, the vehicle was on its way to Tilligerry for another call out and was diverted to the club. Their defibrillator brought Barry back to life. Another ambulance specialising in intensive care then arrived.
After an initial scan and testing at the Mater hospital he was transferred to The Hunter where emergency surgery was performed.
The 74 year old Tanilba Bay resident cannot believe his good fortune and was gushing in his praise for those who saved his life.
"Max, Kevin and Amanda Kailie from the club were magnificent in their initial response as were the ambos." he said. "The hospital care was first class." "I'd also like to thank local medico Dr Haines and his staff for the ongoing attention they have given me after I came home" he added.
Barry is currently recuperating and has adopted a toned down exercise regime along with prescribed medication to assist with his condition.
Photo: On the mend – Barry at his Tanilba home.
---
Judy Saves the Day
People assume that 'Coles' owns our major shopping centre at Tanilba Bay. They don't. Just like the other businesses in the plaza they are tenants with a separate company responsible for its management.
Charities and local fundraisers have always been able to sell raffle tickets in the forecourt as it is the major traffic area for the town's shoppers. The only stipulation is that each group must book in so that everybody gets a fair go.
Apparently management had changed and Tilligerry Car Club was horrified when they faced the prospect of having to cough up some $55 to fundraise there for the upcoming 2018 Motorama.
Long time community worker Judy Camm saw red and took to the airwaves to try to change things. She got on the John Laws radio show and gave them (the management) both barrels. For ten minutes she rattled on about how the Motorama had supported the John Hunter Hospital's children's wing for many years with donations of well over $100 000. She also pointed out that other small community groups could not afford this fee.
The end result was that the $55 charge has been waived and all of the fundraising dollars now stay on the peninsula helping local community groups to carry on with their good work.
Note: All details of the Motorama can be found by punching in 'tilligerry motorama 2018' on your preferred search engine.
Note: We wish Judy and Geoff, all the best for the Grand Tour of Europe - ed
Photo: Judy Camm – standing up for the little guy.
---
Dash for Cash
We still have our petrol vouchers here at the library for the "Dash for Cash" winners. Please collect by Wednesday 9 May otherwise they will be used for future competitions.
---
A New Day Dawns
Historic Tanilba House is open for business! The colonial homestead now operates as an Airbnb. You can check it on their website: 'tanilbahouse.com.au' or find more details on 0418979748.
New owners Glenn Short and Deirdre (Dee) Hall have more plans for the future which include converting the convict built home into a function centre as Glenn explains:
"Wedding, family reunions and corporate events are just some of the ideas we are toying with at the moment," he said. "It won't be open on a daily basis for inspection as in the past but we plan to keep the traditional 'Carols at Christmas' alive and host cultural events as well," he added.
Deirdre wants to reassure residents that the new owners wish to become part of the community:
"Both Glenn and I want to get to know the locals and learn as much as possible about the history of the property,' she said.
So how did the duo come to buy the property?
Glenn's parents lived in the area for some 40 years and he often admired the place when he walked past. For Deirdre it was: 'Love at first sight.'
"We saw it for sale online and the rest is history," he said.
Glenn is currently in residence most of the time, cleaning the place up and effecting repairs. Deidre's career keeps her in Sydney during the working week.
Photo: Deirdre and Glenn – new ideas for the future of the Tanilba House.
---
Secret Men's Business
You see it everywhere these days: women powering ahead in areas considered to be strictly the preserve of men as little as a decade ago. Indeed, such is the pressure to gain total equality that in these enlightened times, many employment positio
ns are reserved for women only. Today, it's all about equality of opportunity.
This is a far cry from a century ago when women staged protests just to get the vote. One of these activists (suffragettes) threw herself in front of the King's horse at the Epsom Derby and was trampled to death in an attempt to draw attention to the issue.
Australia, to its credit, was the first country to grant universal suffrage at a national level by legislation passed in 1902.
So much for the history lesson but what about the blokes left floundering in the wake of the feminists' Tsunami?
Some ten years ago the late Bob Royal kick started the Tilligerry Christian Men's Group which still meets on the first Saturday of each month for a men's breakfast. Their venve is the picnic shelter in Henderson Park LTP. They have interesting guest speakers and discuss blokey topics. Kathy Davidson, John (Stinker) Clarke , Bob Baldwin and local police officers are some of those who have given talks. Recently, Alan Olsen , a missionary from China told those gathered the story of his experiences. Interested? Lachie Mc Kinnon will give you full details on 49 823363.
But there's more! The Tilligerry Men's Shed is another place where men can get together to share interests in woodworking and craft skills. They will make and repair items of furniture that residents find hard to do. The shed is located just past the pool at Mallabula and Kevin Colman is the contact person on 4945 931.
Photos: Alan Olsen tells his tale....and members of the Tilligerry Men's Shed.
---
'Best in the World'
Our John Hunter Hospital h
as the distinction of being named after not one, but three eminent people. One was Captain John Hunter, a
first fleet naval officer and the second governor of the colony; another was the brilliant English surgeon and the other was a certain John Irvine Hunter, an outstanding anatomist who died tragically young at just 26 years of age.
Perhaps it was some sort of payback for the $100 000 + in donations made to the hospital by the Tilligerry Motorama. Maybe it was just the excellence of service delivered by this renowned medical centre. Whatever the case, the John Hunter Hospital is; 'the best in the world' according to Mallabula's Sue Mc Dermott.
Stricken by an illness which saw her lose all leg movement, she was given an MRI at The Hunter and then rushed to emergency surgery where a spinal abscess was operated on in a procedure lasting some five hours.
Six weeks later and after numerous intravenous injections she was released into the care of her family. Today, some four months down the track she is back at her beloved local pool recuperating.
"I can't fault the medical care I was given," she said. "Where else in the world could you get this type of treatment – and all for free?" she added.
"I was also close to tears when I received a 'get well' card from my friends at the aquatic centre." On top of this I was treated as some sort of celebrity when I returned. The caring staff even offered to lower me into the heated pool in a special chair!" she said. "Fortunately, I was able to manage by myself. Tilligerry is a wonderful community. Why would you want to live anywhere else?
Photos: Sue at the pool and the three John Hunters: the governor; the surgeon and the anatomist.
Note: The 2018 Motorama is set down for May 20. Spread the word.
---
A Good Yarn

The small bookshop in Lemon Tee Pas
sage tucked away in the corner of the red brick complex has gone. It has been replaced by 'Sweet Lemon', a crochet and knitting outlet which, according to the owners, boasts some of the finest imported yarns available.

Ian and Sandy Mulligan have lived in the area for some five years. They both have a history of crochet and knitting. Ian has crotched since childhood and in later life found that this past time helped him unwind from the daily stresses he faced in the IT industry. Sandy has always been a knitter.
Ian said that they would be able to supply all of those items that formerly would require a trip to 'Spotlight' in Newcastle.
"We will also be doing minor alterations that people just don't have the time or the skills to do these days," he said.
"It would be best to drop in and browse around," he added. "We can order things in if we don't stock them and the business will be directed by the needs of our customers."
Sweet Lemon opens on Monday, 30th April.
Photo: Excited: Sandy and Ian outside 'Sweet Lemon'.
---
Showing Some Interest
With the major banks being exposed as little more than thieves and swindlers, we thought that readers might be interested in the history of banking in Tilligerry and as to why today we have only one building society / bank to cater for a booming town.
As late as the 1980s, the two corner stores had post offices with the Commonwealth Bank facility attached to them. Old pipe smoking Mr Hood in the Lemon Tree shop handled the passbook banking and kept the cash in a safe under the counter.
That changed with the opening of the Tilligerry Plaza which incorporated 'The Greater' building society, a Westpac branch and a NAB branch as well.
Business was brisk but the banks became gripped by the corporate culture
, bottom line, dollar driven ethos...and greed. People no longer mattered. Both banks shut putting locals out of work and leaving their loyal customers out on a limb. Graham Lobsey, the much liked Westpac manager moved over to Coastal Real Estate.
'The Greater' stood by the locals and has operated ever since, moving to the new 'Coles' complex when the plaza closed down.
The reason that building societies prosper through thick and thin is the fact that they are owned by the customers. There are no shareholders. Nor are there highly paid executives whose huge bonuses are dictated by how much they rake in. 'The Greater' now has bank status as its lending has diversified. In both 2016 and 2017 it was granted the coveted status of 'Bank of the Year' (Roy Morgan Research).
The evolution of credit unions, run by and for workers makes fascinating reading. The 'Starr Bowkett' predated them whereby interest free loans were given to members..... but there was a catch. Google 'Starr Bowkett', 'credit unions' as well as 'terminating building societies' and you will see how these financial institutions have served their members over the centuries. Perhaps, dear reader the big banks might learn a bit from them as well.
Photo: 'The Greater' Tanilba Bay
---
Barry says 'Thanks'
Long serving and much loved lo
cal postie Barry Richards has called it a day after some 34 years working for Australia Post.
"I cut my teeth in the Redfern mail exchange in Sydney where along with 3 500 other workers I sorted and processed the mail. This lasted for 13 years and the Lemon Tree mail run had me delivering letters for another 21 years," he said.
"My wife Kim also served Australia Post for 35 years in the administrative s
ection." "Between us that's 69 years all up!" he added.
"I loved my job as it gave residents social interaction." I always had time for a chat and at Xmas I'd go home with my saddle bags bulging with goodies." "I thank all of my 'customers' for making my job so rewarding over such a long time."
And the future? Barry and Kim plan to spend a lot more time with their grandchildren in between 'getting away from it all' in their new Cub Camper.
"Apart from that, it will be golf, motor bikes and doing gigs with 'Barracuda,' a band in which I play bass, he said.
One little known fact we can now reveal is that our Barry beat off all comers some years ago to become the undisputed belly dancing sheik of Tilligerry. Don't believe us? Look at the picture of him and his admiring harem.
Photos: Barry and Kim in retirement....and Bazza in his heyday with the harem.
---
Fifteen Jobs 'Saved'
According to Darren Cafe, the new owner of 'Kippy's' on the Lemon Tree Passage waterfront, his prime motivation in buying the business was to preserve the jobs of the 15 young local people employed there.
"I didn't much like the thought of an extended family of 'outsiders ' taking on the business and leaving all these enthusiastic young people without work," he said.
"My aim is to become something of a 'silent partner' and let these exuberant young people run with it," he added.
Darren in another life had a successful career as a rodeo bull rider but the advancing years have seen him hang up his spurs.
"I've learned a lot from my father who was in the catering trade and we plan to spruce the place up and give it a name change, he said. "The staff will be issued with new uniforms and feedback from our customers will be a vital guide for our future directions."
Photo: Jem and Bell....ready to roll at Kippy's.
---
Green Slip Fiasco
The Green Slip refund system has highlighted how reliant we are on technology. We are expected to do everything for ourselves and it's always hard for those of us who are not "tech savvy" or don't have access to the internet.
Even if you do make it through to the correct web page, you have to wend your way through a maze of stupid questions which ask you things such as: "Are you a robot?"
or to...."Click on the squares in the picture that show parts of a bridge;" "Click on any square which shows a part of a c
ar– or a real estate 'for sale' sign." On and on and on it goes as frustrated locals start to wonder if it's really worth it.
We at tilligerry.com got in under the radar and found an easier way. We rang their help number and after a short wait got onto a REAL PERSON. We kid you not!
Here is our way to retrieve your green slip overpayment. You must be firm with them as they will do anything to try to get you to go back to the online form so you need to use some tenacity to get them to do it for you. They will not give up however and persist in trying to get you to find a friend who will do it for you.
We found that we rattled on about our age, our remote location, our lack of....... (fill in the blanks with your own story).
We found that when the call centre operator tried to interrupt, we talked over the top of her and finally, the operator will offer to do it all for you.

After it's all done and dusted, thank her for the help and tell her that tilligerry.com told you to give her a buzz!!! Sadly, she won't have heard the last sentence as she would have hung up.
Oh! the number: It's 137788. Best of luck.
Photo: Green slips: One phone call will get your refund.
---
Bridging the Gap
'Use it or lose it'.....This is the problem senior citizens face in their twilight years.
That's why you see older people at gym classes, at yoga or doing aqua fitness sessions in our heated pool.
As far as the brain goes, research shows that mental gymnastics can ward off the dreaded Alzheimers . Interaction with other people, developing new skills and keeping the brain's pathways open are great ways to re-energise your mental acumen.
Local groups such as the trivia crew, mah jong, euchre and our ukulele band all help to keep our seniors active, alert and socially connected.
Another activity which will get those synapses really sparkling is the card game of bridge. Our local group meets twice weekly at Club Lemon Tree and they are offering beginners' lessons starting Wednesday 21st March at 11am. No previous experience is necessary and it costs a mere $2 per lesson. Details can be had from Paul on 0419208574.
So dear reader there you have it! Those new to the area or others housebound or bored can give themselves a boost by getting the mind into overdrive. It's all up to you!
Photo: Seven no trumps! A bridge hand to dream about.
---
New Community Directory
As the Tilligerry community expands and changes, there is the need to provide residents (particularly newcom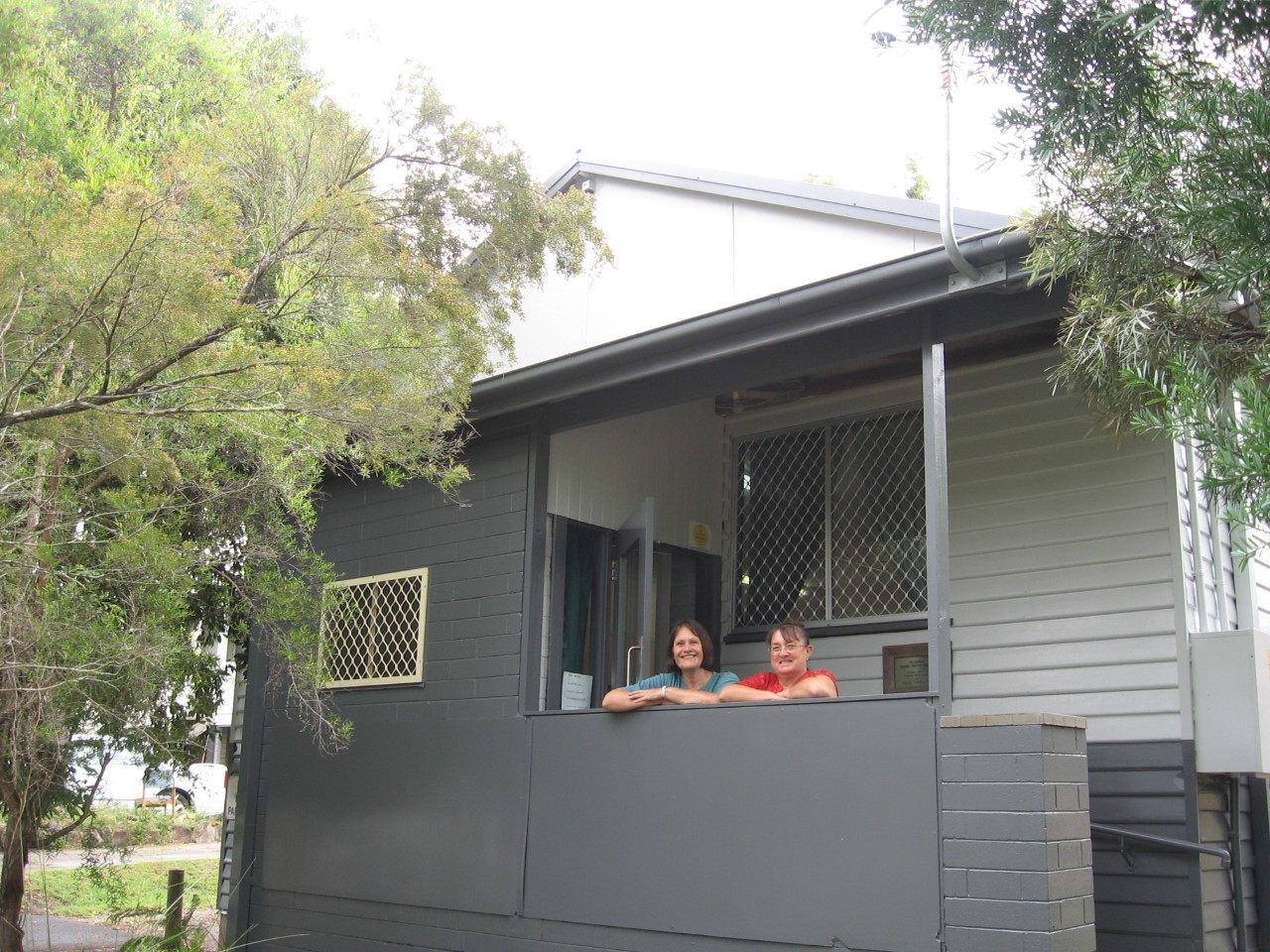 ers) and tourists with a directory of service groups, clubs and businesses. With this in mind, TACE (Tilligerry Adult and Community Education) will be compiling one in the near future.
It will be available in both an online and printed format.
TACE works under the umbrella of PSSC and coordinates community groups such as art, lead lighting, family history and mah jong. It has its home base at the LTP library. It also publishes tilligerry.com our local online news service which has grown to be the major source of local news for residents .Most months it gets over 1500 'hits'. The Port Stephens Literature Awards, a national short story competition, is another initiative of TACE and is run by volunteers.
If you would like to publicise your club, social group or business, email basic contact information to: tace@tilligerry.com and it will be considered for inclusion. There will be no charge for this service.
Photo: TACE volunteers Helen Mizrachi and Sue Hamilton at the library.
---
Wanted!
Have you seen the ads on TV where school kids are showing off their new garden built from logs made out of recycled printer cartridges?
Well, if you would like to help with this initiative you can drop off your used cartridges to the Lemon Tree Passage Library (opposite the motel).
The Library is open six days a week between 10 am and noon. Out of hours you can leave them in a bag or box in the alcove at the front door.
Oh! this recycling facility also accepts spent batteries which can be dropped of at the same time.
Our library always has new stocks of books and FREE magazines donated by readers. They are stacked on a table just inside the door.
We look forward to you helping make our planet just that little bit greener and cleaner.
Photo: TACE volunteer Helen Mizrachi: "We need your old cartridges and batteries!"