More Koala Trees
PSSC has, for the last five years planted some 1500 trees throughout the shire to maintain and enhance corridors for koalas.
Currently they are linking Tanilba's forested foreshore to Sunset Point with a new feeding and breeding strip of eucalypts as the old swamp mahogany trees are nearing their end of their life cycle.
The local Parks and Reserves committee has been notified as have waterfront residents by a letterbox drop but problems have arisen.
A screen of trees planted before the consultative process had been completed has angered foreshore residents. Positioned close together they effectively blocked residents' water views. Council has agreed to relocate the trees but more plantings will take place between the new amenities block and the western end of the reserve. This will establish a corridor over the long treeless strip and link it with an existing forest near the boat ramp.
Photo: The screen of trees to be removed along the Peace Pde foreshore.
---
Literature Awards 2019
CLOSING DATE EXTENDED!!!!
Please have entries postmarked by 14 October to be included.
GOOD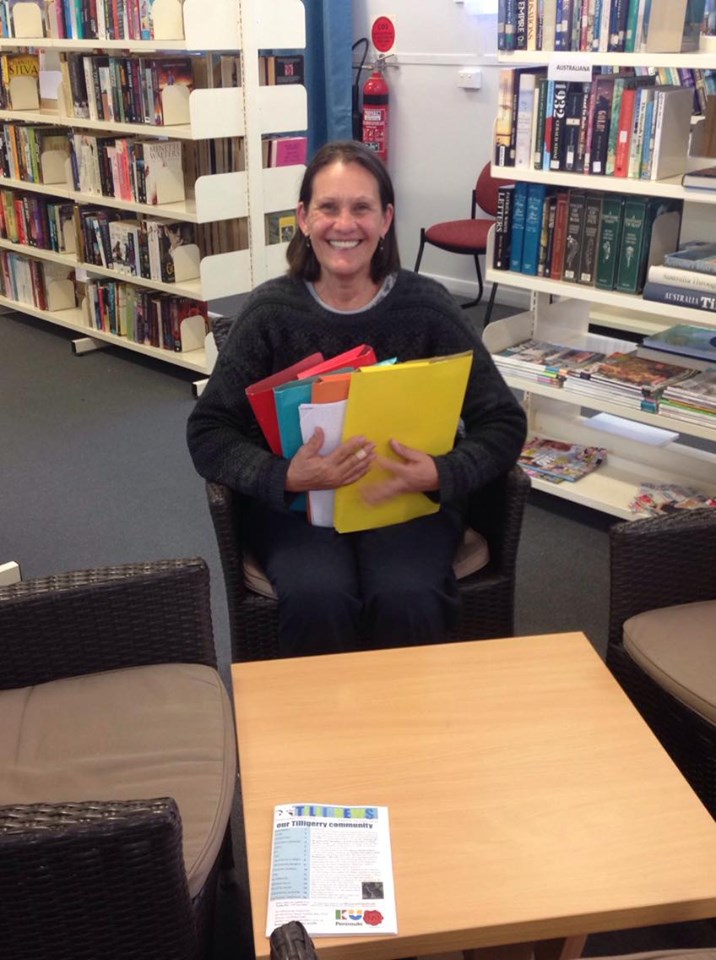 LUCK!
The annual Port Stephens Literature Awards are now open for entry. Prize money of $1100 is on offer for short stories of up to 2000 words on any theme. The closing date for submissions is 30th September.
The awards are jointly sponsored by Port Stephens Shire Council, Club Lemon Tree and NOTA (News Of The Area).
Long time co-ordinator Sue Hamilton said that to get shortlisted, writers need to engage the reader within the first page. "With only 2000 words, you need to draw the reader into your story very quickly," she said. "Be sure the entry is a 'page turner' with an economy of words and develop an intriguing, fast moving storyline," she added.
"You don't have to be long winded. One year the winning entry was fewer than 900 words in length,' she said.
Full details can be sourced from our website: tilligerry.com or by emailing enquiries to tace@tilligerry.com or on 49823986.
Photo: Helen Mizrachi – Literature Awards now open for writers.
---
Million Dollar Bend
Old time residents still refer to a section of road past Tanilba's golf club as 'Dead Man's Corner.' This name came from the fact that a road worker was killed there by a falling tree in the early part of last century.
The elevated section of road has seen five major accidents in as many years so PSSC is about to do something about it.
Working with a $1 100 000 state government grant, the shoulders will be widened and guard rails and wire barriers will be installed.
These grants are allocated as part of the government's 'Saving Lives on Country Roads' initiative and cannot be used on any other suburban road programs as Councillor Steve Tucker explains: "It is exactly the same situation as our new roundabout." "Residents must realize that we have a separate roads renewal strategy which is prioritised and funded by Council." "We can't dip into this 'black spot' funding to finance other works," he said.
"The only downside to this new roadworks is some inconvenience to road users for about 12 weeks and it also puts our planned $5 000 000 Tilligerry road renewal works back a bit in terms of priority," he added.
Council has also secured similar funding to for work on 'black spot bends' between the Salt Ash tennis courts and the main Nelson Bay road.
Photos: The sign giving details of the roadworks and Cr Steve Tucker: "Million dollar program to start in October,"
---
New Sweets Shop
Tanilba Bay has a new sweets shop. Loca
ted at shopfront 13 in the Kooindah Centre, it occupies the spot formerly
the home of 'The Black Cat' hair salon.
Tanilba resident Zeljka Woods offers the public a wide range of sweets and party supplies which include lollies, balloons, candy bars, cake stands and beanie boos.
Why not drop in and check things out for yourself. Alternatively, give Zeljka a buzz on 0402 902 750 or explore her website: 'balloonsandcandy@outlook.com
Photos: Zeljka in her new shop.
---
Tanilba's N
ew Mechanic
Shane Humphreys from Lemon Tree Passage has set himself up as a motor mechanic at Tanilba Bay. He has leased the maintenance bays at the service station opposite the Kooindah Centre and is taking bookings for car maintenance and repairs.
"We do anything from an oil changes to gearboxes," he said. "On top of this we also do electrical work and only use original spare parts in all of our repairs," he added.
Shane can be found on 0450 814 113 or residents are invited to drop by to discuss what vehicle maintenance and repair issues they have which need attention.
Photo: Shane Humphreys......New mechanic at Tanilba.
---
Service NSW is coming!!!
Look out for Service NSW on Tuesday 29 October 2019. Please contact them direct to confirm their setup location.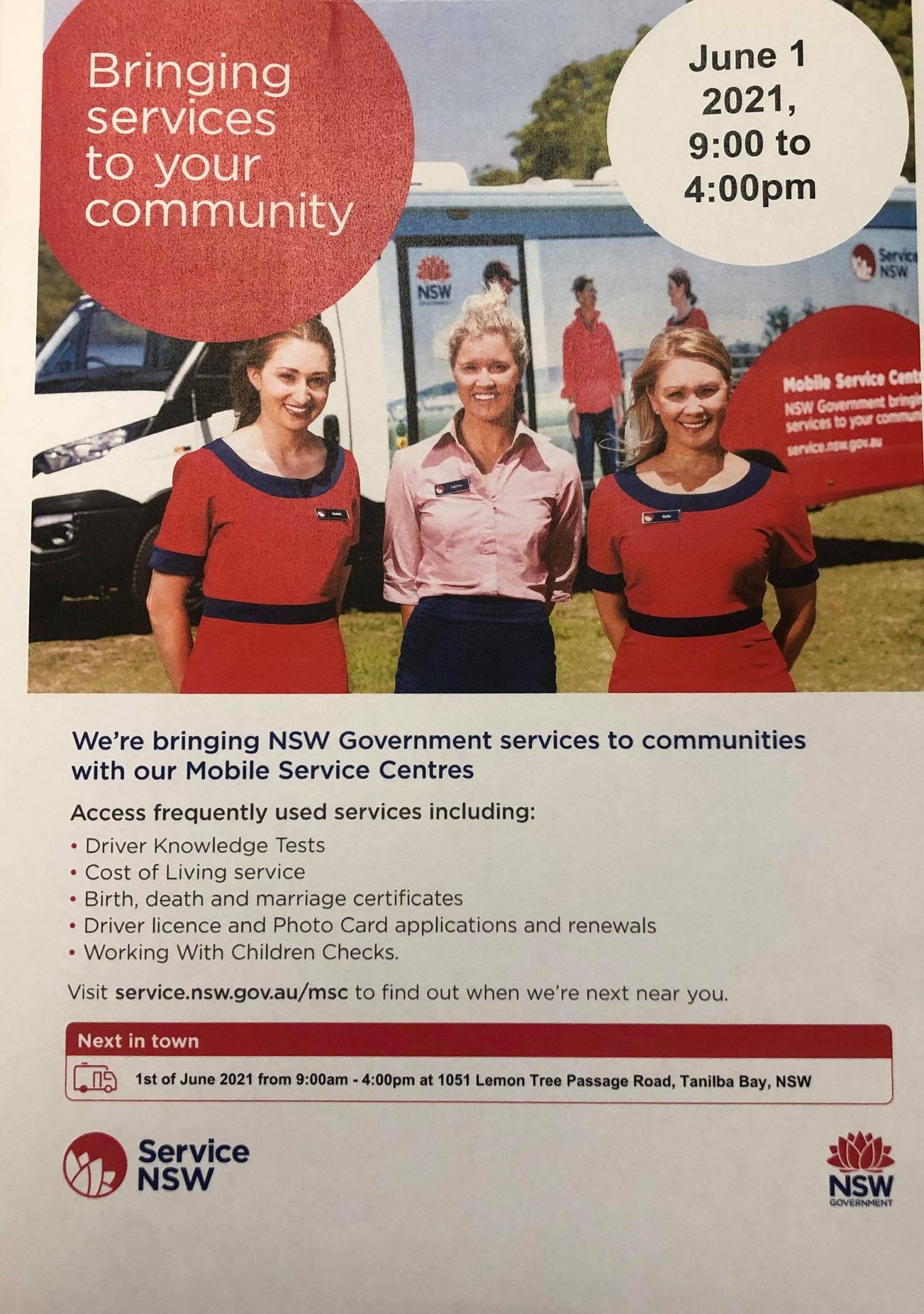 ---
tilligerry.com is taking a break for a few weeks. Please keep the stories coming and email them to tace@tilligerry.com
---
---
Farewell Heather
'Heather' the most seen and photographed koala in the Tilligerry
Habitat has died, presumably from old age.
She was named after her carer when rescued in 2007 and her age at that time was estimated to be five years. That made her about 16 at the time of her passing which is more than a fair innings for a koala.
Of recent times she was more visible as she tended to reside in the smaller trees closer to the ground.
Heather was one of three koalas found in the Tilligerry Habitat in a recent drone survey.
Koalas in their natural state are a great draw-card for the nature reserve on the foreshore at Tanilba Bay which averages some 250 visitors per month and around 100 per day at the peak of the summer holiday season.
Photos: Heather resting in a tree and a drone takes to the skies in a recent dawn koala survey at the 'Habitat.'
---
Summer Comes Early
The summer swimming season at the Tilligerry Aqu
atic Centre has come early this year and there is a reason for this.
Normally 1st October heralds in the extended hours (6am to 6pm) but a major maintenance problem involving a leak at the Lakeside Centre, Raymond Terrace, has changed things.
Tilligerry no longer shuts at 12 noon and has extended its hours until 6pm to accommodate the regular Lakeside patrons and its squad swimmers who have been left 'high and dry' by the unforeseen closure of their home pool.
With many Lakeside swimmers living at Medowie, it is no great inconvenience as the extra travelling time is around a mere five minutes.
Season ticket holders are free to use both the Tomaree and Tilligerry Pools until the Lakeside problem is rectified.
Currently the water temperature at Tilligerry is a comfortable 26 degrees and regular patrons now have the luxury of swimming in the morning or afternoon time slots as a bonus.
Photo: Tilligerry Aquatic Centre..... Extended summer hours now in place.
---
Wattle Day
Not only is the golden wattle our nation's floral emblem, it also has its own special day, 1st September which heralds in the spring.
Apart from its beautiful flowers, the plant has also provided the native peoples and European settlers with a variety of useful products.
The aborigines extracted witchety grubs from its wood as well as using it for medicinal purposes and to fashion weapons. They roasted the seeds and ate them.
Colonial pioneers created their iconic houses from wattle and daub (clay) and the bark of the black wattle was highly prized for its tanning properties.
Port Stephens boasts several of the 900 odd varieties found on the continent and they are very useful to the home gardener. They burst forth after bushfires as the seed which lies dormant in the soil relies on heat to regenerate.
Wattle fixes nitrogen in the soil and you can collect the dried seed pods from the bushland in January. To kick-start germination, simply put the hard black seed in a glass container and fill it with boiling water. Leave it to soak overnight and plant out the next morning. The results will surprise you.
Photo: An early flowering wattle in Caswell Crescent Tanilba Bay.
---
High Viz Helpers
Our updated waterfront at Lemon Tree Passage has been a amazing drawcard for day trippers and holiday makers alike. It's also very popular with the grey nomads as they seek tranquility on their treks around the nation. Boating enthusiasts also flock there due to the upgraded launching facilities.
To keep this area and the nearby boardwalk in pristine condition, a happy band of high viz helpers is constantly on the job. They work under the umbrella of a PSSC's parks and reserves committee and Landcare.
About a dozen civic minded citizens get great pleasure in 'putting something back' into the community as well as making new friends and getting physical exercise. They are always on the lookout for new volunteers and operate out of their base station (a recycled steel container) which is located beside the TAG gallery on the main road.
Interested? Give them a buzz on 4988 0255 or parksltp@portstephens.net
for more details. Similar groups operate out of Tanilba Bay and Mallabula.
Photo: The 'High Viz Helpers' ready for action.
---
More than Just a News Service
You've seen our illuminated sign 'tilligerry.com' beside the main road near the golf club as you drive into town at night.
With news services moving away from the print media, tilligerry.com for over 10 years now has moved with the times and gives local residents the news that they can't get anywhere else. I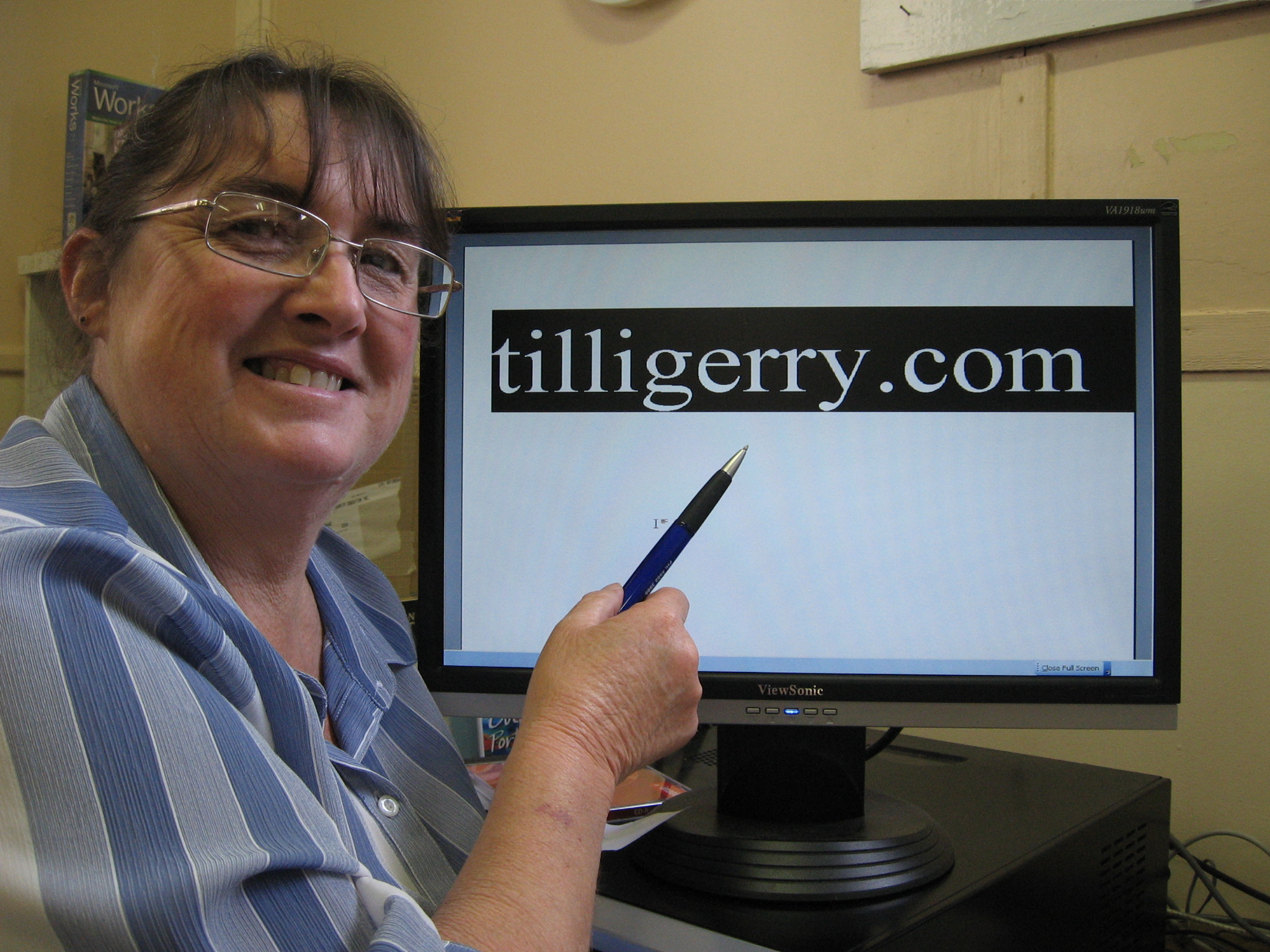 ndeed, those travelling around Australia or internationally can keep up to date with a click on a mouse or a mobile phone.
Before our 'hit meter' broke down we were averaging around 2000 views each month. We have a few businesses supporting us but we really don't want advertisers as we are a not for profit community service.
That's not all! Each year we run a national Literature Award (a short story competition) with the support of PSSC, Club Lemon Tree and News Of The Area.
On top of this we offer the public internet access, assistance with the operation of electronic devices and photo copying.
It gets even better. There are constant requests, usually from residents new to the area, for general information about available services and organizations out this way.
We now have an extensive community directory listing some 80 of these which includes: churches, clubs, social groups, cultural events, schools, tourist information, community support, JPs, medical services, play groups and pre schools.
For more details scroll to the bottom of this page or click on 'Literature Award' and 'Community Directory' in the left hand green side bar.
Photo: tilligerry.com more than just news.
---
High Tea Success
Gusting high winds and and a winter cold snap did not deter the 104 guests who turned up at the Tanilba House inaugral Colonial High Tea recently.
Over two sessions, they were treated to a cultural experience which included fine dining in an elegant setting. This was followed by a tour of the recently restored property and a talk about the history of the Caswell pioneers who built the homestead.
Included in those present were Graham and Linda Caswell. They had brought with them the Caswell family sword and bible which they put on display.
According to owner Glenn Short, the 'High Tea' was such a success that it will become a regular feature at Tanilba House.
"We have two more already booked out and we see it as part of our future plans for events which will include weddings, corporate functions and conferences," he said.
Tanilba House sits on top of the hill at Tanilba Point with commanding views of the bay. It has recently undergone a complete restoration to bring it back to its former glory. The Heritage Council has been consulted to ensure authenticity. A major makeover of the grounds and gardens has also been done which highlights the convict built structure.
Photo: Owners Dee and Glenn addressing the guests at the Colonial High Tea.
---
Back from the Big Red Bash
Tanilba's Helen Smith is back from her second 'Big Red Bash' at Birdsville. She journeyed there with her sister Patricia where the dynamic duo promote
d Patricia's books which are photographic records of the annual event, the outback and the people who live there.
The 10 000 patrons of the 'Big Red Bash' also inject much needed cash into the drought ravaged communities as Helen explains:
"It's not just Birdsville that benefits," she said. "Along the way people stop off at other remote villages and spend money on accommodation, meals and fuel." she added. "This helps to keep these towns afloat during these difficult times."
Going on holidays out west is a great way to help the drought affected rural areas. This will augment our local Lions Clubs' initiatives. The combined Tilligerry / Medowie effort saw some 44 truck loads of hay dispersed amongst needy farmers. Food and essential items were also dispersed. On top of this, local tradies such as Tanilba's Stephen Stone rolled up their sleeves and repaired run down machinery and fences where needed.
Photos: Helen with her sister's 'Big Red Bash Book' and volunteer rural tradie Stephen Stone.
---
Car Club Present
ation
Club Lemon Tree was the venue for the annual dinner of the Tilligerry Auto Club which saw a cheque for $13 000 handed over to a representative of the John Hunter Children's Hospital.
Fundraising officer Kiera Wray was on hand to accept the donation from club president Ian Jones.
Ian told the gathering that over the past 14 years, a total of $148 000 had been gifted to this worthy institution.
He also thanked the major sponsor, Club Lemon Tree for its ongoing support. Others to be thanked included Port Stephens FM radio, Tilligerry Lions and Tilligerry RSL & Sports Club.
"We also had great backing from the business community in donating raffle prizes which helped yet again to make our Motorama the biggest annual community event on the Tilligerry Peninsula, he stated.
Photo: Handover: Kiera Wray accepting the cheque from auto club president Ian Jones.
---
More Than Just Koalas
Most visitors to the 'Tilligerry Habitat' are looking for a koala sighting but there is much more to be seen and done in their conservation waterfront wilderness on Tanilba's foreshore.
Their hay bale headquarters hosts community events and the local 'Eucalypts' ukulele group practise there on Thursdays and Sundays between ten am and noon. They are regular entertainers at Tanilba Shores Retirement Village and will be guest artists at the local TAG gallery on Friday,19th July at 12 o'clock. Their beginner group practises at Tanilba's Senior Citizens Centre of a Monday between the hours of two and three pm.
On top of this, 'The Habitat' has an extensive native plant nursery which sells seedlings to a mining company and the general public to augment finances. They also have morning teas of a Sunday on their verandah. All details can be found on their web site.
Photos: The Eucalypts at a practise session and visitors from One Mile Beach and the Central Coast explore the native plant nursery.
---
Military Memorabillia
Tilligerry RSL is keen to keep on display military memorabillia both inside the club in cabinets and outside for all to see.
Look at the photos. The large concrete tr
iangular pyramids are tank traps which were retrieved from Stockton Beach. They were designed to block the passage of Japanese tanks if they happened to land during WW2. The ones in the photo are dated 1942. Some of them are still brought to the surface after heavy seas pound the foreshore. They were a part of the coastal defence network which included a large naval gun on top of Tomaree headland as well as machine gun emplacements and torpedo tubes covering the Port's entrance.
The gun on top of the mound is one of the most successful anti aircraft guns of all time. It is the Swedish Bofors gun and over 60 000 of them were made and used by some 100 different armed forces worldwide.
Various models were developed for naval and air force use. Later versions were radar directed and used proximity fuses to detonate the projectile.
The firing rate was 130 rounds per minute with the shell weighing around one kilogram. The barrel diameter was 40 mm and it had a range of 7000 metres. It is still in production after 87 years of service but has been modified numerous times to keep pace with modern day military needs.
Why not take the kids along to play on the gun? There's a seat and they can look through the cross hair sighting mechanism and pretend that they're defending our country, just as their grandfathers did all those years ago.
Photos: The tank traps and Bofors AA gun at Tilligerry RSL.
---
KU Peninsula leads the way in Early Education
KU Peninsula Preschool in Tanilba Bay has achieved an 'Exceeding' rating under the early childhood National Quality Standard.
The rating recognises KU Peninsula's commitment to providing high quality early childhood education, and the strong relationships that exist between the centre's children, families, staff and local community.
"At KU Peninsula, we believe that community plays an important role in each child's development and nurtures a sense of security and belonging," said KU Peninsula Director, Mark Taylor.
"We have a strong connection with our local community, and we regularly take the children on outings to our local nursing home, veterans day centre, primary school, library truck, waterfront and koala habitat."
"Our connections with our community help the children to find their place in the world, develop an understanding of how society works, and recognise and understand the shared values that underpin our immediate community and wider society," said Mark.
KU Peninsula provides high quality early childhood education for children aged 2 - 5 years and is currently taking enrolments. For more information, contact the Director, Mark Taylor on 4982 3398.
Photo 1: children from KU Peninsula at the Tanilba Bay waterfront
Photos 2 – 3: children from KU Peninsula
---
The 'WOW' Factor
"WOW!"....this was the reaction of regular borrowers when they walked through the door to our new look library after its makeover.
New books, new curtains, wicker furniture, new carpet, state-of-the-art shelving and a modern offic
e layout greeted the eye.
Port Stephens Library Services Manager Kris Abbott, praised the efforts of local volunteers and community workers who assisted with the upgrade. This included the donation of new curtains, removal of old shelving and furnishings and restoration of the gardens at the front of the building. Little was wasted with the old shelving being donated to other grateful community groups.
Library staff from the Raymond Terrace and Mobile Library were of great assistance with the planning process as well as hands on with packing up and re-shelving all the book stock.
Apart from library volunteers and customers PSC Acting Community Services Section Manager, Aaron Malloy; Library Services Officer, Vicki Bailey and local Councillor Steve Tucker were on hand to celebrate the event.
The library is open from Monday through Saturday between the hours of 10am and noon.
The TACE office which works in tandem with the library in the same building, offers photocopying, fax service and internet access as well as assistance with the operation of electronic devices such as mobile phones and computers (assistance on Thursdays only).
Photos: 'WOW!' 1.The new layout at the library. 2. Celebrating the re-opening
elebrating the re-opening.
---
New Community Directory
As the Tilligerry community expands and changes, there is the need to provide residents (particularly newcom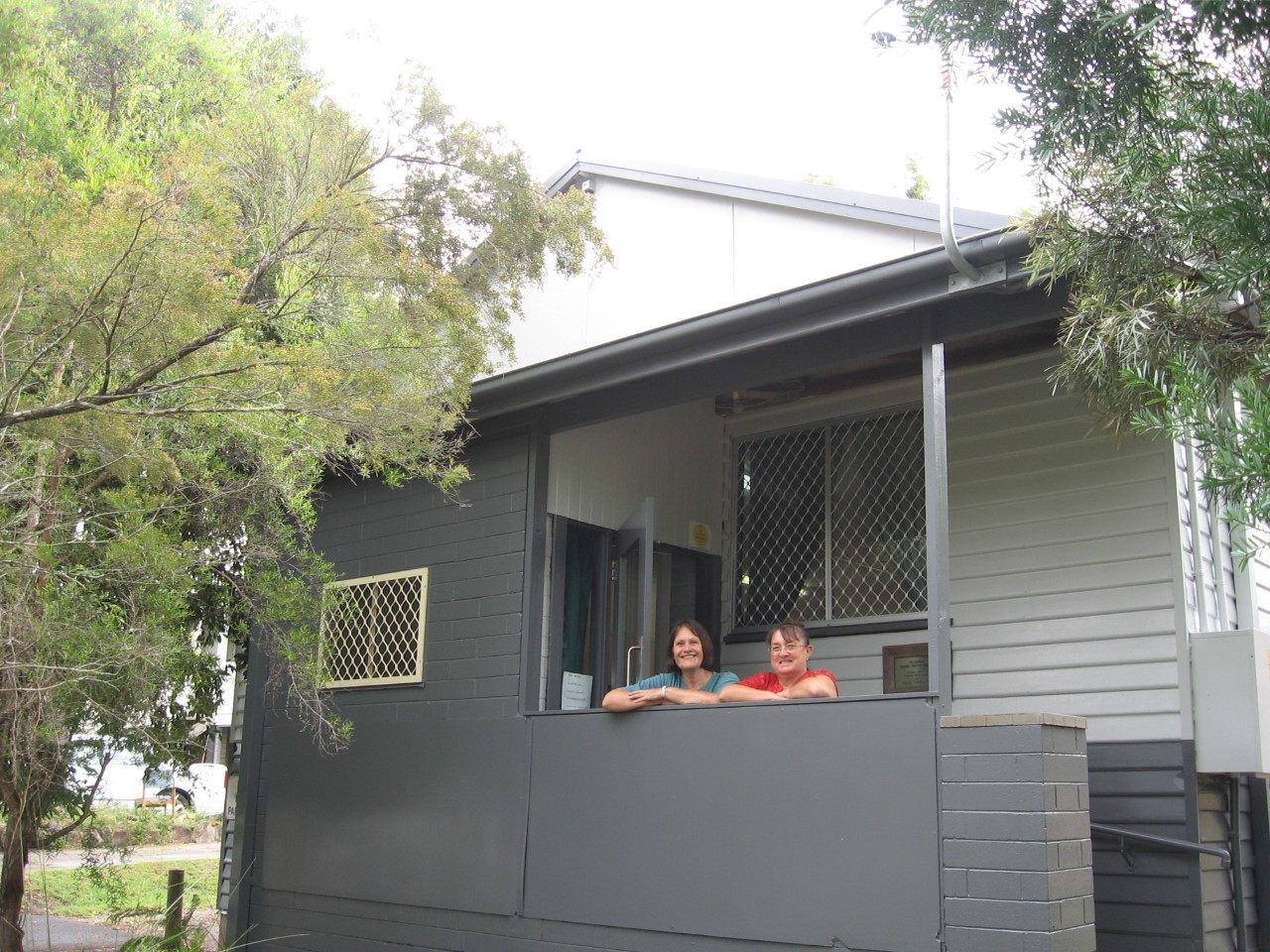 ers) and tourists with a directory of service groups, clubs and businesses. With this in mind, TACE (Tilligerry Adult and Community Education) will be compiling one in the near future.
It will be available in both an online and printed format.
TACE works under the umbrella of PSSC and coordinates community groups such as art, lead lighting, family history and mah jong. It has its home base at the LTP library. It also publishes tilligerry.com our local online news service which has grown to be the major source of local news for residents .Most months it gets over 1500 'hits'. The Port Stephens Literature Awards, a national short story competition, is another initiative of TACE and is run by volunteers.
If you would like to publicise your club, social group or business, email basic contact information to: tace@tilligerry.com and it will be considered for inclusion. There will be no charge for this service.
Photo: TACE volunteers Helen Mizrachi and Sue Hamilton at the library.
---
Wanted!
Have you seen the ads on TV where school kids are showing off their new garden built from logs made out of recycled printer cartridges?
Well, if you would like to help with this initiative you can drop off your used cartridges to the Lemon Tree Passage Library (opposite the motel).
The Library is open six days a week between 10 am and noon. Out of hours you can leave them in a bag or box in the alcove at the front door.
Oh! this recycling facility also accepts spent batteries which can be dropped of at the same time.
Our library always has new stocks of books and FREE magazines donated by readers. They are stacked on a table just inside the door.
We look forward to you helping make our planet just that little bit greener and cleaner.
Photo: TACE volunteer Helen Mizrachi: "We need your old cartridges and batteries!"