Car Club Present
ation
Club Lemon Tree was the venue for the annual dinner of the Tilligerry Auto Club which saw a cheque for $13 000 handed over to a representative of the John Hunter Children's Hospital.
Fundraising officer Kiera Wray was on hand to accept the donation from club president Ian Jones.
Ian told the gathering that over the past 14 years, a total of $148 000 had been gifted to this worthy institution.
He also thanked the major sponsor, Club Lemon Tree for its ongoing support. Others to be thanked included Port Stephens FM radio, Tilligerry Lions and Tilligerry RSL & Sports Club.
"We also had great backing from the business community in donating raffle prizes which helped yet again to make our Motorama the biggest annual community event on the Tilligerry Peninsula, he stated.
Photo: Handover: Kiera Wray accepting the cheque from auto club president Ian Jones.
---
More Than Just Koalas
Most visitors to the 'Tilligerry Habitat' are looking for a koala sighting but there is much more to be seen and done in their conservation waterfront wilderness on Tanilba's foreshore.
Their hay bale headquarters hosts community events and the local 'Eucalypts' ukulele group practise there on Thursdays and Sundays between ten am and noon. They are regular entertainers at Tanilba Shores Retirement Village and will be guest artists at the local TAG gallery on Friday,19th July at 12 o'clock. Their beginner group practises at Tanilba's Senior Citizens Centre of a Monday between the hours of two and three pm.
On top of this, 'The Habitat' has an extensive native plant nursery which sells seedlings to a mining company and the general public to augment finances. They also have morning teas of a Sunday on their verandah. All details can be found on their web site.
Photos: The Eucalypts at a practise session and visitors from One Mile Beach and the Central Coast explore the native plant nursery.
---
Military Memorabillia
Tilligerry RSL is keen to keep on display military memorabillia both inside the club in cabinets and outside for all to see.
Look at the photos. The large concrete tr
iangular pyramids are tank traps which were retrieved from Stockton Beach. They were designed to block the passage of Japanese tanks if they happened to land during WW2. The ones in the photo are dated 1942. Some of them are still brought to the surface after heavy seas pound the foreshore. They were a part of the coastal defence network which included a large naval gun on top of Tomaree headland as well as machine gun emplacements and torpedo tubes covering the Port's entrance.
The gun on top of the mound is one of the most successful anti aircraft guns of all time. It is the Swedish Bofors gun and over 60 000 of them were made and used by some 100 different armed forces worldwide.
Various models were developed for naval and air force use. Later versions were radar directed and used proximity fuses to detonate the projectile.
The firing rate was 130 rounds per minute with the shell weighing around one kilogram. The barrel diameter was 40 mm and it had a range of 7000 metres. It is still in production after 87 years of service but has been modified numerous times to keep pace with modern day military needs.
Why not take the kids along to play on the gun? There's a seat and they can look through the cross hair sighting mechanism and pretend that they're defending our country, just as their grandfathers did all those years ago.
Photos: The tank traps and Bofors AA gun at Tilligerry RSL.
---
Memories of Bill Howard
Long time Salt Ash resident Bill Howard has passed away after a short illness. He spent his final years at an aged care facility at Wahroonga, Sydney. He was in his eighties.
Bill started his working life as a maths teacher in the western town of Binnaway. After city appointments he rose through the ranks to become a teachers' college and university lecturer. He also served in the CMF attaining the rank of captain.
He had a passion for history and was one of the key contributors to the publication of 'A History of the Tilligerry Peninsula' – an authoritative work which went to a second edition selling some 1100 copies. It is about to be updated with a third imprint.
Tragedy struck in 2013 when his log cabin style home home burned to the ground in a bushfire. He had been working at the time on a history of the WW2 Pacific Campaign which was lost in the blaze.
Bill was relocated to Tanilba Shores Retirement Village with the support of family and friends.
He used to tell the story of a young cousin who would come to their Sydney home to watch the election results on TV. His name was John and he went on to be prime minister of Australia.
Photos : Bill at Tanilba Shores after the bushfire and his home ablaze at Salt Ash.
---
KU Peninsula leads the way in Early Education
KU Peninsula Preschool in Tanilba Bay has achieved an 'Exceeding' rating under the early childhood National Quality Standard.
The rating recognises KU Peninsula's commitment to providing high quality early childhood education, and the strong relationships that exist between the centre's children, families, staff and local community.
"At KU Peninsula, we believe that community plays an important role in each child's development and nurtures a sense of security and belonging," said KU Peninsula Director, Mark Taylor.
"We have a strong connection with our local community, and we regularly take the children on outings to our local nursing home, veterans day centre, primary school, library truck, waterfront and koala habitat."
"Our connections with our community help the children to find their place in the world, develop an understanding of how society works, and recognise and understand the shared values that underpin our immediate community and wider society," said Mark.
KU Peninsula provides high quality early childhood education for children aged 2 - 5 years and is currently taking enrolments. For more information, contact the Director, Mark Taylor on 4982 3398.
Photo 1: children from KU Peninsula at the Tanilba Bay waterfront
Photos 2 – 3: children from KU Peninsula
---
Les and the Lunar Landing
Most people over the age of 60 will remember exactly where they were when the first man walked on the moon. It was an event which stopped the world as grainy TV footage was relayed around the planet.
Les Fellows from Tanilba Bay knows exactly where he was on the momentous day as he was one of the small team of Aussies who made the lunar link-up possible. With the 50th anniversary of the event, the media is reliving the epic voyage and Les gives us the inside story.
"I was one of the permanent team manning the radio telescope at Parkes," he said. "There was no line of sight to NASA as they were blindsided by the Earth's rotation so they asked us to help," he added.
"We broke every rule in the book," he stated. "Despite a howling gale, our director, John Bolton, instructed us to tilt the dish 'till it actually touched the ground to pick up the signal," he said. This was then relayed around the world." For their efforts, the Auusie team was rewarded with certificates of appreciation by NASA.
But, dear reader, more excitement and fame was to follow. Just four Aussies were on duty in 1970 at Parkes when a fire on board the ill fated Apollo 13 mission saw a desperate cry for help go out. 'Houston, we have a problem,' is a phrase still used today and was first spoken by astronaut James Lovell during this drama.
Once again, the dedicated team at Parkes was able to connect the stricken craft to mission control, a feat which undoubtably saved their lives.The vital role played by Les and the three other staff that day was forgotten until many years later when NASA officials presented them with medals made from the original launching platform.
Both missions were turned into movies. An Apollo 11 film has just been released following 'The Dish' (2000) an Aussie classic starring Sam Neil. Tom Hanks played the lead role in the Apollo 13 film (1995).
Photo: Les with his Apollo 11 certificate of appreciation.
---
Merry Widows
It's a sad fact of life that women outlive men in Australia by an average of 4.2 years. Currently, the life expectancy of a female is around 84.6 years. This leaves many alone in their twilight years and looking for something positive to do with their time.
Some local Tilligerry ladies , loosely known as 'The Merry Widows' has formed a group which lunches out regularly and gives them that vital social interaction that we all need.
Their regular venue is the Tilligerry RSL and they meet for lunch there each Friday at 12 noon. Sometimes they add variety to their lives by dining elsewhere and going on trips. New members are most welcome. Just turn up.
We caught up with them recently and they gave the thumbs up to the new chef Keshab who has taken over the catering at the club.
There is also a group of older single men around town who do the same sort of thing. Perhaps they might get together some time .
Photo: The Merry Widows at a recent luncheon.
---
More than Just a News Service
You've seen our illuminated sign 'tilligerry.com' beside the main road near the golf club as you drive into town at night.
With news services moving away from the print media, tilligerry.com for over 10 years now has moved with the times and gives local residents the news that they can't get anywhere else. I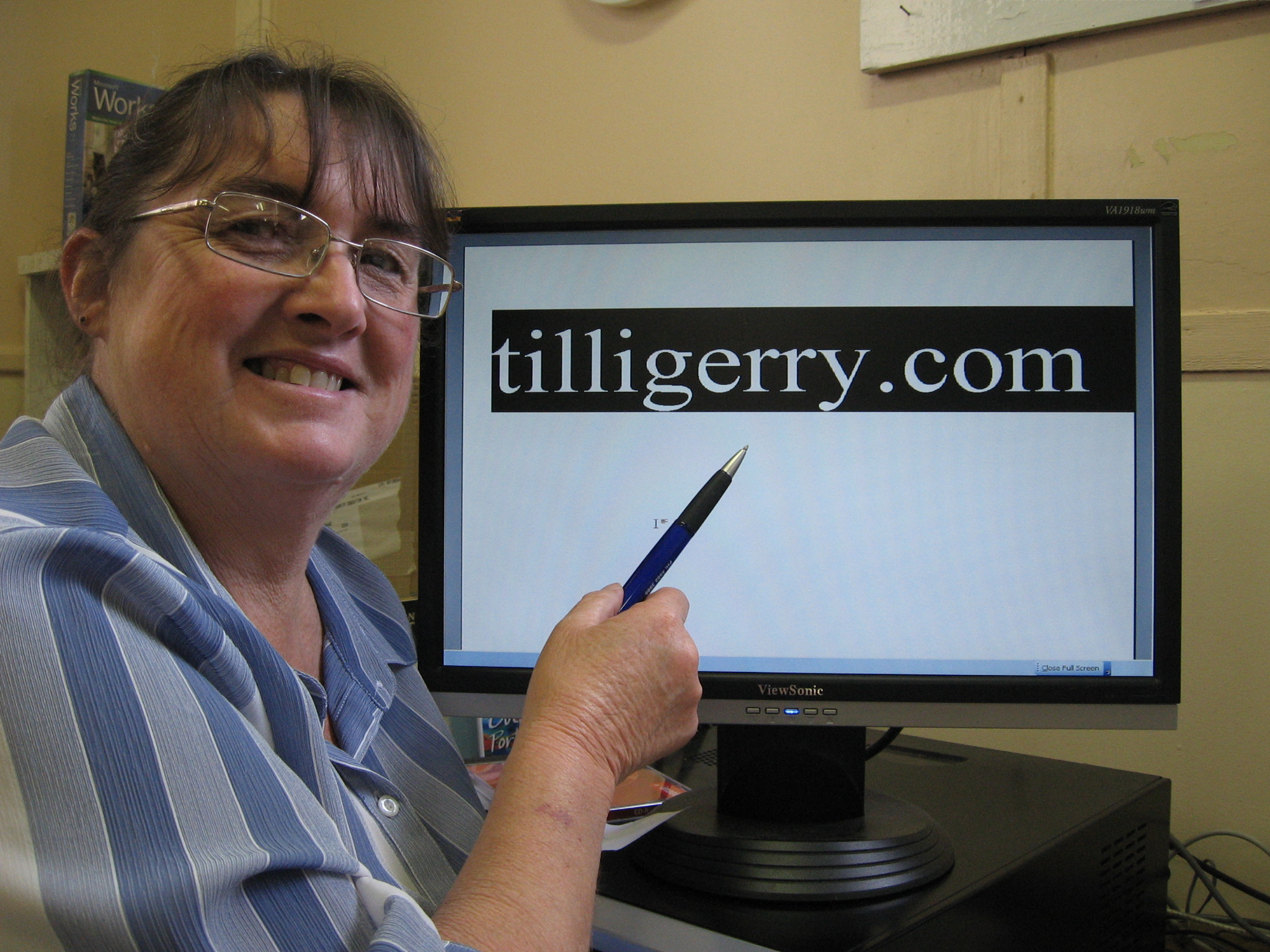 ndeed, those travelling around Australia or internationally can keep up to date with a click on a mouse or a mobile phone.
Before our 'hit meter' broke down we were averaging around 2000 views each month. We have a few businesses supporting us but we really don't want advertisers as we are a not for profit community service.
That's not all! Each year we run a national Literature Award (a short story competition) with the support of PSSC, Club Lemon Tree and News Of The Area.
On top of this we offer the public internet access, assistance with the operation of electronic devices and photo copying.
It gets even better. There are constant requests, usually from residents new to the area, for general information about available services and organizations out this way.
We now have an extensive community directory listing some 80 of these which includes: churches, clubs, social groups, cultural events, schools, tourist information, community support, JPs, medical services, play groups and pre schools.
For more details scroll to the bottom of this page or click on 'Literature Award' and 'Community Directory' in the left hand green side bar.
Photo: tilligerry.com more than just news.
---
New C
hef for RSL
The bistro at the Tilligerry RSL & Sports Club is under new management and is now called 'Flames and Flavour.'
Proprieter Keshab Chhetri said that with his business partner they also have similar bistros at Salamander Bay and the Anna Bay Tavern.
"We plan to 'open up' the servery area and give the kitchen a makeover," he said. "So far the reaction to our food and service has been very positive," he added.
A glance through the menu shows a wide variety of offerings to tempt any palate. Members receive a $1 discount on meals.
Starters range in price from $7 to $16; Oysters are $33 per dozen and the burgers cost $19. Entrees average around $16 and grilled steak about $32.On top of this there is a range of pastas and schnitzels. Seniors' and children's meals work out at $10.
On top of this there are $15 'special' nights and lunches. They also cater for functions such as birthdays and important occasions.
To check out the service we asked a group of regular patrons how their meal was. "Beautiful" was the response. Keshab can be contacted on 0477 428 154.
Photo: Keshab at the Bistro.
---
Big Jackpot
The weekly jackpot question at Club Lemon Tree's Trivia Night has now risen to $2000! Once answered correctly, the jackpot falls to $50 and is raised by another $50 each week. This current jackpot is the highest ever recorded.
Why not turn up and try your luck? The winning team (maximum 6 players) receives $60 in club vouchers and runners up get $20. If you don't have a team they will fit you in. It starts at 7pm on Wednesday nights in the auditorium.
Money and prizes are not what it's all about. It's more to do with getting out into the community, having fun and interacting with other people.
You don't need a university degree to take part. Questions involve TV shows, films, general knowledge, history, geography and science. It costs a mere $2 to enter. See you there.
Photo: Trivia night.....come and have some fun!
---
Suspicious Bushfire
Nuisance bushfires seem to go hand in hand with school holidays and this current break was no exception.
Several RFS and Fire and Rescue units were summoned to a small scrub fire behind Tanilba School around 12.30 pm on Thursday 12 July. Police were also on hand to take fingerprints from a pushbike abandoned near the seat of the blaze.
A group of juveniles was seen in the area and residents are asked to report suspicious behaviour at around that time.
The low intensity fire was easily extinguished with containment lines established beside the interfacing roads of the Koala Bay estate.
The scrubland between Koala Bay and the foreshore is notorious for deliberately lit bushfires in school holidays. They have cost the land managers and insurers a fortune in replacing the burnt out boardwalks over the years.
Photos: The abandoned bike; Containment line at Koala Bay and a previously burnt out section of boardwalk.
---
Black Spot Bend
The notorious 'Black Spot Bend' in Lemon Tree Passage has claimed yet another victim with a young woman flown to the John Hunter Hospital in a serious condition.
It has also left residents on the lower side of the road shell-shocked as this latest accident is just one of many which have seen vehicles fail to negotiate the bend and roll down the embankment and into their homes.
'Paul', one of those affected, believes that speed cameras are the answer.
"The designated 50k speed limit is ignored," he said. "Without constant electronic surveillance this will happen again and again," he added.
Fellow residents John Wheeler and Ray Harvey agree. "Speed is the one single factor with these accident and signs have made no difference" "The road is busier than ever and we see permanent speed cameras as the only solution," they stated.
Meanwhile, Councillor Steve Tucker believes that the proposed bike track link and associated roadworks will improve the situation.
'The widening of the road to incorporate the bike track will help, " he said. "PSSC has no control over speed cameras." That's a matter for the RTA and police," he said.
Photos: Paul, Ray and John with the reclaimed vehicle and a boat which ended up against the side of a house.
---
Hook Line and Sinker
You've no doubt heard the expression 'hook, line and sinker'. In the case of Glenda Parlett, the new owner of Marina, Boat and Tackle at LTP, she not only has hooks lines a
nd sinkers for sale, she has bait, crab traps, rods, reels and anything boaties require in the way of chandlery. But there's more!
The shop-front which is located beside the hairdresser and 'Kippy's' is also a convenience store. It stocks groceries, milk, bread and newspapers.
Glenda who formerly worked at Coles Tanilba Bay saw a business opportunity and grabbed it with both hands.
"We are open seven days a week from 6.30am until around 4,30pm or as long as customers come in the door," she said.
More details can be had on 4984 5101, 0491 253 162 or by punching in 'marineboatbaittackle@gmail.com

Photos: Glenda displays some of the maritime related products on offer and her new look shopfront.
---
Thank You Charlie!
Renowned neurosurgeon Charlie Teo is cur
rently copping flak in the media and from other doctors. Reports have it that crowd funding of around $120 000 is needed to pay for his life saving brain surgery.
Dr Teo has caused ripples in medical circles by taking on cases which were considered lost causes by other medicos. His initiative has either saved patients' lives or greatly extended them. He has explained that most of the cost of these procedures go to the hospital and auxilliary services.
"I can personally get as little as $8 000 for an operation," he stated.
Tanilba plumber Peter Marchant has nothing but praise for the internationally famous surgeon as his wife Kathy explains:
" In 2014 an MRI scan revealed that Peter had a class 2 brain tumor in the frontal lobe and we were not pleased with what a Newcastle specialist suggested as treatment,' she said.
"A friend suggested that we contact Dr Teo. This we did and as chance would have it, he had a cancellation for the very next day. We grabbed a referral from our GP and headed for Sydney." she said.
"The operation was a success and we will be forever grateful for the efforts of this acclaimed neurosurgeon. Thank you Charlie!"
Photos: Peter at his Tanilba Bay home and his life saving surgeon Dr Charlie Teo AM.
---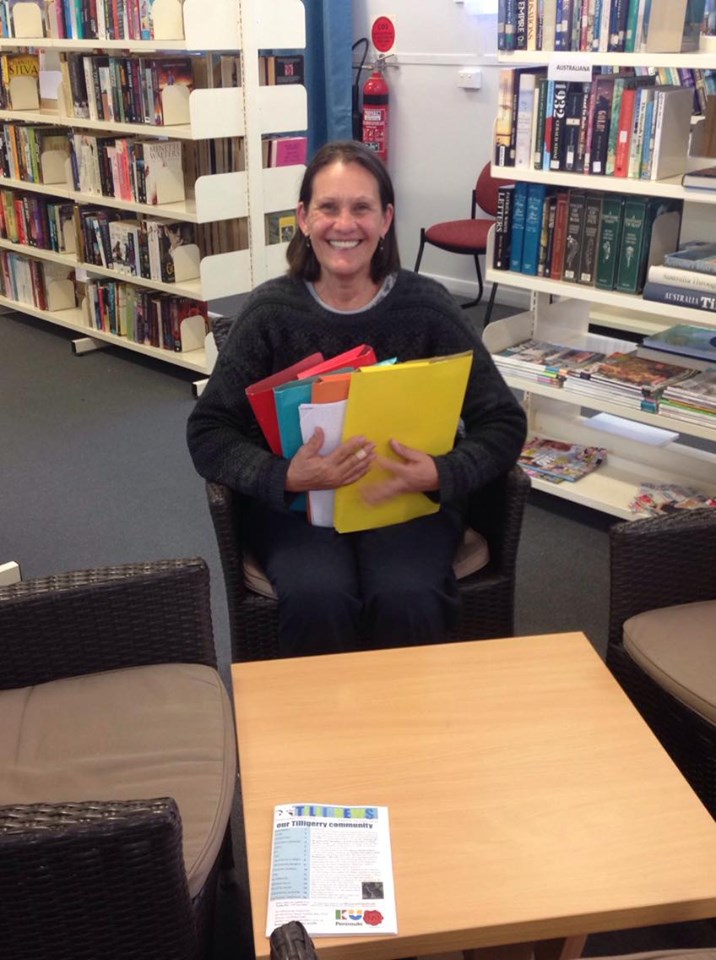 Literature Awards 2019
The annual Port Stephens Literature Awards are now open for entry. Prize money of $1100 is on offer for short stories of up to 2000 words on any theme. The closing date for submissions is 30th September.
The awards are jointly sponsored by Port Stephens Shire Council, Club Lemon Tree and NOTA (News Of The Area).
Long time co-ordinator Sue Hamilton said that to get shortlisted, writers need to engage the reader within the first page. "With only 2000 words, you need to draw the reader into your story very quickly," she said. "Be sure the entry is a 'page turner' with an economy of words and develop an intriguing, fast moving storyline," she added.
"You don't have to be long winded. One year the winning entry was fewer than 900 words in length,' she said.
Full details can be sourced from our website: tilligerry.com or by emailing enquiries to tace@tilligerry.com or on 49823986.
Photo: Helen Mizrachi – Literature Awards now open for writers.
---
Last
of
the Shark Men
Old books about Port Stephens are much sought after and command high prices. Indeed, original copies of Arthur Murdoch's classic tale 'Sheer Grit' were selling on the open market for some $200. This prompted a second and third imprint to satisfy demand.
Another rare book, 'February Dark' (1959) is a novel by Anne von Bertouch. Anne was better known as an art gallery owner and the backdrop for her story was set around the Myall Lakes area. "February Dark' referred to the annual prawn run in the river.
A little known hardback and one which is very hard to come by is "Fangs of the Sea' (1939) by Norman Ellison.
It tells the tale of a commercial shark fishing venture based at Pindimar. The sharks were hunted for their skins which commanded high prices as 'shagreen,' a top quality leather. At a later time the shark livers were rendered down into oil and the fins were sold to the Chinese to make soup.
Tanilba's late Tommy Priestley worked as a child unloading the sharks at the wharf. The business shut down when they 'ran out of sharks!'
You can still obtain these books through antique book collectors online or possibly through the library service. They make great reading.
Photos: 'Last of the Shark Men' Tommy Priestley …...and a 1939 original copy of 'Fangs of the Sea'.
---
The 'WOW' Factor
"WOW!"....this was the reaction of regular borrowers when they walked through the door to our new look library after its makeover.
New books, new curtains, wicker furniture, new carpet, state-of-the-art shelving and a modern offic
e layout greeted the eye.
Port Stephens Library Services Manager Kris Abbott, praised the efforts of local volunteers and community workers who assisted with the upgrade. This included the donation of new curtains, removal of old shelving and furnishings and restoration of the gardens at the front of the building. Little was wasted with the old shelving being donated to other grateful community groups.
Library staff from the Raymond Terrace and Mobile Library were of great assistance with the planning process as well as hands on with packing up and re-shelving all the book stock.
Apart from library volunteers and customers PSC Acting Community Services Section Manager, Aaron Malloy; Library Services Officer, Vicki Bailey and local Councillor Steve Tucker were on hand to celebrate the event.
The library is open from Monday through Saturday between the hours of 10am and noon.
The TACE office which works in tandem with the library in the same building, offers photocopying, fax service and internet access as well as assistance with the operation of electronic devices such as mobile phones and computers (assistance on Thursdays only).
Photos: 'WOW!' 1.The new layout at the library. 2. Celebrating the re-opening
elebrating the re-opening.
---
New Community Directory
As the Tilligerry community expands and changes, there is the need to provide residents (particularly newcom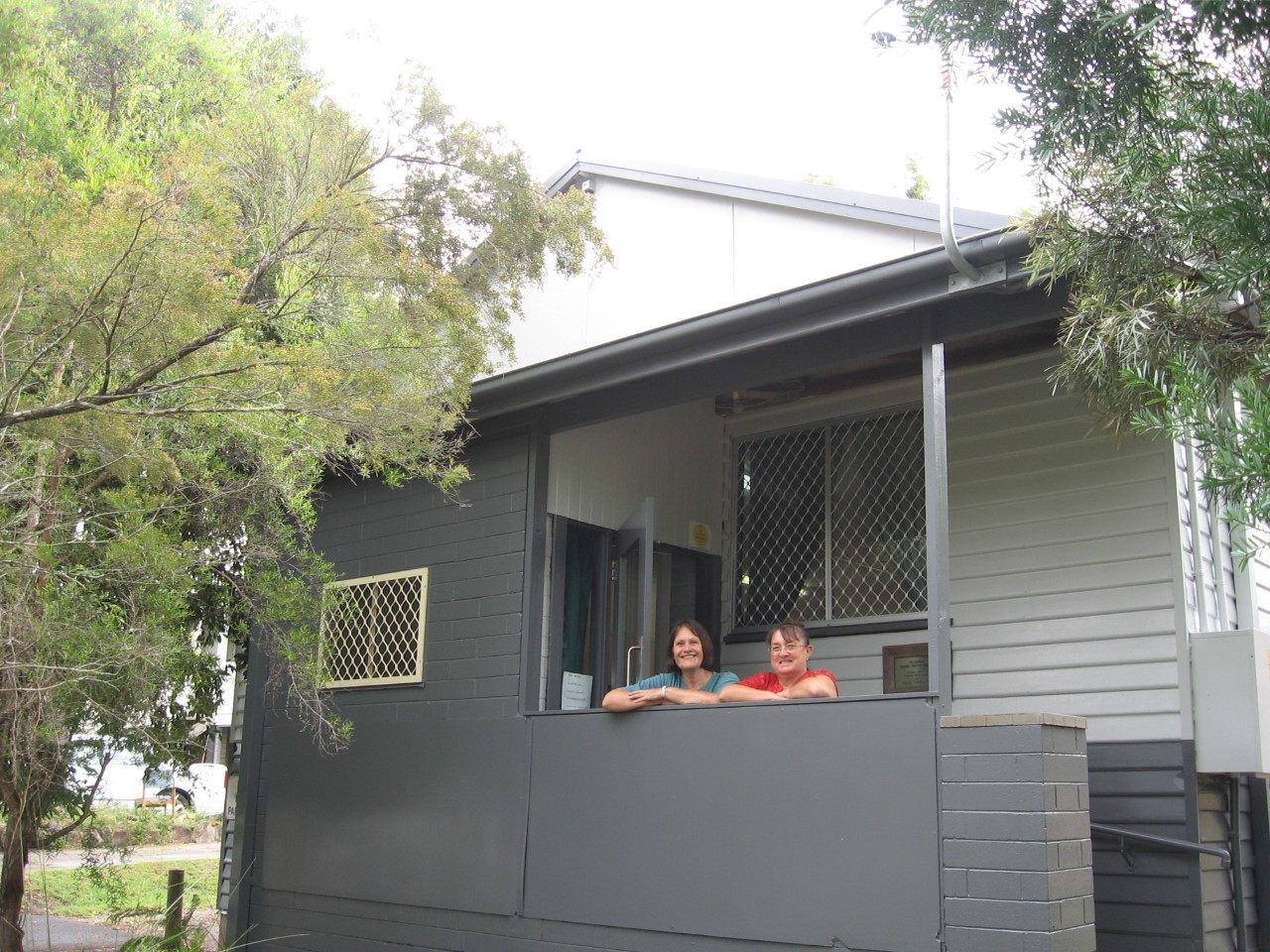 ers) and tourists with a directory of service groups, clubs and businesses. With this in mind, TACE (Tilligerry Adult and Community Education) will be compiling one in the near future.
It will be available in both an online and printed format.
TACE works under the umbrella of PSSC and coordinates community groups such as art, lead lighting, family history and mah jong. It has its home base at the LTP library. It also publishes tilligerry.com our local online news service which has grown to be the major source of local news for residents .Most months it gets over 1500 'hits'. The Port Stephens Literature Awards, a national short story competition, is another initiative of TACE and is run by volunteers.
If you would like to publicise your club, social group or business, email basic contact information to: tace@tilligerry.com and it will be considered for inclusion. There will be no charge for this service.
Photo: TACE volunteers Helen Mizrachi and Sue Hamilton at the library.
---
Wanted!
Have you seen the ads on TV where school kids are showing off their new garden built from logs made out of recycled printer cartridges?
Well, if you would like to help with this initiative you can drop off your used cartridges to the Lemon Tree Passage Library (opposite the motel).
The Library is open six days a week between 10 am and noon. Out of hours you can leave them in a bag or box in the alcove at the front door.
Oh! this recycling facility also accepts spent batteries which can be dropped of at the same time.
Our library always has new stocks of books and FREE magazines donated by readers. They are stacked on a table just inside the door.
We look forward to you helping make our planet just that little bit greener and cleaner.
Photo: TACE volunteer Helen Mizrachi: "We need your old cartridges and batteries!"