Rally for Sally
When Sally Dover ran for the seat of Port Stephens she had her supporters decked out in canary yellow 'T' shirts emblazoned with the words
'RALLY FOR SALLY.' One of these 'T' shirts was souvenired and given to another Sally – Sally Robinson from Tanilba Bay.
Sally had her own rally recently at the General Washington Hotel in Stockton. It was a get-together to say farewell to a long time Tanilba Bay resident and founder of the Tilligerry Bridge Club some 20 years ago. 27 members attended. Sally and husband George have moved to Stockton to be closer to family.
The Robinsons built a home on Tanilba's waterfront when George was posted to RAAF Williamtown. He retired with the rank of Wing Commander.
In the 1980s the couple bought the somewhat run down hardware store in Lemon Tree Passage and then relocated the business to a new site in Tanilba Bay. Coles now occupies that site.
George was noted for his humor and even when customers left the store with empty wallets, they had a smile on their faces.
A tradesman once approached George at the counter.In the upturned palm of his deformed hand he held a couple of nuts and bolts.
"Got any of these?" he asked. As quick as a flash George responded:
"Sorry mate, we don't keep fingers!"
The community wishes them all the best for a long and happy retirement.
Photo: Sally and George Robinson – relocated to Stockton.
---
Motorama Winners 2019
With final figures yet to be tallied, it looks like The Hunter Children's Hospital will again receive a healthy five figure sum from the 14th annual Tilligerry Motorama.
Major individual and section winners are as follows:
1929 Marquette: Max Mc Kinninon; HR Holden: Shane Pratt; Ford Mustang: Ross Williams; Chrysler VK Charger: Andrew Clark; SS Chevelle: Stu Mc Mahon; British Vanguard: Kevin Martin; Porsche: Don Hudson; Datsun: Lyn & Bob Garrett; Hot Rod: Steve Edstein; Motorcycle: Stuart Read.
Modern Section.
Holden: Shane Boyers; Ford: Peter Buckley; VW: Heath Craddock; Daihatsu: Peter Hillary.
Other Sections.
Club: Lions Den; People's Choice: Commodore, Carol Banks; Tilligerry Auto Club: Geoff Camm; Best in Show: Shannon's Choice: ED Falcon.
Club President Ian Jones thanks the many sponsors and volunteer workers without whose help the gala event would not be possible.
"Someone 'up there' also likes us," he said , "because in all of those years we haven't been washed out once!"
Photos: Two of the Motorama 2019 section winners.
---
New Boo
k Reviewed
Herculean: perhaps this word best describes the efforts of Port Stephens Family Research Inc. in bringing to fruition years of in-depth research for the publication of their latest book.
Topping the scales at 1.8 kg, this weighty tome has more to do with the fine quality parchment it is printed on than its thickness. 'History & Heritage of Tanilba House' is A4 in size, over 170 pages in length and boasts some 73 pictures, maps and drawings. It is perfect bound with glossy colour front and back covers.
Primary source material is the backbone of this publication which traces the time line of the Caswell family from its roots in England to its settlement in colonial NSW. It paints a vivid picture of their lives and times in confronting an unforgiving land with all of its challenges and travails.
The book also dispels undocumented myths such as the claim that Lt William Caswell served with Lord Nelson on the 'Victory' at the battle of Trafalgar. Although he served with great distinction, Caswell did not rise above the rank of Lieutenant. Neither did he command a Royal Navy ship of the line. He was rewarded with the rank of Commander after he retired from active duty.
The book also covers the local Port Stephens native population and their interaction with the white settlers. Great attention is given to the convicts and maids who formed the labour force for the construction of the colonial homestead and for its farming endeavours. Part 4 devotes 44 pages to their biographies. For the first time, this publication details every occupant of Tanilba House since the Caswells vacated, to the present day. It will no doubt be eagerly sought out as an authoritative source by history buffs and academic researchers in years to come. Details of the book's availability can be had by typing the society's name into a search engine.
Photos: Tanilba House and the new book tracing its heritage and history.
---
The Warmest Place in Town
While most of us are shivering with six d
egree mornings, the staff at Tilligerry Aquatic Centre are rolling off the blankets to a pool with a temperature of 26 to 28 degrees! We kid you not. Indeed, regular lap swimmers are waiting at 6am for the roller shutters to rise. It is fair to say that this is the busiest time of the day during the cooler months.
The consistently high temperatures have been made possible by solar power, a well maintained pump house and in particular the new blankets which trap the he
at beneath them.
Long time regular lapper Paul Comte will be suffering withdrawal symptoms with the current 9 week winter shutdown.
"Swimming improves my lung capacity and a sense of both physical and mental well-being," he said. "It's also great to socialize with like minded people and the friendly staff," he added.
The three council pools are currently entering their rotational winter shutdown phase. This ensures that dedicated swimmers always have at least one venue to use. Season pass holders have the option of visiting other centres or extending their pass for the closure time at their home pool.
Tilligerry is closed from 3rd June until the 5th August.
Lakeside shuts down from 8th July and reopens on 22nd July.
Tomaree has its winter shutdown from 22nd July until the to 19th August.
Photos: Paul Comte laps it up in the 27 degree warmth of the Tilligerry Pool.........and......New blankets trap the heat.
---
Family Feud
Something of a family feud has erupted within the Camm household with Geoff and Judy at one anothers throats. True!
The well known couple is head- to- head in competition to see who wins the most trophies for their magnificently restored motor vehicles.
Until a couple of weeks ago, the score was two-nil in Judy's favour but Geoff is closing the gap fast with a win at the local 2019 Motorama.
Judy had previously taken out prizes at both Newcastle and Parkes by exhibiting her Morris Minor tray-back.
Geoff could probably have scored more wins at the Motorama over the past 14 years but for a local rule. To ensure impartiality, our local car club which hosts the event, bars its members from receiving prizes although they can still exhibit their vehicles. That changed this year with a special category being reserved for car club members only. Geoff claimed the coveted trophy with his 1955 two - tone Chevrolet.
Motorama was an outstanding success again this year and is clear winner as the largest and most popular annual community event on the Tilligerry Peninsula.
Photos: Judy with her Morris Minor sporting one of her trophies and Geoff with his prize winning Chevvy.
---
Trees Aren't Stupid

Even though trees have no brains, they aren't stupid. You see, most of our native plants have to develop survival mechanisms to get them through prolonged droughts.
Eucalypts are a classic example. They turn their leaves sideways to the sun to
minimise transpiration and shed excessive foliage during dry times. What's more, they just can't afford to be browsed by insects or animals.
That's why, under stress, gum trees fill their leaves with toxins to make them unpalatable.
Koala carers know this and that's why Port Stephens Koalas offer up bunches of different eucalypt species to the animals in their care.
Koalas will reject the leaves containing toxins. They also harvest sprigs of leaves from different locations and don't take too many from any one site.
Favoured trees for koalas are the nicolli, the forest red gum, the swamp mahogany, melaleuca and the scribbly gum.
We caught up with two dedicated koala leaf collectors in Tanilba Bay recently. Currently they have eight koalas in rehab which will be released in the areas in which they were found when they regain their health. The koala rescue contact number is: 0418 628 483.
Want to see a koala in the wild? Tilligerry Habitat sends out spotters each morning to locate them. Ring ahead of your visit to see if they have one (or more) found that day in their conservation area on Tanilba's foreshore.
Ph: 4984 5677.
Photo: Volunteers Leanne Parnell and Peter Brown collecting Koala food leaves at Tanilba Bay.
---
The Cutting Edge
How many times have you tried to carve a beautiful
roast dinner with a blunt knife? And what about those scissors that maul the material instead of giving you a neat crisp edge? Perhaps your ancient garden secateurs or hedge clippers need an overhaul so that trimming the roses is a breeze?
If you are one of those residents who just can't get a edge on your cutting implements, our Men's Shed has the answer. Ken Boyd, their expert sharpener and his n
ew $2000 machine will do the job for you at a minimal cost.

This service is just one of many that these experienced artisans offer to the public. They restore furniture, toys, broken artefacts and will even visit your home for minor maintenance jobs such as rewashering taps or constructing ramps for the disabled. They will also advise you on how to go about handyman jobs if you're unsure.

Perhaps you'd like to become a member? You don't even have to join in if it's interacting with others that you would find satisfying. They like a good yarn with other blokes.
At the moment they are short of gardeners to tend their vegie patch and to pot up plants in the nursery. Interested? Give Kevin Colman a buzz on 040 727 9844.
The Men's Shed is located by turning in off the main road at the Catholic Church then turning right. It is situated just past the Aquatic Centre and the Council Works Depot behind the sports fields.
Photos: 1. Ken Boyd and his state-of-the-art knife sharpener.
2. Gardener wanted to assist in the nursery
---
Road Funding Secure
The two major road reb
uilds in Tilligerry will proceed as planned despite the rejection of a rate rise.
According to Cr Steve Tucker, the $5 million earmarked for reconstruction of both Tanilba Rd Mallabula and the Avenue of the Allies at Tanilba Bay had already been secured. This was approved before the SRV (Special Rate Variation) was rejected by IPART (the Independent Pricing and Regulatory Tribunal).
"The rejection of the proposed rate rise will not impact on these two major roadworks with Tanilba Rd Mallabula being the next priority," he said. "In fact we will also be proceeding with the sealing of gravel carparking areas and working on a 'missing link' in the cycle-way as well," he added.
"Without a rate rise, other proposed infrastructure projects will be put on the backburner until funding is available," he concluded.
Photos: 1. Cr Tucker – Roadwork funding secure..
2 The degraded Tanilba Rd – top priority for reconstruction.
---
How We Voted
Labor has retained the federal seat of Paterson but with a swing of around 9.5% towards the Liberals. Below is a breakdown of the primary vote at our two local polling stations.
---
Heritage Book Launch
A magnificent clear autumnal day greeted invited guests as they gathered at historic Tanilba House for the much anticipated launch of a new book.
'History & Heritage of Tanilba House' is the result of meticulous research by the Port Stephens H
istorical Society and was unveiled by Cr Paul Le Motte from the Heritage advisory Committee. Acknowledged also were Society Patron Professor John Ramsland; his wife, Professor Marie Ramsland and current owners of the historic homestead Deirdre Hall and Glenn Sho
rt. Several Society members and contributors were also praised for their contributions.
Deirdre explained to those gathered how she and Glenn had painstakenly restored the interior of the old home to its former glory and detailed the landscaping initiatives which now showcase the property.
Society President Denise Gaudion outlined the historical narrative of the
book which has unearthed new information about the house, its occupants and the times in which they lived.
The book is now on sale at Tanilba Post office and the Society's home base in the Old Lemon Tree Passage School. We will review the book once we have time to digest the contents in detail.
Although Tanilba House is not open to the public, the guests were given a private tour after the official launch. Deirdre and Glenn currently have plans before PSSC to use the grounds of the property as a function venue. An 'open day' for the general public will be held once these plans are approved. We will keep you informed. Watch this space.
Photos: 1, Author Denise Gaudion flanked by Glenn Short and Deirdre Hall. 2. The new book 'History & Heritage of Tanilba House.'
---
The 'WOW' Factor
"WOW!"....this was the reaction of regular borrowers when they walked through the door to our new look library after its makeover.
New books, new curtains, wicker furniture, new carpet, state-of-the-art shelving and a modern offic
e layout greeted the eye.
Port Stephens Library Services Manager Kris Abbott, praised the efforts of local volunteers and community workers who assisted with the upgrade. This included the donation of new curtains, removal of old shelving and furnishings and restoration of the gardens at the front of the building. Little was wasted with the old shelving being donated to other grateful community groups.
Library staff from the Raymond Terrace and Mobile Library were of great assistance with the planning process as well as hands on with packing up and re-shelving all the book stock.
Apart from library volunteers and customers PSC Acting Community Services Section Manager, Aaron Malloy; Library Services Officer, Vicki Bailey and local Councillor Steve Tucker were on hand to celebrate the event.
The library is open from Monday through Saturday between the hours of 10am and noon.
The TACE office which works in tandem with the library in the same building, offers photocopying, fax service and internet access as well as assistance with the operation of electronic devices such as mobile phones and computers (assistance on Thursdays only).
Photos: 'WOW!' 1.The new layout at the library. 2. Celebrating the re-opening
elebrating the re-opening.
---
W
hy Live Anywher
e Else?
The sight of a koala in the wild, masses of black swans in the shallows, armies of soldier crabs, nesting ospreys or green turtles and dolphins surfacing in t
he bay hardly turn a head with the locals in Tilligerry.
To the tourists from the big cities or from overseas, these natural wonders have them reaching for their mobile phones of zoom cameras to capture sights they have ne
ver seen before.
Look at the photos. We were able to snap these frames in little more than half an hour. They show over 50 black swans in Tanilba Bay, a resting koala at The 'Habitat' and the Mallabula sandflats where millions of soldier crabs emerge at low tide. The shot of the nesting osprey was taken some time ago as it carted sticks to build its eyrie (nest) in the Optus tower in the Lemon Tree industrial Estate.
Tourists Leah and Matthew from Sydney and photographer Kirstin from Canada were guided to the sleepy koala by Habitat spotter Tim Davidson.
---
Grey Nomads Bridge the Gap
It's common to see convoys of Grey Nomads setting off on their treks around Australia in the cooler months of the year. Most of them skirt the coast but some hardy souls tackle the more remote outback tracks.
For Vicky and Ian Lisle from the St George Club in Sydney, their idea of a good time during their twilight years is to follow the national bridge tournaments around the nation. This dynamic duo comprised some of the 120 dedicated souls who turned up at Club Lemon Tree recently to take part in the Tilligerry Bridge Club's annual congress.
Players came from as far afield as Sydney, the Central Coast, Newcastle, Forster, Hawks Nest, Maitland and Taree.
These bridge tournaments inject a great deal of cash into the community as well as spreading the word far and wide about what we have to offer as a tourist destination.
Organizer Pat Healy said that it was pleasing to see the younger generation taking part: "We had some players in their early twenties entering this year," she said.
The North/South winners were Paul Mc Grath and Chris Dibley from Newcastle with Ian McKinnon from Sydney and Virginia Dressler from the Central Coast taking out the East/West prize.
The Tilligerry Bridge Club meets twice weekly at Club Lemon Tree and beginners are most welcome with special times set aside for lessons for those new to the game. Enquiries: 49824109.
Photo: Bridge nomads Vicky and Ian Lisle with David and Margaret Corney at the annual congress.
---
New Community Directory
As the Tilligerry community expands and changes, there is the need to provide residents (particularly newcom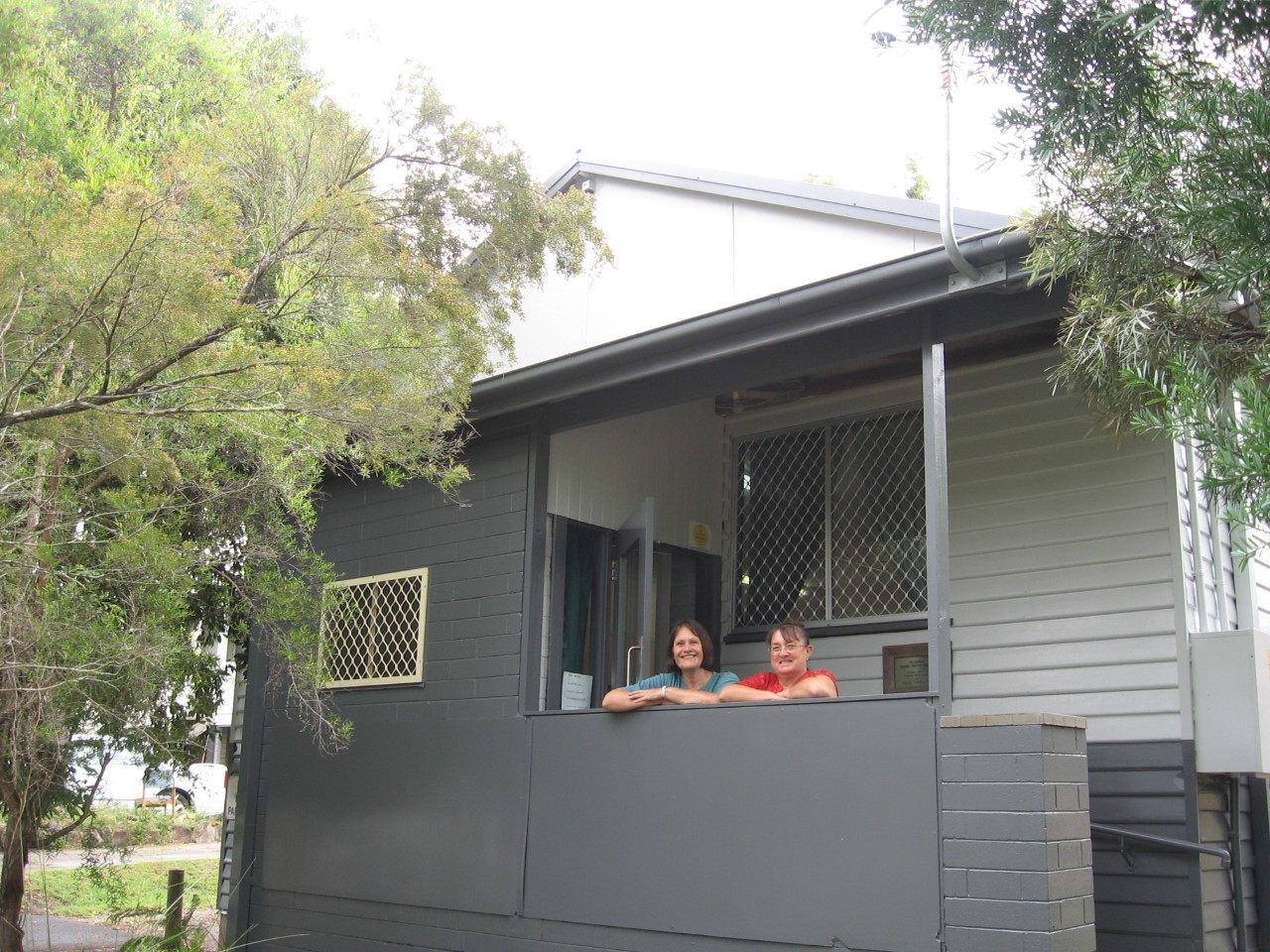 ers) and tourists with a directory of service groups, clubs and businesses. With this in mind, TACE (Tilligerry Adult and Community Education) will be compiling one in the near future.
It will be available in both an online and printed format.
TACE works under the umbrella of PSSC and coordinates community groups such as art, lead lighting, family history and mah jong. It has its home base at the LTP library. It also publishes tilligerry.com our local online news service which has grown to be the major source of local news for residents .Most months it gets over 1500 'hits'. The Port Stephens Literature Awards, a national short story competition, is another initiative of TACE and is run by volunteers.
If you would like to publicise your club, social group or business, email basic contact information to: tace@tilligerry.com and it will be considered for inclusion. There will be no charge for this service.
Photo: TACE volunteers Helen Mizrachi and Sue Hamilton at the library.
---
Wanted!
Have you seen the ads on TV where school kids are showing off their new garden built from logs made out of recycled printer cartridges?
Well, if you would like to help with this initiative you can drop off your used cartridges to the Lemon Tree Passage Library (opposite the motel).
The Library is open six days a week between 10 am and noon. Out of hours you can leave them in a bag or box in the alcove at the front door.
Oh! this recycling facility also accepts spent batteries which can be dropped of at the same time.
Our library always has new stocks of books and FREE magazines donated by readers. They are stacked on a table just inside the door.
We look forward to you helping make our planet just that little bit greener and cleaner.
Photo: TACE volunteer Helen Mizrachi: "We need your old cartridges and batteries!"