Tough Times
For 90 year old Vic Madden from Tanilba Bay, the tough times we are currently having are nothing compared to those he has gone through during a long and fruitful life. His childhood in England saw his family surviving the Great Depression and WW II. Over to Vic for his story:
"Ours was a family of six," he said." My father worked in a dairy but it was very hard to make ends meet," he added. "Dad trapped rabbits and hares to put meat on the table and grew vegetables in the back yard as well," he stated. "Clothing was never discarded and hand-me-downs were the order of the day. Holes in socks were darned. We did not have a car and bicycles were our only form of transport," he recalled.
"With the coming of the war, everything was rationed. You couldn't hoard food as they are doing at the moment and we all knitted socks for the soldiers," he said. "We kept rabbits in the backyard and my father had an allotment in a community garden where he grew vegetables. If meat became scarce due to the sinking of the supply ships by German submarines, we could sometimes get tinned Australian corned beef," he said.
"My mother was always a pillar of strength. She would go without herself to ensure that we children had enough to eat," he concluded.
Photo: Vic at his Tanilba Bay home.
---
Going Green
The regular 'once a month' opening of the Lemon Tree Passage Transfer Station h
as been modified due to the lockdown. It is, however very much operating as a green waste collection centre albeit on a modified timetable.
Social distancing is part of the protocol and only four vehicles and trailers are allowed at the tip-face at any one time. On top of this, drivers must keep their vehicles at least six metres apart.
There was a time when green waste was mulched on-site by a wood chipper and ratepayers could take trailer loads home to spread on their gardens. Not anymore. It is now transported to a central location for recycling.
Those with garden clippings, prunings and other appropriate material should ring Port Stephens Council for details of the new, temporary
arrangements.
Photo: Local resident Craig Austin delivering his green waste to the LTP transfer station.
---
Bibliophiles
Darryl and Helen West are bibliophiles but for different reasons. Darryl reads around a dozen books a week and Helen , writing as Lena West, has authored ten novels.
The Tanilba couple spent many years touring the parched outback which provided a rich source of material for Helen's rural romance series. The novels are centred around the fictional town of 'Oxley Crossing'. If this sort of book has interest for you just google 'Lena West Author' and away you go.
On the other hand, Darryl is a prolific reader and with the closure of our council libraries and the bookmobile he was facing severe withdrawal symptoms. Luckily, the library service came to his rescue. They now home deliver and pick up books. It's a simple matter of ordering online or by phone and a council van with a smiling driver will turn up once every week or so at a designated time.
"It's a great idea ," he said. "Our street has a few avid readers and we all gather together in the one spot at the same time to make it easier for the librarian in the van, he added.
Photo: Darryl and his wife, aspiring writer Helen (Lena) West, at their Tanilba Bay home.
---
Her Royal Highness
Some years ago, Eric Clarke in his vintage car turned up outside the Mallabula home of Doreen Bradley. She had just been awarded the Order of Australia Medal and was told that the RSL was putting on a special function in her honour.
She became somewhat confused when Eric drove her past the club and headed for historic Tanilba House. Here she was greeted by local community leaders and friends who ushered her inside for a formal dinner.
Before the meal was served, somebody tapped a glass and called for silence. Those gathered were then asked to charge their glasses, be upstanding and toast The Queen. All rose and faced a portrait of Her Majesty Elizabeth II which was on the wall. "The Queen," they chanted as they lifted their glasses...... but they were facing the wrong way!
In came a friend bearing a red cushion on which sat a crown. This was ceremoniously placed on Doreen's head. For the first time in her life she was lost for words.
The announcement of the construction of a new $1.5 million police station in Lemon Tree Passage brought a satisfied smile to the now 87 year old community worker. It was the last of the three main projects for which she had tirelessly campaigned. The others were the swimming pool and the ambulance station.
Apart from these, her community work over 50 years has included service on the Mallabula Hall Committee; the Parks and Reserves Committees; 25 years with Legacy; the Chamber of Commerce; Neighbourhood Watch (11years) as well as raising funds for local children suffering from life threatening medical conditions.
Doreen has been showered with numerous awards for the selfless voluntary work she has done over such a long time.
Photo: Doreen Bradley OAM ....outstanding community worker.
---
A Driving Force
"You will never enjoy your club better than right now!" These words perplexed those gathered at a special 'thank you' get-together organized by Bruce Mac Kenzie in the 1980s. You see, Tanilba Golf Club had just opened up as a nine hole course with tiny
greens. Golfers used coloured balls as white ones couldn't be found on the sandy fairways. The clubhouse itself was an old RAAF radio shack.
His words of wisdom proved to be spot on as the sense of community and involvement was very high at the time. Later, it faded as the feeling of common purpose dwindled and infighting raised its ugly head.
As Shire President he winkled $100 000 out of PSC and told the club to spend it as quickly as possible so they couldn't ask for it back. Another time a bulldozer mysteriously turned up and was used more or less 24 /7 to clear fairways. Nobody asked questions about where it came from. Bruce worked tirelessly on the course and behind the makeshift bar and served as Club President. His Herculean efforts earned him life membership and badge No.1.
Of course, many others made huge contributions. To name some would be to excluded others but the total dedication of Ken Doolan our first greenkeeper, needs special mention. He oversaw the construction of the second nine holes while still maintaining the first nine. Break-and-enters were a big problem until he took up residence in his on-site caravan with his guard dog and gun. There were no more robberies.
Club directors did not strut around in white shoes, cravats and double breasted reefer jackets. They were to be found slashing scrub, grubbing roots and doing endless hours behind the bar.
A big boost for the infant club came when the RSL went broke. Former patrons flocked to the golf club and on Friday nights it was standing room only amid the rattle of poker machines and a haze of cigarette smoke. Cash flow was everything and even dirty, tar clad oyster farmers were greeted with open arms. Dress rules didn't exist.
In 1987, Taniba resident Margaret Owler interviewed Bruce for a Newcastle University project recording oral histories. If you google 'Margaret Henry Oral History' and follow the prompts you can listen in on a 20minute recording of a rags to riches story of a lifetime resident who has made such a dramatic impact on the development of the Tilligerry peninsula.
Photos: 1. Bruce Mac Kenzie.....Life Member of Tanilba Golf Club.
2. The club as it is today.
---
Gallery Opens
After a six week lockdown, Tilligerry Art Gallery (TAG) is once again open for business.
The converted fire station on the main road in Lemon Tree Passage now operates between 10 am and 2pm Tuesday through to Friday for sales only.
Volunteer Jannine Deneen said that the gallery welcomed people to wander through and inspect the many and varied arts and crafts on display created by local painters and artisans.
"We really do miss the get- togethers and creative workshops which we ran before the lockdown," she said. "At the moment social distancing rules prevent that." she added.
Those interested in joining TAG or needing more information about its many and varied activities can access their facebook page:
'tilligerry arts group inc'
Photo: Members Jannine Deneen and Juls De Ath at the gallery
---
Crawling with Crabs
What's wrong with you people? The boat ramps are open, we told you about Billy Fordham's secret crabbing spot as well as his unique handlining technique but you still aren't out there! What's more Neil Watters (the bloke in the picture) is doing very nicely lately with just two traps he puts out in Tanilba Bay.
Neil read our story of how a beach at Mallabula was named after the legendary Billy Fordham who caught over 60 crabs on handlines in an hour. Neil had a similar experience in the 1970s.
" I caught 80 crabs in an hour and a half in Swan Bay," he said. "My set up was similar to Billy's. I'd anchor my boat fore and aft to stop it turning and set about ten lines in a radial pattern," he added. "I didn't use a sinker – just a hook baited with a bit of lamb flap." he stated.
"On this day they were really on and I pulled in four nice flathead as well."
"Like Billy, I had a wire net to stop them getting tangled," he said. "It was a simple matter of pulling them in slowly and scooping them up. I was flat out all morning," he concluded.
With bag limits and other regulations, Neil's feat would be impossible to replicate today.
Photo: Neil prepares his traps for a crabbing expedition.
---
Making a Splash
Following an announcement by the NSW premier, Tilligerry Aquatic Centre is to reopen after the lockdown.
Port Stephens Council has advised that they are waiting on the Department of Local Government to issue them with the appropriate guidelines before they give the pool managers the go-ahead. These will focus on social distancing and numbers of swimmers allowed at the centre at any one time.
The Doreen Bradley pool should be very popular as the Tomaree facility has closed for a major makeover for several months. The Mallabula pool is the closest available option for squad swimmers and fitness fanatics from the Nelson Bay area.
Meanwhile, in anticipation of getting the green light, staff at the Tilligerry pool have the pumps turned on, the water spotlessly clean and are all set to go.
Photo: The Doreen Bradley pool....ready for action.
---
It's Never Been Better
If you're a local out Tilligerry way and you like fishing, the lockdown has been something
of a godsend. You see, Easter usually has the place swarming with tourists who clog up the boat ramps and haul in vast quantities of our fish and crabs. This is a great time for our local traders but not so good for our anglers. They more or less stay home and only emerge after the holiday crowd has gone.
This year, particularly with the exceptionally high tides, fish are everywhere. What's more, it's perfectly legal to fish from the shore or from a tinny you have launched over the sand. Two anglers in a boat keeping the social distancing rules is acceptable.
We always get people ringing in with fishing news but only publish reliable stories which we check out. One expert flathead fisherman has never had it so good using soft plastics but he has a problem: his lures are being cut to pieces by chopper tailor before the flathead can get to them. Perhaps a wire trace and a solid spinner might get him out of trouble.
Bream are nosing in around the rock walls on the big tides, no doubt putting on condition for their annual journey to the sea. They follow the mullet which school up when the westerly wind start to blow. One angler fishing in close from the bank nailed three of them using chicken gut as bait.
A non-fisherman, strolling mid morning, saw three beautiful flathead nosing in very close to the boardwalk on the top of the tide. "I wish I'd had a spear with me," he said. "I love flathead and fillets cost $50 kg in the shops."
So, dear reader, there you have it. There's no excuse for moping around the house. Get on out there, get yourself some exercise and bring home the bacon.
Photo: Even the pelicans are smiling – a flathead fisherman shares his catch with some locals at Tanilba Bay over Easter.
---
Tasty Thai Tucker
Mallabula's Paul Comte is one of many locals to take advantage of the 1000 free home delivered meals that are part of an initiative funded by 'Macka's Beef' in collaboration with Coastal Real Estate and Tilli Thai. Tanilba Bay.
"The meals were great," he said. "At the moment I find it hard to get around without a car and this service was top class," he added.
The meal distribution plan is targeted at self isolating seniors. There is a limit of two meals per family and a phone call to Coastal on 4984 5155 is all that's needed to set the wheels in motion.
Tilly Thai owner Duangkaew Gow said that the feedback had been great and that she was very happy to be part of the initiative.
Photos: 1 - Paul Comte.....grateful recipient. 2 - Duangkaeu displays her meals at Tilly Thai Tanilba.
---
Gentleness and Nourishment
In China, Feng Shui is believed to harmonize individuals with their surrounding environment and Jad
e is associated with purity and nourishment.
Perhaps with that in mind our Chinese restaurant at Tanilba Bay was named the 'Jade Court'.
Despite the difficulties associated with the COVID -19 crisis, it is business as usual for the Zhong family. The only change has been that dining in is off the menu.
Trading hours are from Tuesday to Sunday from 11.30 am to 2.30 pm and 5pm to 9pm. Service is by home delivery or pick up. Eftpos is available for purchases over $10. There are over 100 individual items on the printed menu and orders can be taken on 4982 4770 or 0468 612 139.
The restaurant is located just off the main road at 56 President Wilson Walk Tanilba Bay.
Photo: The Zhong family.....at your service.
---
Big Spend for Hunter Water
Hunter Water is currently spending $24 million on upgrading the Tilligerry waste water treatment plant at Mallabula. It is located down an access track opposite the Aquatic Centre on the main road.
The upgrade will be complete by 2021 and cater for the projected needs of the community until the year 2040.
Works will include an amenities block, an improved treatment process and internal road works. The makeover will comply with Hunter Water's Environment Licence.
All treated water returns to groundwater via a sand filtration process and water quality is strictly monitored.
Photo: courtesy of Hunter Water......The treatment plant in action.
---
Protecting our Posties
With the high risk of COVID – 19 droplet infection from customers, postal officers have b
een provided with protective perspex screens by Australia Post. Both Lemon Tree Passage and Tanilba Bay Post Offices now have metre high wrap-around see-through screens fitted to their counters. A small slot at the bottom has been cut into them for document transfer and payment.
Business has been brisk according to manager Mel Cameron:
"Our parcel post is up 800%," she said. "This is because online shopping has taken off since people are in lockdown. On top of this, people no longer visit relatives and friends so they send items and gifts through the mail instead," she added.
According to postmaster Peter Wheeler, passport renewals, photos and travel related cash transfers are down and 'snail mail' (the traditional stamped envelopes) has risen slightly.
"There has been a long, slow decline in letters since emails have taken over but people now have a lot of time on their hands and are turning back the clock and writing letters to one another again,' he added.
Photo: Mel Cameron behind her protective screen.
---
Bunkering Down
Tanilba Golf Club is certainly not bunkering down to weather the COVID – 19 storm. Far from it. The club is up and running but has strict rules to comply with to minimise personal contact. So seriously do they take their responsibility, that those who break the strict protocol will be confronted by the police and disqualified from the course. Only residents of Port Stephens will be allowed to play. Proof of residence will be needed.
Still interested in a game? Here are the rules:
y one customer is permitted in the pro shop at a time. Payment of green fees are via Pay wave or Eftpos. Cash is unacceptable.

A maximum of two players per group.

Only one person per cart.

Only one golf bag per cart.
For competition players the rules have been modified to minimise possible viral transfer. Scorecards are only to be marked by the player, signed and put in a box at the pro shop. The flagstick is not to be touched. Hole depths will be shallow to make ball removal easier. Rakes have been removed from bunkers and the practice green has been closed. Sand buckets have been removed.
The club board of directors apologises for any inconvenience and assures members and visitors that these measures will only be in place until the public health authorities deem that the COVID – 19 threat no longer exists.
Photo: Local golfer Peter Hopper addresses the ball, while a visiting friend looks on.
---
Feeling Seedy
History repeats itself and the current coronavirus recession has brought on economic conditions similar to those of 1990. Interest rates soared. Our RSL went broke trying to service a loan incurring 25% interest. Debenture holders lost all of their money. Businesses failed and people were evicted from their homes.
During the previous recession, Tilligerry, residents got back to basics, They are doing it again today. Flour is very hard to come by as housebound residents turn to home baking. Chook sheds are springing up. Vegetable patches are all the go but there's a problem: Seeds are impossible to obtain.
Our local hardware store has sold out and suppliers have no stock to replace the vegetable and herb seeds which have flown off the shelves.
Gardening not only puts food on the table, it is also great exercise. Why not give it a go?
Photo: Vegetable seeds – very hard to get these days.
---
Inside the USA
With all the media hype and mixed messages coming out of America, it's very hard to tap into the public perception of the COVID – 19 pandemic.
We turned to international businessman Neil Robertson for the inside story as he is in daily contact with a wide range of US citizens. The Lemon Tree Passage resident had this to say:
"Friends in Wisconsin and Washington DC don't seem particularly worried," he said. "They feel in no immediate danger although the sights of mass burials in New York and the death toll in the crowded cities disturbs them." he added.
"They do however have a sense of foreboding about the economy and the impact a total shutdown could have. Overshadowing this are concerns over the looming presidential election and the uncertainty it brings," he said. "The last thing they want is confusion and lack of direction at this critical time in the nation's history."
Compared to other countries and to NSW in particular, Tilligerry fares very well with only one known case of the virus registered and with the Port Stephens infection count for the 72 000 residents slowing to the low 30s. The isolation policy of closing all tourist venues, boat ramps, parks and enforcing social isolation clearly vindicates the tough decisions made.
Photo: Neil Robertson – Coming presidential election a big worry to most Americans.
---
Laying Down the Law
After receiving numerous reports of people ignoring the lockdown laws in relation to PSC's boat ramps and fish cleaning tables, Cr Steve Tucker reminds residents of the regulations and the penalties involved.
"These strict laws were introduced to keep 'outsiders' from bringing the COVID -19 virus into Tilligerry," he said. "They worked, as only one case has been reported on the peninsula," he explained. "We couldn't have one rule for visitors and another for locals," he said.
" Council, in its wisdom, will be relaxing the ramp rules after the holiday period on 27th April for residents only." he stated. "If you are a local and use the ramp after 27th make sure you carry ID and both your driver's and boat licence. Water police and fisheries will be out on the water checking all details," he stated.
"Report any illegal activity to Crime Stoppers and this information will be forwarded to local police to check out," he advised.
"After inspecting the facilities at Henderson Park I was appalled that the 'Ramp Closed' sign had been torn down and people had removed the mesh from the cleaning table. Not only that, they didn't clean the facility and left scales and mess everywhere." he concluded.
Photos: Tucker - "Warning sign ignored at cleaning table and the LTP boat ramp...report all illegal launchings to local police or Crime Stoppers,"
---
Saving the Children
The High Court of Australia's quashing of the conviction of Cardinal George Pell for child sex abuse brings back memories for Tanilba's Mike Stanwell.
Mike was a young catholic school principal some 30 years ago at Merriwa when he reported the sexual abuse of one of his pupils, a little girl, to the local bishop.
A certain Father Philip Wilson was assigned to deal with it. He assured Mike that something would be done but instead chose to cover it up.
Then began a long and lonely journey for Mike in his determination to seek justice for abused children in Newcastle and the Hunter.
"I realised that the abuse was widespread but every time I tried to bring those in authority to account I was pushed aside. It cost me my job and my health," he said. "I was supported along the way by others. The matter was raised in the NSW Parliament by independent MP John Hatton," he added. "Finally, a Special Commission of Inquiry resulted in the conviction of the now Archbishop Philip Wilson," he said.
"Detective Chief Inspector Peter Fox had joined the fray and made such an impact in the media that Prime Minister Julia Gillard established a Royal Commission. He too paid the price by being sacked from the NSW Police Force and suffered health issues as well," he stated.
The Royal Commission uncovered hundreds of cases of abuse and systematic cover-ups at all levels of the church hierarchy.
Was it all worthwhile?
"In terms of saving innocent victims from these monsters, it was," Mike stated. "I know for sure that we prevented many many children from being abused and encouraged others to come forward and unburden themselves."
"Personally it has been very, very draining and I have ongoing health issues." he concluded.
Mike's faith has not wavered and when his health permits, he regularly attends services at the Mallabula catholic church.
Photo: Whistleblower Mike Stanwell.......saved children from abuse.
---
An Unbeaten Record
Looking for something to distract your mind during these trying times? Want to get away from human contact? Would you like a free feed of delicious blue swimmer crabs like the ones in the picture?
Answer 'Yes!' to any of these questions and this little story might just get you motivated.
If you walk along the foreshore boardwalk from Mallabula, you come to a little beach and a viewing platform. Some years back, Cr Steve Tucker, representatives of the RSL sub-branch and the wider Fordham family unveiled a plaque naming the spot 'Billy's Beach' in honour of Billy Fordham, returned serviceman and legendary crab fisherman. His record of 63 blue swimmer crabs, caught on hand lines in little over one hour still stands today and will never be equalled.
Billy would launch his little tinny at this beach, roll himself a smoke and putter out to his favourite spot. This is located directly opposite the end of President Wilson Walk Tanilba Bay and a few metres out past the ribbon weed line. He would anchor fore and aft to stop the boat rotating. After he had baited a large hook with a slab of fish, he cast it out. A small running sinker sent it to the bottom. He set six such lines in a radial pattern. Bill would then roll another smoke and wait.
A gentle tug on a line meant that a crab was making off with the bait. Billy would slowly raise it to the surface and scoop it up. His net was made from chook wire to stop the crabs getting tangled. Sometimes a flathead would swallow the bait and he had a bonus.
It's the crab season RIGHT NOW. They come on 'round Xmas and are here all the way through Easter. Give it a go. You've nothing to lose. Agree?
Photo: Freshly cooked blue swimmer crabs caught in Tanilba Bay.
---
Providing for Pensioners (and other Health Care Card holders)
One of the best things we can do for our community during these troubled times is to support local businesses. These outlets are the lifeblood of Tilligerry. They sponsor our sporting teams and other worthy causes as well as providing employment and assisting those less well off.
One such business venture is the 'Church 4 Life' shopfront in the Kooindah Centre.
Day manager Debbie Marshall explains:
"We sell a wide range of clothing, food , furniture and other items at very low prices. Clothing is by far our most popular line but food is coming into its own with the current rush on supermarkets," she said. " 'Food Bank' supplies us with a wide range of grocery items, frozen foods, toiletries, fresh vegetables...and much more." she added.
"We cater for pensioners of any age and status as well as Senior Health Card holders," she added.
The store is located at the end of the mall past the Tanilba Post Office.
Photo: Debbie Marshall: "Come in and have a look around."
---
More than Just a News Service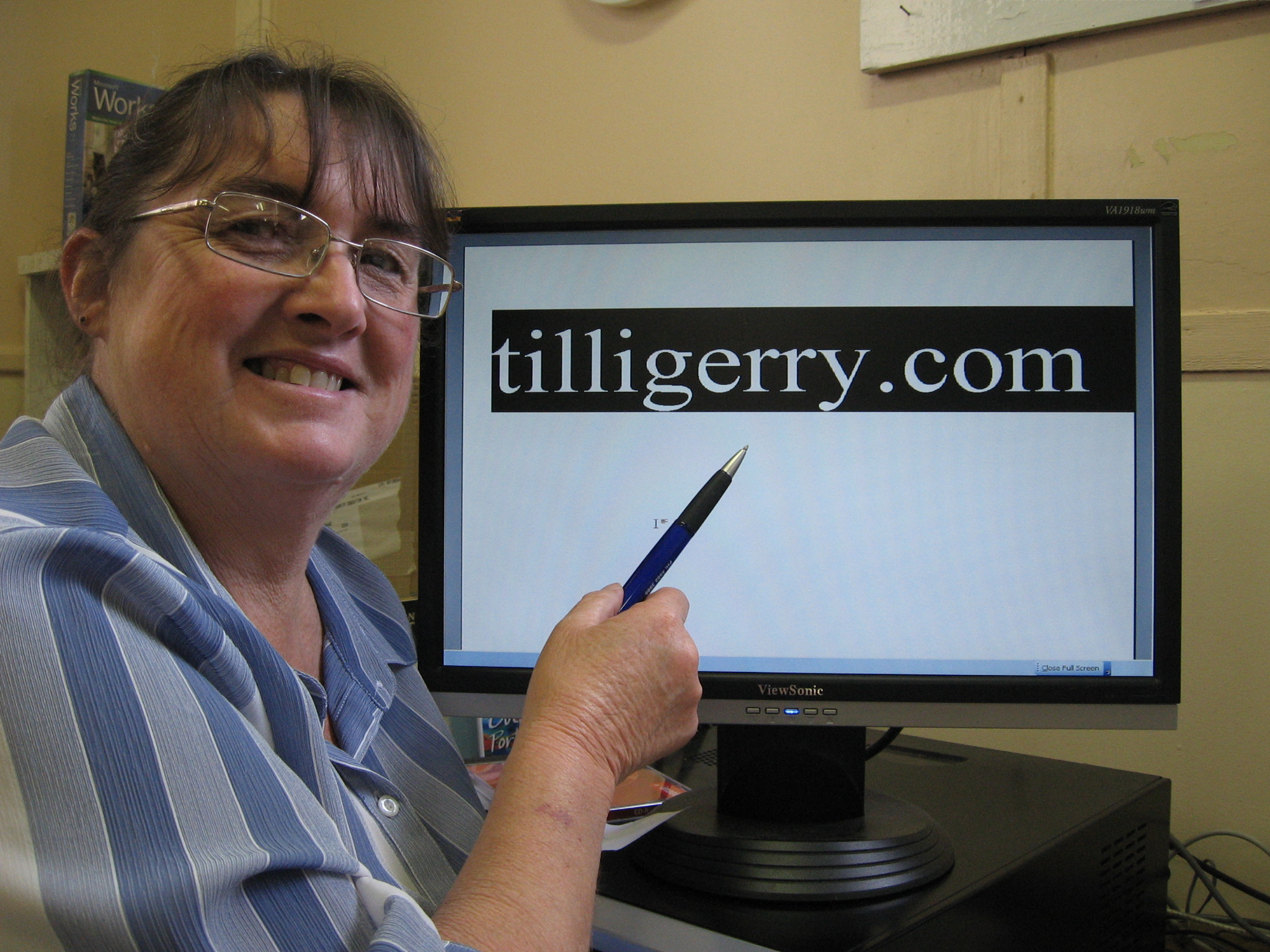 You've seen our illuminated sign 'tilligerry.com' beside the main road near the golf club as you drive into town at night.
With news services moving away from the print media, tilligerry.com for over 10 years now has moved with the times and gives local residents the news that they can't get anywhere else. Indeed, those travelling around Australia or internationally can keep up to date with a click on a mouse or a mobile phone.
Before our 'hit meter' broke down we were averaging around 2000 views each month. We have a few businesses supporting us but we really don't want advertisers as we are a not for profit community service.
That's not all! Each year we run a national Literature Award (a short story competition) with the support of PSSC, Club Lemon Tree and News Of The Area.
On top of this we offer the public internet access, assistance with the operation of electronic devices and photo copying.
It gets even better. There are constant requests, usually from residents new to the area, for general information about available services and organizations out this way.
We now have an extensive community directory listing some 80 of these which includes: churches, clubs, social groups, cultural events, schools, tourist information, community support, JPs, medical services, play groups and pre schools.
For more details scroll to the bottom of this page or click on 'Literature Award' and 'Community Directory' in the left hand green side bar.
Photo: tilligerry.com more than just news.
---
elebrating the re-opening.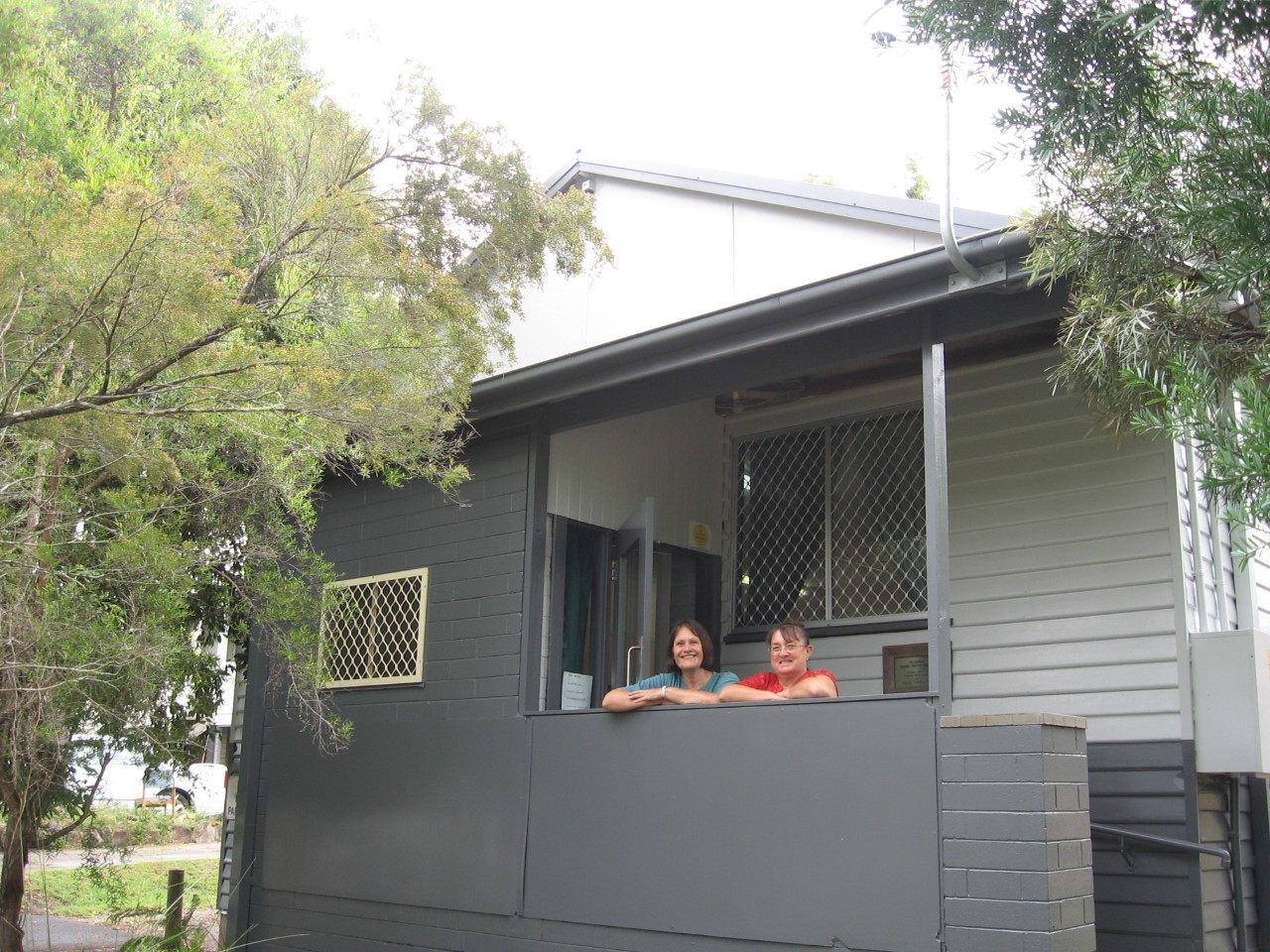 New Community Directory
As the Tilligerry community expands and changes, there is the need to provide residents (particularly newcomers) and tourists with a directory of service groups, clubs and businesses. With this in mind, TACE (Tilligerry Adult and Community Education) will be compiling one in the near future.
It will be available in both an online and printed format.
TACE works under the umbrella of PSSC and coordinates community groups such as art, lead lighting, family history and mah jong. It has its home base at the LTP library. It also publishes tilligerry.com our local online news service which has grown to be the major source of local news for residents .Most months it gets over 1500 'hits'. The Port Stephens Literature Awards, a national short story competition, is another initiative of TACE and is run by volunteers.
If you would like to publicise your club, social group or business, email basic contact information to: tace@tilligerry.com and it will be considered for inclusion. There will be no charge for this service.
Photo: TACE volunteers Helen Mizrachi and Sue Hamilton at the library.
---
Wanted!
Have you seen the ads on TV where school kids are showing off their new garden built from logs made out of recycled printer cartridges?
Well, if you would like to help with this initiative you can drop off your used cartridges to the Lemon Tree Passage Library (opposite the motel).
The Library is open six days a week between 10 am and noon. Out of hours you can leave them in a bag or box in the alcove at the front door.
Oh! this recycling facility also accepts spent batteries which can be dropped of at the same time.
Our library always has new stocks of books and FREE magazines donated by readers. They are stacked on a table just inside the door.
We look forward to you helping make our planet just that little bit greener and cleaner.
Photo: TACE volunteer Helen Mizrachi: "We need your old cartridges and batteries!"