Big Fleet
for Regatta
Some 21 catamarans comprising two divisions and eight classes crossed the starting line in Tanilba Sailing Club's annual Big Boat Regatta over the weekend of 9 - 10th February. They came from as far afield as Palm Beach, Mannering Park, Wallerawang, Queens Lake and Kurnell.
Saturday saw a stiff 15 knot Nor' Easterly sort out the contenders while the Sunday races relied more on tactical skills as a shifting 10 to12 knot Southerly with flat water presented very different conditions.
Tristan and Beau Wright in 'Snake Bite' from Palm Beach were the overall winners. Steve Brewin and Karma Randall sailing 'Harken Forward' from Kurnell were runners up whilst local sailor Zac Breaden in 'Zac' was a credible third.
Full details and photos can be found on the club's facebook page: 'Tanilba Bay Sailing Club.'
Photo: Hanging Out ...Dean Nissan and Dave Cullip on 'Business Time' which finished 8th overall.

*Photo courtesy of Leanne Gould.
---
New Policeman Appointed
Following the transfer of Constable Sam Wilson to Mai
tland, Senior Constable Peter Bo
ys has been appointed as the permanent police officer at Lemon Tree Passage.
He lives in Newcastle and applied for the position as it is closer to family. His previous posting was in Campbelltown (western Sydney) where he served for some 13 years.
He has been impressed by the friendliness of the local residents and looks forward to working with them.
"It has been rather quiet since I've taken up the appointment," he said. "The only major complaint from residents has been about car drivers doing 'wheelies' around the place late at night," he added. "Those involved in this sort of reckless behaviour must realize that if caught their vehicles will be confiscated. They will be targeted."
Photos: (1) Sam Wilson – Appointed to Maitland. (2) Police Station – Peter Boys new officer in charge
LTP Police Station – Peter Boys new officer
---
Cash Splash
Both Port Stephens and Lemon Tree Passage Marine Rescue flotillas are included in the list of 28 units to receive new boats. This is part of a 'cash splash' by the Berejiklian State Government.
Over the next four years some 38 new vessels will be added to rescue
fleet manned by volunteers along the NSW coast at a cost of $37. 6 million. This means an effective doubling of the Marine Rescue budget.
Lemon Tree Passage unit commander Rick Tyler said that the new vessel would improve the effectiveness of the service.
"Ours is one of the oldest serving boat in the fleet and we look forward to the upgrade," he said. "The rapid change in technology means that older craft are left behind and electronic communication systems, radar, night vision equipment and rescue gear need to be brought up to pace," he added.
The roll-out of the new vessels will probably see the new Lemon Tree craft come on stream in about two years according to Rick.
"It could be that the money ear- marked for the upgrade will not be enough to cover the total costs, " he said. "After the old boat is sold, we still might have to fundraise to cover the gap," he added.
All enquiries regarding the activities of this volunteer service can be found on their facebook page: 'Marine Rescue Lemon Tree Passage'.
Photos: 1. High and dry: The current rescue vessel in its cradle at the LTP waterfront.
2.Monitoring the airwaves: Commander Rick Tyler at the base station at the top of Whitbread Avenue in Lemon Tree.
---
Tanilba House Takes Off

Like a rocket being launched, interest in Historic Tanilba has really taken off with the release of a video of its recent
$100 000 restoration.
'The Examiner' shot footage of the freshly painted and tastefully refurbished colonial homestead. It drew over 7000 'views' as residents spread the word far and wide. On top of this, local social media had over 250 'likes' and some 56 positive comments about the makeover and the planned future use.
New owners Dee and Glenn want to continue the tradition of making the property available for 'events' such as weddings, photo shoots and get-togethers and have submitted a Development Application (DA) to PSSC.
Dee puts it this way: "The house is now our home and we won't be having the public wandering around inside as was the case when it was a museum piece," she said. "After the DA is approved we will have an 'open day' when all of the approval conditions are explained," she added.
"We would like your support for our future vision," she stated.
Public input relating to the DA can be made by emailing PSSC on:
council@portstephens.nsw.gov.au and quoting the DA number 16-2018-843-1
Photo: Dee and Glenn – support for proposed future 'overwhelming.'
---
Keeping Cool
As both the temperature and humidity rocketed, one visiting family from Glen Innes headed for the recently upgraded Caswell Reserve at Mallabula. With five young children in tow they thought that it would be a better place for an Australia Day celebrat
ion than the crowded Lemon Tree Passage waterfront.
By getting in early they hit the jackpot, securing the waterfront shelter shed with its electric barbecue. Others followed, setting up shop in the shade of the tea - trees and playing cricket on the freshly mown grass.
Meanwhile, in Henderson Park, celebrations were in full swing as the Lions Club big breakfast did a roaring trade. Live bands kept the crowd entertained. The face painting and jumping castle amused the children whilst the local car club drew many curious onlookers to inspect the magnificently restored classic cars. Waterfront restaurants were packed with both visitors and locals alike.
So what does Australia Day mean to us? This is the question we posed to the wider Donnelly family as they munched on their home made hamburgers at Mallabula. Their responses were varied and included: 'Celebrating our history'; 'Patriotism'; 'Looking forward and coming together' as well as more pragmatic comments such as: ' A Long Weekend' and 'A chance to do nothing!' On top of this the general consensus was to leave the 26th January as the best option to celebrate our National Day.
Photo: Keeping cool: The Donnelly family at the foreshore.
---
An Offer They Can't Refuse!
With the announcement of a new $1.5 million police station for Tilligerry, Councillor Steve Tucker has repeated the long standing offer by PSSC to donate land in RAF Park Tanilba Bay as the preferred site.
"The flat, sandy section beside the fire station is perfect," he said. "It's a 'walk up start' with no expensive on site constructio
n costs for the builders," he added.
It has also been the site promoted by Doreen Bradley OAM for well over forty years. "We have pushed for this location endlessly and through severa
l political administrations and police ministers," she said.
After policing was centralized in Maitland under Commissioner Peter Ryan, Tilligerry crime rates soared as Ms Bradley explains: "Our local resident police officer was not allowed to respond to emergency calls," she said." Residents' calls were switched to Maitland and were prioritised," she added. "Sometimes it took a day or so for a response. This meant a total breakdown in law enforcement," she stated.
Cr Tucker believes that relentless media pressure, packed community meetings and the establishment of a Crime Forum made things hap
pen.
"A Current Affair visited twice and senior police and politicians were grilled at the Crime Forum which was chaired by a retired police chief inspector." he stated. "We got results with a new $4.3 million police station being built at Raymond Terrace along with the establishment of the Port Stephens Local Area Command," he added."
Both Doreen and Steve as well as the vast majority of residents agree that a new police station will make no difference to crime levels unless it is manned. Doreen has the last word:
"Time and again we have been promised at least two permanent officers. This has not happened. Without a constant police presence on the peninsula, a new station will have no effective impact," she concluded.
Photos: Preferred Site: Steve Tucker at RAF Park Tanilba Bay; Doreen Bradley with former police minister Mike Gallacher and the old leased police station in Lemon Tree Passage.
---
---
Blue Sky Blue Water
"Blue sky, blue water!" These were the mo
st-liked features of Australia mentioned by an accidental visitor to Tilligerry recently.
Jasmine Zhu was actually looking for panoramic views of the ocean when she ended up in Lemon Tree Passage by mistake. After a quick visit to the waterfront we pointed her in the direction of Gan Gan Lookout and Tomaree Headland then sent her on her way.
Before leaving, the university student told us of her homeland, her Australian experiences a
nd her hopes for the future. She was very eager to speak to Australians to polish up her English language skills.
Jasmine hails from the city of Wuhan. With a population of some ten million, it is the biggest central Chinese city in Hubei provence. It is often referred to as 'The Chicago of China' as it is a major transportation hub. With a January mean temperature at home of around 1degree C, Ms Zhu found our current heatwave uncomfortable but the pollution free skies and crystal waters more than compensated for this.
And the future? Jasmine will be able to fluently translate Mandarin and English at the end of her studies but would dearly like to stay on with a working visa.
"I'd like to work in the early education field," she said. "I love little children and this would be a very satisfying job to have," she added.
Photos : 1. Jamine on a ramble around the Lemon Tree Passage waterfront.
2. A bridge across the Yangtze River in her home town of Wuhan.
---
Mike Disappointed
In May 2018, Archbishop Philip Wilson was convicted of covering up serial child abuse by priests within the Catholic Church. This restored Lemon Tree's Mike Stanwell's belief in the judicial system.
You see, Mike was a young Catholic School Principal in Merriwa in the 1980s when he reported the abuse of a young girl by the notorious paedophile priest Denis McAlinden.
McAlinden had been moved from Maitland to Western Australia and then on to New Zealand and back again to the Hunter leaving a trail of victims in his wake.
Mike reported him to Bishop Leo Clarke who despatched a young priest, a certain Philip Wilson to deal with the matter.
"I was assured that something would be done. I had faith in the system and left it at that," he said. "Mc Alinden was transferred and continued to abuse young girls wherever he went," he added. "He died before he could be brought before the courts." "The church point blank refused to address these issues with no justice for the young victims," he said.
"I gave evidence at the inquiry which preceded the Royal Commission. So did others who had similar tales of cover-ups by the church hierachy", he said.
"The recent quashing of Wilson's conviction left us speechless," he added. "Let's hope that an appeal to a higher court results in the conviction being upheld. This will give some sort of closure to the numerous victims whose lives were ruined. It might also restore our faith in the judicial system."
Photo: Mike Stanwell – Disappointed in the court's decision.
---
More on our Street Names
In our Remembrance Day feature we showed how a permanent reminder of The Great War was left with
us in the naming of Tanilba's streets.
We did not, however, have the space to do the story justice so we will continue with three other streets and trace their origin.
Lloyd George Grove takes its name from Britain's war time prime minister and King Alb
ert Ave keeps alive the memory of the Belgian head of state of the times.
What perhaps is most interesting is the tiny dead end, almost forgotten cross track called Wemyss Way. You see, the naval officer after whom it was named actually brought forward by a few hours the time the armistice was signed thus saving many lives.
He defied instructions and saw that the document came into force on the eleventh hour of the eleventh day of the eleventh month in 1918, exactly one hundred years ago. Had he waited, hundreds more lives would have been lost for no reason.
Sir Rosslyn Wemyss became First Sea Lord and Admiral of the Fleet during WWI after a distinguished naval career. He represented Great Britain in negotiating a peace settlement at the end of conflict.
Photos: David Lloyd George; King Albert and Admiral Wemyss.
---
New Home and Health Care Provider
Taking residents out of their homes and into care is extremely expensive and unsettl
ing for those involved. That's why governments and health services go to great lengths to bring the back-up services to people in their own homes for as long as possible.
A new start up venture has just set up a shopfront it the Kooindah Centre which does just that.
'Port Stephens Home and Disability Care' is a registered NDIS provider which can tailor a range of services to the individual client's needs.
Service options include: personal care; domestic assistance; respite care; social interaction; transport; medical appointments; care planning and case management.
Local manager Laura Corfield suggests that those seeking assistance should drop in to discuss their needs.
"It is a means tested service and we can assist with applications," she said.
"Alternatively, we are available on 0408 406 351 or details can be found on: info@pshdc.com.au she added.
Photo: Carers Laura Corfield and Nicole Sellick at their shopfront centre.
---
'Village' to be built on RSL Oval
Cluster housing suitable for seniors is planned for the RSL 'oval' at Tanilba Bay.
Owner of the property, developer and former Shire President Bruce Mac Kenzie, said that it was an ideal site for such a project.
"There is increasing need for this type of housing and Tilligerry is very popular with retirees," he said.
"We are still in the process of building housing on other land in the Koala Bay Estate as the demand for new homes continues and there are few quality sites left," he added.
The original RSL went broke when interest rates rose to 25%. Some locals who backed the club by taking out debentures, lost their money. The State RSL bought out the debt and the reformed club became tenants. In more recent times, the club bought back the parcel of land which contained the clubhouse and the land between it and the main road.
This left the state body in control of the 'oval' area to the west of the club. They sold it to the current owner.
Photo: The 'oval' site.....soon to be built on.
---
Port Stephens Literature Awards 2018
Well it's been run and won!!!
Again we had some fabulous entries and the judges had a hard time scoring, but they all used their tried and true methods.
Each entry is read by our first stage reading panel. This panel is comprised of men and women from a variety of backgrounds. They then meet with the co-ordinator of the awards in a "round table" discussion. Each story is voted on and the Top 20 go through to the next level judging. This level is comprised of 3 judges from professional backgrounds. They then independently score the stories and then a ranking is worked out from there.
The tilligerry.com award is given by the first level judges and it is for the most popular story at that first level of judging.
All stories are read as anonymous documents, the only person to know who has submitted a story is the co-ordinator and she doesn't participate as a judge.
We believe that this is the fairest system available to us and it has been used for well over 15 years.
Thank you for the support of the News Of The Area along with our other sponsors, Port Stephens Council, Club Lemon Tree and Tilligerry Adult & Community Education Inc. We hope you all enter again in 2019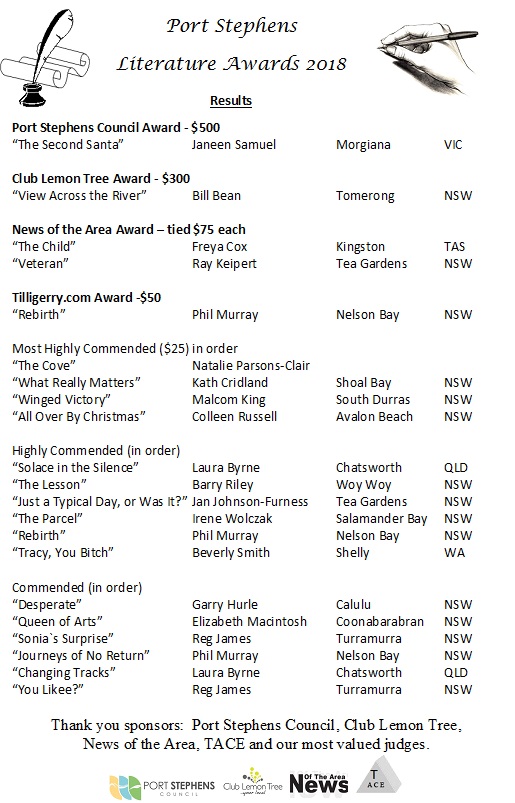 ---
Local Author Triumphs
The best performance by local writers in this year's Port Stephens Literature Awards was by Phil Murray from Nelson Bay.
Phil has entered the competition before and is also the author of a biography of his late legendar
y father, Gelignite Jack Murray. He acquired this name after taking boxes of the explosives on his round Australia rally driving. These he used to clear the way on outback tracks and some say to impede other drivers following in his wake.
Phil took out the Readers' Award and was highly commended for his short story 'Rebirth'. He was also commended for his other entry, 'Journeys of No Return.'
Other local writers to feature in the top twenty were Ray Keipert from Tea Garderns who shared the News Of The Area award and previous winner Kath Cridland from Shoal Bay with her story 'What really Matters'.
Jan-Johnson Furness, a writer from Tea Gardens was commended for his entry 'Just a Typical Day or was It?'
The 2018 result sheet can be accessed by clicking on 'Literature Award' in the left hand green side-bar of this page.
Once again, these annual awards are only made possible with support from PSSC; Club Lemon Tree; News Of The Area and our teams of dedicated judges.

File photo: Phil Murray receiving an award flanked by Councillor Steve Tucker and judge Lloyd Hogg.
---
Eukely
pts Branch Out
From a humble beginning some five years ago practising in the Senior Citizens Centre, the 'Lemon Eukalypts' ukulele orchestra has branched out. They now regularly perform at public functions as well as train and entertain at their new home base in the Tilligerry Habitat.
The idea to form a ukulele band was the brainchild of Jenny Price, a long time yoga devotee.
"I needed a new direction," she said, "so I joined a group at Stockton."
"This led to me kick starting one in Tilligerry and we haven't looked back," she added.
We caught up with the group practising for an upcoming appearance at a local waterfront festival. Their repertoire and confidence had improved out of sight since we last visited them in the Senior Citizens Centre.
Photo: The 'Lemon Eukalypts' hitting the high notes at the LTP waterfront recently.
---
Always Remembering
With the centenary of Rembrance Day,
Tanilba Bay is perhaps the only town in Australia which is reminded every day of the Great War – whether it realises it or not.
You see, the streets were named after Allied war heroes and statesmen so that the history, the sacrifices and the v
ictory in this conflict would not be forgotten.
Pershing Pde takes its name from the American General who led the American Expeditionary Force a
nd President Wilson Walk honours the memory of his fellow countryman who played such an important role in the peace process.
Clemenceau Cresc. refers to the French prime minister of the times and Poilus Pde honours the French soldiers as Diggers Drive does our own.
Beatty Bvd keeps alive the memory of Admiral Beatty, referred to as the 'Hero of Jutland' and Haig Hexagon is dedicated to Field Marshal Douglas Haig. On and on and on it goes.
Sadly, our greatest WW1 commander, General Sir John Monash was forgotten until a relatively new subdivision was developed. The street there now bears his name.
In the 1930s these names were very much appropriate but today, they are seen as relics of a bygone time when links to Great Britain, our mother country, were much stronger.
Photos: General Sir John Monash; Admiral Beatty and Sir Douglas Haig.
---
New Community Directory
As the Tilligerry community expands and changes, there is the need to provide residents (particularly newcom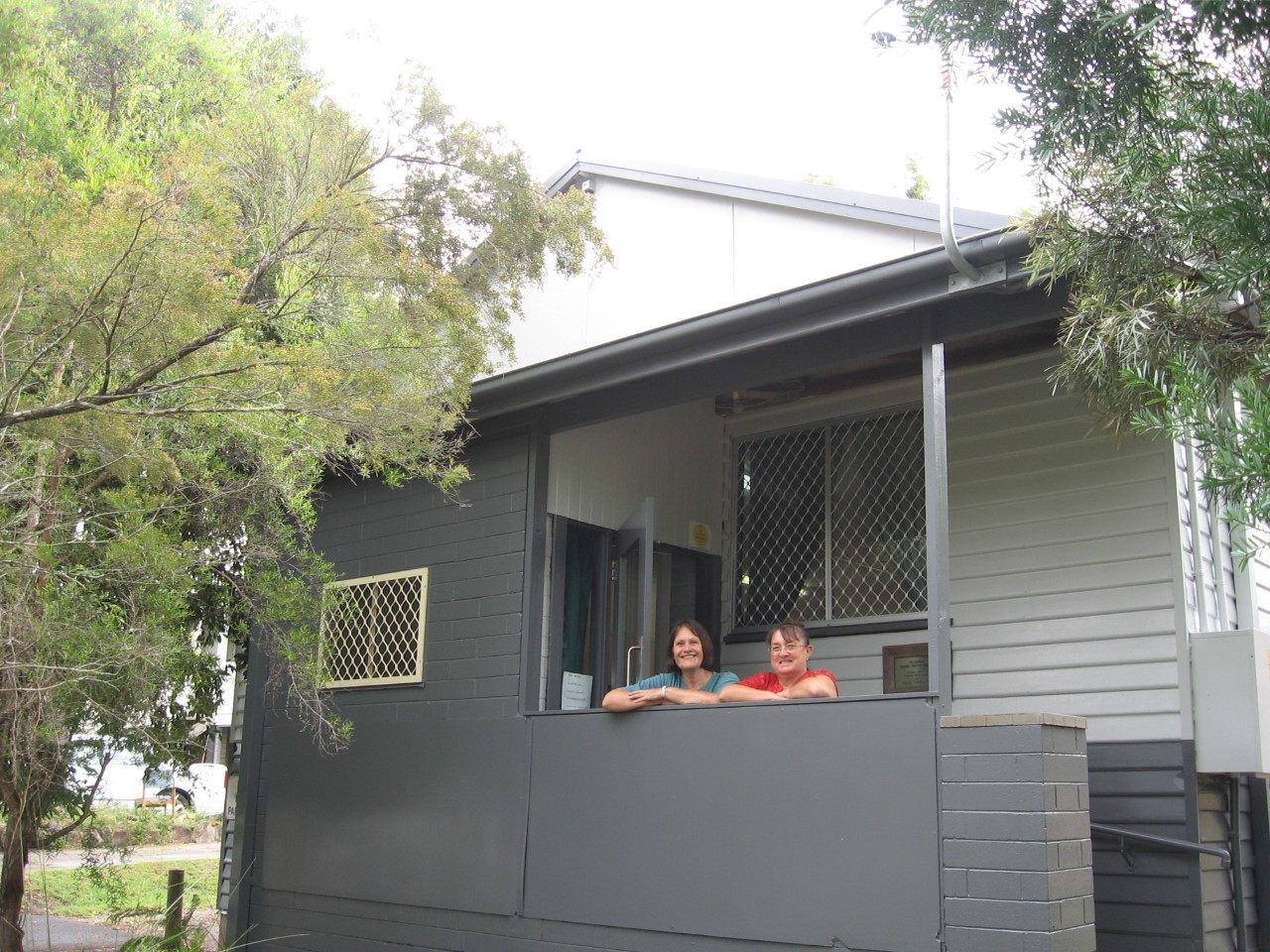 ers) and tourists with a directory of service groups, clubs and businesses. With this in mind, TACE (Tilligerry Adult and Community Education) will be compiling one in the near future.
It will be available in both an online and printed format.
TACE works under the umbrella of PSSC and coordinates community groups such as art, lead lighting, family history and mah jong. It has its home base at the LTP library. It also publishes tilligerry.com our local online news service which has grown to be the major source of local news for residents .Most months it gets over 1500 'hits'. The Port Stephens Literature Awards, a national short story competition, is another initiative of TACE and is run by volunteers.
If you would like to publicise your club, social group or business, email basic contact information to: tace@tilligerry.com and it will be considered for inclusion. There will be no charge for this service.
Photo: TACE volunteers Helen Mizrachi and Sue Hamilton at the library.
---
Wanted!
Have you seen the ads on TV where school kids are showing off their new garden built from logs made out of recycled printer cartridges?
Well, if you would like to help with this initiative you can drop off your used cartridges to the Lemon Tree Passage Library (opposite the motel).
The Library is open six days a week between 10 am and noon. Out of hours you can leave them in a bag or box in the alcove at the front door.
Oh! this recycling facility also accepts spent batteries which can be dropped of at the same time.
Our library always has new stocks of books and FREE magazines donated by readers. They are stacked on a table just inside the door.
We look forward to you helping make our planet just that little bit greener and cleaner.
Photo: TACE volunteer Helen Mizrachi: "We need your old cartridges and batteries!"