Flexible Babysitting
Need a break from your pre-school kids? Daycare too expensive? A medical appointment or a tr
ip to town by yourself? Perhaps you need an hour or two alone or time to shop or meet up with friends?
Answer "Yes!" to any of these questions and 'Take a Break Flexible Babysitting' could be just the thing for you.
This start-up venture fills a much needed gap in community childcare and functions two days per week (Mondays & Fridays) at Tanilba's Uniting Church between 8,30 am and 1.30pm. The venue is on the large corner block at the junction of President Wilson Walk and Pershing Place. Access is via the fenced back area of the church.
Qualified carers comprise the staff and the costs are $12.50 per hour or $50 for the five hour session.
Structured activities include: Craft, Yoga, Dancing, Outdoor Play and Story Reading.
More details are available on 0410 118 226 or 0401 246 821.
Alternatively, why not drop in to meet the staff and inspect the facilities for yourself?
Photo: Qualified carers Julieanne Fry and Alandra Jones at the centre.
---
Plaza Plans
Some 150 residents attended a meeting at Club Lemon Tree on Thursday 14th March. They listened to a representative of the owners and the architect of a proposed redevelopment of the Tilligerry Plaza site.
Steve Lambourne said that over the years, several proposals had not come to fruition but with financial backing for the current plan, the development should proceed.
Architect Warwick Lindsay explained that his design for the 100 unit 'Seniors Village' met with all council development requirements and that modifications could be made after community consultation.
For years now the derilict site has become an eyesore and the focus of community protest meetings. It has fallen victim to vandals and the fire brigade has been called on several occasions to extinguish deliberately lit blazes inside the building.
Photos: 1,The Plaza building as it is today.
2, Warwick Lindsay's development plan.
---
J&B
J&B is the name of a well known whisky. It's short for Justerini and Brooks and the brand
has achieved fame since 1749 as an official supplier of fine scotch whisky to British Royalty and the aristocracy.
So much for the history lesson!
J&B is also an abbreviation for Jenny and Brendan, a mother and son combination who have recently opened a new shop-front at Tanilba Bay.
The business is directly next door to the 'Oyster Shack' and stocks a wide variety of items of interest to locals.
They specialise in NRL memoribilia including rare footy cards, party ware, kitchen utensils, jewellery, stationery, a vast range of sunglasses, hardware and lots lots more.
They will also take orders for camping equipment and furniture. Why not wander through while your fish and chips are being cooked next door.
Photo: Come in and look around – Jenny and Brendan in their new shop.
---
Road Funding Pledge
With a state election just weeks away, it's no surprise that politicians are out and about connecting with the electorate. Such was the case recently when PSSC Councillor and Liberal candidate Jamie Abbott turned up at Avenue of The Allies Tanilba Bay.
Flanked by Mayor Ryan Palmer and NSW Government Roads Minister Melinda Pavey, a half billion dollar cash injection to upgrade the state's roads
was announced. This was promised over a five year time frame and Port Stephens is on the list as Ms Pavey explained.
" We (the government) are taking back responsibility for regional roads," she said.
Mayor Palmer welcomed the news stating that this would free up funds for more roadworks within the shire.
Commenting on the proposal, long time ward councillor Steve Tucker said that roads were the number one concern of ratepayers.
"I've always run on a roads, roads, roads platform and any help from the government speeds up our road renewal program. Currently, Tanilba Rd Mallabula is down for a $1.3 million makeover this year with Avenue of the Allies as the next thoroughfare to be upgraded at a cost of over $3 million." he stated.
"The enormous cost of roadworks around Tanilba Bay results from the underground drainage, the rebuilding of the road base and associated kerbing and guttering ." he added. "That's why money doesn't go very far with roadwork," he concluded.
Photos: 1. Ryan Palmer, Jamie Abbott, and Melinda Pavey at Tanilba Bay.
2. Steve Tucker – roads funding welcomed.
---
Parking Problems
Anger from frustrated parents about parking issues at Tanilba Bay Public
School has spilled over to the Tilligerry Habitat with its enforced 'Reserve Parking Only' policy. Teachers and parents have been using the space which has created problems as Habitat President Dorothy Willey explains:
"Increasing numbers of both staff and visitors mean that we need every available spot," she said. "We asked the teachers involved not to use our carpark and they were most obliging," she added.
"Our greatest concern is for the
safety of children whose parents use our facilities as a pick up point. Their children play on the bike track and when their parents arrive they rush through the bush and across the carpark. This creates a serious safety issue," she said.
"Our decision to close the carpark to the public was made by our executive and with a letter of support from PSSC," she explained.
"People are under the impression that our opening hours leave the carpark available after 3pm. This is incorrect. Our Nature Reserve is open 24/7/365 for locals and visitors alike and the carparking area can be occupied from very early in the day until late in the evening.," she said.
Ms Willey also pointed out that it ran an after school 'Kids' Club' which was overseen by volunteer Sam Zikman and two carers.
"We very much see ourselves engaged with the wider community and hope to continue this bonding ," she concluded.
Photos: 1.The Habitat carpark.
2.Tanilba School's parking rules.
3.The Habitat's signpost.
---
Bull Island
Targeted
Bull Island Lemon Tree Passage was targeted in this year's 'Clean up Australia' initiative.
Some 40 civic minded locals signed on at the RAF Park central collection site to rid the town of rubbish. The old derelict shopping centre at Tanilba Bay came in for special attention as did the the edges of the main road and waterfront parks.
Those participating included families, visiting international tourists, the 1st Tilligerry Scouts and the local Parks and Reserve members.
As
one participant put it: " This type of thing brings the community together and creates a sense of civic
pride. We live in a beautiful area and want to keep it that way."
The day culminated with a barbecue at the picnic shelter in Henderson Park Lemon Tree Passage.
Photos:
1.Pat Brown and Jo Nederlof at the signing in table.
2.Collected rubbish builds up at RAF Park'
3.Diana Abbott doing her bit at the plaza.
4.Bull Island LTP – targeted for a clean up.
---
Many Happy Tears
'Many happy tears' were shed by both Kerry and Sharon Grover after some $20 000 was raised at a charity golf day at Tanilba Bay recently.
The gala day was put on to get Kerry a car which was refitted to cater for his paraplegia. This resulted from a tree felling accident.
Speaking on behalf of the couple, Sharon said that they were overwhelmed by the open hearted response.
"In particular, we are greatly indebted to 'Sporting Hope' from Nelson Bay, Blue Water Stainless from Salamander Bay and the Tilligerry RSL and Golf club for staging the event,"she said. "The individual sponsors 'bought' a hole for $400 each and used them to promote their businesses," she added.
"Mike Rabbitt from NBN did a great job as MC on the day and the entry fees, raffles and competitions all helped as well," she said.
It's still a long way to go for Kerry on his journey back to driving a car as he explains: " I must qualify for my licence with the 'hands only' controls and pass a driving test at an accredited driving school before I can once again get back on the road and be independent, " he said. "At this stage, it's one day at a time – but I'm getting there!
Photo: Many happy tears!....Kerry and Sharon at their Lemon Tree Passage home.
---
Floating Restaurant
With the recent king tides, visitors to Lemon Tree Passage could easily be under the impression that 'The Poyer's' was actually a floating restaurant instead of being built out over the water.
Such was the height of the water that it lapped up against the bearers on w
hich the structure was built.
Unsuspecting locals were also caught out as the two metre + tides backed up into the storm water drains and welled up through the grates in Cook Pde. This left pools of salt water higher than the kerbing and flooding onto the footpath. By unknowingly parking
in the salt water, car owners could easily see their vehicles rusted out some time in the future.
PSSC fitted 'one way' flaps to the storm water pipes but they seemed not to be working during the recent tidal event.
Waterfront businesses have come under threat in the past when a big tide coincided with a torrential downpour. Put simply, the water had nowhere to go and Cook Pde turned into a lake. The RFS and SES responded last time, pumping the water into the bay.
Photos: 'The Poyer's' at low tide and at the top of a king tide and salt water pooling outside the medical centre in Cook Pde.
---
Disabilities Catered For
As funds become available, Port
Stephens Shire Council is making access to public transport and assets it manages more 'people friendly', particularly for the disabled.
This can be seen with the installation of a ramp in front of the heritage listed "Summer House' in Caswell Crescent Tanilba Bay. The structure doubles up as a bus shelter and an elevated concrete ramp now makes boarding and alighting from busses much easier for the elderly and infirm.
Currently, a new bus shelter and disability friendly access path are being constructed at the main bus pick-up point
at the junction of Meredith and Cook in Lemon Tree Passage. The roll-out of these facilities is entirely dependent on annual grants received from the NSW State Government. The works in progress at the moment total some 73 bus stops shire wide at a cost of $130 000.
That's not all. A series of disability car spaces has been allotted to disabled users of the heated Doreen Bradley Pool at Mallabula. Each of these units occupies two full parking sections for side wheelchair loading. The aquatic centre also has a special chair in which severely disabled patrons can be lowered into the water for exercise and therapy. The solar heated pool is very popular with local physiotherapists and their clients for individual or group sessions.
Photos:
1. 'The Summer House' after renovations.
2. New disability parking at the pool.
3. The disabled friendly Chair.
---
Radio Club Upgrade
Port Stephens Amateur Radio Club Inc has marked its 12th anniversary with an upgrade of its transmission capabilities.
Club president Richard (VK2FRKO) said that a 70cm repeater recentl
y installed on the telco tower on top of Gan Gan Lookout has vastly improved the quality and breadth of the club's footprint.

"Our club is a great way to make friends and talk to others over the airwaves," he said. "We are some 25 strong and meet at the Marine Rescue Base station in Lemon Tree Passage on the first Sunday of the month," he added.
"Our club has competitions involving other clubs where points are awarded for the most 'ham' radio enthusiasts contacted over a set period of time." he advised. "Around 100 points accrued over a six hour time limit are needed to win," he concluded.
At times, with favourable climatic conditions, members have spoken to others as far afield as Russia, Canada and Asia.
Interested? Punch in the club's name on your search engine for all the details. It costs around $400 for a licence and another $300 for a reasonable home transmission set and aerial.
Photo: Club member Leigh (VK2KY) testing reception from the new Gan Gan repeater dish with a handset at the LTP waterfront.
---
Blue Sky Blue Water
"Blue sky, blue water!" These were the mo
st-liked features of Australia mentioned by an accidental visitor to Tilligerry recently.
Jasmine Zhu was actually looking for panoramic views of the ocean when she ended up in Lemon Tree Passage by mistake. After a quick visit to the waterfront we pointed her in the direction of Gan Gan Lookout and Tomaree Headland then sent her on her way.
Before leaving, the university student told us of her homeland, her Australian experiences a
nd her hopes for the future. She was very eager to speak to Australians to polish up her English language skills.
Jasmine hails from the city of Wuhan. With a population of some ten million, it is the biggest central Chinese city in Hubei provence. It is often referred to as 'The Chicago of China' as it is a major transportation hub. With a January mean temperature at home of around 1degree C, Ms Zhu found our current heatwave uncomfortable but the pollution free skies and crystal waters more than compensated for this.
And the future? Jasmine will be able to fluently translate Mandarin and English at the end of her studies but would dearly like to stay on with a working visa.
"I'd like to work in the early education field," she said. "I love little children and this would be a very satisfying job to have," she added.
Photos : 1. Jamine on a ramble around the Lemon Tree Passage waterfront.
2. A bridge across the Yangtze River in her home town of Wuhan.
---
New Home and Health Care Provider
Taking residents out of their homes and into care is extremely expensive and unsettl
ing for those involved. That's why governments and health services go to great lengths to bring the back-up services to people in their own homes for as long as possible.
A new start up venture has just set up a shopfront it the Kooindah Centre which does just that.
'Port Stephens Home and Disability Care' is a registered NDIS provider which can tailor a range of services to the individual client's needs.
Service options include: personal care; domestic assistance; respite care; social interaction; transport; medical appointments; care planning and case management.
Local manager Laura Corfield suggests that those seeking assistance should drop in to discuss their needs.
"It is a means tested service and we can assist with applications," she said.
"Alternatively, we are available on 0408 406 351 or details can be found on: info@pshdc.com.au she added.
Photo: Carers Laura Corfield and Nicole Sellick at their shopfront centre.
---
New Community Directory
As the Tilligerry community expands and changes, there is the need to provide residents (particularly newcom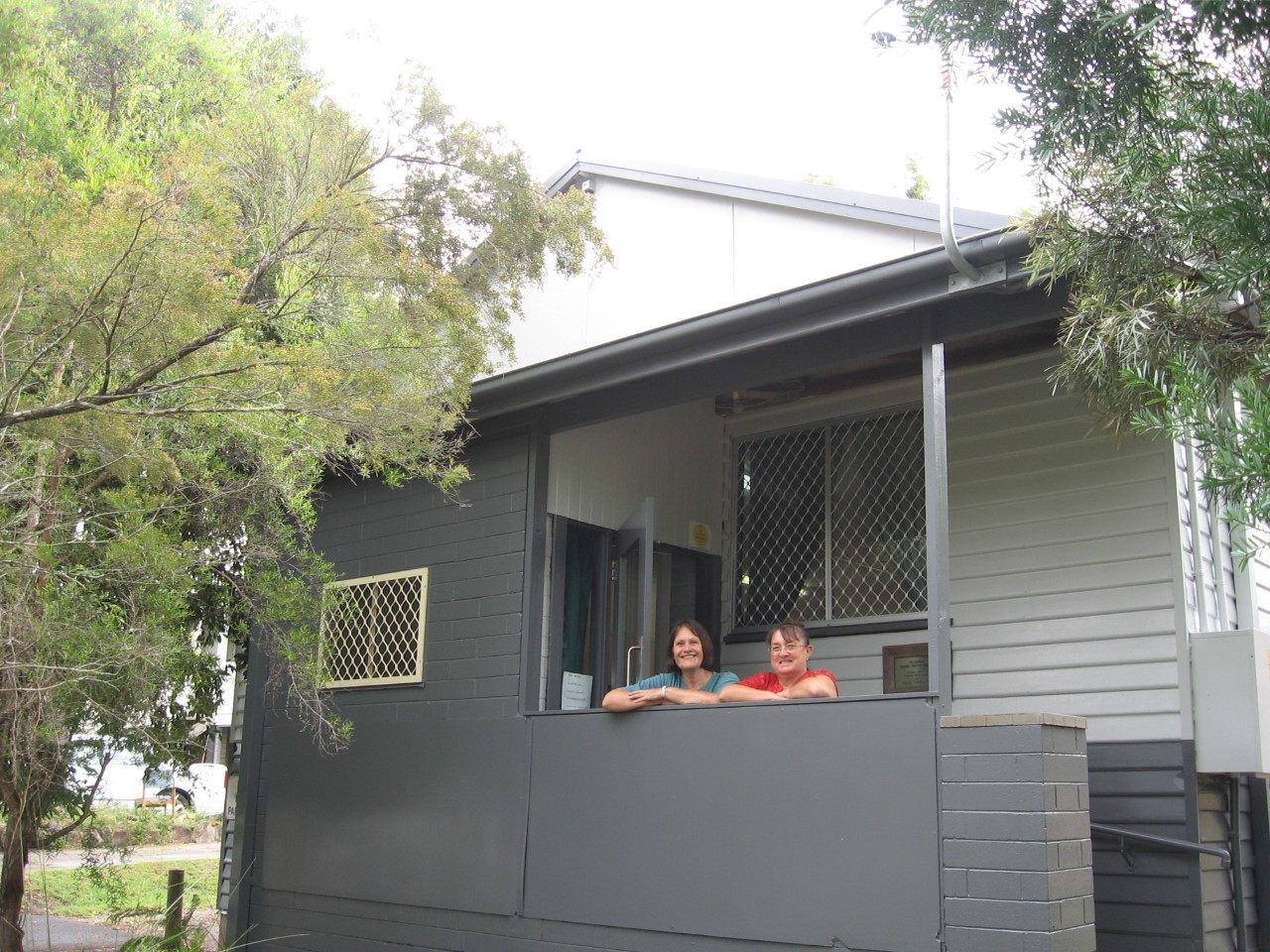 ers) and tourists with a directory of service groups, clubs and businesses. With this in mind, TACE (Tilligerry Adult and Community Education) will be compiling one in the near future.
It will be available in both an online and printed format.
TACE works under the umbrella of PSSC and coordinates community groups such as art, lead lighting, family history and mah jong. It has its home base at the LTP library. It also publishes tilligerry.com our local online news service which has grown to be the major source of local news for residents .Most months it gets over 1500 'hits'. The Port Stephens Literature Awards, a national short story competition, is another initiative of TACE and is run by volunteers.
If you would like to publicise your club, social group or business, email basic contact information to: tace@tilligerry.com and it will be considered for inclusion. There will be no charge for this service.
Photo: TACE volunteers Helen Mizrachi and Sue Hamilton at the library.
---
Wanted!
Have you seen the ads on TV where school kids are showing off their new garden built from logs made out of recycled printer cartridges?
Well, if you would like to help with this initiative you can drop off your used cartridges to the Lemon Tree Passage Library (opposite the motel).
The Library is open six days a week between 10 am and noon. Out of hours you can leave them in a bag or box in the alcove at the front door.
Oh! this recycling facility also accepts spent batteries which can be dropped of at the same time.
Our library always has new stocks of books and FREE magazines donated by readers. They are stacked on a table just inside the door.
We look forward to you helping make our planet just that little bit greener and cleaner.
Photo: TACE volunteer Helen Mizrachi: "We need your old cartridges and batteries!"