Street named after US President
The main commercial thoroughfare bisecting Tanilba is President Wilson Walk. Like most of Tanilba's roads it uses alliteration in its name.
Henry Halloran, the suburbs developer, honoured the president's memory because of his post WW1 efforts to bring a lasting peace. But, dear reader we are getting ahead of ourselves.
Wilson was born before the American Civil War and into a Confederate family. He had difficulty reading but with persistence, he mastered the art and attended college, later becoming a university professor and noted author.
He became a politician and US president, leading them into WW1 after Germany declared open submarine warfare on American shipping.
After the war he helped frame the Treaty of Versailles and was one of the founding fathers of The League of Nations (a forerunner of the UN) which aimed at preventing future armed conflicts.

Another of Tanilba's roads, Pershing Place, is also named after an American, General Pershing. He led the American forces during The Great War but more of him in a later story.
Photo: President Woodrow Wilson.
---
Haig Hexagon
Just on the water side of the arched gates at Tanilba is a six way intersection. It's a dangerous spot to navigate due to the numerous roads converging and with no roundabout.
This is Haig Hexagon and is named in honour of a high ranking British army officer of WW1.
Field Marshall Douglas Haig KT, GCB, OM, GCO, KCIE. was a member of the Haig whisky family and commanded the British troops in France from 1915 onwards. Under his leadership some 2 000 000 casualties were suffered by Allied forces.
As an expert horseman, he came up through the ranks seeing service in the Sudan, India and the Boer War. He was often criticised as he still thought that the cavalty had a role in a war in which the machine gun and artillery dominated the field.
The unsustainable losses forced him to adopt a strategy developed by Australian General John Monash who had the infantry advance behind creeping artilery bombardment backed up by tanks and aircraft.
Photo: Douglas Haig ((1861 – 1928) inspecting troops during WW1.
---
Koala Conservation Program
Henderson Park Lemon Tree Passage has become the focal point of a tree planting initiative to provide the resident koalas
with extra foliage to browse on.
Attached to each of the seedlings is a laminated information sheet to educate residents and visitors about the marsupials which are in rapid decline. A high protective plastic collar has been placed around each tree and 'corridors' extend around the amenities block and skirt the carpark.
The project is being carried out by the local Parks and Reserves group under the umbrella of PSSC.
Koalas prefer swamp mahogany (eucalyptus robusta) as a food tree and can, at times be found in the park high up in the foliage.
Their three biggest threats come from wildfire, domestic dogs and traffic which have all increased markedly over recent times.
Photo: The new trees in Henderson Park.
---
Road Names Explained
New residents to the area often want to know the origin of our road names and recently many asked where 'Dead Man's Corner' was. This is a bend in the road just past the golf club where $1.1 million is to be spent improving a 'black spot.' It received its name early last century when a road worker was killed there by a falling tree.
Just before this bend is a chained off bitumen road. It is still called 'Orange Grove Road' as at its end on Tilligerry Creek is the old Boyd property which once boasted a 76 tree orange orchard.
It's also interesting to explore the background of the people after whom Tanilba's roads were named. We might start with Wemyss Way, a very short street which few people know of.
Rosslyn Erskine Wemyss rose in the British Navy to the rank of Admiral of the Fleet after a distinguished naval career which included command of the Second Battle Squadron of the Home Fleet. He played a major role in the Gallipoli evacuation. He is perhaps best remembered for his negotiations of the armistice negotiations which ended the Great War. By bringing forward the official cease fire he saved hundreds of lives.
We might at some future juncture look into the lives of other noted figures after whom our road networks were named.
Photo: Sir Rosslyn Erskine Wemyss CBE; CMG; MVO.
---
Crims Target Marine Rescue
According to forensic police, the theft of a $7400 power generator from Marine Rescue's base station at Lemon Tree Passage was premeditated and targeted.
Police see this as one of a string of such crimes which have seen generators stolen from volunteer groups which include the Hunter Rural Fire Service. The use of bolt cutters, power grinders and tell-tale gloves fits the pattern of previous incidents.
Within ten minutes of being notified of a security breach on the night of Friday 25th October, former Commander Richard Osborne OAM was on the scene but the felons had fled.
"This low act means that we will have no back-up during power outages," he said. "We are therfore inactive when wild weather hits which is usually the time when we are most needed," he added. "Like the RFS we are all unpaid volunteers and to be targeted in this way is bad for morale," he concluded.
Photo: Not a happy Chappie! Richard at the Marine Rescue Base in Lemon Tree Passage.
---
Honey Wars
Something of a honey war has erupted across the Tasman as New Zealand and Aussie apiarists go head to head about a variety of honey.
You see, a type of leptospermum (a low shrubby bush common to both countries) produces a medical grade honey which commands high prices. Normal local honey sells for around $12 per kg wheras the acclaimed 'Manuka' honey retails for some $40 for a 250 gram jar!
Recent research shows that in many cases the Aussie product is superior to its Kiwi counterpart and they want to market it as 'Manuka". The New Zealand producers believe that they own the name just as 'champagne' can only be used to name the sparkling wine grown in France.
Time will tell how our honey can be labelled but the good news is that leptospermum is a very common heathland plant out this way. Scientific testing will determine if it is the type that has a high medicinal qualities.
Look a the photo. This is a local leptospermum in full bloom. If you rub the leaves between you fingers it gives off a distinctive lemony fragrance.
Photos: A Tanilba leptospermum bush and local honey available from the 'Habitat.'
---
Bridge Club Turns Twenty
Tilligerry Bridge C
lub turns 20 this year and is currently compiling a scrapbook of photos and press clippings to preserve its history.
Sally Robinson was the founding force and after taking lessons she gathered up a group of interested locals and the infant club used the old school site as a venue. Ros MacKenzie, an experienced player, gave lessons and soon the club boasted 16 members.
In the year 2000, the club relocated to the Bowling Club from which it still operates. It has competitive sessions of a Monday and Wednesday and lessons for beginners. The Tilligerry Bridge website which was up and running in 2010 gives full details of the club and its activities.
Each year in April a 'conference' of up to 130 players descends on Tilligerry to compete in various graded events. It well and truly puts the town on the map as well a injecting cash into the community.
Photos: 1.Club stalwarts Sally Robinson and Pat Healey with Colin and Trish Gratwick and 2.A packed auditorium at the annual conference.
---
More Koala Trees
PSSC has, for the last five years planted some 1500 trees throughout the shire to maintain and enhance corridors for koalas.
Currently they are linking Tanilba's forested foreshore to Sunset Point with a new feeding and breeding strip of eucalypts as the old swamp mahogany trees are nearing their end of their life cycle.
The local Parks and Reserves committee has been notified as have waterfront residents by a letterbox drop but problems have arisen.
A screen of trees planted before the consultative process had been completed has angered foreshore residents. Positioned close together they effectively blocked residents' water views. Council has agreed to relocate the trees but more plantings will take place between the new amenities block and the western end of the reserve. This will establish a corridor over the long treeless strip and link it with an existing forest near the boat ramp.
Photo: The screen of trees to be removed along the Peace Pde foreshore.
---
Literature Awards 2019
NOW CLOSED!!
Stories are with the readers for judging. We will have a full list of winners on tilligerry.com on Thursday 21 November (.....after 2pm)
GOOD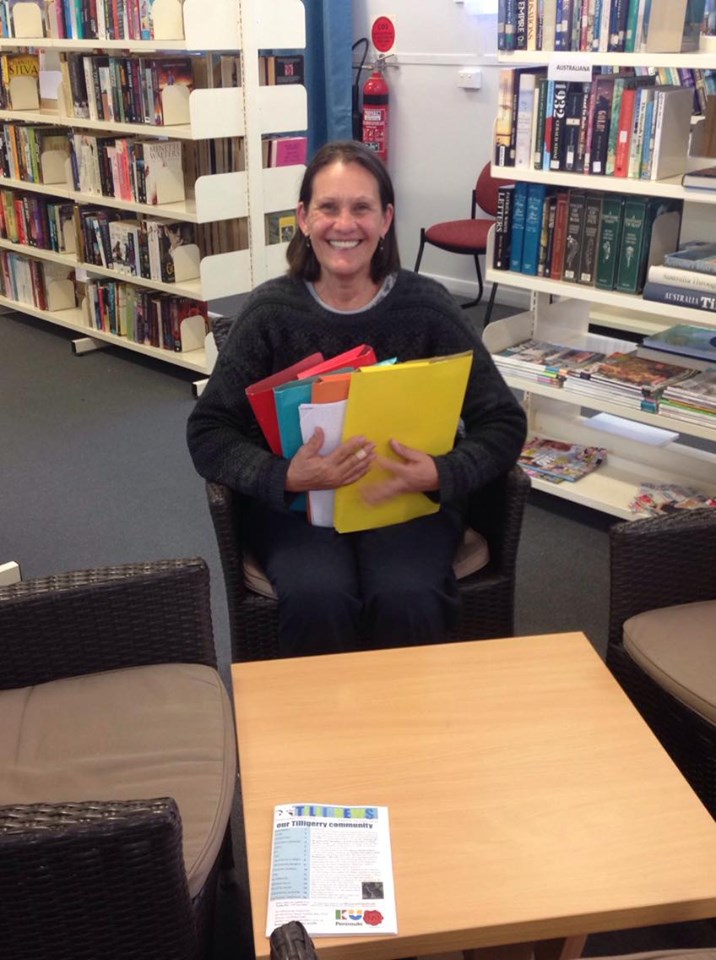 LUCK!
The annual Port Stephens Literature Awards are now open for entry. Prize money of $1100 is on offer for short stories of up to 2000 words on any theme. The closing date for submissions is 30th September.
The awards are jointly sponsored by Port Stephens Shire Council, Club Lemon Tree and NOTA (News Of The Area).
Long time co-ordinator Sue Hamilton said that to get shortlisted, writers need to engage the reader within the first page. "With only 2000 words, you need to draw the reader into your story very quickly," she said. "Be sure the entry is a 'page turner' with an economy of words and develop an intriguing, fast moving storyline," she added.
"You don't have to be long winded. One year the winning entry was fewer than 900 words in length,' she said.
Full details can be sourced from our website: tilligerry.com or by emailing enquiries to tace@tilligerry.com or on 49823986.
Photo: Helen Mizrachi – Literature Awards now open for writers.
---
Million Dollar Bend
Old time residents still refer to a section of road past Tanilba's golf club as 'Dead Man's Corner.' This name came from the fact that a road worker was killed there by a falling tree in the early part of last century.
The elevated section of road has seen five major accidents in as many years so PSSC is about to do something about it.
Working with a $1 100 000 state government grant, the shoulders will be widened and guard rails and wire barriers will be installed.
These grants are allocated as part of the government's 'Saving Lives on Country Roads' initiative and cannot be used on any other suburban road programs as Councillor Steve Tucker explains: "It is exactly the same situation as our new roundabout." "Residents must realize that we have a separate roads renewal strategy which is prioritised and funded by Council." "We can't dip into this 'black spot' funding to finance other works," he said.
"The only downside to this new roadworks is some inconvenience to road users for about 12 weeks and it also puts our planned $5 000 000 Tilligerry road renewal works back a bit in terms of priority," he added.
Council has also secured similar funding to for work on 'black spot bends' between the Salt Ash tennis courts and the main Nelson Bay road.
Photos: The sign giving details of the roadworks and Cr Steve Tucker: "Million dollar program to start in October,"
---
New Sweets Shop
Tanilba Bay has a new sweets shop. Loca
ted at shopfront 13 in the Kooindah Centre, it occupies the spot formerly
the home of 'The Black Cat' hair salon.
Tanilba resident Zeljka Woods offers the public a wide range of sweets and party supplies which include lollies, balloons, candy bars, cake stands and beanie boos.
Why not drop in and check things out for yourself. Alternatively, give Zeljka a buzz on 0402 902 750 or explore her website: 'balloonsandcandy@outlook.com
Photos: Zeljka in her new shop.
---
More than Just a News Service
You've seen our illuminated sign 'tilligerry.com' beside the main road near the golf club as you drive into town at night.
With news services moving away from the print media, tilligerry.com for over 10 years now has moved with the times and gives local residents the news that they can't get anywhere else. I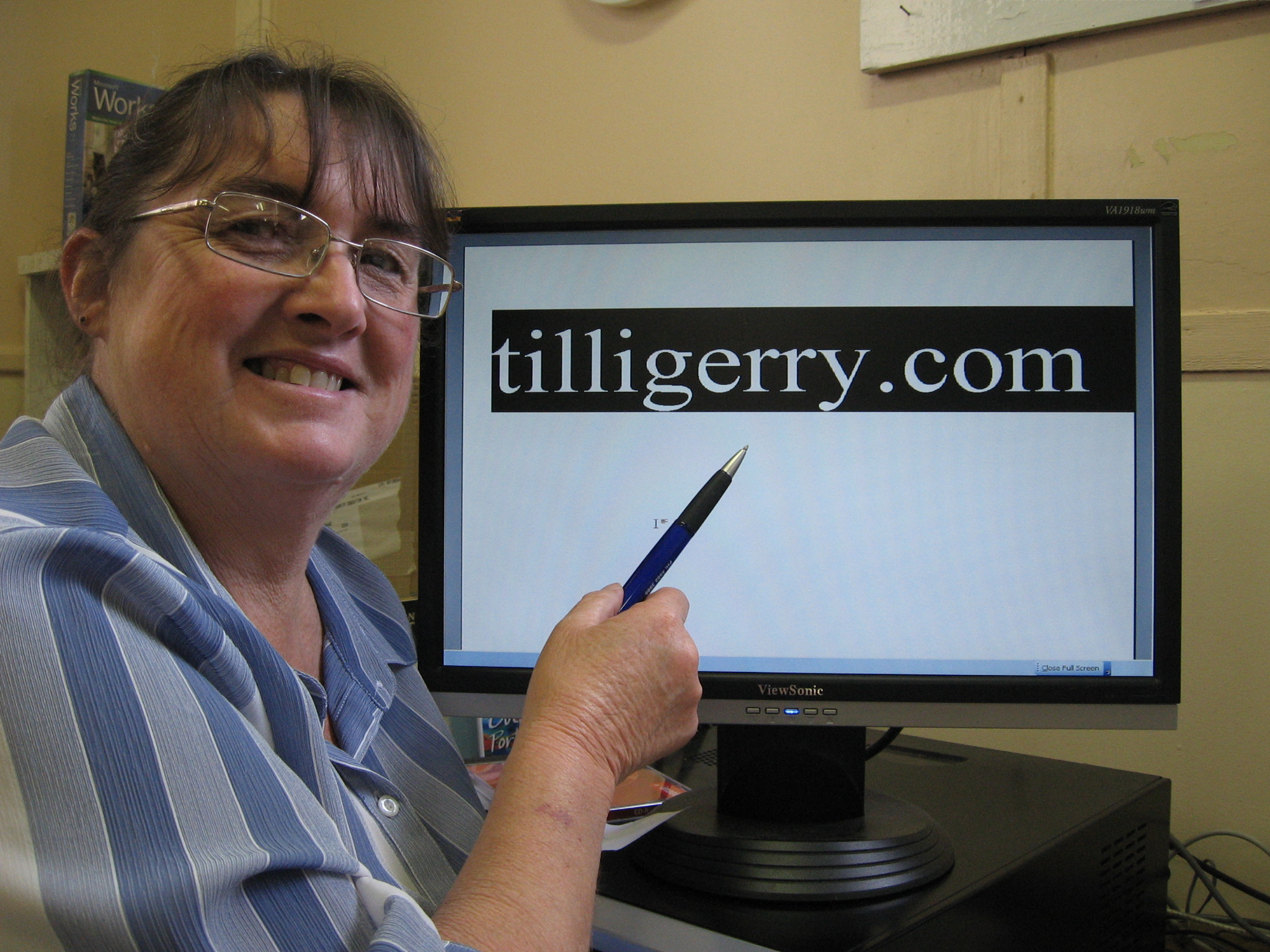 ndeed, those travelling around Australia or internationally can keep up to date with a click on a mouse or a mobile phone.
Before our 'hit meter' broke down we were averaging around 2000 views each month. We have a few businesses supporting us but we really don't want advertisers as we are a not for profit community service.
That's not all! Each year we run a national Literature Award (a short story competition) with the support of PSSC, Club Lemon Tree and News Of The Area.
On top of this we offer the public internet access, assistance with the operation of electronic devices and photo copying.
It gets even better. There are constant requests, usually from residents new to the area, for general information about available services and organizations out this way.
We now have an extensive community directory listing some 80 of these which includes: churches, clubs, social groups, cultural events, schools, tourist information, community support, JPs, medical services, play groups and pre schools.
For more details scroll to the bottom of this page or click on 'Literature Award' and 'Community Directory' in the left hand green side bar.
Photo: tilligerry.com more than just news.
---
The 'WOW' Factor
"WOW!"....this was the reaction of regular borrowers when they walked through the door to our new look library after its makeover.
New books, new curtains, wicker furniture, new carpet, state-of-the-art shelving and a modern offic
e layout greeted the eye.
Port Stephens Library Services Manager Kris Abbott, praised the efforts of local volunteers and community workers who assisted with the upgrade. This included the donation of new curtains, removal of old shelving and furnishings and restoration of the gardens at the front of the building. Little was wasted with the old shelving being donated to other grateful community groups.
Library staff from the Raymond Terrace and Mobile Library were of great assistance with the planning process as well as hands on with packing up and re-shelving all the book stock.
Apart from library volunteers and customers PSC Acting Community Services Section Manager, Aaron Malloy; Library Services Officer, Vicki Bailey and local Councillor Steve Tucker were on hand to celebrate the event.
The library is open from Monday through Saturday between the hours of 10am and noon.
The TACE office which works in tandem with the library in the same building, offers photocopying, fax service and internet access as well as assistance with the operation of electronic devices such as mobile phones and computers (assistance on Thursdays only).
Photos: 'WOW!' 1.The new layout at the library. 2. Celebrating the re-opening
elebrating the re-opening.
---
New Community Directory
As the Tilligerry community expands and changes, there is the need to provide residents (particularly newcom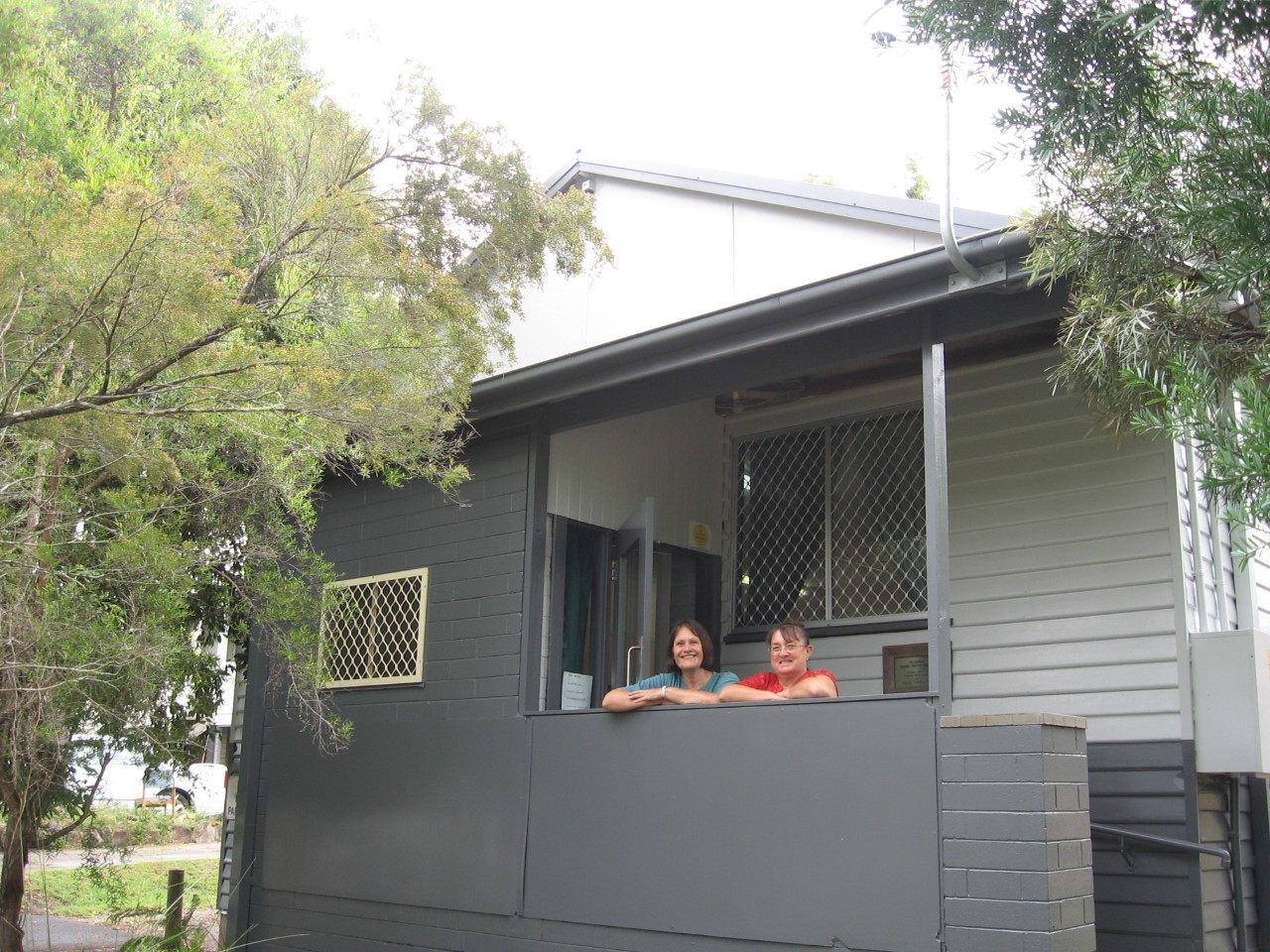 ers) and tourists with a directory of service groups, clubs and businesses. With this in mind, TACE (Tilligerry Adult and Community Education) will be compiling one in the near future.
It will be available in both an online and printed format.
TACE works under the umbrella of PSSC and coordinates community groups such as art, lead lighting, family history and mah jong. It has its home base at the LTP library. It also publishes tilligerry.com our local online news service which has grown to be the major source of local news for residents .Most months it gets over 1500 'hits'. The Port Stephens Literature Awards, a national short story competition, is another initiative of TACE and is run by volunteers.
If you would like to publicise your club, social group or business, email basic contact information to: tace@tilligerry.com and it will be considered for inclusion. There will be no charge for this service.
Photo: TACE volunteers Helen Mizrachi and Sue Hamilton at the library.
---
Wanted!
Have you seen the ads on TV where school kids are showing off their new garden built from logs made out of recycled printer cartridges?
Well, if you would like to help with this initiative you can drop off your used cartridges to the Lemon Tree Passage Library (opposite the motel).
The Library is open six days a week between 10 am and noon. Out of hours you can leave them in a bag or box in the alcove at the front door.
Oh! this recycling facility also accepts spent batteries which can be dropped of at the same time.
Our library always has new stocks of books and FREE magazines donated by readers. They are stacked on a table just inside the door.
We look forward to you helping make our planet just that little bit greener and cleaner.
Photo: TACE volunteer Helen Mizrachi: "We need your old cartridges and batteries!"