Literature Awards 2020 Open for Entry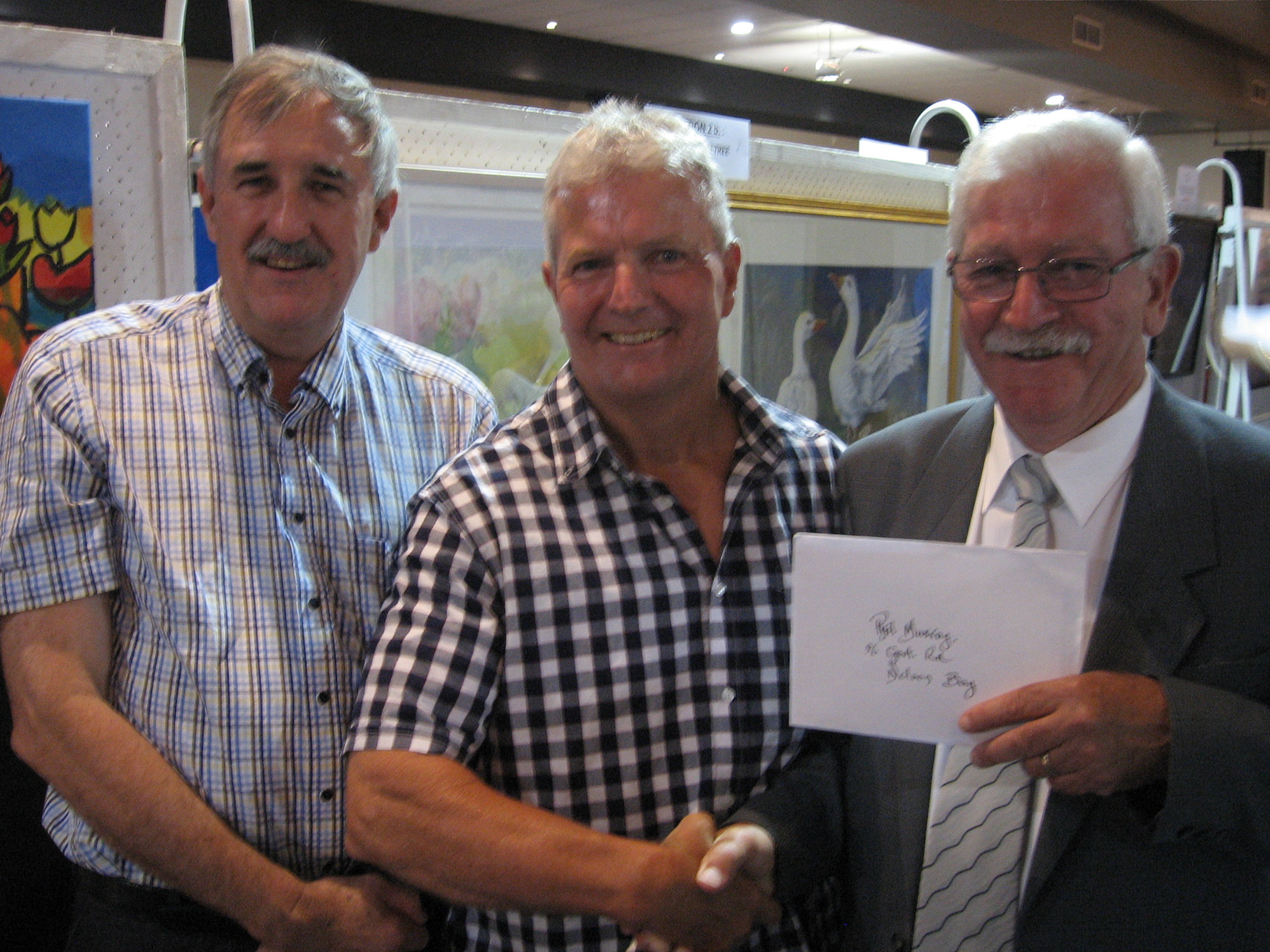 Look at the picture. That's Phil Murray receiving his Literature Award from judge Lloyd Hogg and Cr Steve Tucker some years ago. Phil went on to write a book about his legendary father 'Gelignite' Jack Murray.
Jack was an all round sportsman and took part in the 'Redex' trials in the outback. 'Redex' was a red fuel additive which was supposed to enhance a car's performance.
Jack took with him sticks of gelignite which he used to blow up hazards which got in his way and some say to blast holes in the tracks behind him to slow his competitors down.
We all have stories to tell and with the lockdown it's a perfect time to sit behind the keyboard and have a go.
To get all of the details of our annual short story competition (now in its 16th year) go to the left green sidebar of this page and click on 'Literature Award' and all will be revealed.
---
Fitness and Fun
The Tilligerry Aquatic Centre is emerging from its winter slumber and is offering up a broad range of activities for locals and visitors alike.
Actually, the two months' annual closure didn't happen this year and there was a reason for this. Aside from the Covid -19 lockdown, Tilligerry became the only pool open because both Tomaree and Lakeside were out of action for technical reasons. This saw dedicated swimmers and squad training transfer to Tilligerry.
Currently, Aqua-Fitness classes are up and running and Learn to Swim lessons will follow. The water is a warm 26 degrees C and lap swimmers are coming out of hibernation. For a bit over $1 per day season passes are available.
All details can be had on 49 824 730 or you can call in to the pool before 12 noon seven days per week and find out what's on offer.
Photo: Fitness instructor Vicky Farrell (and friend) limbering up at the Doreen Bradley Pool.
---
A
nglerz Corner
No, our spelling hasn't lapsed! 'Anglerz Corner' is the new bait and tackle store recenly opened in the LTP waterfront complex just two doors up from 'Kippy's'. They stock a wide range of fishing gear as well as a limited amount of basic convenience items such as fruit, bread, and milk. They also stock ships' chandlery.
Proprieter Arthur Smiley said that the brined bait was much more popular with anglers than the frozen variety.
"We stock pilchards, worms, squid, pippies and other baits," he said. "This site presented us with an ideal business opportunity. It will dovetail well with our online sales of angling gear, particularly lures," he added.
Interested? Drop in at any time and have a look around. Alternatively, check out their facebook site for more details.
Photo: Anglerz Corner.....open NOW.
---
Visitor Numbers Surge
Port Stephens is becoming an increasingly popular destination for holiday makers and tour
ists and we have COVID 19 to thank for this.
With overseas travel and Queensland in lockdown, city residents are turning to coastal regions for holidays and day trips to escape the cities and their problems.
Reports from Nelson Bay show solid bookings and Tilligerry is becoming a very popular destination for Newcastle and Hunter residents.
Henderson Park in Lemon Tree Passage is awash with day trippers of a weekend as is the refurbished Caswell waterfront reserve at Mallabula.
The 'Habitat' foreshore nature reserve and its interactive tourist centre is also emerging from lockdown. It was closed because Sydney visitors from 'hot spots' were seen as a threat in spreading the virus.
Now open, the nature trails and boardwalks give visitors a chance to see koalas in the wild and other native flora and fauna in their natural setting.Spring is the ideal time to visit as the blossoming wildflowers are a sight to behold. Standard protocol of social distancing and contact details are needed in the centre which has a unique 'hay bale' eco-friendly construction base. Entry is free. All details of their centre and its offerings can be found by entering 'tilligerry habitat' in a search engine.
Photo: A 'resident' koala at the nature reserve.
---
Pelican Problems
Look at the two photos. One is of a local pelican roosting above the garbage bins near the boat ramp in Lemon Tree Passage. The other is of a car whose owner left it parked below another waterfront light pole in Port Macquarie. We urge residents to steer clear of the area close to the bins and the fish cleaning tables in Henderson Park for obvious reasons.
---
Baby Steps
The first baby steps in the long awaited start on a $1 300 000 rebuild of Tanilba Rd Mallabula have been taken.
A team of council officers recently visited the surrounding scrub to do an environmental assessm
ent which is required before the heavy equipment gets to work.
The field trip was headed up by Craig Dews and Natalie Nowlan. They were particularly keen to note the type of native flora and fauna which is found in this area as well as the hydrology of the watercourses. Their recommendations will be considered as part of the design process for the roadwork and drainage systems incorporated into the upgrade.
Over the years this same native bushland has been the focus of numerous paper wars between the local residents, Parks and Reserves Committees, The Rural Fire Service and Port Stephens Shire Council.
In being classified a 'Riparian Zone', it was never to be burnt off. Furthermore, the RFS stated that it was not a fire hazard yet a young couple building a home nearby was required to spend some $45 000 in fireproofing their home.
Intervention by councillors Bruce Mc Kenzie and Steve Tucker saw common sense prevail. The home owners saved $25 000 and our local firies were able to burn it off.
The big question is: when will the heavy equipment turn up and start work? Next year seems to be the starting date.....but don't hold your breath.
Photos: 1. Craig Dews and Natalie Nowlan (kneeling) with the survey team and 2. Tilligerry RFS burning off the adjoining scrub.
---
Power Rebate for Seniors
Remember how the state government dished out $250 petrol cards for seniors? Well, there are more goodies just a phone call away for those golden oldies who possess a Commonwealth Seniors Health Card.
You can now get an annual $200 rebate on your power bill and it's only a phone call away. True! Just dial 13 77 88 and follow the prompts.
We do, however have some advice from people who have gone through the process:
Have your Health Card , the THIRD page of your electricity bill and your bank account details at hand as they will be needed to complete the process.
There could also be some more benefits to be had. Just ask the operator to check if there are any more concessions you are entitled to. He/she will then connect you to another officer who will make a phone appointment to check all your details and see what's available.
Of course, if you have the time, you can do it all online but you'd much prefer to use the time you have left skydiving, white water rafting of deep sea diving, wouldn't you?
Photo: $200 power rebate available to seniors.
---
Jade Court Changes Hands
The Jade Court is in the process of changing hands with the new owners of the business currently learning the ropes in the kitchen of the popular local restaurant.
The Chong family will shortly be moving to Sydney to pursue other business interests.
Speaking on behalf of the family, Helen Chong said that they would like to thank the locals for their support over the last five years and that they will greatly miss their regular customers.
"Our main reason for leaving is that my husband and I would like to spend more time with our young children. We just don't have have near enough free time working in the restaurant," she said.
We will do a feature on the new owners after they are settled in. On a separate note, the Soo family who still own the property are well settled back in Sydney and have opened another business.
NOTE: The Jade Court is once again open for dining -in meals after the Covid 19 shutdown restricted their business to takeaways only.
Photos: The Chong family: moving on....and Lyn and David Soo.... New business opened in Sydney.
---
Club Saves the Day
It looked like the annua
l Port Stephens Literature Awards would be put on ice this year. You see, sponsorship had fallen away due to the current recession and despite prize money being reduced it was expected that it would not break even. The awards (now in their 16th year) are for short stories up to 2000 words on any subject.
Despite being closed for months, Club Lemon Tree has seen its way clear to support the awards despite a cash flow problem.
Club President Kevin Colman explains: "We see ourselves as very much a partner in community development and support," he said. "In good times we have distributed around $50 000 annually to worthy community groups," he added. " This year the Covid 19 crisis has meant that we have had to cut back our community contributions to around $24 000. As one of our long term beneficiaries, Tilligerry Adult and Community Education (TACE ) will still be included," he said.
TACE coordinator Sue Hamilton said that it was a great relief to see the awards funded for 2020.
"The $300 first prize will now be named the 'Club Lemon Tree Award', she said. "Our judges are already assessing the early entries," she stated.
Full details of the awards and entry conditions can be found on tilligerry.com by clicking on 'Literature Award' in the left green side bar.
Photo: Club President Kevin Colman OAM …..Happy to continue sponsorship of Literature Awards.
---
Quirky Quilters
'Quirky Quilters' is a group of ladies which meets at the old Lemon Tree Passage School site each Friday between 9.30 am and 12 noon.
They have just completed a group project which has resulted in the residents of Tanilba Shores Retirement Village being presented with some 39 single bed quilts and nine knee rugs.
Lynley Keers explains how it came to be: "We were given the quilt tops and material by a lady who had been a long time quilter," she said. "We then supplied the wadding and backing and put it all together," she added.
"Recently our group presented the finished quilts to Tanilba Shores," she explained. "The handover had to be outside, as the village is under strict rules due to the COVID 19 threat," she said.
Accepting the quilts on behalf of the residents, Admin Officer Michelle Nash was overjoyed. "What a wonderful gift;"she remarked. "It will brighten the lives of our residents and form a bond with this caring group of local ladies," she said.
Note: Ladies interested in quilting can just turn up at the Old School Site at the times designated to find out more details of the group and its activities.
Photo: Jan Colman and Lynley Keers presenting the quilts to Tanilba Shores' Michelle Nash.
---
Char
acter Building
Want to see your children grow up with a sense of responsibility? Want to get them involved in healthy character building activities which lead to positive lifestyle options? Perhaps you would like to have them develop leadership skills and be aware of other cultures and the environment.
If these are some of the qualities you would like imparted to your children, the the Tilligerry Scouts are just the thing for your family to become involved with.
Currently they are looking for people to become group leaders and for boys and girls between the ages of five and 18 to join the movement.
Interested? Give Ralph Francis a buzz on 0414 474 612 for all details.
Recently, community worker Sue Hamilton was notified by Chief Commissioner Neville Tompkins OAM that she was to be honoured with the Special Services Award at a date to be fixed. Sue served as treasurer for several years.
Photo: Sue Hamilton with her award notification.
---
More than Just a News Service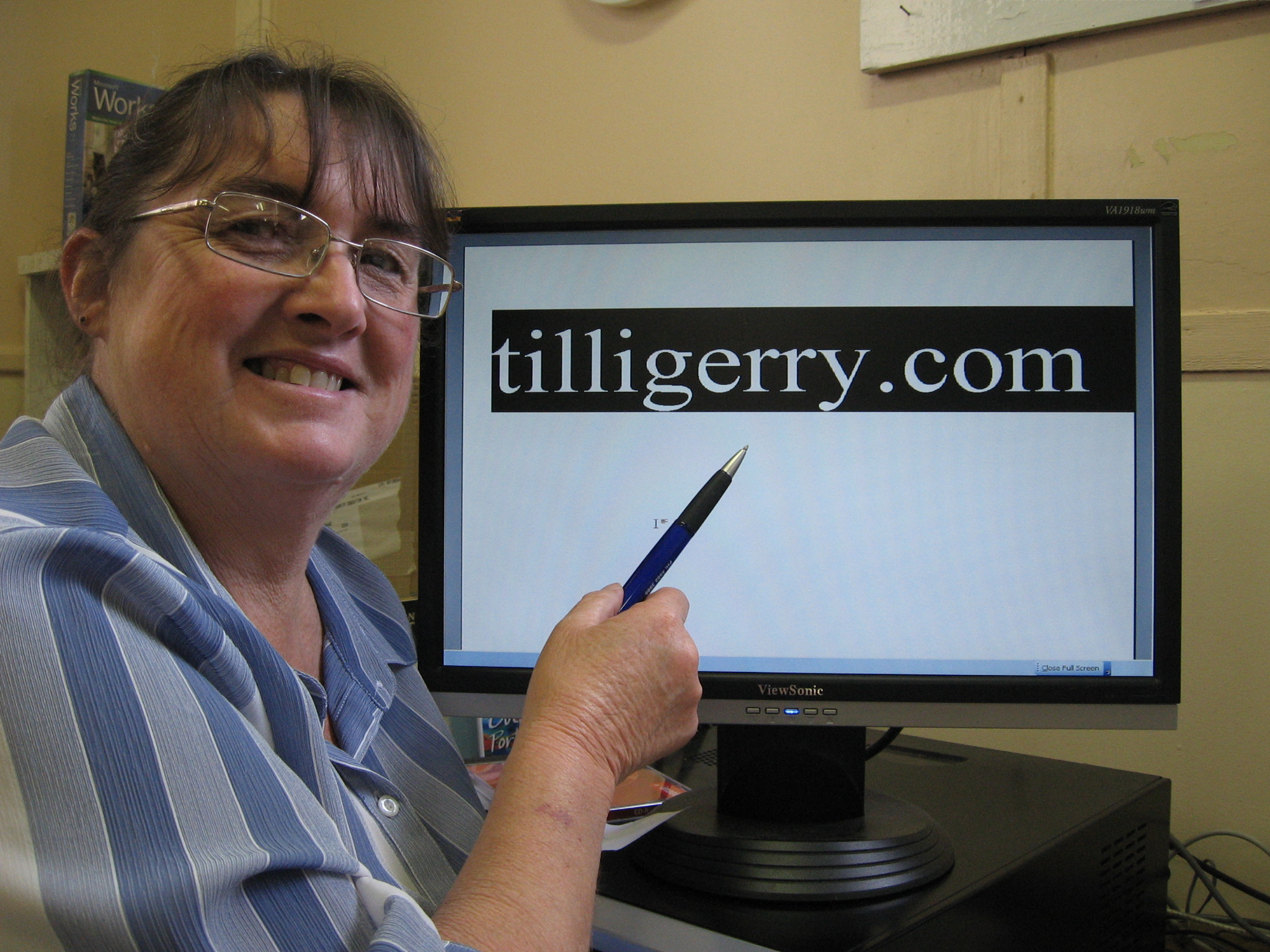 You've seen our illuminated sign 'tilligerry.com' beside the main road near the golf club as you drive into town at night.
With news services moving away from the print media, tilligerry.com for over 10 years now has moved with the times and gives local residents the news that they can't get anywhere else. Indeed, those travelling around Australia or internationally can keep up to date with a click on a mouse or a mobile phone.
Before our 'hit meter' broke down we were averaging around 2000 views each month. We have a few businesses supporting us but we really don't want advertisers as we are a not for profit community service.
That's not all! Each year we run a national Literature Award (a short story competition) with the support of PSSC, Club Lemon Tree and News Of The Area.
On top of this we offer the public internet access, assistance with the operation of electronic devices and photo copying.
It gets even better. There are constant requests, usually from residents new to the area, for general information about available services and organizations out this way.
We now have an extensive community directory listing some 80 of these which includes: churches, clubs, social groups, cultural events, schools, tourist information, community support, JPs, medical services, play groups and pre schools.
For more details scroll to the bottom of this page or click on 'Literature Award' and 'Community Directory' in the left hand green side bar.
Photo: tilligerry.com more than just news.
---
elebrating the re-opening.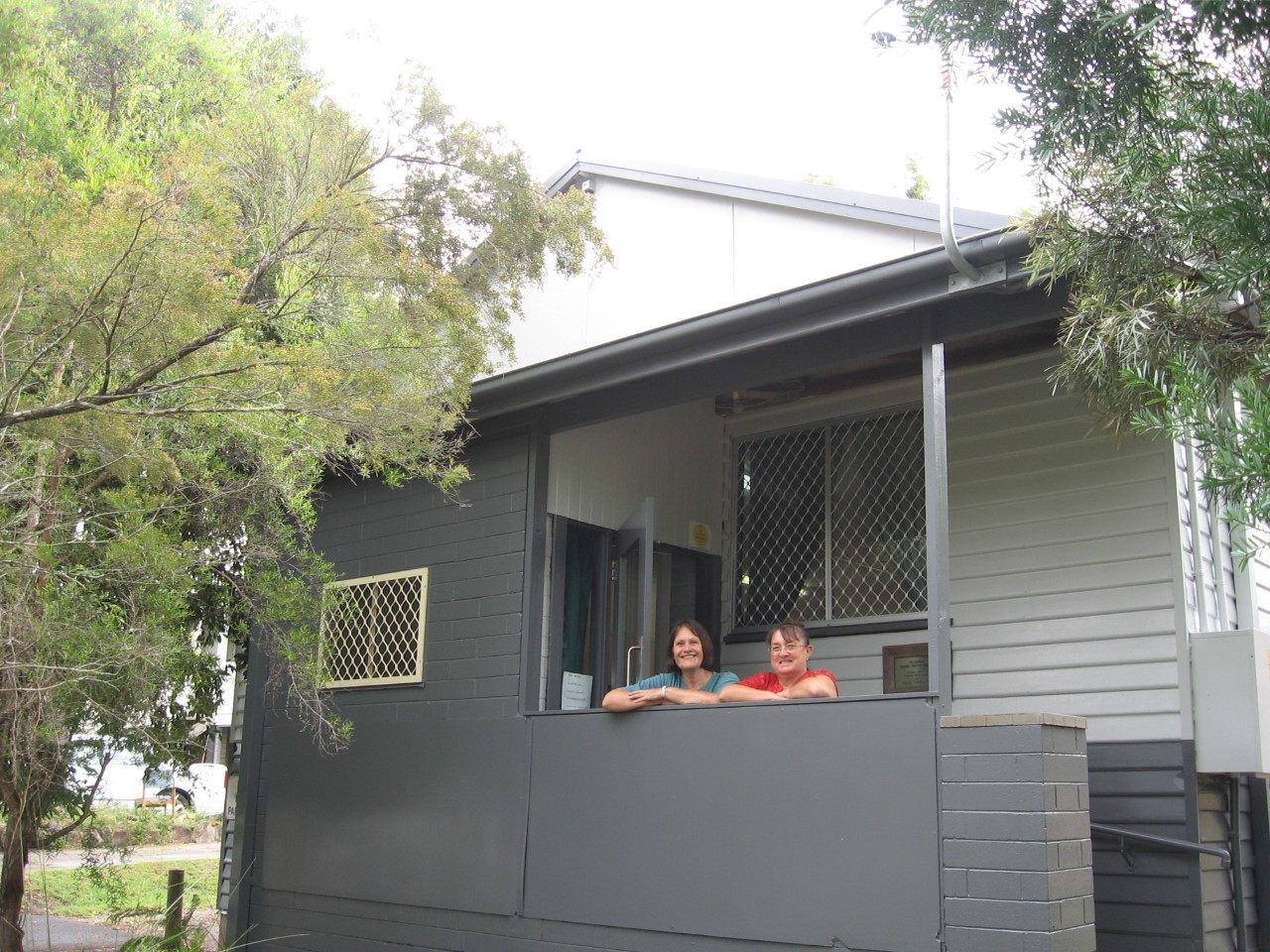 New Community Directory
As the Tilligerry community expands and changes, there is the need to provide residents (particularly newcomers) and tourists with a directory of service groups, clubs and businesses. With this in mind, TACE (Tilligerry Adult and Community Education) will be compiling one in the near future.
It will be available in both an online and printed format.
TACE works under the umbrella of PSSC and coordinates community groups such as art, lead lighting, family history and mah jong. It has its home base at the LTP library. It also publishes tilligerry.com our local online news service which has grown to be the major source of local news for residents .Most months it gets over 1500 'hits'. The Port Stephens Literature Awards, a national short story competition, is another initiative of TACE and is run by volunteers.
If you would like to publicise your club, social group or business, email basic contact information to: tace@tilligerry.com and it will be considered for inclusion. There will be no charge for this service.
Photo: TACE volunteers Helen Mizrachi and Sue Hamilton at the library.
---
Wanted!
Have you seen the ads on TV where school kids are showing off their new garden built from logs made out of recycled printer cartridges?
Well, if you would like to help with this initiative you can drop off your used cartridges to the Lemon Tree Passage Library (opposite the motel).
The Library is open six days a week between 10 am and noon. Out of hours you can leave them in a bag or box in the alcove at the front door.
Oh! this recycling facility also accepts spent batteries which can be dropped of at the same time.
Our library always has new stocks of books and FREE magazines donated by readers. They are stacked on a table just inside the door.
We look forward to you helping make our planet just that little bit greener and cleaner.
Photo: TACE volunteer Helen Mizrachi: "We need your old cartridges and batteries!"