Merry Christmas 2018
tilligerry.com wishes all of our readers and sponsors a very merry Christmas and a happy and prosperous New Year.
With around 2000 hits each month we know that you turn to us for all the local news that matters. We publ
ish without fear or favour and will be back 31 January 2019.
News Of The Area may publish incoming news stories from us during our holiday break and we might just file brief news on Tilligerry News & Views as well.
Tilligerry Adult & Community Education (TACE) want to take this opportunity to thank all of our volunteers, members and customers for their support in 2018 and look forward to a great 2019. Don't forget that we are in the LTP Community Library (opposite the Motel). Our hours are Monday to Friday 10-12 and during the school term we stay open until 2.30 pm on a Thursday for computer and device assistance with Sue. We are on holidays until Monday 21 January 2019. The library opens that day as well and their hours are 10-12 Monday to Saturday.
Photo: See you in the new year! …. All the best from Helen, Caroline, Geoff and Sue.
---
He's Coming!
Hey boys and girls, Santa is on his way! That's right but before he gets here on Christmas Eve to bring you presents, the local fire fighters will be driving him around tossing out lollies to all the good children in Tilligerry.
This will happen on the Saturday before Christmas (22st December) starting at 8am in Oyster Cove, Tanilba Bay, Mallabula and Lemon Tree Passage.
You will know when he's near your house because the fire truck will sound its siren and it will be playing Christmas music.
Santa asks you to wait on the footpath to get your sweets. Don't run on the road. He won't forget you. He would also like to thank his helpers from Club Lemon Tree who give him $500 every year to buy the lollies.
Our brave fire fighters have been very very busy this year putting out a lot of big bushfires. They would like to thank the Tilligerry residents for donating money to help them to get equipment for their new station and the fire trucks.
File Photo: Only a few more sleeps to go! Santa on the back of the fire truck.
---
C
hristmas Bush Cash
Look at the photos. If you have any Christmas Bush trees like these in your yard, you could be sitting on a small fortun
e!
All you have to do to check out the the Sydney Flower Markets to see how the price skyrockets at this time of year. One retail supplier we found will do you a small posy of just three sprigs with some green backing for $50! Add $15 for delivery and the package will set you back around $65. What's more, in the week before Christmas the price literally goes through the roof as Australians see this iconic flower an essential table decoration on Christmas Day.
Seasonal factors this year have seen some of the best flowerings on record.
Just drive around the Blanch/Crawley/Malvern loop in LTP or visit Boyd Ave and you will see what we mean.
These trees have been a nice little earner for their owners over the years as enterprising locals offer money to prune them and set up shop along main roads to cash in.
Why not cut out the middle man? With social media at one's fingertips, it's a simple matter of taking a picture, giving your address, how much you charge and when you are available. Easy, isn't it?
Photos: Some superb examples of 'Ceratopelum Gummiferum' (Australian Christmas Bush) in full flower in the run-up to Christmas.
---
Getting Ker
ry Mobile
It can happen to anybody at any time and Lemon Tree's Kerry Grover's life was changed forever on 27 July this year. A tree felling accident saw the local mechanic on life support and in the intensive care unit of Royal North Shore Hospital for a month. This was followed by three months rehabilitation at a Ryde clinic.
Today Kerry is home and looking forward with a positive attitude but as a paraplegic, he faces many challenges to lead an active and productive life.
His wife Sharon explains:
"Independence is a big thing for people such as Kerry and getting back behind the wheel of a car and out and about is a top priority for him," she said. "We will be trading the car in to buy a more appropriate vehicle and need to fit it out with a 'sling lifter' for transfer from his wheelchair. It will also require controls fitted for the operation of the foot pedals," she added.
The local community is currently running raffles to help finance this next big step in Kerry's life. Prizes include split screen air conditioners and a large flat screen TV. Melanie Breaden's Physiotherapy and Kate at 'The Oyster Shack' will be selling tickets and Melina Grover on 0434977533 can give details of the appeal's bank account for electronic transfer of donations.
Photo: Looking forward to driving – Kerry at his Lemon Tree Passage home.
---
Lions on the Prowl
Tilligerry Lions Club will be on the prowl in the lead up to Christmas looking for the best lights displays.
This is an annual event with owners of homes in each of the three peninsula suburbs (Lemon Tree Passage, Mallabula and Tanilba Bay) receiving a Christmas cake as a prize.
The best overall commercial display will also be awarded a prize.
Take our tip. Drive down Avenue of the Allies from the new roundabout at Tanilba Gates and turn left into Rigney Road. On the right at No.7 there is house which you are allowed to enter. Inside is a replica of Santa's workshop! If you offer up a gold coin donation it will be forwarded to the John Hunter Children's Hospital.
That's not all! Once back in your car, continue to the end of Rigney and turn right. At the next intersection you will see two of the best lit up homes on the peninsula which regularly take the cake (literally) in the competition.
These are just a few of the spectacular displays that turn Tilligerry into a sparkling fairyland from now until Santa arrives. Not too many more sleeps to go. Ho! Ho! Ho!
Photos: No.7 Rigney Rd and a house in King Albert Ave Tanilba Bay.
---
Mike Disappointed
In May 2018, Archbishop Philip Wilson was convicted of covering up serial child abuse by priests within the Catholic Church. This restored Lemon Tree's Mike Stanwell's belief in the judicial system.
You see, Mike was a young Catholic School Principal in Merriwa in the 1980s when he reported the abuse of a young girl by the notorious paedophile priest Denis McAlinden.
McAlinden had been moved from Maitland to Western Australia and then on to New Zealand and back again to the Hunter leaving a trail of victims in his wake.
Mike reported him to Bishop Leo Clarke who despatched a young priest, a certain Philip Wilson to deal with the matter.
"I was assured that something would be done. I had faith in the system and left it at that," he said. "Mc Alinden was transferred and continued to abuse young girls wherever he went," he added. "He died before he could be brought before the courts." "The church point blank refused to address these issues with no justice for the young victims," he said.
"I gave evidence at the inquiry which preceded the Royal Commission. So did others who had similar tales of cover-ups by the church hierachy", he said.
"The recent quashing of Wilson's conviction left us speechless," he added. "Let's hope that an appeal to a higher court results in the conviction being upheld. This will give some sort of closure to the numerous victims whose lives were ruined. It might also restore our faith in the judicial system."
Photo: Mike Stanwell – Disappointed in the court's decision.
---
More on our Street Names
In our Remembrance Day feature we showed how a permanent reminder of The Great War was left with
us in the naming of Tanilba's streets.
We did not, however, have the space to do the story justice so we will continue with three other streets and trace their origin.
Lloyd George Grove takes its name from Britain's war time prime minister and King Alb
ert Ave keeps alive the memory of the Belgian head of state of the times.
What perhaps is most interesting is the tiny dead end, almost forgotten cross track called Wemyss Way. You see, the naval officer after whom it was named actually brought forward by a few hours the time the armistice was signed thus saving many lives.
He defied instructions and saw that the document came into force on the eleventh hour of the eleventh day of the eleventh month in 1918, exactly one hundred years ago. Had he waited, hundreds more lives would have been lost for no reason.
Sir Rosslyn Wemyss became First Sea Lord and Admiral of the Fleet during WWI after a distinguished naval career. He represented Great Britain in negotiating a peace settlement at the end of conflict.
Photos: David Lloyd George; King Albert and Admiral Wemyss.
---
Bushfires Save Homes
Tim and Kathy Davidson from Tanilba Bay believe that bushfires actually saved homes recently.
The couple who live in Tanilba Road which skirts the bushland, said that two bushfires before the recent firestorm in November, reduced fuel levels to a minimum, thus removing the threat from wildfire.
Kathy puts it like this:
"Two or three years ago, a small bushfire in this scrub saw the local firies take out the section with backburns," she said. "This created a firebreak and when the September fire came through there was very little ground fuel buildup. A simple low intensity backburn was all that was needed to halt the fire," she added. "All you have to do is to look at the bloodwoods (eucalyptus gummifera) across from the house. The fire didn't run up the trunks very much because of the lack of fuel," she said.
Tim, a former volunteer fire fighter agrees: "If those two earlier fires hadn't happened, the fuel overload would have been catastrophic. With the 100k howling gale the other week, the bushfire would have roared right through, showering the town with burning embers and creating spot fires well ahead of the main blaze," he said. "As things turned out, this fire stopped when it ran into the area which was burnt out in the September fire."
The couple praised the efforts of the unpaid volunteers. "These people do a wonderful job," said Kathy. "It's such a shame that they are hog-tied by rules and regulations which make it very hard to do low impact burnoffs in the cooler months,." she added.
Photos: Kathy and Tim in front of the recently backburnt scrub and a RFS fire footprint map of the September fire.
---
New Home and Health Care Provider
Taking residents out of their homes and into care is extremely expensive and unsettl
ing for those involved. That's why governments and health services go to great lengths to bring the back-up services to people in their own homes for as long as possible.
A new start up venture has just set up a shopfront it the Kooindah Centre which does just that.
'Port Stephens Home and Disability Care' is a registered NDIS provider which can tailor a range of services to the individual client's needs.
Service options include: personal care; domestic assistance; respite care; social interaction; transport; medical appointments; care planning and case management.
Local manager Laura Corfield suggests that those seeking assistance should drop in to discuss their needs.
"It is a means tested service and we can assist with applications," she said.
"Alternatively, we are available on 0408 406 351 or details can be found on: info@pshdc.com.au she added.
Photo: Carers Laura Corfield and Nicole Sellick at their shopfront centre.
---
'Village' to be built on RSL Oval
Cluster housing suitable for seniors is planned for the RSL 'oval' at Tanilba Bay.
Owner of the property, developer and former Shire President Bruce Mac Kenzie, said that it was an ideal site for such a project.
"There is increasing need for this type of housing and Tilligerry is very popular with retirees," he said.
"We are still in the process of building housing on other land in the Koala Bay Estate as the demand for new homes continues and there are few quality sites left," he added.
The original RSL went broke when interest rates rose to 25%. Some locals who backed the club by taking out debentures, lost their money. The State RSL bought out the debt and the reformed club became tenants. In more recent times, the club bought back the parcel of land which contained the clubhouse and the land between it and the main road.
This left the state body in control of the 'oval' area to the west of the club. They sold it to the current owner.
Photo: The 'oval' site.....soon to be built on.
---
Port Stephens Literature Awards 2018
Well it's been run and won!!!
Again we had some fabulous entries and the judges had a hard time scoring, but they all used their tried and true methods.
Each entry is read by our first stage reading panel. This panel is comprised of men and women from a variety of backgrounds. They then meet with the co-ordinator of the awards in a "round table" discussion. Each story is voted on and the Top 20 go through to the next level judging. This level is comprised of 3 judges from professional backgrounds. They then independently score the stories and then a ranking is worked out from there.
The tilligerry.com award is given by the first level judges and it is for the most popular story at that first level of judging.
All stories are read as anonymous documents, the only person to know who has submitted a story is the co-ordinator and she doesn't participate as a judge.
We believe that this is the fairest system available to us and it has been used for well over 15 years.
Thank you for the support of the News Of The Area along with our other sponsors, Port Stephens Council, Club Lemon Tree and Tilligerry Adult & Community Education Inc. We hope you all enter again in 2019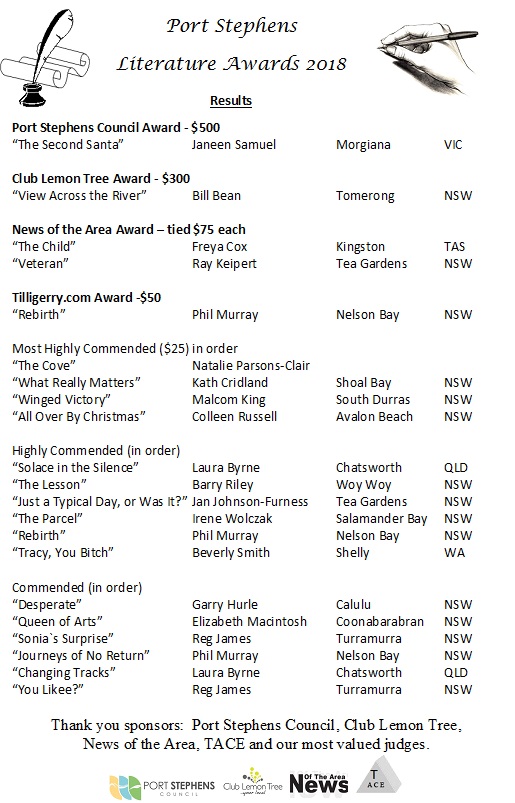 ---
Local Author Triumphs
The best performance by local writers in this year's Port Stephens Literature Awards was by Phil Murray from Nelson Bay.
Phil has entered the competition before and is also the author of a biography of his late legendar
y father, Gelignite Jack Murray. He acquired this name after taking boxes of the explosives on his round Australia rally driving. These he used to clear the way on outback tracks and some say to impede other drivers following in his wake.
Phil took out the Readers' Award and was highly commended for his short story 'Rebirth'. He was also commended for his other entry, 'Journeys of No Return.'
Other local writers to feature in the top twenty were Ray Keipert from Tea Garderns who shared the News Of The Area award and previous winner Kath Cridland from Shoal Bay with her story 'What really Matters'.
Jan-Johnson Furness, a writer from Tea Gardens was commended for his entry 'Just a Typical Day or was It?'
The 2018 result sheet can be accessed by clicking on 'Literature Award' in the left hand green side-bar of this page.
Once again, these annual awards are only made possible with support from PSSC; Club Lemon Tree; News Of The Area and our teams of dedicated judges.

File photo: Phil Murray receiving an award flanked by Councillor Steve Tucker and judge Lloyd Hogg.
---
Eukely
pts Branch Out
From a humble beginning some five years ago practising in the Senior Citizens Centre, the 'Lemon Eukalypts' ukulele orchestra has branched out. They now regularly perform at public functions as well as train and entertain at their new home base in the Tilligerry Habitat.
The idea to form a ukulele band was the brainchild of Jenny Price, a long time yoga devotee.
"I needed a new direction," she said, "so I joined a group at Stockton."
"This led to me kick starting one in Tilligerry and we haven't looked back," she added.
We caught up with the group practising for an upcoming appearance at a local waterfront festival. Their repertoire and confidence had improved out of sight since we last visited them in the Senior Citizens Centre.
Photo: The 'Lemon Eukalypts' hitting the high notes at the LTP waterfront recently.
---
Movement at the Station
The bush telegraph has shifted into overdrive recently as the word has passed around of tales of hardship in the bush. Stories from Sadie from Horseland at Heatherbrae reached the ears of an Upper Hunter tradie who contacted a
media outlet to see if he could help. Very soon four like minded volunteers including Tanilba boilermaker Stephen Stone had formed a team and had hit the Wallaby Track.
They worked on two stations west of The Great Divide repairing gates, fences and machinery.
It was, however, on the second property that an emotional moment arose which brought tears to the eyes of all those involved.
Stephen explains:
"The farmer was away working for lengthy periods of time to generate some cash flow. This left his wife and daughters to battle on with the hand feeding of stock and managing the parched paddocks," he said.
"We put together a large hamper of groceries and domestic products and slipped in some 'girly' items – lipstick, eyeliner, make up and skin creams – that sort of thing. When their eyes lit upon these items they broke into tears – and so did we!" he added.
Will they return?
"We will go back after a Christmas break," he said. "The whole experience has brought us together and we've made new friends – for life.' he added.
Photo: Stephen back from the bush at his home in Tanilba Bay.
---
Tales from Timor
Port Stephens Family History Society was saddened recently by the news that one of their longest serving stalwarts had passed away.
Lorraine Cottam (1935 - 2018) was a dedicated member and filled the role of president for ten years. She also served on PSSC's Heritage Committee.
The society has published some ten books, the most well known being 'A History of the Tilligerry Peninsula' (1996). It has been in print for over 20 years, selling 1100 copies in two editions and will soon be available as a CD.
Apart from her leadership and initiative, Lorraine will be best remembered for her efforts in bringing to life a book about an almost forgotten wartime camp at Bob's Farm. It was here that some 600 Timorese were resettled after fleeing the invading Japanese in 1943.In tandem with Yvonne Fraser, Lorraine provided important research material for the book and even travelled to Victoria to interview a 92 year old nurse who had worked at the camp.
'Bob's Farm Cadre Camp; Refugees from Timor to Port Stephens during World War II' was the result of their efforts.
Lorraine had been in poor health for several years.
Current president, Denise Gaudion praised Lorraine's contribution over such a long time: "Her positive attitude, leadership and dedication will be remembered by all of us," she said. "It's a shame that she is not still with us to help put together our new book on historic Tanilba House," she added.
Details of publications and meeting times of the Society can be found on: 'Port Stephens Family History Society Inc'
Photo: Lorraine (left) with fellow researcher Gwen Clarke at their home base at the Old School Site in LTP.
---
New Hand at the Helm
Richard Tyler is the new commander of Lemon Tree Passage Marine Rescue. He replaces Richard Osborne OAM who has stood down after 35 years of service to the Coast Guard and Marine Rescue. He will continue to serve in a non executive role.
Richard, who is also a life member of Tilligerry Rural Fire Service, was awarded his OAM for his unstinting devotion to the two volunteer services over such a long time.
He was quite taken aback when a 35year service clasp was added to his long service ribbon and was asked to cut a cake with his name on it at a recent meeting.
"I've enjoyed the training, the camaraderie and seeing the transition from the Coast Guard to the newly formed Marine Rescue", he said. "We are very much a progressive group and look forward to a new radio room above the amenities block behind the boat ramp." he added. "At the moment, it is in the planning stage."
Current commander, Richard Tyler, praised his predecessor's dedication and hoped to continue his good work.
"We are now about 50 strong but still need more members to fill a variety of roles," he stated. Information can be had on 49824981 or by calling in at the base station at the top end of Whitbread Drive Lemon Tree Passage.
Photo: Commander Richard Tyler (left) congratulating Richard Osborne on his 35 years of service, four of which were as commander.
---
Always Remembering
With the centenary of Rembrance Day,
Tanilba Bay is perhaps the only town in Australia which is reminded every day of the Great War – whether it realises it or not.
You see, the streets were named after Allied war heroes and statesmen so that the history, the sacrifices and the v
ictory in this conflict would not be forgotten.
Pershing Pde takes its name from the American General who led the American Expeditionary Force a
nd President Wilson Walk honours the memory of his fellow countryman who played such an important role in the peace process.
Clemenceau Cresc. refers to the French prime minister of the times and Poilus Pde honours the French soldiers as Diggers Drive does our own.
Beatty Bvd keeps alive the memory of Admiral Beatty, referred to as the 'Hero of Jutland' and Haig Hexagon is dedicated to Field Marshal Douglas Haig. On and on and on it goes.
Sadly, our greatest WW1 commander, General Sir John Monash was forgotten until a relatively new subdivision was developed. The street there now bears his name.
In the 1930s these names were very much appropriate but today, they are seen as relics of a bygone time when links to Great Britain, our mother country, were much stronger.
Photos: General Sir John Monash; Admiral Beatty and Sir Douglas Haig.
---
New Community Directory
As the Tilligerry community expands and changes, there is the need to provide residents (particularly newcom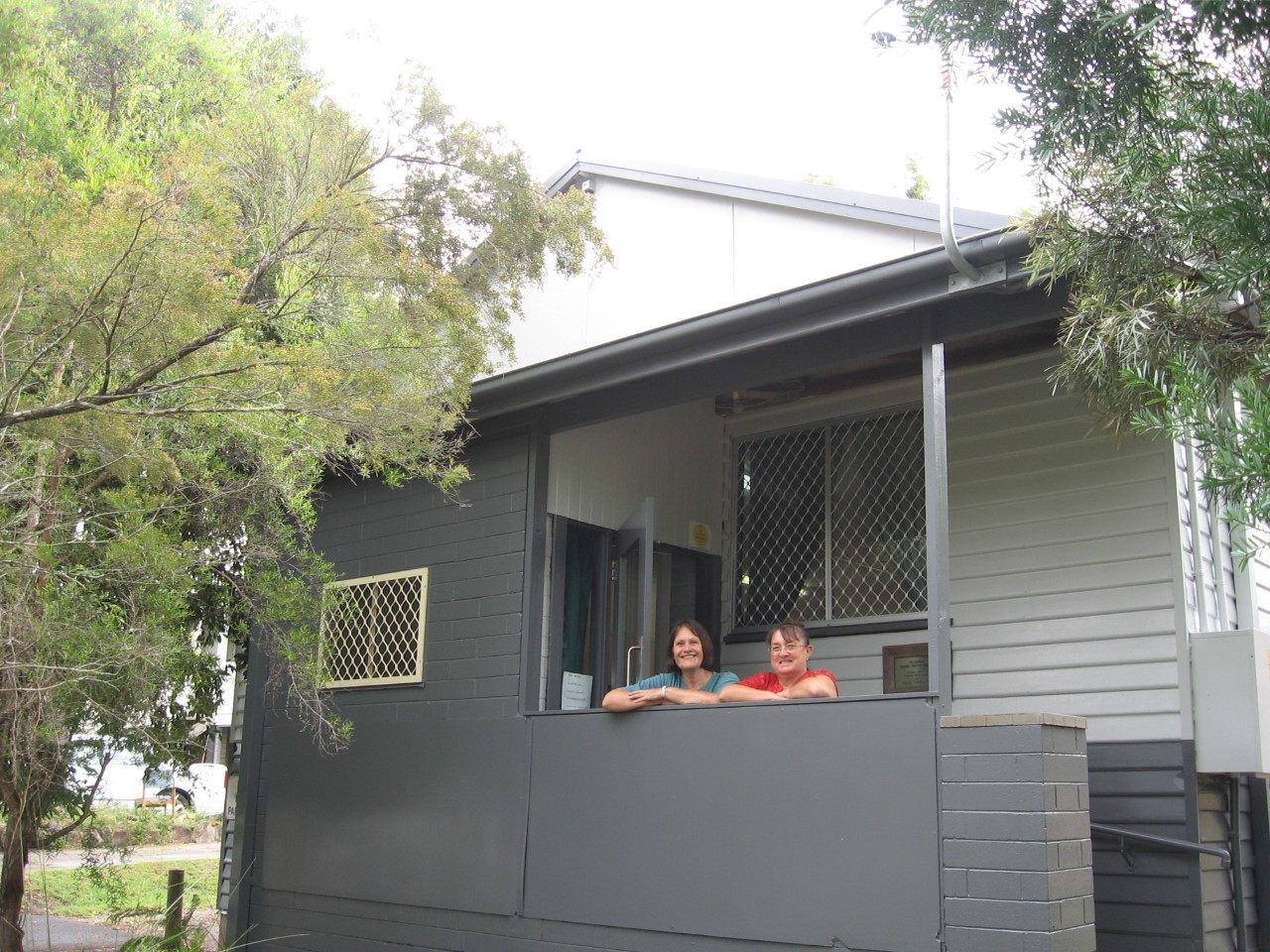 ers) and tourists with a directory of service groups, clubs and businesses. With this in mind, TACE (Tilligerry Adult and Community Education) will be compiling one in the near future.
It will be available in both an online and printed format.
TACE works under the umbrella of PSSC and coordinates community groups such as art, lead lighting, family history and mah jong. It has its home base at the LTP library. It also publishes tilligerry.com our local online news service which has grown to be the major source of local news for residents .Most months it gets over 1500 'hits'. The Port Stephens Literature Awards, a national short story competition, is another initiative of TACE and is run by volunteers.
If you would like to publicise your club, social group or business, email basic contact information to: tace@tilligerry.com and it will be considered for inclusion. There will be no charge for this service.
Photo: TACE volunteers Helen Mizrachi and Sue Hamilton at the library.
---
Wanted!
Have you seen the ads on TV where school kids are showing off their new garden built from logs made out of recycled printer cartridges?
Well, if you would like to help with this initiative you can drop off your used cartridges to the Lemon Tree Passage Library (opposite the motel).
The Library is open six days a week between 10 am and noon. Out of hours you can leave them in a bag or box in the alcove at the front door.
Oh! this recycling facility also accepts spent batteries which can be dropped of at the same time.
Our library always has new stocks of books and FREE magazines donated by readers. They are stacked on a table just inside the door.
We look forward to you helping make our planet just that little bit greener and cleaner.
Photo: TACE volunteer Helen Mizrachi: "We need your old cartridges and batteries!"