Bushfires Save Homes
Tim and Kathy Davidson from Tanilba Bay believe that bushfires actually saved homes recently.
The couple who live in Tanilba Road which skirts the bushland, said that two bushfires before the recent firestorm in November, reduced fuel levels to a minimum, thus removing the threat from wildfire.
Kathy puts it like this:
"Two or three years ago, a small bushfire in this scrub saw the local firies take out the section with backburns," she said. "This created a firebreak and when the September fire came through there was very little ground fuel buildup. A simple low intensity backburn was all that was needed to halt the fire," she added. "All you have to do is to look at the bloodwoods (eucalyptus gummifera) across from the house. The fire didn't run up the trunks very much because of the lack of fuel," she said.
Tim, a former volunteer fire fighter agrees: "If those two earlier fires hadn't happened, the fuel overload would have been catastrophic. With the 100k howling gale the other week, the bushfire would have roared right through, showering the town with burning embers and creating spot fires well ahead of the main blaze," he said. "As things turned out, this fire stopped when it ran into the area which was burnt out in the September fire."
The couple praised the efforts of the unpaid volunteers. "These people do a wonderful job," said Kathy. "It's such a shame that they are hog-tied by rules and regulations which make it very hard to do low impact burnoffs in the cooler months,." she added.
Photos: Kathy and Tim in front of the recently backburnt scrub and a RFS fire footprint map of the September fire.
---
New Home and Health Care Provider
Taking residents out of their homes and into care is extremely expensive and unsettl
ing for those involved. That's why governments and health services go to great lengths to bring the back-up services to people in their own homes for as long as possible.
A new start up venture has just set up a shopfront it the Kooindah Centre which does just that.
'Port Stephens Home and Disability Care' is a registered NDIS provider which can tailor a range of services to the individual client's needs.
Service options include: personal care; domestic assistance; respite care; social interaction; transport; medical appointments; care planning and case management.
Local manager Laura Corfield suggests that those seeking assistance should drop in to discuss their needs.
"It is a means tested service and we can assist with applications," she said.
"Alternatively, we are available on 0408 406 351 or details can be found on: info@pshdc.com.au she added.
Photo: Carers Laura Corfield and Nicole Sellick at their shopfront centre.
---
'Village' to be built on RSL Oval
Cluster housing suitable for seniors is planned for the RSL 'oval' at Tanilba Bay.
Owner of the property, developer and former Shire President Bruce Mac Kenzie, said that it was an ideal site for such a project.
"There is increasing need for this type of housing and Tilligerry is very popular with retirees," he said.
"We are still in the process of building housing on other land in the Koala Bay Estate as the demand for new homes continues and there are few quality sites left," he added.
The original RSL went broke when interest rates rose to 25%. Some locals who backed the club by taking out debentures, lost their money. The State RSL bought out the debt and the reformed club became tenants. In more recent times, the club bought back the parcel of land which contained the clubhouse and the land between it and the main road.
This left the state body in control of the 'oval' area to the west of the club. They sold it to the current owner.
Photo: The 'oval' site.....soon to be built on.
---
Port Stephens Literature Awards 2018
Well it's been run and won!!!
Again we had some fabulous entries and the judges had a hard time scoring, but they all used their tried and true methods.
Each entry is read by our first stage reading panel. This panel is comprised of men and women from a variety of backgrounds. They then meet with the co-ordinator of the awards in a "round table" discussion. Each story is voted on and the Top 20 go through to the next level judging. This level is comprised of 3 judges from professional backgrounds. They then independently score the stories and then a ranking is worked out from there.
The tilligerry.com award is given by the first level judges and it is for the most popular story at that first level of judging.
All stories are read as anonymous documents, the only person to know who has submitted a story is the co-ordinator and she doesn't participate as a judge.
We believe that this is the fairest system available to us and it has been used for well over 15 years.
Thank you for the support of the News Of The Area along with our other sponsors, Port Stephens Council, Club Lemon Tree and Tilligerry Adult & Community Education Inc. We hope you all enter again in 2019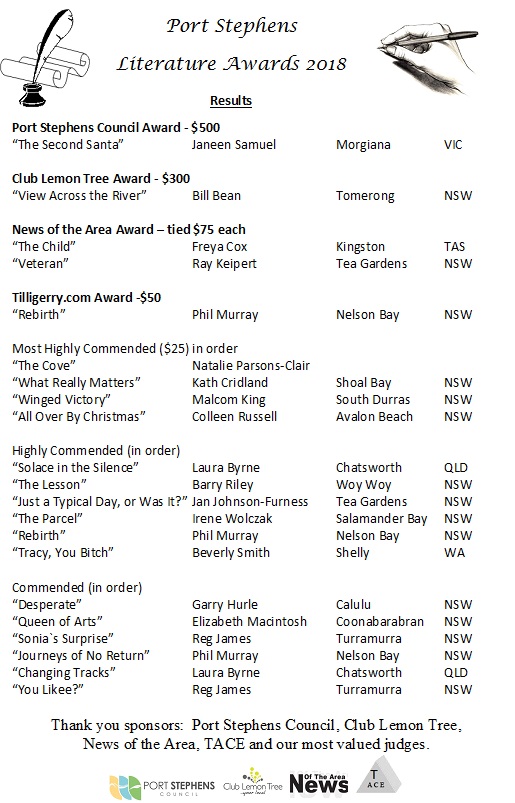 ---
Local Author Triumphs
The best performance by local writers in this year's Port Stephens Literature Awards was by Phil Murray from Nelson Bay.
Phil has entered the competition before and is also the author of a biography of his late legendar
y father, Gelignite Jack Murray. He acquired this name after taking boxes of the explosives on his round Australia rally driving. These he used to clear the way on outback tracks and some say to impede other drivers following in his wake.
Phil took out the Readers' Award and was highly commended for his short story 'Rebirth'. He was also commended for his other entry, 'Journeys of No Return.'
Other local writers to feature in the top twenty were Ray Keipert from Tea Garderns who shared the News Of The Area award and previous winner Kath Cridland from Shoal Bay with her story 'What really Matters'.
Jan-Johnson Furness, a writer from Tea Gardens was commended for his entry 'Just a Typical Day or was It?'
The 2018 result sheet can be accessed by clicking on 'Literature Award' in the left hand green side-bar of this page.
Once again, these annual awards are only made possible with support from PSSC; Club Lemon Tree; News Of The Area and our teams of dedicated judges.

File photo: Phil Murray receiving an award flanked by Councillor Steve Tucker and judge Lloyd Hogg.
---
Eukely
pts Branch Out
From a humble beginning some five years ago practising in the Senior Citizens Centre, the 'Lemon Eukalypts' ukulele orchestra has branched out. They now regularly perform at public functions as well as train and entertain at their new home base in the Tilligerry Habitat.
The idea to form a ukulele band was the brainchild of Jenny Price, a long time yoga devotee.
"I needed a new direction," she said, "so I joined a group at Stockton."
"This led to me kick starting one in Tilligerry and we haven't looked back," she added.
We caught up with the group practising for an upcoming appearance at a local waterfront festival. Their repertoire and confidence had improved out of sight since we last visited them in the Senior Citizens Centre.
Photo: The 'Lemon Eukalypts' hitting the high notes at the LTP waterfront recently.
---
Movement at the Station
The bush telegraph has shifted into overdrive recently as the word has passed around of tales of hardship in the bush. Stories from Sadie from Horseland at Heatherbrae reached the ears of an Upper Hunter tradie who contacted a
media outlet to see if he could help. Very soon four like minded volunteers including Tanilba boilermaker Stephen Stone had formed a team and had hit the Wallaby Track.
They worked on two stations west of The Great Divide repairing gates, fences and machinery.
It was, however, on the second property that an emotional moment arose which brought tears to the eyes of all those involved.
Stephen explains:
"The farmer was away working for lengthy periods of time to generate some cash flow. This left his wife and daughters to battle on with the hand feeding of stock and managing the parched paddocks," he said.
"We put together a large hamper of groceries and domestic products and slipped in some 'girly' items – lipstick, eyeliner, make up and skin creams – that sort of thing. When their eyes lit upon these items they broke into tears – and so did we!" he added.
Will they return?
"We will go back after a Christmas break," he said. "The whole experience has brought us together and we've made new friends – for life.' he added.
Photo: Stephen back from the bush at his home in Tanilba Bay.
---
Tales from Timor
Port Stephens Family History Society was saddened recently by the news that one of their longest serving stalwarts had passed away.
Lorraine Cottam (1935 - 2018) was a dedicated member and filled the role of president for ten years. She also served on PSSC's Heritage Committee.
The society has published some ten books, the most well known being 'A History of the Tilligerry Peninsula' (1996). It has been in print for over 20 years, selling 1100 copies in two editions and will soon be available as a CD.
Apart from her leadership and initiative, Lorraine will be best remembered for her efforts in bringing to life a book about an almost forgotten wartime camp at Bob's Farm. It was here that some 600 Timorese were resettled after fleeing the invading Japanese in 1943.In tandem with Yvonne Fraser, Lorraine provided important research material for the book and even travelled to Victoria to interview a 92 year old nurse who had worked at the camp.
'Bob's Farm Cadre Camp; Refugees from Timor to Port Stephens during World War II' was the result of their efforts.
Lorraine had been in poor health for several years.
Current president, Denise Gaudion praised Lorraine's contribution over such a long time: "Her positive attitude, leadership and dedication will be remembered by all of us," she said. "It's a shame that she is not still with us to help put together our new book on historic Tanilba House," she added.
Details of publications and meeting times of the Society can be found on: 'Port Stephens Family History Society Inc'
Photo: Lorraine (left) with fellow researcher Gwen Clarke at their home base at the Old School Site in LTP.
---
New Hand at the Helm
Richard Tyler is the new commander of Lemon Tree Passage Marine Rescue. He replaces Richard Osborne OAM who has stood down after 35 years of service to the Coast Guard and Marine Rescue. He will continue to serve in a non executive role.
Richard, who is also a life member of Tilligerry Rural Fire Service, was awarded his OAM for his unstinting devotion to the two volunteer services over such a long time.
He was quite taken aback when a 35year service clasp was added to his long service ribbon and was asked to cut a cake with his name on it at a recent meeting.
"I've enjoyed the training, the camaraderie and seeing the transition from the Coast Guard to the newly formed Marine Rescue", he said. "We are very much a progressive group and look forward to a new radio room above the amenities block behind the boat ramp." he added. "At the moment, it is in the planning stage."
Current commander, Richard Tyler, praised his predecessor's dedication and hoped to continue his good work.
"We are now about 50 strong but still need more members to fill a variety of roles," he stated. Information can be had on 49824981 or by calling in at the base station at the top end of Whitbread Drive Lemon Tree Passage.
Photo: Commander Richard Tyler (left) congratulating Richard Osborne on his 35 years of service, four of which were as commander.
---
In the Pink
"If you make a good sausage, you'll have a good butcher's shop!"
This is the time honoured philosophy in the retail meat business and the Curry family owe much to their success by adopting this principle.
Tilligerry Quality Meats went pink during October and to find out why we
have to backtrack to a grateful businessman in South Australia where it all began around the year 2015.
After his wife had been cancer free for some ten years, a butcher, in tandem with another and the Australian Meat Industry Council (AMIC) launched 'The Pink Butcher' campaign. It is now a national event in October each year which hopes to raise $100 000 in 2018. Proceeds go to 'Breast Cancer Network Australia' (BCNA) which assists breast cancer sufferers along the journey to recovery.
Glen Curry joined the campaign and decided to donate $1.50 from every 1kg of beef sausages sold during the month to this worthy cause.
"We raised $700 in total," he said. "People came from everywhere to support the initiative," he added. "In fact some didn't worry about the sausages and just donated money!"
Photo: Glen and Margaret Curry......sausage sales raised $700 to assist breast cancer sufferers.
---
Always Remembering
With the centenary of Rembrance Day,
Tanilba Bay is perhaps the only town in Australia which is reminded every day of the Great War – whether it realises it or not.
You see, the streets were named after Allied war heroes and statesmen so that the history, the sacrifices and the v
ictory in this conflict would not be forgotten.
Pershing Pde takes its name from the American General who led the American Expeditionary Force a
nd President Wilson Walk honours the memory of his fellow countryman who played such an important role in the peace process.
Clemenceau Cresc. refers to the French prime minister of the times and Poilus Pde honours the French soldiers as Diggers Drive does our own.
Beatty Bvd keeps alive the memory of Admiral Beatty, referred to as the 'Hero of Jutland' and Haig Hexagon is dedicated to Field Marshal Douglas Haig. On and on and on it goes.
Sadly, our greatest WW1 commander, General Sir John Monash was forgotten until a relatively new subdivision was developed. The street there now bears his name.
In the 1930s these names were very much appropriate but today, they are seen as relics of a bygone time when links to Great Britain, our mother country, were much stronger.
Photos: General Sir John Monash; Admiral Beatty and Sir Douglas Haig.
---
D.I.Y. Super
The current Royal Commission into financial services has exposed widespread malpractice in the once trusted industry. Indeed, such has been the extent of the problem that swindling, theft and robbery have been th
e words bandied about in referring to the activities of the big banks and money managers. The AMP in particular has had such bad publicity that senior executives have resigned and its share price has fallen by some 70% from its peak.
With unsuspecting citizens discovering that their superannuation nest eggs have been gouged and with fees for no service being charged, they are rightly worried that their retirement savings are under threat.
Why not set up your own super fund? This is the thought many victims have had but it isn't all that simple as we discovered.
Lemon Tree's Stephen Vautier from 'Aspire Wealth Protection' puts it like this:
"This is not for everyone," he said. "It would cost a minimum of $2000 to set up, a trustee would need to be appointed, the fund would be subject to an independent audit and a $200 000 pool of funds would be needed to make it viable."
"Those wishing to explore this option can Google: 'self managed super' for an in depth analysis," he concluded.
Photo: Steve Vautier.... Individuals need to explore all options.
Note: Steve represents Aspire Wealth and Protection Matrix Planned Solutions Lemon Tree Passage (AFSL 23256)
---
Sprin
g has Sprung
"One of the b
est flowerings I've seen!" This is the opinion of more than one local who has admired the magnificent jacaranda tree (Jacaranda mimosifolia) in the Bowling Club car park. And it's not the only one! Almost every street in the older sections of Lemon Tree Passage has at least one and a drive around is well worth the effort for avid gardeners. That's not all: wood-turners eagerly snap up lopped branches as the pale cream timber makes ideal furniture. What's more, the large seed pods are easy to collect and the plants germinate easily.
Remember the big bushfire at the end of winter? It really put the wind up a lot of residents but from a botanical
point of view it w
as a godsend.
One of the first native plants to flower after the event has been the Christmas Bell (Blandifordia nobilis) which can be seen in profusion in the burnt- out Worimi land at Mallabula. Pickers get big bucks for them around Christmas but as November is their best blooming month (pardon the pun) many have gone to seed by December. This guarantees their survival.
Rain events after the bushfire have germinated vast numbers of native shrubs and trees and our next spring will be a riot of colour.
Photos: Lemon Tree jacarandas in bloom and a fire triggered Christmas bell rises from the ashes.
---
New Police
Officer for LTP
Mallabula's Sam Wilson has returned to the area to a very different role she formerly had. Residents will probably remember her as an employee at both the Tanilba Golf Club and the Tilligerry RSL.
After completing her training at the Police Academy in Golburn, Constable Wilson spent some four years as a general duties officer at Castle Hill in Sydney.
She replaces Senior Constable Luke Rogers who has taken up an appointment in Newcastle.
Sam has intimate knowledge of the area and its residents having attended Tanilba Bay Public School and Raymond Terrace High.
"I'll be looking forward to the challenge," she said." "It's also great to be back close to family and friends," she added.
Photo: Sam at the LTP Police Station.
---
Talented Tiger
Tanilba's Blake Layton has just scooped the pool in his first year of big time Rugby League in Sydney. Backing up after a successful season with the Balmain Tigers in the S G Ball competition he packed down as hooker for the Ryde Eastwood Hawks
.
It was here that he really impressed selectors being voted both 'Players' Player' and 'Player of the Year' in the under 18s . On top of this he took out the coveted 'Club Player of the Year' award.
Blake first laced up his boots at the tender young age of five playing for the Mallabula Panthers. He then switched to the Raymond Terrace Roosters at the age of ten. He trialled for Hunter Sports High, was accepted and at age 15 was in the school's team which won the State Premiership Knockout Competition. He was then placed in The Newcastle Knights development squad which took out the prestigious Harold Matthews State Knockout trophy. He also played in the representative under 16 indigenous side.
Blake's ambition is to play first grade for ' Wests Tigers.'
"My whole life has centred around Rugby League," he said. "I've had tremendous support from my family and look forward to next season with great anticipation," he added.
Photo: Blake at his Tanilba Bay home.....Rugby League career well on track.
---
Clearing the Air
"What about my road?" "When are youse guuna do some kerbing and guttering?" "Those potholes are disgusting. When will they be fixed?"
These, dear reader, are the types of questions that ward councillor Steve Tucker faces on a regular basis so we asked him to explain council's position in a Q&A session.
Q. "You were elected on a roads, roads, roads policy yet there are still many roads in a deplorable condition. Why?"
A. "It's all about funding and priorities. Next year Tanilba Road Mallabula will be rebuilt at a cost of $1.3 million. Avenue of the Allies will then be reconstructed in two stages at a cost of $3.5 million."
Q. "How can PSSC justify a makeover of Henderson Park, The Centenary Park project at Tanilba Bay, a $200 000 upgrade of Caswell Reserve Mallabula, and a $1.5 million roundabout when ratepayers just want their roads fixed?"
A. "Henderson Park LTP was a State Government grant for the 'Better Waterways' initiative. The roundabout was the same. It was funded under the State 'Black Spot' program. It is impossible to milk funds from these grants for roadworks."
Q. " What about the two public parks?
A. "The Henderson Park upgrade was such a success that in fine weather, locals and visitors flock to the waterfront to launch their boats, picnic, swim, fish, dine out and enjoy the nature ramble along the boardwalk. By upgrading the waterfront facilities at both Mallabula and Tanilba, we will create more passive tourism and recreational options. This will have a 'multiplier' effect on businesses by injecting cash into the community."
Photo: Steve Tucker.....Council's policies explained.
* Note: The Caswell Reserve project will begin before Xmas.
---
Up and Away
Tanilba's St.Vincent de Paul outlet is now open an
d trading after a week's closure. The charity store suffered a break-and-enter recently in which cash was stolen and a mess made of the interior.
Centre President Carol Archer said that the loss of a week's business and expensive repairs meant that there was less money to support those in need.
"Our overheads are mounting," she said. "Poor quality goods and non saleable items mount up to the extent that it now costs us $184 each week for a skip to dispose of unwanted donations," she said." "That's why we ask donors to bring in items to our front counter during business hours to be assessed," she added. "Alternatively we have a collection bin out the front."
"Good quality toys, shoes, linen, clothing, bric-a-brac and small furniture items are most welcome," she added. "We are also looking for volunteers who have a police and a working with children clearance," she said.
Carole can be contacted on: 0417254107 or enquiries made at the store in President Wilson Walk Tanilba Bay.
Photo: Volunteers Gaye Smith and Diane Dunn …..store now back in full swing .
---
Jewfish Make a Run
Night-time fishing in shallow water paid dividends fo
r family friends David Kirk and Regan Lilley. The dynamic duo nailed their bag limit of quality jewfish up to 20kg on successive outings recently. They were also busted up by bigger fish.
That's not all! In amongst the larger fish they caught a good haul of bream, gummy shark and flathead. They also hooked more than their fair share of stingrays which became something of a pest to the seasoned anglers.
They were generous in revealing details of their success. According to Regan, they fished on the western side of middle Island on the top of the tide. Squid was the ace bait and they used a double hooked rig.
Locals can do worse than to fish in the Passage at Lemon Tree itself as large jewfish sometimes lurk in and around the marina. They have been known to gill up in crab traps in the Passage and a deep hole on the right hand side just outside the entrance channel is worth a try for those wishing to wet a line in the slack water at night.
Photo: David with a hefty 9kg jewfish.
---
Breakfast, Lunch.....and Dinner
Too busy to get breakfast in that mad scramble to
get to work on time? Why not ring ahead to 'Jen's Kitchen' at the Golf Club? Jen will have it waiting there for you to eat in a civilised setting …..or for you take with you and enjoy along the way.
Perhaps a leisurely lunch or an intimate dinner of a Friday night is more your cup of tea?
If these services are right up your alley, the peninsula's latest dining option could be just right for you.
Jennifer Hill is the local lady behind this start-up venture and caters for full breakfasts, take aways including coffee, burgers and chips. 'Jen's Kitchen also boasts an extensive dine-in menu.
The action starts at 7am each day and goes until a bit after 2pm with Friday evening dining being a specialty. All details can be had by giving Jen a buzz on 0409 245 243.
Photo: Jen ready for action.
PS: Take our tip: The home made lasagne is to die for.
---
Caswell Plans Revealed
Port Stephens Council has revealed its plan for a big makeover of Caswell Reser
ve Mallabula. This follows a recent announcement of a State Government grant of $200 000 for refurbishment of the suburb's tennis club.
Commenting on the plan, ward councillor Steve Tucker said that the project would be in two stages.
"The existing amenities block will be demolished and relocated to the other side of the carpark. A new children's playground will be constructed closer to the picnic shed and all of the carpark and access roads will be sealed," he said. "This will make the entire waterfront reserve more inviting and user friendly," he added.
"Stage two of the makeover will see a rebuild of the boat ramp and construction of a new concrete pathway which will extend from Billy's Beach viewing platform back to Caswell Reserve and across a bridge to the reserve in front of the existing houses," he said.
Council is currently liaising with Tilligerry Lions Club in a joint venture to upgrade the park facilities adjacent to the recently constructed amenities block in Peace Pde. Tanilba Bay.
Photo: Council's plan for the makeover of Caswell Reserve Mallabula.
---
Kahibah Brass Band would like to thank the community of the Tilligerry Peninsula for the support of our recent fundraiser at Club Lemon Tree.
The winning ticket of our P & O Cruise Raffle was – Apricot ticket No C13, Nicole from Belmont North.
We hope to repeat this again in the near future at the same venue.
Thank you
Kathy Davidson
Publicity Officer - 4982 3567 - kaytejay@bigpond.com
---
Excited at Appointment
A broad depth of both teaching and administrative experience sees Abigail Sawyer well qualified as the newly appointed principal of Tanilba Bay Public School.
"I'm excited," she said when we caught up with her during the school holidays as she began to prepare for the term ahead.
"I'm really looking forward to meeting the teachers, parents and children," she added. "I believe very much in community engagement and will be out and about developing partnerships between the school, business and social groups," she said. "I'll be on a very steep learning curve!"
Abigail is currently looking at real estate in the area where she plans to relocate from Byron Bay with her partner Paul and two daughters.
Her previous appointment was as a teaching principal. Prior to that she acted as Relieving Director of Education at Lismore and was also part of a leadership team at Varsity College in the Queensland public education service.
Photo: Full of enthusiasm: Abigail settling in at the helm at Tanilba Bay.
---
Lightning Strike
Have you ever wondered what those orange plastic balls on the flagsticks of the golf course greens are for? Well, they indic
ate to golfers where the hole is placed. If the ball is up high on the stick, the cup is at the back of the green. Lower down indicates it is nearer the front. This helps golfers in their choice of clubs when approaching the green. The hole placement is changed regularly to even the wear and tear on the grass.
The one on the 12th green at Tanilba can't be adjusted anymore because it is melted onto the flagstick. Indeed, the pin is charred and the flag shredded. The whole thing had to be replaced. What's more the entire green is now a spider's web of burnt grass. Steve Tucker sent us this photo taken shortly after a violent thunderstorm had swept through Tilligerry recently.
The death of a golfer from a lightning strike at Hawk's Nest some time back sent a dire warning for players to hasten off the course as a storm approaches. Even our pool must be evacuated if a lightning flash is seen up to 30 seconds before a thunder clap. With sound travelling at 343 metres per second this buffer zone can extend to as far away as 10 km.
Photo: Tanilba's 12th green after the lightning strike.
---
More than just a Shed
With a wide variety of plants and vegetables under cultivation Tilligerry Men's Shed has now expanded the services it offers to the community.
A new green-house has increased the ability of this self help group to grow and propagate a broader range than was the case previously.
It also has a problem: there are too many tools being donated.
A spokesman for 'The Shed' said that the over-supply of duplicate hand and power tools had seen them run their own 'garage sale.'
"We just couldn't cope with the volume of donations from deceased estates and from residents moving to retirement villages," he said. "Our recent 'make an offer' sale day was very successful in reducing the mountain of surplus tools," he added.
The Men's Shed is open from 8am 'till noon Tuesdays to Fridays and welcomes new members. They repair furniture and household items and do 'home visits' to effect small repairs at a minimal cost. The public is welcome during opening hours to purchase plants from their extensive nursery and to seek advice on repairs that need doing.
'The Shed' is located by turning in off the main LTP road at Mallabula's Catholic Church and turning right towards the skate park.
Kevin Colman will answer any queries on: 040 7279 844
Photo: Tanilba's Thea Derksen casts her eye over the orchids on sale.
---
The Big Honey Sting
With as much as 50% of honey sold at retail outlets being suspect, local apiarists look like having a field day.
Most big brand honey is made from locally blended and imported products but scientific testing focusing on Chinese 'honey' doubts that it is a natural nectar gathered by bees. They believe that it is a synthetic fake.
Supermarkets have withdrawn suspect honey from their shelves but Tilligerry residents are assured of quality locally sourced honey from resident apiarists. Grant Morley can be contacted on 0421 938 047 and Bert Willey has his honey for sale from the 'Habitat'. It costs $12 per kg or $6 for a half kg. His home number is: 0429 442 050.
Local bee keepers look like they may have to move their hives with very little flora left for the bees to collect nectar from since the big bushfire. There is however the clover on the golf course which is unaffected and the big paperbarks (Melaleuca quinquinervia) provide a rich source of strong, dark honey when in full bloom.
Perhaps the most successful honey producers seen on the peninsular were greenkeeper Ken Doolan and
his side-kick who kept their hives in the bush beside Tanilba Golf Club. It was the label on the bottles which made their honey walk out the door and it stated:
DOOLAN"S NOCTURNAL NECTAR
This product is guaranteed to cure warts,
piles, ailing hearts, constipation, blood
disorders, gastric reflux, liver dysfunction,
failing eyesight, hearing loss, rickets, acne
and hair loss.
ABSOLUTELY NO RESPONSIBILITY TAKEN
FOR THE APHRODISIACAL SIDE EFFECTS
OF THIS PRODUCT
Photo: Bert Willey's honey on sale at the 'Habitat'.
---
Killing with Kindness
Bin chickens, tip turkeys, sandwich snatchers or picnic pirates: these are the names given to the ibises w
hich have given over their lives as wading birds to take up urban residence.
Some 11 000 breeding pairs were counted in the Macquarie Marshes in 1998 but not a single pair has been seen there since the year 2000.
This begs the question whether we should free feed native birds at all and the answer from The NSW Office of Environment and Heritage is a resounding "NO!" They argue that even feeding special parrot mix seed is equivalent to avian 'junk food'. Apparently it makes
the birds sick and the feeding stations spread disease.
In their eyes, those who want to encourage visitations from native birds should plant natural bushes and trees which they can forrage in.
Possums should be left to fend for themselves as well. Urbanized possums which take up residence in boxes or roof cavities can breed twice in one year due to the abundant food supply. They also develop a fatal skin disease if they are fed yeast products such as bread. On top of this possums are the prime suspects as hosts of the mosquito borne Ross River virus.
So dear reader there you have it! You could well have the best intentions in the world but the simple message is to leave Mother Nature alone and she will look after our wildlife all by herself.
Photos: Daniel Mc's iconic snap of him free feeding a pelican; A parrot feeding station and a resident LTP ibis.....Should we be free feeding native creatures?
---
Justice Prevails
"Ecstatic!' This is how Lemon Tree's Mike Stanwell felt after the conviction of former Archbishop Phillip Wilson recently.
It had been a long and lonely road for the former catholic school principal who reported child sexual abuse to church officials some 30 years ago.
Despite assurances that something would be done, nothing eventuated and the priest involved was moved to other areas where he continued to abuse vulnerable children.
It was, however, at the Special Commission of Inquiry that Mike's evidence, along with that of others, exposed the systemic cover up by the church hierarchy of serial abusers. In tandem with the Royal Commission, this lifted the lid on the widespread abuse of the young in many other church groups.
The dogged stance that Mike Stanwell took over such a long time has taken its toll on his health. He now lives in quiet retirement in Lemon Tree Passage.
"I'd like to thank the locals out here and the community support groups who have been with me along this journey," he said. " I just told the truth as I saw it and in the end justice has prevailed," he added.
Through all of this ordeal Mike's Christian faith has not wavered. He is still a regular attender at Mass on Sundays in Mallabula's Catholic Church.
Photo: Mike Stanwell...."I simply told the truth."
---
Fond Farewell
It is with a tinge of sadness that Tilligerry says farewell to Mike and Mary Pitt. The couple is returning to the UK to be close to their family.
Originally from England, they spent most of their working lives in South Africa. A working visa saw them relocate to Western Australia in the year 2000 where they stayed for some two years.
They moved to Tanilba Bay and particularly enjoyed the village atmosphere of the place. Mike involved himself in the Newcastle group 'Computer Pals' of which he was treasurer for two years. Both also joined the local 'Probus' club.
Mary was heavily involved with both the local garden club and the one at Medowie as well. She also volunteered to mentor children at Irrawang High School as well as those at the local 'Good Kids' club. She developed many friendships through involvement with the patchwork group and the mahjong club.
"We will be keeping in contact with you all and thinking of the happy times we spent together," she said.
Mary and Mike will be living with their son in Surrey until they decide on a permanent residential location.
Photo: Mary and Mike... "We will keep in touch!"
---
History and Heritage Book
A grant of some $1400 has enabled Port Stephens Family History Society to proceed wit
h the publication of their new book.
Our local Shire Council has financed the project which aims at preserving and expanding the history of the convict constructed homestead at Tanilba Bay.
The society's members are currently examining primary source material to cobble together a detailed picture of the old stone mansion, its original owners, the Caswell family and its subsequent history.
Society president Denise Gaudion said that they had recently uncovered documents which relate to an artefact which was believed to be lost.
"Records show that a breast plate inscribed 'King of Tanilba' was presented to the Newcastle & Hunter District Historical Society. We believe that it was given by the early settlers to 'King Jimmy', a local indigenous leader. Apparently it had been unearthed in the area around the year 1900," she said. "We will be delving deeper into this historical thread as part of the documented history of the Worimi people and their interaction with the Caswells," she added.
'History and Heritage of Tanilba House' is planned for publication some time during 2019 and will augument the many books printed by the society over the years.
Those wishing to gain more knowledge about the society, its publications and its membership can contact Denise on: 0422 303 171 or key in 'port stephens family history inc' for more detailed information.
Photo: Researchers Lola Drummond, Sue Jeffreys and Denise Gaudion at their home base, the 'Old School Centre' at Lemon Tree Passage.
---
STOP PRESS - Closing extended to 12 October!!!!
It's on Again!!!
News of the Area (NOTA) are again linking arms with Tilligerry Adult and Community Education (TACE) to co-sponsor a national short story competition which is now open for entry.
Former school principal and chief judge Lloyd Hogg said that with prize money of over $1000, the competition will draw entries from all over Australia.
"We have emailed over 100 writers' groups in all states and with exposure in the three NOTA editions we expect that many local creative writers will be submitting entries," he said.
"It costs just $10 to enter one story and $5 for each additional submission," he added. "There is a limit of 2000 words and writers can send in stories on any topic."
We want to thank Geoff Walker for his tireless work on these awards for well over 15 years, he has stepped away this year and Sue Hamilton is now the contact.
Full details of prize money and entry conditions can be found on tilligerry.com by clicking on 'Literature Award' in the left hand green side bar.
Entries close on 30th September and results will be announced in November on a date to be advised.
---
Sailing Season Underway
A start to the sailing season has seen as many as ten catamarans vying for competition points in the waters of Tanilba Bay.
Tanilba Sailing Club is particularly keen to mento
r the next generation of sailors and has vacancies for four young people who are keen to become involved.
Commodore Mike Colecliffe said that under a $30 000 state government grant, Tanilba Sailing Club had purchased five 'Bic' trainers.
"It is very much a family thing and a parent must be willing to assist their child with rigging the craft and putting it in and out of the water," he said.
"Sam Breaden is in charge of the juniors and we have already developed some very promising young sailors," he added.
Six of the club's catamarans will travel north to Forster for the 'Wildcat Regatta' over the October long weekend.
Those interested in joining the club can contact Mike on 0419 999 785 or call in to the club on race day each Sunday. The entrance is directly opposite the front of Tanilba Bay Public School.
Photo: Junior sailors with their 'Bic' trainers at Tanilba Bay.
---
Number 101
Using his former racing number of 101 former
motorX and superX champion Luke George is powering ahead with new business ventures.
You may very well remember us catching up with Luke at his Salt Ash home track some time back. It was here that he was running a 'Boot Camp' for aspiring young dirt bike riders in the school hollidays. He had also branched out into the production of venison jerky under the 101 lable.
This whole new direction in Luke's life was accidental – literally. In 2009 the then 20 year old suffered a near fatal crash when a 130 feet (40 metre) leap went wrong. This saw him land on his head and hospitalised in an induced coma for seven days.
Sheer force of will had him back on a motorbike in record time and competing but he lacked the 'X' factor that put him ahead of the pack in his glory days. To the amazement of family, friends, sponsors and fans he retired.
Fast forward to 2018 and we now find the seasond businessman and father of two going from strength to strength. His home based jerky business has really taken off big time and the 'Boot Camp' enterprise is just one small part of his dirt bike coaching and mentoring enterprise.
"I've struck a deal with sponsors 'KTM Raceline' and I'm booked out with riders coming from all over Australia, Asia and the USA," he said. "I'm also working on a clothing range," he added. "There just aren't enough hours in the day!"
Not a bad effort for a little boy who first saddled up in a dirt bike race at the tender young age of five. Agree?
Photo: Luke (number 101) training dirt bike riders at his private Salt Ash track.
---
Anyone for Tennis?
Feeling sluggish and bored? Sitting around too much watching TV or hoo
ked on the internet? Perhaps it's a touch of the winter blues?
Whatever the case, body movement is essential for both physical and mental health. So is interacting and exchanging ideas with others.
One very active, forward looking happy band of locals is the Tilligerry Tennis Club which caters for everybody.
They function under the umbrella of Tennis NSW and are currently looking for members for their mixed mid-week social group on a permanent or occasional basis. The club is located directly behind the Aquatic Centre at Mallabula. Access is via Strathmore Rd.
The courts are also available for hire and details of fees and key pickup points are to be found on a sign beside the gate. Ruth Hatk can answer enquiries on: 0404 973 342.
The club is in the process of applying for grants to re-surface one of the courts and to refurbish the clubhouse.
Photo: On the net: Wednesday social players at the club.
---
Habitat Powers Ahead
The new incoming executive of 'Tilligerry Habitat' has settled in and promises a fresh, more open approach with public interaction given top priority.
President elect Dorothea Willey said that the voluntee
rs were currently working on new plantings of vibrant native vegetation near the entrance to make the place more welcoming to visitors.
"Of course, the main drawcard is the free ranging koalas which can be spotted from our boardwalks and nature trails," she said. "At the moment there are four in residence plus many other native animals, birds and a wide variety of flora," she added. "We also have literature and photographic displays in our eco friendly main building."
'The Habitat' has a native plant nursery which has supplied some 3 000 food trees to Port Stephens Koalas. It is open from 9am to 3pm every day and their verandah cafe from 9am to 2pm on the fourth Sunday of the month.
New to the area? Perhaps you have retired and want to 'put something back.' Volunteers are most welcome. Give Dorothea a buzz on:
042 944 2050 for details or drop in during opening times and check it out.
The Jimienez family was thrilled with their first sighting of a wild koala in 'The Habitat'. They also got a taste of Mother Nature's full fury when they were stopped by a roadblock at the golf club by a bushfire.
Photo: The Jimenez family, originally from Columbia, ready for their nature ramble.
---
Heather's Pla
ce
For small businesses in small towns good news travels fast. Bad news travels even faster. Word of mouth is everything and it will either make or break a start-up venture.
In the case of 'Heather's Place' on Cook Pde, Lemon Tree Passage, the good news has travelled even faster than the recent bushfire. Heather and her staff have been run off their feet.
We gave the cafe the once-over and found it spotlessly clean and inviting.
It is open seven days per week between the hours of 8am and 5pm.
Heather and her staff provide gourmet sandwiches, wraps, coffee, cakes, drinks, ice cream and fruit juice.
Photo: Huxley and Keane Breaden with Sarah Barber at Heather's Place.
---
New Community Directory
As the Tilligerry community expands and changes, there is the need to provide residents (particularly newcom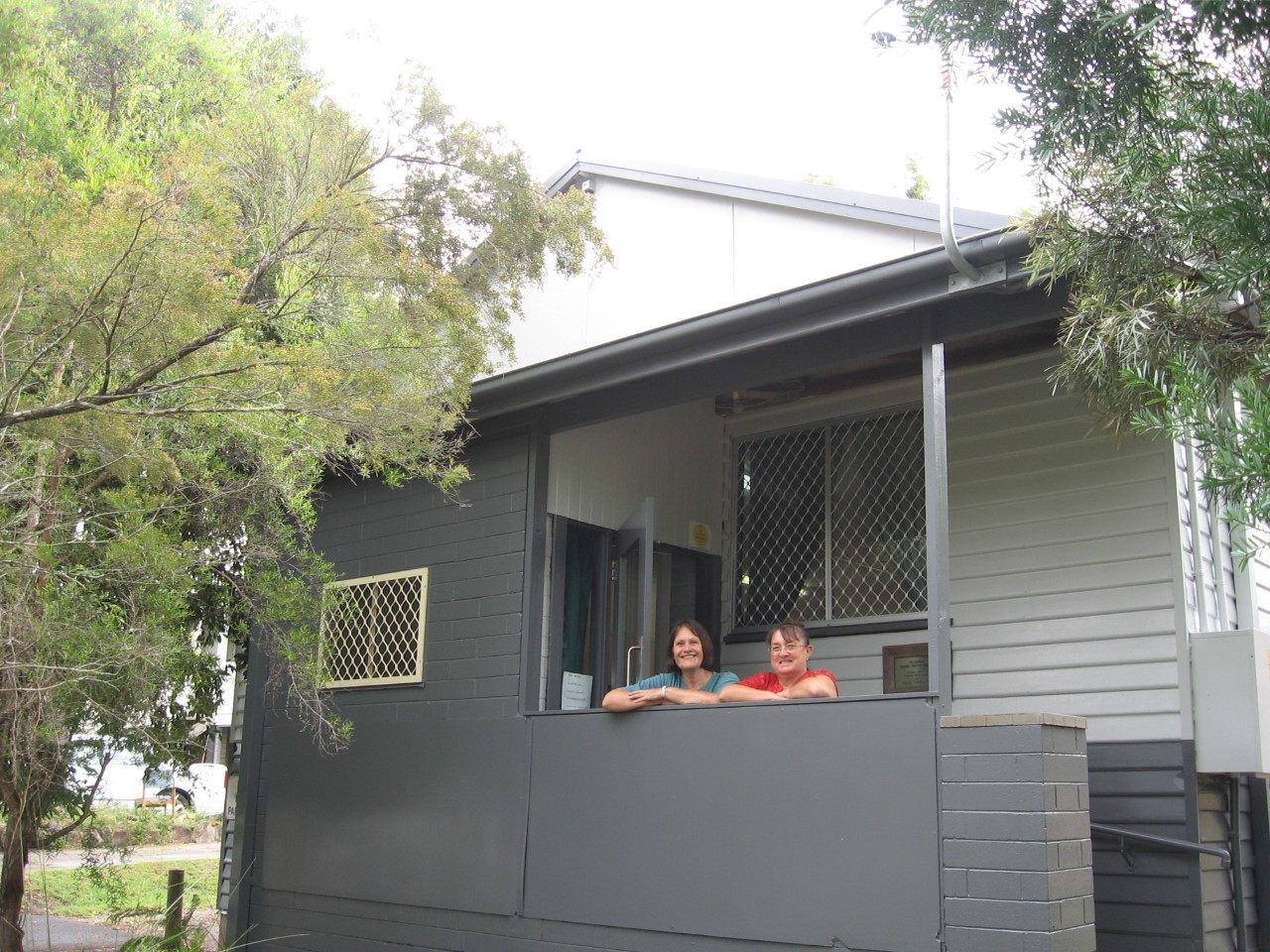 ers) and tourists with a directory of service groups, clubs and businesses. With this in mind, TACE (Tilligerry Adult and Community Education) will be compiling one in the near future.
It will be available in both an online and printed format.
TACE works under the umbrella of PSSC and coordinates community groups such as art, lead lighting, family history and mah jong. It has its home base at the LTP library. It also publishes tilligerry.com our local online news service which has grown to be the major source of local news for residents .Most months it gets over 1500 'hits'. The Port Stephens Literature Awards, a national short story competition, is another initiative of TACE and is run by volunteers.
If you would like to publicise your club, social group or business, email basic contact information to: tace@tilligerry.com and it will be considered for inclusion. There will be no charge for this service.
Photo: TACE volunteers Helen Mizrachi and Sue Hamilton at the library.
---
Wanted!
Have you seen the ads on TV where school kids are showing off their new garden built from logs made out of recycled printer cartridges?
Well, if you would like to help with this initiative you can drop off your used cartridges to the Lemon Tree Passage Library (opposite the motel).
The Library is open six days a week between 10 am and noon. Out of hours you can leave them in a bag or box in the alcove at the front door.
Oh! this recycling facility also accepts spent batteries which can be dropped of at the same time.
Our library always has new stocks of books and FREE magazines donated by readers. They are stacked on a table just inside the door.
We look forward to you helping make our planet just that little bit greener and cleaner.
Photo: TACE volunteer Helen Mizrachi: "We need your old cartridges and batteries!"