Merry Christmas
The news team from tilligerry.com wish all our loyal readers, supporters and contributors a very merry Christmas. We will be back in the new year with all the stories that matter to the residents of Tilligerry.
We average over 300 hits per week and estimate that we would have over 500 regular readers. We are non profit and are staffed by volunteer workers with our office at the LTP library and post each Thursday.

---
Swap Mee
t at RSL
Tilligerry RSL is to be the venue for a 'Swap Meet' on Saturday 16th December.
It is organized by the Tilligerry Car Club and was sparked by the annual Motorama which draws hundreds of all types of cars from far and wide.
Those wishing to pre-book their 6m x 6m bay can do so for $25 but on the day it will cost $35. Access to sites can be had on the preceding Friday between 3pm and 7pm. The day opens for participants on the day at 6am and to the public at 9am.
All bookings can be made by contacting Ian Jones on: 0467 022 439
Photo: Tilligerry RSL, venue for the Swap Meet.
---
Sheer Grit Returns
The popularity of Arthur Murdoch's classic book 'Sheer Grit' was such that original copies sell for around $200. Even the second edition hard cover copies go for well over $100.
But, dear reader, we are getting ahead of ourselves so it's perhaps best to wind back the clock to the Great Depression years of the 1930s to begin our tale.
Arthur Murdock was a working class man who decided to carve out a living by mining shell grit from the shoreline and holes around the Island at Fingal Bay. In those times, people kept poultry in the backyard. They [the chooks] needed shell grit in their diet to help grind up the food and to provide calcium for the eggshells. Hardware and produce merchants sold it by the bag and Arthur supplied them.
Arthur's story is a marvel of descriptive prose for a person of scant education. His narrative could very well rival that of A B Facey's blockbuster 'A Fortunate Life' which ended up as a school text book and a film.
Murdoch paints a broad picture of life in those times. He describes the village of Nelson Bay, the fisherman, how he constructed his hut and jetty and rowed and towed his grit up Tilligerry Creek. The lonely lighthouse keepers get a mention as do the swarms of mosquitoes and the dangerous shifting sands of the spit which joined the Island to the mainland.
The second edition of 'Sheer Grit' (2000 copies) was published by Blue Cow Press in Nelson Bay and sold out.
It is now back in print in soft cover and is available for a mere $20 at Tanilba Newsagency and no doubt other outlets in Port Stephens. If you always wanted a copy, now's your chance.
Photo: 'Sheer Grit'....third edition now available.
---
Olympics in his Sights
After winning many gymnastics trophies including 'Athlete of the Year' Josh Thompson has his sights set on the Olympics.
The eight year old from Lemon Tree Passage started early as mother Jade explains: "We lived in a house with polished floors and one day as a toddler he said, 'Look mum!' I turned around to see that he had done the
splits! We steered him into gymnastics since the age of four and he hasn't looked back."
Jade trains weekly at Glendale and performs the standard six multi disciplinary routines of adult male gymnasts. The rings and the high bar are his favourites.
His seven major trophies include 'Athlete of the Year NSW'; 'Country Championship ' (two years running) and 5th in NSW. Josh also gained two firsts, a second and a fourth in the Grand Prix series. On top of this he has been selected for a high performance training squad in Sydney.
"We are very proud of Josh, his dedication and his achievements," his mother, a lifeguard at Tilligerry Aquatic Centre, remarked.
Photo: Josh showing his flexibility with his proud parent beside the pool.
---
Rambling On
Tilligerry Scouts backyard is gaining in popularity as a camping venue. Some time back it became something of a 'Tent City' as scouting groups merged there for a weekend of outdoor activities.
It came alive again recently as Lake Macquarie Ramblers rocked into town with their motor homes for a weekend.
"Why the scouts' site?" This is what we asked the group as it relaxed in the newly constructed outdoor shed.
The group was of the general opinion that they preferred non commercial venues such as caravan parks as they could cluster together and not be limited by endless regulations.
President Steve Basey puts it this way: "We have been going for some 30 years and our reputation is everything to us." "We are completely self contained and take away everything we bring." "Infact, we make a point of leaving each venue we visit better than when we arrived. "At Tanilba we raked up leaves and branches and picked up anything left around the property," he said.
"On top of this, local businesses do very well out of us. The 'Op' shops are popular with the ladies and we eat out at local clubs and restaurants. I estimate that we would spend well over $1000 on our weekend in Tilligerry," he added.
The 'Ramblers' keeps their destination points limited to about a 50k radius from their home base and are affiliated with a broader motor home group if individual members wish to spread their wings.
Recent destinations have been Dooralong and Broke.
Photo: Secretary Margaret Walker and President Steve Bazey setting up camp at Tanilba Bay.
---
Arsonists Active
The recent spate of fo
ur deliberately lit bushfires on the Tilligerry Peninsula point to the work of arsonists. Two fires were reported in the foreshore scrub between Mallabula and Tanilba Bay, one in the vicinity of Mallabula Oval and one near the sub-station on the old rutile road between Tanilba Bay and Oyster Cove. Multiple ignition points indicate the work of arsonists. The local Tilligerry RFS had the fires in hand quickly. It would have been a very different story had they
been lit at the height of summer with strong winds prevailing.
Authorities warn of hefty fines and jail sentences for those deliberately lighting bushfires or burning off outside the designated cooler months. Residents are also asked be mindful of suspicious behaviour in and around the urban bushland interface and to report this to police. A photographic record would assist with prosecutions.
Now for some happy news! Santa's helpers are busy getting their lolly bags ready at the new Tilligerry RFS Station at Tanilba Bay. Club Lemon Tree paid for them and good old Santa will be tossing them out to the boys and girls on the Saturday before Xmas. You will know when he's coming by a 'whoop' of the siren on the fire truck or the playing of Xmas carols on the PA speakers.
Santa asks the children to stay on the kerb and not run onto the road behind the fire truck. Be patient. He won't forget you.
File photos: Board walk damage from arsonists and Santa on his Xmas run.
---
New Community Directory
As the Tilligerry community expands and changes, there is the need to provide residents (particularly newcom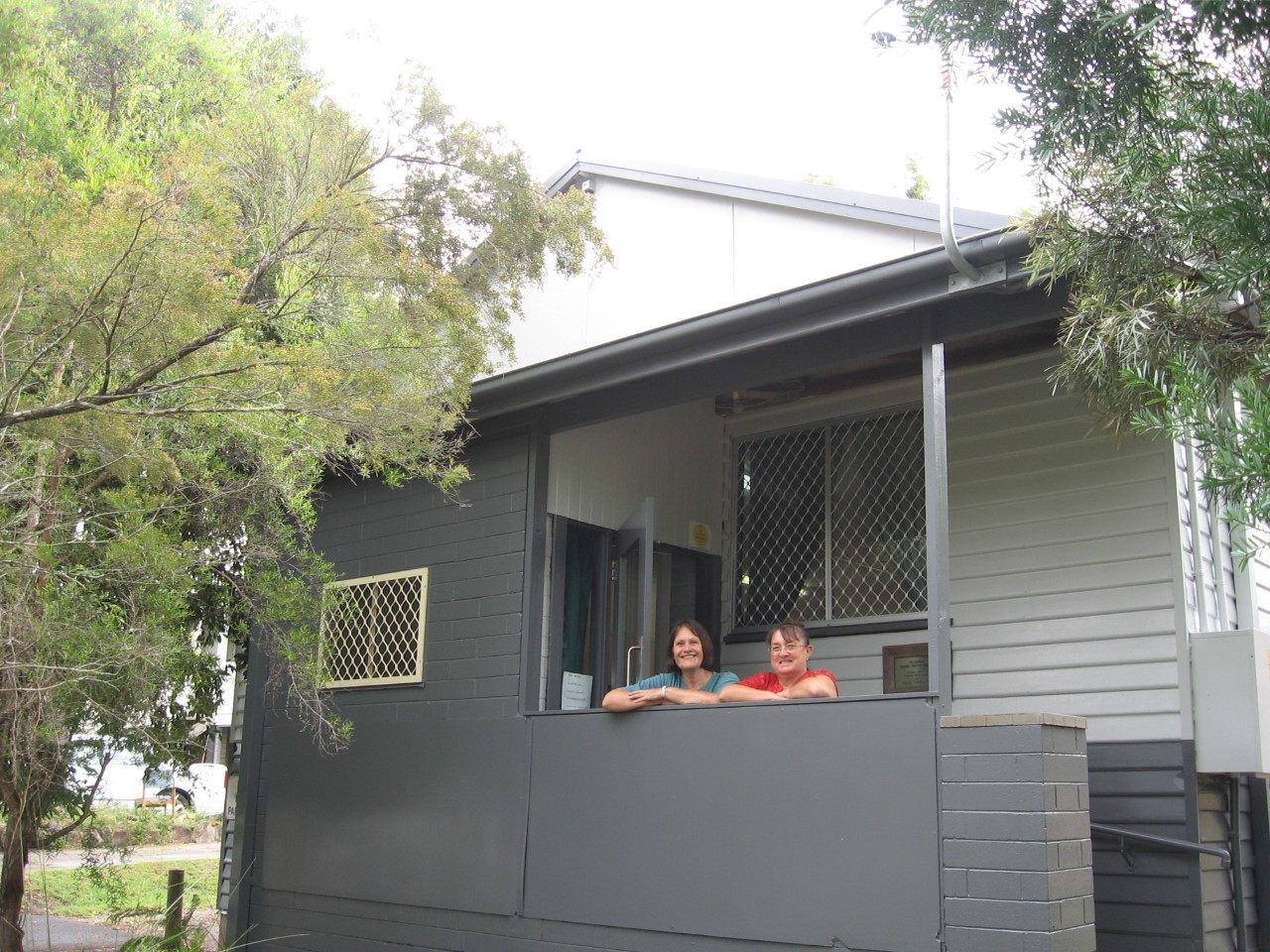 ers) and tourists with a directory of service groups, clubs and businesses. With this in mind, TACE (Tilligerry Adult and Community Education) will be compiling one in the near future.
It will be available in both an online and printed format.
TACE works under the umbrella of PSSC and coordinates community groups such as art, lead lighting, family history and mah jong. It has its home base at the LTP library. It also publishes tilligerry.com our local online news service which has grown to be the major source of local news for residents .Most months it gets over 1500 'hits'. The Port Stephens Literature Awards, a national short story competition, is another initiative of TACE and is run by volunteers.
If you would like to publicise your club, social group or business, email basic contact information to: tace@tilligerry.com and it will be considered for inclusion. There will be no charge for this service.
Photo: TACE volunteers Helen Mizrachi and Sue Hamilton at the library.
---
A Night That Was
Our "All Night Pack Meeting" ended with a snore.
1st Tilligerry Cub Pack held it's first all night pack meeting with the aim of staying awake for the w
hole night, seeing the sun rise and doing Cub Scout activities the whole night.
We met at the Scout hall at 7-00pm on Saturday 18th November and after a herculean effort on behalf of the Cubs who managed to stay awake for the whole night and pack into it, a fireworks display, visit to the RFS, walk to the hall, making a messkit bag, sewing a button and badge, walk to explore the night creatures, make rocky road chocolates, play games, walk of local community discovery, making ANZAC biscuits, watching promotional videos, painting plaster casts, watching the sun rise, enjoying nature waking up, keeping Rikki and Kookaburra awake and active, and generally having FUN.

Unfortunately each time we went for a walk it started to rain after we left, cutting short these adventures.

At 05:45, after seeing dawn breaking, I took the breakfast orders and started to cook breakfast, when I
next checked either their batteries ran flat or someone turned their switches as the Cubs had all shut down as one. They did not quite last the 12 hours but went very close, but they did see day light at each end of the night.

Unfortunately when we knocked on the door of the Ambulance Station door there was no answer, we will have to reschedule this visit.
A great night which may become an annual event quietly came to an end. Many thanks to Irene, Tim and Orla for your assistance. Also to the RFS for thier presentation, well done Bill and crew. To the main characters of the evening Harley, Ethan, Ashton, Lawson, Danny, Connor and Malakai, with you and the support of your parents the night would not have happened.
This was a night to remember and the Cubs will talk about for some time.
Ralph Francis, Group Leader, 1st Tilligerry Scout Group, Mobile: 0414 474612
---
And the Winner?
The big winner on Cup day wasn't the horse which crossed the line first in Melbourne. It was the kids from Stewart House in Curl Curl, Sydney who benefited to the tune of $4800 from a charity day held at Newcastle's Broadmeadow Rac
e Course.
Organiser Lloyd Hogg explains: "The residents and businesses of Tilligerry need congratulating for their overwhelming support as does the Newcastle Jockey Club. Their catering for us in the 'Stables Marquee' was superb." "148 people from far and wide turned up." "Most were current or former teachers and renewed stories from the 'good old days' in the classroom."
The major prize winners from raffles were:
Kevin Hogg from Coolamon ($2000 three nights luxury at Pt. Macquarie)
Stacey Radcliffe from Raymond Terrace ($600 three nights at Tea Gardens)
Jeanette Solway, Tanilba Bay ($200 voucher).
"Management from Stewart House were so impressed by the day that they will suggest to other regions in NSW that they use our idea as a template for future fundraisers," he said.
Pictures: Frisky fillies: Former Tanilba Bay School staff Louise Hogg, Lee Henry and Beth Howell plus Stewart House representatives Lloyd Hogg, Kerryanne Knox and CEO Graham Philpotts.
---
The Great Wall
You've no doubt heard of The Great Wall of China, The Berlin Wall, Hadrian's Wall and the proposed Donald Trump wall to keep the Mexicans out. Well, Tanilba Bay now has its own Great Wall in Diggers Drive, just a bit past the arched gates on the left on the way to the foreshore.
"Why?" This Is what we asked the new owner, Tracey Budworth who has moved here with her partner Greg from Newcastle.
"It's the 'WOW' factor," she explained as she helped backfill the solid block sandstone structure with black loam."
The dynamic duo sourced the huge cut blocks of stone from a quarry near Gosford. Each one would weigh in at around a tonne and large blocks were no dearer than the smaller ones so they went the whole hog.
"It's not cheap," she said. "The blocks alone were $10 000 and we've had a team of professionals in with their heavy machinery to put them in place."
"We plan to construct a permaculture garden focusing on edible vegetation," she added. "The previous owner was a little upset that we dug up her garden but was happier when we gave a lot of the plants away and put many of them in our backyard."
"It looks a bit messy at the moment but wait 'till it's all done and dusted ." "As I say to those who ask:" "Watch this Space."
Photos: Tracy, her wall and sandstone blocks waiting to be positioned.
---
Best Wishes Leone
The Lemon Tree Patchwork ladies recently held a farewell party for long time member Leone Oldham who is moving to Perth in the near future.
Leone and her
husband Doug moved to Mallabula some 30 years ago from Wangi Wangi where they ran a butcher shop. They were personal friends with fellow resident artist William Dobell (later Sir William). Both were keen golfers and Leone played an important role with the LGU, travelling the state to officially rate golf courses for handicapping purposes. It was on one such visit to rate the infant Tanilba Bay course that they fell in love with the town and decided to relocate to Mallabula.
Doug passed away several years ago and as a tribute to his memory, the family planted a Wollemi Pine on T
anilba Golf Course . Today the tree is several metres high.
Now into her eighties, Leone has sold up and will live with her daughter.
Several of her fellow patchworkers plan to visit her in the new year.
Speaking of her years in Tilligerry, Leone said that she will miss the friendships and the happy golfing times.
"I'll never forget a very funny incident which happened when we were playing away. I was playing in a trio and I introduced myself as Leone Oldham to one of the others. When she said that her name was Bacon, we laughed. The third lady then told us that she owned a piggery! It really broke us up!"
Photos: The farewell party and Leone with Doug's memorial pine tree.
---
Top Accreditation Accolade & New Doctor for LTP
We have had a busy couple of months here at Lemon Tree Medical Practice. We have welcomed Dr Shahid Sarki to our team who has specialist training in children's health as well as Gen
eral Practice. Dr Sarki joins our team of Doctors who have been at the surgery for many years who continue to have a passion in general medicine as well as their own specialist areas such as skin checks, mental health and women's health.
We completed accreditation this month and were awarded a Category A classification which is very rare, and res
erved for practices that meet every single standard of the Royal Australian College of General Practitioners with no areas in need of improvement. Our team of passionate management, Doctors, Nurses, Receptionist and cleaners always strive to do our best to offer our patients the highest standard of care in a friendly atmosphere. It is a privilege to be able to care for our patients so thank you.
Finally, our daughter Louisa Murcott who has worked at the surgery for several years and has grown up with the practice since she was 8 years old has completed her degree and has joined me in managing the surgery. It is our hope that when patients enter the surgery they are able to tell that it is run by our family.
Visit our website if you would like to know more about us: lemontreemp.com.au
Our team would like to wish you all a happy and healthy Christmas and look forward to caring for you in 2018.
---
Quilt and Literature Award Winners
"Don't sit down!" This was the advice given to Anna Bay's Jann Sturdy by the announcer at the 2017 quilting show. You see, Jann more or less scooped the pool with her entries, returning to the table time and again to pick up more prizes. Others to do well included Lynley Keers, Wendy Nutt, and Maureen Grealy. Some 58 quilts were entered with a further 29 on display over the weekend of November 18th and 19th at Club Lemon Tree. Wendy Nutt has also recently won a commendation in the Australian Modern Quilt Show.
The Quilt Show was also chosen as a venue to announce the winners of the Port Stephens Literature Awards 2017. The $
1100 in prize money is funded by PSSC, Club Lemon Tree and entry fees. It has been running for some 15 years under the umbrella of TACE (Tilligerry Adult and Community Education), a not for profit group connected to Port Stephens Shire Council.
This year drew entries from every Australian state with local writers from Medowie, Tea Gardens and Tanilba Bay featuring in the top 21 awards.
First prize ($500) went to Sophia Field from Victoria with her story
'Chocolate Milk'. The same story also won the $50 Readers' Choice award.
Second prize ($300) was taken out by Tasmanian Freya Cox with her entry 'A Colour of Loss.'
The News Of The Area award ($150) was for 'A Child Named Warrior written by Rob Viskovich from Lane Cove in Sydney.
Photo : Jann Sturdy and Lloyd Hogg with one of Jann's prize winning quilts.
---
Port Stephens Literature Awards 2017
Port Stephens Council Award ($500) 'Chocolate Milk' Sophia Field Lilydale Vic.
Club Lemon Tree Award ($300) 'A Colour of Loss' Freya Cox Kingston Tas.
News Of The Area Award ($150) 'A Child Named Warrior' Rob Viskovich Lane Cove NSW.
Readers' Choice Award ($50) 'Chocolate Milk' Sophia Field

Most Highly Commended ($25) in order.
'The Meal Ticket' Susan Bowen Medowie NSW.
'Pilgrimage' Kerrin O'Sullivan Middle Pk. Vic.
'Mabel' Garry Boyd Tea Gardens NSW.
'Night of the Big Fright' Greg McFarland Orange NSW.
Highly Commended (in order).
'An Asterisk' Peter Bathie Tea Gardens NSW.
'Too Late to Leave' Rosie Abbott Paynesville Vic.
'No Place for A Lady' Greg McFarland Orange NSW.
'The Bride Price' Suzanne Ferris Bellingen NSW.
'Good Business' Noreen Wills Croydon Vic.
'A Story to Tell' David Abood Bexley NSW.
Commended (in order).
'Time's Slipping Away' Don Horne Pt. Macquarie NSW.
'A Farthing Will Do' Barbara Gurney Huntingdale WA.
'The Seat' Ted Arneson Brandy Hill NSW.
'Friendship Roller Coaster' Emma Bryan Medowie NSW.
'Send Me Home, my friends Freya Cox Kingston Tas.
'Rob' Fran Corner Tanilba Bay NSW.
'The Hospital Visitor' Barry Riley S Woy Woy NSW.
'Nine Nines....' Reg James Turramurra NSW.
We would like to thank PSSC, Club Lemon Tree, NOTA, our judges and TACE for making these awards possible and a huge thanks to you....the writers!!
---
Police Station Threatened?
Despite assurance
s from Superintendent Wayne Humphrey at a recent community meeting that Lemon Tree Passage police station will stay open,it appears that this may not be the case.
With the proposed amalgamation of Port Stephens and Maitland into one larger command, the Police Association gained the impression from more senior officers at a recent meeting that outlying stations may be a thing of the past.
The current 're-engineering' policy whereby a more flexible, mobile concept has been embraced by mnagement flies in the face of what the Tilligerry community has worked for over many years.
Long time community worker and campaigner for better policing Doreen Bradley explains:
"The best policing out here was seen when we had a resident police officer who would come on duty at any time to fix serious problems," she said.
"Once community policing was done away with and centralised in Maitland we got big problems," she added. "A call to our local station would be flick passed onto Maitland and we were 'prioritised.' This meant that a day or two later officers would respond." "Crime flourished and it was only when we were able to get Port Stephens Command hived off that things improved."
"Any attempt to shut our station or move officers to a central location will see a community backlash."she said. "We want to work with the police service for better outcomes, not against them," she added.
Photos: Doreen with former police minister Mike Gallacher and LTP police Station... Threatened closure?
---
'Lust in the Dust'
Rural Romance ( Ru-Roms), those 'Lust in the Dust' novels that are very popular these days have a new writer in the form of Helen (Lena) West from Tanilba Bay.
The former teacher and member of Romance Writers Australia has just completed a self publishing course in Canberra and her first novel, 'Marrying Alan Morgan' is ready to roll.
"I came from a small rural town in Queensland and after retiring, travelled most of Australia for some eight years with my husband," she said. "On top of this we lived in western NSW for several years." These experiences gave me inspiration for my books."
"I have completed four novels and have 10 more in the pipeline," she added.
"I did all the format of 'Marrying Alan Morgan' myself which includes my website and cover design," she said. "It has been uploaded to Amazon and is available via Kindle for a mere 99c to read. The printed copy will sell for $US 9.99 as a 'Print on Demand ' publication shortly through Amazon."
"Lena West is my pen name and the book series is known as 'Love in Oxley Crossing,' she added. More detailed information can be found on facebook by keying in 'Lena West-Author'.
Photos: Lena (Helen) West and her debut novel 'Marrying Alan Morgan."
---
Roll Out!
If you have noticed 'Telstra' workers feeding brightly coloured cables into the ground around town you would have probably guessed the reason.
Originally, the fibre cables were to go all the way to your house but a change in government saw the current system introduced as a cost saving measure. According to a local crew, all cables and nodes are being inspected to see which type of connection is appropriate for each suburb, street or individual property. Some will get FTTN (Fibre To The Node) and then existing copper wire from there and others will be linked by FTTC (Fibre To The Curb). Apparently Telstra has a problem with grammar as Australians would prefer FTTK as the concrete gutter beside roads here is spelt kerb. Curb is a word in our language which means to stop or regulate ie: to curb crime.
Sometime next year (possibly towards the end ) it will all be done and dusted ready for you to connect. To do this you will have to contact your current telco provider.
Want to know more? nbnco.com.au will paint the big picture for you and give you more specific details of how your suburb fits into the grand plan.
Photo: Coming to a node near you... Telstra upgrading their cable network.

---
Jai says Goodbye
It is with more than a tinge of sadness that long serving Lemon Tree pharmacist Jai Kumar ha
s announced that he is moving on.
The business has been sold to Fady Victor and Fady Ewedar who will formally take over the reins on Wednesday, 1st November 2017.
The popular pharmacist gave his reasons thus:
" After 30 years it was time for a break and to consider my future options," he said. "I'll be having a well earned rest for a few months and then making a decision," he added.
For some 17 years Jai has run the business which has mushroomed due to the construction of a two storied medical practice next door. He has always gone that extra distance for his clients and has been seen as as caring and compassionate professional. On top of this he has given financial support to the local sporting clubs and represented Tilligerry Soccer Club in its all-age team.
In a farewell letter to the community he thanked his current and former staff as well as the locals for supporting him and stated that he has made many personal and enduring friendships over the time he has been with us.
Reaction on social media to the news of Jai's impending departure was immediate and overwhelmingly grateful for his outstanding contribution to the health and well being of the community over such a long time.
Photo: Fond farewell: Jai flanked by assistants Krystal, Kelli and Jessica.
---
Paper Problems
On the Tilligerry Peninsula, Fairfax newspaper sales have taken a tumble as home deliveries have ceased.
With a move away from print media in the electronic age, an effort to cut costs has apparently gone awry with many readers cancelling their subscriptions.
Local newsagent Julie Fitzgerald explains:
"About a year ago, Fairfax gave us the option of continuing our home delivery service or giving it away. Fairfax were happy to supply the papers themselves and employ a contractor to do the job." "We agreed to go along with this as circulation was falling and it was hardly worth our while to home deliver."
"Customers came to the shop complaining about the service and how the contractor was unable to be contacted."
"More recently, home delivery customers were instructed to pay Fairfax directly and they wanted credit card details." "This worried many local readers, particularly the elderly who either didn't have a card or were wary of giving personal details." "On top of this they were confused when the contact phone number connected them to the Phillipines and they couldn't understand the operator on the other end of the line."
"At the moment, the only two outlets for 'The Sydney Morning Herald,' 'The Newcastle Herald,' and the 'Fin Review' in Tilligerry are ourselves and Coles at Tanilba Bay." "When and if a new contractor can be found is anybody's guess."
Meanwhile, News Ltd. Papers ['The Telegraph' and 'The Australian'] have not been affected and their circulation has benefited at their rival's expense."
Photo: Julie Fitzgerald – Fairfax circulation falling.
---
Club Title Tussle
Tanilba Sailing Club is well and truly into its summer racing season with something of a family feud developing between the brothers Colecliffe.
Both are former current state or national champions but the younger sibling (Mark) has beaten his older brother at the last two regattas. With a brand new sail, Mike thinks that at club level this could very well make the difference as the duo vies for the season club championship.
One Sunday each month is set aside for two races which count towards the coveted title. The club also looks forward to its annual 'Big Boat Regatta' which it hosts each February.
Meanwhile, the next generation of sailors is learning the ropes from more seasoned veterans with as many as nine young local hopefuls training on the six 'Bic' sailboats the club has purchased. This was made possible with a $30 000 NSW State Government grant. Long time member Sam Breaden was responsible for seeing this process through the web of official procedures.
As many as ten catamarans compete each Sunday. New members both young and old are welcome to learn or take part in the club's activities and Sam Breaden (0419 912 420) will give you all the details.
'Tanilba Bay Sailing Club' punched into facebook will also give you more info.
Photos: Jigging with the Rigging – Young learners being shown the ropes by Mike Colecliffe and senior sailors rig up for the Sunday race.
---
Fairway to Play
Foundation member of Tanilba and Districts Golf Club Dot Hissey has seen no problems with the integrated golf played there over the last 30+ years. Dot, who carries badge number 25 was the first female president of a golf club in the Hunter Region and one of many elected women directors since the club began operating as a nine hole co
urse. Today it has expanded to a full 18 holes and is popular with locals and tourists alike.
"There is no discrimination at Tanilba and ladies have played in the Saturday competitions from day one," she said. "We all pay the same membership fees and have equal rights," she added.
Dot was one of many locals who literally carved the course out of virgin bushland during the '70s and '80s.
"Bernie Henderson in his old blue tractor would flatten the scrub and we would di
g up roots and burn off the stacks of sticks and stumps. There was a great feeling of camaraderie," she said. "You could even see Bruce MacKenzie working on the course and doing bar duty. He holds life membership and badge number 1 after his Herculean efforts in kick-starting the venture," she added.
Former Ladies' Captain Carole Walker said that it was all about give and take and common sense: "Women accepted prizes from the men's competitions but we didn't insist on representing the club in traditional district 'mens' events. "They in turn never played in our special 'ladies' tournaments," she said. "Indeed, they didn't ask to play in our Thursday competitions during my time. If they had, there would not have been a problem," she added.
Dot who has also been a member of Newcastle Golf Club for some 14 years has been watching on with interest as the push from lady golfers to play amongst the traditional 'all male' Saturday field gathers momentum.
Photos: Tanilba Golf Club and former president Dot Hissey.
---
Live Bait the Secret
Live yakkas (yellowtail) caught ar
ound Cabbage Tree Island were the secret of success for two intrepid anglers recently.
Jamie Culver from Salt Ash and a friend nailed two large snapper and about six smaller ones around Broughton Island but a rising westerly gale made things uncomfortable for them so they headed inshore. They then took up station between the two bridges at Karuah for some night fishing.
Karuah is a renowned jewfish hot spot, particularly the deep holes in the eddies of the bridge pylons. Oyster Cove is also popular and indeed the Passage at Lemon Tree itself has been known to yield some very large Mulloway.
The dynamic duo was not to be disappointed as the photo shows.
Large snapper also enter the port in the summer months and old timers still talk of huge fish taken in holes off North Arm Cove and Soldiers Point.
The late Tommy Gavin of Mallabula told of a snapper he caught inside the port which was too heavy for the scales at the old Lemon Tree Passage corner store.
He and his fishing partner George Harper had to cut it in half for the weigh in and it went 26lbs. That's 11.8 kg.
Anglers wanting to know the weight of big fish don't need to look for scales. After measuring the fish from its mouth to the fork in the tail, just google: 'fish length to weight converter', scroll up the species required and all will be revealed.
Photo: Live bait the secret – Jamie with part of the catch.
---
History under the Hammer
If media reports are to be believed, Historic Tanilba House is to be sold following the death of resident part owner Helen Taylor around two years ago.
Historians have always been interested in the house mainly because
he diaries of Susan Caswell (on public display there) were a primary source of information about life in Port Stephens in the 1830s. In particular, Susan recorded her account of the Aborigines which paints the settlers in a very different light to undocumented 'black armband' history we hear so much of today.
She is saddened by the the passing of so many of 'our natives' who fell victim to the white man's diseases and talks of the friendships developed.
She also mentions how the natives admired the white man to such an extent that they wanted to be like him. She relates how they would have a corrobboree in which they would daub themselves with wh
ite clay, pretend to die and ... 'jump up white man' (sic).
'A Histoty of the Tilligerry Peninsula'(1996) will expand the early history for those interested.
The building, now with a heritage classification, is lucky to still be standing as it lay unoccupied for long periods. At various times it has been a guest house, a religious retreat for the 'Gospel Fishermen' and the base of Henry Halloran, the legendary developer who subdivided Tanilba in the the 1920s.
In 1968 Helen Taylor and her extended family bought the freehold after renting it. Since then, she made every effort to repair and preserve the historic homestead and kept it open for inspection. A woman of refined tastes, Helen hosted her annual 'Little Picture Show', invited classical musicians to perform there for the public and was very generous in making Tanilba House available for photo shoots, weddings and other social events. Her annual Christmas Party was a most anticipated event.
Strict guidelines dictate what can and can't be done to any heritage listed properties and hopefully the new owner(s) will continue the work of preservation and improvement carried out over the past 50 years.
Photos: Historic Tanilba House and the late Helen Taylor.
---
All Pumped Up
Tilligerry now has two service stations after the one opposite the Kooindah Centre has reopened.
Jaspreet (Jazz) and Saluja Singh are the new owners and have taken out a ten year lease.
Jazz has plans to expand the business with modifications including:
• A conversion of the workshop to include a car wash.
• Umbrellas and tables for a 'free' coffee area for patrons.
Extra staff for the car wash and service bay will be needed and interested parties should contact the owner.
Photo: All pumped Up – Jazz ready to serve you at the bowser.
---
Wanted!
Have you seen the ads on TV where school kids are showing off their new garden built from logs made out of recycled printer cartridges?
Well, if you would like to help with this initiative you can drop off your used cartridges to the Lemon Tree Passage Library (opposite the motel).
The Library is open six days a week between 10 am and noon. Out of hours you can leave them in a bag or box in the alcove at the front door.
Oh! this recycling facility also accepts spent batteries which can be dropped of at the same time.
Our library always has new stocks of books and FREE magazines donated by readers. They are stacked on a table just inside the door.
We look forward to you helping make our planet just that little bit greener and cleaner.
Photo: TACE volunteer Helen Mizrachi: "We need your old cartridges and batteries!"