The 'WOW' Factor
"WOW!"....this was the reaction of regular borrowers when they walked through the door to our new look library after its makeover.
New books, new curtains, wicker furniture, new carpet, state-of-the-art shelving and a modern offic
e layout greeted the eye.
Port Stephens Library Services Manager Kris Abbott, praised the efforts of local volunteers and community workers who assisted with the upgrade. This included the donation of new curtains, removal of old shelving and furnishings and restoration of the gardens at the front of the building. Little was wasted with the old shelving being donated to other grateful community groups.
Library staff from the Raymond Terrace and Mobile Library were of great assistance with the planning process as well as hands on with packing up and re-shelving all the book stock.
Apart from library volunteers and customers PSC Acting Community Services Section Manager, Aaron Malloy; Library Services Officer, Vicki Bailey and local Councillor Steve Tucker were on hand to celebrate the event.
The library is open from Monday through Saturday between the hours of 10am and noon.
The TACE office which works in tandem with the library in the same building, offers photocopying, fax service and internet access as well as assistance with the operation of electronic devices such as mobile phones and computers (assistance on Thursdays only).
Photos: 'WOW!' 1.The new layout at the library. 2. Celebrating the re-opening
elebrating the re-opening.
---
W
hy Live Anywher
e Else?
The sight of a koala in the wild, masses of black swans in the shallows, armies of soldier crabs, nesting ospreys or green turtles and dolphins surfacing in t
he bay hardly turn a head with the locals in Tilligerry.
To the tourists from the big cities or from overseas, these natural wonders have them reaching for their mobile phones of zoom cameras to capture sights they have ne
ver seen before.
Look at the photos. We were able to snap these frames in little more than half an hour. They show over 50 black swans in Tanilba Bay, a resting koala at The 'Habitat' and the Mallabula sandflats where millions of soldier crabs emerge at low tide. The shot of the nesting osprey was taken some time ago as it carted sticks to build its eyrie (nest) in the Optus tower in the Lemon Tree industrial Estate.
Tourists Leah and Matthew from Sydney and photographer Kirstin from Canada were guided to the sleepy koala by Habitat spotter Tim Davidson.
---
Grey Nomads Bridge the Gap
It's common to see convoys of Grey Nomads setting off on their treks around Australia in the cooler months of the year. Most of them skirt the coast but some hardy souls tackle the more remote outback tracks.
For Vicky and Ian Lisle from the St George Club in Sydney, their idea of a good time during their twilight years is to follow the national bridge tournaments around the nation. This dynamic duo comprised some of the 120 dedicated souls who turned up at Club Lemon Tree recently to take part in the Tilligerry Bridge Club's annual congress.
Players came from as far afield as Sydney, the Central Coast, Newcastle, Forster, Hawks Nest, Maitland and Taree.
These bridge tournaments inject a great deal of cash into the community as well as spreading the word far and wide about what we have to offer as a tourist destination.
Organizer Pat Healy said that it was pleasing to see the younger generation taking part: "We had some players in their early twenties entering this year," she said.
The North/South winners were Paul Mc Grath and Chris Dibley from Newcastle with Ian McKinnon from Sydney and Virginia Dressler from the Central Coast taking out the East/West prize.
The Tilligerry Bridge Club meets twice weekly at Club Lemon Tree and beginners are most welcome with special times set aside for lessons for those new to the game. Enquiries: 49824109.
Photo: Bridge nomads Vicky and Ian Lisle with David and Margaret Corney at the annual congress.
---
How Low Can They Go?
Mallabula Panthers Rugby League Club was deeply upset recently when they discovered that their recycling cage had been cut open and most of the bottles and cans taken. Three of their wheelie bins were also missing.
By going public on social media, the club was heartened by the response. Information flooded in which should lead to the identification of the culprits.
Tip-offs giving times three hooded teenagers were seen wheeling bins past the CCTV cameras at the Kooindah Centre were noted. On top of this, the same trio was observed feeding cans and bottles into the recycling facility in the Coles carpark. A simple check of the print-out duplicate would give the precise time. CCTV vision from Coles around that time and an examination of the till- tape should be more than enough to nail them.
Meanwhile, Our local Lions Club is having problems of its own as one member explains: "We used to get around $750 from our 'Cash a Can' initiative each year but it's hardly worthwhile anymore," he said. "The recycling centre took away a lot of our business and thieves stealing cans from our collection bin have been a problem," he added. "It's so bad that we check the bin regularly and remove any cans before the thieves get to them," he stated. "If our cash flow from our fund raising efforts drops it means that we can do less for the genuine needy and the wider community," he concluded.
Photos: 1. Empty – the Lions can collection bin beside Vinnies at Tanilba Bay.
2.Captured on camera – three hooded suspects were recorded on Kooindah CCTV (see pic).
---
A Passion for Charity
With some 450 vehicles of all descriptions entered in the 2019 Tilligerry Motorama, the John
Hunter Children's Hospital looks like being the overall winner. It is set down this year for 19th May.
This annual event takes place on the grassed area beside the RSL Club at Tanilba Bay and is truly a family oriented day with live rock bands, amusements for the children, markets and food stalls. The three main raffle prizes totalling $1500 in petrol vouchers with many other donated prizes added draws the interest of the community.
Entry is $10 per exhibitor and a gold coin entry is appreciated from the public. A presentation dinner later in the year will see the hospital receive a sizeable cheque. The progressive total over the years should top the $150 000 mark after this year's show.
More details can be sourced from the Tilligerry Auto Club on Google.
Enquiries: 4982 3703 or by email: tilligerryautoclubinc.com
Photos: Previous entries in the annual Motorama.
---
Dirty Dumpers Detected
Public outrage on social media coupled with CCTV footage has identified the vehicle a
nd people allegedly responsible for the dumping of furniture and other items on the footpath outside St. Vincent de Paul's charity outlet at Tanilba Bay.
A spokesperson for the store said that a description of the vehicle, its number plate and the property address from which the items are believed to have come from have been forwarded to PSSC and the police.
Vinnies thought that the construction of a security fence would solve the dumping problem as a spokesperson explained: "It was costing us $187 per month for a skip to remove the unwanted dumped goods so we developed a new procedure to improve efficiency," she said.
"We now ask donors to enquire at the counter inside the shop during business hours before putting things in our collection bins," she said. "This way we only take items that are saleable," she added. "We can also inspect items in their cars to determine if they are appropriate," she stated.
Currently Vinnies is short staffed and are looking for volunteers. Retired? Looking to 'put something back'? Perhaps you are new to the district and want to connect with others while doing satisfying community work with your spare time. If this appeals to you, drop in to the shop in President Wilson Walk and they will put you in the picture.
Photo: GOTCHA! Dumper details given to authorities.
---
Unique Experience
Ever since early childhood, Jessica Evans had dreamed of becoming a hairdresser and now that dream has come true.
"I started out as a mature age apprentice hairdresser at the age of 29 at the 'Black Cat' at Tanilba and when the business opportunity presented itself, I grabbed it with both hands," she said. "I bought 'The Black Cat' business and relocated to a much more spacious shopfront opposite the Post Office," she added. "We're now known as 'Uneek Hair and Beauty' and offer clients a wide range of extra services including a beautician, nail care and makeup," she stated.
"I get great satisfaction in lifting clients' self esteem. It's wonderful to see them walk outside with that 'look good, feel good' smile across their faces," she said.
Appointments and enquiries can be made on 02 4984 5780.
Photo: Jess ready for action in her 'Uneek' salon at Kooindah.
---
Youth Week Celebr
ations
A combined effort by PSSC, Tilligerry Lions, 'Up &Up' and Disability Services assured success of the latest 'Snack &Wrap' get together at the Tilligerry Skate Park during the school holidays.
PSSC's youth worker James Campbell said that Shane Kennedy and Faith Curtis from 'Up&Up' did a great job organizing the activities for the young people of the peninsular. These included face painting, totem tennis, hula- hoops, face painting and art. Around 40 local kids took part in the celebrations.
"The Lions Club did a magnificent job with their sausage sizzle," he said. "In particular, I'd like to thank long time supporter Councillor Steve Tucker for the interest and support he has shown over the years," he added. "Steve turns up regularly to our events and listens to the young people and helps in any way he can," he stated.
Photo: James Campbell, Steve Tucker, Tilligerry Lions members, 'Up&Up' coordinators and local young people interacting during Youth Week at Mallabula.
---
Hayden Recovering
Former lifeguard at the Tilligerry Aquatic Centre, Hayden Edwards has been released from hospital and is recovering from a knife wound to his back. The police officer was attacked from behin
d while talking to a person about a disturbance on Central Station in Sydney. After falling to the ground injured, Hayden drew his pistol and aimed it at the attacker as did two other officers. The alleged perpetrator then fled to the platform area where he was tasered and sprayed with capsicum. The 53 year old male was taken into custody and police took possession of a large hunting knife.
Formerly from Raymond Terrace, Hayden dreamed of becoming a police officer. He was an active member of the SES. It took him several attempts to be accepted and after training at the Go
ulburn Police Academy he was posted to Moree in western NSW where he spent three years. He was then transferred to Sydney.
Hadyn was popular with swimmers at the pool and they put on a farewell party for him when he left. He was presented with a toy police kit which included a revolver, handcuffs and hat. Long term swimmers and staff were shocked at the news and wish him a speedy recovery.
Photos courtesy of NSW police: Hayden recovering in hospital and the hunting knife police took possession of at the scene....... and Hayden with friend Bob Royal at his farewell party.
---
New 'Two-in-One' Store
Kooindah Centre has a new business start-up it what was formerly the lolly shop.
Jen Lilley's 'Jen's Urban Flip' markets her own unique fashion wear as well as a sideline which takes advantage of her graphic design background.
"I feel that there is a gap in the market out here in the clothing area which I'll be able to cater for," she said. "There is also a need in Tilligerry for a graphic design facility and I cater for those needing business cards, signage, logos, branding and other graphic art work," she added.
Interested? Drop in during business hours or give Jen a call on the number displayed in the picture.
Photo: Jen with embroidered jeans – one of her most popular lines.
---
Ready for Easter
PSSC staff have now completed stage one of the Caswell Reserve makeover which is a link in a chain that will eventually see the peninsula encircled by pathways and boardwalks. This 'Gra
nd Plan' comprises part of forward looking proposals contained in a white paper submitted to Council. It is available for perusal in a document titled 'Tilligerry Forward'. This was developed by Cr Steve Tucker and Kevin Colman OAM after consultation with a broad range of local interest groups.
Caswell Reserve now has an adventure playground beside the bay with safe swimming at its edge. The new amenities block is complete and functional. Stage 2 wills see the demolition of the old toilet block, an opening up of the area for passive recreation and the addition of a disability friendly pathway. This will be constructed from the Billy's Beach viewing platform across the front of the reserve and bridge the creek. There will be a rebuild of the boat ramp. Trailer parking has already been provided.
Local grandparents Kevin and Linda Scott were some of the first residents to take advantage of the new facilities. The Lemon Tree Passage couple found it an ideal place to amuse their three grandchildren Jamie, Natiri and Tali who were staying with them over the holidays. They had travelled down from the Blue Mountains.
Photos: 1 The Scott family having fun in the adventure playground.
2 'Tilligerry Forward' the grand plan for future development.
---
Real Estate Stable
Tighter lending as a result of the The Banking Royal Commission; hesitant investors and a State Election: these three elements have seen the recent real estate boom plateau in Tilligerry according to Portside Real Estate's Rodney Keers.
"First home buyers are fewer," he said. "This has seen sales in properties around the $400 000 mark slow somewhat but with limited stock, the asking price has not fallen," he added.
"We have also seen bargain hunters active in the middle to top end of the market, he said. "Rents are not rising and we have more stock to offer those applying, he remarked.
"Blocks of land are at a premium as there are few of them left on the peninsula and any level, easy to build on site commands a high price. For example: a vacant block in the Landcom Koala Bay Estate would be listed at around $250 000," he stated.
File photo: Portside principals David and Rodney Keers – Real Estate prices stable.
---
The Mac Kenzie Tape
You can like him or loathe him but you certainly can't ignore him! This statement has always applied to Bruce Mac Kenzie, our former longest serving shire president, mayor and councillor.
In 1987 Bruce taped an interview with a certain Margaret Owler which is now preserved in the Margaret Henry Oral History Archive at Newcastle University. It makes for fascinating listening and traces a rags-to-riches story of somebody who did it the hard way, leaving a footprint of achievement deeply embedded in the Tilligerry community.
His life's journey began as a poor child in Salt Ash. He had no toys and amused himself with the simple pleasures of nature. Bruce hated school and having 'never passed a test' left Newcastle Junior High at the age of 14. He worked on a dairy farm at Salt Ash and then roughed it on a sheep station at Boggabri. He saved every penny he earned and vowed to make something of himself after seeing the down trodden shift workers trudge to work at BHP. "This wasn't for me," he stated.
At one time he plucked ducks seven days per week to sell in Newcastle and by the age of 17 had purchased land at Mallabula for some 200 pounds. He also worked for the rutile miners at Oyster Cove. It was, however as a chicken farmer that he really made his mark. Starting with one shed and working seven days per week for 12 years he finished up with 8 sheds and rearing 500 000 chickens per year!
He was elected to Port Stephens Shire Council (PSSC) in 1968 after describing the incumbent councillors as...'a heap of zombies.' Among his achievements he lists the first oval at Mallabula; the big drain which crosses the golf club; Tanilba Golf Club itself and the pensioner units at Tanilba. The way he went about achieving these ends is unbelievable. To find out how, it is best to listen to him relate it himself in the tape which lasts for some 26 minutes. Interested? Google: 'Margaret Henry Oral History Archive' and scroll down to A6731 (15b) 'Development of Tanilba Bay Port Stephens.' It's well worth the effort.

Photo: Bruce Mac Kenzie – A 'rags-to-riches' tale.
---
Thanks Steve!
According to long serving ward councillor
Steve Tucker, recognition for the transfer of both the old Lemon Tree and Tanilba fire stations for community use should be given to a senior council manager.
"Steve Bernasconi has worked tirelessly behind the scenes to keep both assets for community use," he said. "The Lemon Tree site is owned by council and T
AG, (Tilligerry Art Gallery) now occupies it under licence from Port Stephens Shire Council (PSSC)."
"In the case of the now redundant Tanilba RFS Station, it is owned by the Crown Lands Department." he stated. "We have handed it back, changed the locks and NSW Scouts are currently negotiating a leasing agreement on both the building and a parcel of land beside the structure," he added.
"Steve Bernasconi guided the complex paperwork and mandatory procedures through the process which now sees both sites emerge as great assets for the community," he said. "Senior council staff just don't get the recognition they deserve. Well done Steve!"
Photos:
1 The old LTP station – now an art gallery.
2 Tanilba Fire Station – to become leased by 1st Tilligerry Scouts
Station – to become leased by 1st Tilligerry Scouts.
---
---
Major Makeover
For some 37 years the Tilligerry Com
munity Library has continuously served our peninsula due to the endless support of unpaid volunteers. Currently it lends out around 1000 books per month. It also doubles up as the TACE (Tilligerry Adult and Community Education) office. tilligerry.com is published from this venue and assistance can be given for residents needing help with electronic devices such as mobile phones and computers (on Thursdays during school terms). The internet and photocopying facilities are also very popular. More details can be found by scrolling down to the bottom of this page.
A major makeover is now underway which will see the library shut from Saturday 27th April until Monday 13th May. The renovations will include internal painting, new shelving, furniture, fittings and possibly carpet. On top of this, a new range of books will augment existing stock. Books due back during the closure time will have the borrowing period extended.
The library is located on the main road in Lemon Tree Passage and is directly opposite the motel. Operating hours are between 10am and noon from Monday through Saturday.
Photo: Volunteer librarians receiving certificates of recognition from library co-ordinator Vicki Bailey.
---
Colouring Co
mpetition
Hey kids! The big 'Newspower' annual Easter bunny colouring competition is on again. Right now!
All you have to do is call in to Tanilba Newsagency, get your picture and colour it in (between the lines). There are prizes in both the infants' school and primary school sections.
And there's more! Local winners' pictures go into a national competition. Here the winners get a $200 gift package and their schools a $500 prize. Judging is on 18th April so get moving before it's too late.
Want to know more? Google 'Newspower 2019 Easter bunny colouring competion' for more details....and good luck!
---
Scammers get
Cunning
Phone scammers are changing tack. With most people waking up to their old tricks they are now using scare tactics to get residents to respond to them.
The phone ringing at lunch time or just when dinner has been served is the first clue that a scammer is on the line. The next indication is the long pause after the call is answered. Confirmation comes when a foreign voice mentions your name and wants you to divulge personal information.
This type of thing is now old hat with most people hanging up within a few seconds so the fraudsters are changing their game plan.
Recently we have received reports of a new confidence trick which has frightened locals into responding and it works like this: There is still a pause after you answer a call but instead of the Asian voice with poor English pronunciation and grammatical skills there is a cultured European recorded voice on the other end of the line.
The message is that your computer records have been accessed or that your telco provider is about to sever your connection. They insist that you press the No, 1 key on your phone for technical assistance. In short, they have baited the hook, cast out the line and are waiting to reel you in. We advise you not to go along with this. Any technical problems with your phone or internet service provider can be dealt with by them writing to you. Alternatively, you can contact them by phone, letter or email if you have any concerns.
Photo: Phone scam – don't press the No.1 key.
---
Parking Proposals
Councillor Steve Tucker has been exploring possi
ble solutions to the traffic problems generated by parents picking up children at the front of Tanilba Bay Public School.
"This has been of concern to the community for a long time," he said.
"After consultation with the school, the 'Habitat' and engineering staff, we have developed a solution which will take quite a while and a great deal of money to fix," he added.
"The road (King Albert Ave) in front of the school actually extends towards Mallabula," he stated. "By widening and extending the existing 'Habitat' car park we can create more parking spaces and have a one way in, one w
ay out turnaround facility for picking up and dropping off school children," he stated.
Now for the bad news: Cr Tucker said that shire engineers costed the work at $324 000 which involves tar sealing and no drainage.
"Residents will need to lobby their state member for funding," he said. PSSC can supply road base retrieved from local road renewal sites but it is not our (the ratepayers') responsibility to pay for school carparks," he added.
Councillor Tucker also believes that by using Diggers Dve at the rear of the school as a pick up / drop off point, much of the current problem would vanish.
" There are two rear gates and a footpath here in a very low traffic zone. It's an ideal spot and should be used more by parents," he added.
Photos: 1. Proposed car park extension site.
2.Diggers Dve. Area...Not utilised enough by parents.
---
New Kid on The Block
Nelson Bay Real Estate has opened a new branch office at Tanilba Bay.
It is located next door to the bottle shop in President Wilson Walk.
The business is open six days per week with appointments available on Sundays. The combined staff totals five sales consultants and three property managers.
Currently they are looking for property listings and rental management opportunities.
Local residents wishing to discuss what they have to offer can contact Tilligerry Real Estate by ringing the number displayed on their advertising sign. Alternatively, they can visit their website which is also listed on the sign.
Photo: Tilligerry Real Estate's Steve Booth and Lorrain Jackson – Tully.....Office Open for business.
---
Family Thanks Community
"Phenominal!" This was the word used by a family spokesperson when asked about the response of the Tilligerry community to an accident involving Craig Casey and his son Schon. Both suffered severe burns in a boat fire recently at Lemon Tree Passage.
"We would like to thank the emergency services and the well-wishers," she said. The wider community has also done a magnificent job with the 'GoFundMe' initiative," she added. "We have been overwhelmed with support but really need some privacy at this difficult time," she said.
" At the moment both Craig and Schon are in a stable condition. Craig is in the ICU at Royal North Shore Hospital and Schon is at Westmead Children's Hospital in intensive care as well," she said.
"We will pass on any more details as they come to hand." she concluded.
Residents wishing to donate to the 'GoFundMe' appeal can find details on 'Tilligerry News & Views,' a local facebook site.
Photo: Happier times – Craig and his wife Natalie.
---
Stamp of Approval
Community reaction to the change in management of Tanilba Bay's Post Office seems to give its stamp of approval to new licensee Peter Wheeler.
Peter moved to the area from Sydney some twelve months ago for a lifestyle change and does not regret the decision one little bit.
"Baulkham Hills was becoming very much a rat-race," he said. "I had previously worked for Australia Post for thirteen years in the legal section and it was time for a change." he added. "When this business opportunity arose, I grabbed it with both hands!"
"The locals out here are very friendly and the easy-going lifestyle suits me down to the ground," he stated. " I just can't get over the community spirit and how the people bond together and help one another. You wouldn't get that in the big cities," he concluded.
Photo: Lifestyle change – new licensee Peter Wheeler at Australia Post Tanilba Bay.
---
Washington Wins Tilligerry

Without factoring in pre-poll or absentee votes, it is evident that Labor candidate Kate Washington has won both booths in Tilligerry.
At the last state election, Kate p
olled 1077 votes at Tanilba Bay and 634 at the LTP booth. Her Liberal rival, Ken Jordan scored 573 at Tanilba and 416 at LTP.This gave her ( Kate) 61% of the vote.
On Saturday, at the close of counting, Ms Washington clai
med 59% of the vote before pre-poll and absentee votes were factored in. She polled 955 votes to Jamie Abbott's 633 at Tanilba and 539 at LTP as against her Liberal rival's 439. This translated to 59% of the vote for the incumbent local Labor MP.
Looking at the big picture results indicate that the State Liberal Government will remain in power for the next four year term. They (the Liberals) have promised massive funding for roadworks within our shire. The question is: Will they deliver?
Photos: 1.Liberal Roads minister Melinda Pavey (right) at Tanilba Bay promising roads funding.
2.Jamie Abbott flanked by Bert Washington (Kate's father) and Steve Tucker on polling day at Tanilba Bay.
---
Flexible Babysitting
Need a break from your pre-school kids? Daycare too expensive? A medical appointment or a tr
ip to town by yourself? Perhaps you need an hour or two alone or time to shop or meet up with friends?
Answer "Yes!" to any of these questions and 'Take a Break Flexible Babysitting' could be just the thing for you.
This start-up venture fills a much needed gap in community childcare and functions two days per week (Mondays & Fridays) at Tanilba's Uniting Church between 8,30 am and 1.30pm. The venue is on the large corner block at the junction of President Wilson Walk and Pershing Place. Access is via the fenced back area of the church.
Qualified carers comprise the staff and the costs are $12.50 per hour or $50 for the five hour session.
Structured activities include: Craft, Yoga, Dancing, Outdoor Play and Story Reading.
More details are available on 0410 118 226 or 0401 246 821.
Alternatively, why not drop in to meet the staff and inspect the facilities for yourself?
Photo: Qualified carers Julieanne Fry and Alandra Jones at the centre.
---
Plaza Plans
Some 150 residents attended a meeting at Club Lemon Tree on Thursday 14th March. They listened to a representative of the owners and the architect of a proposed redevelopment of the Tilligerry Plaza site.
Steve Lambourne said that over the years, several proposals had not come to fruition but with financial backing for the current plan, the development should proceed.
Architect Warwick Lindsay explained that his design for the 100 unit 'Seniors Village' met with all council development requirements and that modifications could be made after community consultation.
For years now the derilict site has become an eyesore and the focus of community protest meetings. It has fallen victim to vandals and the fire brigade has been called on several occasions to extinguish deliberately lit blazes inside the building.
Photos: 1,The Plaza building as it is today.
2, Warwick Lindsay's development plan.
---
J&B
J&B is the name of a well known whisky. It's short for Justerini and Brooks and the brand
has achieved fame since 1749 as an official supplier of fine scotch whisky to British Royalty and the aristocracy.
So much for the history lesson!
J&B is also an abbreviation for Jenny and Brendan, a mother and son combination who have recently opened a new shop-front at Tanilba Bay.
The business is directly next door to the 'Oyster Shack' and stocks a wide variety of items of interest to locals.
They specialise in NRL memoribilia including rare footy cards, party ware, kitchen utensils, jewellery, stationery, a vast range of sunglasses, hardware and lots lots more.
They will also take orders for camping equipment and furniture. Why not wander through while your fish and chips are being cooked next door. They have a facebook page, JB's Discounts or why not call in!!
Photo: Come in and look around – Jenny and Brendan in their new shop.
---
Road Funding Pledge
With a state election just weeks away, it's no surprise that politicians are out and about connecting with the electorate. Such was the case recently when PSSC Councillor and Liberal candidate Jamie Abbott turned up at Avenue of The Allies Tanilba Bay.
Flanked by Mayor Ryan Palmer and NSW Government Roads Minister Melinda Pavey, a half billion dollar cash injection to upgrade the state's roads
was announced. This was promised over a five year time frame and Port Stephens is on the list as Ms Pavey explained.
" We (the government) are taking back responsibility for regional roads," she said.
Mayor Palmer welcomed the news stating that this would free up funds for more roadworks within the shire.
Commenting on the proposal, long time ward councillor Steve Tucker said that roads were the number one concern of ratepayers.
"I've always run on a roads, roads, roads platform and any help from the government speeds up our road renewal program. Currently, Tanilba Rd Mallabula is down for a $1.3 million makeover this year with Avenue of the Allies as the next thoroughfare to be upgraded at a cost of over $3 million." he stated.
"The enormous cost of roadworks around Tanilba Bay results from the underground drainage, the rebuilding of the road base and associated kerbing and guttering ." he added. "That's why money doesn't go very far with roadwork," he concluded.
Photos: 1. Ryan Palmer, Jamie Abbott, and Melinda Pavey at Tanilba Bay.
2. Steve Tucker – roads funding welcomed.
---
Radio Club Upgrade
Port Stephens Amateur Radio Club Inc has marked its 12th anniversary with an upgrade of its transmission capabilities.
Club president Richard (VK2FRKO) said that a 70cm repeater recentl
y installed on the telco tower on top of Gan Gan Lookout has vastly improved the quality and breadth of the club's footprint.

"Our club is a great way to make friends and talk to others over the airwaves," he said. "We are some 25 strong and meet at the Marine Rescue Base station in Lemon Tree Passage on the first Sunday of the month," he added.
"Our club has competitions involving other clubs where points are awarded for the most 'ham' radio enthusiasts contacted over a set period of time." he advised. "Around 100 points accrued over a six hour time limit are needed to win," he concluded.
At times, with favourable climatic conditions, members have spoken to others as far afield as Russia, Canada and Asia.
Interested? Punch in the club's name on your search engine for all the details. It costs around $400 for a licence and another $300 for a reasonable home transmission set and aerial.
Photo: Club member Leigh (VK2KY) testing reception from the new Gan Gan repeater dish with a handset at the LTP waterfront.
---
New Community Directory
As the Tilligerry community expands and changes, there is the need to provide residents (particularly newcom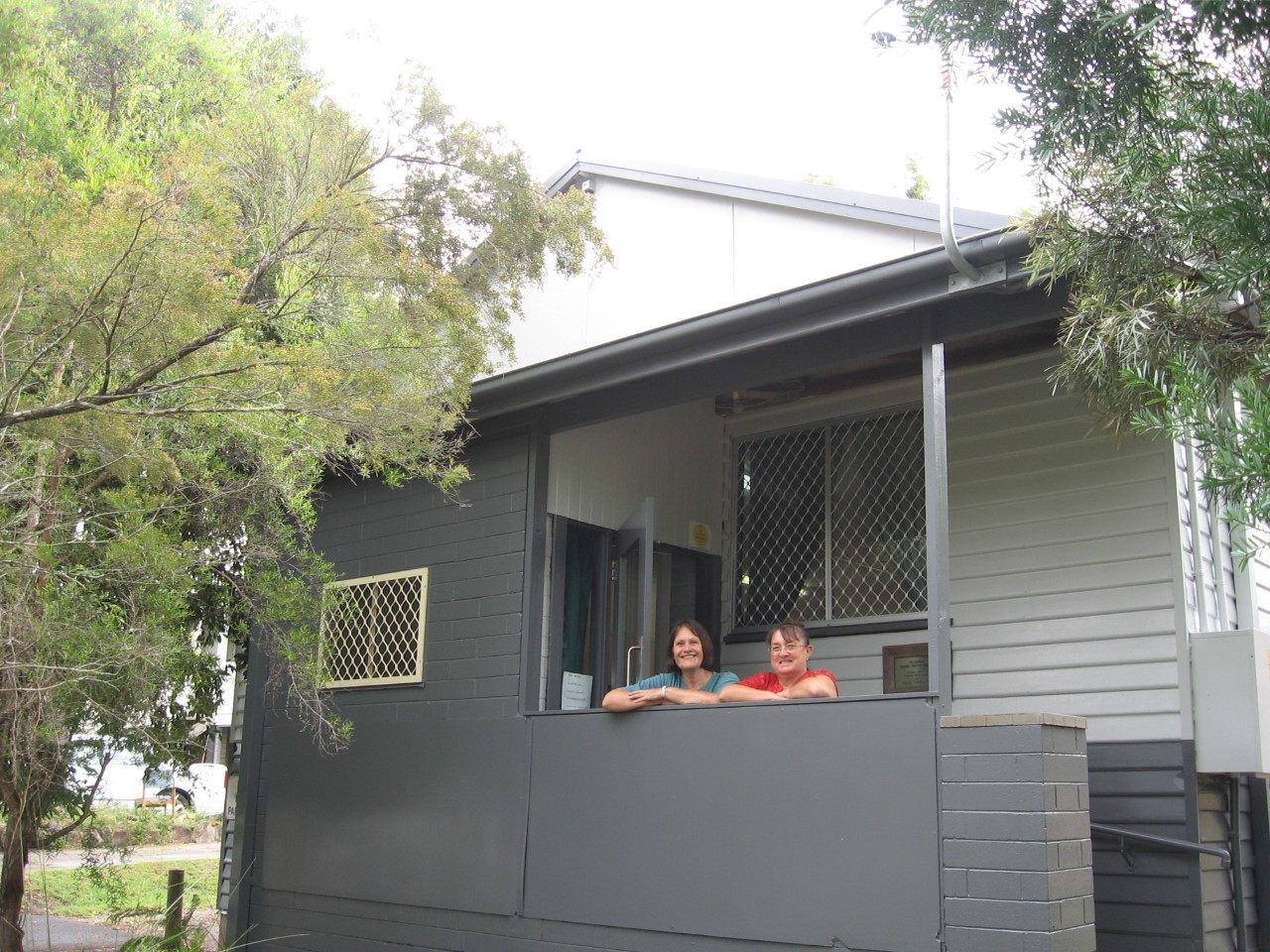 ers) and tourists with a directory of service groups, clubs and businesses. With this in mind, TACE (Tilligerry Adult and Community Education) will be compiling one in the near future.
It will be available in both an online and printed format.
TACE works under the umbrella of PSSC and coordinates community groups such as art, lead lighting, family history and mah jong. It has its home base at the LTP library. It also publishes tilligerry.com our local online news service which has grown to be the major source of local news for residents .Most months it gets over 1500 'hits'. The Port Stephens Literature Awards, a national short story competition, is another initiative of TACE and is run by volunteers.
If you would like to publicise your club, social group or business, email basic contact information to: tace@tilligerry.com and it will be considered for inclusion. There will be no charge for this service.
Photo: TACE volunteers Helen Mizrachi and Sue Hamilton at the library.
---
Wanted!
Have you seen the ads on TV where school kids are showing off their new garden built from logs made out of recycled printer cartridges?
Well, if you would like to help with this initiative you can drop off your used cartridges to the Lemon Tree Passage Library (opposite the motel).
The Library is open six days a week between 10 am and noon. Out of hours you can leave them in a bag or box in the alcove at the front door.
Oh! this recycling facility also accepts spent batteries which can be dropped of at the same time.
Our library always has new stocks of books and FREE magazines donated by readers. They are stacked on a table just inside the door.
We look forward to you helping make our planet just that little bit greener and cleaner.
Photo: TACE volunteer Helen Mizrachi: "We need your old cartridges and batteries!"