EDITORIAL
Tilligerry.com will replace our usual news items with special editions during the current crisis. These will promote businesses, community groups and individuals who contribute so much to the prosperity and wellbeing of our community. We are not for profit, operate under the umbrella of Tilligerry Adult & Community Education (TACE) and staffed by unpaid volunteers, we appreciate the ongoing support from Port Stephens Council.
---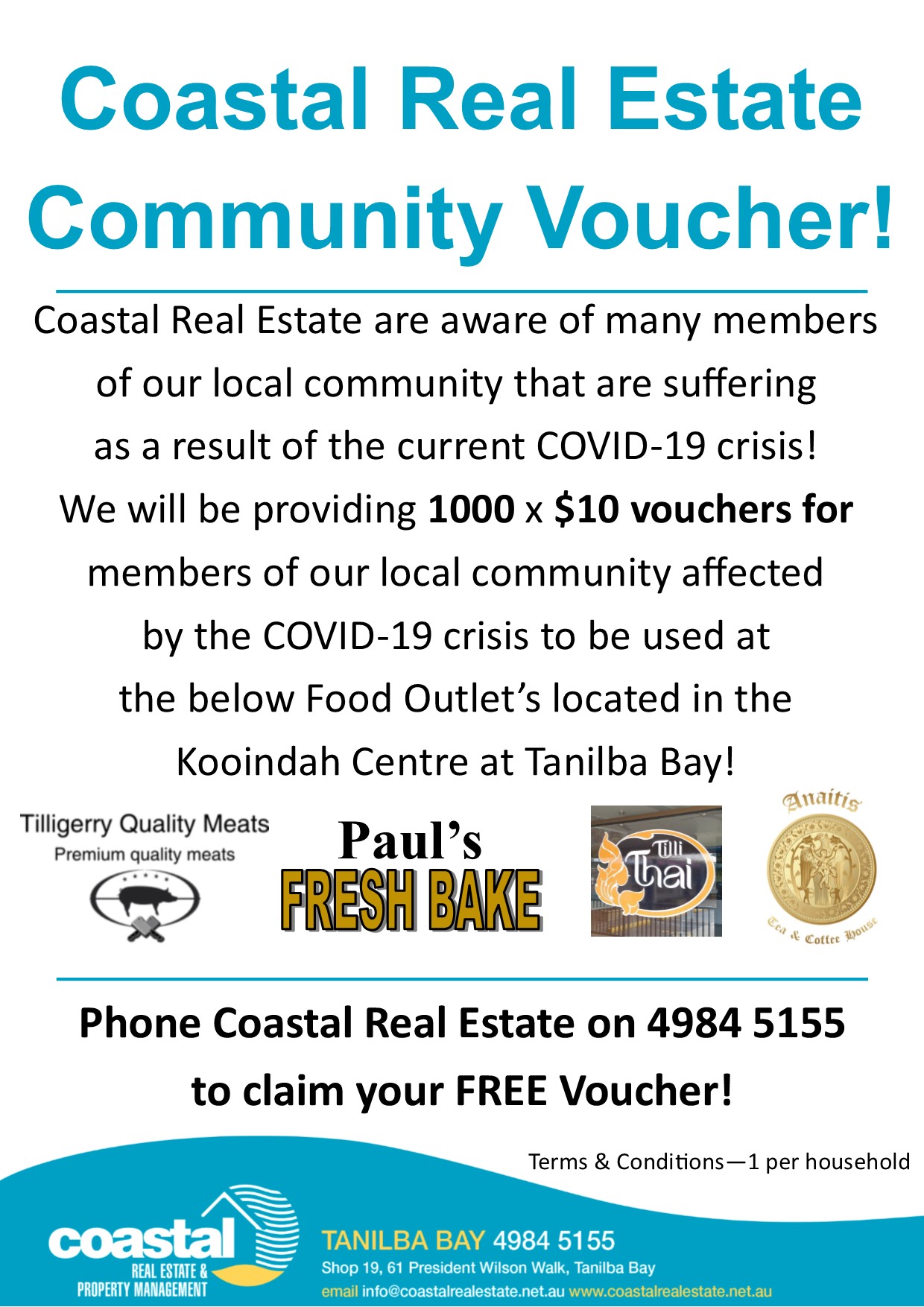 ---
Gone Fishin
Forget about the toilet rolls and the mad scramble for pasta, mince and potatoes at the supermarkets. Tilligerry has a wealth of food right at our doorstep. It's just a matter of picking it up.
We are talking of course about seafood and we will let you in on s
ome of the secrets that have been given to us by local anglers over the years.
Flathead:
If you walk along the sandflats at low tide you can spot the outline of these fish in the sand. They move in with the tide and settle. They ambush anything that passes by, particularly on the runout as the small fish which have moved up the creeks and inlets start to return to deeper water. Believe it or not the humble flathead is one of the fastest fish over a short distance you will ever see. They also lurk around the rocky foreshore , weed beds and the bubble weed around Snapper Island. Soft plastic lures jigged from near the bottom are the flavour of the month but these fish respond to almost anything dragged past their noses. They also take bait from set lines.
These fish are the most prolific species around Tilligerry and love a moving bait. By wading out over the sandflats and casting in a radial pattern you are sure to nail them. Remember; they have a tiny mouth so a small long shank hook is a must. Add to this a 30 cm leader and a running bean sinker behind a swivel and you're in business. rifting in a boat over the sand is another sure-fire way to hook them. Peeled prawns are a good bait but blood worms are lethal. They will also take lures.
File photos : Local anglers show off their catch of flathead and whiting at the Lemon Tree Passage fish cleaning table.
---
Giving Them Curry
The Curry family of butchers has for well over 30 years given quality service to the locals in Tilligerry. Moreover, they have bonded with the place in so many ways that it's hard to believe how we would get by without them. But, dear reader we are getting ahead of ourselves.
Patriarch of the family, master butcher Ron Curry cut his teeth in the smallgoods industry and his experience reflected the quality of the products provided at their Kooindah Centre outlet. These skills have been given over to his son Glen who has now taken the reins. Glen smokes and cures his own hams, bacon and smallgoods on site using special wood chips sourced from the Karuah saw-mill. He also roasts fresh pork and beef in a time honoured tradition.
Both generations are backed up by their wives and other family members.
When their business outgrew the small shop in LTP they joined other traders to set up shop in the new Kooindah Centre at Tanilba Bay. They haven't looked back.
Photos: Father and son Glen and Ron Curry.....very much part of our community.
---
On the Wild Side
Have you ever seen footage of farmed Asian prawns and fish? If you have, you will under
stand why 'The Oyster Shack' sells only wild caught Australian seafood and local Port Stephens oysters.
Kate has been here for over ten years and by becoming heavily involved in the community her business has prospered.
After her husband Gary passed away she raised some $8 500 for cancer research in a fundraiser. Part of this money came from her hair being shaved off in front of the shop. The crowd loved every minute of it.
On top of this, Kate has supported our scouts, Motorama, our firies, Port Stephens Koalas, Legacy, Mallabula Panthers and many other worthy community groups.
She is a shining example of giving back to the community and won a coveted 'Examiner' small business award. Check her out. The Oyster Shack is on the main road at Tanilba Bay opposite RAF Park.
Photo: Kate ready for action at 'The Oyster Shack.'
---
Service With a S
mile
We believe that by keeping money in Tilligerry, our community will weather the corona storm and emerge stronger once the crisis abates.
Cutting down the transfer of the virus will vastly help in keeping cases to a minimum and Jaz Singh can help. You see, petrol pump handles are a prime culprit as are lift buttons and supermarket trolley bars.
Jaz will fill your tank so that you don't have to touch anything. On top of this he provides a car wash facility. Shane Humpreys, a local mechanic is on hand for car servicing and mechanical repairs.
Jaz is friendly and gives that old fashioned service that we just don't get in this fast paced modern world.
Photos: Jaz and Shane at their Tanilba service station.
---
Providing for Pensioners (and other Health Care Card holders)
One of the best things we can do for our community during these troubled times is to support local businesses. These outlets are the lifeblood of Tilligerry. They sponsor our sporting teams and other worthy c
auses as well as providing employment and assisting those less well off.
One such business venture is the 'Church 4 Life' shopfront in the Kooindah Centre.
Day manager Debbie Marshall explains:
"We sell a wide range of clothing, food , furniture and other items at very low prices. Clothing is by far our most popular line but food is coming into its own with the current rush on supermarkets," she said. " 'Food Bank' supplies us with a wide range of grocery items, frozen foods, toiletries, fresh vegetables...and much more." she added.
"We cater for pensioners of any age and status as well as Senior Health Card holders," she added.
The store is located at the end of the mall past the Tanilba Post Office.
Photo: Debbie Marshall: "Come in and have a look around."
---
The Picture Says It All
No other volunteer group within our community has a higher status than our unpaid volunteer firies. Year after year they face the flames and then simply fade away – until next time.
Steve Kirk from BYO Cellars at Tanilba Bay is one of their supporters. He also contributes to our Motorama, Legacy and Marine Rescue. His is one of many small businesses we need to support during these troubled times. By doing so we can all enjoy a bright and prosperous future when the storm clouds clear. Agree?
---
Calm and Serene
Currently, the Tilligerry Habitat is very popular as a morning tea site of a Wednesday. Locals
gather for some social interaction in a pleasant bushland setting. They also go for a nature ramble and explore the extensive native plant nursery. These plants are for sale and the proceeds help with running costs.
This could change as Ross Hampton explains:
"We will have to consider our options with the current coronavirus risk to both our workers and visitors," he said.
"Whatever the case, the 'Habitat' will remain open to public access even if our eco-friendly centre is shut. If this is the case, volunteers will be on hand to give out maps and report koala sighting to visitors," he added.
Tilligerry Habitat can get as many as 100 visitors per day during the summer season, 80% of whom are tourists. The best time to see active koalas is at daybreak and sunset. 'Spotters' go out most mornings to locate the marsupials and then give directions to those seeking them. There are three 'resident' koalas at the Tanilba waterfront reserve at the moment.
Tourists linger in Tilligerry and spend money at the restaurants and waterfront cafes, making a great contribution to our local economy.
Photos : The Tilligerry Habitat and native plant nursery.
---
Sue Beats the Queues
While blind panic has seen a
desperate rush to secure supplies of toilet rolls from supermarkets, Tanilba's Sue Royal is laughing.
You see, Sue buys her soft paper products online and in bulk and is well ahead of the game. She does this to help save the forests and gets it from a charitable company which donates half of its profits to the poorer countries to build amenity blocks.
"The toilet paper, tissues and paper towels are made from bamboo," she said, "I pay $52 for a pack of 48 which is great value considering the size of the rolls and the quality of the paper," she added. "I also purchase tissues and paper towels from them as well," she said.
With the less than flattering name of 'Who Gives a Crap' the company was started by some enterprising young men in 2012 by crowd funding. They raised $50 000 within the first five hours and haven't looked back (pardon the pun).
All details of their product range and availability can be found by punching their name into a search engine.
Note: The term 'crapper' came from an early flushing toilet manufacturer. Whilst he did not invent the modern toilet, he patented the ballcock, that floating mechanism which shuts off the water when the cistern is full.
Photo: Sue with some of her eco-friendly stockpiled paper products.
---
Real Estate Action
Local real estate agents gave us the inside story of action in the real estate market over recent times with slightly different experiences.
Rodney Keers from 'Portside' said that sales had slowed during 2019 with fewer enquiries than the previous year.
"Homes priced over $500 000 generally sell within three months of being listed and those below this figure move more quickly," he stated.
"An interesting change in the buyer profile is that we are receiving more inquiries from retirees," he said. "With cash rates at an all-time low and returns from shares being unpredictable, older citizens see investment properties as a safer place to put their life's savings", he added.
"Flat land is very hard to come by and quality blocks have risen in asking price by about 10% in the last year. Rents are reasonably stable at the moment," he concluded.
Meanwhile, Coastal's Chelsea Reed said that solid enquiries are coming from first home buyers for properties on the market of up to $450 000 which she puts down to a government grant incentive.
"There is a scarcity of rental properties and a vacated house is usually snapped up within a week," she said. "There is also a lot of interest in the dwindling number of blocks of vacant land," she added.
Photos: Local agents Rodney Keers and Chelsea Reed.
---
Weighing the Anchor
The old Marine Rescue craft, LT 30, 24246, has well and truly weighed the anchor an
d now sits high and dry beside the base station on top of the hill in Whitbread Drive Lemon Tree Passage. It is soon to be shipped to a yacht broker in Sydney to be sold.
The good news is that sitting in its cradle at the end of the jetty in the Passage is a $450 000 replacement.
According to Commander Rick Tyler, the new aluminium rescue vessel greatly improves the response time, capability and range of operation.
"The updating of our vessel came about as part of a NSW
Government initiative which saw a cash injection of some $36,000,000 to improve the efficiency of the service," he said. " The money was to be spent in NSW so a manufacturer in Yamba was awarded the contract. This created local jobs," he added. "Our contribution to the upgrade was set at $80 000. We are looking to get around $70 000 for our old craft and with fundraising activities and community support we hope to make up the shortfall," he said.
In technical terms, the new boat has an aluminium hull as against the fibreglass one of the previous vessel; the twin Suzuki 250 hp. engines increase by 25% the power of the craft and electronics improvements give out more accurate GPS and radar details. On top of this, more crew can be taken to sea for rescue missions and the craft can pick up a larger number of people in distress.
Extra volunteers are needed to make Marine Rescue a more efficient service. Interested citizens cam make enquiries on 4982 4981.
Photos: Commander Richard Tyler; the old vessel high and dry and the new LT 30, 457141 ….ready for action at its compound in LTP.
---
The Vintage Cupboard
Inge Judevautier has just started up a new business venture in Lemon Tree Passage. It's called 'The Vintage Cupboard' and is located next door to the barber's shop at the bus stop in Meredith St.
Jude tells why: "My husband Steve sold his financial planning business which left the shopfront vacant," she said. " I've always had a passion for vintage furniture and old colonial wares so I've turned this addiction into a small business."
" About half of the stock is cane furniture and the rest is vintage bric-a-brac, objects d' art and pottery".
"I've had a very good response from the locals who quite often return with their friends."
Photo: Jude outside her new shop in Lemon Tree Passage.
---
Butcher Ste
aks His Claim
Shaun Buck, the new butcher at LTP has staked his claim as an entrepreneur with a vision for the future.
Originally from Cronulla in Sydney, he visited our town some 12 months back and was captivated by the place.
"It reminded me of my childhood of yesteryear before it became a concrete jungle," he said. " It's the tranquil lifestyle that has brought me back," he added.
Shaun has plans to make the business self sufficient with a smokehouse going in to produce hand made smallgoods for the delicatessen section.
It will also evolve into a mixed business some time down the track," He said.
Currently opening hours are from 8 to 6 weekdays and 7 till noon of a Saturday. 0497 918 297 is the contact number.
Photo: In for his chop....Shaun at the display counter in LTP.
---
The Manly Connection
The histor
y of the Mallabula Panthers is a long and proud one. Sadly, most of their priceless memorabilia was lost when
arsonists burnt down both the change rooms and the clubhouse.
Members may well have photos of the footy teams of yesteryear but we were only able to come up with just one copy of its senior side in researching this story. The original framed photo was lost in the blaze.
There is a direct connection between the Panthers and Manly's Sea Eagles. Mark Bryant, who came up through the ranks played in Manly's premiership winning side. He ran on in 93 games, scored 12 points and played in the 2008 premiership winning side.
A little known fact is that legendary half back Johnny Gibbs and Hall of Fame great Paul Vautin were guests of honour at the Panthers presentation night at
the Bowling Club in the early 1980s. They charged no appearance fee and gave freely of their time for the betterment of the game. After meeting them individually, local players didn't wash their hands for days,
hoping that some of the first graders' greatness would rub off on them from the handshake.
Footy cards are a way of judging a player's status. In his heyday, one Johnny Gibbs card was worth six of any other Manly player's when traded in the school playground.
Rare signed cards in pristine condition can be worth hundreds of dollars.
In trawling through the trading sites, we found that a signed Mark Bryant card was on sale for $23.99; a Johnny Gibbs one for $30 and a rare fatty Vautin card was offered up for $135.
local junior, John Gibbs spent his entire career playing for Manly Warringah. He played in 82 first grade games scoring 135 points as well as representing NSW and touring with the Kangaroos. Paul Vautin represented the club on 204 occasions, scoring 204 points as well as playing for Queensland 20 times and Australia on 13 occasions.
None of these statistics however can match those of local league legend Herbie Merrick whose 500+ games for the Panthers is a record that has never been equalled.
Photos: The surviving Panthers picture and the three featured Manly first graders.
---
Corona Concerns
A media beat-up, a genuine threat of a pandemic or panic buying – call it what you will – but Lemon Tree Passage pharmacist Fady Fahmy has sold out of face masks. There has also been a big demand for hand sanitizers from locals and tourists alike.
Fady's advice is this: "The virus incubates in the lungs and is spread through droplet infection via coughing and sneezing. It can also be transferred by hand contact from the facial fluids of the nose and mouth."
"High risk areas are in cities where people are in close contact with one another," he added. "By avoiding crowded venues, you lower the risk of transfer," he said.
"There is no risk whatever in handling imported goods as the virus cannot survive on these items", he advised.
"Those worried about contracting the virus in their working environment should wear cotton or surgical gloves and discard them at the end of the day", he concluded.
Meanwhile our friend Jasmine Zhu from Wuhan, central China, asked us if we could put her in contact with a mask supplier as she has had a request from her home city for 100 000 of them. Sadly they weren't available.
Photos: Fady in his pharmacy and Jasmine visiting Lemon Tree Passage.
---
Boost for Seniors
Good news for aged pensioners and Commonwealth Seniors Health Card holders!
The Federal Government will give you a $250 card to assist with transport. It can be used for purchasing tickets for train, taxi, coach travel or for Opal card payments or for purchasing fuel.
Married couples get $250 each and you can apply online or by phone.
All details can be found by Googling: 'regional seniors travel card'. If you find online applications difficult you can apply by phone on 13 77 88 and talk to a REAL PERSON who will do it all for you. Another option is to visit your local Service NSW shopfront and they will assist.
Sydney, Wollongong and Newcastle residents are not eligible but Port Stephens residents are. The card should arrive within ten working days.
Many elderly residents may not be aware of this new initiative so spread the word!
Photo: Don't miss out! Check out if you are eligible for this card.
---
Mangoes go Mad
It's the silly season out Tilligerry way with mangoes running riot in back yards everywhere. Some residents are luckier than others with bumper crops while others have fruit on one side of the tree or nothing at all.
The weather seems to have something to do with it or perhaps the flies, wasps, stingless bees or ants which are responsible for pollination.
Many locals complain of two legged thieves who steal the much loved tropical fruit but the real problem is possums and fruit bats which ruin the crop.
Possums aren't necessarily the soft cuddly little critters we see in the children's storybooks. They are linked to the debilitating Ross River Virus. In New Zealand,30 000 000 Aussie possums have ruined forests and crops.

Bats were responsible for the death of Vic Rail, a top Queensland racehorse trainer after he contracted the deadly Hendra Virus. On top of this, the Coronavirus has been traced to the eating of bats in China.
Netting of trees might save your mangoes but there are other ways around the issue.
To deter thieves one local put a sign on his front yard tree: 'DO NOT EAT FRUIT, POISON SPRAY IN USE'. It worked.
Meanwhile, Helen and Dennis Smith from Tanilba Bay always pick their fruit green and let it ripen in the garage. Helen said that they were sick and tired of possums and bats eating their mangoes. "They spoil the fruit by taking tiny bites out of each piece and leaving the rest to rot," she said. "We have picked around 70 so far. If they ripen inside all at once we will share them with members of our Trivia team on Wednesday night at Club Lemon Tree." she added.
Photo: A local tree dripping with mouth watering mangoes.
---
Tree Trouble
One of our most stately Norfolk Island pine trees in the Avenue of the Allies Tanilba Bay has died. It was probably the most healthy of the grove of trees planted all those years ago. These trees, native to
a small island off the NSW coast, can live for as long as 150 years.
A concerned resident reported the tree as looking sick and PSSC inspected it and had high hopes that the tree would recover. The prolonged drought ended this hope and the tree will now have to come down for safety reasons. The good news is that a replacement tree will grow very quickly.
Landcom's Koala Bay development was designed to blend in with the existing landscape and the planting of Norfolk Island pines at the entrance to Fairlands Rd Mallabula was part of this initiative. In just 15 years they have grown to an impressive size to the extent that the lower branches had to be trimmed to give motorists better vision.
The Sydney seaside suburb of Manly has towering Norfolk Island pine trees along its famous beachfront and in WW2 authorities wanted them removed as they were thought to give the Japanese Navy an ideal sighting for their submarines. It didn't happen. At a later date, dieback of these trees was attributed to onshore winds blowing detergent spray from a raw sewerage outfall. This affected the foliage. The problem ended when an extended outfall and treated effluent were introduced.
With the establishment of a penal settlement on Norfolk Island in colonial times, the Royal Navy tried to use the tall straight trunks of the pines for ships' masts but the soft pulpy wood proved to be unsuitable.
Photos: The dead pine tree in Tanilba Bay and a recently planted Norfolk Island pine at Mallabula.
---
Regatta Results
Local sailors did well at Tanilba Sailing Club's Big Boat Regatta held over the week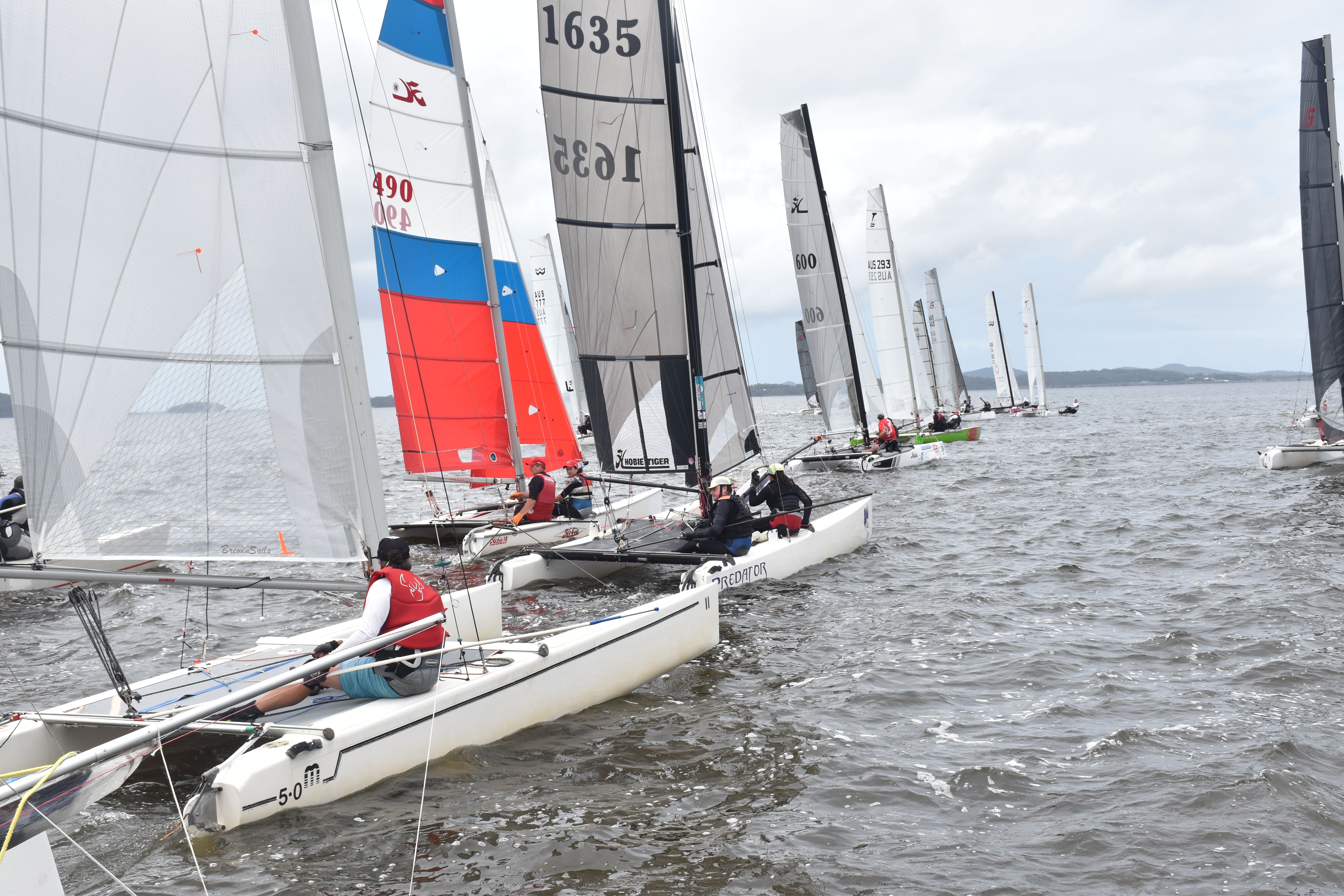 end of 15t – 16th February, in the waters off Tanilba /Mallabula.
The F 18 section was taken out by Nathan and Daniel Van Kerckhof from Tanilba with Brett White and Eathan Mc Ayliffe triumphing in the non spinnaker 18s. The mixed cat champions were John and Bronte Forbes.
Seven races were decided over the weekend in at times light, fluky southerly winds. Skippers were able to discard their worst individual result in determining the final point score.
Competitors travelled from as far afield as Canberra, Toukley, Palm Beach, Queens Lake, Mannering Park, Kurnell and Wallerewang. Thirty boats took part.
The regatta would not be possible without the support of Coastal Real Estate and Harken Chandlery.
Tanilba Sailing Club is very much a family oriented club with young beginner sailors most welcome to learn the ropes from the more experienced seniors.
Details: Mike Colecliffe 041 9999 785

Photo: Facing the starter's gun at the regatta. ( courtesy of Mark Chapman)
---
Anyone for Tennis?
The Mallabula Tennis
Club has just been given a $200 000 makeover!
According to Cr Steve Tucker, the funding was part of a NSW State Government Sports' Grant.
" The work includes new disabled toilets, access ramps, concrete paving and a new covered outdoor area," he said. "The roof has been replaced and the whole building has received a new paint job," he added.
"Looking to the future, the structure is now designed to give access to other sports groups which use the adjacent courts or sporting fields," he concluded.
All details of tennis dates and court hire can be had from a notice on the gate. The courts are located at the end of Strathmore Rd Mallabula, directly behind the Aquatic Centre.
Photos: The clubhouse after the $200 000 makeover and a mid week social ladies' group on the net.
---
Diving the Deep
The Doreen Bradley Pool at Tilligerry Aquatic Centre was the venue recently for scuba diver training. It's not the first time the pool has been used for such purposes. Even our local Marine Rescue has practised their survival skills there in case they come to grief at sea on one of their rescue missions.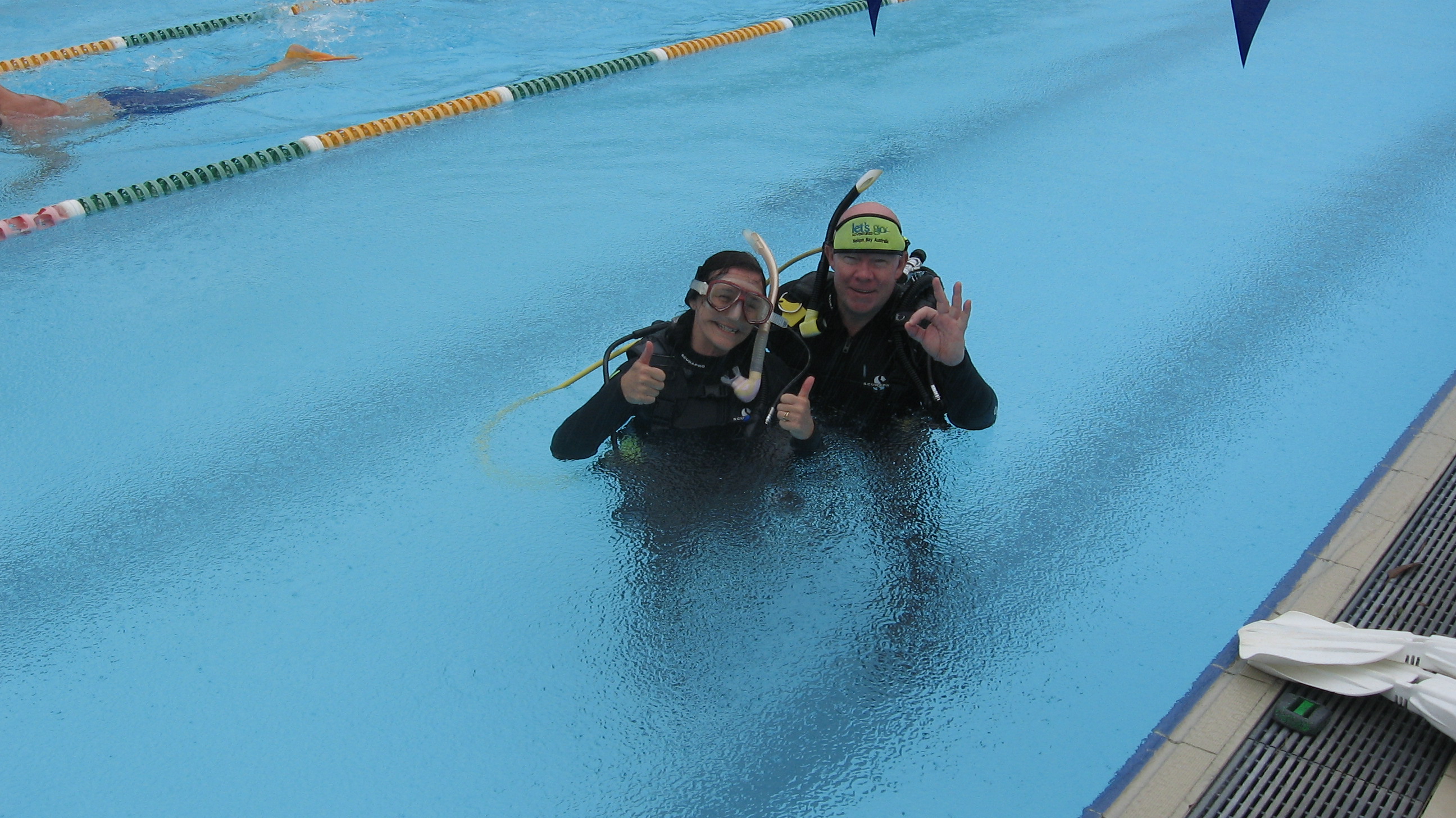 Retiree Debi Thornton who was diving some thirty years ago decided to get into the sport as part of her 'bucket list'.
"I've now got my life back after a long career of work and want to make the most of it," she said. "I plan to explore the reefs and wrecks around Vanuatu once I'm qualified and confident," she added.
Dive instructor, Mick Todd from 'Let's Go Adventures Dive Nelson Bay' said that interacting with sharks was one of the most popular types of dives they catered for.
"We do a lot of charter dives off Broughton Island around reefs and wrecks but getting up close and personal with the placid grey nurse sharks really excites the adventure seekers," he said.
Note: All divers using scuba gear must be trained and licensed. This licence must be in the possession of the diver and produced when refilling their tanks. The taking of crustaceans and spearfishing are not permitted while taking part in this type of underwater activity.
SCUBA is an acronym derived from Self Contained Underwater Breathing Aparutus.
Photo: Debi learning the finer points of scuba diving from instructor Mick Todd.
---
Boar Water
With re
strictions in force, those residents who tap into the water table with spear points, need to put up a sign or risk prosecution. Tilligerry really does not need restrictions because we live above the vast underground lake known as the Tomago sand beds. The Water Board however has a blanket rule which includes Tilligerry. Our water is drawn from this inexhaustible supply beside the treatment plant at Tanilba and pumped up to the reservoir on top of the hill in Lemon Tree. It then gravity feeds LTP, Mallabula and Tanilba Bay. We also supply Oyster Cove and Karuah via a pipeline under the creek.
Spear point water was very popular and cheap (despite the smell) until rising electricity prices made it a marginal proposition,
Our hardware store at Tanilba sells signs which indicate spear point water usage but some people make their own. We found this one (see photo) which beggars the question: "What about the sows and piglets?"
Photo: If nothing else, this sign is definitely not boring.
---
Roller Coaster Ride
Regular readers will well remember our story about Jasmine Zhu, the Chinese student whose dream was to train as a teacher and settle in Australia. When asked about our country, she said that the two things that most impressed her were: 'The blue sky and blue water.'
Since that time Jasmine has taken in the sights of the country
as well as studying at university. Sadly, the 'blue sky and blue water' have disappeared due to the bushfire smoke and Sydney now resembles her home city in central China. Here, many residents wear face masks due to pollution and the grey Yangtze River is so very different to our pristine waterways.
Jasmine booked a flight home but it was cancelled because her home city is now in lockdown due to an outbreak of a deadly virus which risks becoming a world-wide pandemic.
"Wuhan is now isolated," she said. "There are no flights in or out and public transport within the city has stopped," she added. "If I got back to see my family and friends, I could not come back to Australia," she said. "On top of this my family and friends cannot visit me." "Although I have many friends in Australia, my future is very uncertain and I am very sad," she said.
Photos: Jasmine taking in the sights at Lemon Tree Passage and a bridge over the Yangtze River in Wuhan.
---
Blown Away
Tilligerry RFS was literally 'blown away' by the recent donation of a $1000 firefighting appliance similar to a leaf blower. It was funded by the Tilligerry Lions Club.
Getting a life-saving backburn going can be a big problem to our firies as it burns slowly into the wind from the drip-torch line. With the blower, the fire is blasted into the scrub towards the bushfire which then sucks the backburn towards itself and goes out with no more fuel to feed it. The blower can also be used to clear fire trails which saves hours of work using the traditional Mc Leod tool (a broad type of rake). Small fires can also be blasted out using the turbo charged blower. It could also be employed tidying up leaf litter around the station as well.
People wishing to make donations to the RFS are asked to take them directly to local brigades as there are (unfortunately) numerous scams operating and some charities cream off a large percentage of donations as 'administration' fees. This ensures that funds are used locally to improve the efficiency of our unpaid volunteers.
Tilligerry RFS meets of a Saturday at their station just off the main road at Tanilba Bay and collection tins are prominent on the counters of retail businesses around the peninsula. Their facebook site will give you more details. They are still looking for more members who are interested in long-term commitment to the cause.
Photo: Lions president Col Magick presents the blower to Captain George Brandenburg flanked by Lions past president Jan Colman and local RFS volunteers.
---
Take Heed
The speed limit is taken very seriously by the police
and they give more than fair warning to drivers who
exceed the designated speed.
Currently, a solar operated speed indicator flashes the exact speed at which drivers approach the notorious Lemon Tree bends. This black spot has seen many accidents over the years due to excessive speed, There are also fixed signs reminding drivers of the 50kph limit.
What many fail to realize is that every time the automatic speed reading signs are taken away, the police are back within a very short time with their hand held cameras. The 'dip' just past the bus shelter is a favourite haunt of the boys in blue as speeding drivers can't see the police over the rise in the road as they enter the town.
The answer of course is to heed the signs as this is the only way be kind to your wallet and not to lose points or your licence.
Photos: The speed reflective sign and a reminder of the zone limit.
---
More than Just a News Service
You've seen our illuminated sign 'tilligerry.com' beside the main road near the golf club as you drive into town at night.
With news services moving away from the print media, tilligerry.com for over 10 years now has moved with the times and gives local residents the news that they can't get anywhere else. I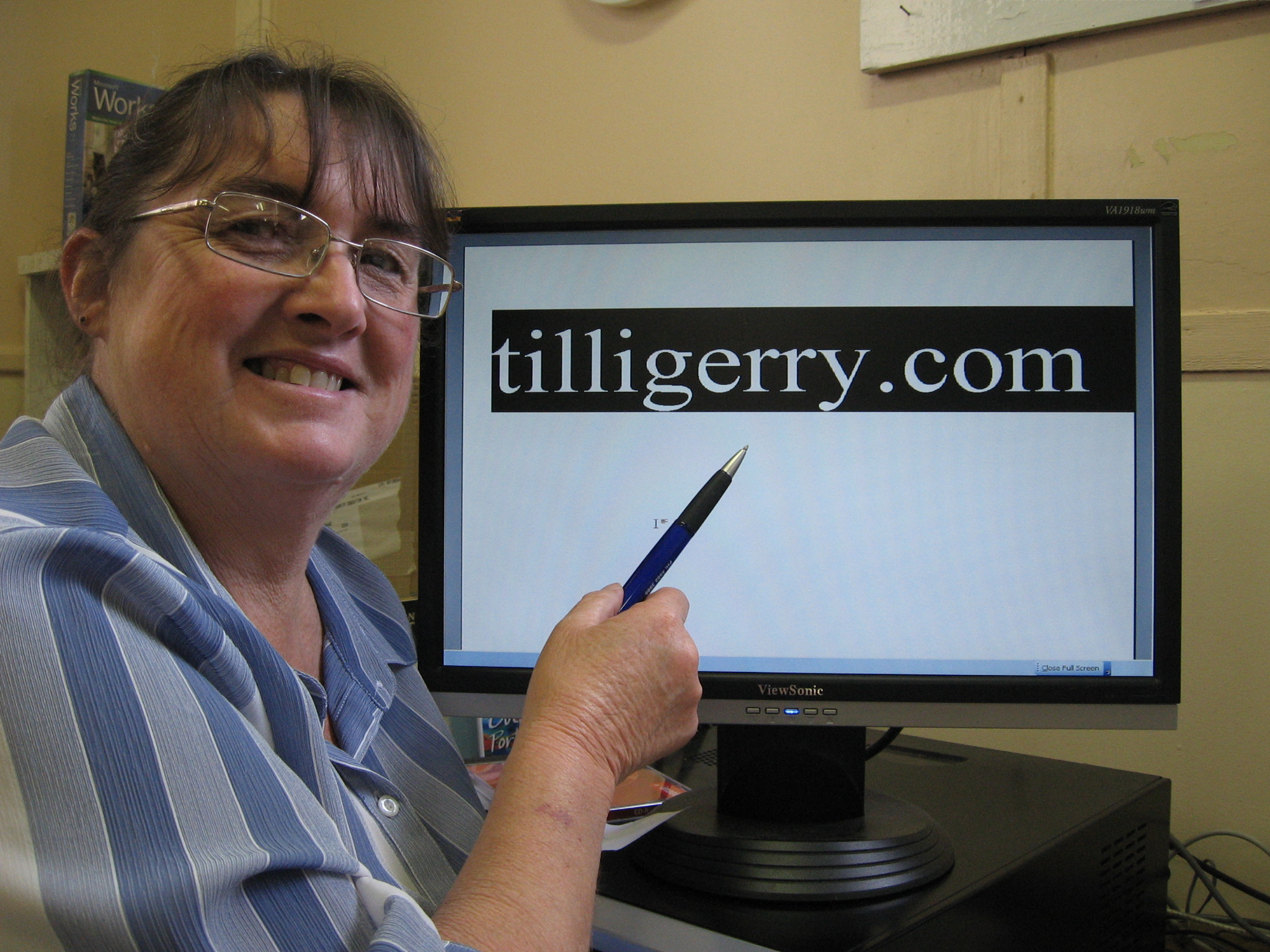 ndeed, those travelling around Australia or internationally can keep up to date with a click on a mouse or a mobile phone.
Before our 'hit meter' broke down we were averaging around 2000 views each month. We have a few businesses supporting us but we really don't want advertisers as we are a not for profit community service.
That's not all! Each year we run a national Literature Award (a short story competition) with the support of PSSC, Club Lemon Tree and News Of The Area.
On top of this we offer the public internet access, assistance with the operation of electronic devices and photo copying.
It gets even better. There are constant requests, usually from residents new to the area, for general information about available services and organizations out this way.
We now have an extensive community directory listing some 80 of these which includes: churches, clubs, social groups, cultural events, schools, tourist information, community support, JPs, medical services, play groups and pre schools.
For more details scroll to the bottom of this page or click on 'Literature Award' and 'Community Directory' in the left hand green side bar.
Photo: tilligerry.com more than just news.
---
elebrating the re-opening.
New Community Directory
As the Tilligerry community expands and changes, there is the need to provide residents (particularly newcom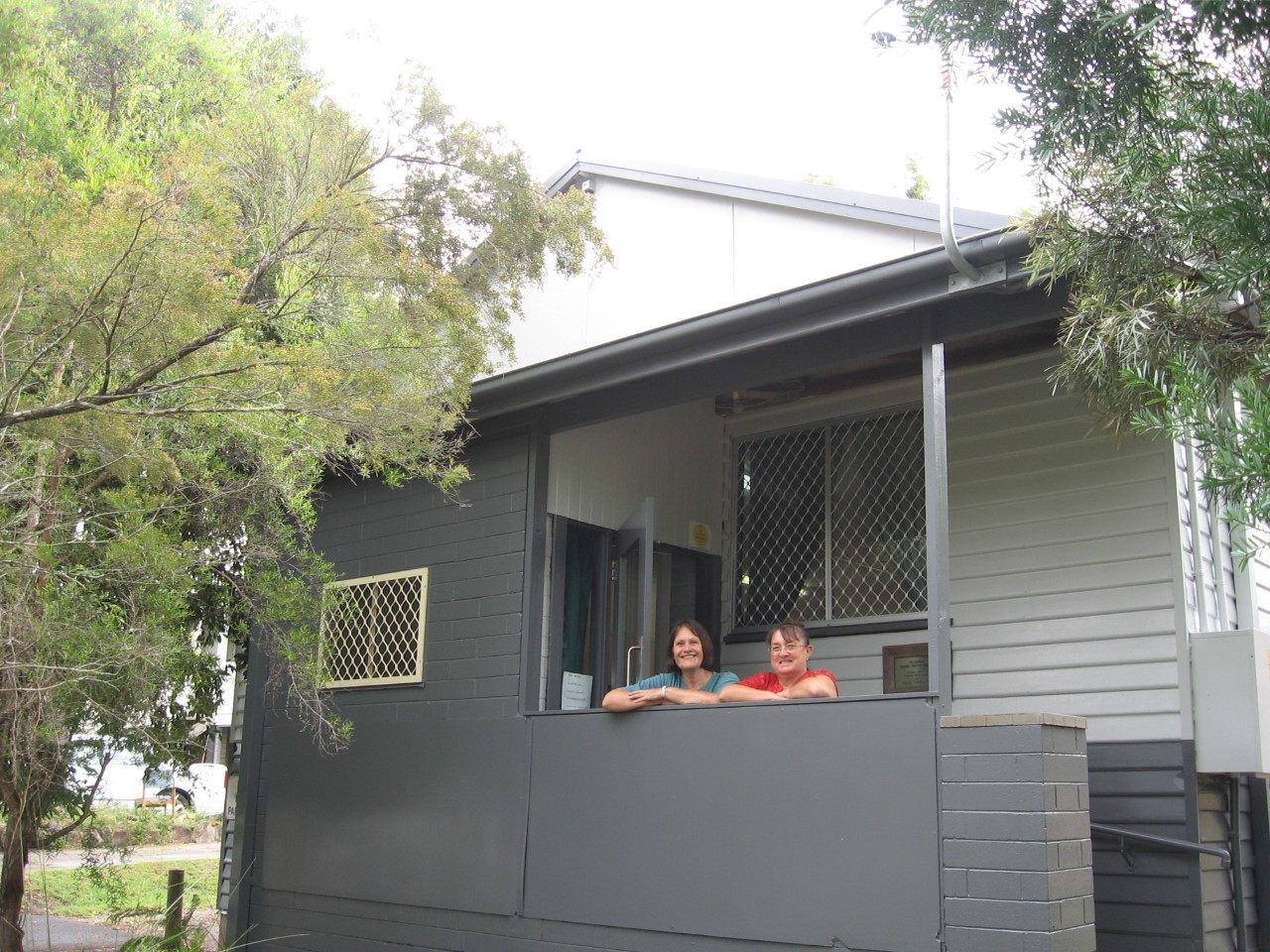 ers) and tourists with a directory of service groups, clubs and businesses. With this in mind, TACE (Tilligerry Adult and Community Education) will be compiling one in the near future.
It will be available in both an online and printed format.
TACE works under the umbrella of PSSC and coordinates community groups such as art, lead lighting, family history and mah jong. It has its home base at the LTP library. It also publishes tilligerry.com our local online news service which has grown to be the major source of local news for residents .Most months it gets over 1500 'hits'. The Port Stephens Literature Awards, a national short story competition, is another initiative of TACE and is run by volunteers.
If you would like to publicise your club, social group or business, email basic contact information to: tace@tilligerry.com and it will be considered for inclusion. There will be no charge for this service.
Photo: TACE volunteers Helen Mizrachi and Sue Hamilton at the library.
---
Wanted!
Have you seen the ads on TV where school kids are showing off their new garden built from logs made out of recycled printer cartridges?
Well, if you would like to help with this initiative you can drop off your used cartridges to the Lemon Tree Passage Library (opposite the motel).
The Library is open six days a week between 10 am and noon. Out of hours you can leave them in a bag or box in the alcove at the front door.
Oh! this recycling facility also accepts spent batteries which can be dropped of at the same time.
Our library always has new stocks of books and FREE magazines donated by readers. They are stacked on a table just inside the door.
We look forward to you helping make our planet just that little bit greener and cleaner.
Photo: TACE volunteer Helen Mizrachi: "We need your old cartridges and batteries!"